How Much Does it Cost to Build a Website in 2022: Three Ways and Price Comparison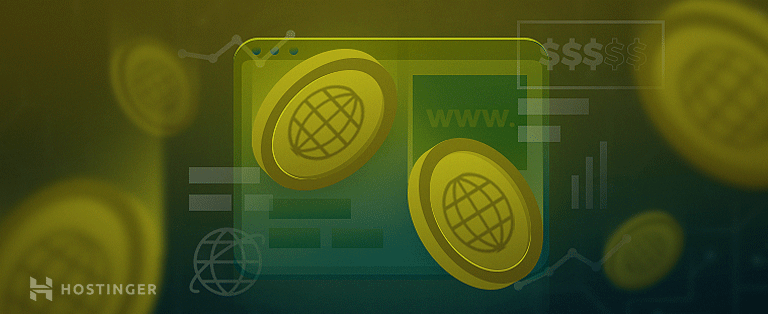 Building a website can cost anywhere between $100 to several thousand dollars a year. However, the exact cost varies for each website depending on many factors.
To answer how much it costs to build a website, this article will explore each element that contributes to the total cost whether you use WordPress, a website builder, or hire a web developer.
To help you plan better, we will also offer practical tips for calculating your website's budget and reducing web development costs.
What Factors Affect the Cost of a Website?
Every site has different needs that amount to an additional website creation cost. Some do just fine with basic functionality, and others require specific and usually costly features.
If you find the website development price is too high after calculating your needs, there might be two reasons behind it – your site needs more resources than the average, or you're overspending.
To find out how much does it cost to build a website, you'll have to determine your website's needs. In this guide, we'll categorize them into six categories:
Website essentials. These cover the fundamental requirements to build a website, such as a domain name, a website hosting plan, and an SSL certificate. A domain name is your website's custom address (e.g., yourwebsite.com), and a web hosting plan is a rentable server space to store your site. On the other hand, an SSL certificate encrypts the data on your site and makes it much more secure.
Website design. How your site looks can significantly impact your visitors' user experience. You'll have to consider a theme, a template, or a web designer when calculating your website design cost. The more complex and unique a web design is, the higher your website costs will be.
eCommerce functionality. Features such as stock management, payment options, shipping options, and product pages are often required to support business operations. The website cost of an online store is often higher due to these complex features.
Plugins and add-ons. These make a site more functional by adding extra features. Premium plugins or add-ons offer advanced features at an additional cost. The more features you need, the more you will have to spend on website development.
Marketing and SEO. To make sure your site succeeds, you'll need to invest in strategies that elevate your online presence. You can dedicate time, energy, and money to learn digital marketing and search engine optimization (SEO) techniques and purchase the right tools. Alternatively, you can hire professional marketers and SEO experts. If you go for complex multi-channel marketing and SEO, your website cost will be higher.
Maintenance. A website isn't a one-off project. You can use free and paid tools to automate site maintenance or hire an expert to do the job for you. The more elaborate your routine is, the more you will need to spend.
Now that you know the factors influencing how much a website costs, we'll go through the three main options to build a website and their estimated costs.
Option 1: Make a WordPress Website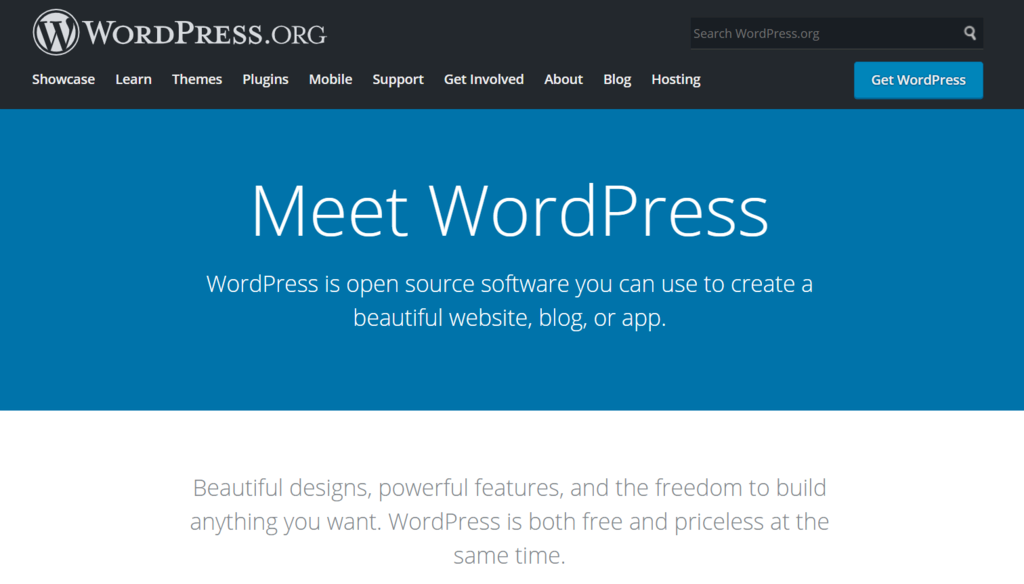 WordPress is a free content management system (CMS) that you can use to make a website. According to W3Techs, around 40% of all websites are built on WordPress.
The main reason for WordPress's popularity is the outstanding flexibility it offers. You can fine-tune nearly everything, from features to how much money you want to spend.
The price range of WordPress sites varies considerably, as every site's cost depends on its type, scale, and set of functionalities.
If you're a complete beginner with no prior knowledge of website building, using WordPress will require a bit of learning.
However, if complete freedom to create a website is your priority, learning WordPress is definitely worth the time and energy.
Here are some of the pros and cons of building a website on WordPress:
Pros
Outstanding flexibility. You have complete freedom to build a website that'll fit your exact needs and budget. If they change over time, it is also possible to adapt and alter the site as required.
More affordable. Compared to the other options, the yearly website costs of WordPress websites can be lower.
Cons
Steep learning curve. For beginners, it might take some time and effort to understand how to manage a WordPress website fully.
No dedicated support. WordPress.org doesn't provide customer support, but you might get it from your website hosting company.
To learn how much does it cost to build a website on WordPress, let's look at some of the main factors behind it.
1. Website Essentials
While WordPress itself is free, you must first purchase a domain name and a website hosting plan before building a website.
A domain name can cost around $10-$20/year. Domain names with a popular extension like .com are usually more expensive due to their perceived worth.
You can check the availability of domains using a tool like our domain checker.
Domain Name Checker
Instantly check domain name availability.
To purchase the domain name, you can go to domain registrars like Google Domains or Namecheap. However, many hosting companies, including Hostinger, offer a free domain name bundled with your web hosting plan.
You can get a quality hosting plan that fits your needs without spending a fortune. This way, you'll be able to allocate more money to other WordPress needs like themes and plugins.
The website hosting cost depends on which provider and plan you choose. The average cost of entry-level hosting plans is around $2-$7/month.
Premium hosting plans on cloud or VPS (virtual private server) infrastructures can cost around $10-70/month or more.
Some hosting companies offer plans specifically for WordPress websites. Hostinger offers various WordPress hosting plans that cater to different needs and include WordPress support, starting at $1.99/month.
Besides a domain name and hosting, you'll also need an SSL certificate for your WordPress site.
An SSL certificate enables HTTPS on your website, which is a more secure version of HTTP. HTTPS encrypts the data exchanged between a web browser and server, ensuring private and secure communication between websites and their visitors.
Websites with no SSL often drive away traffic because they're not trustworthy nor search engine-friendly.
Many hosting companies also include a free SSL certificate with the purchase of their hosting plans. If you are a small business owner who wants to build a website on a tighter budget, this will reduce the total development cost.
However, large-scale companies might need to purchase a more advanced SSL certificate. These advanced SSL certificates can cost up to $200/year.
2. Website Design
WordPress offers complete freedom when it comes to customizing your website's design elements, which helps control the website design costs.
If you're well-versed in web design and development languages like HTML, CSS, and JavaScript, you can go ahead and code the design yourself.
However, even if you're not a pro at web design, WordPress still has tons of options for your website.
With WordPress themes, you can transform the look and feel of your site quickly and simply. There are thousands of free and premium website themes available.
While many free themes work perfectly fine for small websites, they tend to have fewer features than premium ones.
On the other hand, premium themes usually include extensive customization options such as a drag-and-drop builder, free plugins, various demo templates, and dedicated support. They are also more professional-looking, which can elevate other people's opinions of your brand.
You can get free and premium themes from the WordPress theme directory or third-party marketplaces like Envato Elements, ThemeForest, and MOJO Marketplace.
Premium WordPress themes usually cost around $5-$200/license.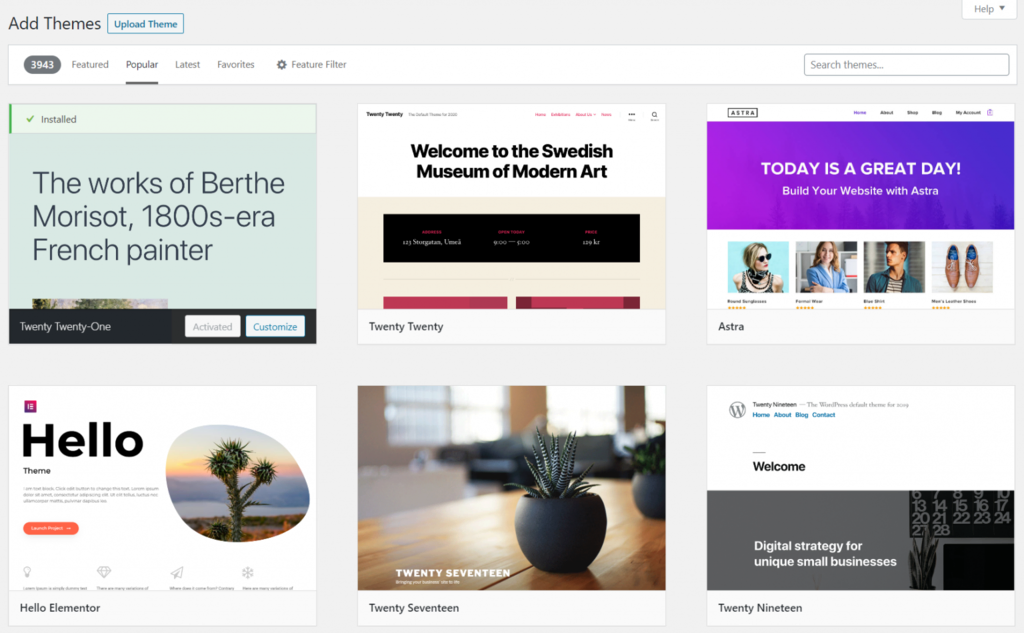 In addition to themes, you can further customize the website's design by getting additional elements like fonts, icon sets, logo templates, and stock photos from marketplaces like TemplateMonster.
These design elements vary in price, but you should expect to pay around $20 for each.
However, if you need a custom design for your website, you can also hire a WordPress web designer. A web designer's cost varies greatly depending on their skillset and the project's scale.
The average cost of hiring experienced web designers is about $75/hour. If your custom website takes a while to complete, the total price can amount from $5,000 to $10,000.
If you decide to go with a web design agency, the website development price can shoot up even higher.
However, there are more affordable alternatives. For example, web design freelancers on Fiverr charge around $10-$150/project.
Hiring a freelancer is a great way to minimize a small project's total design cost. Besides checking their specialties and skills, you can also check the customer reviews on Fiverr to choose the best web designer for your site.
3. eCommerce Functionality
WordPress is a powerful platform for eCommerce activities, whether you want to build a small or large business website. You can add eCommerce functionality to your business website using different WordPress plugins.
If you want to learn how much does it cost to build a website with eCommerce functionality on WordPress, you must first know which plugin to choose.
An excellent eCommerce plugin should add several features to your site that will transform it into a fully-functional online store. It should help you handle tasks such as payments, taxation, shipment tracking, and stock management.
Besides, you should base your choice on budget, business needs, and the type of online store you are building.
Since it requires fewer resources, building a website for a small business will be cheaper. A large business website, on the other hand, can amount to much higher development costs.
Let's take a look at some of the options:
WooCommerce. A free and open-source eCommerce plugin for WordPress. It's the most popular eCommerce plugin, with more than 5 million active installations. There are hundreds of extensions available, both free and paid, making it easy to add features to your business website without coding. Paid WooCommerce extensions vary in pricing. Expect to pay $30-250/year for each.
Ecwid. An easy-to-use eCommerce solution that you can integrate into a CMS, including WordPress. The free plan offers basic features sufficient for a fully functional WordPress business website. The paid plans, which start at $12.50/month, provide dedicated support and multi-channel selling on social media platforms such as Instagram, Facebook, and online marketplaces Amazon, eBay.
Easy Digital Downloads. A feature-rich eCommerce plugin designed for selling digital products like software, music, and eBooks. You can customize your digital business website using extensions from the Easy Digital Downloads marketplace or third-party sources. While the core plugin is available for free, you can purchase their premium plans, which start at $99/year, for advanced marketing features.
4. Plugins and Add-Ons
WordPress plugins allow you to add features to the site without coding quickly. All you have to do is find the plugin you want, install on the website, and activate it.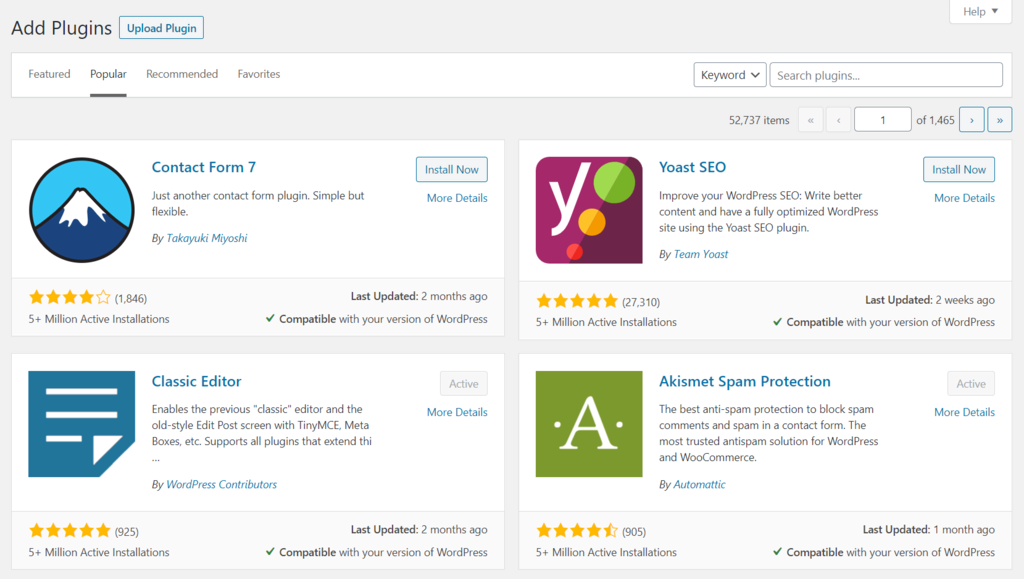 There are more than 59,000 plugins available in the official WordPress plugins directory for a wide range of purposes. Here are some of the many categories they cover:
In addition to the official plugin directory, WordPress also allows you to download plugins from third-party sources and install them on your site. Make sure to get plugins from trusted sources to avoid creating errors and security issues on the website.
You can use free, freemium, or premium plugins on the website. Premium plugins generally offer more advanced features, with an average cost of $49-$199/year.
5. Marketing and SEO
WordPress' core is already SEO-friendly, but most sites need extra help to compete for traffic and sales. Thankfully, there are many tools available for applying the best marketing and SEO techniques to your WordPress website.
The price of marketing and SEO campaigns varies according to your business needs and the project's complexity.
In addition, to find out the cost to build a website's marketing and SEO strategy, you need to decide your approach – either managing it yourself or hiring professionals.
Hiring a professional marketer and SEO expert is usually more costly, with freelancers charging around $40/hour and agencies around $250/hour.
The DIY approach involves using SEO plugins, tools, and ads, which requires more effort but is more flexible budget-wise. Here are some DIY strategies to market your website:
SEO. Use SEO tools like Ahrefs (from $99/month), KWFinder (from $29.90/month), or SEMrush (from $119.95/month) to plan and monitor your SEO strategies. WordPress also provides excellent freemium plugins to increase your organic traffic, like Yoast SEO or All In One SEO.
Email marketing. Increase, retain and update your site's followers by sending content straight to their mailboxes. Use freemium email marketing plugins like Mailchimp for WordPress, Jackmail, or Newsletter.
Social media marketing. Promote your content to large audiences on social networks like Twitter, Facebook, Instagram, and LinkedIn. Use freemium social media integration plugins and tools like Blog2Social, Social Media Share Buttons, and Add To Any.
Affiliate marketing. Get influential affiliates to promote your website for a commission. You can start an in-house affiliate program or sign up for an affiliate network like LinkConnector or Fintel Connect. Use affiliate marketing plugins like AffiliateWP (from $149.50/year) or ThirstyAffiliates (freemium) to manage your affiliate links.
Pay-per-click (PPC) ads. Get ad networks like Google Ads or Facebook Ads to promote your site in exchange for pay-per-click. The cost-per-click (CPC) varies depending on your industry or niche, but the average cost of Google Ads and Facebook Ads are $2.69 and $3.77 per click, respectively.
Landing page. Creating a landing page is essential for increasing traffic to the website and your business' conversion rates. You can make it using WordPress' page editor or plugins like SeedProd (from $39.50/year) and Beaver Builder (freemium).
It may seem like a lot, but that's because there are many options available for marketing your site.
By following the DIY approach, you can choose which strategies to use and how much you want to spend. If you have a small business website, you can start using free tools and plugins and then upgrade when your traffic and revenue start growing.
6. Maintenance
Maintenance is essential for the security and functionality of WordPress websites. A security breach can make you lose data, money, and control over your site and damage your business reputation.
To calculate your website maintenance costs, you should first decide whether you want to do it yourself or hire a website maintenance service.
Hiring a professional will take the workload off your shoulders, but it's more expensive. That's why most small websites prefer doing it on their own. It's a demanding task, but it will reduce website maintenance costs significantly.
WordPress already comes with some useful maintenance features. You can set WordPress to automatically update its core software, plugins, and themes at no extra cost.
In addition to software updates, regular website backups are also an essential maintenance task. Numerous plugins can automate your website backups, such as:
BackWPUp – a backup and restore plugin. It includes such features as scheduled backups, database optimization, Dropbox, and multisite support. You can get its basic features for free or upgrade to a premium version from $69/year.
UpdraftPlus – another freemium plugin that lets you schedule backups and upload files to multiple storage options, including Google Drive. The plugin's premium version is available from $42/year.
Jetpack Backup – formerly known as VaultPress, it can double as a security plugin depending on the subscription plan you pick. Get daily backups and 100 GB of storage for $4.97/month.
In addition to software updates and backups, some webmasters also consider changing passwords, fixing 404 errors, clearing cache, and fixing broken links as part of their maintenance routine.
You can learn how to handle these tasks independently, but you might still need to hire someone to assist you. Agencies may charge you $50-$350/month, while freelancers offer website maintenance services for around $5/hour.
Option 2: Use a Website Builder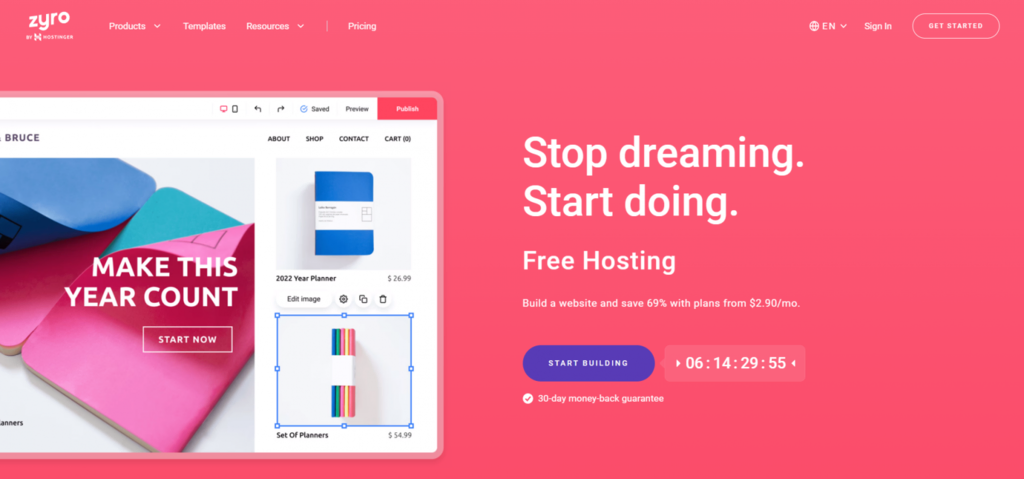 A website builder allows you to build websites without any coding knowledge. They usually come with a drag-and-drop website editor, which makes them ideal for beginners.
To calculate how much does it cost to build a website, you will need to choose a hosting platform and plan. The more features you need, the more money you'll have to spend.
Plans for eCommerce and business websites are usually more expensive because they include online payments, order management, multiple languages, and other features.
If you choose to build a website with Zyro, you will get 24/7 customer support, a free SSL certificate, and a free domain.
Zyro's plans start at $2.90/month and go up to $15.90/month for the eCommerce Plus plan. The plan you choose should have features that align with your needs, whether you're creating an online store or small business website.
If you are still not sure if this is the best platform to build your website, let's have a quick rundown of the main pros and cons of using a website builder:
Pros
Quick setup. With a website builder, all you need to do is sign up, choose a plan that fits your needs, and get started with building a website. There's no need to buy additional plugins or add-ons.
Beginner-friendly. Website builders are designed to help everyone build a website, even those who know nothing about the topic. The drag-and-drop editor provides easy customization options, while the simple interface makes managing the website more accessible.
Cons
Limited flexibility. Unlike WordPress or any other content management system (CMS), you can't install third-party software. Your options are limited to what the website builder offers.
Potentially costly in the long run. With website builders, you have a recurring cost that can accumulate into a hefty sum in the long term.
In the following sections, we'll break down how much it costs to use a website builder:
1. Website Essentials
Website builders include web hosting with every plan, so you don't have to independently purchase the service as you do with WordPress or custom websites.
The default domain name for a website builder usually includes the service provider's brand. For example, on Zyro, the default domain name is yourwebsite.zyrosite.com.
To change this, you can purchase a domain name from the website builder or independently register it on a third-party platform and point it to your site.
Zyro and other website builders offer a free domain for one year with their plans. You still have to renew it every year, though, just like every other website.
As with WordPress, the domain name renewal costs vary depending on the domain extension, but the usual price is $10-$20/year.
With a website builder, you don't have to worry about purchasing and renewing your SSL certificate. Your provider takes care of this just like they do with web hosting.
2. Website Design
Website design costs are practically nonexistent when using a website builder.
With the purchase of any plan, you get a selection of pre-made templates to use for free. For instance, Zyro has more than 100 templates that you can choose from – from landing pages to eCommerce shops.
Unlike WordPress, you can't install third-party templates. The platform fees already include the website design cost, but your choices are limited to the templates available.
However, Zyro allows you to use the template as it is or customize its design to fit your company's brand better.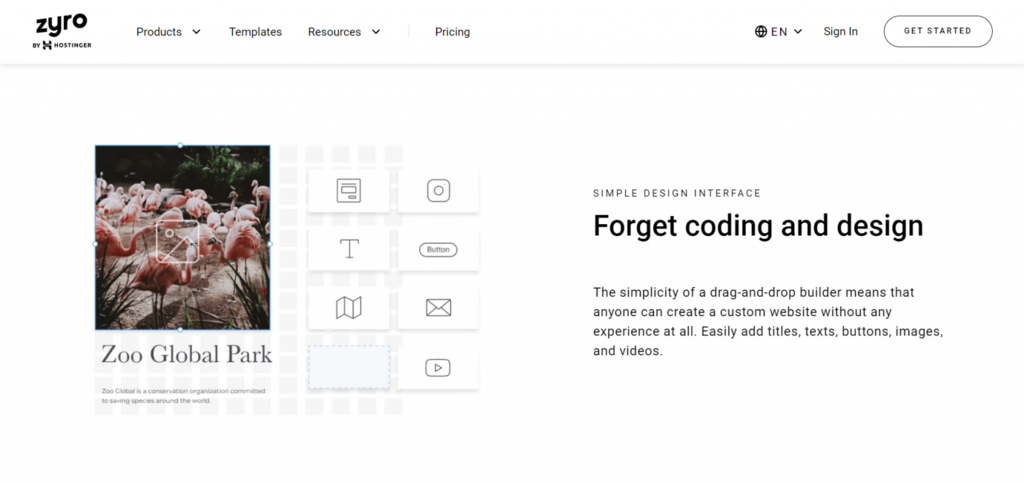 The drag-and-drop editor is a staple of website builders and is what makes them so attractive to beginners. You don't need any coding knowledge to have complete creative control over your site elements.
3. eCommerce Functionality
Almost every website builder offers dedicated eCommerce plans that allow you to create a website for a small or medium-sized business.
These plans usually offer the features necessary to maintain an online store, like multiple payment options, order and inventory management, and shipping management.
The cost to create a website with eCommerce functionality is relatively straightforward – it's included in the website builder's price tag.
Zyro's eCommerce plan, priced at $8.90/month, is suitable for small business websites with up to 100 products listed. The eCommerce Plus plan, which costs $15.90/month, allows you to sell up to 2,500 products and integrate your store with Amazon.
4. Plugins and Add-Ons
Website builders offer fewer options than WordPress when it comes to additional features. You can't install add-ons from third-party sources, so you're limited to what each platform has in its marketplace.
With Zyro, every website using the Unleashed plan or above comes with five great integrations:
While Zyro offers these integrations for free, their prices vary on other platforms. You may also find add-ons from $10/month to $130/month.
5. Marketing and SEO
When it comes to marketing efforts, website builders operate some of the hard work to help you achieve better online visibility.
While a marketing strategy requires manual work, many aspects of SEO have to do with building the website. Thankfully, many website builders are optimized for search engines from the get-go.
They have various built-in configurations and tools that ensure a better SEO performance.
For example, every website built on Zyro is optimized to improve the page load speed and mobile responsiveness – both of which play prominent roles in SEO.
Zyro also has various built-in tools that you can use to maximize SEO performance, including Google Analytics, Google Tag Manager, and the AI Writer, which helps automate the creation of SEO-optimized, keyword-rich content.
In addition to these, you may also consider the costs of additional third-party tools such as:
Premium SEO tools – Ahrefs (from $99/month), KWFinder (from $29.90/month), or SEMrush (from $119.95/month).
Email marketing tools – to reduce your SEO strategy's average cost, you may choose freemium platforms such as Mailchimp (upgrades starting at $11/month) and Moosend (upgrades starting at $8/month).
Affiliate marketing programs – you can start your affiliate program or join an affiliate network. Most platforms don't charge fees for joining their programs, taking commissions instead.
Pay-per-click ads – Google and Facebook charge an estimated cost of $2.69 per click and $3.77 per click, respectively. Alternatively, you can hire a professional marketer or SEO expert for around $40/hour (freelancer) to $250/hour (agency).
6. Maintenance
The website maintenance cost is included in your plan's fees. You don't need to pay extra or perform additional tasks to maintain the site.
Option 3: Hire a Professional Web Developer
You might want to hire someone to build the website if you need a custom project or don't have the time to do it yourself. However, keep in mind that the development price of a custom website is usually the highest.
The cost to create the website will also depend on the professionals you hire. A web designer is responsible for the website's look, while a web developer codes that design into an actual, functional website.
For some web developers and web designers, these skills can overlap. Some professionals are generalists, which means they can execute some or all tasks associated with website development.
However, the majority are specialized in one field over the other. Thus, make sure that you hire a professional with the skills necessary to deliver the design and development results you have in mind for the site.
Most experienced professionals work at an hourly rate of around $75-180/hour. If your custom website is complex and the developer needs a long time to build it, you'll have to spend a lot more on website development.
Depending on the company or professional you hire, custom website pricing can amount to around $5,000-$30,000 in total. That's a vast price range. To avoid surprises, make sure you provide them with the exact scope of your project.
Of course, you can find professionals on freelance marketplaces like Fiverr that charge significantly lower prices, starting at $25/hour.
To help you decide if hiring a professional is the best option for you, here is a summary of its pros and cons:
Pros
No technical skills are required. If you hire a developer or designer, you don't have to go through the trouble of learning about tools, software, and actual website development practices.
Custom-made websites. It is an excellent alternative for business owners who have a specific website concept in mind that they can't replicate with existing themes, templates, plugins, or add-ons.
Cons
Expensive. The website development costs will be significantly higher than building the website by yourself using WordPress or a website builder.
High effort in the beginning. Finding a suitable professional requires a lot of time and research. You may need to search many freelance marketplaces and agencies and interview many candidates before finding someone you like.
To learn the estimated cost to create a website by hiring a professional, let's break it down step by step.
1. Website Essentials
Some web developers may include hosting and domain name registration in their services. However, we recommend that you acquire your web hosting and domain name independently, for around $2-$7/year and $10-$20/year, respectively.
You might feel tempted to include them in the web development service to reduce costs, but it will help you avoid difficulties if there are any problems with the site hosting or domain.
By independently purchasing your web hosting and domain, you ensure that they're registered under your name instead of the developer's. It's a way of making sure that you own every aspect associated with your website.
Finally, don't forget to get an SSL certificate. Usually, you'll get a free SSL certificate with your web hosting plan, but you can also purchase it from a certificate authority for up to $200/year.
2. Website Design
To determine your web design costs, you should first decide which route you will follow.
Unless you hire a generalist web developer who can design and build your custom website, you should have a clear web-design concept ready before approaching another professional.
A small business website with minimal features and a simple web design should have an initial price of around $300 if you hire a freelancer or independent professional.
If you decide on hiring a web design agency, the website creation cost may be even higher, reaching $800 or more.
If you want to reduce the web design cost, use the DIY approach. Even though you'll spend less money, it will demand more time and energy.
You can create rough sketches on paper or use design software (e.g., Figma, Bootstrap Studio, or Google Web Designer) to visualize the website's ideas. Keep in mind that, besides often being paid services, they may require advanced technical skills.
Along with your ideas, include a detailed document explaining what you want the website to look like and mention your budget. Include the site's purpose, how many pages it will have, and which applications you want to include.
This is essential for estimating the total website development cost and ensuring that the professional understands your vision. Taking these steps will result in a custom-built website that fulfills your needs and expectations.
3. eCommerce Functionality
When building an eCommerce website, you need to keep in mind that a custom business website is generally more complex than a regular site.
You can expect to pay more to get such eCommerce features as payment getaways, shipping, stock and tax management tools, and additional email marketing solutions.
Generally, the total costs of developing a custom eCommerce site are around $500-$10,000, or even more, depending on the shop's scale.
4. Plugins and Add-Ons
If your web developer builds your site on a content management system (CMS) like WordPress, Joomla, or Drupal, you may need additional plugins, add-ons, or extensions to expand your site's functionality.
Depending on your agreement with the web developer, you might get premium plugins or add-ons already included in the website development cost.
If not, you will have to purchase them yourself. For example, premium WordPress plugins can cost around $49-$199/year each.
5. Marketing and SEO
Once your custom website is ready, you can focus on the site's traffic and business conversion rates. To do that, you can research marketing and SEO strategies yourself or hire experts in the field.
The DIY approach is excellent if you want to save money, but it requires considerable time and effort. It's a good idea to ask your web developer to include ready-to-use marketing and SEO tools into the website development cost.
This way, you won't need to spend extra money on tools. If your contract doesn't include the installation of marketing and SEO tools, don't forget to add them to your planned budget.
SEO tools, email marketing tools, affiliate marketing programs, and pay-per-click ads are some of the items that may add to your total website development cost.
If you prefer focusing on other aspects of your business, hiring a digital marketing and SEO agency will cost you around $90-$250/hour.
6. Maintenance
If your web developer doesn't provide regular maintenance services, you can hire an IT expert for around $50-$100/hour.
However, suppose you hired a professional to make a website using a content management system (CMS) like WordPress. In that case, you can reduce the website maintenance costs significantly by doing some, if not all, maintenance tasks by yourself.
WordPress makes it easy for you to update its related software automatically, and there are tons of security and backup plugins available to use on your site, free and paid.
How Much Does It Cost to Build A Website in 2022?
You've learned to estimate how much does a website cost using three different approaches.
Let's take a look at the estimated website development prices for each method discussed earlier. Keep in mind that these price ranges apply to a website for a small to medium-sized business. If you're planning to build a large site, expect to spend more.
WordPress
Website essentials:

Hosting: $2-$70/month
Domain name: $10-$20/year
SSL certificate: $0-$200/year

Website design:

Themes: $0-$200
Web designer (optional): $75/hour

eCommerce functionality:

$99-$250 or more, depending on the scale

Plugins and add-ons:
Marketing and SEO:

Professional marketer or SEO expert: $40-$250/hour
SEO: $0-$120/month
Email marketing: $0-$100/month
Social media marketing: $0-$100/month
Affiliate marketing: $100-$500/month
PPC ads: ~$2.69/click (Google) or ~$3.77/click (Facebook)
Landing page: $0-$40/year

Maintenance:

Website maintenance service: $50-$350/month
DIY: $0-$95/year
Website Builder (Zyro)
Website essentials:

Subscription fee: $2.90-$15.90/month
Hosting: $0 (included)
Domain name: $10-20/year
SSL certificate: $0 (included)

Website design:
eCommerce functionality:

Included with plans like eCommerce ($8.90/month) and eCommerce Plus ($15.90/month)

Plugins and add-ons:

Integrations: $0 (included)

Marketing and SEO:

Professional marketer or SEO expert: $40-$250/hour
SEO: $0-$120/month
Email marketing: $0-$100/month
Social media marketing: $0-$100/month
Affiliate marketing: $100-$500/month
PPC ads: ~$2.69/click (Google) or ~$3.77/click (Facebook)
Landing page: $0 (included)

Maintenance:
Web Developer
Website essentials:

Web development fee: $75-180/hour
Hosting: $2-$70/month
Domain name: $10-$20/year
SSL certificate: $0-$200/year

Website design:

Custom design (optional): from $300

eCommerce functionality:
Plugins and add-ons:

$0-$199/year per plugin or included in the web development fee

Marketing and SEO:

Professional marketer or SEO expert: $40-$250/hour
SEO: $0-$120/month
Email marketing: $0-$100/month
Social media marketing: $0-$100/month
Affiliate marketing: $100-$500/month
PPC ads: ~$2.69/click (Google) or ~$3.77/click (Facebook)
Landing page: $0-$40/year or included with the developer fee

Maintenance:

Website maintenance service: $50-$100/hour
Additional Tips for Calculating Your Website Budget
There's no wrong way to make a website as the best choice is the one that fits your needs and budget the most.
Hopefully, you've decided on which website building option you'll go with. If you're still unsure, ask yourself the following questions:
How much are you willing to spend? If you have a small company, go with a website builder or WordPress. A custom website development's development costs can be very high, so it's a better choice for a larger business. If you prefer to have complete control over your budget, go with WordPress.
How much effort are you willing to put in? WordPress arguably requires the most effort, from the website development process to its maintenance. A website builder is simple to use, and you don't need to worry about maintenance. Alternatively, hiring someone to execute your website development requires some effort during the hiring process. However, once that's done, all you have to do is wait for the final product.
Are you comfortable with having to learn technical skills? WordPress and some custom-built websites require some level of technical expertise to operate. You may need to include the additional costs of hiring a developer or an IT expert if you can't do it yourself. With a website builder, you don't need to have any technical knowledge to build a website.
How much do you value flexibility? WordPress is the best platform for people who want complete control over their site and use third-party themes and plugins. However, a website builder is a less flexible system since you can only apply templates and add-ons that the platform already provides. By hiring a professional, you get the specific website concept you want and flexibility over your site if they use WordPress or other content management system (CMS).
Tips on How to Reduce Website Development Costs
We have answered how to answer how much does it cost to build a website on different platforms – with or without professional help. However, before starting out, you might still want to consider reducing any unwanted expenses.
Here are some helpful tips to lower the total website development costs:
Avoid hiring a professional unless necessary. If you encounter problems with your site, try to troubleshoot it yourself. Read about it and contact your hosting company rather than going to an IT expert and paying a fortune for issues you can fix yourself. The same goes for web designers. Unless you need a truly custom design, it's more cost-effective to install a premium theme or a template and customize it further to fit your business's brand.
Prefer long-term investments. Get quality hosting, themes, and plugins. Low-quality products and services might be attractive at first, but if they cause issues in the future, they'll add to your costs. It's better to invest more upfront to get good quality products and services to avoid extra costs down the line.
Remember the primary purpose of your site. Avoid getting caught up with unnecessary website development costs. When in doubt, return to your website's primary goal. Prioritize your money for strategies and tools that fulfill that purpose. For example, if you own an online store, prioritize having an easy-to-use and functional payment system instead of worrying too much about how your online store looks.
Keep in mind that money is not the only cost to create a website. Remember to consider time as well when calculating the overall budget of your company's website.
For some people, investing more money in exchange for less work is preferred. In contrast, others don't mind working more if they lower their website costs on paper. Whichever one you choose, it should be the one you're most comfortable with.
Conclusion
To determine how much does it cost to build a website, you must first know what options are out there and how much each one will cost. In this guide, we've broken down the cost to build a website using WordPress, a website builder, or to hire a professional.
Each option caters to different needs, budgets, and purposes. We hope that you've found the option that's most suitable for you.
Good luck, and we wish you success in building your site. If you have any questions or suggestions, feel free to leave us a comment.