Best 8 PDF Viewer WordPress Plugins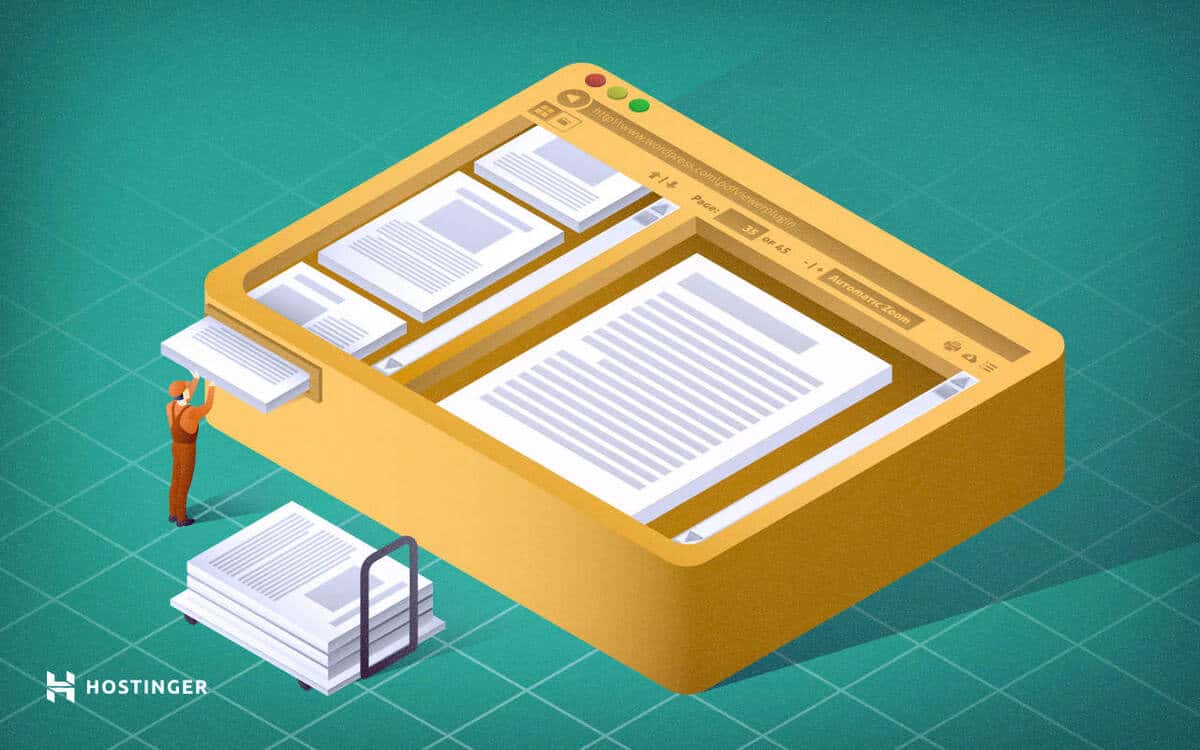 Even with PDF files being popular, WordPress still doesn't support PDF embedding. Luckily, with WordPress there's a great plugin for that.
By default, WordPress will show PDF files as downloadable links in your posts. That means your visitors will have to leave your web page to read the file. We're sure you would rather keep them on your page, right?
Well, installing a plugin will help. But, soon you will bump into another problem: "What is the best WordPress PDF viewer plugin to install?" With the massive selection of WordPress plugins available, choose the right one is not an easy job.
Lucky for you, in this article, we have the best 8 PDF viewer WordPress plugins to consider.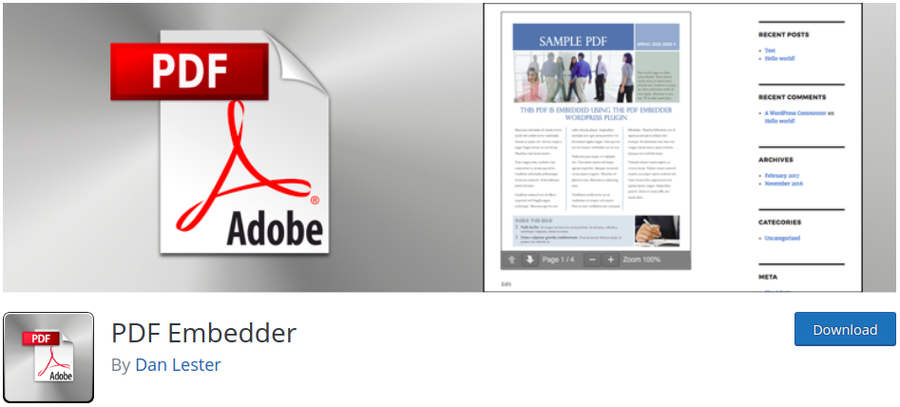 This plugin has over 100.000 active installations. That means it's pretty popular among WordPress users. It's no surprise as it works with an easy drag-and-drop method. PDF Embedder uses JavaScript to embed PDF files ensuring its flexibility in displaying the documents.
If the free version is just not enough, you can get the premium version:
Have the download button
Go to the specific page number
Get fully function hyperlinks
Have record on total downloads and views.
Have the fullscreen mode.
To use this plugin, login to your WordPress dashboard, and go to the plugin menu. Search for PDF Embedder, then install and activate it.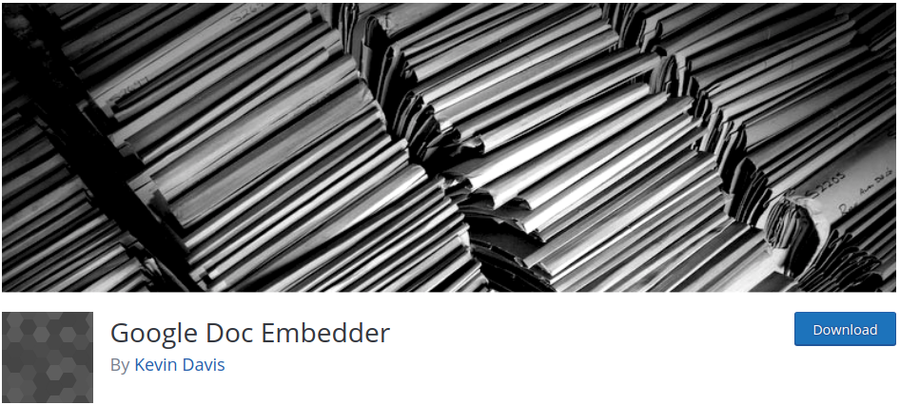 Google Doc Embedder supports many file formats including PDF. This plugin has more than 80.000 active installations and is compatible with WordPress version 3.5 or higher.
Installing this plugin lets you embed PDF files directly. As the name suggests, it relies on the Google Docs Viewer. Once the files are uploaded, you can make them accessible to the public. This plugin also can translate your document engaging more people.

The next plugin is the time-tested PDF Viewer. The last update took place four years ago. Despite that, it's reliable, has more than 20.000 active installations, and has a 4-star rating. The user reviews speak for themselves.
This plugin uses JavaScript giving users a well-oiled reading experience. Jump through pages easily, zoom, and add bookmarks and more! You can search for keywords too.
To use the plugin, login to WordPress, find the PDF Viewer in the plugin menu and activate it. Don't forget to go to the settings and set PDF Viewer as default. Use the shortcode [pdfviewer]…[/pdfviewer] when creating posts.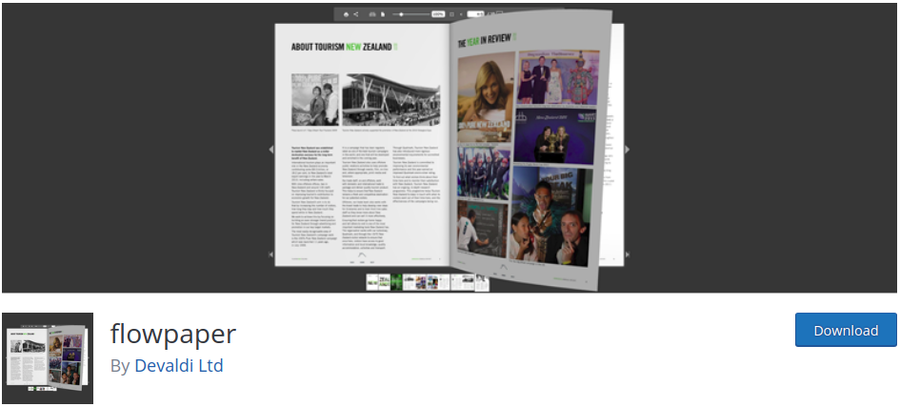 If you want to make your PDF files look appealing, this plugin is for you. It's like a flipbook with some nice animation! The plugin maker is an expert in responsive digital publishing, that means your visitors can get valuable information from your site in a beautiful format. The plugin is regularly updated too!
With this plugin you can embed catalogs or brochures using the HTML5 format. Customization is also allowed. You can set the height, weight, theme, and even the cover of your document.
A thing to note: the largest file size you can upload without Flowpaper cloud is 15MB. For regular documents, that will be enough.
Starting to use this plugin is easy. After installing the plugin, activate it. Then, use the shortcode whenever you want to post your content. The code is [flipbook pdf="https://flowpaper.com/Paper.pdf"]

Don't worry, the name might be complicated, but the plugin definitely isn't! It blends the Mozilla's PDF.js viewer into your posts to display PDF pages. More than 10.000 active installations from WordPress users strongly indicates that this plugin will be a reliable choice.
This plugin has a set of features to empower your WordPress site. The features are:
Customizable buttons
Advanced search
Password protection
Advanced Zooming
Mobile-friendly
Many more

The biggest benefit of this plugin is being easy to use. Vanilla-pdf-embed has more than 10.000 active installations, giving it a badge of quality!
This plugin offers customization similar to other plugins. You can set PDF parameters like height, weight, title and management on an embedded frame.
After uploading the files to your media library, you need to enter the URL for the attachment page into the WordPress Visual Editor on its own line. Then the files will be embedded in the post. But, this will not work if the files are hosted on other websites. They can only be hosted in the WordPress Media Library.
To do that upload vanilla-pdf-embed.php to the /wp-content/plugins/ directory, then activate the plugin that you have installed.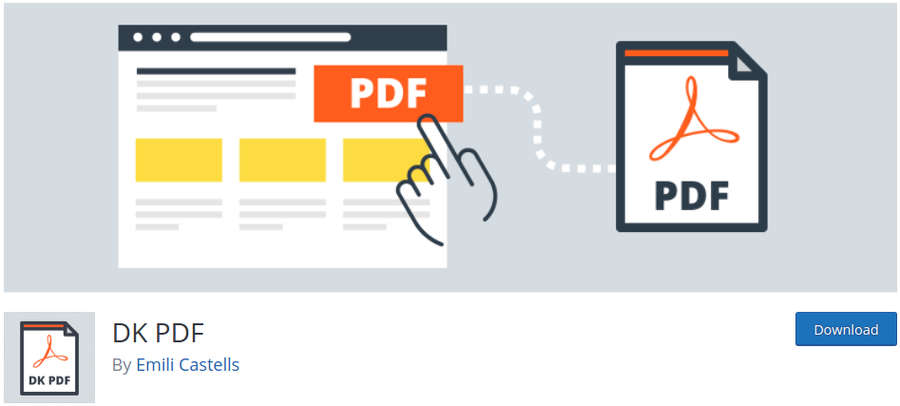 DK PDF is a WordPress plugin known for its post-conversion button that converts pages into PDFs
This plugin welcomes you to play with customization. Personalize the button, the way PDFs look, and the header of the files in the DK PDF Settings tabs.
When setting up PDF Button tab, you can change the button text by typing what you want in the blank field. You can set post types as: post, pages, attachment, and doc. Then, the Action option lets your documents open in the new window or downloaded. Finally, set your preferred alignment and whether the button comes before or after the content.
The next setup tab lets you choose the vertical or horizontal orientation of the PDF. It has options to set the preferred font and document margins. One more thing to set is the PDF Header and Footer. Just upload an image for the header logo then set show header and footer title and pagination.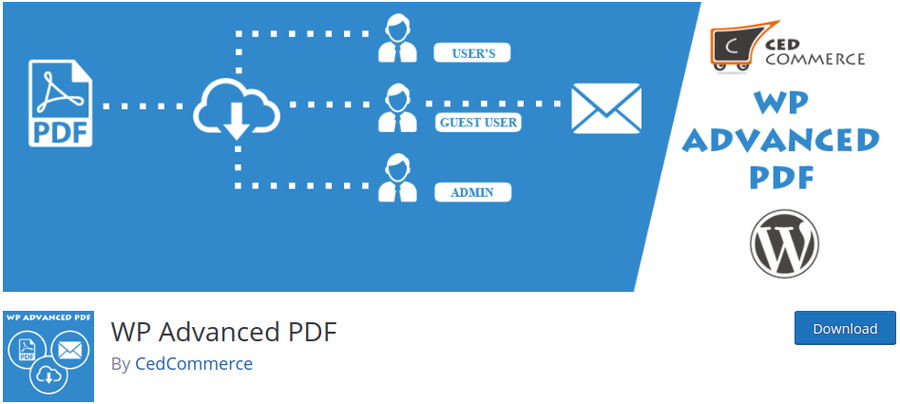 If sharing tutorials and similar content is key to your project, this plugin is perfect for you. This plugin lets your visitors create PDFs of your blog posts. It uses TCPDF class to render, making it a reliable plugin to have.
WP Advanced PDF has many free features:
Custom fonts for PDF content and its header.
Custom bullet style
Margin and alignment
Watermark
Default blog title for PDFs
If you want to use the plugin: search, install and activate.
Conclusion
Now that you have the lists of PDF viewer WordPress plugins, you can choose the one that suits you best, simple viewer or animated flipbook. Keep on sharing the information with the world, and don't let any little obstacle stop you — happy installing.