How Much Does a Domain Name Cost in 2022?
The cost of a domain name depends on multiple factors, but the average price of a domain is around $10-15/year. You can't avoid it – every website needs a domain name for users to access the web pages.
This article will explain what a domain name is, where to register one, and how your domain cost is adjustable to your needs. Also, it will introduce different types of domains, such as premium and expired domains.
By the end of the article, you will be able to choose a domain name suitable to your needs and budget.
What Is a Domain Name?
A domain name acts as a website's address consisting of two main elements – a website name and a domain name extension.
Usually, a website has the same name as the business, for example, hostinger.com. However, a website name can be anything you would like, considering it's still available.
A domain name extension is located at the end of a website domain name, and the most common ones include .com, .org, or .net. Keep in mind that a domain name is different from a URL (Universal Resource Locator).
A URL acts as a complete internet address and is used to direct to a specific page of a website. For example, /tutorials/how-to-buy-a-domain-name would be the complete URL of this article.
In addition, it shows whether a website has an SSL certificate. You can check our Beginner-friendly guide about what a domain name is if you want to know more
Why a Domain Name Is a Must?
A website must have a domain name and a web hosting server. You can find more about the difference between domain and hosting plan on our blog.
Without a domain name, visitors will only be able to access a site using its IP address, which consists of a series of numbers, making it difficult to remember. Therefore, by using a domain name, visitors will be able to remember how to access your website much more easily.
Other benefits of a domain name include:
Branding. A domain name will be the first thing visitors will see. Therefore, it's considered as a part of the website's identity and branding. A domain name can also add credibility to your site, ensuring others that you own a trustworthy business.
SEO (Search Engine Optimization). If a domain name consists of a keyword in your industry, for example, hotels.com it can drive high organic traffic since it's easy to remember and find.
Investment. It's possible to buy a popular domain name and sell it once you have no more need of it. There is a large marketplace that is continuously growing for domain names.
How to Register a Domain Name
There are many domain registrars – companies that sell domain names and help with the domain name registration process. Different registrars will offer different services, prices, and packages.
Due to the number of online websites, domain name registrations are overseen by Internet Corporation for Assigned Names and Numbers (ICANN). As a non-profit organization, ICANN has databases for all the available domain names and where they point to.
To safely register a domain, use an ICANN accredited registrars, such as Hostinger, Google Domains, or Hover.
The ICANN database stores all related information of a domain name. In other words, an ICANN accredited registrar has the permission to change all your multiple domains information in the database on your behalf.
Another way to register a domain name is using a website builder. Some website builders integrate registering a domain as part of the sign-up process. It's a popular option for beginners who don't want the hassle of finding the best domain registrar.
The process of buying a domain name can differentiate depending on the registrar that you choose. Therefore, don't forget to consider every detail before selecting the right domain name registrar.
What Factors Affect the Domain Name Price?
Website domain cost depends on different factors, for example, domain registrars, the popularity of the domain name, and the additional cost for security. So, there is no fixed domain price.
As a website owner, you should adjust your domain name cost accordingly. In the next section, we'll list down seven factors that affect the domain name cost.
1. Registrar of Your Choice
Domain registration costs will depend on the services that a registrar offers. Some domain registrars will provide simple registrations, while some will offer web hosting packages.
Select a registrar that suits your needs and budget best. If a domain registrar is too expensive, try looking at other registrars that might have a better offer. Whichever domain registrar you choose, it's crucial to make sure that it's an ICANN accredited registrar.
2. TLD of the Domain Name
A top-level domain (TLD) is a domain extension. A domain name costs will vary with different TLDs because some extensions are more popular than others.
To demonstrate, at Hostinger, you can buy a .com domain as the extension for $9.99/year. However, the same website name using the extension .xyz or .online will cost $0.99/year.
As .com and .net are popular extensions, their prices tend to be more expensive. The benefit of using a more popular extension is to drive higher organic traffic since users often write these popular extensions by default. Visitors also tend to feel safer visiting a site with a more known extension since such a site does not look like a scam.
However, using a less popular extension, such as .online, can make a domain more unique. With the number of new websites created daily, the popularity of an extension might shift in the future.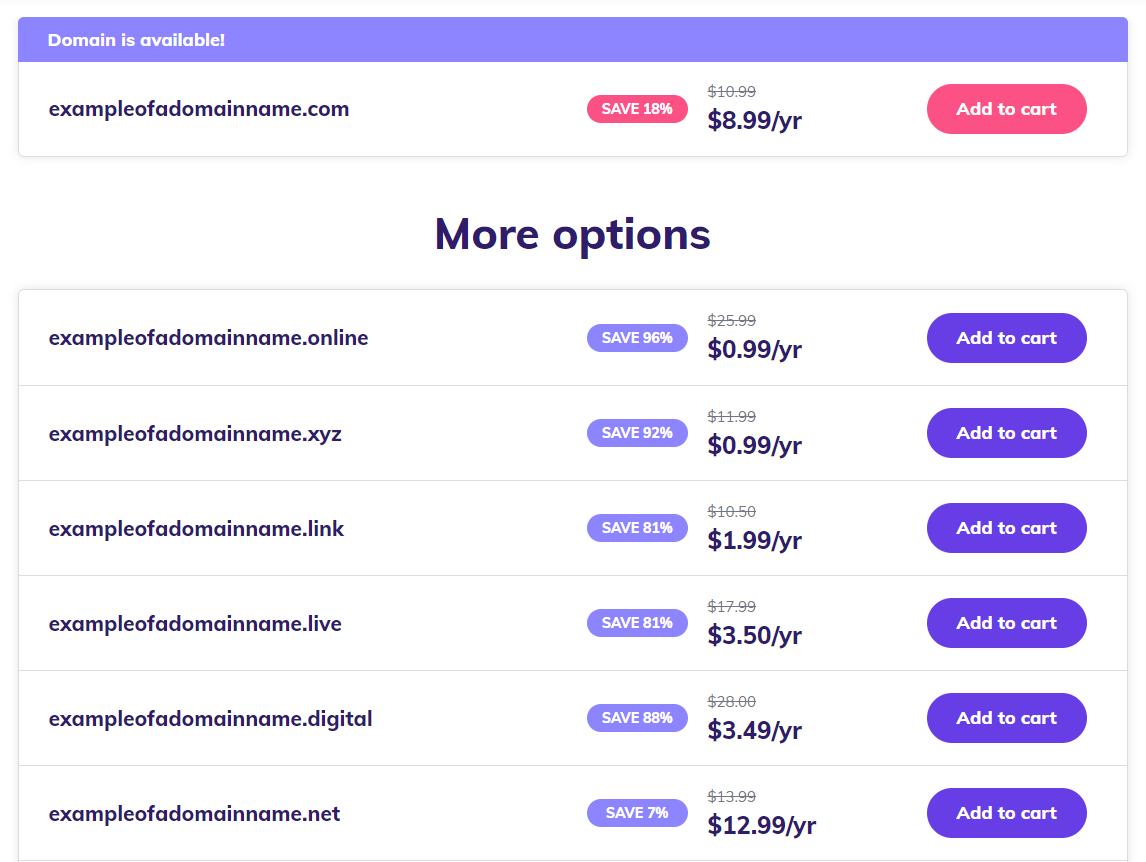 Top-level domains also gives visitors more information on a website, so it's essential to set a website domain name with the right extension. For example, a country code top-level domain (ccTLD) tells the website's location, .co.uk domain registration suggests that the website is based in the UK, .us domain – that business is located or operates in the United States, and so on. Non-profit organizations usually use .org, most educational institutions use .edu, whereas tech companies usually use .io. Membership sites, sports clubs, and local organizations may use .club domain name extension and so on.
3. Domain Privacy Protection
Domain privacy protection is an additional layer of protection against cyber attacks. When registering a domain, WHOIS stores your personal information, including your address, phone numbers, domain name, IP address, and domain expiry.
WHOIS domain lookup is a way to search in a public WHOIS database for information on a domain name, its current registrant, and the domain registry.
With the privacy protection, you protect your data in WHOIS directory and records from unauthorized usage. This protection will hide all the personal information in the WHOIS records from the public, which also helps avoid identity theft.
We recommend getting the privacy protection:
It will protect your personal information
You will be less susceptible to email phishing and spam attacks
Cybercriminals won't be able to sell your personal information
Such privacy protection isn't often considered when creating a new domain and is something that many often miss. However, different registrars have different ways of adding privacy protection.
When using Hostinger, the domain privacy protection is offered for free with the purchase of the domain.
It's also possible to buy a domain name first and purchase the privacy protection afterward:
Log into your account. Select Domains in your hPanel dashboard and select the domain name.
Make sure that the WHOIS Privacy option is activated.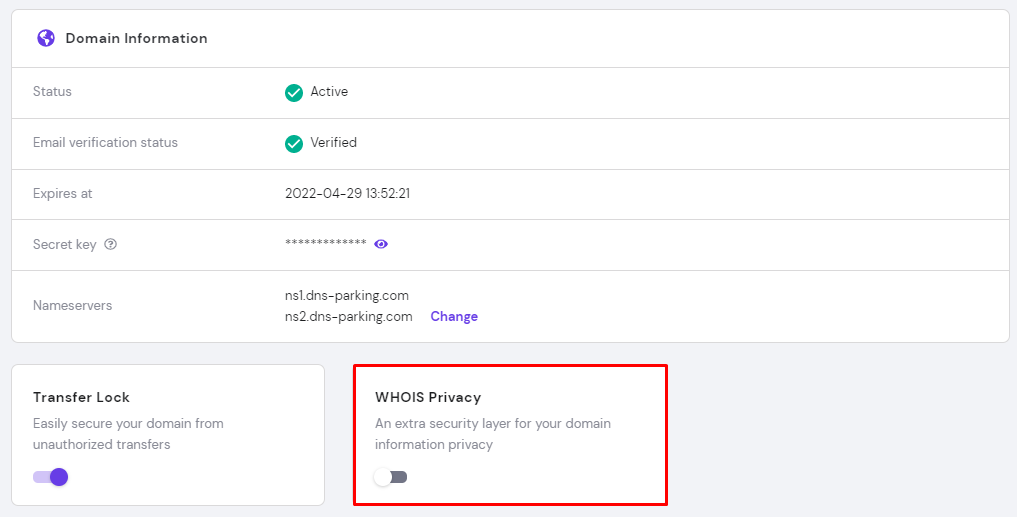 Note that some top-level domains don't support the privacy protection, such as .asia, .pro, and .am. All personal information is hidden by default for all TLDs for European Union and Brazilian citizens.
The price for the privacy protection also depends on your registrar, it's unusual to find a reputable registrar which offers a free WHOIS protection. For example, with Hostinger, this protection comes for free. However, other registrars can charge anything from $10/year to $40/year.
4. Domain Registration Duration
Domain name prices also depend on the duration of the registration. If you commit for a longer period of time, most domain name companies will provide you with a discount. Users can register and pay from one year and up to 10 years for the domain name license.
The longer domain names have been registered, the more preference they get from search engines since some domain names are usually registered for less than a year for web spamming. Another reason to register for a more extended period is that some registrars don't allow registering for less than two years.
Registrars might also offer a significant price difference when you select a longer domain registration duration. In other words, different top-level domains offer different discounts.
With Hostinger, when you register a domain with a .space extension for three years, you save up to $20, while registering a domain with .tech for three years can save up to $48.
In short, the longer you are going to use the domain name, the cheaper it will be if you register it for a more extended period of time.
5. Domain Renewals
Most domain registrars offer an auto-renewal option for domain renewals, so users don't need to worry about it. Auto-renewal means a registrar renews a domain annually without the authorization of the site owner.
Some users often don't realize that domain renewal fees are different from the original fees, so don't forget to check before purchasing.
For example, with a .com extension, the registration fee with Hostinger for the first year is $9.99/year, and the auto-renewal fee is $13.99/year.
However, some renewals cost significantly higher than the first year fee. With a .live extension, the price for the first year with Hostinger is $3.50/year, but the renewal fee is $20.99/year.
6. Domain Transfers
Domain transfer is the process of changing the registrar, usually for a need of better support and maintenance. Some registrars offer better terms of service or refund policies that are more enticing than others.
Domain transfers go through WHOIS to change the registrars. Keep in mind that the new registrar will request a domain transfer fee. This price is usually around a few dollars more than registering a domain when transferring a domain to Hostinger.
Keep note that some extensions are not transferable, so check the registrar's policy. There is also the option to point the nameservers to a hosting company if a domain registrar doesn't accept certain TLDs.
You will need to access the Domain Name System (DNS) to point the nameserver to a different hosting company. For example, Hostinger's nameservers are:
ns1.dns-parking.com
ns2.dns-parking.com
7. Redemption Fees
A redemption fee is a price you need to pay if you want to get your domain back during a grace period after it expires. The life cycle of every domain is going from active, expired, redemption period, and then pending delete.
The active phase is when the domain owner can modify domain settings and contact. However, once it expires, the email address stops working, and the registrar will replace the website with a parked page.
The redemption period is a grace period the registrar gives for getting your domain back. If you don't pay the redemption fee, the domain name will go to a pending delete status, and you won't be able to make changes and redeem the domain. Which means that you will also lose the business email accounts you have created as you will no longer be able to receive any emails through them.
The redemption fee and period may depend on the registrar. For example, Hostinger offers a 30-day redemption grace period with a redemption fee of $80 for most extensions and $180 for .com. In addition to the redemption fee, users also have to pay the renewal fee.
Premium Domain Name Cost
Premium domain names are pre-registered high-quality aftermarket domains that are more brandable and memorable. These domain names are available for sale at a high price that can go up to millions of dollars.
People invest in these premium domains by purchasing high-quality aftermarket domains to sell later at a higher price for profit. The price depends on the uniqueness of the name, domain, length, and overall brand potential.
The difference between a regular domain with a premium aftermarket domain is the length of the domain name. High-quality domain names are often short, closely associated with a service or industry, and have popular TLDs like .com, .in, and .net.
The most expensive domain names sold include LasVegas.com for $90 million, CarInsurance.com for $49.7 million, and Insurance.com for $35.6 million.
The benefits of registering a premium domain name are:
Easy to remember. Visitors or your target audience won't misspell or confuse your website with a different name as premium domain names are more intuitive.
Better branding. Premium domain names cast your business in the best light, giving credibility that increases visitors' trust.
Better search ranking. A business working in a specific industry can get higher traffic by having a premium domain name, such as Insurance.com.
Investment. The more people use the internet, the higher the prices of these domains can go since they will be able to reach more customers.
The premium domain names are available for purchase through private sellers or domain marketplaces, such as BuyDomains, Sedo, and Flippa.
If you are interested in premium domain names, try negotiating the price. It depends on how low the original domain owner would be willing to go and how much you are ready to pay. Start by offering 50-75 percent of the listed price and discuss from there.
Expired Domain Name Cost
An expired domain is a domain name that has already expired, and the owner has decided not to renew. This expired domain will go back on sale, and people can purchase it usually at a price similar to the yearly rate of a new domain.
Expired domains are available for purchase on specific domain marketplaces, such as Expired Domains.
If a domain is soon to expire, you can use the backorder service to place an advance order. This service often charges around $25-99 one-time fee. There are online tools like Website Planet and Sitechecker.pro to check a domain's expiration date.
Buying a Domain That Is Already Registered
There is still a chance to get a popular domain name, even if it's already registered.
The first option is to contact the owner and make an offer or request. Contact the owner using the contact form on the website with the domain you want or using WHOIS to find the owner's contact information.
These registered domains might also go back on sale. Snapnames.com shows recent domain availability. This marketplace allows bidding on an already registered name.
Sometimes, you will get a recommendation of alternative titles. Instead of going through the hassle of contacting the previous owner, find a similar name that is still relatable to your needs.
To demonstrate, the domain example.com is already taken. However, there is an alternative of using example-services.com instead. You can use domain name generators to help you with that!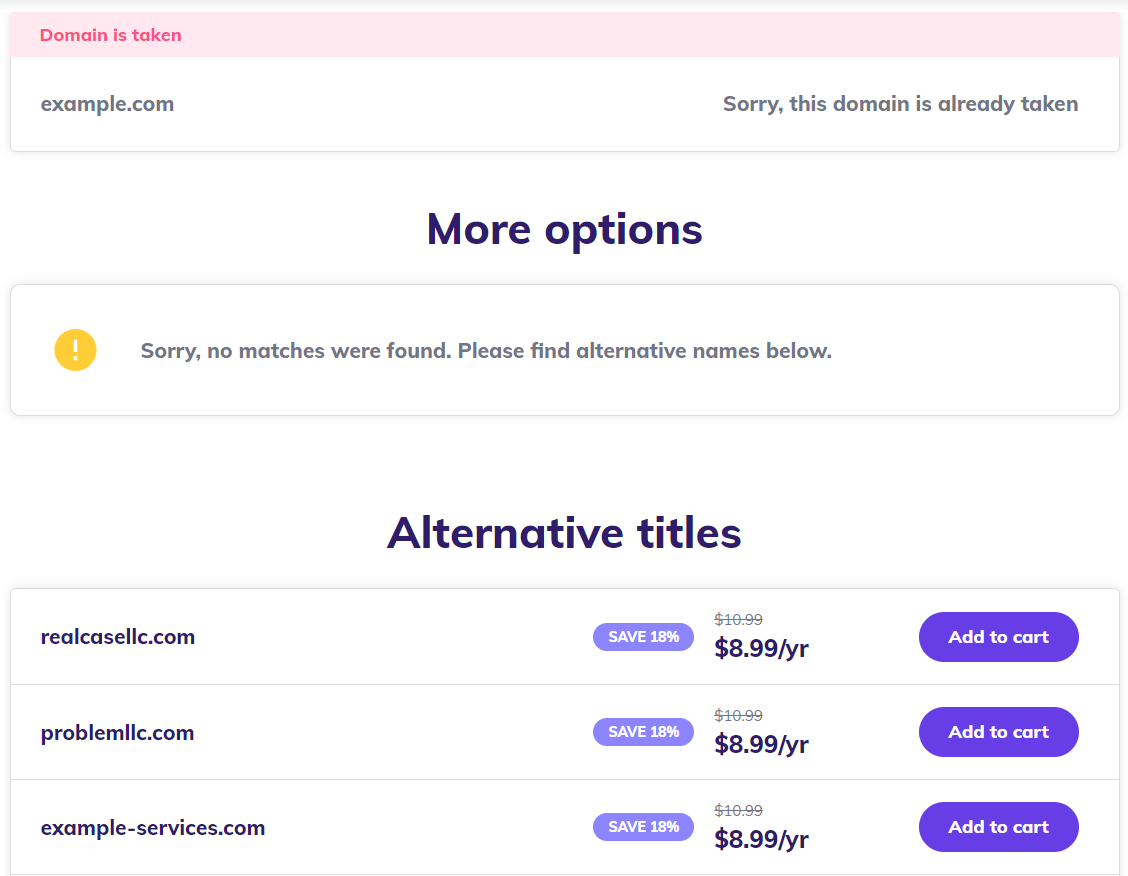 Can I Get a Domain Name for Free?
No, it's not possible to get a domain name for free. It's an essential part of all websites, and all domains have a price, so beware of offers with hidden fees.
Some web hosting providers, such as Hostinger, offer free domain registration alongside the web hosting service. Paying zero cost for a domain from a web hosting provider will also help to create a website faster than getting them separately.
Some website builders offer a free or cheap domain in the form of a subdomain. For example, users can use hotel.wordpress.com instead of using hotel.com.
Beginners who are just creating a website and don't have a budget for a domain can use a subdomain for free. Keep note that most free subdomains have minimal features and tools.
Conclusion
How much does a domain name cost? In short, the answer depends on your needs and budget.
Consider the following factors that can affect the cost:
Company registering your domain
Extension for the domain name, such as .com, .live or .store.
Domain privacy protection costs
Duration of a domain name and annual renewal fee
Transferring a domain for better services and tools
Redemption fee if a domain expires
Knowing these factors will help with budgeting before purchasing a new domain.
Now that you know what affects the domain price, the difference between premium and expired domains, and how to get a domain that is not available for sale, go ahead – decide what is a reasonable price for your needs and buy the best domain name. To begin with, check domain availability before you proceed further on your process of purchasing the perfect domain that will fit your purpose.
If you have any more questions, feel free to leave a comment or contact one of our Hostinger Customer Support team members.
How Much Does a Domain Name Cost FAQ
How Do I Permanently Buy a Domain Name?
There's no way you can buy a permanent domain name. Typically, you'll need to renew your domain name on a yearly basis, though some registrars allow you to pre-purchase your domain name for a 10-year guarantee. 
Is It Worth Paying for a Domain Name?
Yes, paying for a domain allows you to secure its ownership and increase your branding identity. Avoid getting a free domain as the provider might abuse confidential data or send malware to your site. If you want to save money, you can always buy cheap domains with global domain extensions.
Do I Need to Buy a Domain Name to Have a Website?
You don't need to necessarily have a domain name to buy a website. However, having a domain name provides more authority and credibility for your site, content, and online presence. 
Why Are Domain Prices Different?
Domain costs vary based on the extensions. Factors that determine a domain's price include the registrar through which you purchase the domain as well as the domain's availability and popularity. Some people even charge premium domains for more than $1,000/year due to their high market value.
Was this tutorial helpful?