How Much Does It Cost to Build a Website for a Small Business Based on the Main Factors 
An online presence helps businesses build brand recognition and attract potential customers. It is also a long-term investment and an excellent way to establish credibility.
Despite the advantages, some small business owners may be reluctant to build a website due to its expenses. Since there are various factors, determining the cost of building a small business website can be challenging.
In this article, we will explain how much it costs to build a website for a small business. Depending on the method, it's not as expensive as you may think. For better clarity, we will also break down the costs based on five main factors.
Download Website Launch Checklist
What Influences Small Business Website Costs
This section will explore the main factors affecting the cost of building small business websites.
1. Domain and Web Hosting
A domain is a unique address that enables internet users to access your website, such as Hostinger.com. Meanwhile, the hosting service stores your website files on a server to make them accessible online.
A custom domain name is important for branding as it helps website visitors recall your business. Also, a free domain like yoursite.wordpress.com will make your website look less professional.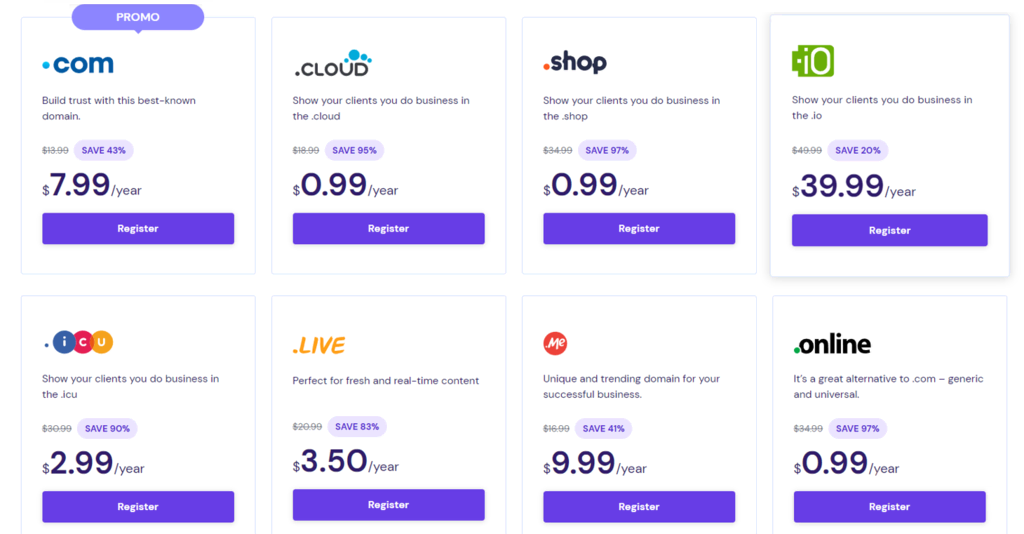 Domain name prices depend on the top-level domain (TLD) and subscription period. For example, a .com domain costs $9.99/year, while the lesser-known .business is priced at $6.99/year.
Pro Tip
If you plan to target a specific market, registering a country code top-level domain (ccTLD) could be a good idea. Moreover, they usually cost under $10/year. Some examples include:
Check all domain extensions available at Hostigner to discover more options.
Keep in mind that domain renewal costs are higher than the initial purchase price. To minimize expenses, we recommend choosing a web hosting provider offering a free domain name for the first year.
Also, make sure to choose the right web hosting plan according to your needs. Otherwise, the website might perform poorly or become inaccessible during high traffic due to insufficient server resources.
For small business sites, start with shared hosting and upgrade as needed. On average, it costs $1-15/month but may be more depending on the plan and web hosting company.
Hostinger's plans start at ₹69/month, but we recommend small business owners opt for the Business web hosting plan at ₹269/month. It includes a free domain and unlimited Secure Sockets Layer (SSL) certificates. If you want more storage and resources, you can upgrade to cloud hosting anytime.


2. Web Development for a Small Business Site
A website's cost depends on the approach you take to develop it – creating it from scratch, using a content management system, or utilizing a site builder.
The three options suit different needs, levels of expertise, and budgets. Let's go over them in more detail.
Content Management System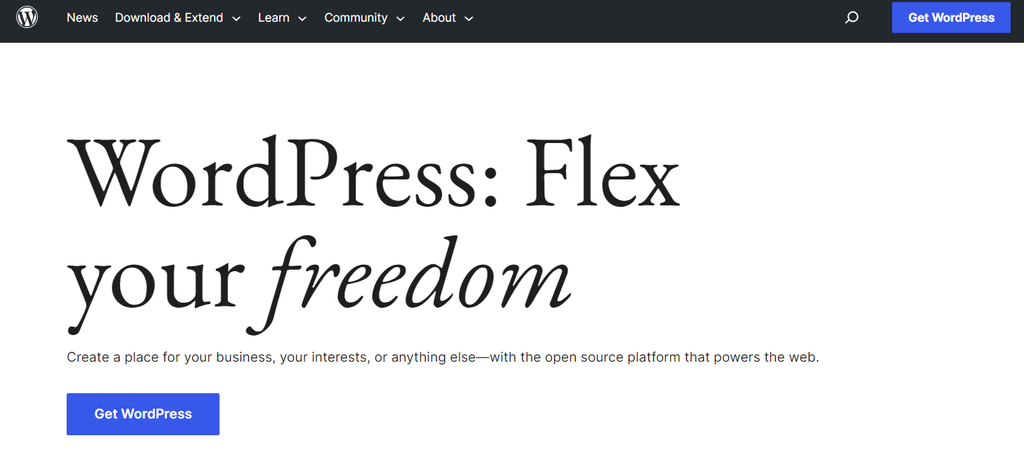 A content management system (CMS) is a software application that provides the basic infrastructure for building a website. It lets users create a website without coding or needing to add content manually to the host server.
CMSs like WordPress are excellent for creating websites with advanced features, like an online store. Due to its flexibility, it's also possible to scale business websites to handle higher traffic and more content.
However, a CMS-based website's cost varies greatly depending on its hosting, plugins, and themes. Some business owners may also opt to hire a web designer and developer to ease the process, affecting total costs.
Although the CMS itself is free, the estimated upfront cost of building a small business WordPress site with premium themes and plugins is around $132.99. Here's the pricing breakdown:
| | |
| --- | --- |
| Hostinger's WordPress hosting | ₹269/month for the Business WordPress plan |
| A .com domain name | Free, included in the hosting plan |
| SSL certificate | Free, included in the hosting plan |
| Yoast SEO plugin | $99/year |
| Mailchimp marketing plugin | $13/month for the Essentials plan |
| Navian premium WordPress theme | $17/license |
To minimize costs, use free plugins and only switch to premium ones when needed. In addition, you can opt for free themes, which are available via WordPress' official directory.
If you don't use a premium theme and plugin, you'll only spend ₹269/month for the hosting cost. This price can be even lower if you use a basic shared hosting plan.
Website Builder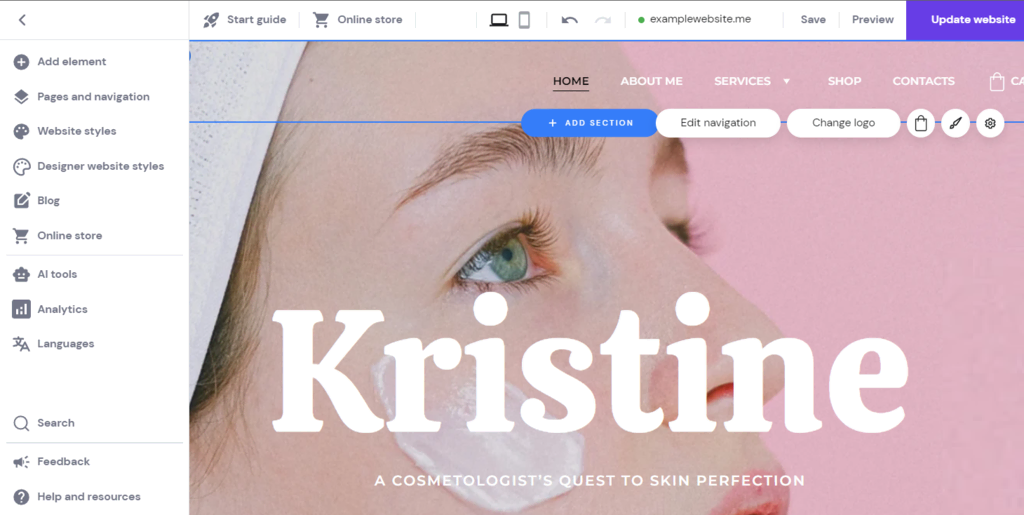 If you prefer an all-in-one solution, we recommend opting for a builder-based website. This is because most website builders' subscription fee includes essentials such as the domain name and hosting service.
A website builder is also easy to use, with most offering a drag-and-drop interface. This enables beginners to intuitively create their own sites. As such, it's an excellent option for those who want to launch a website quickly and prefer not to hire a web designer or developer.
The cost of using a website builder varies depending on the provider and subscription plan. Hostinger Website Builder costs ₹149/month, which includes a free SSL certificate, hosting service, and a custom domain name.
Important! We recommend avoiding a free website builder for your business site since it may not support custom domains. Using a free default domain can make your professional website look less credible.
Hostinger Website Builder also has built-in features like search engine optimization (SEO) and performance analytics tools. In addition, it provides a free AI-powered content writer, logo generator, and heatmap analysis.
Moreover, our builder platform is an excellent choice for an eCommerce website. It has free built-in eCommerce functionality for inventory management and shipping, and offers more than 20 payment gateway options.
When choosing the best website builder for your needs, consider its features and additional benefits. For example, Hostinger Website Builder offers third-party integrations with Google Analytics and AdSense, Hotjar, and Facebook Pixel, among others.


Custom-Made Site
Building a custom website is the most difficult method and requires much effort. To start, you must create each web page's file individually and upload it to the host server.
With this approach, you can't use a template and must write code to configure your website's layout and design. In addition, you must program your website's features manually without extensions or plugins.
Pro Tip
Frameworks like Bootstrap and Codeigniter help speed up your custom website development process. However, compared to using a CMS or website builder, this method will still be more expensive, complex, and time-consuming.
Although it varies, the cost of a custom site is relatively high. Due to its complexity, many site owners choose to hire web developers to help build the website.
The average professional web developer rate is $20-100/hour. Since building custom websites for small businesses takes around 250 hours, expect to spend approximately $5,000-25,000/project.
Additionally, since managing such a website requires some technical skills, you may also need to purchase website maintenance services.
Check Out These Comprehensive Platform Comparisons
3. Website Design
Web design is crucial since 75% of consumers judge a business' credibility on it. If you opt for a CMS or a website builder, you can use an existing website template that's included in your plan. For inspiration, check out our selection of the best small business website examples.
Hostinger Website Builder, for example, offers AI-powered and responsive customizable templates, making independent web design intuitive. Plus, since the designs are categorized based on industry, topic, and purpose, small business owners don't need to start from scratch.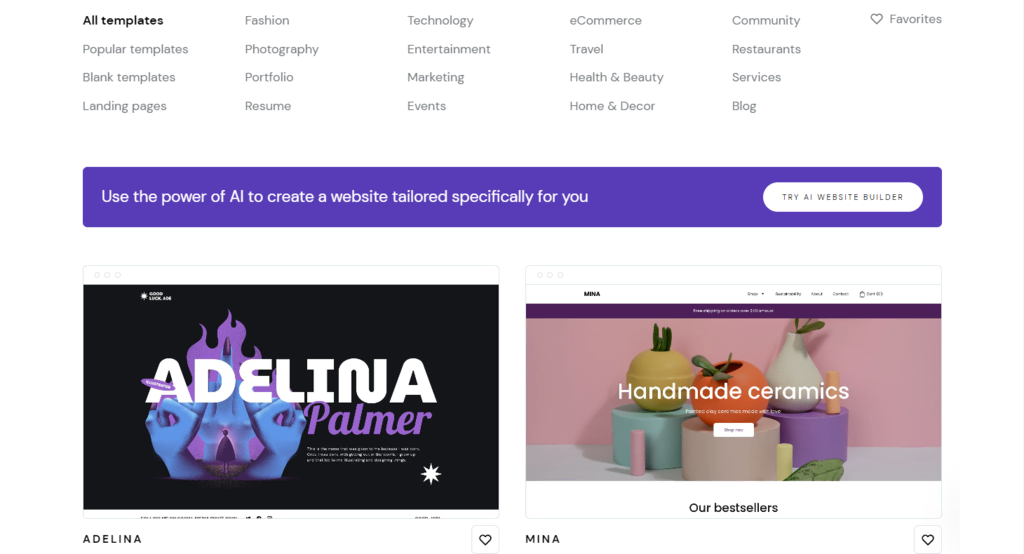 On the other hand, you can hire a professional web designer to completely custom-make your website's design.
The average cost of hiring a web designer is $32/hour, but it may vary depending on the task complexity. For instance, editing a WordPress theme is cheaper than creating a web design from scratch.
In addition, the price will increase if you want different designs for each page. On average, a small business web design job costs between $2,000-8,000/project.
4. Maintenance for a Small Business Site
In addition to the initial expenses, consider website maintenance costs. This refers to recurring fees for services like:
Hosting. Average hosting renewal prices range between $2-80/month, depending on the subscription length and plan. Web hosting companies typically charge less per month for longer subscription periods.
Domain name. Domains expire after a certain period, after which the user must renew to keep their website accessible. Renewals cost around $10-129/year, depending on the TLD.
SSL certificate. Some hosting providers like Hostinger offer free unlimited SSL certificates. However, the renewal price for a paid certificate is often similar to its initial purchase price and varies by SSL type.
Plugins. CMS plugin renewal prices vary between $4-49/month. However, some premium plugins are license-based and can be purchased once without renewal.
Email service. To have a custom business email address, you need an email hosting service. On average, it costs $1-6/user/month but can come for free with your web hosting plan, such as the case with Hostinger.
Note that these ongoing maintenance costs also depend on your website's platform. For example, builder-based websites generally have no separate hosting subscription fees.
Also, consider maintenance tasks like auditing security, optimizing website performance, updating plugins, and backing up site files. You can do them independently or hire a professional, costing $200-4,500/month.
5. Marketing for a Small Business Website
After launching your website, start marketing it to attract visitors. Driving traffic to your website is important to promote your business and convert visitors into customers, therefore generating income.
There are two main marketing approaches – organic and paid. Organic marketing involves promoting your website for free through non-paid channels like social media, blogs, and online forums.
Creating high-quality and SEO-friendly website content is the best way to market your business organically. This helps your website rank higher in search engines, encouraging users to visit it.
While such organic channels are free, some businesses hire a digital marketing specialist to get the best results. For SEO and content marketing services, prices range between $2,000-6,000 and $3,900-12,000, respectively.
Meanwhile, paid marketing uses ads, promoted posts, or endorsements. The purpose is to generate immediate sales in addition to improving brand awareness.
For paid marketing, the cost depends on the company's budget, marketing goals, and promotion channels. On average, small businesses spend $1,000/month on advertising.
How Much Does a Small Business Website Cost
In this section, we will provide the estimated website costs for small businesses, whether you create it independently or hire a professional to develop a custom-built website.
Small Business Site Cost When Doing It Yourself
While more affordable, a DIY website takes more time and commitment. In addition to developing the website, you must regularly maintain and monitor its performance.
If you don't have the technical knowledge, we recommend using a builder platform to create a DIY website. It is easy to learn, offers auto-updates, and backs up your website regularly for seamless maintenance.
Alternatively, use a managed WordPress hosting solution if you prefer a CMS. This service helps maintain your WordPress website by updating the WordPress core, backing up your site's files, and auditing security.
In general, the upfront cost of building a DIY website with a site builder or CMS ranges between ₹149-132.99, depending on the platform and your chosen website extensions.
Small Business Website Cost When Hiring Professionals
Building a website by hiring professionals is much more expensive than creating it yourself. However, it is a viable option for users wanting more complex websites with many advanced features.
Based on the data we've previously mentioned, hiring professionals for website development costs around $9,200 upfront. Here's the estimated price breakdown:
| | |
| --- | --- |
| Web hosting for business | ₹269/month |
| SSL certificate and domain name | Free, included in the hosting plan |
| Web developers | $5,000-25,000/project |
| Web designers | $2,000-8,000/project |
| Website maintenance services | $200-4,500/month |
| Marketing services | $2,000-12,000/project |
Note that hiring a web design and development agency rather than a freelancer also affects costs. If you have a limited budget but still want tailored services, we recommend hiring freelance web developers and designers who offer lower prices.
Conclusion
A website is important for businesses to build brand recognition, boost sales, and attract potential customers. However, many small business owners may hesitate to build one due to its varied expenses.
In this article, we have explained the cost of building a website for small businesses based on multiple factors:
Hosting and domain. Essential services that make your website accessible online. Hostinger's Business Web Hosting plan with a free domain costs ₹269/month.
Web development strategy. The method of building your site, like using a CMS, website builder, or coding it from scratch. It ranges from ₹149/month to $25,000 upfront.
Site design. The price of hiring web designers to style your website. It costs around $32/hour or $2,000-8,000/project.
Website maintenance. The cost of renewing hosting, optimizing website performance, auditing security, and backing up files. Hiring a professional for this can cost $200-4,500/month. If you get a managed hosting solution, some maintenance services are included in your subscription.
Marketing. Includes the fees for advertising and hiring a digital marketing specialist. It can cost $2,000-12,000/project or $1,000/month. You can opt for organic marketing strategies as a free alternative.
Note that at every stage of website development, the price increases when you hire professionals. If you outsource web development, maintenance, and marketing services, the total cost is around $9,200-49,500/project.
Meanwhile, a DIY website requires more effort to develop and manage independently but only costs around ₹149-132.99 to start. For easy setup and website management, use a site builder platform or a managed hosting service.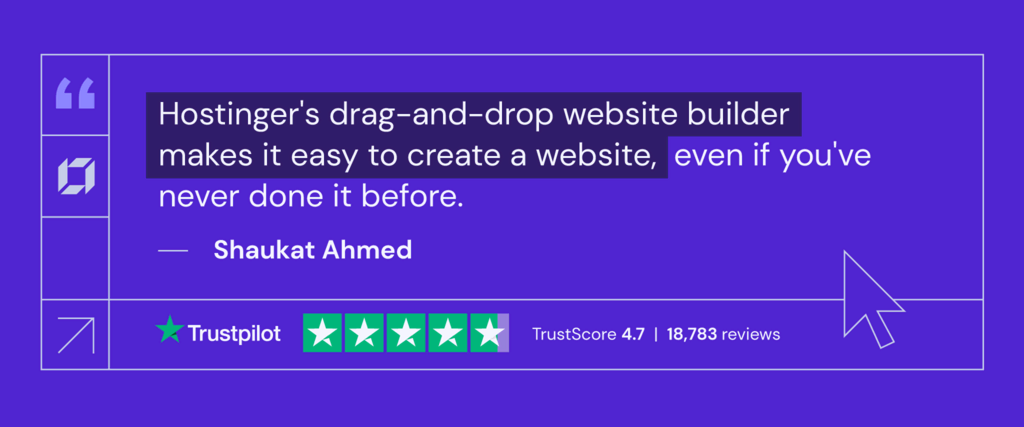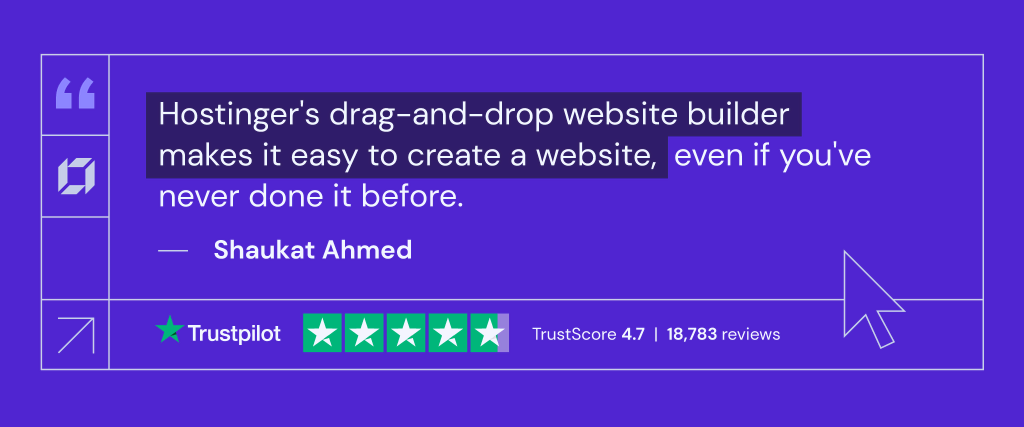 How Much Does It Cost to Build a Website for a Small Business FAQ
In this section, we will answer frequently asked questions about the cost of building a website for small businesses. If your query isn't listed, leave us a comment below.
What Is the Average Cost of Building a Website for a Small Business?
The cost of a website for a small business is anywhere from ₹149/month to several thousand dollars. It all depends on the development method, the website's complexity, and the features needed.

A CMS or builder platform lets you create a website for approximately ₹149-132.99. Meanwhile,  professionally-built custom websites can cost $9,200-49,500.
Can I Create a Website for My Small Business Myself?
Yes, a builder platform like Hostinger Website Builder lets you create a website even without web development experience.

This platform is also simpler and quicker to set up than a CMS like WordPress due to its AI-powered solutions. In addition, it requires no coding knowledge and offers excellent customer support for easy troubleshooting. 
How Much Does a Small Business Website Cost Using a Website Builder?
It depends on the brand, but Hostinger Website Builder costs ₹149/month. This price includes the hosting service, domain name, SSL certificate, and built-in marketing tools. What's more, users can scale their hosting plans to add more resources when needed as their website grows.