With so many affiliate marketing programs out there, it's hard to single out the one that fits your needs the most. Each has a different way of getting started and various commission rates. So, check out our favorite affiliate marketing programs and start earning!
What is Affiliate Marketing?
Affiliate marketing is a way to earn commissions by promoting products or services for businesses or companies that you partner with.
So, there are two parties involved in affiliate marketing. There's an affiliate merchant – also known as advertisers, the one who provides the product to promote. Then, there's an affiliate marketer – someone with a website, blog, or social media whose job is to turn their visitors into potential customers of the product.
In short, advertisers get new customers, and affiliate marketers get compensated for sending traffic their way.
18 Best Affiliate Marketing Programs
In the list below, introduce you to the best affiliate marketing programs out there.
If you have browsed through Amazon's catalogs, then you know that they have a vast collection of products in their arsenal.
Whether you have a lifestyle, fashion, technology, or food blog, there are always suitable products that you can promote.
Plus, their Amazon Bounty Program will give you commission for every visitor that signs up for their free trial.
How hard is it to get started? The process is straightforward – just navigate to the Amazon Associates homepage, click "Join Now for Free," and fill out the information about your site, blog, or mobile app.
There's a section where you have to enter a few details – what kind of product you want to promote, where you get traffic from, and some others.
When you finish setting up your profile, wait for 24 hours to get verified, and you're all set!
How quickly can you start earning? Each product category has its own fixed price. So, if you wish to maximize your earnings, pick the highest-paying niche for your blog (the highest commission rate is 10% for luxury beauty, fashion, and Amazon Coins). Also, the threshold limit for direct transfer is $10 and for the checks is $100.
You'll also get a commission if your visitors buy other products. For example, if you're promoting a gaming console, and the user clicks on your affiliate link, buying the gaming console, then decides to buy a headset, you'll also get a commission for the headset sale!
If you're looking for an affiliate marketing program with high commissions, look no further than ours! It's perfect for any site or blog that has a technology-related niche.
Every hosting purchase that comes from your affiliate link will give you a 60% commission. Pretty great, right?
How hard is it to get started? All you have to do is sign up and fill in a little information, then wait for 24 hours to get verified. Then, you can start putting up affiliate links and banners on your site.
How quickly can you start earning? For example, if your visitors buy our premium shared hosting package ($2.15) and don't cancel the service during the 30-day period, you'll get a 60% commission which will be $1.29. You'll receive payment once your balance reaches $100 – about 78 sales.
If you fancy another affiliate marketing program with a vast collection of products, ShareASale Affiliates is your answer!
ShareASale is similar to a marketplace – they cater to both merchants and promoters alike. With more than 3,900 merchants, on-time payments, and responsive support, no wonder ShareASale is among the list of most reliable affiliate programs.
How hard is it to get started? To sign up, you have to go through five simple steps. Start by registering your username and password, then fill in your website's information, enter your email, contact details, and choose a payment method – direct bank deposit or check. Then, wait one business day until your application is validated.
How quickly can you start earning? ShareASale has a lower threshold limit than the previously mentioned programs – only $50. Keep in mind that different payment methods also play a role in how fast you'll receive your earnings.
International transactions take 4-6 weeks before your check is sent via mail, 1-3 business weeks via FedEx, and only 3-6 business days if you choose direct deposit.
Shopify is one of the largest ecommerce platforms with wonderful features. From generating a business name, creating logos, to developing an online store app, they make sure to offer solutions to every entrepreneurs' problem.
By convincing your visitors to use their platform you will be rewarded handsomely by Shopify.
How hard is it to get started? First, you must create a Shopify Partners account which requires information about your website, how you would promote Shopify, and whether you have experience in digital marketing. After that, wait for two business days to get verified.
How quickly can you start earning? In general, they have two kinds of plans you can refer your audience to – standard and Shopify Plus. For each sale of a standard plan, you'll earn $58. As for Shopify Plus, you'll get $2,000 for each sale!
Keep in mind that Shopify Plus is a service meant for an online enterprise store – it costs a fortune. So, it might be a hard sell.
ThirstyAffiliates is a free WordPress plugin that can help bloggers manage their affiliate links.
It's a great product to promote – why not recommend the tool that can simplify the affiliate marketing activity?
Using this plugin, you can cloak affiliate links, protect them from theft, and add those links into your articles instantly.
How hard is it to get started? Put in your basic information in the signup form, check your email for a username and password, and log in to access the affiliate dashboard. In the Links & Images tab, you can get your affiliate link and banners.
How quickly can you start earning? You can gain a 30% commission for every sale you send their way. Their most affordable product is the one-site license ($49) which gives you $14,9 for each sale. What's even cooler, they have no payout limit!
With the reputation they have built since 1995, it's hard not to see eBay as one of the largest and most trustworthy marketplaces out there.
They have over 1,1 billion listings of the best brands for various niches. Also, their marketing kits make it easier to promote and share.
How hard is it to get started? You can sign up on their page using a Google or Facebook account to make the process faster. Remember to have your PayPal information on hand.
How quickly can you start earning? The eBay Partner Network gives you between 50% and 70% of their revenue, depending on the product categories. Plus, you only have to reach $10 in balance to receive a payment.
Here comes another online store that you can depend on. Rakuten is a globalized Japanese-based market-leading online shopping mall. They have a global affiliate network that can help advertisers gain new customers and maintain repeated purchase.
How hard is it to get started? Go to their page and sign up. You'll need to fill in the details about your company, contact, primary website, and some tax information. You also get to set your threshold limit as long as it's above $50.
How quickly can you start earning? The downside to this program is that you have to join each specific advertisers' programs. Otherwise, there's no way of knowing how much revenue you can get – there's a wide variety of commission sizes.
Leadpages is an online tool that you can use to make landing pages in a hassle-free way. It comes with many useful features such as a drag-and-drop builder, tons of mobile-friendly templates, unlimited traffic, and much more.
Creating a website can help strengthen your audience's online presence no matter what their niche is – and with such an easy tool, anyone can use it. This makes for a perfect product to promote to your readers.
How hard is it to get started? It's recommended that you purchase a Leadpages plan before you promote it – you can highlight its benefits better if you know how it works firsthand. First, go to their affiliate page to sign up. There's a form to fill out with all the standard details – display name, website, language, country, and so on.
How quickly can you start earning? You can earn recurring commissions of 30% for each sale and the following renewal payments.
Not only that, Leadpages will give a $5,000 bonus to a qualified marketer to travel around the world. Aside from the package, they also hold paid webinars, for which you also get the same 30% commission by referring it to your audience.
Avantlink is one of the best affiliate marketing programs with tight vetting for affiliates – only 30% of all applicants get approved! However, their state-of-the-art technology for easy marketing more than makes up for it. Besides, they also only allow large and established merchants with quality products in the network.
Real-time reporting, paid placements, an affiliate link encoder, and custom tracking are just a few of all the tools at their arsenal. Everything about Avantlink screams serious business and high dedication to both merchants and marketers alike.
How hard is it to get started? Their eye-pleasing interface makes it easy and fun to sign up. Choose one region among U.S, Canada, and Australia for your preferred network, then fill out the form with your details.
Then, you'll receive an email containing instructions on how to verify ownership – it requires a little technical skill. Meanwhile, Avantlink will also review your application which takes a few days.
How quickly can you start earning? The average commission rate for each sale is 10%, while the minimum amount for withdrawal is $50. Each payment will be sent on the 25th of every month. Keep in mind that Avantlink won't be able to pay you if the merchant hasn't paid yet.
This renowned affiliate marketplace is one of the easiest affiliate marketing programs to get into. What's more, they have thousands of products to promote with different commission rates for each vendor.
How hard is it to get started? You can choose which product to promote right away. Once you click Promote, you need to enter a nickname that will create a HopLink – your instantly made affiliate link! You can immediately share it on your blog or social media. But, to receive payment, you need to sign up and fill out the necessary information.
How quickly can you start earning? Commission rates depend on each vendor – they range from 1% to 75%. You can also look for either a one-time purchase or recurring payments – with the latter being the easier choice to earn money.
The default payment threshold is $100 but you can change it in your Settings tab to form $10-$1,000,000.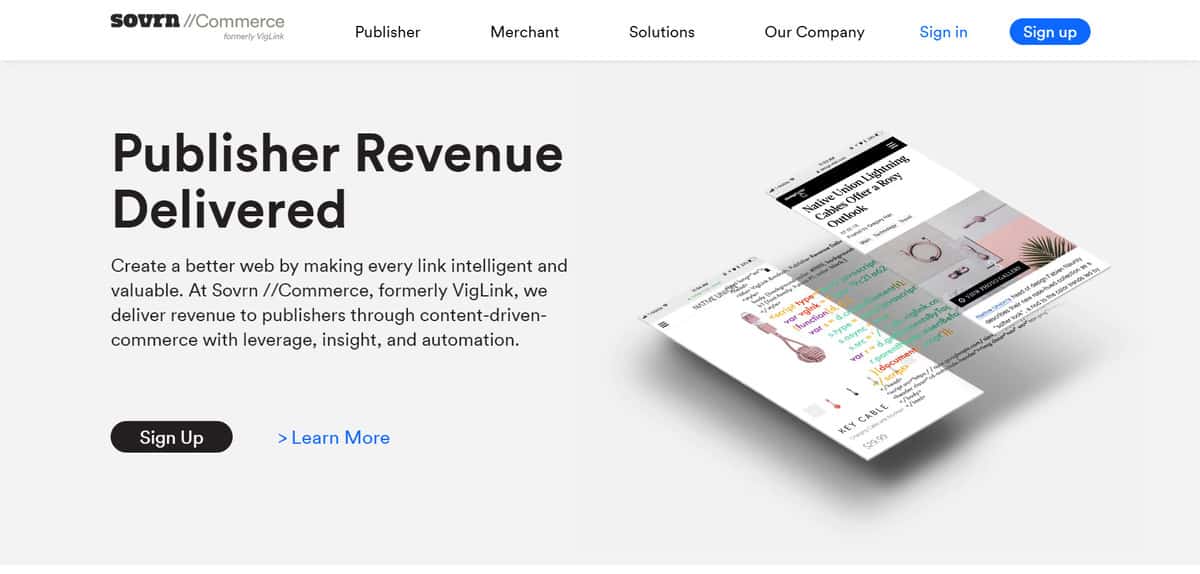 Previously known as VigLink, Sovrn Commerce is one of the best affiliate marketing programs that monetizes your content effortlessly.
Their automation tool can turn your existing product link and unlinked keywords into the highest-paying affiliate link in just seconds.
How hard is it to get started? When you sign up, you need to state what platform you're using to promote their products – blog, website, forum, etc. – along with your niche. Then, you have to paste the VigLink code into your site.
You can either do it with the VigLink plugin or manually. Your website will be under review in the meantime. Meanwhile, you can start generating the affiliate link.
How quickly can you start earning? No matter how much you earn, the payment will only be sent 90 days after you sign up. Plus, your balance needs to reach $10 – otherwise, the amount will be rolled up for the next month.
They offer both CPC (cost-per-click) and CPA (cost-per-action) plans, but the commission rates vary wildly.
CJ Affiliate, also known as Commission Junction, is one of the top affiliate marketing programs that you can trust. With over 20 years of experience, they will make sure to offer you the best solution for getting as much revenue as you can.
They know better and leave your visitors' privacy alone – that's why they have a cookieless tracking system that can still do a great job at tracking your commissions.
How hard is it to get started? In the signup page, you'll have to read the terms all the way down until you can tick the agreement box. Once the registration is complete, fill in the network profile with your website/blog description and promotional method. Then, pick a merchant and join their program.
How quickly can you start earning? Each merchant has a different commission rate, and various EPC (Earnings per hundred clicks). For example, when a merchant has $30 for their EPC, it means that every 100 clicks you send their way, you'll gain $30 in commissions – regardless of the commission rate.
If a merchant has a low commission rate but high EDC, it means that they do a marvelous job at converting their traffic into buyers. This measurement is not 100% transparent, but you should look for the highest EDC if you want to earn money quickly.
Peerfly has one of the largest affiliate networks. With over 2,000 live offers, it's no wonder that this CPA-based program managed to rack up more than 75,000 active publishers around the world.
What's more, their tracking system is among the best out there – they built their own system to suit your needs.
Its pricing is based on CPA (cost-per-action) – your visitors need to do certain actions (purchase, join a free trial program, etc.) to earn you commissions.
How hard is it to get started? There are four steps to go through to you sign up – basic information, marketing, taxes, and verification. You may need up to three days to have your site verified.
How quickly can you start earning? They offer various timely payment options – net 30, net 15, and every week with the minimum amount for withdrawal being $50. For example, if you reach the threshold in January, then your payment will be sent on February (Net 30).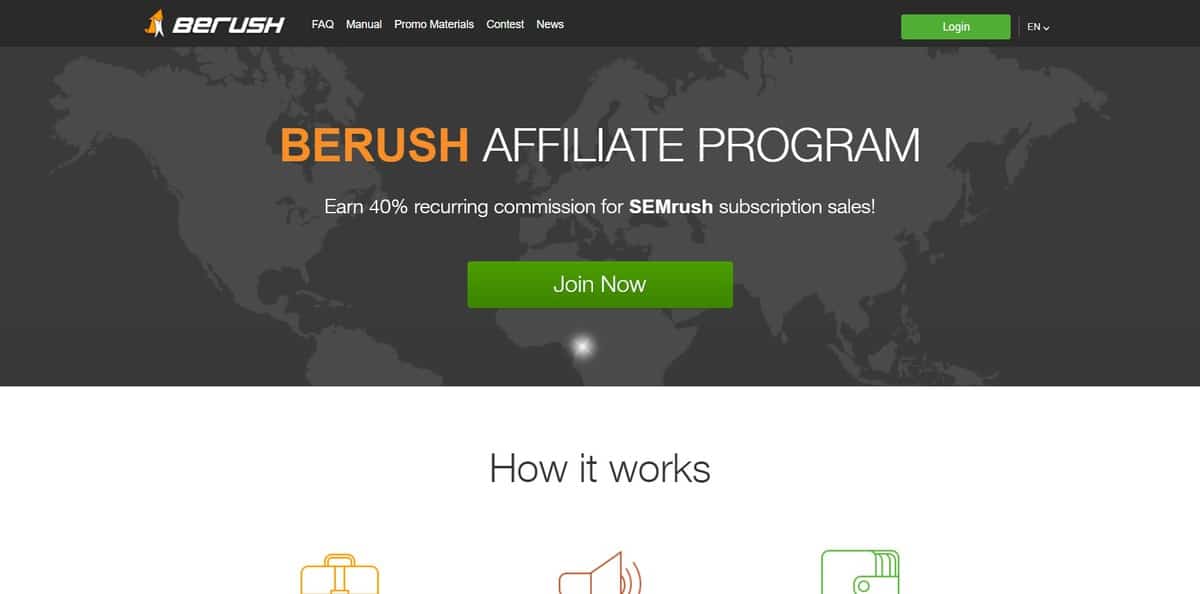 If your audience needs a way to improve their SEO ranking, introducing them to SemRush on your site.
The affiliate program will compensate you for sending traffic and sales their way. Since marketing is an everyday problem for various niches, this tool will appeal to everyone!
How hard is it to get started? Sign up on their page – it's blazing fast! All you have to do is choose an email and password, then click the verification link in your inbox.
How quickly can you start earning? For each referral you get, you'll gain a 40% recurring commission. They have three main packages – pro ($99.95/month), guru ($199.95/month), and a business plan ($399.95/month).
Building a connection with bloggers and influencers out there is a great marketing tactic. You can make use of their massive audiences to grow your business. By using Ninja Outreach, you can make an email list consisting of many influencers and connect with them in just seconds!
If you could benefit from such a useful tool, so could your readers! Not only will you get a recurring commission for every sale, but they'll also be grateful to you for showing them a nice trick!
How hard is it to get started? The sign-up process is easy and quick. Just fill out your details, click the verification link in your email, change the password, and you can start sharing your affiliate link.
How quickly can you start earning? You will get a 20% recurring commission for each sale. The threshold is $100. If an audience member buys a package for $99/month, you'll get $19.8 every month as long as he/she stays active.
HubSpot is a CRM (Customer Relationship Management) software that makes inbound marketing a breeze. Inbound marketing is the all-in-one marketing package to turn your leads into customers by using compelling content, social media, and proper strategy to connect with buyers.
It's a must-have digital product for any type of business. Their CRM software is 100% free, but you can only gain commission by promoting their paid package plans – Starter, Professional, Enterprise.
How hard is it to get started? Click the Get Started button on their page and your browser will scroll down to the signup form. Once all forms are filled out, click Submit.
How quickly can you start earning? You will gain a flat-rate commission. The amount you'll get depends on the tier of product that your referral buys – and he/she needs to be a new customer.
The commissions for Starter, Professional, and Enterprise are $250, $500, and $1,000.
The Printful Affiliate Program will be a perfect fit for blogs with an entrepreneurship niche.
Their service includes the printing of apparel like t-shirts with your own design and connecting your products to ecommerce platforms automatically. It's a hassle-free method to become an online shop owner without worrying about packaging and shipment.
Convince your audience to use their service, and you'll get a high recurring commission.
How hard is it to get started? Create a Printful account first. Then, you'll be immediately be asked to fill in details for affiliate registration. Once it's done, you need to wait for 2-3 business days until your application is approved.
How quickly can you start earning? You can get 10% commissions for each referral. Plus you'll get a 10% recurring commission for every sale your referral made within the next nine months.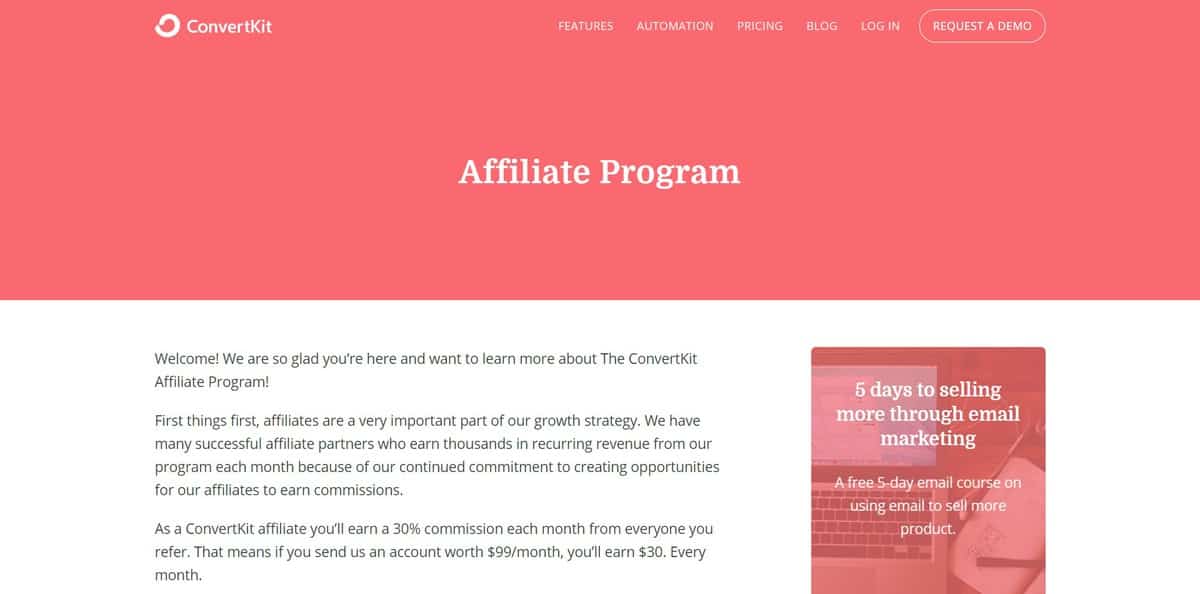 Email subscriptions are important to any blogger and site owner – it's a great way to engage with your readers and turn them into recurring visitors.
ConvertKit is a software that can make the whole process more efficient. Their automation tool can easily create an email template that follows custom rules. You can build everything with a nice interface and a drag-and-drop feature.
You also get a chance to earn commissions by recommending them to your visitors with easy signup and straightforward rules.
How hard is it to get started? This affiliate marketing program is free to join. Sign up on this page, enter your name and email. They will send you an automatically-generated password for you to log in and get a shareable affiliate link right away! To fill in necessary details such as your payment method, navigate to your dashboard.
How quickly can you start earning?  Their commission rate is 30% for every sale you send their way. Plus, you'll also get a recurring commission if your referral stays active – which means you can get 30% every month!
Conclusion
Now that you know about the best affiliate marketing programs available, you can start weighing in the factors – commission rates, product quality, and relevance to your niche.
To summarize, we will feature the top 10 best affiliate marketing programs with their pros:
ConvertKit Affiliate Program – convenient and useful product, very easy to join
eBay Partner Network – high revenue, a vast collection of products, low payout limit
HubSpot's Affiliate Program – a useful automation tool, high flat-rate commission
SemRush – easy and quick to join, high recurring commission
Hostinger Affiliate Program – high recurring commission, useful marketing kits
ThirstyAffiliates – useful product, no payout limit
Amazon Associates – many bounty programs, a vast collection of products
Shopify Affiliates – a chance to earn $2000 from a single sale, high flat-rate commission for standard plans
ClickBank – instantly created affiliate links, a wide range of commission rates
WP Engine Affiliate – high commission rate, custom landing pages for promotion
Picking your favorite affiliate marketing programs can be time-consuming. Luckily, you can just take a look at our list and make an educated decision right away! So, what are you waiting for? Go get some money!