Top 19 WordPress SEO Plugins for 2022 (Free + Paid)
Search engine optimization (SEO) is an essential part of any digital marketing strategy. It helps bring in more organic traffic to your site by raising your website's visibility on search results.
As the admin of a WordPress website, you have access to several built-in SEO features. However, WordPress plugins can help your site stand out from the competition, enhancing WordPress's capabilities and adding new ones.
Download Ultimate WordPress Cheat Sheet
In this article, we recommend the top 19 WordPress SEO plugins to take your website to its full potential.
How We Chose the Best SEO Plugins for WordPress
To ensure that we provide only the best recommendations, we've tested and compared a wide range of SEO plugins.
Mainly, we analyzed the following factors:
Systematic workflow. The plugins must have a clear, actionable checklist to help users make decisions and adjust their SEO strategies for WordPress.
SEO tools. By looking into each feature's function, we focus on how the plugins can increase SEO productivity.
Pricing. We also included each plugin's pricing to help you find one that fits your budget and business model.
19 Best WordPress SEO Plugins
Here is our selection of the best WordPress SEO plugins, alongside plugin recommendations to boost your WordPress site's SEO.

Yoast SEO is one of the most popular WordPress SEO plugins, with over 5 million users worldwide. It is a full-fledged plugin to get your website ahead in on-page and off-page optimization.
It has numerous features to help you check your site's outdated content, increase your CTR (click-through rate), and generate an XML sitemap.
Best of all, its page analysis tool helps with keyword research and image optimization. Customize your SEO parameters – from meta descriptions to alt images – from a single panel so that your page will become more appealing for search engines.
Even though Yoast SEO's free version provides several SEO features, Yoast SEO Premium offers additional tools. Costing $89/year for a single site, it gives you full access to the courses on Yoast Academy, internal linking suggestions, and other upgrades.


Rank Math is a WordPress SEO plugin with plenty of powerful features.
Its setup process is straightforward, and users can choose between Easy, Advanced, or Custom modes.
In Easy mode, you can tweak the basic aspects of the plugin's default settings. Advanced mode allows you to change all the SEO elements of the website.
Lastly, the Custom mode, only available for premium users, allows you to import settings from other websites using Rank Math. However, if you are unsure about which one to use, you can easily switch between the different modes.
Rank Math lets you configure more than 15 modules on your dashboard, from alt image and sitemap to schema markup and Google Search Console.
It is also easy to import settings from other SEO plugins in our list, such as Yoast, SEOPress, Redirection, and AIOSEO. This helps keep your position on Search Engine Results Pages (SERPs) after switching your WordPress plugin.
You can download and use Rank Math for free. However, to use advanced features such as keyword tracking, schema markup generator, and 24/7 support, you need to purchase a premium plan.
Rank Math offers two versions – Pro for $59/year and Business for $199/year.


Google XML Sitemaps will automatically generate a complete XML sitemap for your WordPress website in minutes.
Once your WordPress has a clear site structure, it will be easier for search engines to crawl it. Thus, your site's content can become more indexable.
Google XML Sitemaps will also update your sitemap whenever there are new changes.
This WordPress SEO plugin is free and available in multiple languages. Google XML Sitemaps is also multisite compatible.


The SEO Framework is an all-in-one plugin that's fairly easy to use. It comes with color-coded guidelines to assist you in improving your page's SEO.
It also automatically pre-fills meta tags, adds title and meta descriptions, prevents duplicate content, and updates your sitemap whenever there's a new publication.
Furthermore, SEO Framework's support for Facebook, Twitter Cards, and Open Graph protocols allows you to optimize your posts on various social media networks easily.
It helps you control how your posts look on WhatsApp, Pinterest, Discord, or other social media platforms.
The best part, this SEO plugin is free. If you want additional functions such as Google Analytics integration, SEO Framework provides several free and premium extensions.


SEO Squirrly is a WordPress SEO plugin that uses AI technology to provide real-time feedback about your SEO strategy.
Firstly, you need to choose between the Non-SEO Expert and the SEO Expert modes. SEO Squirrly will then check your WordPress pages' traffic and the quality of your content.
To improve your page's rank on search engine results, make sure to follow the step-by-step checklist from SEO Squirrly, turning the red elements to green.
Smaller companies should consider the plugin's free version. It comes with audit functionality, and it is possible to use it on one subsite in your network.
However, if you have bigger SEO goals and need more features, you should go with Squirrly SEO Pro, starting from $20.99/month.


Known for its extensibility, All in One SEO is a reliable WordPress plugin. One of its main features is the TruSEO page analysis.
It gives you comprehensive suggestions on maximizing your SEO strategy, thus driving more traffic to your site. The analysis also provides an actionable list to help you optimize on-page SEO indicators such as keywords, meta descriptions, and titles.
With All in One SEO, it is effortless to connect to a range of SEO toolkits and webmaster tools, such as Google Search Console, WooCommerce, and Bing. As a result, you can measure the site's SEO performance more effectively.
Besides its free version, AIOSEO offers several premium plans for different business models, starting from $49/year.


If you're searching for an SEO plugin that is easy to use, SEOPress is the answer.
A single dashboard directly manages XML sitemaps, redirects, broken links, and schema markups without downloading extensions.
SEOPress also allows you to quickly attach and edit several SEO variables, such as titles, meta descriptions, meta tags, canonical URL, alt texts, and target keywords on the editor screen.
Plus, its built-in content analysis comes with unlimited keywords, helping you to optimize your content's quality for search engines.
You can acquire SEOPress's basic functionality for free. Or upgrade to the Pro plan for $39/year and access SEO tools like video XML sitemap and WooCommerce support.

WP Meta SEO is a multi-tasking SEO plugin that gives you total control over your bulk SEO content.
Using WP Meta SEO, it is easy to bulk customize all meta-information on the website, such as file names and link titles. It also checks HTML image resizing so you can avoid low-quality images and slow-loading pages.
For optimum navigation and indexing, WP Meta SEO will automatically build XML and HTML sitemaps. It will also inspect the website to search for broken internal links and help you fix 404 errors.
WP Meta SEO offers both free and paid plans. Starting from $49/year, its premium plans include automatic URL redirecting and multisite support.
Additional Plugins to Improve SEO
We've listed our top picks for SEO tools, but you may need additional WordPress plugins to bring your SEO performance to the next level.
Perhaps you want to focus on specific parameters or need plugins with functions that your current WordPress SEO plugin doesn't offer. No matter your goal, here are our 11 WordPress plugin recommendations to improve your SEO strategy.


The Google Analytics Dashboard plugin by MonsterInsights is one of the leading analytics tools available for WordPress.
Its setup is beginner-friendly. Within a few clicks, activate all the tracking features on Google Analytics and stay up-to-date.
This SEO plugin will deliver the essential analytics right on your WordPress dashboard, saving you time when making data-driven decisions. Additionally, focus on the statistics that suit your goals with data filtering.
It also offers tracking for Google AdSense and affiliate links, a helpful feature for bloggers and business owners as it provides reports on outbound CTR.
The free version of the MonsterInsights plugin packs universal tracking and real-time statistics. Available from $99.50/year, its premium plans include eCommerce tracking and other features covering different business needs.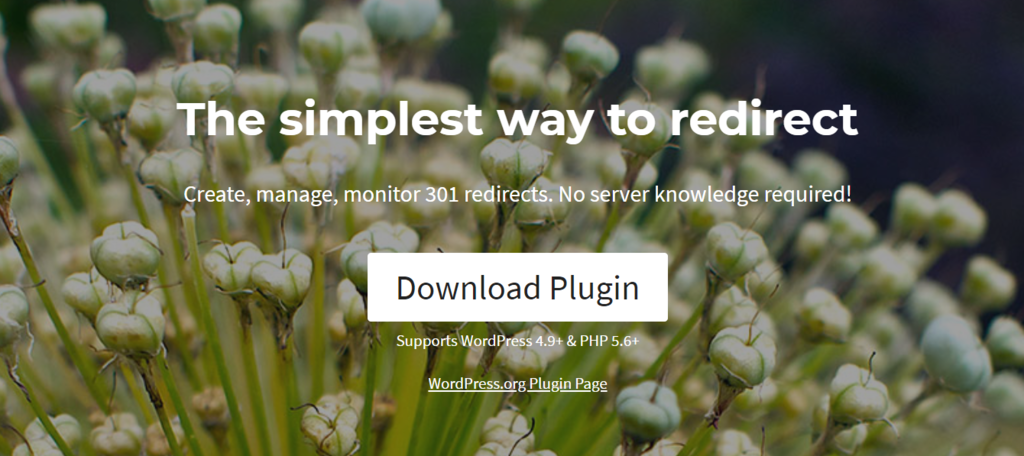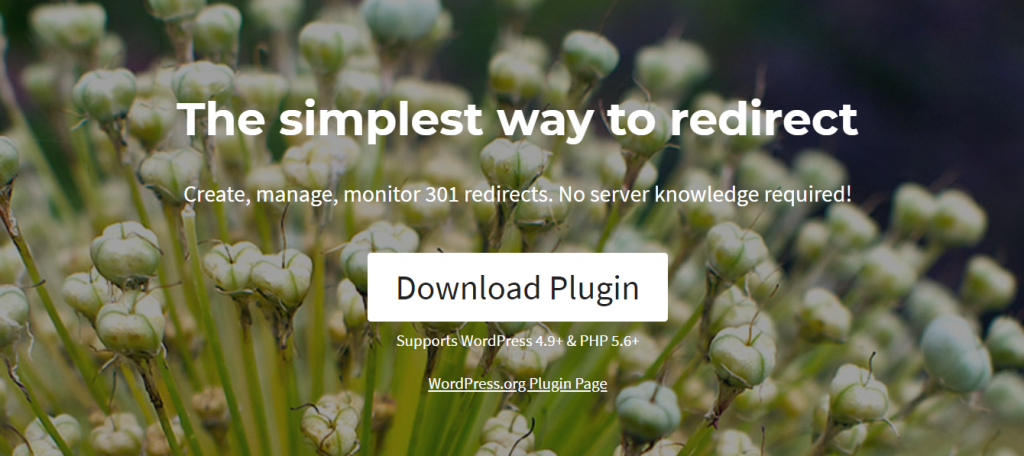 Redirect is a popular redirect manager on WordPress, with over one million downloads. This plugin helps you to handle and fix any problems on your site that have to do with 301 redirects, error 404 pages, and broken links.
Adding a redirection on your site only takes a few steps – inputting the source URL and the target URL in the plugin's interface. In the log section, you can view the details about the redirects on the site, including the visitor's information, browser used, and the referrer.
With this SEO plugin, visitors can swiftly open any page on the site. It can help bring higher search traffic and keep your WordPress page's rank. Moreover, it is available for free.


W3 Total Cache is a caching plugin dedicated to leveraging your website's performance, which is crucial for SEO growth.
It does so by increasing the site speed up to 10 times and minimizing download times. As a result, visitors can browse your site without experiencing any lag, even during peak traffic periods.
This plugin supports AMP, SSL, minification, progressive page rendering, and more.
Overall, W3 Total Cache is an excellent plugin for any website, especially content-heavy sites, and it is available for free.


If you're running a content-based site, YARPP is a plugin that helps to promote your blog posts and pages. The plugin's developers say it can boost page views up to 10%.
This WordPress plugin will find and display articles relevant to the current blog post your visitors are reading. In return, your visitors will spend more time browsing your site.
YARPP shows related content in either a thumbnail or list view, depending on which one you choose. To make sure it displays only relevant posts, it is possible to set a time frame for related posts.
The plugin is free and regularly updated by its developers.
SEOPressor Connect makes it possible to monitor and manage your site's SEO progress with insights into your SEO score, health, errors, and warnings. Alongside those, the plugin also gives a systemized checklist with on-point SEO suggestions for better decision-making.
The optimization feature adopts LSI keywords to help strengthen your search relevancy and add context to your posts.
Furthermore, it supports Dublin Core and schema markups. Combined with the plugin's other features, it allows search engines to interpret the content of your WordPress site and put it in a category. This gives the site a higher chance of ranking on search engine results.
To enjoy these benefits, you can sign up for SEOPressor Connect for $9/month.

If your WordPress site caters to a global audience, WPML is an excellent plugin to get your multilingual WordPress site up and running in seconds.
It will fully translate anything on your page, from pages and posts to menus.
WPML enables users to optimize SEO in any language by setting URLs and SEO meta information. This plugin also implements sitemaps that pass the Google Webmasters validation.
One of the best aspects of WPML is its stability. It is compatible with any themes, plugins, updates, and WordPress latest versions.
The pricing for this plugin starts from $29/year, with a 30-day money-back guarantee. Each plan includes support and updates for one year.

WPtouch is a plugin that makes your website mobile-friendly, another SEO aspect to look out for. This plugin will create a better mobile user experience on your WordPress site and ensure that it passes Google's mobile-friendly test.
Moreover, you don't need to code anything as you can configure any elements on your site through the WPTouch administration panel and WordPress customizer.
The plugin offers various mobile themes for different niches, along with advertising and caching extensions to deliver a fast and stylish WordPress site for mobile users.
In addition to its free version, WPtouch Pro offers bundles starting from $79/year with extra built-in themes and extensions.


With Broken Link Checker, prevent Google from picking up broken links on your site. This way, potential visitors can access any pages on your site, keeping your site's SEO performance consistent and improving user experience.
Right after installation, this plugin will test all of the links on your WordPress site and see if they are working. How long this process will take depends on your website's size. It will also check if there are any broken images and bad redirects.
If there are broken links, the plugin will automatically send a notification via the dashboard, but you can also enable email notifications.
You'll be able to edit the URL or remove the link altogether. There is no need to update each post. You can edit the URLs directly on the plugin's page.
Broken Link Checker is available for free.


To help make your content stand out from the competition on search engine rankings, you'll need a snippet. A rich snippet is a search result that provides additional information such as ratings, images, and prices to attract potential visitors to click on your link.
An excellent plugin for creating them is the All in One Schema Rich Snippets.
This plugin provides eight types of schemas – review, event, people, product, recipe, software, application, video, and articles, to get the most out of your snippet.
When you create a new post, you will find the plugin's meta box at the bottom of the page. Select the content type and fill in the meta descriptions and other required fields.
Finally, check the post preview to see how the rich snippet will look like.
To confirm that the snippet will work properly, you can check the post's URL on Google's Structured Data Testing Tool.
All in One Schema Rich Snippets is a free plugin.
The SEMrush SEO Writing Assistant is an SEO development plugin that provides recommendations to improve your content's optimization.
To use the plugin, you need to have a SEMrush account. Then, you will be able to select target keywords, target location, and device. The SEO Writing Assistant will provide suggestions according to the top ten results on Google for the given criteria.
Once you finish the article, it will give recommendations based on the Flesch-Kincaid readability analysis, text length, target keywords, tone, and voice. It also checks for plagiarism and errors in external and internal links.
SEMrush offers a free account with limited features and paid plans. Its pricing starts from $119.95/month, with a 7-day free trial. Depending on your account's tier, you can access additional keyword reports and Semrush's Content Marketing Platform.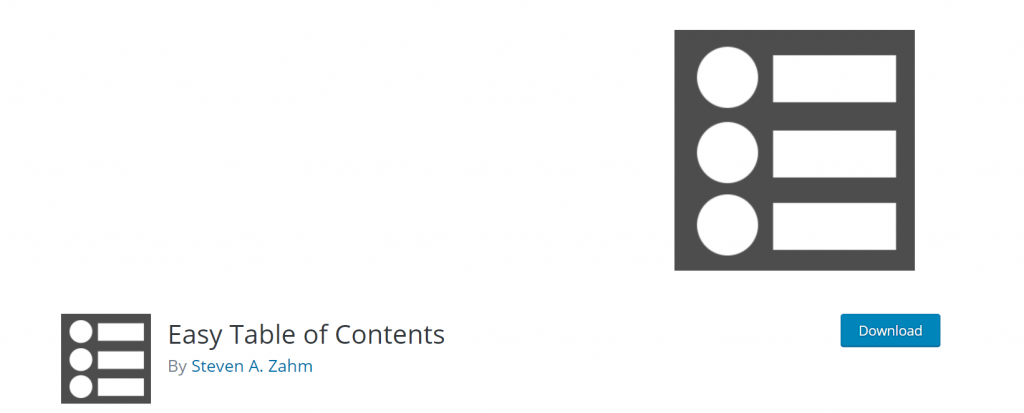 Organizing your data into a well-presented table will make it easier for readers to skim through the content, as they can go straight to the section they are interested in.
However, creating a table on WordPress is not always easy since you have to add HTML code manually. As the name implies, Easy Table of Contents will make your table-making process much simpler.
This SEO-friendly plugin will automatically generate a table of contents on any post and page. Its settings are easy to tweak, and it is possible to customize the table's format and appearance.
Easy Table is free to download and supports the Rank Math plugin.
Conclusion
An SEO plugin provides all the necessary tools to optimize on-site and off-site SEO and analyze content's performance, helping you create actionable decisions to increase your site's rank on search engines.
Plus, an SEO plugin can also be helpful if you're starting a blog as it helps increase the number of visitors coming to your site as your traffic keeps on rising. Make sure to read our blog SEO guide for the best practices.
To ensure that we recommend the best SEO plugins, we looked into several factors, such as their features, pricing, and usability.
If you're still unsure which plugin to choose, try out the following recommendations:
Yoast SEO. An all-in-one plugin that comes with a comprehensive set of tools, from keyword research to page analysis that will help streamline your SEO efforts.
MonsterInsights. If you find Google Analytics overwhelming, this beginner-friendly plugin is for you. Using MonsterInsights, you can set up Google Analytics without inserting code and even track performance with easy-to-understand reports.
W3 Total Cache. This plugin can help optimize your site's SEO by minimizing load times and improving web performance.
We hope that this article will help you find the best SEO plugin for your WordPress website.
If you have any questions, feel free to leave us a message in the comments section below.
Was this tutorial helpful?