8 Best WordPress eCommerce Plugins in 2022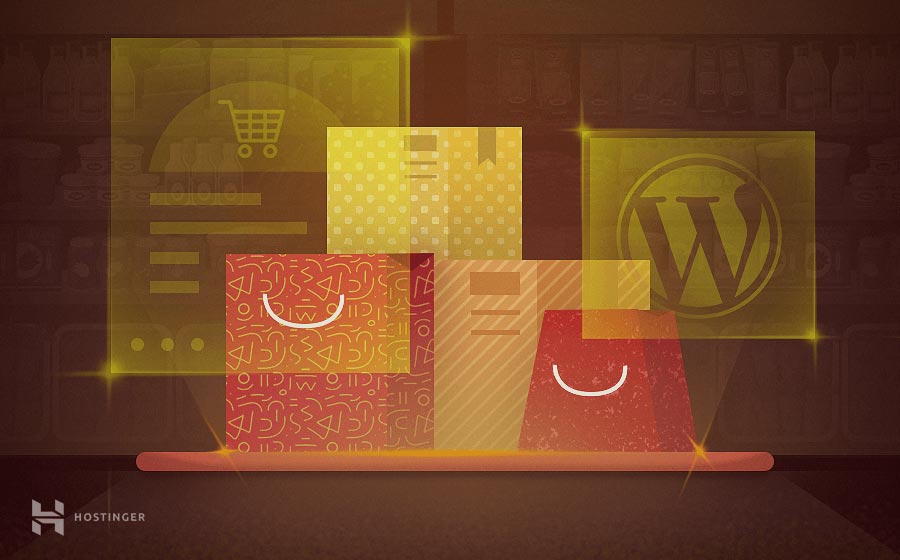 When building an online store on WordPress, one of the most crucial steps is choosing the best WordPress eCommerce plugin.
An eCommerce plugin will enable your website to have eCommerce functionalities. However, keep in mind that certain plugins will only suit specific eCommerce stores. Therefore, it's essential to choose a plugin that best satisfies your needs.
In this article, we'll compare the eight best WordPress eCommerce plugins. We'll show you what makes each of them unique and give you some tips on how to choose one for your project.
Download Ultimate WordPress Cheat Sheet
How We Created the Best WordPress eCommerce Plugins List?
We've compiled this list of the best WordPress eCommerce plugins based on extensive research and a set of criteria that excellent WordPress plugins with eCommerce functionality must meet.
User-friendly interface. A WordPress plugin should let you manage your eCommerce store easily without spending too much time figuring out how to run the eCommerce platform.
Various extension and integration options. A plugin that integrates or supports a wide array of add-ons will enable you to extend your eCommerce store's functionality.
Multiple payment methods. Support for more payment gateways affects your customers' purchase decisions. These methods include credit cards and major payment gateways like PayPal.
Flexible design customization. Your website design will form the first impression of your business. If a plugin offers various design templates and allows plenty of room for design customization, you can fully align the store with your brand personality and needs.
Sufficient support and updates. A plugin with good customer support service is crucial when you need help with any issues. Continuous updates are essential as well.
Insightful analytics. It should integrate or be compatible with reporting and analytics tools, so you can find out and track the performance of your site and products, as well as your customers' behavior. That way, you can plan your next business strategy.
Reasonable costs. A scalable eCommerce platform will allow you to start with a minimal budget and continue to add more elements as your business grows and more functionality is needed.
8 Top WordPress eCommerce Plugins
Now that you know what to consider when choosing an eCommerce plugin for your business, here are our recommendations for the best WordPress eCommerce plugins.
Overview:
WordPress rating: 4.5/5
Active installations: 5,000,000+
Developer: Automattic
Pricing: free, with additional costs for advanced features starting at $10/month
Downsides: it offers advanced features as separate paid add-ons
WooCommerce is the most popular open-source eCommerce platform in the world. Even though WooCommerce is a free plugin at its core, it still provides you with enough useful features to build a powerful eCommerce site. Some hosts even have managed WooCommerce hosting, allowing for an ever quicker and well-set WordPress online store.
WooCommerce offers a vast directory of premium add-ons, including WooCommerce themes, extensions, plugins, and security tools – all of which you can Incorporate into your WooCommerce store to improve your store's functionality.
Features that make WooCommerce a top WordPress eCommerce plugin:
Scalable for any business scale. Start with the most basic features when starting up your business, then scale up by investing in premium add-ons over time. If your business is a big retailer store with an extensive inventory, and you need help in improving your website performance, WooCommerce offers the services of verified WooExperts.
The huge active global community. As the most popular WordPress eCommerce plugins, it's easy to find blog posts that can help you troubleshoot any issues that might not have their solutions available in the WooCommerce official documentation.
Powerful extensions and plugins. Extensions and WooCommerce plugins are additional features that you can add to your WooCommerce store to improve it. For example, WooCommerce Pre-Orders allows customers to order items before they're available, and WooCommerce Multilingual enables you to run a multilingual WordPress eCommerce website.
Versatile product types. It allows you to sell any product, such as physical goods, digital downloads, and subscriptions.
Multiple payment methods. It offers various payment alternatives for some of the major payment gateways. That includes PayPal, bank-to-bank payments, and cash on delivery.
Stunning theme options. Most eCommerce themes available in the WordPress theme directory are compatible with WooCommerce, giving you various options to choose from.
User-friendly with great customization control. The plugin is very user-friendly, including helpful video tutorials on their Help section. On the other hand, its open development allows advanced users to customize their site as they want.
Modular product blocks. Customize your site pages using modular WooCommerce Blocks. They allow you to create grids of products based on various factors, such as best-selling items, all product reviews, and a product categories list, encouraging visitors to check the designated goods.
SEO optimized. WooCommerce is compatible with Yoast SEO to help your store reach the top of the search results page.
Configurable shipping options. Connect with well-known carriers and fulfillment services right from your dashboard. Automatically calculate the shipping rates, and allow your customers to track their shipments via WooCommerce Shipment Tracking.
Simple tax calculations. Use the WooCommerce tax calculator or other integrated services to calculate your tax automatically.
Secure data. Your usage data will be anonymized, and if you decide to migrate to another eCommerce platform, you can export all your content for free.
Overview:
WordPress rating: 4.2/5
Active installations: 1,000+
Developer: BigCommerce
Pricing: $29.95-$299.95/month or custom pricing for the Enterprise plan
Downsides: limited design customization options
BigCommerce has its own content management system and hosting, now providing its service for the vast WordPress community with its early developer beta version. For the moment, you have to apply in order to use BigCommerce, but that could all change soon, as the system is a work in progress.
BigCommerce is a Software as a Service (SaaS) product, which means you don't own the software, and you have to pay a monthly fee to use it.
It's one of the best WordPress eCommerce plugins for larger businesses. It provides features to manage multi-channel sales from one control panel and accommodates more extensive catalogs, traffic, and order volume.
Features that make BigCommerce a top WordPress eCommerce plugin:
Better credit card processing rates. BigCommerce partners with many processing companies, acquiring better rates for its users than other WordPress eCommerce plugins.
Faster performance for more effective cost. BigCommerce runs the eCommerce portion of your WordPress site on the back-end and manages the content on the front-end, which results in optimized speed and potential hosting-cost saving.
Integrated PCI Compliance handling. BigCommerce will handle the Payment Card Industry Data Security Standard (PCI DSS) requirements for you. On other eCommerce platforms, you'll have to negotiate with your host for such security options.
Multi-channel selling and management. Sell across multiple channels and marketplaces, such as a WordPress website, Amazon, and Google Shopping, and manage it from one control panel. Your inventory will sync automatically, eliminating any errors.
Great for larger eCommerce sites. This eCommerce plugin allows you to build complex catalogs and manage large volumes of orders.
Instant access to eCommerce features. BigCommerce comes with standard and advanced features such as shipping calculations, taxation, and currency handling without having to install any additional extensions.
Extensive payment gateways. It integrates with 65 global payment gateways, providing more options for customers from various countries and locales.
Streamlined global shipping. BigCommerce supports all major international carriers, which allows for real-time shipping calculation. It also provides free shipping, flat rates, and dropshipping.
Supports AMP. BigCommerce for WordPress supports Accelerated Mobile Pages (AMP). The AMP format optimizes your eCommerce site on mobile devices and helps your site perform better on search engine pages.
Various support and services. There are 24/7 live phone, chat, and email support agents ready to assist BigCommerce users. BigCommerce also offers dedicated services for larger enterprises.
Overview:
WordPress rating: 4/5
Active installations: 5,000+
Developer: WP Shopify
Pricing: free, Pro for $99-$399/year
Downsides: additional charge if you use external payment systems
ShopWP is a free WordPress eCommerce plugin that aims to provide an easy way to make an online store. Initially a standalone Software as a Service (SaaS) eCommerce solution, Shopify now provides its service in the form of a WordPress plugin.
The plugin is free to download, but there's a yearly fee to use the services. You will also be charged an additional fee if you use external payment systems. This is because Shopify encourages its users to use Shopify Payments – their own, easy-to-use payment platform.
Features that make ShopWP a top WordPress eCommerce plugin:
Hassle-free for beginners. ShopWP will handle an eCommerce store's technical aspects, such as SSL certificate set up, payment gateway integration, and taxation.
Custom eCommerce experience on a WordPress site. It's an easy way to incorporate a storefront into your blog, display a single buy button, or showcase a whole list of products. It also includes checkout and cart functionality, equipping your WordPress site with essential eCommerce features out-of-the-box.
Supports various types of products. Sell both digital and physical products on your WordPress store.
Extensive inventory management. Manage your inventory from your dashboard with inventory editor, bulk importer, and order tracker.
Streamlined shipping options. ShopWP shipping system integrates directly with popular shipping and fulfillment providers. You can also provide tracking information.
Integration with Facebook and Pinterest. Use ShopWP to create a Facebook Store or Buyable Pins on Pinterest.
Stunning themes. Customize the look of your storefront to match your brand personality.
Various Shopify apps. There are 1,000 apps available on Shopify App Store. Add extra functionality to your eCommerce WordPress website by integrating apps like Xero for bookkeeping or Mailchimp for email marketing.
Enticing sale pricing. Attract shoppers by displaying the comparison of standard and sale prices on your shop page.
Various variant buttons. Allow shoppers to filter products by multiple aspects such as vendors, colors, or types of material.
Effective "left in stock" message. Develop urgency by showing your customers the "left in stock" notice when a product's availability gets low.
Insightful analytics. Understand your business via your ShopWP Dashboard. It will show reports on your sales performance, traffic and track growth trends.
Cloud-based eCommerce platform. You don't need to worry about server upgrades when your eCommerce site starts to get more traffic as the platform itself is easily scalable.
Overview:
WordPress rating: 4.7/5
Active installations: 60,000+
Developer: Sandhills Development, LLC
Pricing: free, Service Pass for $99-$499/year
Downsides: only allows for the selling of digital downloads
Easy Digital Downloads is a simple, intuitive plugin to manage and sell digital products on WordPress. Other WordPress eCommerce plugins can also support digital sales, but Easy Digital Downloads offers features specializing in this type of product. These include file access control, customer management, and data reporting.
It's a great eCommerce plugin choice if you only sell digital items like eBooks, audio samples, and PDF files.
The plugin is free, but there are yearly subscription plans to access Easy Digital Downloads' advanced services. That access includes customer support, site licenses, and advanced integrations, such as email marketing and payment gateway options.
Features that make Easy Digital Downloads a top WordPress eCommerce plugin:
Optimized for digital products. Easy Digital Downloads clears out features for physical products and provides more advanced solutions for digital product sales.
Large extensions library. It offers lots of extensions for various digital product-related solutions, such as software licensing, free downloads, and content restrictions. These extensions come at varying prices, with some even free to use.
Various payment gateway options. It integrates with the most common merchant processors. Use third-party extensions to add support for more payment alternatives.
Compatible with most WordPress themes. It works well with most WordPress themes, and it also offers themes that are specifically-built for this plugin.
Full customization control. Easy Digital Downloads is open source, adaptable, and extensible. It allows advanced developers to make the necessary customizations they desire.
Large, active community. The community has many bloggers, developers, and digital eCommerce enthusiasts who are happy to share Easy Digital Downloads-related solutions with fellow users or create helpful new extensions.
Complete customer management. View and manage detailed records of your customers, including their purchase history.
Detailed eCommerce reports. Keep track of your WordPress store performance, which includes your sales, refunds, and total revenue.
Protected products. Prevent unauthorized users from accessing your digital products without paying.
Supports discount codes. Offer potential customers coupon or discount codes to boost your sales.
Multiple-channels support. This plugin is very well-documented. There are free support forums, videos, tutorials, and a chatroom where you can ask for assistance. Premium users will get access to priority support.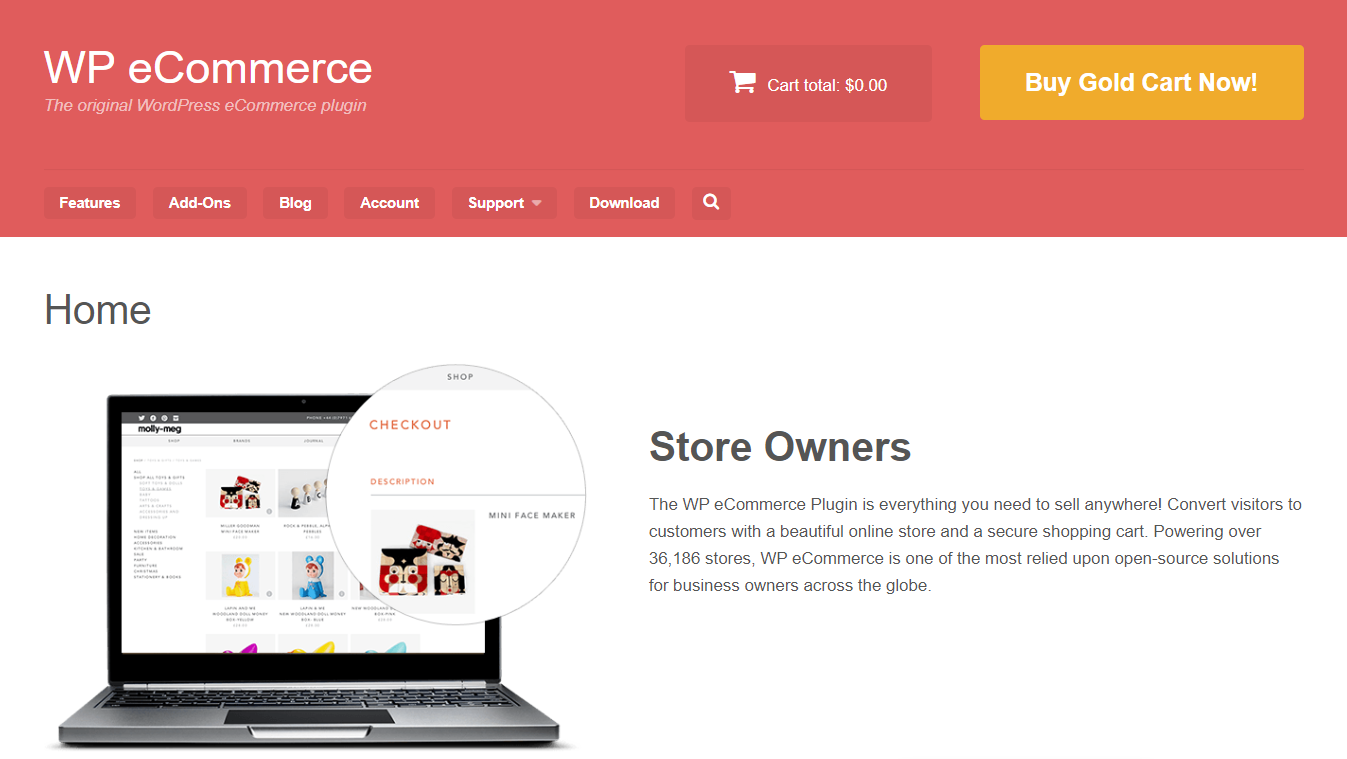 Overview:
WordPress rating: 3.4/5
Active installations: 10,000+
Developer: WP eCommerce
Pricing: free, with paid add-ons
Downsides: buggy, fewer extension options
WP eCommerce is the oldest WordPress eCommerce plugin on the market.
It comes with many built-in eCommerce features, including integration with various payment gateways – offering more payment options for your customers.
Unfortunately, many of the reviews mention a large number of bugs present in the plugin and fewer available add-ons than its newer competitors.
However, WP eCommerce can be the right choice for a plugin if you aim to establish a straightforward WordPress store with only the most necessary features.
Features that make WP eCommerce a top WordPress eCommerce plugin:
Straightforward. It may not come with many feature options, but WP eCommerce has all the necessary features to run an online shop. These include a shopping cart, inventory management, and reporting capabilities.
Supports multiple types of products. Whether you sell physical goods, digital downloads, or memberships, WP eCommerce can facilitate various types of items.
Developer-friendly. Tweak the plugin with CSS and HTML customizations to adjust your eCommerce site as you desire.
Streamline shipping management. It comes with built-in shipping tools and integration with popular couriers, helping you manage your shipping on one platform.
Powerful built-in tools. Improve your site functionality by managing your orders, catalogs, and marketing without the need to add more plugins. With fewer additional plugins, you'll experience faster site performance.
Developer: Caseproof, LLC
Pricing: $149-$349
Downsides: no lifetime purchase option, making it quite expensive in the long run
MemberPress is a WordPress Membership plugin. It will help you sell membership-based products, such as member-only content, subscriptions, and online courses.
It enables you to create, manage, and track membership subscriptions. Manage your members by granting and revoking their access to your products, such as videos, forums, and digital files – all based on their types of memberships.
Features that make MemberPress a top WordPress eCommerce plugin:
Easy setup. Install the plugin, enter your payment gateway credentials, set up your products, and you're ready to go.
Detailed access management. It enables you to control your users' access based on the membership or digital goods that they purchase. That includes granting, revoking, and restricting your users' access to specific pages, posts, categories, and tags on your website.
Support courses. MemberPress can help you build and sell online courses easily using the Courses add-on. Since it's MemberPress's own built-in add-on, you don't have to download it from a separate source.
Customizable coupons. Generate coupons for promotions and giveaways, customize your coupon codes, and control the validity period and the number of uses.
Integrated with forum plugins. Create WordPress-based forums with plugins like BBPress or other WordPress forum plugins.
Compatible with any WordPress theme. You can use any WordPress theme or use custom themes instead.
Manageable content dripping. Release content to members at pre-set time intervals, such as a weekly newsletter. MemberPress also manages members' time limit in accessing certain content by specifying the content expiration date.
Clear reporting. MemberPress will give you insights into your membership site's performance, such as your revenue and which products score the most sales.
Simple payment gateway integrations. Whether you want to charge your users for digital products or bill them for memberships, the gateways are very easy to configure.
Comprehensive subscription management. It allows your members to create, update, upgrade, and cancel their subscriptions directly from your site. MemberPress also has automated billing systems that automatically grant or revoke members' access based on their payments and ensure that your costs come in regularly.
Support multiple subscription types. It allows you to offer various types of paid memberships and showcase your subscription options on one page so people can compare the available plans.
Overview:
WordPress rating: 4.4/5
Active installations: 6,000+
Developer: WP EasyCart
Pricing: free, $69-$99/year for premium plans
Downsides: application fee per transaction for the free plan
WP EasyCart is one of the best free eCommerce plugins for WordPress suitable for small business owners who want to start an eCommerce store but don't have much time to learn how to build one.
This WordPress shopping cart plugin offers a fast configuration process and easy-to-understand tools, great for users who have no technical website development knowledge.
WP EasyCart's free plan comes with several advanced features, which can be a cost-saving option for those who just start their businesses.
Choose the Premium yearly plan to access more advanced features, such as Quickbooks integration for bookkeeping and AffiliateWP, to handle affiliate management.
Features that make WP EasyCart a top WordPress eCommerce plugin:
Powerhouse free plan. One of the best free WordPress eCommerce plugins on this list thanks to its advanced features such as unlimited product display, order management, and integrated payment gateways.
Affordable premium plans. Its yearly plans are relatively inexpensive compared to other eCommerce plugins, considering the features provided.
Support digital and physical products. Whether you're selling digital goods, physical items, gift cards, or subscriptions, WP EasyCart can facilitate it.
Supports invoices. In WP EasyCart, you can offer a product type that allows your customers to enter the invoice number and amount due.
Supports donations. Ask for donations, and allow site visitors to enter the amount they wish to donate. Also, show a donation chart on your WordPress eCommerce website so that your site visitors can see the donation progress.
Free customer support. The forums are active, and the video tutorials can help you solve your problem independently.
Simple interface. The straightforward interface helps streamline management and provides your site visitors with a hassle-free user experience.
Helpful marketing tools. Every product, menu, and category is SEO-optimized, helping you to increase your sales. It also allows for social sharing so that your visitors can easily link to the items you sell. WP EasyCart also enables you to manage your feed info and automatically promote your latest stock or product information to Instagram and Facebook on an hourly, daily, or weekly basis.
Multi-language and multi-currency. Reach more audiences by offering your services in multiple languages.
Overview:
WordPress rating: 4.5/5
Active installations: 30,000+
Developer: Ecwid eCommerce
Pricing: free, $15-$99/month for premium plans
Downsides: doesn't support AMP versions of the product page
Ecwid Ecommerce Shopping Cart is not limited to one content management system because it integrates with platforms such as Drupal, Tumblr, and Facebook.
This shopping cart plugin for WordPress is reasonably more cost-effective than other WordPress eCommerce plugins. Its core plugin is free to use and comes with a variety of built-in tools. It also offers several monthly payment plans, which will grant you access to more advanced features.
Features that make Ecwid a top WordPress eCommerce plugin:
Compatible with multiple platforms. Ecwid is known for its seamless integration with many website builders and content management systems, including WordPress, Drupal, and social network-based stores like Instagram Store.
Powerful free plan. The free plan allows you to sell on multiple sites and provides features such as a mobile-responsive shopping cart, more than 70 design themes, and support for Google Ads.
Scalable storefront. The free plan can only support 10 product displays, but you can display 100 items with the $15/month plan, 2,500 items with the $35/month, and unlimited items if you go with the $99/month plan. It's especially advantageous for new businesses that can start with the lowest plan and continue to scale accordingly.
PCI-DSS Certified. Ecwid hosts the stores. It complies with the PCI DSS, ensuring a gateway-bank secure transaction. In comparison, other eCommerce plugins have to attain PCI compliance from the hosting provider.
Synchronizable data. Install Ecwid on one site, and you can transfer all of your store data to a different website and synchronize the two. This will enable you to sell simultaneously on multiple storefronts in a more manageable way.
Automatic shipping and taxes. Ecwid integrates with major shipping carriers such as FedEx and UPS, allowing for automatic calculations of shipping rates. Automated tax rate calculations are also available for several global regions.
Unlimited storage, regular backups, and security updates. Since Ecwid's servers host all Ecwid online store data, this plugin comes with unlimited storage, automatic backups, seamless upgrades, and security updates. There is no need to worry about these technical aspects since Ecwid will make sure that your online store gets the newest updates and bug fixes.
Mobile-responsive design. Ecwid works well on any WordPress website, especially those that use mobile-optimized themes. Your eCommerce store will look great on any screen, providing a great user experience for your customers.
How to Choose the Best WordPress eCommerce Plugin for Your Store?
Each store's needs may vary from each other, but there are non-negotiable qualities that all WordPress eCommerce plugins should have.
Before you install your WordPress eCommerce plugin, check our tips to decide which plugin best suits your store:
1. Determine Your Needs
This includes knowing what type of products you sell or what kind of eCommerce business you run. For example, if you're only selling digital goods, you should pick an eCommerce plugin that focuses on supporting digital goods sales.
Or, if your business includes dropshipping, choose an eCommerce plugin specifically designed to help run dropshipping companies.
2. Plugin Update Frequency
As a rule of thumb, WordPress plugins should be updated regularly. This includes staying up-to-date with the latest WordPress version so that there wouldn't be any compatibility issues with your website.
3. Active Community
Check out the number of downloads, active installations, and ratings on the WordPress Plugin Directory to see whether a plugin is popular or not. Popular eCommerce plugins typically have loyal users who can help when you encounter uncommon issues that aren't available in the official documentation.
If you can't find the plugin in the directory, there are two possibilities – the plugin you're searching for is only offered as a paid tool, or the plugin doesn't meet WordPress standards. WordPress prevents plugins with unfit security or lack of documentation from being listed on the Plugin Directory.
Check the reviews to learn about the plugin's performance according to those that have used the plugin.
4. Free and Premium Plugin Support
Some eCommerce plugins only provide written documentation for free plan users. Simultaneously, full customer support services such as direct calls, tickets, and developer support are only available for premium users.
Determine if you can tackle any issues using the free support or whether you want to invest in all-round support.
5. Target Market Based on Country
Make sure to offer international-friendly payment options so that people from any country can buy your products. However, even popular payment gateways have limitations on particular countries, so choose a plugin that supports the gateways that work well with your target demographic.
Conclusion
Deciding which WordPress eCommerce plugin works best for your online store depends on the type of store you want to set up.
Here's a handy list to summarize what makes our picks great:
WooCommerce. Great if you need lots of features and excellent customization control.
BigCommerce. Suitable for larger businesses or WordPress eCommerce stores with complex inventories.
ShopWP. Cloud-based and easy to use for beginners.
Easy Digital Downloads. Specifically designed for selling digital products.
WP eCommerce. Includes all the necessities needed to create an eCommerce store.
MemberPress. Facilitates stores that sell membership-based content.
WP EasyCart Shopping Cart and eCommerce Store. Offers a feature-packed free plan that is excellent for small businesses.
Ecwid eCommerce Shopping Cart. Great if you aim to sell on multiple platforms.
As long as you know what kind of shop you want to build and what features you need, this article would be enough to guide you in deciding to pick one.
Good luck with your new online venture. If you have any questions, don't hesitate to leave a comment down below.
Was this tutorial helpful?