25 Examples of eCommerce Websites With Fantastic Designs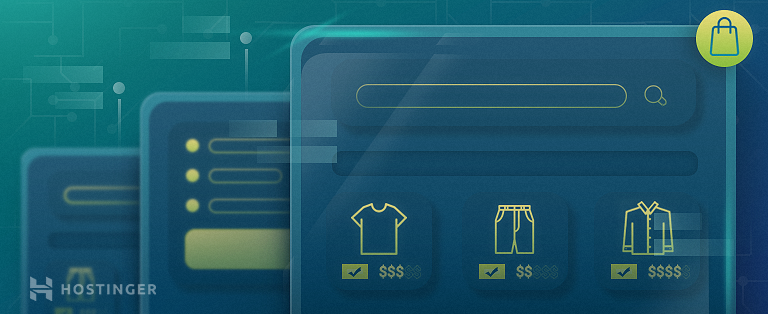 Download Website Launch Checklist
Design is one of the factors that significantly contribute to the success of an eCommerce website. In fact, 75% of people judge the credibility of a business based on how its website looks, and six out of 10 people consider website usability very important when shopping online.
No matter how excellent a product is, if the eCommerce website looks bad and is hard to use, any online business will struggle to get conversions. Therefore, we've compiled the 25 best examples of outstanding eCommerce website designs to inspire you.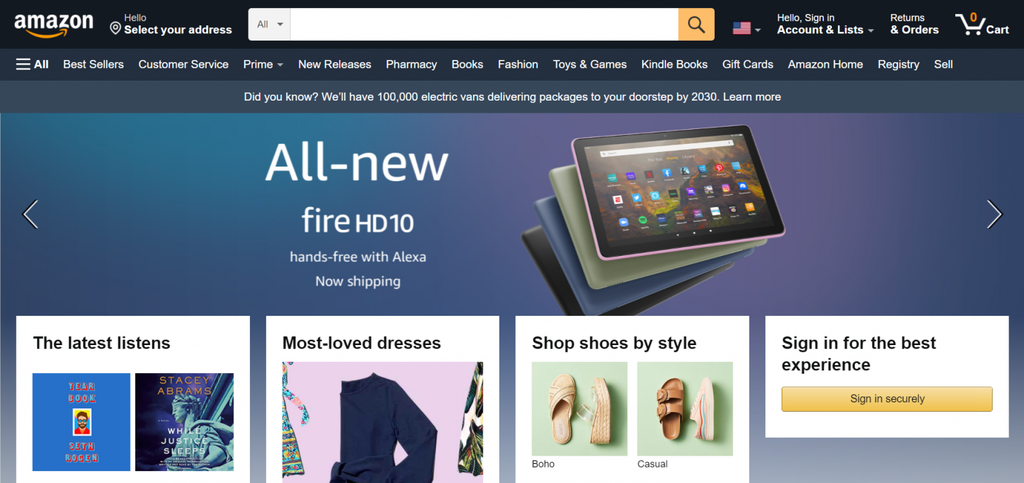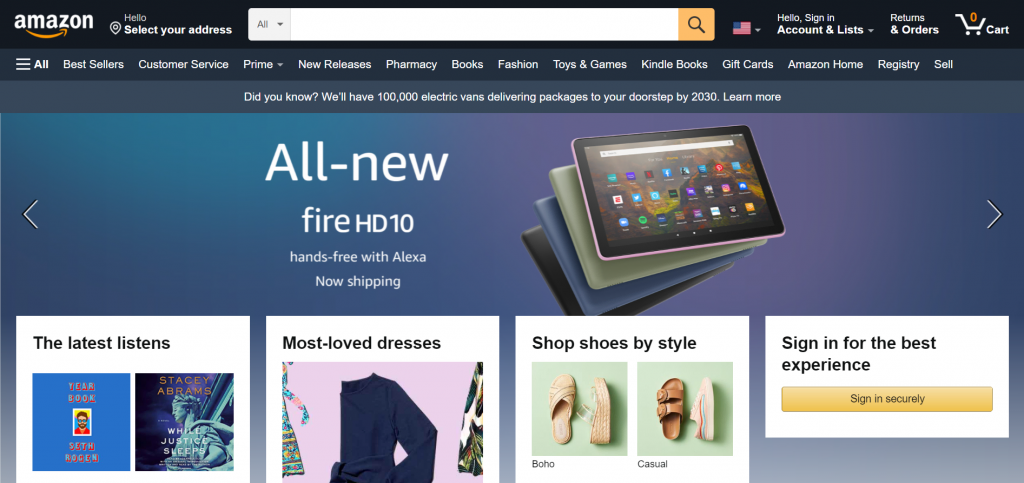 Amazon is a good example of how a good eCommerce store should look, as its user-friendly website design instantly makes it easy for customers to find what they need.
To speed up the shopping experience, visitors can use the on-site search engine to look for their desired items, with the multiple filtering options also helping to show the most relevant products.
Despite having millions of products in its marketplace, Amazon does a great job of simplifying its interface. For instance, all product category pages are hidden in the sidebar hamburger menu.
This way, users don't feel overwhelmed by the abundance of options, making the online selling site easy to navigate.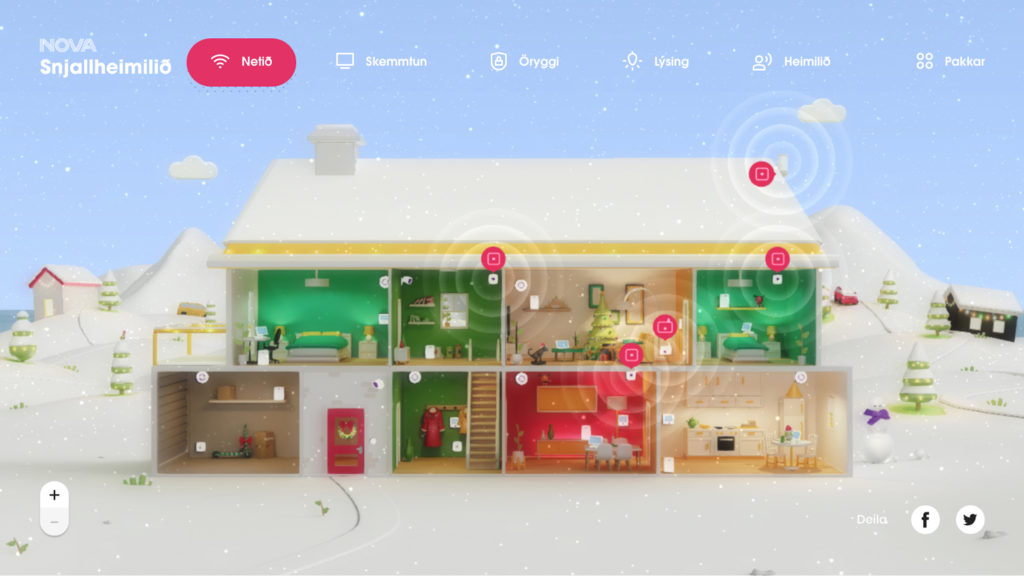 This Icelandic telecommunications company has a one-of-a-kind microsite dedicated to its smart home devices. By using an animated 3D house model, it becomes an interactive product demonstration website for Nova's products.
After selecting a product category from the top navigation bar, the page will show you where the item is used in the house. When clicked, the website displays a range of innovative home products to choose from in that category.
Though this microsite is best viewed on desktop screens, the website design translates well to mobile devices. The top navigation bar transforms into a handy hamburger menu, and the buttons remain visible.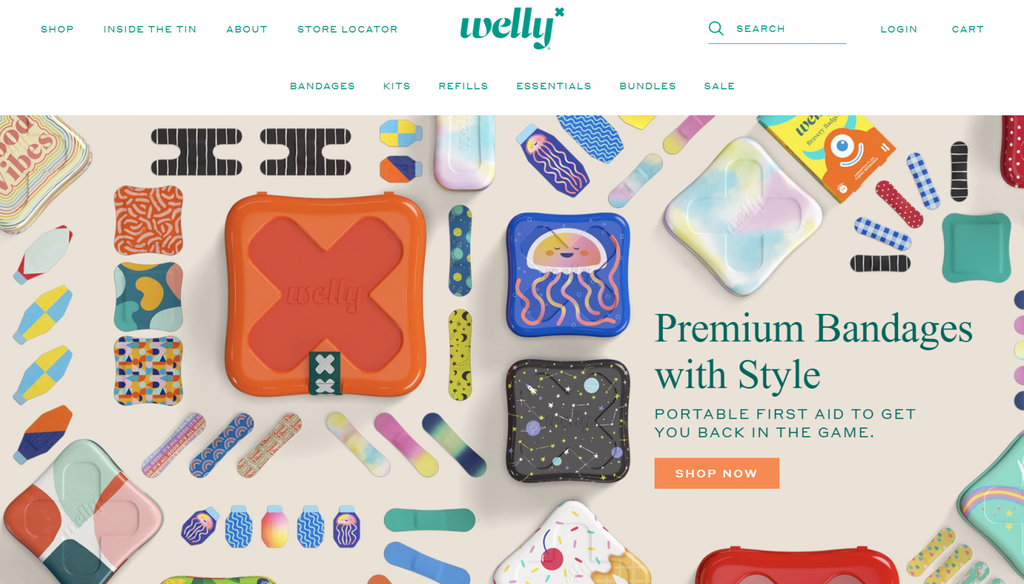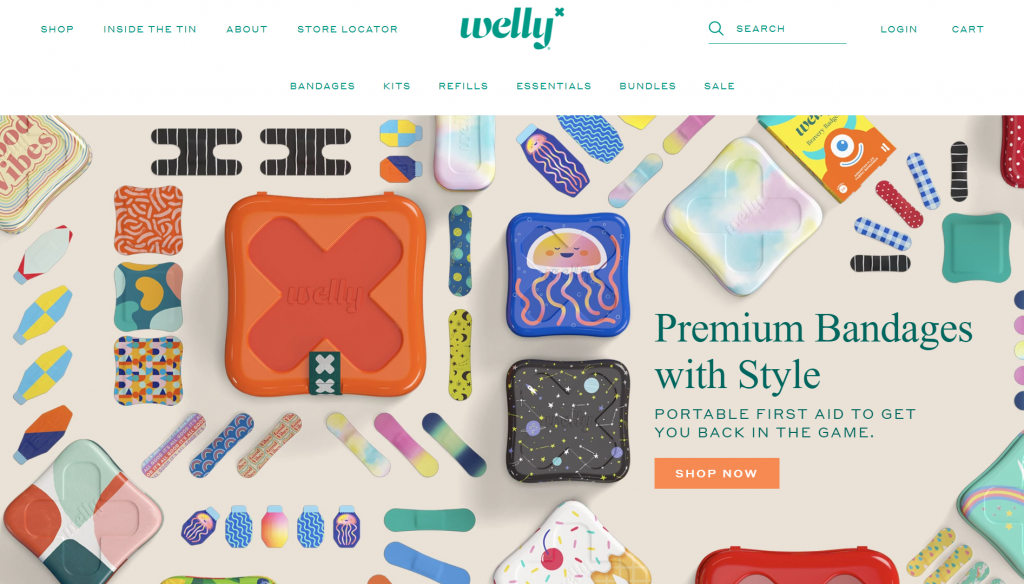 If you want to make a minimalistic online store, consider Welly for your inspiration. This US-based first aid brand has a modern eCommerce website design, putting its products at the center stage.
The interface is simple and clean with tons of white space. A well-implemented typographic hierarchy improves the website's readability, making it easy for customers to understand what the business is about.
Another standout feature is the color palette – the website primarily uses white for the background and green for text, while orange serves as the accent color.
This color combination helps direct the users' eyes to essential elements like call-to-action (CTA) buttons. This is an excellent practice to improve your conversion rates.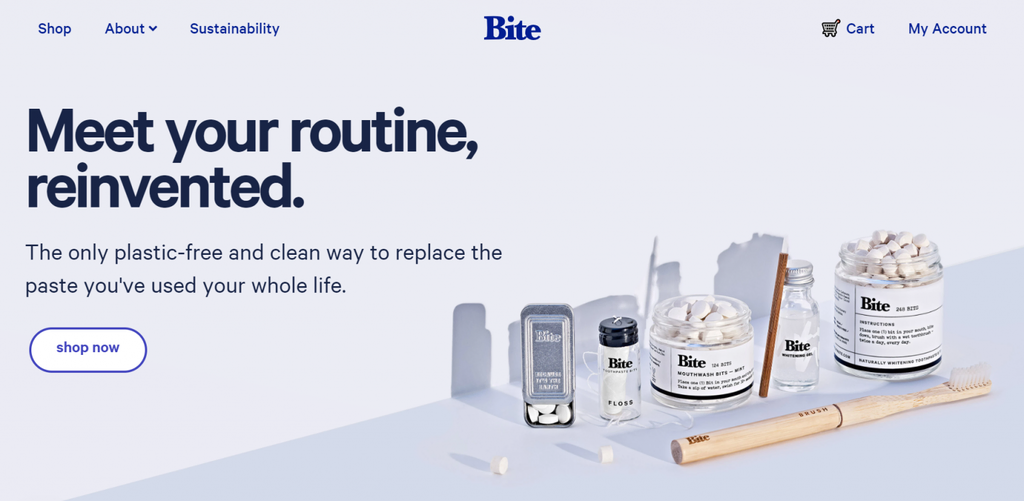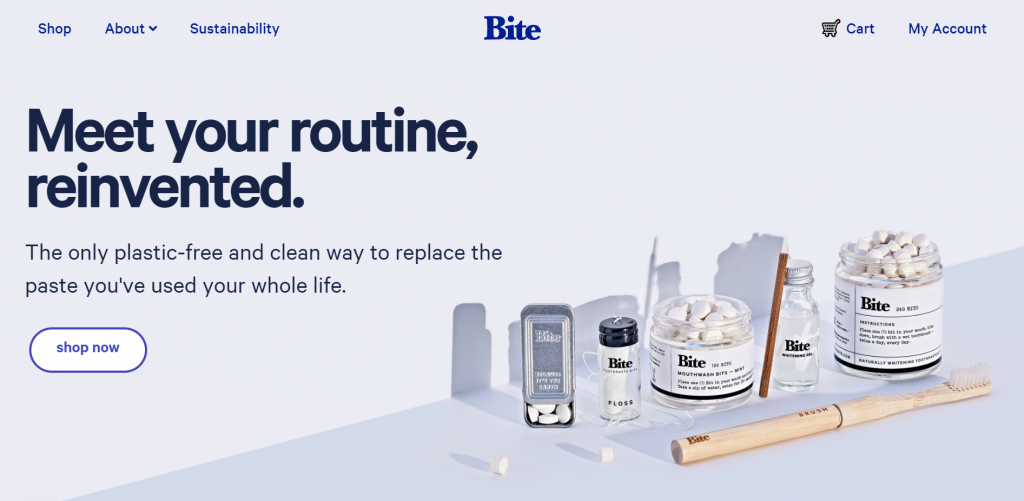 Bite's online shop is one of the best examples of an effective eCommerce business website. The beautifully designed homepage grabs the visitors' attention and perfectly communicates why their all-natural toothpaste is worth purchasing.
For instance, it has a testimonial slider with quotes from noteworthy publications. Near the bottom of the page, you can find a collection of customer reviews as well.
The homepage answers essential questions about the product, such as its benefits and how to use it efficiently. It also features several hero shots for demonstration.
All of these elements work together to eliminate potential obstacles in the customer journey. As a result, visitors should feel more confident about making a transaction.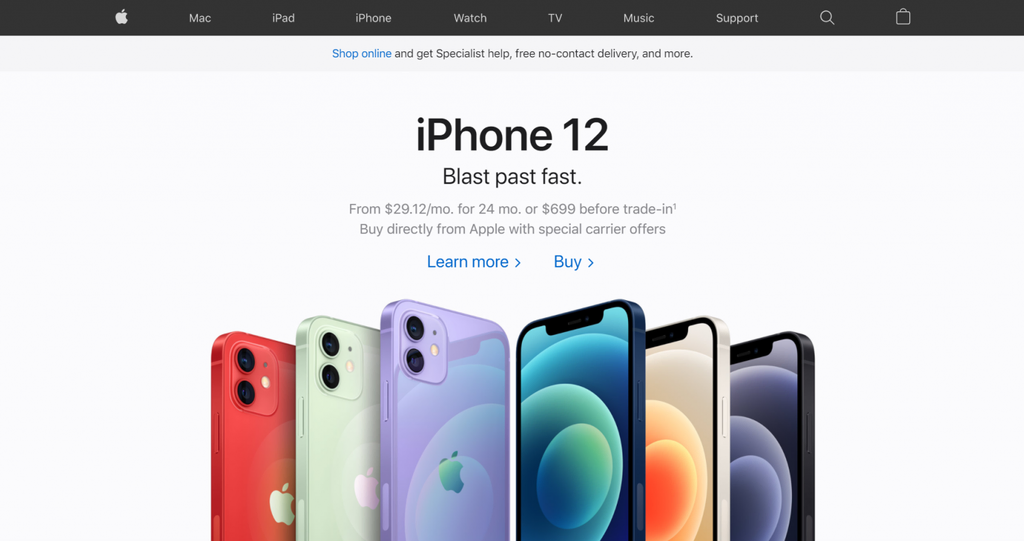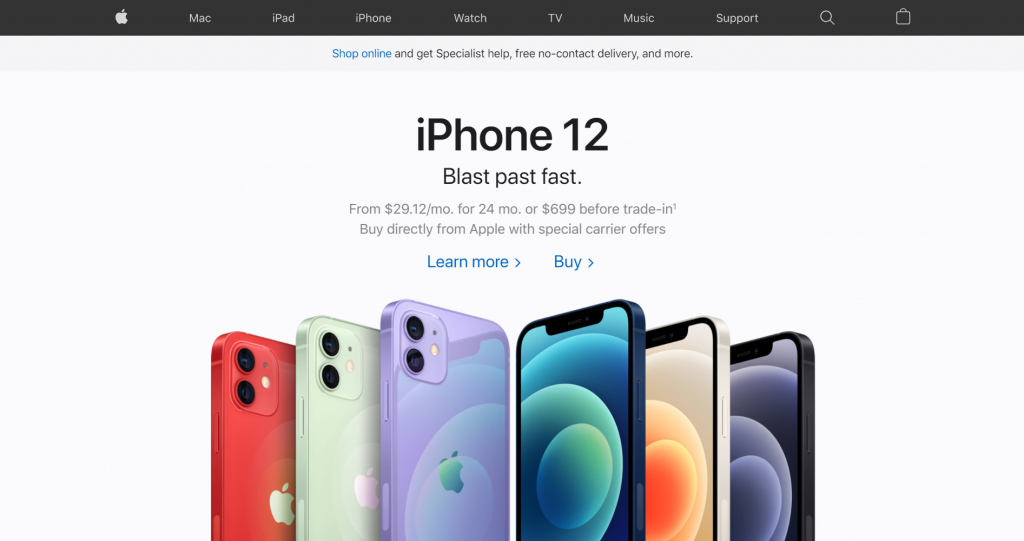 Apple's website is all about highlighting its products. Unlike most eCommerce websites, its product pages read like a landing page, with unique selling propositions, social proof, and key benefits.
The website also illustrates why minimal design isn't just aesthetically pleasing but also helpful in drawing the visitors' attention. With a plain background and plenty of white space, customers aren't distracted from the large close-up product photos.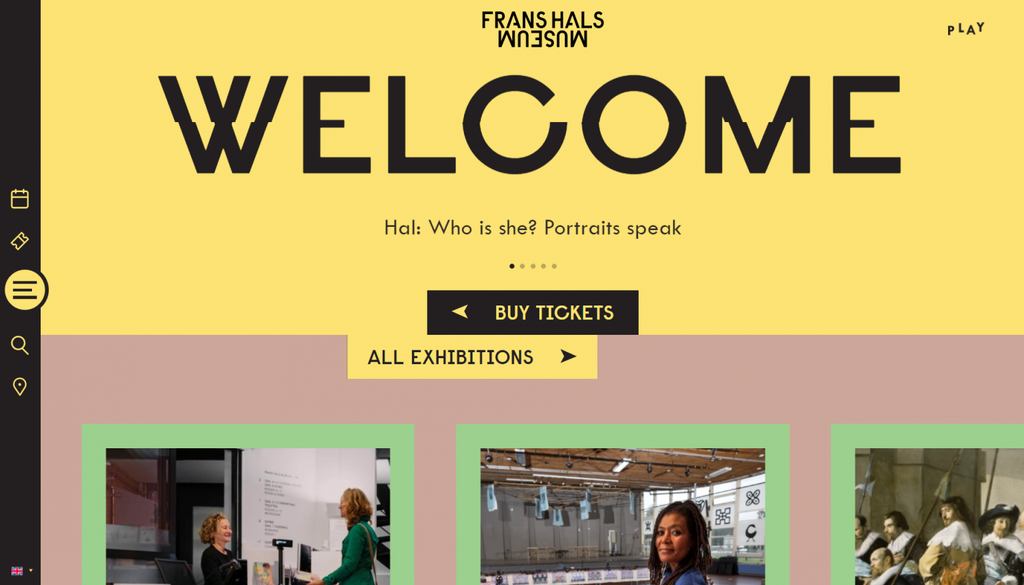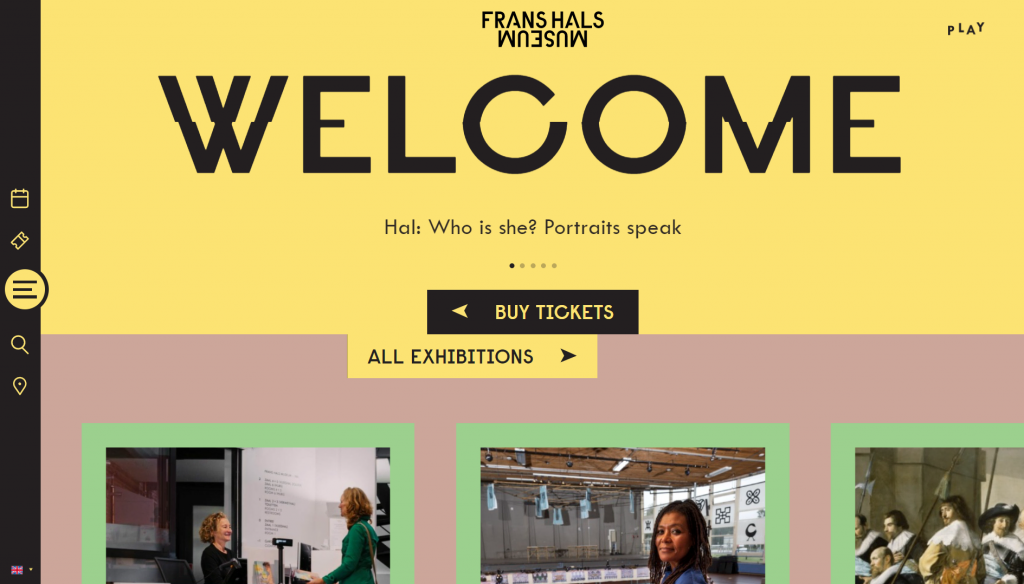 If you want to make a colorful eCommerce store, take a look at Frans Hals Museum's site.
It utilizes bright colors to create an attractive website design without distracting visitors from the most critical information.
To maintain readability, the website uses black for text. There's also a good amount of white space in solid colors, which looks striking without becoming overwhelming.
The website is user-friendly, too. For instance, if you don't know what event to check out, the search function can recommend an exhibition based on a phrase selected from a drop-down menu.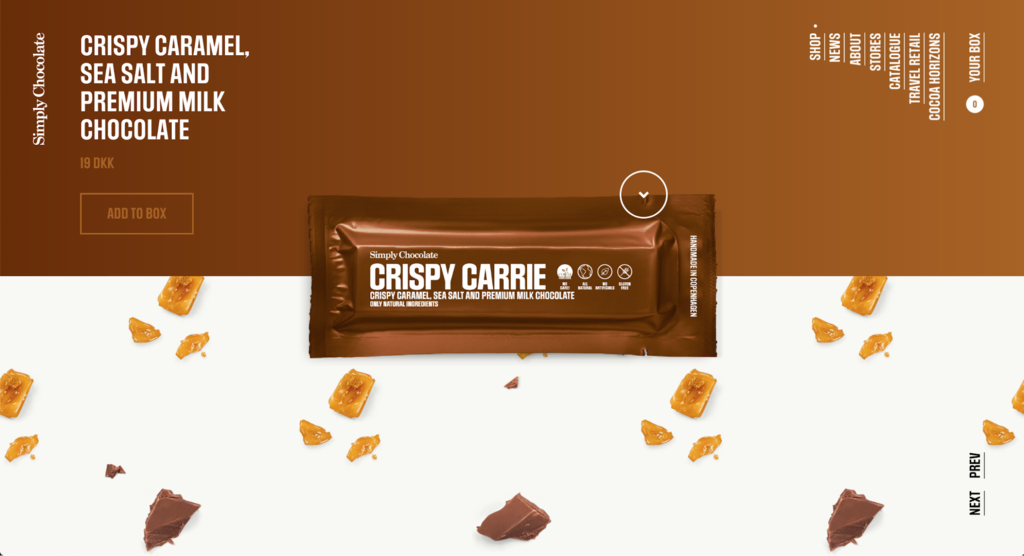 Simply Chocolate has a unique online store. Though it might look unconventional, this works in its favor, as its design elements set it apart from other eCommerce websites.
For instance, the navigation menu uses a sideways layout for a unique spin, while the page interactions make the browsing experience more dynamic. Instead of acting as trivial features, they encourage visitors to stay on the website longer.
Another excellent element is the single-page checkout. Shoppers can fill in their billing, shipping, and payment processing details together on one page, streamlining the transaction process.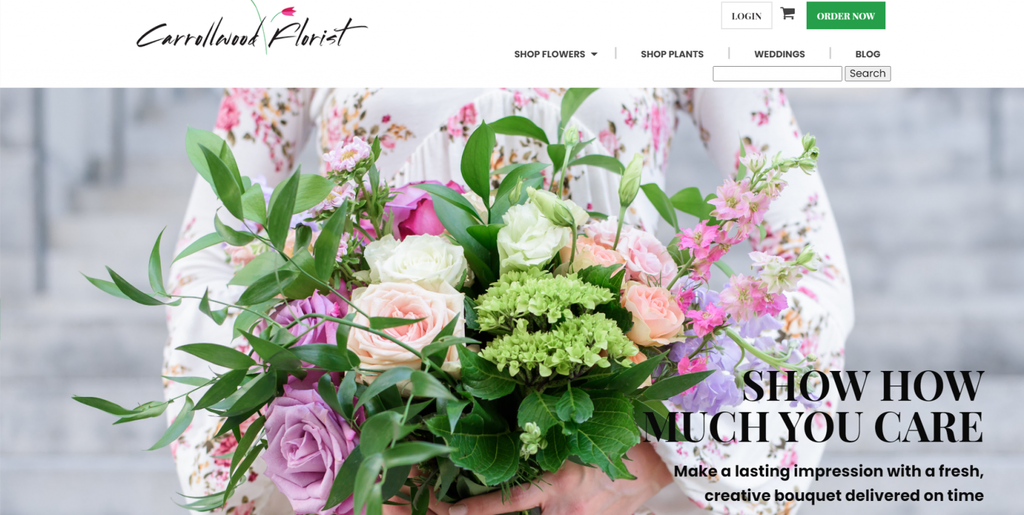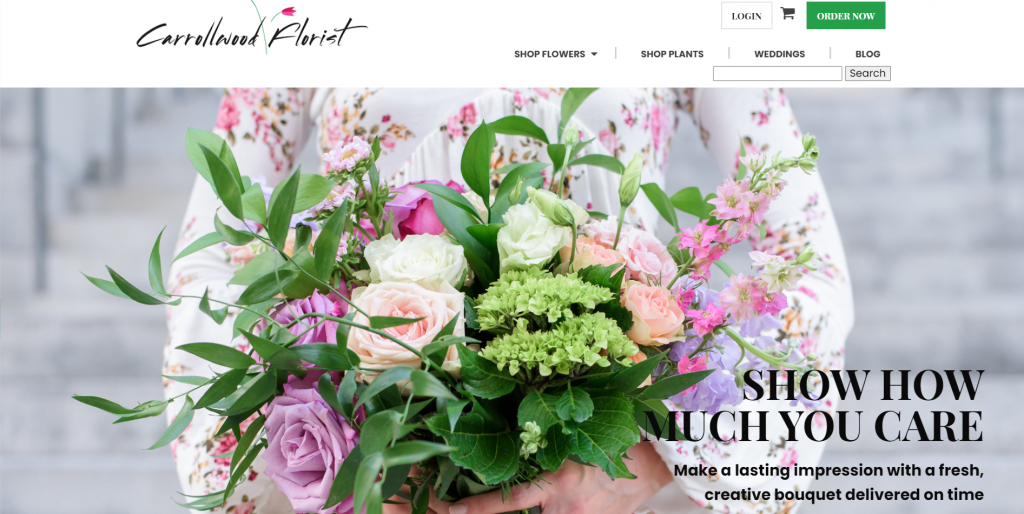 This beautifully designed online florist website is an excellent example of a simple yet remarkable eCommerce store.
Design-wise, the website looks minimalist but colorful. Its white background contrasts with vibrant product shots, and the green call-to-action buttons are easily noticeable.
The home page features a full-width banner with a giant headline and a hero shot of the product, creating a solid first impression. Upon scrolling down, the page reveals a testimonial slider and a persuasive Why Shop With Us section.
Instead of categorizing products by flower type, the product categories are based on occasions. This helps customers who have no floral design knowledge select the right product.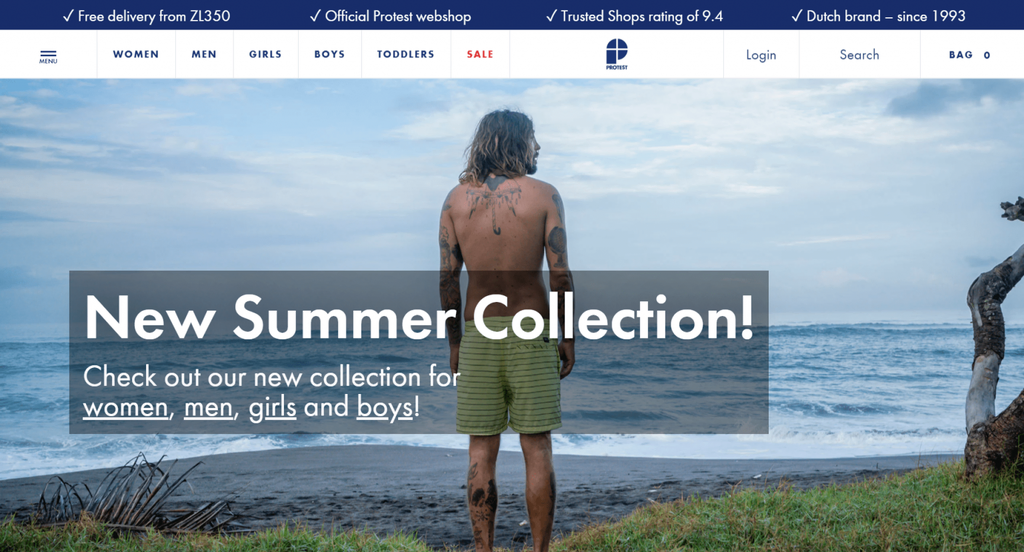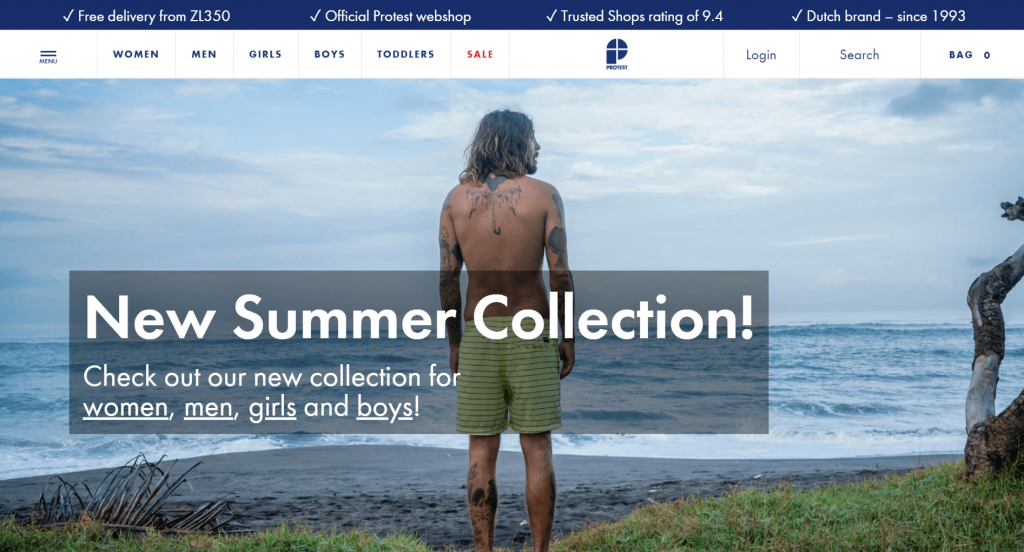 Online clothing stores can definitely benefit from the implementation of certain ideas from Protest's website. Not only does the design look sleek and modern, but it's also effortless to navigate.
Protest's eCommerce website employs a white background and vibrant product shots and clicking on them allows visitors to shop by the look portrayed in a picture. This contributes to an immersive shopping experience.
The product filtering options are quite comprehensive as well. Visitors can view clothing items based on their features, such as breathability, water resistance, warmth, and so on. This can save customers a lot of time if they're looking for something with a specific quality.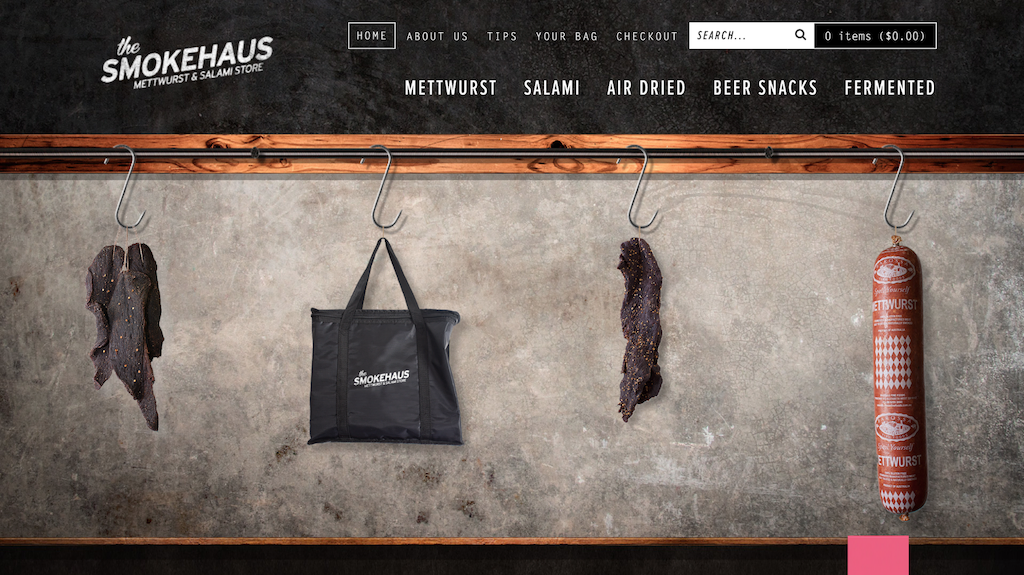 Smokehaus's website demonstrates how you can emulate the feel of a physical store to create a memorable user experience.
Instead of using a grid to present the products, the website opts for a draggable slider to imitate the look of a butcher's shop. The welcome message gives pointers to visitors on how to navigate the store as well.
Every time you add an item to the shopping cart, a notification appears with a short message like "Good choice!" or "Yum! We love that one." Such details add a personalized element to the shopping experience.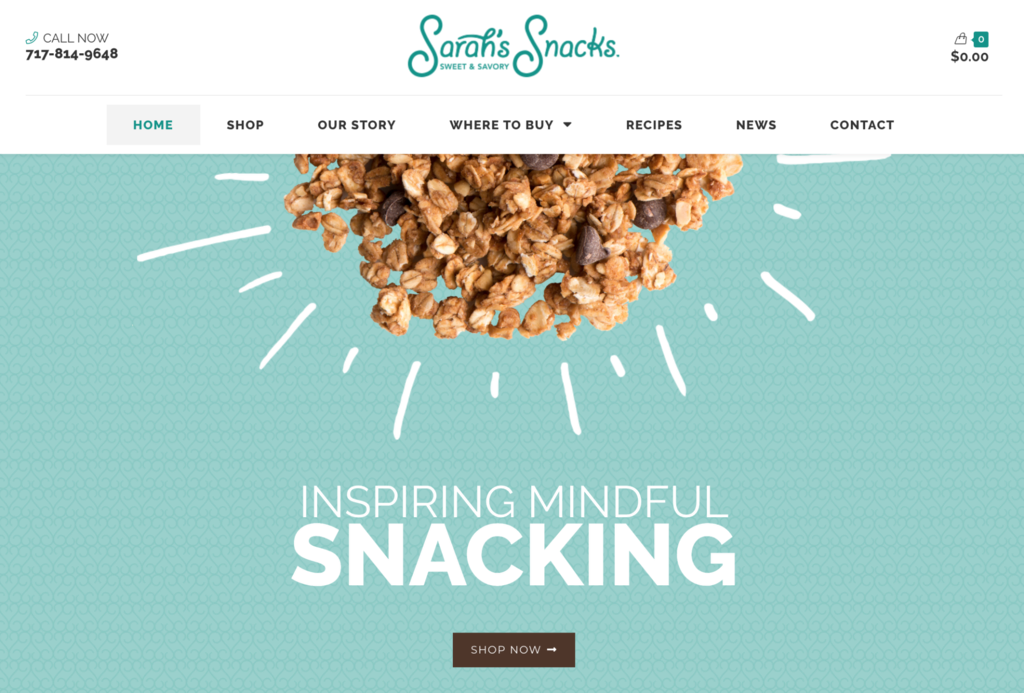 Sarah's Snacks is a healthy food brand based in the US. To sell its products, this eCommerce store highlights their properties and inspires mindful eating habits.
The website successfully does so through its bright color palette. The home page also communicates what the company offers through its vivid copy.
When it comes to usability, the shop page is simple and functional – customers can filter products by category and sort them by popularity, rating, price, and launch date.
You can also view your shopping cart which hovers over the product list to quickly preview the total price as you shop.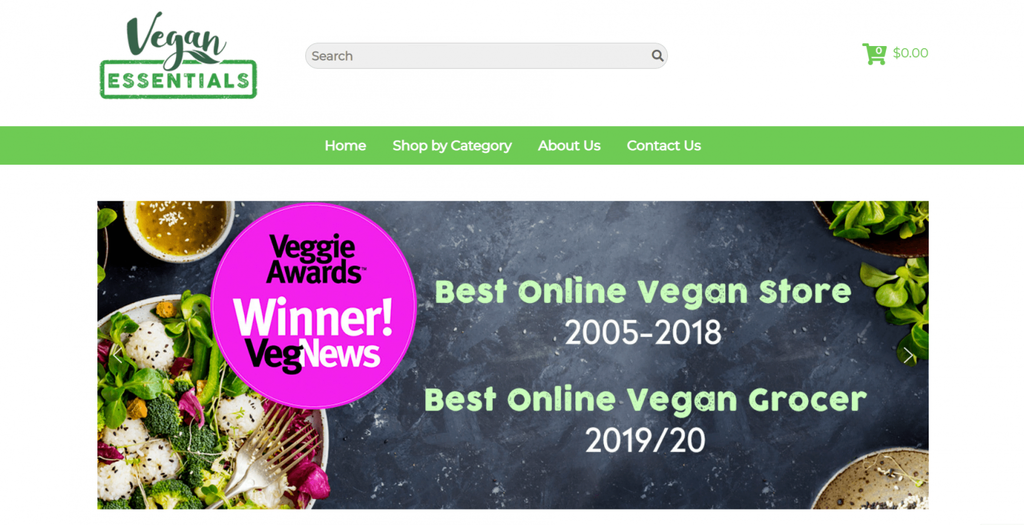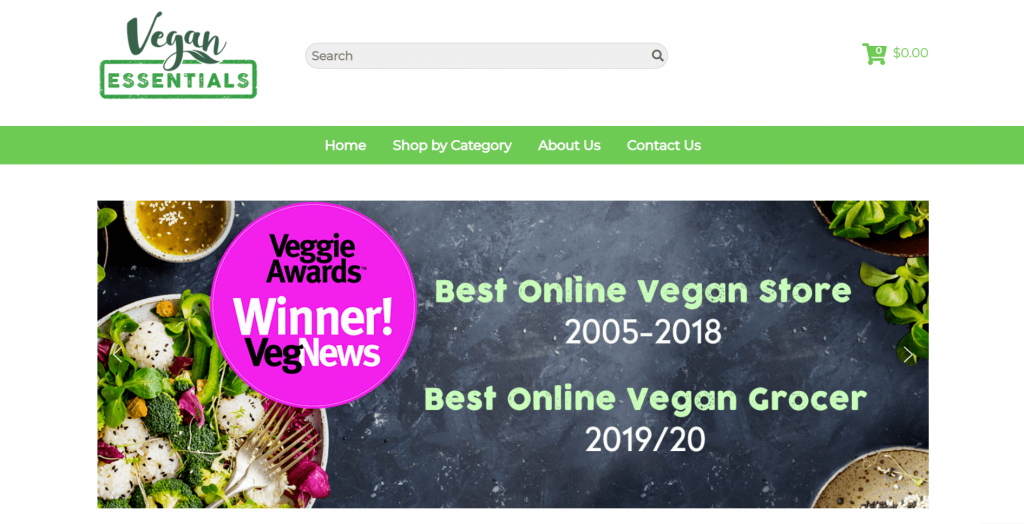 Vegan Essentials' website is an excellent example to follow if you have a wide range of products. The clear categorization and tagging system allows users to find desired items easily.
One feature worth mentioning is the filtering option. Since this eCommerce store caters to people with specific diets, it has a special filter that lets customers find products based on their ingredients.
In terms of design, the Vegan Essentials' website is on-brand. Besides the green color scheme, it uses decorative, plant-related elements. They're also placed at the bottom of the page to minimize distractions.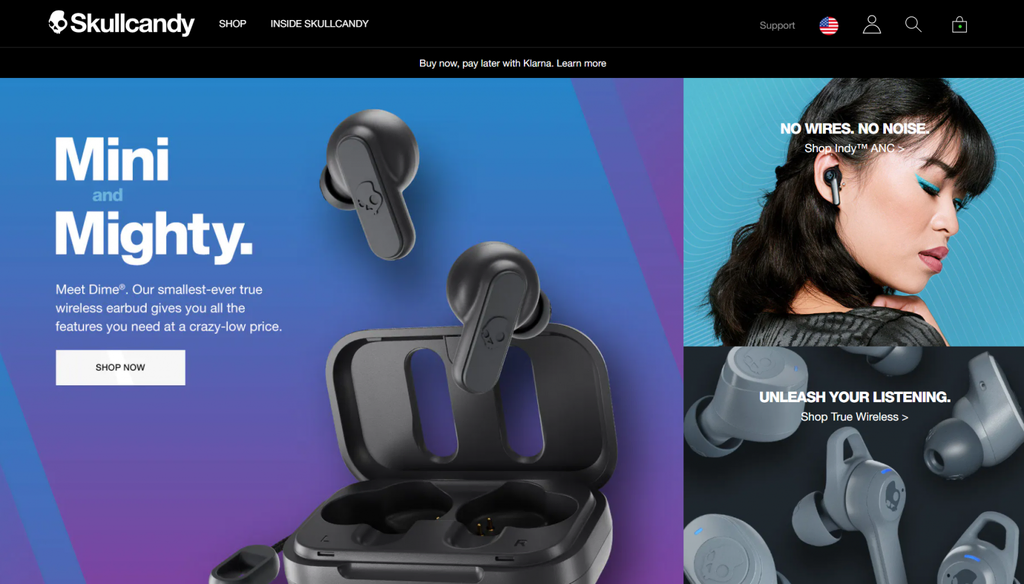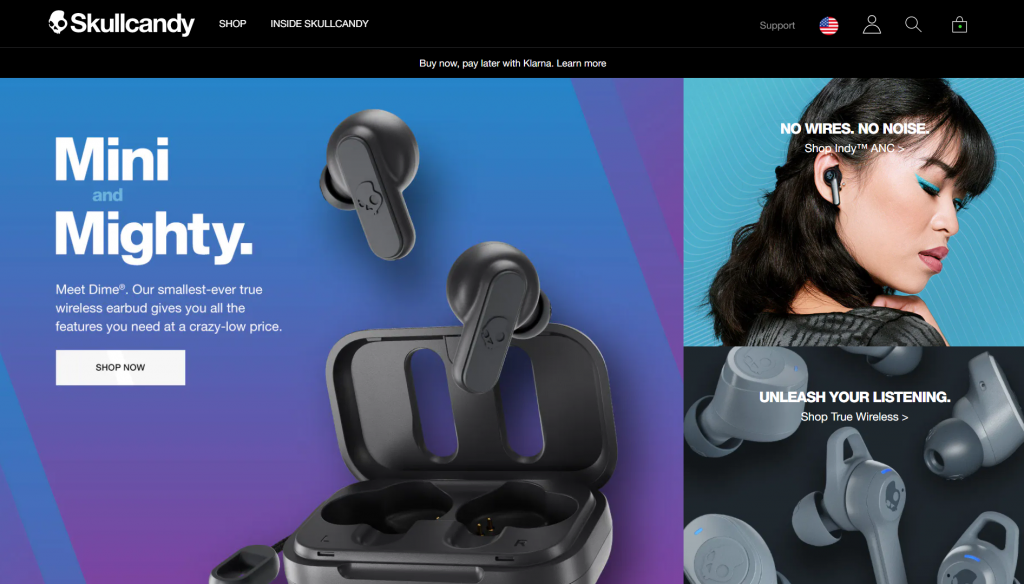 Skullcandy's product pages are quite stunning, as they utilize plenty of visual elements to grab the attention of visitors.
The lifestyle shots, in particular, help demonstrate how customers can incorporate the displayed audio gadgets into their daily routine.
These pages also use a sticky add-to-cart button at the bottom of the screen. As a result, customers can make a purchase without having to scroll back up.
Another significant aspect is that every product has a catchy slogan. This is a great way to increase a brand's memorability and make customers feel optimistic about the goods on sale.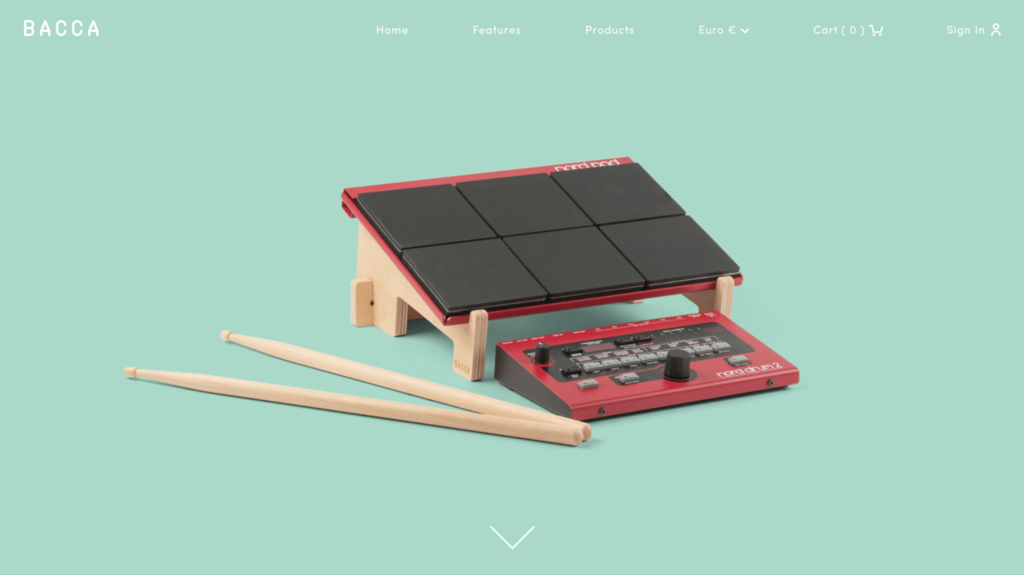 Bacca's eCommerce store is a good illustration of how to highlight your products. Since the images have no backdrop, they easily stand out from the colorful background.
Other than that, the full-width mode in the product lineup pages makes it easy for shoppers to view items clearly without having to zoom in.
Additionally, the sticky navigation bar makes this website great for mobile screens, as it lets you jump between sections as you scroll up and down.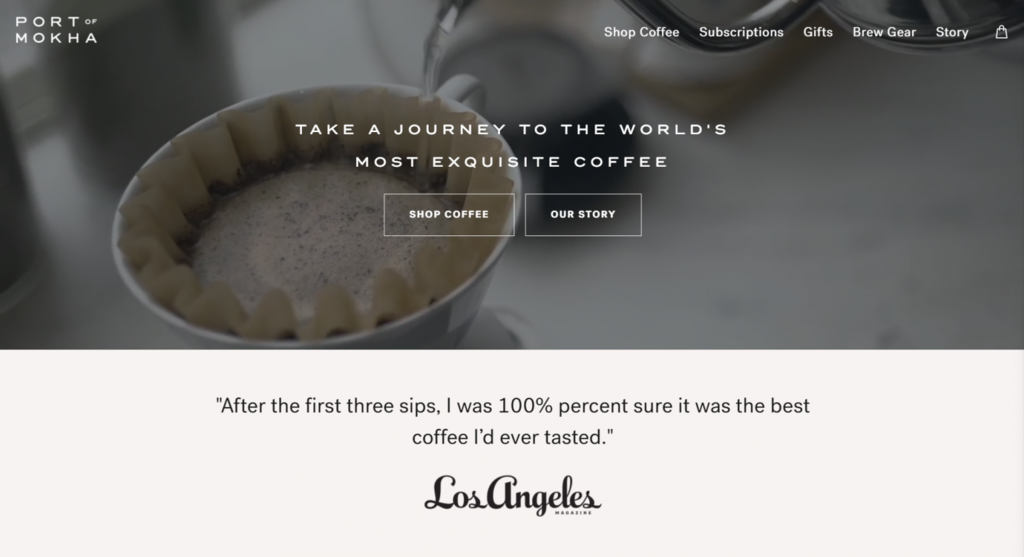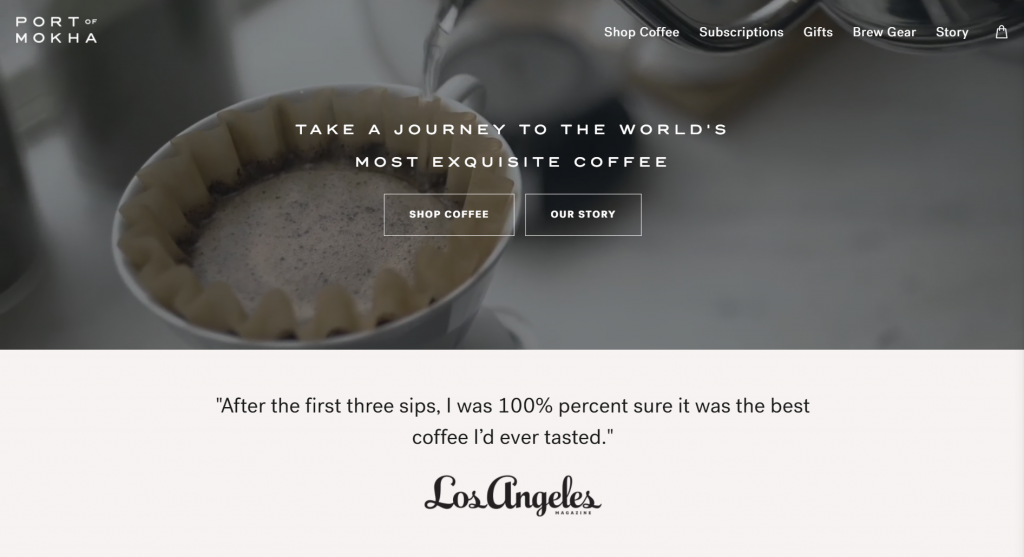 Port of Mokha's website is a great example of building a site around a compelling brand narrative.
It accomplishes this mainly through its copy. For instance, an enticing headline invites visitors to explore the behind-the-scenes journey of Port of Mokha's coffee. Powerful statements like "Coffee worth risking your life for" encourage users to invest in the story.
To make sure the copywriting gets the proper spotlight, the website uses a typographic hierarchy to capture visitors' attention.
On top of that, there are tons of social proof to boost the brand's reputation – from a testimonial slider to a display of quotes from top publications. The product pages also feature customer ratings and reviews.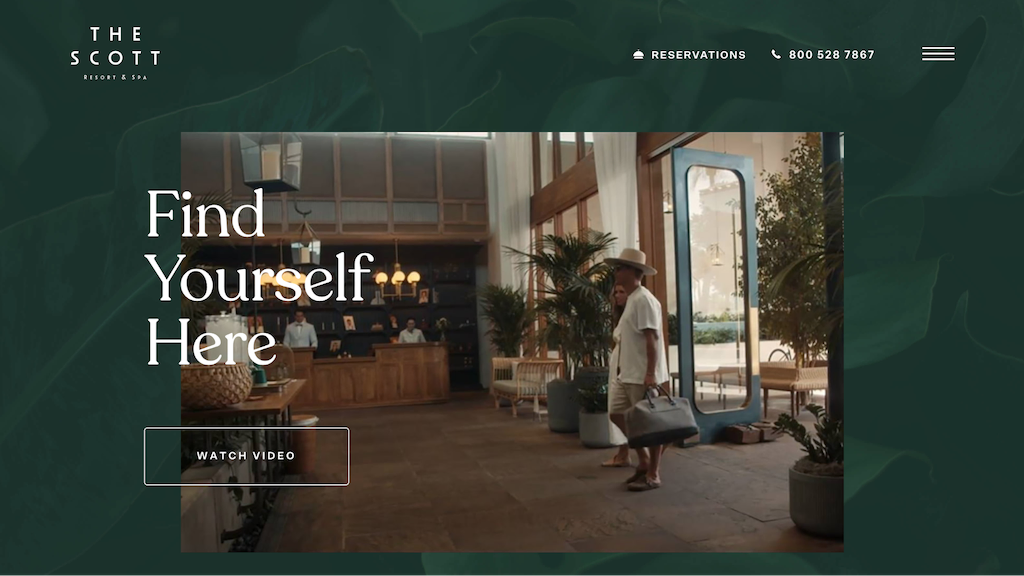 If you want to create a site for an accommodation business, look at the Scott Resort & Spa website's design for reference. The clean and minimal design relaxes visitors and inspires them to book a quick getaway at the resort.
This website takes advantage of striking imagery to sell its offers – from full-width galleries to looping videos. Furthermore, there are smooth on-scroll animations in place to enhance the user experience.
The resort's Instagram feed is located near the bottom of the page. In addition to serving as promotional material, it provides effective social proof.
Another unique feature is the full-screen overlay navigation – a trendy solution to provide plenty of space for more information.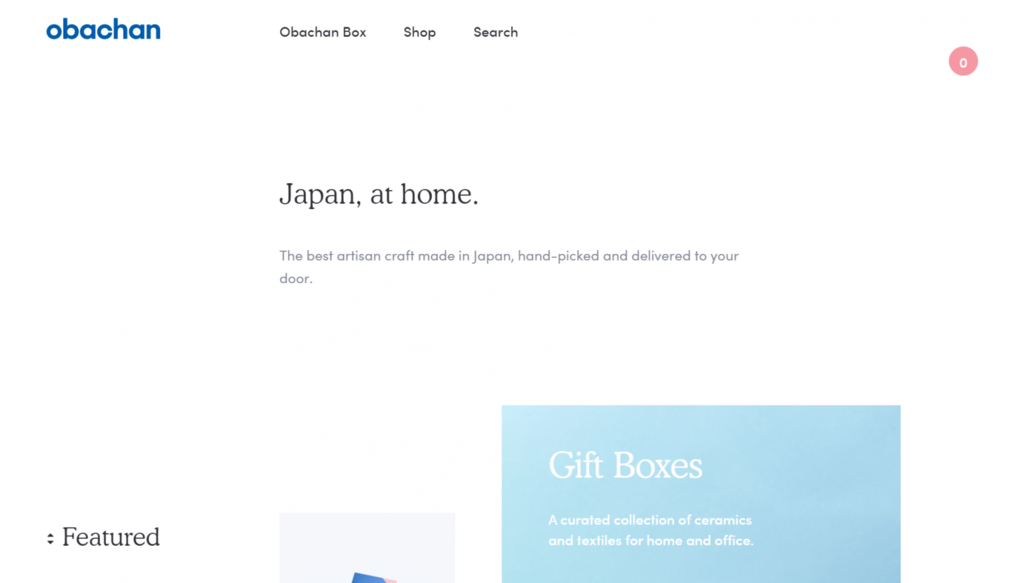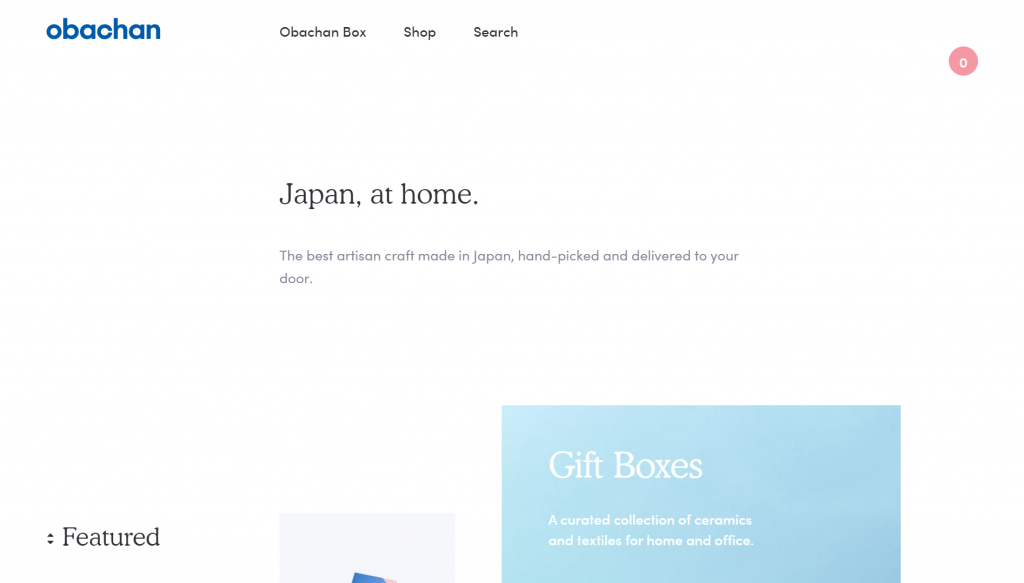 Obachan embodies Oriental minimalism. With a clean layout and tons of white space, the Japanese goods company presents its brand identity through its eCommerce website design.
Despite the simple web design, some elements make navigating the website a dynamic experience. On-scroll animations, mouseover effects, and a custom cursor contribute to an enjoyable browsing experience.
Other than that, design features like the fixed side menu, the floating search bar, and the unique add-to-cart interaction set Obachan apart from other eCommerce stores.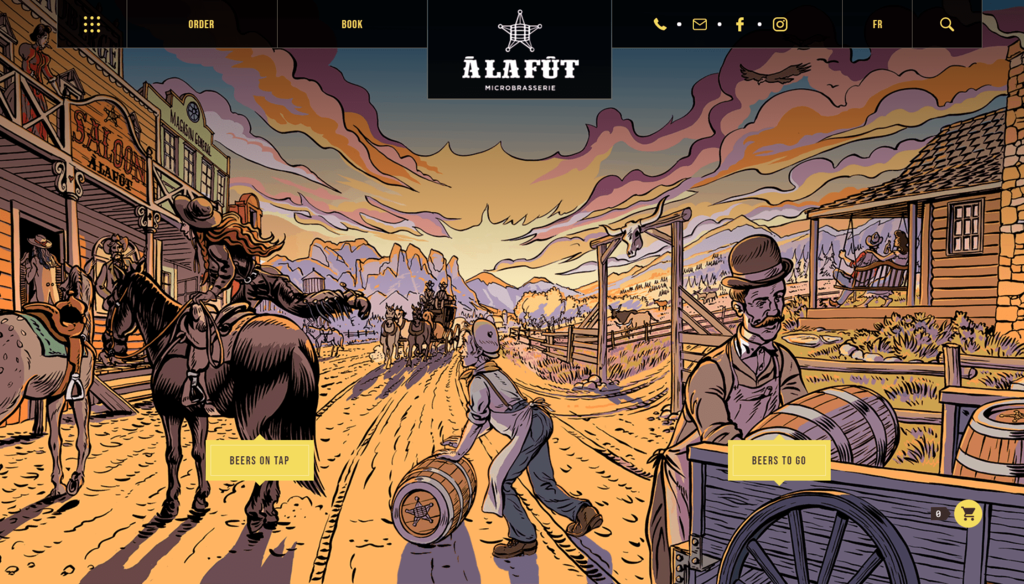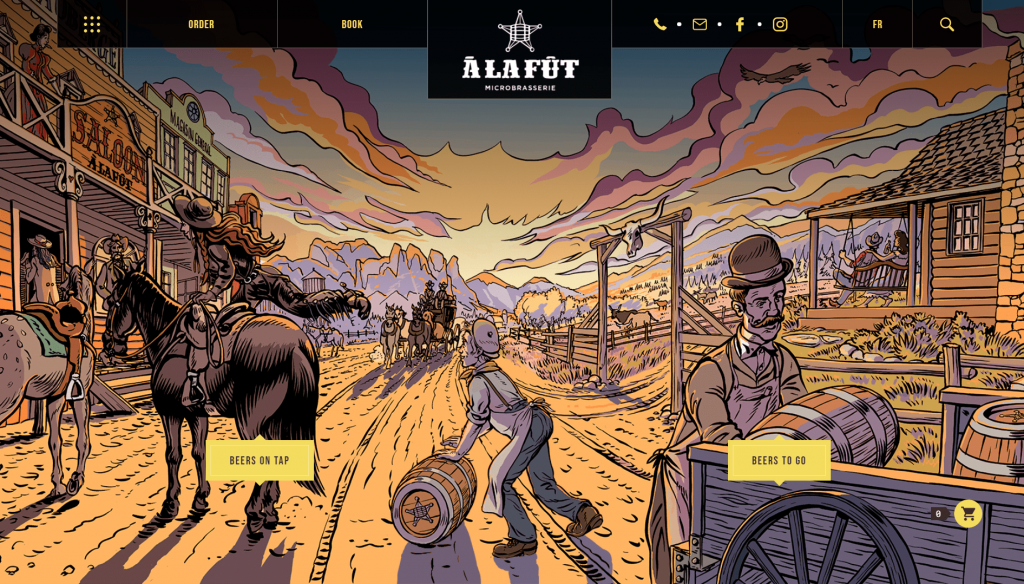 While mainly a restaurant website, Microbrasserie À la Fût's website also features an eCommerce section where customers can buy merchandise and craft beer products.
The checkout process stands out in particular. If you click on the cart button, you can immediately access the checkout page, cutting down on the loading time.
Each step of a transaction is separated into tabs, so customers can see their progress. After filling in all the details, it's possible to return to the previous tabs to double-check the information.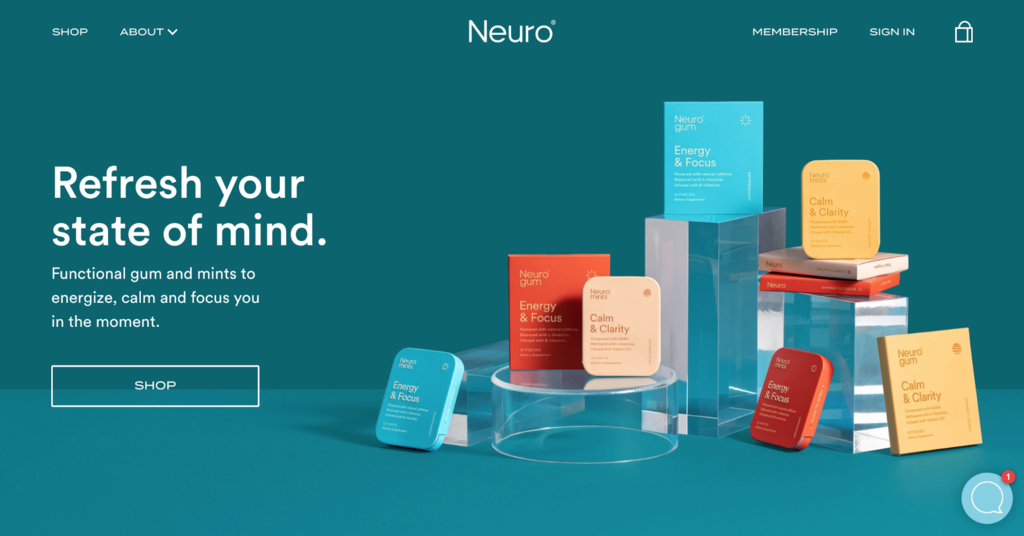 Neuro's eCommerce website design is a beautiful example of what a small online store can look like. It focuses on making its visuals as attractive as possible with high-quality product photos, animations, and a bright color scheme.
Since the company only has two products available, the product pages allow switching back and forth between them. These pages also contain additional product information in sections that match the overall aesthetic of the website. Customer reviews and questions act as elements of social proof.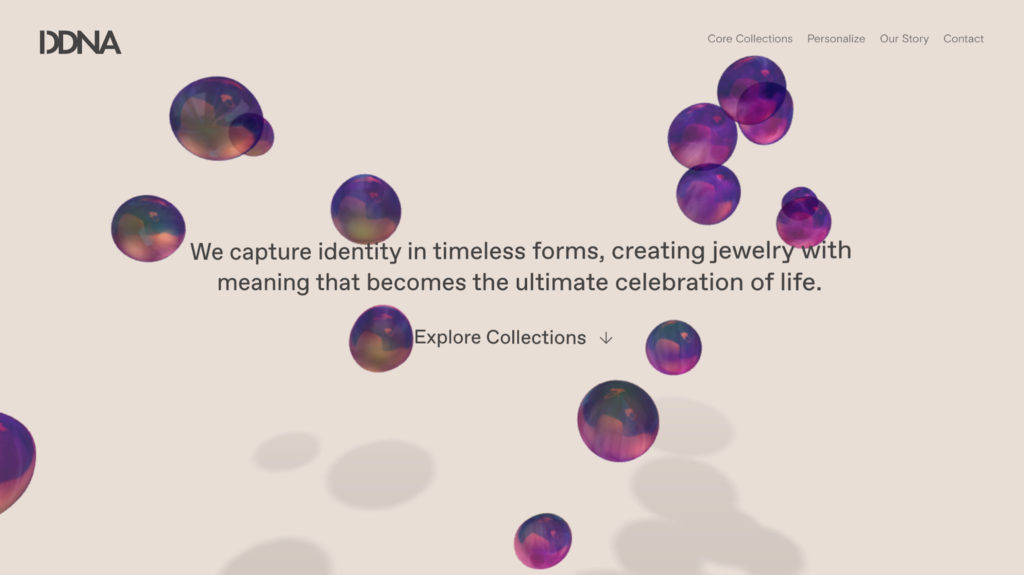 If you sell accessories or other decorative items, making your eCommerce website look like a portfolio gallery could be an effective way to present your products.
You can see how this method works on DDNA's website – the shop page opts for a parallax scrolling design instead of a thumbnail grid, placing each product front and center. There is also a helpful filtering system at the top of the page.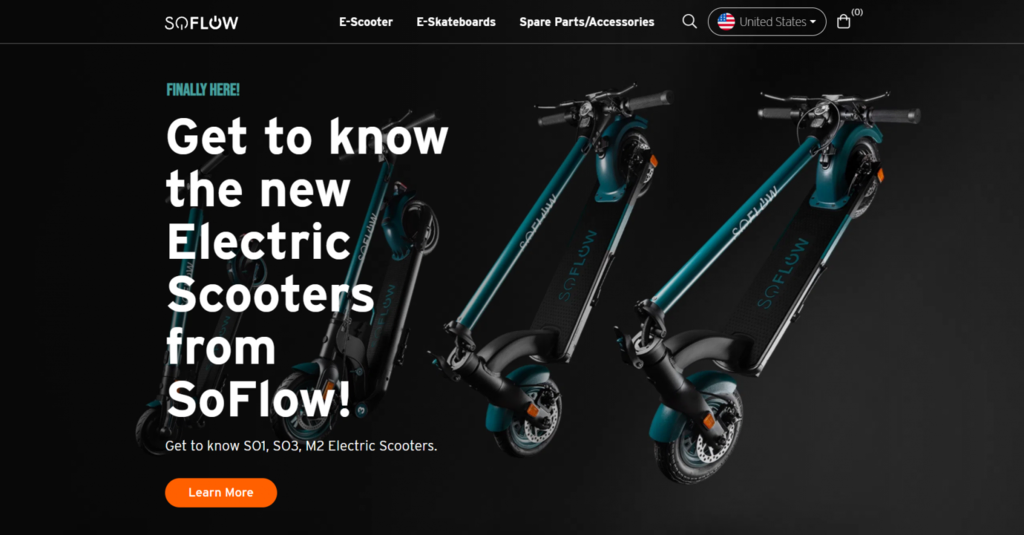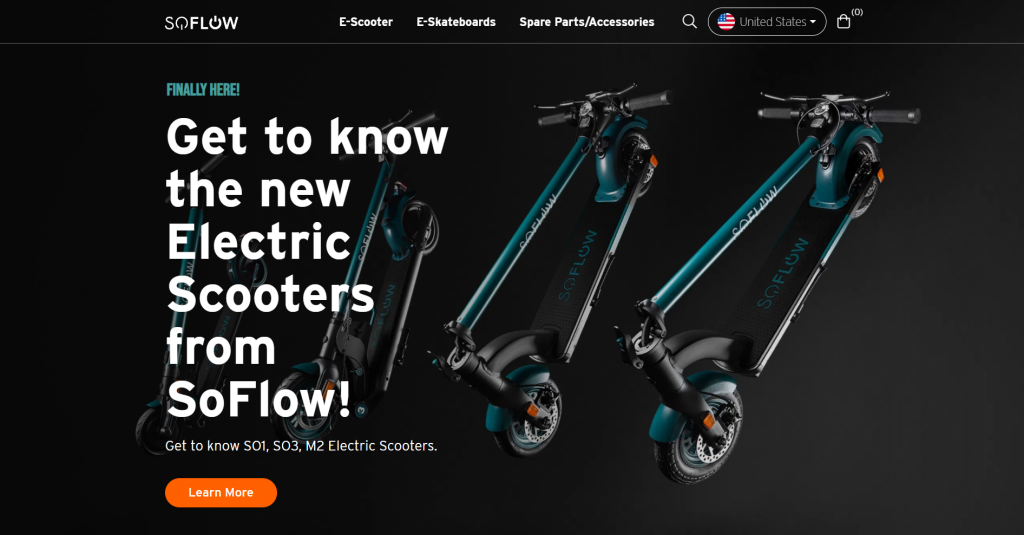 SoFlow is an electric skateboard and scooter company whose eCommerce website is an example of top-notch web design. The company offers a lifestyle that comes with purchasing its products – this is visible through their videos and lookbook pages.
The website design employs a moody color palette with bright call-to-action buttons to facilitate navigation. Moreover, the menu bar items are generously spaced, and the thick fonts draw attention to the copy.
SoFlow's large borderless images and videos are strategically placed in specific sections so as not to overwhelm visitors.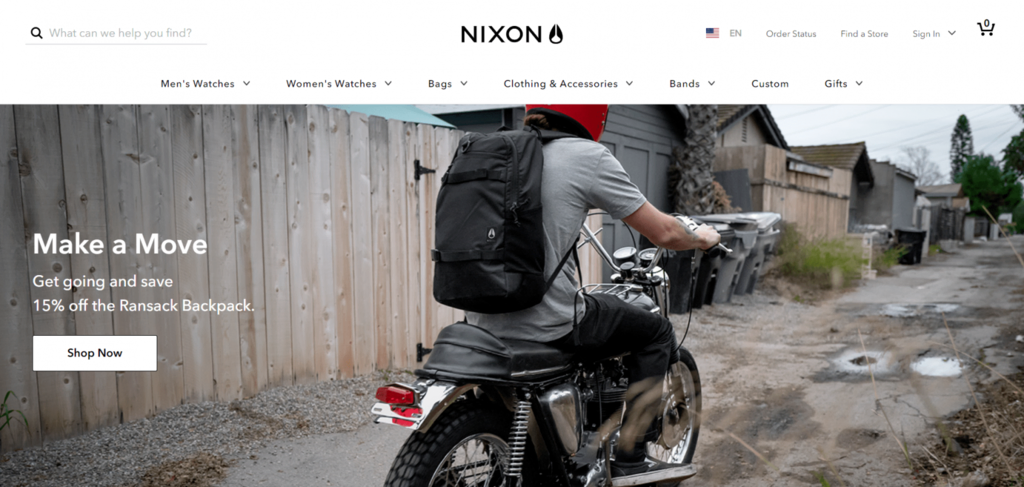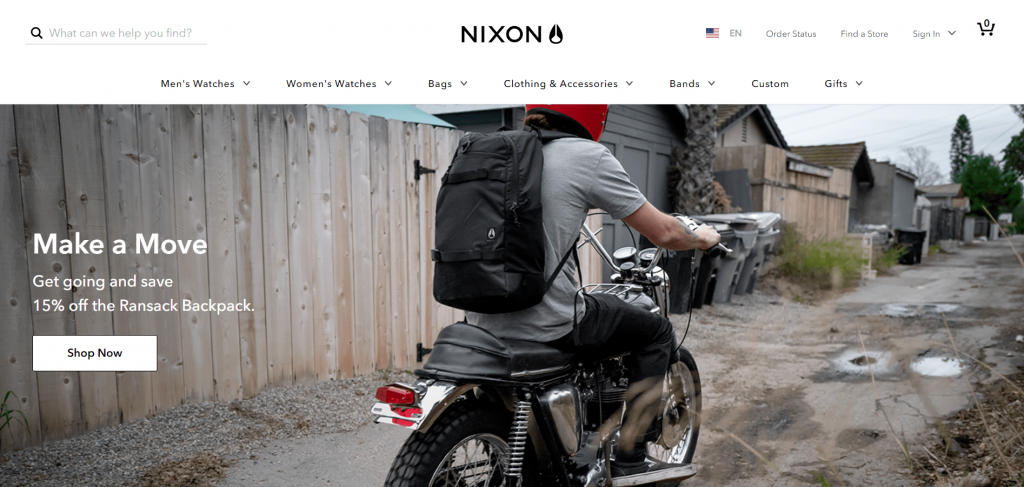 Nixon is an excellent example of a simple yet effective eCommerce website design.
With a contrasting and distraction-free font choice, the sans-serif text stands out against the large images and white background on the homepage.
In line with the font choice, Nixon's call-to-action buttons are also easy to spot and designed with generous padding.
The website does a great job at categorizing its many products and uses plenty of white space between sections, which facilitates navigation and improves legibility.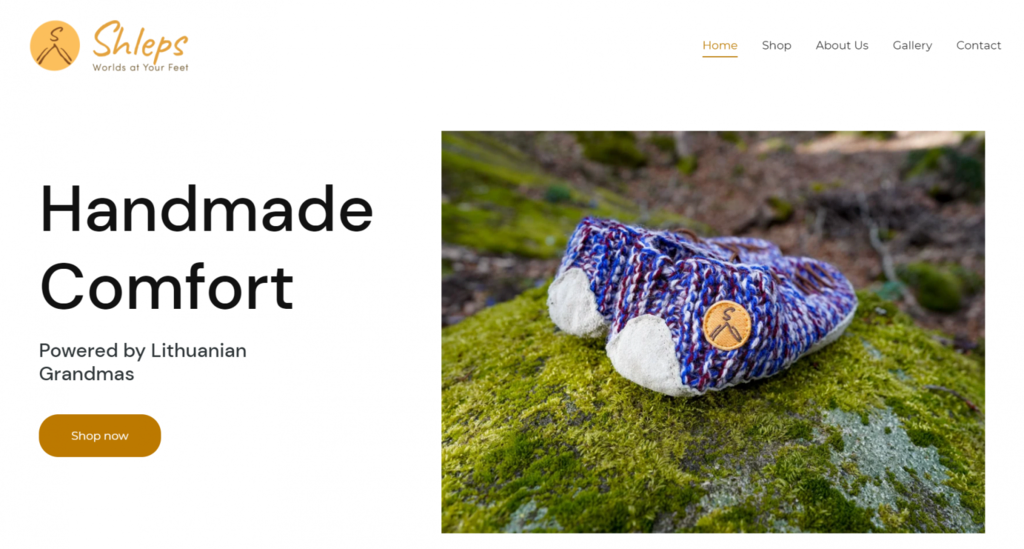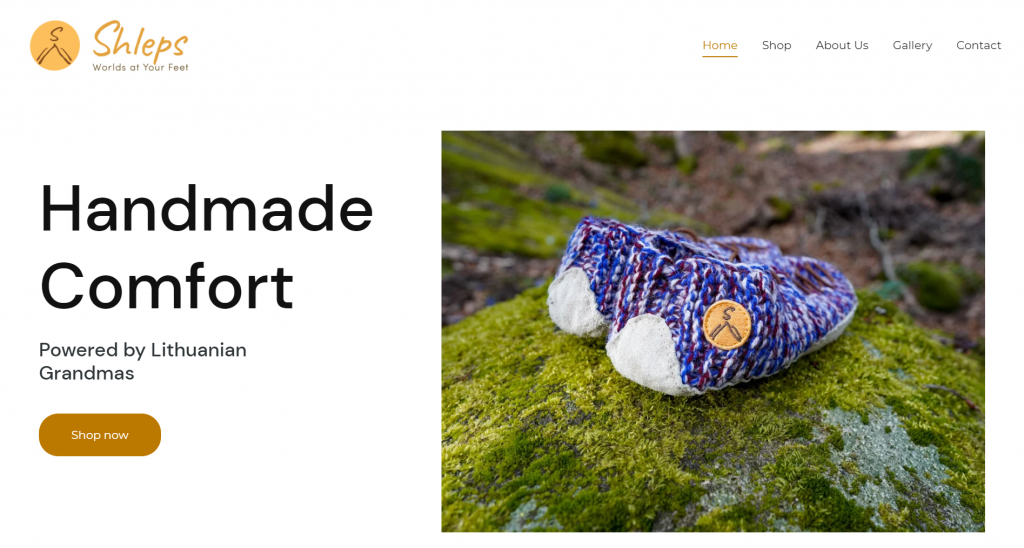 If you want to build a well-designed eCommerce store for a small business, Shleps is a great example to check out. Built using the website builder Zyro, the website is simple and aesthetically pleasing.
The homepage features high-quality photos and a video demonstration, along with a strategically placed CTA button.
Different sections of the homepage highlight the product's qualities in multiple situations and the effect is supported through concise copy and additional images.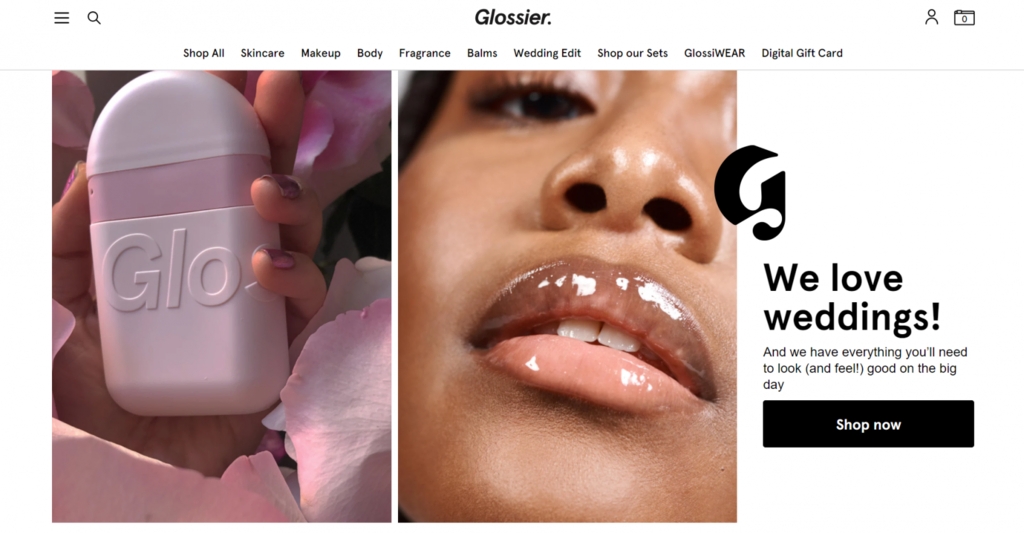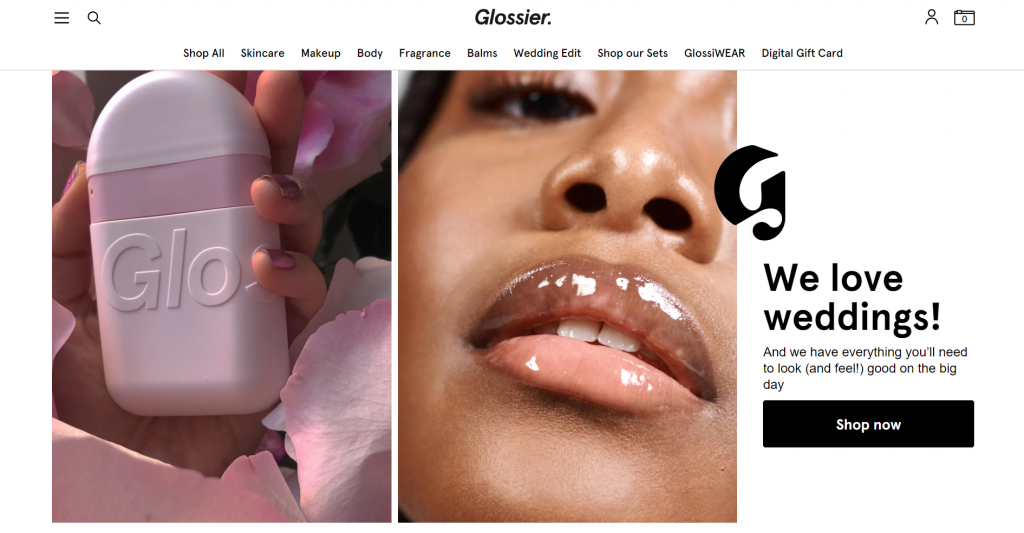 Glossier's digital storefront is minimalist and intuitive. It focuses on essential site features and avoids unnecessary gimmicks, resulting in an easy-to-use interface.
The images presented on the site have a consistent aesthetic that aligns with the easygoing and natural brand voice. Black sans-serif text over primarily white backgrounds helps the close-up photos stand out.
To enhance the shopping experience, the website employs the quick view feature. It allows visitors to preview alternate images and various product swatches without having to open another tab.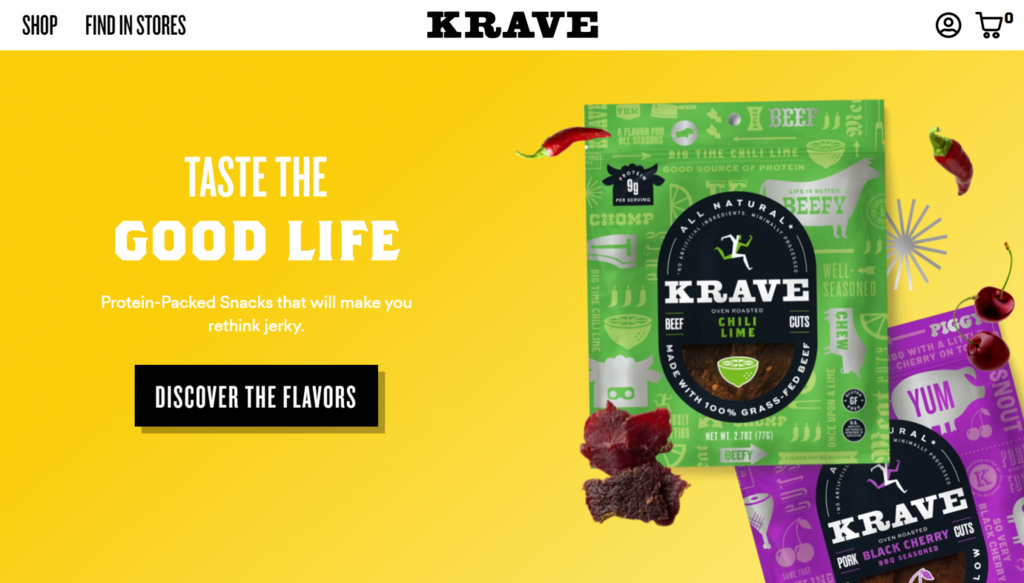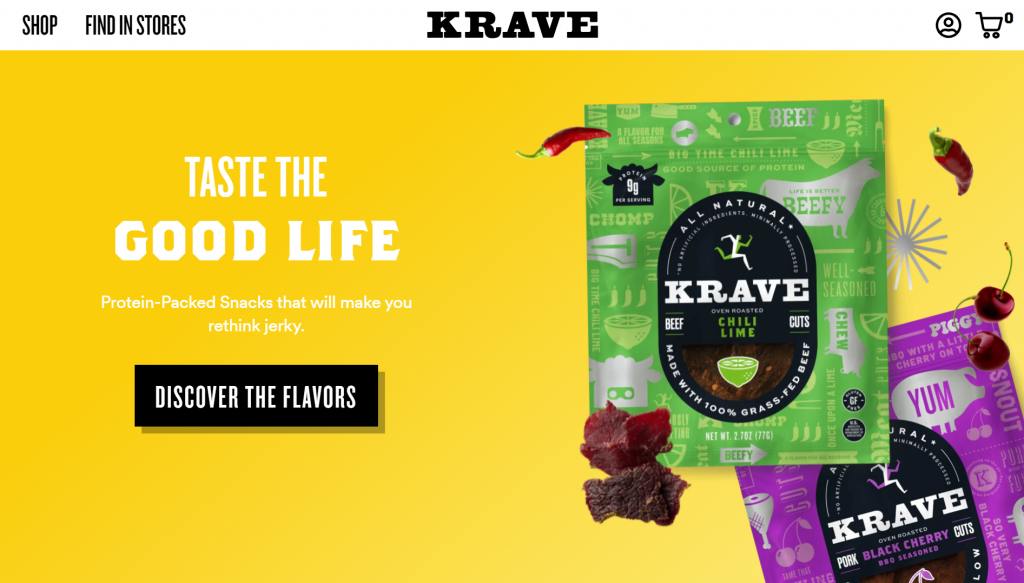 Krave Jerky employs a dynamic and colorful eCommerce website design. It creates a playful browsing experience that is enhanced through informative copy.
Upon opening the site, an email marketing form will pop up. People who sign up are offered discounts – a valuable incentive that customers may appreciate.
The solid color backgrounds are exciting without distracting visitors from the content. The product categories are presented on the homepage first, making it easier for visitors to buy the products.
Scrolling down the homepage reveals additional information like Krave Jerky's brand philosophy as well as testimonials from customers and the press. Such details can add credibility and encourage visitors to purchase products.
What Makes a Great eCommerce Website Design?
When it comes to designing an eCommerce website, there are several key elements you need to consider.
Good website design isn't just about aesthetics – it also focuses on the user experience. Therefore, make sure that your eCommerce design is not only aesthetically pleasing but also easy to navigate.
The following sections will go over the elements that are essential to building a well-designed website for your online business.
Make It Obvious Where to Click Next
When users first visit your online shopping website, they must immediately know what to do next.
Your website should assist visitors in navigating the eCommerce store without giving explicit instructions. A successful eCommerce design should direct them all the way to the end of the conversion funnel.
With that in mind, here are some tips you can follow to improve your website's usability:
Differentiate static items from clickable ones. For example, avoid using the same font colors and styles for hyperlinks and text. Your target audience is more likely to click a link if it looks different.
Make the call-to-action buttons stand out. Consider going with a 3D design or bright colors like red or green. Add a sense of urgency to the copy using time-sensitive words like "now" or "last chance."
Use visual hierarchy. In other words, organize your content according to its importance. This will help guide users' eyes to the most critical elements of your store.
Conduct website usability testing. This involves performing various tests to ensure a smooth user experience.
Use Mobile-First Design
According to eCommerce statistics, mobile browsers dominate internet traffic. As a result, Google prioritizes mobile-friendly websites on its results pages.
Thus, making sure your eCommerce website can adapt to small screens will improve your store's user experience and the site's search engine optimization.
Follow these tips if you want to make a mobile-first website:
Use responsive website design. This will ensure that your eCommerce website can adjust to any device.
Optimize your website for scrolling. For instance, add a sticky navigation bar to the web page design so that users don't need to scroll back to go to a different page.
Compress large elements. If your website content is optimized for desktop devices, mobile browsers will take a longer time to load your eCommerce website. You can optimize images with tools like Compressor.io.
Be Consistent with Your Online Store's Branding
To establish a strong online presence for your business, your company's branding should stand out to the target audience. One way to do so is by implementing brand consistency. This refers to the practice of making your brand more memorable by repeating design elements.
An easy way to establish brand consistency is by creating a brand style guide. It will serve as a manual for designing elements for use across platforms, such as social media and websites. You can also refer to it when designing product mockups.
If you already have a business name, begin by designing a logo for your brand. It will help you think about how you want your business to be represented visually, dictating the rest of your branding elements.
Ensure Your eCommerce Site is Clean and Readable
When it comes to designing eCommerce stores, simplicity is key. You shouldn't add any irrelevant decorative elements as these could clutter up pages and create a poor viewing experience.
The same goes for text – people read 25% slower onscreen and tend to scan through content to locate information quickly. Therefore, avoid using long copy on your website.
Try the following tips to make your website clean and readable:
Make room for some white space. It will improve your content's legibility and prevent your eCommerce website from overwhelming visitors.
Break up long paragraphs into shorter chunks. The text will be easier to scan and understand.
Test your content's readability. Tools such as Readable can check the length of your sentences and language style.
How to Create an eCommerce Website
Now that you know what contributes to great eCommerce website design and have seen some examples, we'll discuss the steps to develop your own online shop.
1. Decide on What to Sell and Choose a Business Model
Deciding on what you want to sell and how to sell it are the first steps of creating an eCommerce business.
There are plenty of ways to come up with profitable product ideas. You can capitalize on trends, market niche and hobby-related products, launch problem-solving goods, and more.
Regardless of your target audience, make sure to brainstorm product ideas first and choose ones that appeal to you the most.
After identifying your products, decide on how you're going to obtain and sell them. Here are the most common types of eCommerce business models by revenue to inspire you:
Wholesaling. This model involves reselling products in large quantities.
Dropshipping. It entails collaborating with a supplier who handles the manufacturing and shipping process.
Manufacturing. Produce your products from scratch. This business model gives you the freedom to exercise quality control of the whole production process.
White labeling. Outsource end products from other manufacturers and rebrand them as your own.
2. Choose an eCommerce Platform
While there are plenty of available choices, you should always try to choose the best eCommerce platform for your particular needs.
If you want a hassle-free setup experience, go for a hosted platform. You'll need to pay a monthly subscription fee, but you'll be able to start setting up your eCommerce website with just a few clicks.
Some of the most popular hosted eCommerce platforms include:
Zyro. An affordable website builder that offers key eCommerce store features, such as abandoned cart recovery, inventory management, and marketing tools.
BigCommerce. It offers a cross-channel eCommerce business feature to sell your merchandise on various marketplaces and social commerce channels like Facebook and Instagram.
Shopify. A Shopify store gives sellers access to the integration of apps like Ordoro, eCommHub, and Inventory Source for an easy dropshipping business setup
On the other hand, if you prefer more control over your site, choose a self-hosted eCommerce platform. Keep in mind that self-hosted platforms require more time and effort to set up and maintain.
The following are our picks for the best self-hosted eCommerce platforms:
PrestaShop. This platform is great for driving revenue with its product highlighting feature. It lets you promote specific products and sell globally with its 195 free translation modules. If you're planning to build an online store on this platform, see our Prestashop tutorial.
WooCommerce. Add this plugin to turn your WordPress site into an eCommerce store. There are thousands of available WooCommerce themes and plenty of integrations like WooCommerce Payments, Stripe, and MailChimp.
Magento. A robust eCommerce platform to scale your business. It supports business-to-business (B2B) eCommerce, mobile commerce, and global expansion
3. Pick a Template and Customize Your Storefront
When choosing a template, make sure it has a mobile-friendly and responsive design – it's crucial for your online store's success as more and more people shop on mobile devices.
Craft an eCommerce website design that reflects your brand identity through visual elements such as color schemes and font choices.
If you are designing your eCommerce site on a hosted platform, there should typically be pre-made website templates for you to customize.
For example, take a look at Safa by Zyro: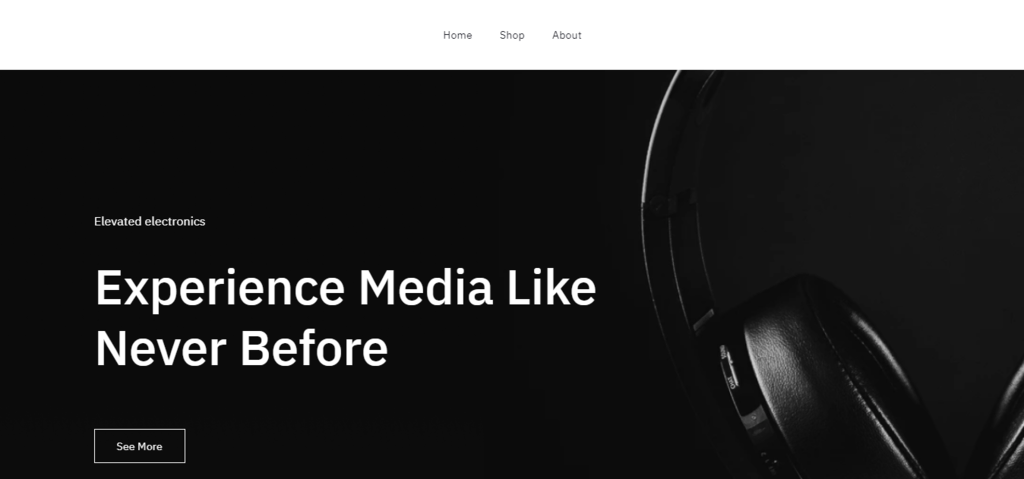 A black and white color scheme and a large bold sans-serif font contribute to a modern, sleek, and strong business identity. This template is best suited for online stores that sell technology-related items and other modern products.
Alternatively, if you have decided on a self-hosted platform, you can look for eCommerce themes from various marketplaces, such as ThemeForest, TemplateMonster, and Colorlib.
Once you've settled on a template, customize it by adding your logo, pages, and copy. Pay attention to website design aspects as well, like the color palette and typography.
4. Set Up Your Online Store
Once everything is in place, you'll only need to set up your online store.
We will use Zyro as an example, as it has the most straightforward setup process and a dedicated category for eCommerce website templates.
The steps are as follows:
Add products. This includes adding names, images, and product descriptions.
Review regional settings. Select your store's country, currency, and language.
Select the shipping options. You can add local delivery, self-pickup, or international shipping options. If you sell intangible goods like music or software, disable shipping.
Set up the payment methods. Include different payment methods like debit or credit cards, online payment gateways like PayPal and Stripe, and other payment options like cash on delivery.
Conclusion
If you want to create a beautiful design for your eCommerce site, the examples above should provide you with plenty of inspiration. Each of them offers different creative ideas, so take a look at them to decide which elements to incorporate into your site.
To sum up, here are the 25 best eCommerce websites to inspire you:
Now that you have these eCommerce website design examples to learn from, we wish you success in designing your perfect eCommerce website.
eCommerce Website Examples FAQ
Is eCommerce Profitable?
According to Statista, the retail eCommerce sales in 2021 alone amounted to 4.9 trillion U.S. dollars worldwide. As this figure is projected to grow by 50% over the next four years, it's safe to say that the eCommerce industry is highly profitable.
What eCommerce Platform Should I Use?
There are different eCommerce platforms to choose from, each offering unique features and eCommerce tools. Therefore, we recommend making your choice based on your preferred business model. For instance, Oberlo is ideal for dropshippers while Squarespace caters more to B2C companies.
What Are the Best Ways to Find Customers?
Building your network via word-of-mouth marketing is the easiest, cheapest way to attract prospective customers. If you want to take it a step further, consider experimenting with social media marketing and content marketing. Alternatively, buy ads on social platforms to boost your exposure.
Was this tutorial helpful?