Developing a live WordPress site without testing it can be dangerous. In this article, we're going to discuss WordPress staging environment, which provides you with a safer place to test features without affecting the live site.
What Is WordPress Staging Environment?
A WordPress staging site is like a replica of your live site, which can be hosted on your private subdomain.
This environment allows you to test any changes or major new features you want to implement on your live, public-accessed website.
Developers use a WordPress staging site as a testing ground — for pushing new site's features, new themes, plugins, or code snippets — to prevent errors occurred on the live site.
Thus, they can avoid downtime or any bad user experience that might otherwise occur.
Mostly, this environment is not accessible for the general public, your main visitors, even search engines should never access your staging site. That's because you use it mainly for development purposes, which can involve a white screen of death (WSoD), crashes, slow pages load, etc.
There are three main functions of a WordPress staging site:
Development ground — as we briefly said, this place will contain the latest iteration of the features, code, or mock-ups you're currently working on. So it's perfect as an initial test place for any new changes before you push it to the live site
A replica of a live website you've built — you can save time in creating a similarly structured WordPress website from scratch. This can also be an alternative backup when something unexpected happens on the live site
A place for pre-launch QA (Quality Assessment) — during the QA process, changes on your website will be thoroughly tested to find any possible issues or glitches that may occur. This is particularly true for well-established websites since any downtime or bad user experience can translate to profit loss
Is It That Important?
As we've described in the previous section, it's apparent that a WordPress staging site can help you quite a lot. If you are a webmaster, it's obvious that you won't let visitors have any bad experience while visiting your site. This is important, especially if you want to reduce your site's bounce rate.
With a staging site, you can freely make changes, or invent whatever features you might think to help your site visitors, without having the risk of failure as directly putting it on your live site.
If you develop a website for someone else, staging site can give you privacy to build and update the site without having to worry about that person checking in on you.
And when you want to introduce new code and test it live, you won't take down that website should any problem occur, which would reflect poorly on your reputation.
Speaking of the pre-launch test, these are three common scenarios that used on a WordPress staging site:
Smoke test — a type of test that determines whether the developed site is stable or not. Here, you can test each feature you've designed. This is an initial confirmation before continuing to further testing
User Acceptance Test (UAT) — a type of test that defines whether clients accept your developed site, with respect to the requirements that both of you agreed upon
Chaos Engineering — a type of test that seemingly counterproductive – you inject the developed site with malicious scripts/plugins to test its response-ability. This is an effective method to prepare and minimize any downtime on the live site whenever the risk actually occurs
As a closed ecosystem, staging environment can also protect you from SEO ranking issues, that usually happen when you directly develop a live site.
Search engine crawlers can detect errors created from your development activity on the live site, thus impacting your site's SEO performance.
On the flip side, you don't want the search engine to crawl and index your staging site either, as getting index on an unfinished site can also negatively affect your SEO.
To prevent the search engine from indexing your staging site, you can do the following:
.htaccess authentication — you can rule out your site from indexing by giving special permission before. So when someone wants to access the staging site, an authentication form will appear. This will make the staging environment more secure.
IP address whitelisting — you can restrict access to the staging site by only allowing a specific IP address to enter it, such as your personal computer, office, and client networks. Limiting access is also a great method to improve staging site's security
Is It Any Different with Your Live Site?
While the overall structure of your staging website can be pretty much the same, it's actually different from your live site. That's why you can have more freedom to tweak and tune the staging site in the first place.
There are noticeable differences for both of them. Firstly, you can't replicate or transfer the traffic from the staging site to the live one.
And due to development nature, your staging site can have a lot of corrupt data that may affect the overall page performance. Thus, this site can be slower than the live one.
How to Create a Staging Site in WordPress
Now you know about the WordPress staging site and the benefits that it has to offer for your development purposes. In this section, we're going to tell you how to create a staging WordPress site. There are two ways to do this: manually or using a plugin.
Manual Method
First, you need to have access to your hosting control panel. This method requires you to modify code and database settings. You can perform a more complex modification using this method. We wrote an article about how to manually create a staging WordPress site.
Using A Plugin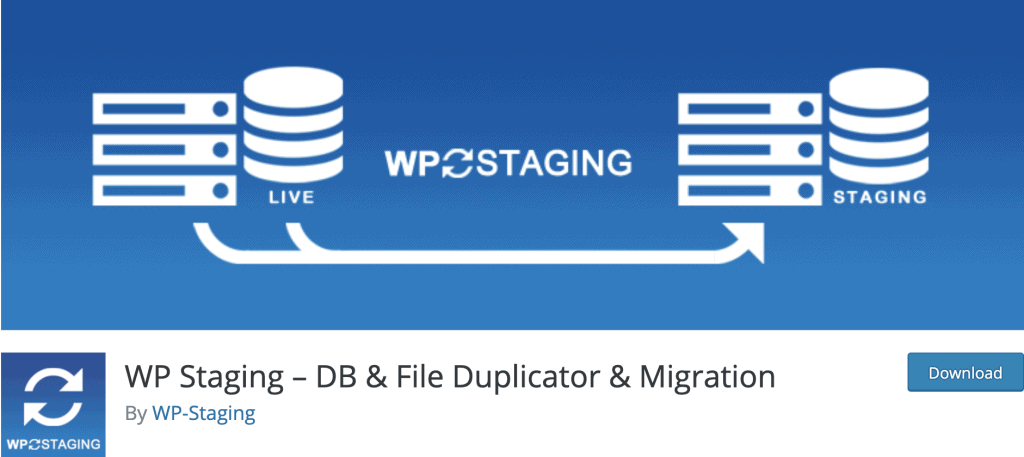 You can create a staging environment using a plugin called WP Staging. This plugin allows you to create and clone your website. It's pretty straightforward to use, as all you have to do is install, activate, and create the new staging site.
If you're new to WordPress, have a look at our article on how to install a WordPress plugin.
Once you activated the plugin, go to the WP Staging -> Create New Staging Site. Give the site a name, in this case, it's staging, and check all the Files and Database Tables you want to copy. And when you're done, click Start Cloning.
Important: Create a backup file before making a staging environment for your website.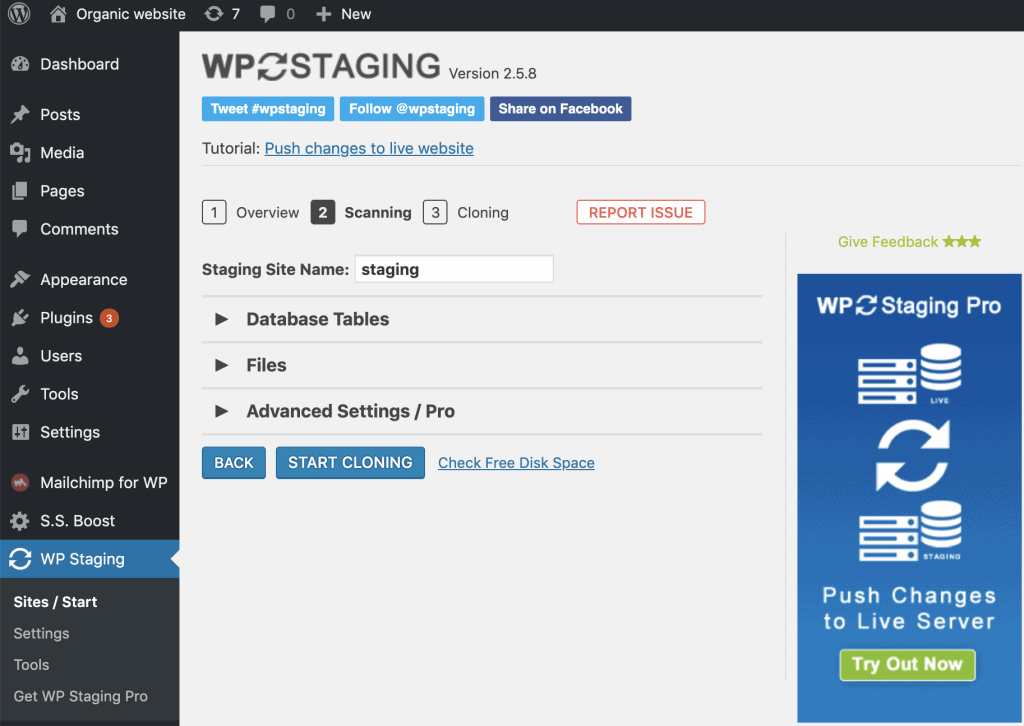 The process can take some time, especially if your site data is huge. And when it's done, you can click Go to Your Staging Site, or use the URL yoursite.com/staging.
When you're inside the WordPress staging site, it will have an orange banner attached on your admin bar.
From here on, you can customize the themes or update and test the plugins before doing the same thing on your live site.
You can also automatically publish the changes you made using this plugin. However, you need a premium plan to do that.
It is also worth to note that using the plugin to create a staging site can be limiting since you can only test the compatibility of new plugins and themes.
If you want to have more flexibility to change the whole website code, you can do so by creating the staging site with the manual method.
Conclusion
Now you've learned about WordPress staging site, which provides you with a safe environment before publishing any changes to your live website.
You've also learned how to create a staging site manually or by using a plugin.
But remember, the manual method is your go-to option if you want greater flexibility to change the code.
Do you have any experience in developing a site on a staging environment? Please share your story in the comments section below.