WooCommerce vs Shopify: The Best eCommerce Platform for Your Online Store
The right eCommerce platform can help your online store succeed. With various eCommerce platforms available, choosing the most suitable one for your needs is essential. This article will compare the two most popular platforms: Shopify vs WooCommerce.
The main difference between WooCommerce and Shopify is that WooCommerce is a WordPress plugin that offers great flexibility to create any type of store. On the other hand, Shopify is an all-in-one software-as-a-service (SaaS) eCommerce platform to sell products and services online.
Both eCommerce platforms have their benefits and downsides. This article will explain how the two compare, from their ease of use and features to security and customer support. Therefore, you will be able to make an informed decision on which platform suits you best.
Download Checklist: How to Start an Online Business
What to Look For in an eCommerce Platform
Every eCommerce platform has pros and cons. Doing in-depth research is essential to finding a suitable online store platform.
Here are some critical elements to consider when choosing an eCommerce platform:
Ease of use. Choose a platform that suits your technical skills. If you are a beginner, we recommend choosing a platform that offers a quick and easy setup.
eCommerce features. Most eCommerce platforms offer features that can enhance your online store's functionality. Thoroughly check each platform's features to see if they fit your business needs.
Cost. Look for a platform that offers the best value for money and fits your budget.
Themes and customizability. Quality branding helps your online store stand out among competitors. Find a platform with a wide selection of templates and site design customization options.
Plugins and extensions. Check the plugins, extensions, and additional applications each platform offers.
Marketing and SEO. Promoting your eCommerce website and targeting the right audience help increase sales. Choose a platform with suitable marketing and SEO features for your business strategy.
Shipping and payment gateways. Choose the eCommerce platform that supports various shipping methods and payment gateways.
Scalability. Every eCommerce site has the opportunity to grow. Pick a platform that supports growth without risking performance.
Security. Protecting your customers' personal information helps build trust. Select a platform that protects personal data, such as credit card information and addresses.
Customer support. To receive quick assistance when your eCommerce website encounters issues, choose a platform that provides reliable customer support.


WooCommerce vs Shopify: Comparison Table
Now that you know which criteria to consider when selecting an eCommerce platform, here's a quick comparison between Shopify vs WooCommerce in various categories:
Now you have a big picture of how WooCommerce vs Shopify compares. Keep reading for more detailed explanations to help you decide which platform fits your needs best.
WooCommerce vs Shopify: Ease of Use
Consider each platform's ease of use when creating an eCommerce store, from the setup process to adding products. Most importantly, choose a platform that best suits your skill level.
WooCommerce
For most people, WordPress and WooCommerce have a small learning curve. Understanding how to use the WordPress content management system (CMS) can help you fully maximize the WooCommerce plugin.
To set up WooCommerce, you must have a WordPress site. Since WordPress is a self-hosted platform, you can choose where to get the web hosting and domain name.
Fortunately, some hosting providers offer WooCommerce hosting plans, which include the necessary setup to create an online store.
Once you have a WordPress website, setting up a WooCommerce store is very straightforward. After installing the plugin on WordPress, WooCommerce will launch a quick setup wizard. Alternatively, head to Dashboard → WooCommerce → Home.
After setting up the store, all WooCommerce settings are available on your WordPress dashboard.
You can immediately start adding and managing products. Head to Dashboard → Products to find two options to add product pages: by creating one or importing from a previous store.
When adding new products, you can also set up the inventory and shipping settings. In addition, WooCommerce gives the option to add virtual or downloadable products.
To sell other products like subscriptions and memberships, purchase premium extensions. For instance, the WooCommerce Memberships extension starts at $16.59/month.
Overall, WooCommerce is a user-friendly platform that offers exceptional flexibility for creating and managing an online store. Existing WordPress users will find WooCommerce easy to use.
Shopify
Shopify is a dedicated eCommerce platform. You don't have to worry about purchasing a separate hosting plan and domain name or installing any software. Simply sign up for a Shopify account, and you can create an online store right away.
After setting up an account, access the Shopify dashboard for an easy Setup guide. Then, start customizing your store.
Shopify also makes it easy for users to start a dropshipping business. With Shopify dropshipping, you can get trustworthy suppliers to ship products directly to customers. Select Browse dropshipping apps via the Setup guide if you are interested in this feature.
To add and manage your own products, head to the Products section in the dashboard. Click the Add your products button and enter your shipping, inventory, and pricing details.
Overall, creating an eCommerce store with Shopify is very straightforward. The platform offers everything you need under a user-friendly and easy-to-navigate dashboard. In addition, the Shopify dropshipping feature can help you find products to sell.
WooCommerce vs Shopify: eCommerce Features
What differentiates a multipurpose CMS or website builder and an all-in-one eCommerce solution are the features. Consider each platform's eCommerce features, such as order tracking and inventory management.
WooCommerce
WooCommerce comes with numerous built-in features for a small eCommerce store. One of these features helps track sales, products, and customers.
With this feature, WooCommerce will automatically list every incoming order. The list will include the order number, customer name, date of purchase, order status, billing and shipping address, total sale, and actions.
If you need to add orders manually from the WooCommerce site, head to Dashboard → WooCommerce → Orders → Add order.
Another notable feature is WooCommerce's built-in Analytics feature. When you start receiving orders, the feature can track your products, revenue, orders, variations, categories, coupons, taxes, downloads, and stock.
The built-in analytics feature is also customizable. Simply click on the three dots icon and choose which data you want to track.
Users can also select the excluded and actionable statuses from Dashboard → WooCommerce → Analytics → Settings.
In general, WooCommerce's built-in features are helpful for small businesses. For more eCommerce features, such as a WooCommerce inventory management tool, consider the suggested extensions on the dashboard.
Shopify
Shopify's eCommerce features depend on the plan that you choose. Fortunately, all the plans already have numerous eCommerce features for small to medium-sized businesses.
For example, Shopify creates customer profiles to help understand your audience better.
Another notable feature is its inventory management. Shopify tracks and makes changes to the inventory after every order.
The Transfers feature helps track and receive incoming inventory from suppliers and business locations.
Shopify also comes with excellent display and marketing features for your eCommerce store. For example, the Collections feature helps group the products in your Shopify store.
Another feature to attract more customers is gift cards. You can add a gift card product for customers to purchase or issue one directly.
Shopify dropshipping is one of the platform's unique eCommerce features. Integrating with applications like Inventory Source and Ordoro helps users easily set up a dropshipping business.
Lastly, Shopify has a built-in Abandoned Checkouts feature. This tool can help you send email reminders to customers who put items in their cart but have not purchased.
Overall, Shopify's eCommerce features depend on your pricing plan. For example, the Advanced Shopify plan offers more eCommerce features than the Basic Shopify plan. Additionally, users can download Shopify apps for more features.
WooCommerce vs Shopify: Cost
Each platform has its own pricing plans, along with additional costs to consider. Choosing an eCommerce platform that suits your budget is essential to keep the store running.
WooCommerce
WooCommerce is a free plugin. However, you must purchase web hosting and a domain name to create a WordPress website.
The cost of using WooCommerce varies depending on your hosting provider. Fortunately, some web hosts include a free domain name with their plans, so you don't need to get one separately.
For example, Hostinger's WooCommerce hosting plans include a free domain name, custom email, and SSL certificate. In addition, Hostinger will automatically install WordPress and the WooCommerce plugin for faster and easier setup.
Here are Hostinger's WooCommerce hosting plans:
Woo Starter for $3.99/month. Suitable for small businesses that don't have many products yet.
Woo Premium for $11.59/month. Great for medium-sized stores that need more storage.
Woo Business for $23.99/month. Perfect for large businesses with many products to showcase.
The plan you choose must depend on your WooCommerce store needs.
Another cost to consider for WooCommerce online stores is the premium extensions. Paid extensions cost from $29-$249/year. Thankfully, there are also free ones available.
Shopify
Shopify is a hosted eCommerce platform, which means you don't need to find a separate hosting provider. In addition, your Shopify plan will include an SSL certificate, a myshopify.com domain name, and unlimited bandwidth.
Here are the three pricing plans for your Shopify store:
Basic for $29/month. Good for small businesses that have just started their online store. This plan is also available for $1/month for the first three months. This Shopify Basic plan charges a 2% third-party transaction fee.
Shopify for $79/month. Suitable for medium-sized businesses that need more staff accounts and advanced analytics. This Shopify plan charges 1% third-party transaction fees.
Advanced for $299/month. Offers custom reporting and the lowest third-party transaction fees of 0.5%. The Advanced Shopify plan includes more eCommerce features, such as estimating and collecting duties and import taxes.
Consider Shopify Plus if you have the Advanced Shopify plan but wish to grow your site further. For $2,000/month, this Shopify pricing plan caters to large-scale enterprises.
With Shopify, also consider other costs like premium themes and applications. These paid add-ons have varied costs.
If you are still unsure about Shopify, there is a three-day free trial to try out the platform.
WooCommerce vs Shopify: Themes and Customizability
An eCommerce website's design can help attract customers and highlight business branding. Therefore, look for a platform that offers high-quality themes. In addition, consider its customizability to create unique branding for your store.
WooCommerce
As WooCommerce is an open-source WordPress plugin, it offers vast flexibility.
WooCommerce has thousands of theme options. It works with all WordPress themes on the market as long as they follow the plugin's standard recommendations and best practices.
Additionally, there is a WooCommerce Theme Store with 60+ templates specifically for online stores. Using an official WooCommerce theme helps maximize speed and site performance. It can also eliminate WordPress theme or plugin conflicts.
There are free and premium official WooCommerce themes available. The premium ones start at $79/year.
Since WooCommerce is open-source, many web designers and developers create WooCommerce themes for various industries and purposes. Some marketplaces that offer hundreds of WooCommerce themes are ThemeForest, Elegant Themes, and TemplateMonster.
In addition, WooCommerce also gives users complete freedom to edit the design using WordPress' customization tool. Users also have the option to use WordPress drag-and-drop page builders like Elementor and Beaver Builder.
Shopify
Meanwhile, the Shopify Theme Store has 100+ highly curated and mobile-responsive premium and free themes. The premium themes cost $180-$350/license.
All Shopify themes are suitable for the latest version of the platform. Users can also access the theme's CSS if they want to personalize the design further.
In addition, Shopify offers a built-in customization feature to easily change the theme's layout.
Head to Online Store → Themes and click Customize next to Current theme to access this feature. Click the Theme settings button in the bottom left corner to change the colors, typography, and styles.
Beginners will find it easier to create well-designed online stores using Shopify. However, the customization options are limited compared to WooCommerce.
WooCommerce vs Shopify: Plugins and Extensions
Third-party extensions, plugins, and applications can add functionalities to your eCommerce website. Choose a platform with various add-on options to grow your online store.
WooCommerce
With this eCommerce platform, you can get additional features and functionalities from WordPress plugins and WooCommerce extensions.
WordPress offers 60,000+ free and freemium plugins to help build your WooCommerce store without limitations. Other third-party plugins are available on websites like CodeCanyon and CodeGrape.
Most plugins will work well with your WooCommerce store. Additionally, WooCommerce has its own marketplace of extensions specifically designed for the platform.
Head to the WordPress dashboard → WooCommerce → Extensions to access the WooCommerce Marketplace. There are 300+ extensions available. Some extensions are free, while the paid ones cost up to $299/license.
Here are some extensions to consider:
With WooCommerce, you can create any store with an extensive list of plugins and extensions.
Shopify
Shopify has strong built-in features, requiring less help from extensions. However, users can still get additional applications from the Shopify App Store.
Shopify's app store has 8,000+ free and paid applications. Some are created by Shopify, while others are from third parties.
Consider these top options from the Shopify App Store:
Overall, this platform offers high-quality applications to expand your Shopify features. Even though there are fewer options compared to WooCommerce, these highly-curated applications integrate smoothly with your store.
WooCommerce vs Shopify: Shipping and Payment Gateways
An essential factor in setting up an eCommerce store is having trustworthy shipping options and payment gateways as you make money online. Use a platform that allows multiple options for shipping and payments to increase sales.
WooCommerce
WooCommerce offers complete settings to set up your store's shipping options. Head to Dashboard → WooCommerce → Settings → Shipping to find these settings:
Shipping zones. Set up product shipping location zones. WooCommerce will match customers to a specific zone using their address and present the available shipping options.
Shipping options. Choose how to calculate the delivery cost and how customers can add their shipping addresses.
Shipping classes. Group similar types of products with a specific shipping rate.
In addition, the WooCommerce Shipping extension allows you to create custom boxes, envelopes, or other packaging for shipping. It also lets users print out address labels directly from the WooCommerce dashboard.
WooCommerce can also detect visitors' addresses to simplify tax and shipping calculations.
With WooCommerce, users can offer customers the option to pick up their products or receive them via delivery. Its flexible settings let users create additional charges for heavier items and offer free shipping for specific locations.
For WooCommerce payment gateways, there are three built-in options:
Direct bank transfer. Get paid via direct bank or wire transfer.
Check payments. Take payments in person using checks.
Cash on delivery. Have customers pay with cash upon delivery.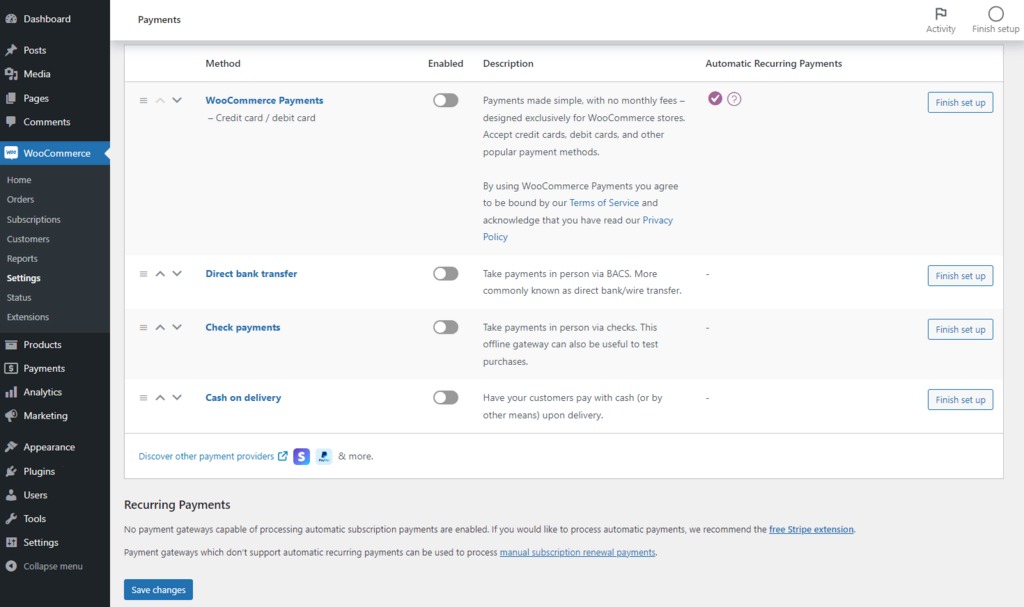 For more options, install the WooCommerce Payments extension to include credit and debit cards payment.
However, using the extension will add a transaction fee of 2.9% + $0.30 per transaction for US cards. Then, an additional 1% fee for non-US cards.
Overall, WooCommerce offers useful built-in settings and options for shipping and payments. In addition, you can install extensions for more choices.
Shopify
Shopify has built-in Shipping and delivery settings where you can easily set up shipping rates and processing time. The platform offers up to 88% discount using USPS, UPS, and DHL shipping.
In addition, US-based merchants with USPS, UPS, or FedEx accounts can connect directly with your Shopify store. The platform automatically generates shipping rates based on your agreement with the carrier.
Another notable Shopify shipping setting is free, real-time, price-based, and weight-based rates.
Shopify also has applications that can improve your delivery process. For example, Shipping Rates, Multi-Carrier Shipping Label and Estimated Delivery Date can help calculate how much shipping will cost before customers check out.
Shopify Payments supports all the popular options, such as credit cards, manual payments, and PayPal. However, it is only accessible to merchants in certain regions. Countries that don't have Shopify Payments must use a third-party payment gateway.
Shopify charges extra transaction fees on all purchases made through third-party gateways. The transaction fees vary depending on the plan you choose. For example, the Shopify Advanced plan has the lowest third-party transaction fee.
WooCommerce vs Shopify: Marketing and SEO
Once you have an online store, market your website to reach your target audience. Look for an eCommerce platform with proper marketing and search engine optimization (SEO) tools for your business.
WooCommerce
WooCommerce has built-in marketing features to promote your products. For example, the Coupons feature offers discounts and rewards to customers. This helps promote your products and build customer loyalty. Head to Dashboard → Marketing → Coupons to use this feature.
Another essential tool for marketing and SEO is WooCommerce's Analytics feature. This tool lets you track sales and customer behavior to create a marketing plan.
Head to Dashboard → Marketing → Overview to see other recommended marketing WooCommerce extensions.
For example, MailChimp for WooCommerce can help you create email marketing campaigns. It provides an email service plugin you can activate during the setup process. This tool can send a personalized message to a customer's email based on their previous purchases.
Since WordPress is a reliable and SEO-friendly CMS, WooCommerce can take advantage of its features.
Easily edit the meta tags and titles and customize URLs. These features can help your store rank higher on search engine results pages (SERPs) and drive more traffic. In addition, use a plugin like Yoast SEO to optimize your website.
Shopify
Shopify provides all the necessary tools to create successful and targeted marketing campaigns.
First, Shopify has a Discounts feature to help create promotions and attract more customers to your store.
Shopify also has a built-in Analytics feature. It includes traffic or referral reports showing how your visitors found the online store. The feature also uses customers' cookies to get information on how often they visit your eCommerce website.
Another notable built-in marketing feature is Abandoned Checkouts. This tool sends emails to potential customers that haven't completed their purchase. If done well, these abandoned cart recovery emails can improve customer loyalty.
Head to Shopify Dashboard → Marketing to find recommended marketing applications. For example, the Seguno Email Marketing app can compose and automate emails from your administration dashboard.
Shopify is also an SEO-friendly platform. It automatically generates XML sitemaps with your products and blog posts. This feature allows Google to quickly find your essential web pages.
Other than that, Shopify offers a built-in blogging platform for users to publish and categorize articles, moderate comments, and create lookbooks. Therefore, this platform lets you engage with customers better.
The blogging feature also helps increase your website and brand's online visibility and authority. For example, search queries can direct potential customers to your blog content and online store.
WooCommerce vs Shopify: Scalability
A successful online store increases its customer base and supports its own growth. Therefore, look for an eCommerce platform that can help scale your website when necessary.
WooCommerce
As WooCommerce is an open-source platform, there is no limit to how to build your store. You can make an online store of any size, from a small business to an enterprise.
One of the biggest contributors to WooCommerce's scalability is the large gallery of plugins and extensions.
Another aspect affecting the platform's scalability is the web hosting plan, as you are not tied to one provider. Choose a hosting provider that lets you easily upgrade your storage space, bandwidth, and other resources.
Overall, WooCommerce offers helpful functions to scale your store website into a larger entity. The web hosting plan options and the number of extensions and plugins help ensure that the platform is scalable.
Shopify
With Shopify, users can upgrade their plan whenever they want. In addition to the four plans, there is also the Shopify Plus option for turning your online store into an enterprise. Shopify's own app store also helps scale your website.
However, Shopify's scalability is limited to the plans it offers. Since Shopify is a closed platform, users cannot choose their own web hosting. If the proprietary web hosting is unsuitable for their needs, there is no option to change the web host.
In addition, it is harder for Shopify users to grow gradually. The option to go from one plan to another is very limited.
WooCommerce vs Shopify: Security
eCommerce stores receive customers' personal information for every purchase. Therefore, security is a priority to keep credit card information and personal data safe. Look for a platform that can help protect your store from cyberattacks and malware.
WooCommerce
The WooCommerce software code is regularly audited by hundreds of WordPress core contributors. However, users are mainly responsible for securing their stores as WooCommerce is a self-hosted platform.
Your hosting provider is one of the main elements influencing your store website's security. The web host should offer a built-in firewall, security scans, and backup features. You should also use a reputable web host that offers quality customer support.
Users should also get a secure socket layer (SSL) certificate to protect the site from data breaches, phishing attacks, and other cyber threats. Some hosting providers, such as Hostinger, include a free SSL certificate with their plans.
Note that your eCommerce site should comply with the Payment Card Industry Data Security Standard (PCI-DSS). This standard helps protect cardholder information from hackers.
For additional security, get a WooCommerce extension or a WordPress plugin. For example, Jetpack and Wordfence can secure your website with spam filtering and two-factor authentication.
Shopify
As a hosted platform, Shopify takes care of most of the security measures that protect your site from hackers. For example, Shopify automatically updates its features and includes a free SSL certificate for all its users.
Shopify is PCI-DSS compliant by default, which means the platform meets all six categories of the PCI standards. Therefore, Shopify maintains a secure network and information security policy. In addition, the Shopify Payments feature helps secure customers' checkout process via fraud analysis.
Even though Shopify has built-in security features, there are certain measures that users need to take to further protect their stores.
For instance, Shopify has no automated backup functionality. As a user, you must regularly back up your website information by exporting it from your Shopify admin as CSV files.
Users are also responsible for ensuring password security and strengthening admin permissions.
You can also get additional protection from free and paid applications. For example, Trust Badges Bear and Locksmith can add badges for every payment gateway and lock certain content.
Overall, you don't need to worry about security regarding Shopify, as the platform offers many built-in features to protect your site.
WooCommerce vs Shopify: Customer Support
Responsive and extensive customer support is essential for an eCommerce platform. Look for a platform whose support team can assist you immediately when facing issues like slow-loading pages and website crashes.
WooCommerce
WooCommerce's customer support is mainly its thorough documentation.
Head to the WooCommerce dashboard on WordPress and find a Help button with various documentation. These documents answer frequently asked questions and common issues with the platform.
WooCommerce also provides a public support forum to assist its users. And since it is a popular eCommerce platform, other trustworthy forums may also offer WooCommerce technical support.
We also recommend choosing a hosting provider that offers reliable customer support. Your web host's customer support can help with downtime or other web server issues.
Sometimes, you may encounter issues with a theme or extension. Fortunately, most paid extensions and themes offer customer support. You can contact the developers for help or ask questions in the support forums
If you want a dedicated support team for in-depth consultations, use WooExperts. You can also get website design assistance from the program. The expert fee will depend on the project's scope.
Shopify
Shopify is known for its 24/7 customer service and reliable live chat, phone, and email support.
On the dashboard, you can find all the available support, including the Help Center with extensive documentation, how-to guides, and video tutorials. These options are suitable for users who want to fix issues independently.
Shopify also provides community discussion forums on various topics, including marketing and accounting.
To learn more about selling online or other topics to help grow your business, go to Shopify Learn. It offers plenty of free eBooks, video series, and webinars.
Meanwhile, Shopify Experts offers services for business owners who want to work with Shopify's approved eCommerce designers, developers, or marketers.
WooCommerce vs Shopify: Final Verdict
Both WooCommerce and Shopify have their own benefits and downsides, so make sure to choose the one that is more suitable for your business needs.
When comparing Shopify vs WooCommerce, we have found that the two eCommerce platforms benefit different types of users.
Who Is WooCommerce Best Suited For?
Choose WooCommerce if you want more flexibility with your eCommerce platform. As one of the top Shopify alternatives, WooCommerce is ideal for all stores, from small to large enterprises. However, it does require more work to set up.
Here are the main benefits of WooCommerce:
Flexible pricing. Find a web hosting plan that fits your budget. We recommend choosing a plan that comes with a free domain name to reduce your spending.
Highly scalable. Growing from a small website into a large enterprise is easy with WooCommerce. There are many hosting options for more bandwidth and storage.
Great community support. Both WooCommerce and WordPress are popular platforms with worldwide community support. You can easily find tutorials from various sources online.
Complete customizability. WordPress and WooCommerce have a large gallery of plugins and extensions to help customize your website and expand its features.
SEO friendly. This eCommerce platform is integrated with WordPress, which can help boost your SEO strategy.
Consider these factors before using WooCommerce:
Steeper learning curve. The setup process is longer and requires more research on the hosting options. Users should also know how to use WordPress to optimize this eCommerce platform.
More security responsibilities. Users are responsible for keeping their store secure, such as choosing the right hosting and security plugin.
Therefore, WooCommerce is best suited for users who are familiar with WordPress and want maximum flexibility and scalability.
Who Is Shopify Best Suited For?
Choose Shopify if you want a hassle-free way to build an eCommerce website. With Shopify, the setup process is much faster and easier. However, the platform has limited pricing plans and no hosting alternatives.
Here are some reasons why you should use Shopify:
Beginner-friendly. Setting up a high-quality eCommerce store can be done within minutes with Shopify, even if you don't have any coding knowledge.
Hosted platform. Shopify includes web hosting, security, and backups. Users can focus on the business and not look for these features elsewhere.
High-quality templates and applications. Shopify curates templates and applications. They ensure the templates and applications are suitable for the latest version of the platform.
24/7 support. Users can get reliable customer support to fix any issue with their website.
However, consider the following before choosing Shopify:
Limited control. Shopify doesn't give much flexibility and control over your website, from the web server to customization.
Less pricing plan options. There are only four pricing plans available.
To conclude, Shopify is suitable for users who want reliable support, easy setup, and a user-friendly interface for their store.
Conclusion
Both Shopify and WooCommerce are excellent eCommerce platforms with their own benefits and downsides. Make sure to choose the one that is more suitable for your business needs.
In this article, we have compared Shopify vs WooCommerce in the following elements:
Ease of use. Shopify is easier and quicker to set up and manage.
eCommerce features. Shopify has more built-in eCommerce features. However, WooCommerce has more free and paid eCommerce plugins and extensions.
Cost. WooCommerce is more flexible with the pricing as it depends on your hosting plan.
Themes and customizability. WooCommerce offers more customizability and theme options. However, Shopify's themes are more curated.
Plugins and extensions. WooCommerce comes with a large gallery of extensions. You can also use WordPress plugins to add features to your eCommerce business.
Shipping and payment gateways. Both Shopify and WooCommerce have numerous shipping and payment gateway options. There are also extensions and applications to help manage shipping and payments.
Marketing and SEO. Both Shopify and WooCommerce have built-in marketing and SEO features.
Scalability. WooCommerce offers limitless scalability with the platform, allowing you to grow gradually.
Security. Shopify takes care of website security. Meanwhile, WooCommerce users are fully responsible for their online store's security.
Customer support. Shopify has 24/7 customer support, courses, and community forums ready to help whenever you encounter any issue. WooCommerce doesn't have a dedicated support team, but it has thorough documentation and an enormous, helpful community.
Overall, WooCommerce is a great option for users who want more flexibility with their eCommerce platform. If you are looking for a simpler way to build an online store, Shopify is the better choice.
After going through Shopify vs WooCommerce comparisons, we hope you can decide which platform is the right one for your business.
If you've decided to migrate WooCommerce to Shopify or vice versa, you can turn to the Cart2Cart service and get the job done in an easy automated way.
WooCommerce vs Shopify Frequently Asked Questions
Now that you know how Shopify vs WooCommerce compares, here are some frequently asked questions about the topic.