How to Sell Jewelry Online and Build a Successful Business
If you're considering launching an online clothing store to sell jewelry, now is the right time. Reports show that the online accessory market share is expected to grow 11% by 2021.
However, first, you need to understand and prepare for the process of doing so fully.
In this article, you will learn all about the details of launching an online jewelry store. You will also see several examples of successful online jewelry businesses and get to understand exactly how they sell jewelry online.
Download Website Launch Checklist
1. Decide on Your Jewelry Niche and Define Your Brand
Selling a wide variety of jewelry accessories will make it hard to find your target audience and define your brand.
From handmade and vintage jewelry to high-end designer pieces, it's best to focus on a specific niche and make it your specialty. Here are a few ways to get around that.
Find a Profitable Niche in the Jewelry Industry
Research the trending products or niches and narrow them down based on potential. You can do so by keeping track of the current jewelry trends using Google's Keyword Planner.
Find a business idea that you feel most passionate about, then use it to create your brand's image.
Define the Unique Selling Proposition for Your Target Audience
A unique selling proposition (USP) summarizes what makes your jewelry business stand out from the competition. It should explain why your business provides more value to your customer base compared to your direct competitors.
Create a USP by answering these questions:
Who is my ideal customer?
What are the problems that my product can solve for the customer?
What will motivate customers to purchase my product?
How is my brand different from the competition?
Coming up with a USP will help you define your brand further, giving you a clear image of what it represents and what direction it should take for optimal conversions.
Create a Brand to Sell USP
Once you have a clear USP in mind, use it to fine-tune and finalize your brand. Let it inspire the design of the logo and the website.
You should be able to summarize the USP into one sentence. This sentence must then become the staple of your brand's image and marketing campaigns. A short and effective USP can even become your tagline.
2. Create an Online Store to Sell Jewelry
After sorting out your jewelry niche, brand, and USP, it's time to build an online jewelry store.
Get the Perfect Domain Name for Your Jewelry Brand
A domain name is how customers will find your online store. It should be short and easy to remember.
The right domain name should also have a relevant keyword included, such as high-end jewelry or handmade jewelry. The additional keyword will help your site rank better on search engines, which will increase your traffic.
The following are the steps to getting a domain name:
Use a domain name generator for ideas. Use a domain name generator or browse through Thesaurus.com to find a perfect name.
Search the domain database. Once you have some ideas, perform a domain name search. Make sure no other websites or businesses are claiming the name to avoid legal issues and confusion.
Register your domain name. This can be done through a domain registrar of your choice. Check out the tutorial on how to buy a domain for additional information.
Best Platforms to Sell Jewelry Online
Once you have a domain name for your online business, you may start building a store for the jewelry you will be selling online. There are several options to help you get started.
WordPress Hosted Online Store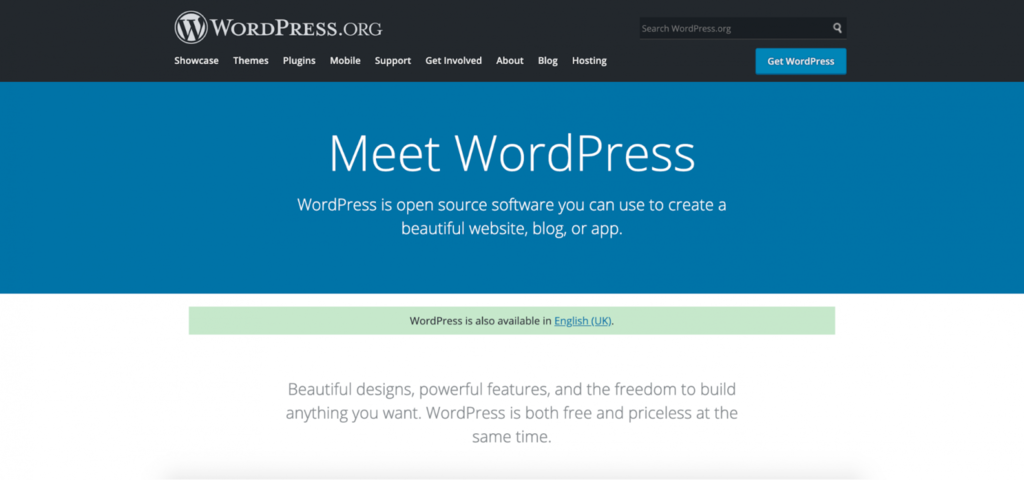 A content management system (CMS) is software that lets you create, store, and manage content. As a CMS has to be installed on an already hosted website, it allows complete customization and control over your site.
Our recommended CMS is WordPress, which is open source and free to download. However, you still have to pay for hosting and a domain name, and some plugins for additional features.
Adding eCommerce functionality is done using such plugins as WooCommerce, an eCommerce platform software that turns a WordPress site into an online store.
Pros of Using WordPress
Excellent flexibility and customization options
Easy to scale
Free to use and open source
Cons of Using WordPress
Not beginner-friendly
Web hosting services need to be bought separately
Website Builders
Using a website builder allows you to create a mobile-friendly, professional, and reasonably customizable site with minimal technical knowledge.
Most website builders provide a wide range of templates to choose from, allowing beginners to build a full-fledged website.
Website builders make it easy to create any type of site, including an eCommerce store, to sell jewelry.
Most website builders implement subscription-based plans for their services – prices range between a few dollars and up to $50/month. That said, you'll mainly be looking at the plans that suit your jewelry store needs the best.
Pros of Using a Website Builder
Very beginner-friendly
Usually comes with hosting and some with an included domain name free of charge as well
Excellent technical support
Cons of Using a Website Builder
Limited customization features
Difficult or nearly impossible to change between platforms
eCommerce Platform
An eCommerce platform is a website builder specifically designed to build online stores. Therefore, most eCommerce platforms are well-equipped to support online transactions.
Shopify and BigCommerce are two of the most renowned eCommerce platforms on the market. The price for a complete set up site ranges from $17 to $300/month, depending on the features, integrations, and product quotas.
Keep in mind that most platforms also charge transaction fees for each successful sale, which will add to your monthly business expenses.
Pros of Using an eCommerce Platform
Very beginner-friendly
Fast and easy to set up
Integrated eCommerce features
Cons of Using an eCommerce Platform
Limited customization and design of the website
Complicated to migrate the website to a different provider
Bonus: Online Marketplaces
Online marketplaces are also considered eCommerce platforms in the sense that they provide one website for many people to sell on. You can register, create an account, and open your online store alongside other merchants.
Despite its ease of use, your online store won't look as professional and independent. It'll be harder to compete as well since your items will be listed alongside other products.
Although online marketplaces may not be the best place to sell jewelry, they are an excellent place to start if you're on a limited budget. The price ranges from free to a few dollars per item sold.
Etsy, eBay, and Amazon are three of the most popular online marketplaces to consider.
3. Source the Inventory
After choosing your jewelry niche, defining your brand, and building your website, it's time to source the items you will be selling online.
Here are several business models you can adopt to source the inventory, along with their pros and cons.
Dropshipping
For those who want to start a dropshipping business, you'll work on finding a wholesaler locally or overseas to send the jewelry to your customers on behalf of your brand.
All you have to worry about is setting up a place to sell and choosing the items themselves. This business model's relative ease of use will be its main draw when planning to sell jewelry online.
Oberlo and AliDropship are two of the most popular dropshipping platforms. Several eCommerce platforms support integration with them, allowing you to display the products on your store hassle-free.
Pros of Dropshipping
Less financial risk as you only buy the items that your customers order
Faster setup time
No inventory management, packaging, and shipping processes
Cons of Dropshipping
Lower profit margins
Unable to engage in product quality control
More complicated returns and exchanges
Wholesaling
Buying wholesale jewelry for resale works by purchasing cheap, good-quality jewelry in bulk from manufacturers and reselling them under your own brand.
You can usually get cheap items from local wholesalers or international wholesale companies like Alibaba and Top Ten Wholesale.
Pros of Wholesaling
Allows to quality check the items
Faster delivery times
Personalized packaging
Cons of Wholesaling
It needs more capital to start
Risk of unsold inventory
Requires plenty of storage space
Private Labeling
Private labeling is the best business plan if you want to sell fine jewelry. It involves collaborating with a manufacturer to produce custom-made jewelry specifically for your brand.
To maintain your business reputation, it's vital to choose private labeling manufacturers known for producing quality products, like Sourcify and Jewelry Touch.
Pros of Private Labeling
Custom-made jewelry that stands out from the competition
Control over pricing, branding, and packaging
Cons of Private Labeling
Dependency on manufacturers for product quality and reliability
Requires a significant capital investment
Self-manufacturing
There is a growing market for handcrafted jewelry. With this business model, you get to monetize your hobby and not be dependent on manufacturers.
The online marketplaces we recommend for handmade jewelry are Etsy and Novica. Alternatively, create a website and sell your jewelry independently.
Pros of Self-manufacturing
Control over quality, product specifications, pricing, and shipping
The option of using a well-known platform to sell your jewelry
Cons of Self-manufacturing
Requires crafting skills to make jewelry
Very time-consuming
4. Add Jewelry Products to Your Online Shop
While creating a product catalog may seem straightforward, there are some essential aspects to consider when adding jewelry to your site:
Categorize your products. Separating each piece of jewelry based on its category will make your product pages much tidier and your store more comfortable to navigate.
Price your jewelry accordingly. Take into consideration the price of materials used in production, taxes, and shipping fees. Make the prices visible on the product pages to avoid confusion.
Use high-quality images. If you're dropshipping, the wholesalers will most likely provide you with good-quality photos of the product. If you handcraft the jewelry you sell or commission a private labeling company, you will have to take the pictures yourself.
Write compelling product descriptions. The way you describe each piece of jewelry significantly impacts how your customer base perceives it. Entice your potential customers by writing persuasive copy to showcase the items' value.
5. Set Up Payments and Shipping
When it comes to accepting payments, people appreciate having multiple options. Some platforms already have integrated payment systems, like Etsy and Shopify. Others support various payment gateways.

The available payment gateways will heavily depend on your location and currency. Some payment options to consider are PayPal, Apple Pay, and Stripe.
Check the transaction fees for each payment gateway and choose the most suitable option. Additionally, make sure your site enables HTTPS protocol to secure customer payment details and personal data by installing an SSL certificate.
Shipping
Unless you're running a dropshipping business, selling jewelry online requires careful planning of the shipping methods.
Some eCommerce platforms have shipping rates already set up, while others require manual input from the business owner. Here are the most commonly used shipping types:
Free shipping. A common marketing tactic to entice customers and generate more jewelry sales. You can either set free shipping on all items, specific collections, or orders that reach a certain amount.
Flat rate shipping. An easy way to cover the shipping price. You may lose some money on bigger orders, but you'll generate more profit on the smaller ones.
Calculated shipping rates. Some platforms accept third-party apps that provide real-time shipping rates. It's the most accurate way of making sure you aren't overcharging your customers and losing any money.
6. Make the Business Official With Licenses and Getting Incorporated
There are two primary business structure types suitable for selling jewelry online – limited liability company (LLC) and corporation. Despite being similar, each business type has different advantages and disadvantages.
LLC vs Corporation
Both LLC and corporation business types protect your personal assets. This means that if your company were to acquire debts or other financial obligations, you would only be expected to pay the amount of money you invested in your jewelry business.
Without having your business registered as either LLC or corporation, your personal assets would be at risk.
Aside from liability protection, LLC and corporation have several other differences, one of which is the way they are taxed.
Limited Liability Company Taxing
As an LLC, your company's profits, losses, and operating costs are reported on your personal tax returns. The tax rate depends on your total income, as LLC is not taxed at the business level.
You may also be required to pay self-employment taxes or franchise taxes, depending on which state you register the business and other factors in.
Thus, it's best to spend some time looking into the laws of your state to determine if being classed as an LLC entity is the right way to go.
Corporation Taxes
When it comes to becoming a corporation, you may register the company as either an S corporation or a C corporation.
An S corporation's taxation process is similar to that of an LLC. The company's profits and losses are imposed on the shareholders' tax returns.
Meanwhile, a C corporation is considered a legal entity of its own. Its profits and losses are taxed as a whole, with each shareholder paying taxes on their personal dividends.
Other Licenses for an Online Business
Aside from registering your company as a particular type of business entity, there are other legal obligations you will have to follow to begin selling jewelry online.
Here's a quick list of licenses you will need:
Business operation license. Having one allows you to conduct business legally. The licenses' regulations may vary, so check your country or state's laws for operating an online eCommerce business.
Seller's permit. Acquire this license through your local licensing office or Department of Revenue to start selling jewelry online.
Home Occupation Permit. You'll have to register for this license if you plan to conduct your business from home. It ensures that your base of operations is suitable for home business activity.
7. Steps to Take Before Launching an Online Store
One of the most important measures before starting an online store launch is to go through a pre-launch checklist. This ensures that your online store is ready to sell your jewelry without any malfunctions.
We're going to break down each step piece by piece.
1. Check Your Main Pages
Inspect all of the essential pages on your website. For example, the homepage is going to be the first page that greets your customers. Therefore, it must be organized, appealing, and easy to navigate.
Have an About Us page ready to help visitors get to know your brand better. Share your brand's values, goals, and purpose on this page to build trust with customers.
The email address, phone number, and postal address should be visible on the Contact Us page. To increase credibility, use an email domain that matches your website name. Make sure to include a contact form, as it makes it easier for people to reach out to you for inquiries.
2. Review the Checkout Page and Test the Payment Gateway
One study shows that the cart abandonment rate for online stores is around 70%, which means the checkout page is where your customers will most likely leave your website.
For this reason, it's crucial to have your checkout page performing correctly. The layout should be clean and functional, and the process must be fast and straightforward.
The moment your customers enter the checkout page, they must see all of the information laid out. Include a section for a discount code, and ensure the shipping rates are displayed accordingly. Finally, the cart should function without any problems as well.
Have several trustworthy payment gateway options available to accommodate customer preferences. The less effort a customer has to make, the more likely they will go through with the purchase.
Test the Payment Gateway and Automated Emails
Once the checkout page is set, test out your payment gateway. Add an item to the cart, add your payment and shipping information, and place an order in your store.
Then, check your email for your order confirmation, receipt, and shipping information. If everything went without a hitch, your checkout page is ready.
3. Audit the Content of the Store
After ensuring the web pages work correctly, it's time to audit the website's content. Here's what you can do to improve its value:
Check for spelling mistakes. Pay special attention to your product descriptions as they will garner the most attention. Where appropriate, include relevant keywords to improve SEO.
Test the buttons' functionality. Make sure all the buttons and links are working as expected.
Implement on-page SEO practices. Optimize images for faster loading time, and add alt-text with relevant keywords to improve SEO.
4. Check the Analytics Tools
Having an analytics tool is a must for every online shop. It can provide insight into your website traffic, ad campaign performance, and track conversions, allowing you to make better business decisions in managing your jewelry store.
Some of the most popular analytics tools are Google Analytics, Piwik, Adobe Analytics, and SE Ranking. Choose one or have a combination of analytics tools running simultaneously for more insights on your website.
5. Check Adaptability
The final step is to check whether your jewelry store looks and functions just as well on a mobile device as it does on a desktop. With 58% of website visits coming from mobile devices, you'll want to make sure your customers can access the store from every type of device.
Access your store using a mobile device and see if all of the content is fully readable and easily navigable.
We also recommend going through the checkout process again to ensure it works properly on smaller screens.
8. Prepare a Marketing and Promotion Plan
Preparing a good marketing and promotion plan in advance will set you off to a good start when launching your online jewelry store. It will give you clear goals, help you stick to your budget limits, and outline the exact steps you will have to take to get more sales.
Determine Your Goals
Research the market and see how your direct competition is doing. Gather information about the turnover, sales, and growth and use the data to create tangible goals within a specific timeframe.
Ensure your goals adhere to the SMART (specific, measurable, achievable, relevant, and time-bound) framework.
Choose the Best Marketing Channels
Social media is a great marketing channel for the jewelry niche. Use your defined target demographic to see which channels they use most frequently.
For example, the largest demographic that uses Facebook is 25-30-year-olds, most of which are female. If your target demographic is younger, then Instagram might be a better choice.
Look at the latest statistics of social media demographics and compare the findings to your target market description. Doing so will help you determine which marketing channels are the most effective to sell jewelry online.
Set a Budget and Create a Promotion Plan
Research which type of sponsored posts or ads performed best on each social media platform and allocate a budget to bid for an ad slot.
As Disruptive Advertising explains, you should invest at least 12% of your projected revenue in advertising to scale quickly. Keep in mind to manage your budget wisely to avoid capital loss.
Use Multiple Marketing Channels
While social media tends to have a large audience base, consider other marketing channels to broaden your reach.
Email marketing campaigns are very effective at converting new visitors into returning ones. Meanwhile, promotional offers and coupon deals are best for attracting newcomers. Make sure to utilize these channels to increase website traffic and jewelry sales further.
9. Launch, Grow and Keep Improving
With all elements set in place, you can finally launch your store and start selling jewelry online.
However, setting up an eCommerce store is only half the work. As your business grows, you'll have to adapt and improve the product variety, marketing plans and potentially hire more employees to help you scale your business.
Bonus Tips for a Successful Online Jewelry Business
You now have a detailed step-by-step guide on how to sell jewelry online. Here are some extra tips and tricks to help you get started:
Update your stock periodically. Doing so will help build anticipation and avoid stagnation.
Pay attention to the latest jewelry trends. It's crucial to pay attention to what's happening within your niche since both the industry and your target market's preferences will evolve rapidly.
Provide specific details on each product. Keep customers informed on what they buy to maintain credibility and avoid confusion.
Optimize customer service. Always reply to your customers and actively provide them with proper assistance. Excellent customer service is the best foundation for a successful business.
Great Examples of Successful Online Jewelry Stores
The following is a list of great online jewelry stores to inspire your online jewelry business journey.
Baublebar is a youth-oriented and quirky jewelry brand that promotes experimentation with trends. Their collections are flashy, colorful, and full of character.
The company's estimated annual revenue is $80 million. The average price for a piece of their jewelry ranges from $20 to $90.
Its choice of marketing channel is social media, with Instagram being the central platform. There, Baublebar has over 715,000 followers, with whom they actively communicate.
World Jewels is a fine jewelry brand that mainly specializes in engagement and wedding rings. They manufacture their jewelry and sell it not only to individual customers but also to retailers.
The company utilizes fine metals and a large variety of precious jewels to make its products. An engagement ring's average price in the store is $2000, which places this brand in the jewelry industry's high-end category.
World Jewels' estimated annual revenue is $10.1 million, mostly from repeat wholesale customers.
Catbird is a brand that brings back timeless classic vintage jewelry designs with a personal flare. The company designs and manufactures all of its products from ethically sourced gold and stones.
Catbird works with many well-known jewelry designers to produce its collections. The price for a ring may vary from $40 to $1000.
When it comes to marketing, Catbird has a large following on Instagram. The brand generates $20 million in revenue annually.
Conclusion
Jewelry businesses are projected to grow in the upcoming years, making it a potentially profitable way to make money online.
If you want to make a successful business, it will require some work. Fortunately, we got you covered.
Here is a quick summary of the process, simplified into nine steps:
Find a profitable jewelry niche that you're most interested in
Define your brand and your target market – make it stand out from the rest
Create an eCommerce website using something like a website builder
Decide on the business model you want to use
Source the inventory
Finish the website (upload product pictures and descriptions, set up payment gateways, etc.)
Make your business legal by setting up required licensing and taxes
Organize marketing campaigns, preferably on social media platforms
Launch your store and begin to sell jewelry
Simply follow the steps outlined in this article, and you'll have a successful online jewelry store in no time and understand how to sell online.
If you have any more questions or suggestions, feel free to leave a comment down below. Good luck!