How to Start Dropshipping Business in 2023 – A Comprehensive Guide
Dropshipping is one of the simplest ways to make money online. With it, you can source products from a third-party manufacturer or wholesaler and sell them as your own on your online store. The supplier will take care of the inventory and logistics so you can focus on growing your brand and marketing the business.
If this interests you, this article will explain how to start a dropshipping business in seven steps – from choosing the right niche and creating a brand to building an online store and marketing the products.
Download Checklist: How to Start an Online Business
How to Start Dropshipping – Video Tutorial
Watch this step-by-step guide about creating a dropshipping business on a low budget.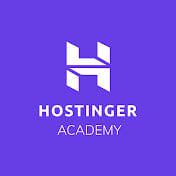 Subscribe For more educational videos!
Hostinger Academy
Subscribe
What Is Dropshipping?
Dropshipping is an order fulfillment method to sell products online from third-party suppliers – such as a manufacturer, a wholesaler, or a retailer.
In this model, the business owner or the 'dropshipper' mainly focuses on marketing and running the eCommerce store. Meanwhile, the supplier handles the inventory and shipping of the items.
Here's how dropshipping generally works:
When a customer purchases a product from a dropshipper, they will pay the online store's retail price.
The dropshipper will forward the order to the supplier. Depending on the agreement, the dropshipper pays the wholesale price to the supplier and keeps the profit margin. For example, if the customer pays $100 for a product and the wholesale price is $70, then the dropshipper will keep the $30.
The supplier processes the order and ships the product directly to the customer.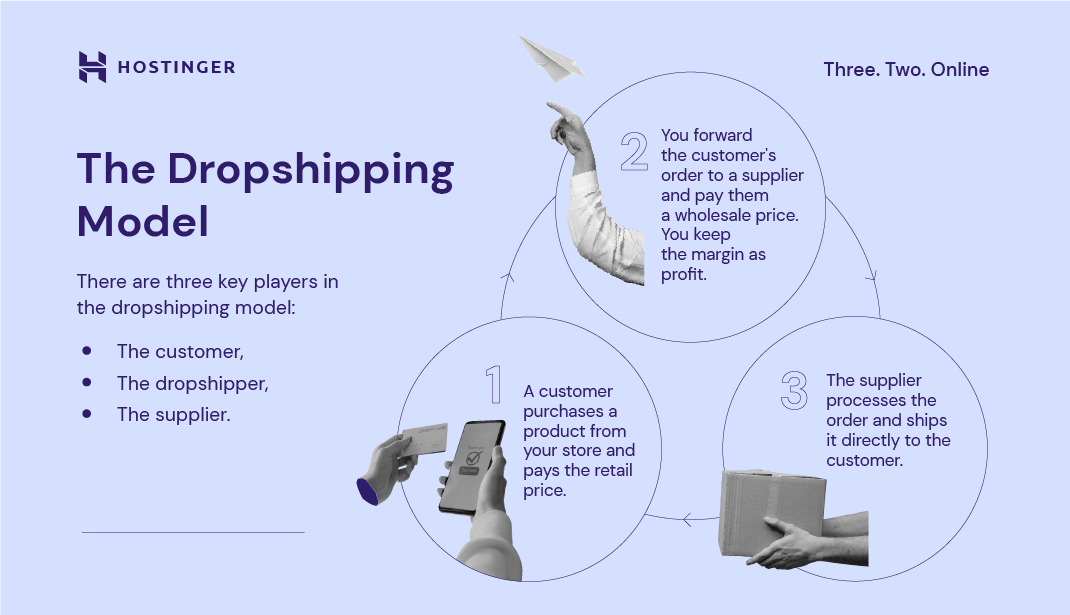 If there are product delivery or quality issues, customers can contact the dropshipper, who is responsible for forwarding them to the supplier.
How to Start a Dropshipping Business?
Follow these seven steps to creating a successful dropshipping business:
Choose a business niche. Figure out what products to sell and what market to focus on.
Find a dropshipping supplier. Pick a trustworthy supplier that provides products in your niche.
Design the brand identity. Create a name, logo, and color palette that suits your business and target audience.
Build an online store. Choose a hosting provider and a platform to make your website with – WordPress or website builder.
Register the business. Decide on a legal business structure and get the necessary licenses to run your online store.
Take care of the finances. Set up a business bank account and factor in the taxes and fees you should pay when deciding on pricing.
Promote the online store. Drive traffic and sales to your website with SEO, ads, social media, and more.
1. Choose a Dropshipping Business Niche
With nearly 30% of all online stores using dropshipping, the competition in this industry is quite high. Since many dropshipping sites sell the same items under different branding, making your brand stand out is crucial.
One way to achieve this is by choosing a niche, which generally means a specific customer segment that a business should focus on. For example, Meowingtons is a dropshipping store that sells products catered to cat owners.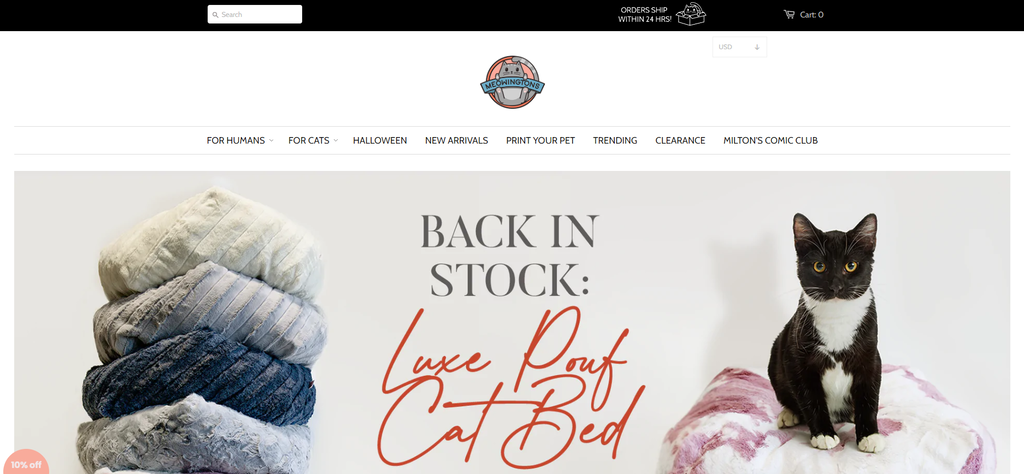 Here are some tips on choosing the right niche for a successful online business:
Start with yourself. What are you most interested or knowledgeable in? The more you understand your niche, the easier it will be to figure out what works for your audience.
Look at trends. To ensure profitability, consider selling products in high demand – regardless of the season. Check out our list of trending products for inspiration. Tools like Google Trends and Trendhunter are also great for locating them.
Check out the best-selling products on Amazon. To ensure that a niche has stable or growing sales, it's useful to review its sales history on Amazon, which is the largest online marketplace. AMZScout's tools can help you identify trending products that are suitable for reselling.
After listing down several potential niches, conduct market research to assess the industry.
Doing so lets you discover the projections, opportunities, and threats that may affect you in the long run. Estimating revenues and building marketing strategies before starting the business will be easier.
Look into the following elements:
Industry value and market size. Gather information on the market niche's size, trends, and growth rate. This data shows if there are enough customers interested in the products you're looking to sell. Tools like Semrush can help with this process.
Target audience. Consider the niche's demographics, such as the age range, gender, income level, hobbies, and occupation. This information will help with the next step – branding.
Customer buying behavior. Understanding what drives buyers to purchase and how often they do so helps determine your marketing and pricing strategy.
Main competitors. Use tools like Similarweb to find brands dominating the industry. Analyze their strengths and weaknesses, and identify market gaps your business can cover.
Once you have chosen a niche and range of products to sell, move on to the next step.
2. Find Dropshipping Suppliers
The suppliers you partner with can determine the success of your dropshipping business. Besides providing the products, they are also responsible for delivering them to the customers.
The simplest way to find suppliers is through dropshipping platforms like Doba, SaleHoo, AliDropship, and Wholesale2B. Some companies like Printful and Printify can also create custom, print-on-demand items for customers.
When searching for suppliers, consider the following:
Legality and reputation. Check the supplier's client list and ask for their business license to avoid scammers. Look for reviews to check the company's service quality.
Minimum order quantity. Check if the supplier has a minimum order to pay upfront. Generally, the more items you buy, the cheaper the costs.
Additional fees. Besides the wholesale price, other costs like monthly subscription, packaging, refund, and platform fees may apply. Factor in all these when deciding on the profit margins. A good benchmark is 20-40% or above after calculating all these costs.
Customer service. Check what customer support channels the supplier offers. Make sure they are quick to respond and can help you with any issues in case of buyers' complaints.
Product quality. Do a sample order and review the item to see if it is good quality and the packaging is safe. It's also a good idea to compare similar products from different suppliers.
Order fulfillment process. Note the time the supplier takes to process and deliver the order. In addition, choose a supplier that can handle returns well.
Website builder or CMS integration. Some dropshipping platforms like AliDropship offer an extension for your website to import products from there in a few clicks.
Before establishing a working relationship with a supplier, it's good to prepare a dropshipping agreement contract. This document outlines your business arrangements with them, such as the goods' wholesale price, delivery standards, damaged items, and so on.
3. Build Your Business Brand Identity
Besides choosing a niche, strong branding can set your business apart from the competition. The more unique the branding is, the more likely it is that your target audience remembers and purchases from you.
Our guide on how to build a brand can help you get started. For a dropshipping business, here are the most important steps:
Determine your brand positioning. Decide what key value or feature your customers can get from you and not from other similar brands. Highlight this element throughout all your marketing and branding efforts.
Come up with a memorable business name. Users are more likely to recall names that are easy to pronounce and type. If you need help, use our AI tool that can generate countless business name ideas for your consideration.
For your brand's visual identity, pick an aesthetically pleasing color palette. Choose colors that complement each other, represent the business, and appeal to the target audience. Get inspiration from our website color schemes guide.
Choose fonts that are unique and easy to read. For the logo, use a distinct typeface that conveys your brand identity. Meanwhile, pick a more familiar and readable font for web content, social media visuals, email newsletters, and so on.
Design a logo that looks simple yet grabs attention. People should be able to easily tell what your business sells and represents from looking at it. Save time on logo creation with Hostinger's AI logo maker.
4. Create Your Online Store
You've decided what to sell, secured a supplier, and developed a branding strategy. Now is the time to understand how to create a website for your business.
While running a dropshipping store with other online selling platforms is possible, having your own website presents several advantages.
For one, it offers full agency over your branding and business, from customizing the theme to selecting the payment gateways. And unlike an eCommerce marketplace, you won't be paying any platform fees – so you can get higher profit margins.
To create a website, you need to get a domain name. Most companies will register their business name with a .com ending, as most users are familiar with this extension. At Hostinger, .com costs $9.99/month, but you can get a free domain with a Premium plan or above.
If your desired .com domain is unavailable, other options like .store and .shop are available – which are more affordable and excellent for an eCommerce business. Both cost $0.99/year.
Check your domain availability with our tool below.
Domain Name Checker
Instantly check domain name availability.
Next, choose a platform to build the online store. For users with little to no coding experience, the options come down to a website builder or a content management system (CMS).
Let's explore what they are, how they're different, and what type of users each one is best for. To simplify this comparison, we'll use Hostinger Website Builder and WordPress as examples of a website builder and a CMS, respectively.
Hostinger Website Builder
WordPress
Best for
Creating an online store quickly and easily
Building an online business that will scale in the long run
Pros
AI features, including an AI website builder

Easy-to-use eCommerce toolkit

All-inclusive features – including hosting, templates, marketing tools, and more
Large plugin collection to add various features to your website

Large community to seek tips and support from if you need guidance for your website

Multi-user function to share back-end access with your team
Cons
Multiple users cannot edit the same website simultaneously

No possibility of installing third-party extensions
Slightly more difficult to use than a website builder

Reliance on plugins can make a website slow and vulnerable
Pricing
Business web hosting for ₹269/month
Business web hosting for ₹269/month
Hostinger Website Builder
A website builder is a platform designed for beginners to create a site quickly and easily. It typically features a drag-and-drop visual interface, where users can add content elements and move them around directly on their website design.
Hostinger has its own website builder, which is pictured below: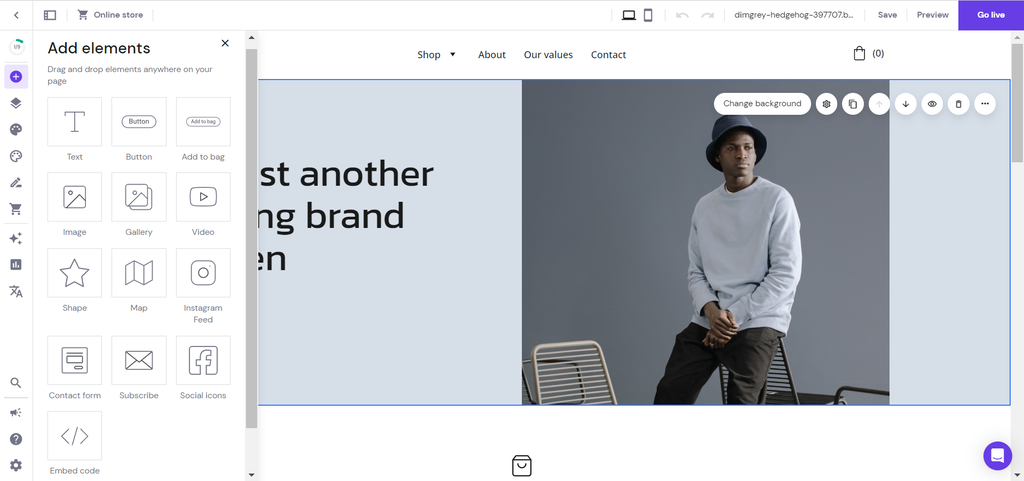 Pros of Hostinger Website Builder
Intuitive AI features. Use the AI builder mode to instantly generate a custom website from scratch. Besides that, there is a content generator to help write texts for your site and a heatmap to optimize the web design based on user behavior.
Built-in eCommerce tools. Sell up to 500 products, enable multiple payment options, manage orders, and customize the storefront to your preferences. All these features are available for all hosting clients, regardless of the plan.
All essentials included. Besides the drag-and-drop editor, the website builder comes with a hosting service, designer-made templates, marketing tools, mobile editing mode, third-party integrations, and more.
Cons of Hostinger Website Builder
Lack of collaboration features. It is not possible to have multiple people edit the same website simultaneously.
Lack of extensiveness. All the tools come built-in, so you cannot install a third-party extension if there is an additional feature you want to enable.
If you want to use Hostinger Website Builder, consider getting the Business web Hosting plan. It costs ₹269/month, with 200 GB of SSD storage and unlimited bandwidth, offering more than enough power and space to grow an online business.


WordPress
Like a website builder, WordPress is a content management system, which is software used to create websites. The difference is that the user dashboard is slightly more complex. That is, there are usually separate interfaces for managing certain tasks.
For instance, WordPress has a back-end admin panel for managing pages, writing and publishing content, inserting media, installing themes and plugins, and accessing other settings.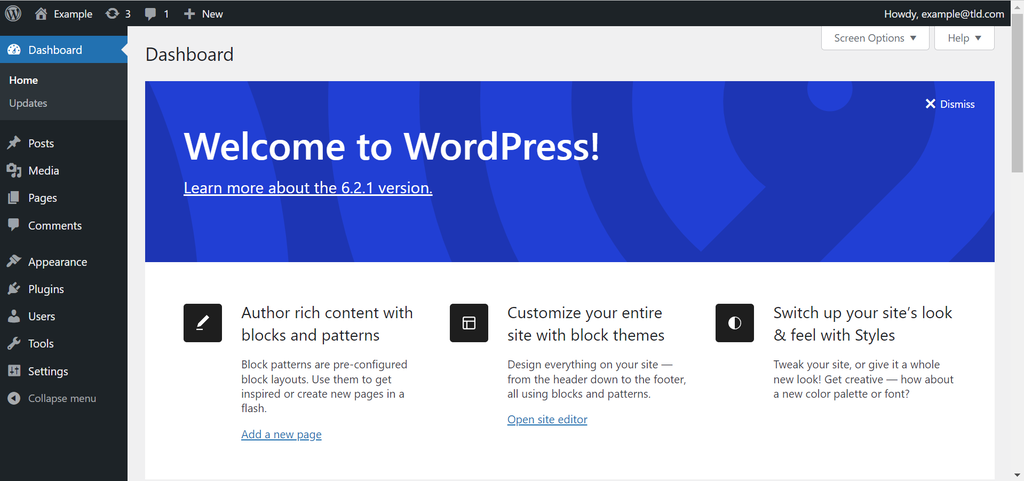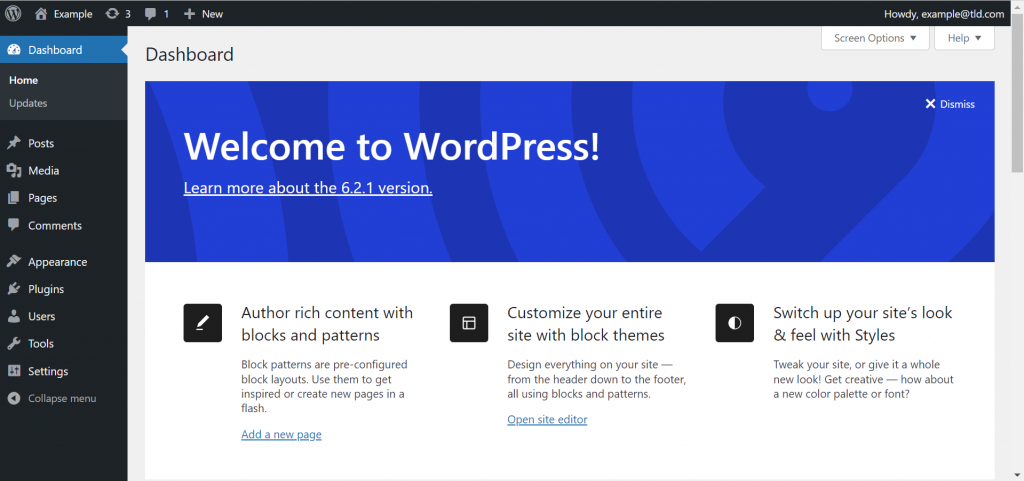 To edit the website appearance, you can use the Full Site Editing mode.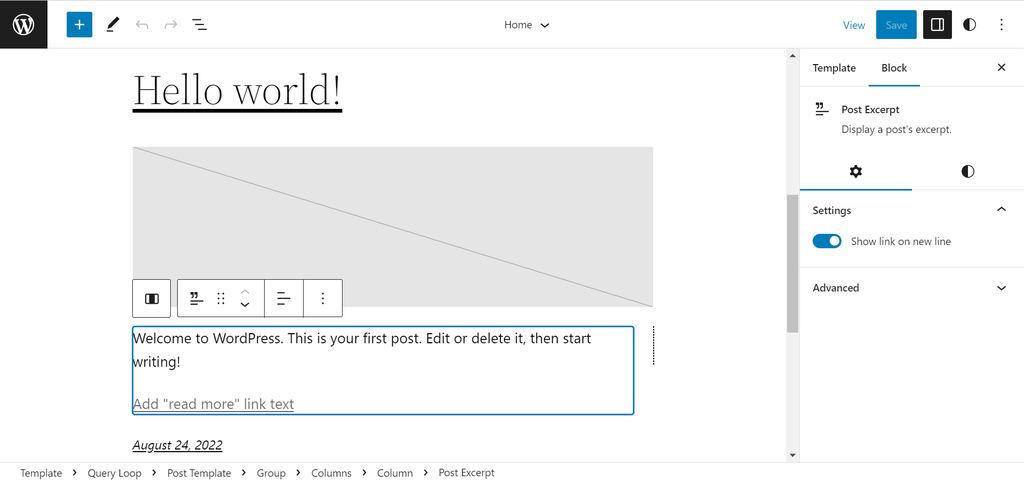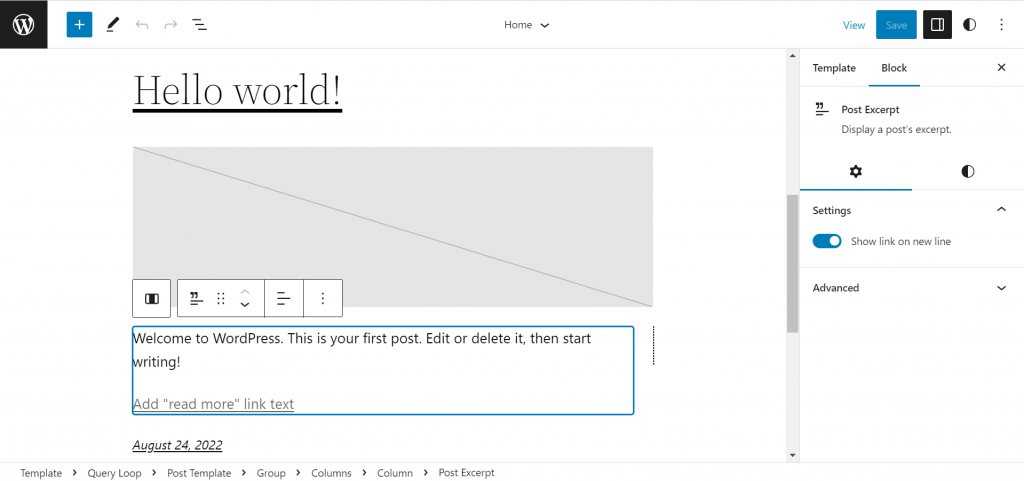 While WordPress may take some time to get used to, it lets you perform more complex tasks. For example, you can install plugins to add more functionality to the CMS, such as displaying product reviews from third-party sites or recovering abandoned shopping carts.
Pros of WordPress
Extensive plugin collection. WordPress has over 60,000 plugins that let you turn a simple website into a portfolio, an eCommerce store, an online publication, and more. To run a dropshipping business, you will need WooCommerce, a trusted online selling plugin.
Large community. WordPress powers over 43% of all websites, so there are plenty of forums and resources dedicated to helping fellow users with the platform. If you need help, feel free to check out Hostinger WordPress tutorials.
Multi-user function. If you're running the business with multiple team members, you can create user accounts for them and manage their access to the online store.
Cons of WordPress
Steeper learning curve. Knowing how to code is not required to use WordPress, but some basic knowledge may come in handy to optimize the website further.
Reliance on plugins. Ensure the plugins you install are developed and regularly updated by trusted vendors to prevent slow performance and security issues.
To start an online store with WordPress, check out our Business WordPress Hosting plan. It includes WordPress-optimized features to ease your website-building experience – such as a one-click installer, automatic software updates, and pre-installed plugins and themes.
Plus, enjoy access to LiteSpeed caching modules to ensure fast performance and a one-click WordPress staging tool to make changes safely on your website.


When creating the online store, pay attention to the following elements:
For inspiration, take a look at Warmly. It's an excellent example of how a dropshipping business can have a luxurious design and strong branding.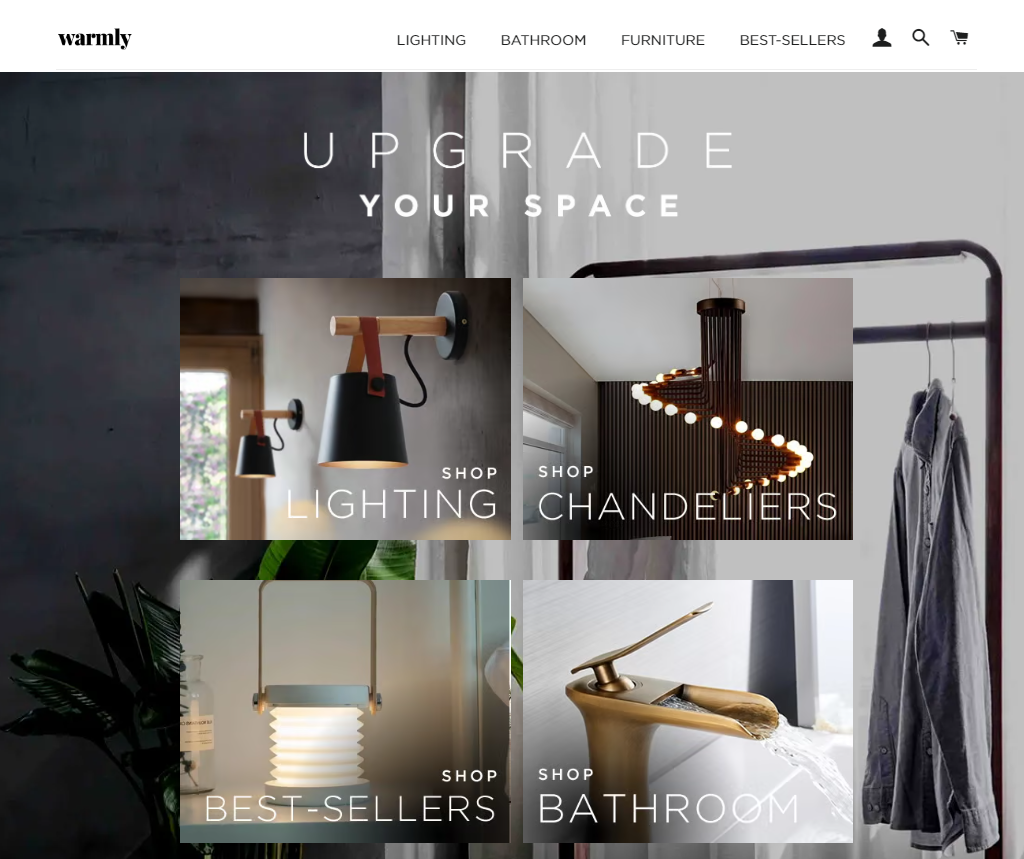 5. Prepare the Dropshipping Business Finances
It's best practice to separate your personal and business finances from the get-go. This way, noting expenses and revenues related to your online business will be much easier. Doing so is also better for legal processes.
What you should set up will differ by country and region, so we recommend consulting a local financial consultant to ensure everything is covered. Generally, it's good to have the following ready for a dropshipping business:
Business bank account under your dropshipping brand name. Only use it for business transactions, such as receiving payments from customers and paying suppliers.
Resale certificate. Many regions require businesses to have it to sell products from somewhere else. Check with your local government to see if you need to register and pay for this certificate.
Sales tax. Some countries require customers to pay for it. Check the sales tax nexus regulations with your business' and suppliers' local government. Then, take this cost into account when pricing the products.
Maintenance fees. Include platform fees and marketing costs in your budgeting and pricing to help maintain and grow your business.
6. Register Your Dropshipping Business as a Legal Structure
Important! Hostinger does not offer legal advice. This section only provides a general overview of the legal factors to consider. We recommend consulting with proper legal entities before choosing your business structure.
Another essential step is to sort out the legalities of your dropshipping store. This includes checking whether you need a business license to dropship in your location. Remember to research specifically for your country.
For businesses in the United States, you will need a sales tax ID and an employer identification number to file taxes and apply to wholesale dropshipping accounts.
Once you have researched the regulations, consider setting up a legitimate business entity to protect yourself from legal liabilities. Doing so can also open opportunities to work with better suppliers and business partners.
Here are the three most common business structures:
Sole proprietorship. With this structure, your dropshipping business finances will be taxed on your personal income. This option is risky as your business is legally attached to your personal assets.
Limited liability company (LLC). It establishes your business as a separate legal entity, which means you will have personal liability protection. However, you will fulfill different legal requirements when paying taxes as a business owner.
Corporation. Like an LLC, this option registers the dropshipping business as a separate legal entity. However, corporations are owned by shareholders and overseen by directors instead of just a few business owners.
Besides registering the business structure, create the following web pages to make your online store look more professional:
Refund policy. This page can increase customer trust because it indicates your dropshipping business is a secure place to purchase from.
Return or exchange policy. Many customers hesitate to buy from an online business because they cannot see the product with their own eyes. This page lets them know that they are free to return or exchange the product if it doesn't suit them.
Terms and conditions. Manage expectations and protect your business by having a legal document outlining your company's and customers' rights and responsibilities.
Privacy policy. This document shows that your business is serious about your customers' information. Explain how it collects, uses, and discloses its data.
7. Optimize and Market Your Dropshipping Business
You've published a website, and your business is now legal. Let's promote your products to gain customers.
With digital marketing, you can market your dropshipping business through various channels. Check out these methods to drive traffic to your online store and increase sales:
Referral marketing. This strategy is best if you've made a few sales. It requires asking customers to share a referral link to your products with their friends or family. Every time someone purchases through the link, the referee gets a commission – typically 10-20%.
Affiliate marketing. This method is similar to the one above, but it involves content creators promoting the products, and the commission rate is usually higher.
Performance marketing. Gain more exposure toward your business by paying for advertising space at platforms like Google Ads or Facebook Ads. While they can be expensive, they also have advanced audience targeting settings – letting you reach the right customers more easily.
Besides these methods, some business owners opt to display their products across their websites and eCommerce marketplaces like Amazon and eBay. This allows them to reach more customers on platforms they may be most comfortable in.
If you're interested in doing this, consider using a multi-channel selling tool like Sellbrite to simplify inventory and order management.
Why Start a Dropshipping Business?
Dropshipping is excellent for entrepreneurs looking to start their businesses for the first time. Here are the advantages of this business model:
Low startup costs and minimal supply chain management. Dropshipping eliminates the need to pay upfront inventory investments and take care of the business logistics. You can start selling without having to manufacture or store your own products.
Low-risk business model. Add as many products as possible without worrying about production or inventory costs. If an item is performing poorly, dropshippers can easily switch it for another one to sell.
Flexible location. Since there is no need to oversee the production process, it's possible to run your business from anywhere with an internet connection. However, dropshippers need to maintain communication with suppliers and customers.
More scalability. Since the suppliers will handle the shipping, you can worry less about receiving more orders when your business has grown.
That said, keep these factors in mind before launching a dropshipping business:
Less control. Dropshippers rely heavily on suppliers to create, package, and deliver high-quality products. If there are issues like product mishandling, lousy packaging, or delayed delivery, you will not be able to address them directly.
Sudden stock shortages. At times, suppliers may not warn you in advance if products go out of stock. It's important to regularly check in with them to prevent listing unavailable products in your store.
What to Avoid When Starting a Dropshipping Business?
When you start a dropshipping business, make sure to avoid the following:
Choosing the wrong niche. When the market segment is too broad or competitive, it may be difficult to attract customers' attention. A thorough market analysis can help you find the right niche.
Not enough branding and marketing. It's common to find other dropshippers selling the same products as you. That's why having a strong brand presence is essential to standing out from competitors.
Using a poor-quality hosting service. A fast and secure web host ensures a pleasant shopping experience for users on the online store.
Not optimizing your website to your customers' needs. Test your website's usability regularly, see what prompts users to bounce, and make changes accordingly to increase conversions.
Lack of customer support. Have a contact form or built-in live chat to communicate with customers if they need help or want to share feedback on your products.
Lack of communication with the supplier. Check in with their representative regularly to anticipate any shipping or stock issues.
Conclusion
The dropshipping model is a great way to start an online business without managing an inventory – making it suitable for people with less experience and budget.
Here's a recap on how to launch your own online dropshipping store:
Choose a business niche and research the market to determine what products to sell.
Find reliable and legitimate dropshipping suppliers to source the products.
Build a brand for your dropshipping business to stand out from competitors.
Buy a domain name and create an online store using a user-friendly platform – Hostinger Website Builder or WordPress.
Set up the finances necessary to protect your business and personal assets.
Register your dropshipping business as a legal entity.
Optimize the online store and market the products to drive traffic and sales.
We hope this article has helped you learn more about a dropshipping business and how to start one. If you have any questions or tips, feel free to comment below.
How to Start Dropshipping FAQ
Check out answers to frequently asked questions about how to start a dropshipping business.
Is Dropshipping Easy to Start?
Dropshipping is one of the easiest and low-risk methods to create an eCommerce business, as you won't need to handle the logistics. Simply choose a niche and reliable supplier, build the store, take care of legality and finances, and market the products.
Is Dropshipping Worth It?
Yes. Many business owners find dropshipping worth it as it comes with minimal risk. With no logistics to handle, there are many opportunities to scale your business without investing so much money.
How Profitable is Dropshipping?
Dropshipping is known to be a profitable business model. In fact, dropshippers can earn over 50% more profit than those who keep their own stock inventory. Since you don't need to worry about overstocking and warehouse costs, you will have fewer expenses than other business models.
Can You Start a Dropshipping Business for Free?
Technically, yes, as you can start selling products with no inventory. Some eCommerce marketplaces also allow displaying items for free. That said, you will compete with many brands that have similar goods. That's why it's recommended to have a website and use an eCommerce platform with no transaction fees.