How to Get a Free Domain Name: 6 Methods to Get a Free Domain

Creating a website can get expensive fast – you might need to pay for its design and maintenance, as well as purchase a web hosting plan and a domain name.
A domain name is important as it allows users to access your website through their browsers or search for it on search engines. While the average domain name cost is $10-$15/year, it can be much more expensive, depending on its extension, popularity, and registrar.
Luckily, you can also get a free domain name to save some money.
In this article, we will go over the six methods on how to acquire a free domain for your site. We will also cover the pros and cons of each method to help you decide which one suits you best.


1. Get a Free Domain With a Web Hosting Plan
You don't need to buy a web hosting plan and a domain name separately. Some web hosts, including Hostinger, offer hosting plans that include a free domain.
Furthermore, reliable web hosting companies will also include domain privacy and protection in the offer.
In this section, we will explain the steps to get a domain for free with Hostinger.
1. Select a Hosting Service
Besides checking whether a paid plan includes a free domain name, consider the following factors when choosing a web hosting service:
Features. Make sure a hosting plan covers what you need to build your website. For example, if you want to create a WordPress website, consider WordPress hosting plans for seamless integration and quick installation.
Storage and bandwidth. Think about the capacity you need to store website files and the traffic you expect.
Security. Check if your chosen web hosting service includes security features like a free SSL certificate and Cloudflare-protected nameservers.
Pricing. Choose a plan that fits your budget and consider the renewal price since you will need to continue your subscription to access the hosting features.
Hostinger, for example, offers several web hosting plans that include a free domain name. The most affordable option is to go with the Premium Web Hosting plan, starting at $₹129/month.
2. Create Your Domain Name
Whether you manage a business site or a personal blog, your website should represent your brand. To accomplish this, choose a proper domain name that visitors can quickly identify. For example, use your name for your portfolio website or your company name for the business website.
When choosing the right domain name for your needs, consider the following:
Uniqueness. Make sure your domain name is memorable.
Length. Make it simple and short. We recommend not going over 12 characters.
Characters. Your preferred domain name shouldn't have any numbers and hyphens. Otherwise, it might be difficult to type.
Don't forget to use a domain name checker tool to make sure your chosen domain name is available.
Domain Name Checker
Instantly check domain name availability.
3. Choose a Domain Extension
A domain extension, also known as a top-level domain (TLD), is located at the end of a website domain. As the purpose of a TLD is to give more information about a website, ensure to pick the most suitable one for your domain.
The most common types of TLDs are as follows:
Generic TLD (gTLD) – generic domain extensions don't have specific regulations, meaning anyone can use these common extensions for any website. Some of the popular gTLDs are .com and .net.
Sponsored TLD (sTLD) – some regulations will apply when registering an sTLD. Therefore, not every user can create one. The most known extensions in this category are .gov, which refers to government institutions, and .edu for educational purposes.
Country-code TLD (ccTLD) – this type of extension points to a location where a website operates. For instance, .eu is the country code for the websites run in the European Union. You can check the country code list in the Internet Assigned Numbers Authority (IANA) database.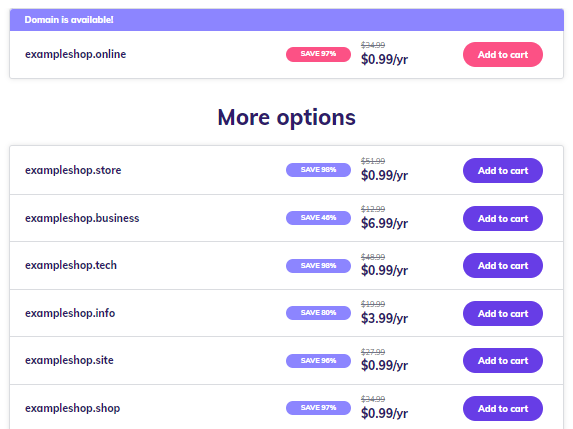 While popular extensions like .net and .com offer more credibility and memorability, extensions like .store and .shop might be more suitable for eCommerce websites.
4. Finalize the Registration
Once you've purchased your chosen plan, log in to your hosting account. On your hPanel, you will see the hosting setup option. Simply click Setup and follow the steps until you see the Name Your Website menu. Here, you can Claim a Free Domain by clicking Select.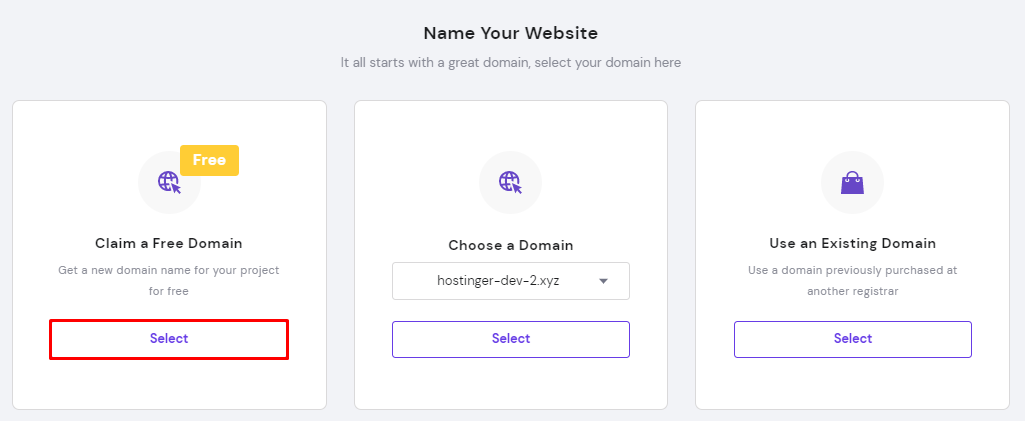 Alt text: The Select button under the Claim a Free Domain option
Then, enter the desired domain name and extension you wish to use, and click Search.
You can click Continue and finish the free domain name registration. If the domain is already taken, consider choosing an alternative domain extension.
2. Use a Free Domain Name Registrar
It is possible to get a free domain name from a registrar, however, there will be certain limitations.
Freenom, for example, offers free domain names with only five possible extensions – .ga, .tk, .ml, .cf, .gq.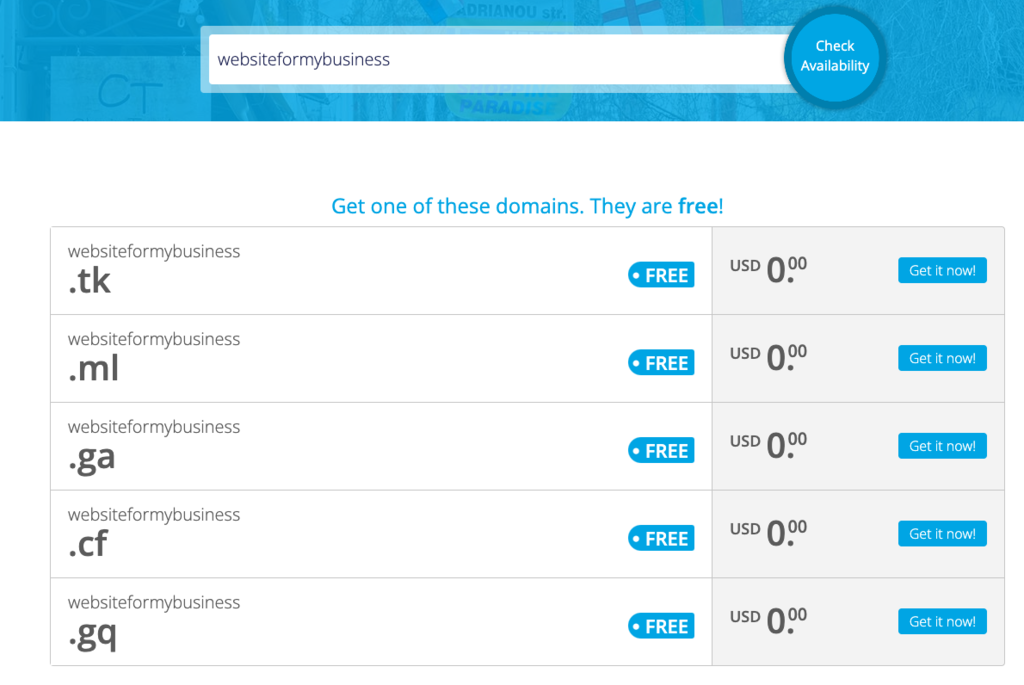 As a result, getting the name from free domain registrars is more suitable for personal blogs or websites. For businesses, we recommend obtaining a domain name with a more common extension since it will make the website look more trustworthy and professional.
3. Use a Free Subdomain
A subdomain is an additional part of an existing domain name that typically belongs to a registrar or a hosting provider, like www.yourchosendomainname.wordpress.com.
As a result, subdomain owners typically don't need to buy a hosting service.
However, we do not recommend using a free subdomain for a business website as it might not look professional or credible. Getting a subdomain also usually comes with limited features and tools to customize your site.
That said, using a free subdomain might be a great idea if you are just starting your business or creating a personal blog. Follow these steps to get a free subdomain name with Hostinger:
Open our free hosting page and choose Get free hosting. Then, sign up or log in with your Google account.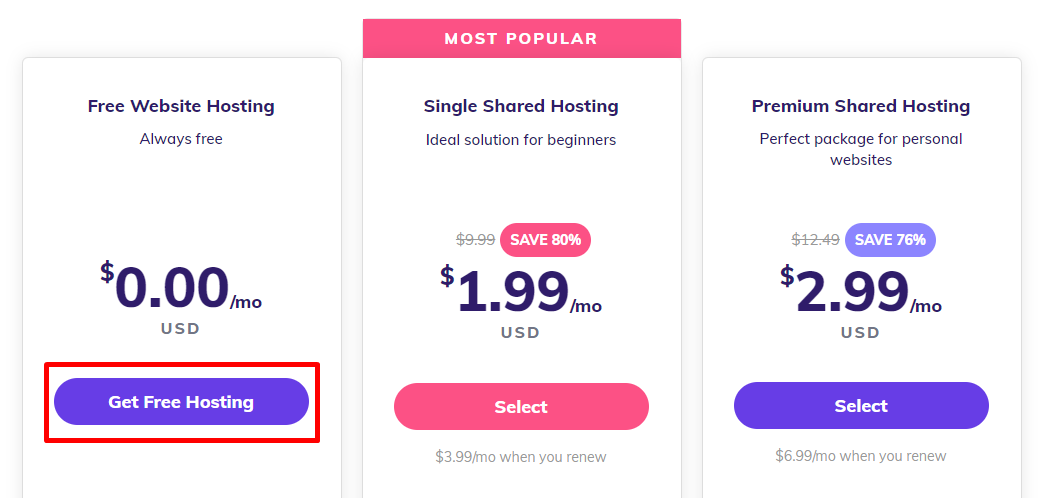 Select which type of site you want to create.
Name your subdomain and choose a password, then click Submit.
Choose a website creation platform. You can use our website builder, install WordPress, or import files from another platform.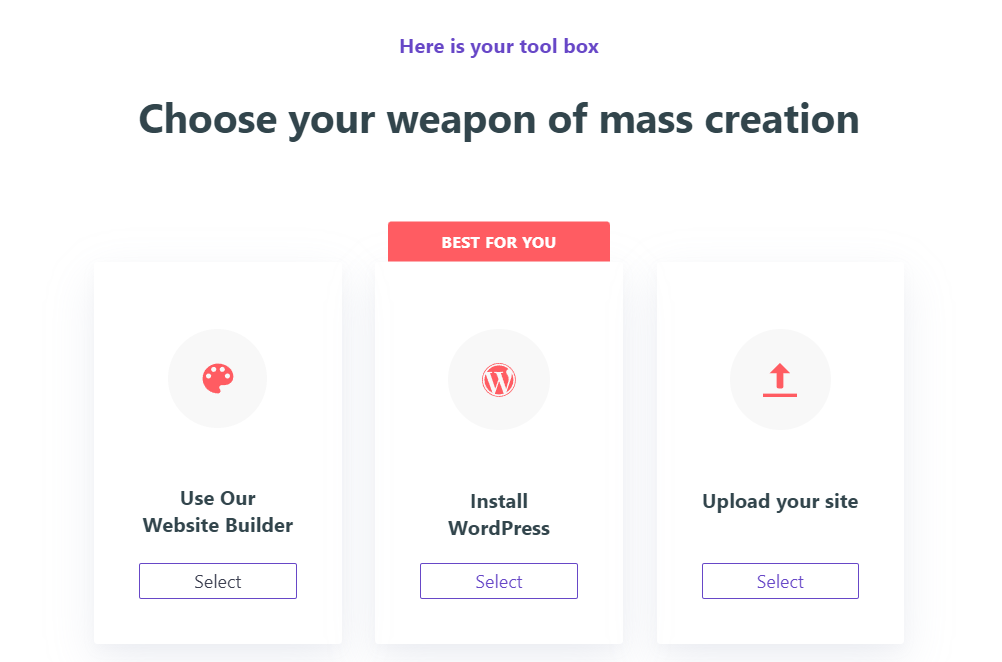 Once your business grows bigger, you will be able to upgrade from the free hosting plan to get more extensive features for your site.
4. Purchase a Premium Site Builder Plan
Another way to obtain free domains is by using a website builder. Wix, for example, is a popular website builder offering a free domain for the first year.
Even though you will need to pay the standard price after a year, this method is an excellent option for businesses and personal sites as you can save on the first year's budget while getting many features to build a credible website.
With Wix, simply select any premium plan that includes a free domain.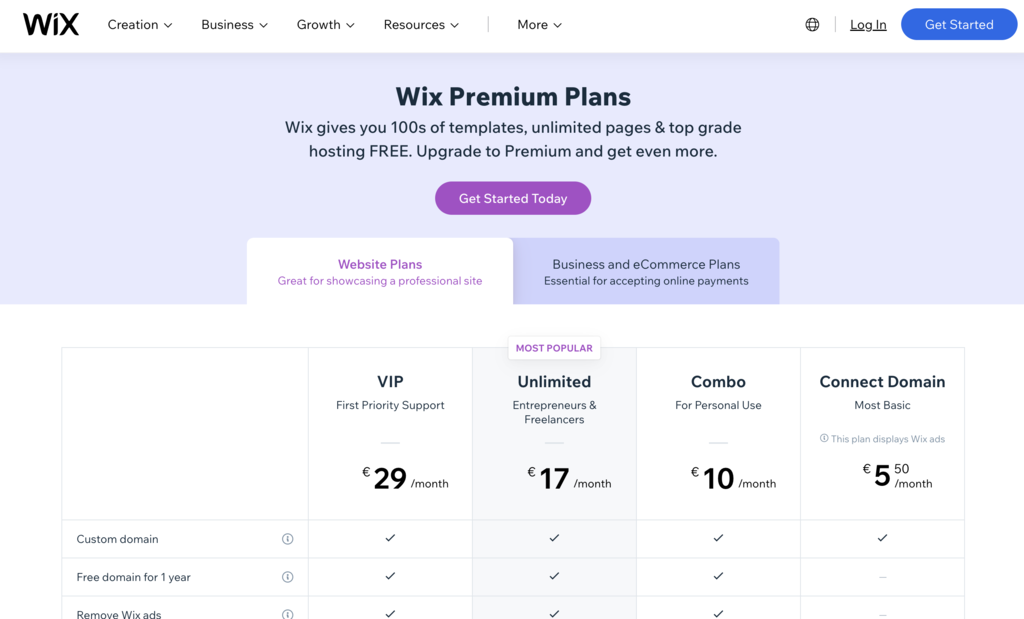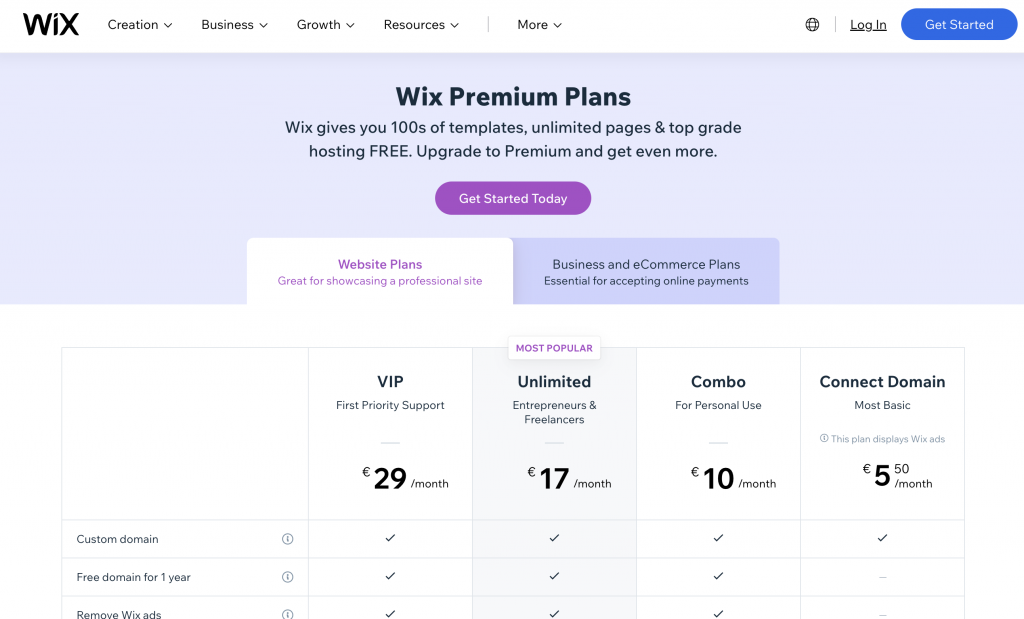 However, when you build a site using a website builder, you will have limited customization features and little control over its configuration. Therefore, this method is not the best option if you want advanced features and complete control over your site.
5. Buy a Premium Email Service
Check for email hosting service providers that offer free domain names.
Using this method, you can create your own custom email address for a more professional look and improve your company's trustworthiness.
However, the downside of subscribing to email service providers is that you won't get a hosting service. Thus, you will need to purchase a separate hosting plan which could lead to more expenses for your website.
At Hostinger, web hosting plans that include free domain registration also come with a free email.
6. Earn a Free Domain as an Affiliate
The last method is joining an affiliate program from a domain registrar. To gain a free domain, you will need to run ads on your page and refer visitors to the registrar's website using your affiliate link.
However, running ads on your page might make it look like a spammy website. Moreover, it can affect user experience and search engine optimization (SEO), especially when the ads are not over a legitimate advertising network.
Also, you will only get a free domain benefit without any useful features to build your online presence. Therefore, we don't recommend using this method.
Conclusion
Getting a free domain name will help you save money when starting a business site or a personal blog.
There are six main methods to get a free domain name:
Buying a hosting plan – some web hosting companies offer plans that include a free domain name, primarily valid for a year.
Getting a free domain name from a free registrar – although you can get free domain names with this method, there will be certain limitations, such as choosing from only a few extensions.
Using a subdomain – this method is more suitable for learning purposes. For example, you can create a free WordPress subdomain for your first personal site.
Purchasing a plan from a website builder – site builders typically take care of a domain name and web hosting. For online store owners, we recommend choosing a site builder that offers eCommerce features.
Buying an email hosting plan – while using a professional email address can improve your online presence, you will need to buy a separate hosting plan to run a website.
Becoming an affiliate – you will need to run ads on your site.
We've covered how to get a free domain name in six ways, along with their advantages and disadvantages. We hope this article helps you decide which way is right for you.
How to Get a Free Domain Name FAQ
Make sure to check these frequently asked questions about domain names before you get one for your website.
Why Do I Need a Domain Name?
Without a domain name, visitors can only access a website using its IP address. Meanwhile, it is much easier to access a website by typing in a domain name like hostinger.com than a series of numbers.
Where Can I Find a Trustworthy Domain Registrar?
We recommend buying a domain name from the ICANN accredited registrars to be sure you have chosen a reliable one. To make the domain name registration process even more straightforward, you can go to an accredited web hosting company like Hostinger, which also sells domain names.
Should I Renew My Domain Name?
Yes, if you want to continue using it. Forgetting to renew a domain might cost you losing the domain or paying a redemption fee.
What Are the Benefits of Having a Domain Name?
The benefits of having a domain include brand recognition and awareness, better SEO, and complete control of your URL. For example, domains containing keywords can drive high organic traffic to your website. Remember that if you have any issues with your registrar, you can simply point the domain elsewhere.
How Can I Get a Free .com Domain Name?
At Hostinger, you can get a free .com domain name for a year by purchasing certain web hosting services, such as the Premium Web Hosting plan. Although you can also get domain names for free from domain registrars, we don't recommend this method for a few reasons, like security and privacy.