How to Build a Brand: 10 Strategies That Work in 2023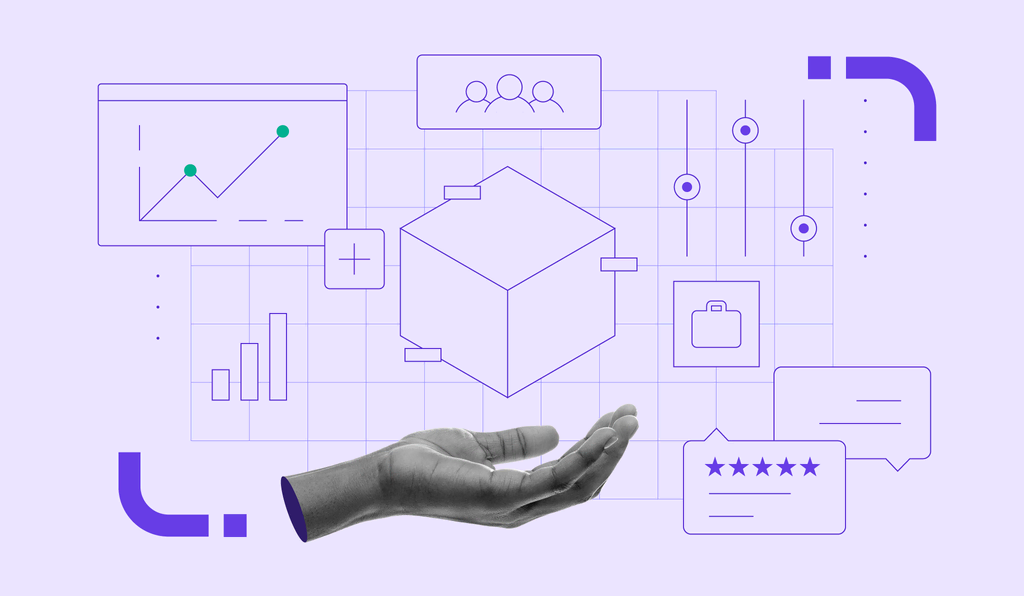 Knowing how to build a brand is one of the first steps toward starting a successful business. With around 305 million startups launching yearly, a strong branding strategy helps one stand out from the competition.
However, without sufficient knowledge, branding your business can be a long and complicated process.
To help out, this article will cover 10 effective strategies on how to create a brand. We'll also provide recognizable brand examples for your inspiration and answer some commonly asked questions about the topic.


What Is a Brand
A brand is an intangible concept that gives businesses a distinctive identity, helping customers recognize them better. It represents a company's values and ideas through well-designed logos, domain names, catchy slogans, unique products, or excellent services.
For example, when people think of Starbucks, they usually visualize its iconic logo, high-quality coffee, or enjoyable in-store experience.
The brand-building process aims to build a good reputation, develop a sense of trust, and foster an emotional connection with customers.
A UK study suggested that when consumers trust a company, they are more likely to make purchases, recommend it to their friends, join the loyalty program, and leave positive reviews on social media.
As such, a solid and memorable brand can make the difference between a struggling and an accomplished business. It distinguishes a global chain like Starbucks from a local coffee shop.


How to Build a Brand
Whether you want to grow a digital marketing agency or start an online boutique, building a strong brand identity is necessary. It's a long-term process that goes beyond creating a catchy business name or logo.
In this section, we'll go over the ten necessary steps to build a brand.
1. Define the Business Goals and Values
Before starting the brand-building process, define the business goals and values. This will help you understand the company's greater purpose and the necessary measures to fulfill it.
Although there is no fixed format, the following can help you define your business's goals and values:
Vision statement. Briefly describe the company's purpose and long-term goals in two to three sentences.
Mission statement. Explain how the products impact customers and the steps required to achieve the vision.
Values statement. Define the principles and code of ethics all employees should follow in daily operations.
Brand Example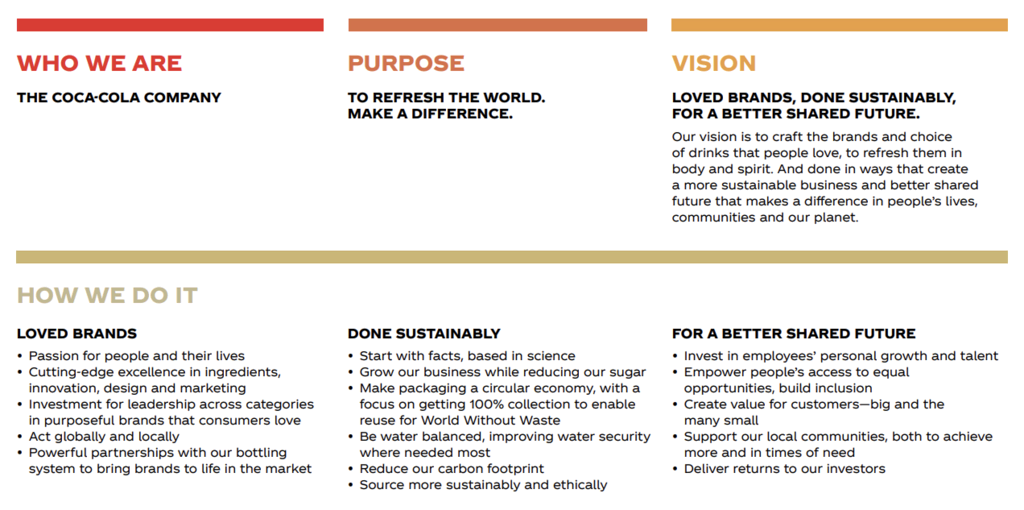 The Coca-Cola Company's purpose summary states its vision to produce brands people love, build a sustainable business, and create a better-shared future for its stakeholders and shareholders.
To achieve said goals, Coca-Cola established three mission statements, each containing actionable steps to follow.
Furthermore, the values statement determines how each employee should be curious, empowered, inclusive, and agile to create a passionate work culture.
2. Research Your Brand's Target Audience
Researching the target market lets businesses understand their potential customers and the marketing strategy that appeals to them.
One of the best ways to conduct market research is by defining a user persona, a fictional representation of your ideal customer.
Here's how to create one:
If you have existing customers, analyze their demographics, such as age range, location, and gender. But if you're a new small business owner, select a specific market group within a niche. For example, look for consumers who love vintage collections instead of targeting fashion buyers in general.
Research similar brands and study their customers.
Conduct user studies, interviews, and surveys to understand customers' needs, interests, pain points, and behavior patterns.
After gathering enough information, create a buyer persona based on the common characteristics found during the research process.
Go the extra mile by making multiple personas to see how each subgroup fits different products.
Brand Example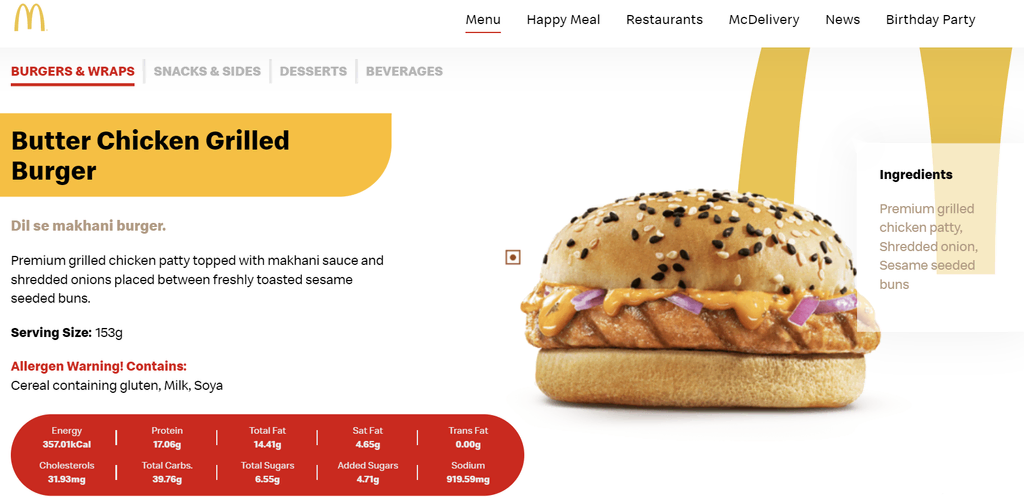 According to research, McDonald's typical customer is a married white woman, aged 41-56, who lives in a suburban area. She particularly enjoys breakfast items, such as hash browns and sandwiches.
By analyzing its existing consumers' demographics and behaviors, McDonald's can create marketing campaigns that appeal to them. Examples include offering breakfasts at a discounted price and Happy Meals to attract the customers' children.
Understanding the market also helps the fast food chain adapt to different cultures and cuisine preferences. For instance, McDonald's India only serves chicken, fish, and vegetables, as most locals do not consume beef.
3. Analyze the Competition
Keeping track of competitors is crucial to finding market gaps and exploring new opportunities. It also lets you draw inspiration from their successes and avoid potential failures.
To conduct competitor research, follow these steps:
Type in your niche on Google and list all businesses that appear on the search results. Alternatively, use competitor analysis tools like Similarweb.
Analyze their products or services, pricing structure, locations, and promotion strategies.
Conduct a SWOT analysis to determine their strengths, weaknesses, threats, and opportunities.
Explore review sites, social media platforms, and forums like Reddit to find the competitors' main issues.
Based on the findings, develop better products or services and solve those issues to win over the market.
Brand Example

The gas-powered vehicle market is a competitive industry. It is also one of the most significant carbon emissions and air pollution contributors, negatively impacting human health and causing climate change.
Tesla recognized this gap and took advantage of it. By offering electric cars that require no fuel, Tesla provides a more eco-friendly solution.
4. Determine the Brand Positioning
Brand positioning is the process that helps a business differentiate itself from competitors, establishing a unique value proposition.
Start by figuring out key features and benefits that other companies do not offer, such as:
Affordable prices. Cost-effective products can attract more customers. However, they often mean lower profit margins and product quality.
Innovative products. Instead of charging low prices, create innovative and unique products. While it might take years of research and development, having few to no competitors gives companies more freedom when setting prices.
Excellent service. Provide 24/7 customer support to answer user queries and solve their problems. In addition, offer after-sales service to maintain good relationships with clients, prompting them to become loyal customers.
Enjoyable user experience. Create a seamless experience throughout the entire user journey. For instance, software companies can develop a user-friendly interface, cross-platform compatibility, and clear information architecture.
Premium goods. High-end consumers tend to value quality over affordability. To target this market, highlight the product quality by showing the production process, explaining the materials used, and presenting the key benefits.
After that, write a brand positioning statement that outlines the target market and how specific products or services can fulfill their needs. This document acts as a brand style guide to keep internal stakeholders aligned on the same objectives.
If you're not sure how to write one, copy the template below and customize it based on your own business:
For [the target market] who [their needs], [your company name] provides [solutions to their problems] because [convince customers by explaining the unique selling points].
Here's an example of how to use it:
For small business owners who want to establish an online presence, Hostinger provides an affordable and simple way to host a website. Driven by customer obsession, we provide 24/7 support to guide clients along the way.
Brand Example

Gucci is an excellent brand example with a strong market positioning. Despite the premium price range, the fashion company has millions of loyal customers worldwide.
The key factor to Gucci's success is its unique selling points, which are high-quality products, luxurious design, and well-known brand ambassadors.
5. Build Effective Branding Communication
A clear and effective communication strategy helps businesses convey messages and resonate their values with buyers. Start with a memorable business name, a catchy slogan, and a compelling story.
Come Up With a Business Name
If you do not already have one, create a business name that people will easily remember. Here are some tips:
The name should be relevant to your business. For instance, when people hear Papa Ron's Pizza, they instantly associate it with a pizza restaurant.
Blend two words into one. For example, Netflix combines the terms "internet" and "flicks," a synonym for "movie."
Use acronyms to shorten longer names. Most people are familiar with BBC, yet they might not know it stands for British Broadcasting Corporation.
Take notes from folklore, literature, or foreign languages. In Greek mythology, Nike is the goddess of victory, which inspired the popular shoe brand.
Use domain name generators. When making a website, use domain name generators to find available domains that reflect the brand name. This is crucial to help customers locate your business site more quickly.
Write a Catchy Slogan
A slogan communicates a brand's purpose in a concise yet memorable way. Follow these steps when creating one:
Brainstorm a list of phrases related to your industry and niche. Do not hesitate to use powerful words to emphasize the brand's message and invoke emotion.
Take notes from the competitors or use an online slogan generator to help with the process. Make sure to keep the slogan short and straightforward.
After compiling the list, create an internal poll with relevant team members to narrow down the options. Then, pick the top three choices.
Perform A/B testing on the company's website, social media platforms, and other marketing materials to see which slogan option performs the best.
Tell Compelling Brand Stories
Good narratives can spark emotional reactions from the target audience, helping companies increase brand awareness and engagement.
You can tell your brand's story through blog posts, video advertisements, social media posts, or even marketing proposals. The following ideas will help with the process:
Provide a background story. Telling stories about the founders or the company's humble beginnings can make the brand more relatable to the audience.
Share the challenges. Present the struggles of building your own brand and what you did to overcome them.
Aim for the greater good. Identify an issue within your industry and build marketing campaigns around it. For instance, Toms Shoes resonated with customers and became a household name by giving away a pair of shoes for each one sold.
Prioritize honesty and transparency. 88% of consumers choose authenticity as the deciding factor when supporting a brand.
Brand Example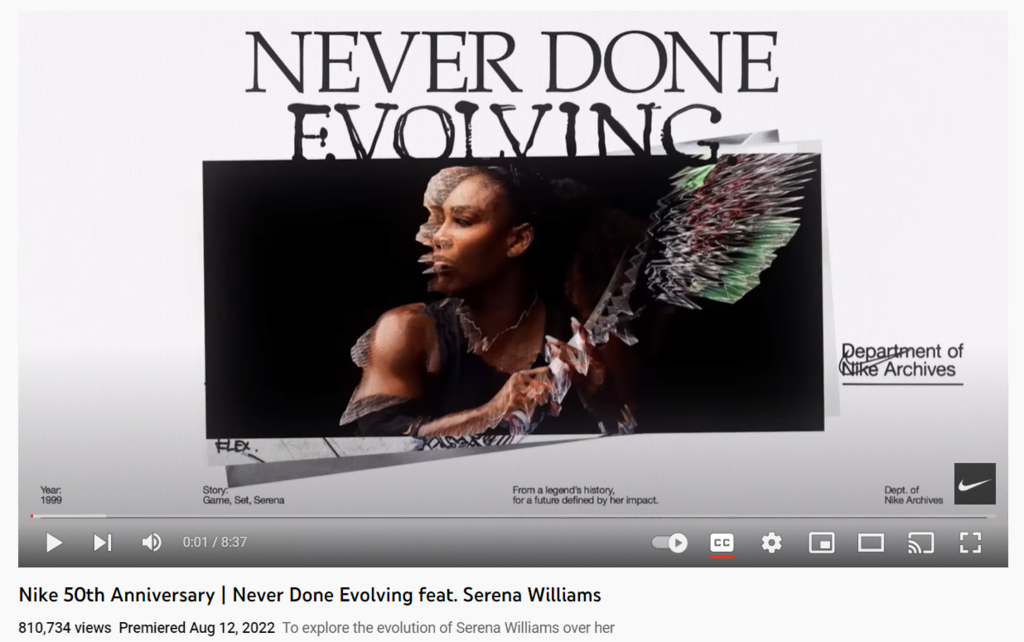 Nike's famous "Just Do It" slogan encourages people to exercise and improve their fitness.
The shoe company is also well-known for emotional brand marketing. The video advertisement "Never Done Evolving" tells the success story of Serena Williams, amassing over one million views.
6. Design the Brand's Visual Identity
Another way to define brand identity is through visual elements, including logos, color palettes, and fonts.
Apply the following tips when creating visuals for a brand identity:
Create a memorable brand logo. A unique brand logo helps companies build brand awareness, capture the audience's attention, and make an excellent first impression. Learn how to create a logo with a tool like Hostinger's AI logo generator.
Choose a suitable website color scheme. Studies suggest that colors boost brand recognition by 80% and influence 85% of consumers' buying decisions. Stick with web-safe color combinations to keep a consistent look across all major browsers.
Determine the typography. Fonts can make the difference between an attractive and an unappealing design. We recommend browsing through Google Fonts' free options to pick the right one.
Match the brand's personality. Use visual elements that represent your brand personality. For instance, an organic food company might implement a green color palette or use a picture of fresh vegetables in the logo.
Learn from competitors. Take notes from other companies within the same industry, identify their visual identities' weaknesses, and develop a better concept.
Create brand guidelines. A brand guideline sets the standards and rules for how employees and business partners should display a brand's logo, visual identity, and typography. This document helps maintain uniformity and consistency across all marketing channels.
Brand Example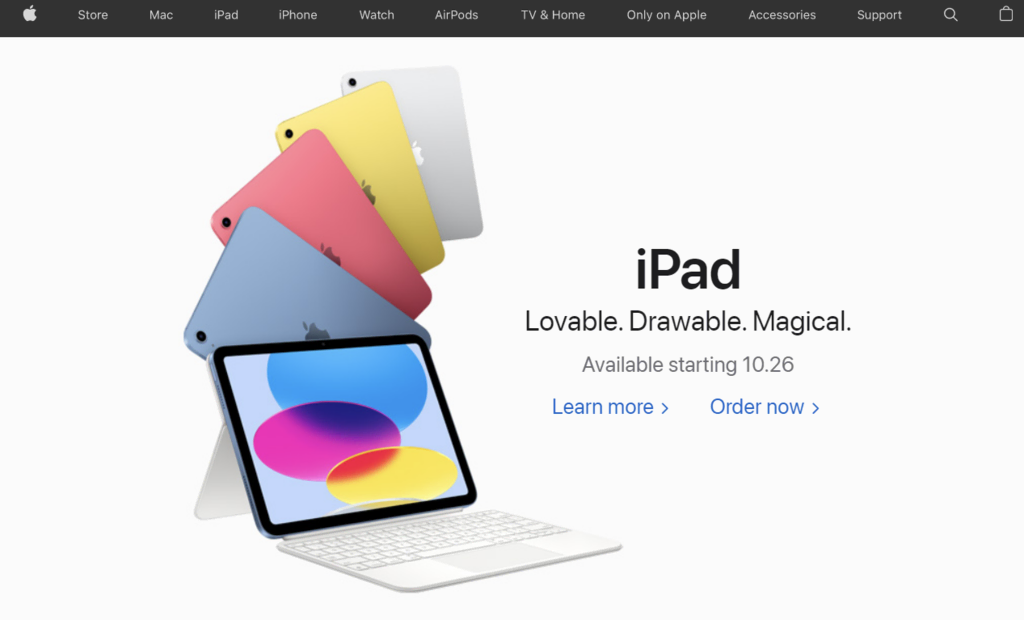 Apple's logo is widely recognized as a staple in the electronic device industry. Most people instantly associate it with high-quality devices, innovative features, and a sleek, modern design.
In terms of color palettes, Apple mainly uses white for its website, products, and packaging because it represents simplicity and elegance.
7. Branding the Company's Website
Every business needs a website to establish a solid online presence and credibility, which are crucial for bringing in more leads.
Thankfully, making a website does not have to be complicated or expensive. There are various user-friendly site builders like Hostinger Website Builder and CMS platforms like WordPress. Many of these platforms come with an easy setup and customizable templates, speeding up the creation process.
For best results, a business site should have the following content:
Homepage. To make a good first impression, the homepage should immediately tell visitors about your company and its products or services.
About page. Describe the company's mission, brand story, target customers, and positioning statement. Display each team member's name, background, role, and photo to build an emotional connection with customers.
Product or service page. Explain the product or service's pricing structure, key features, and unique selling points.
Landing page. Creating a landing page helps businesses convert users to perform specific actions, including signing up for a free trial, subscribing to a newsletter, and making a purchase.
Testimonials. Provide social proof by displaying positive reviews from past and existing customers. This strategy increases customer trust, encouraging them to buy your products.
Once ready, apply the following tips when designing the website:
Be consistent. Place the company name and brand logo throughout the site. Implementing consistent color palettes can also help visitors remember your brand identity easier.
Keep it clutter-free. Avoid distracting elements that might sway the customer's attention. Instead, use a simple layout, readable fonts, and concise copy to maintain focus on your business, products, and services.
Consider user experience. A clear navigation system and a built-in search engine help visitors quickly locate relevant content, ensuring an enjoyable browsing experience.
Optimize the pages. After creating the website, the next step is promoting it. Implement search engine optimization (SEO) best practices to boost its rankings and drive more organic traffic.


Brand Example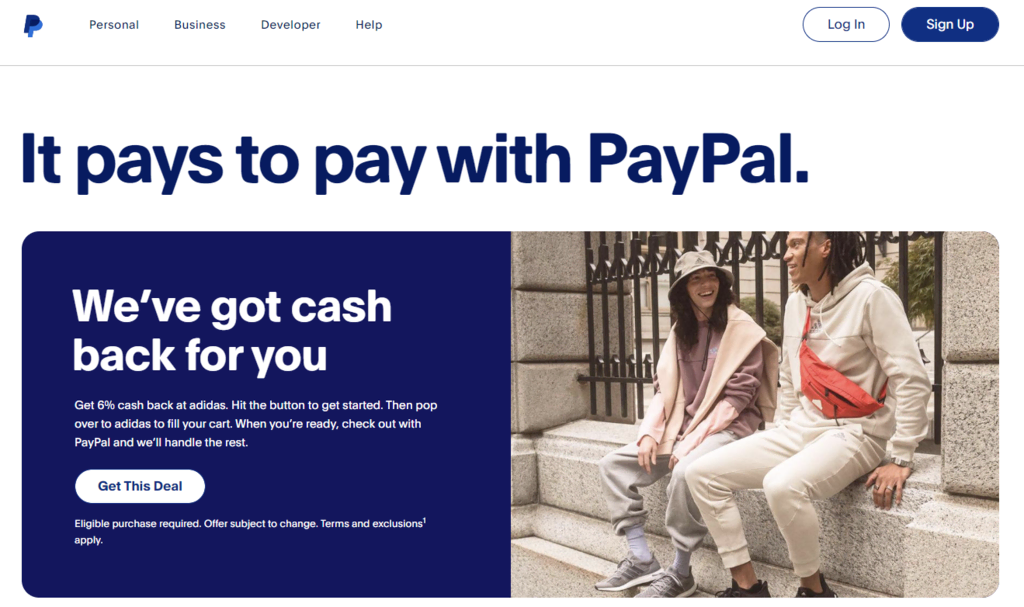 PayPal is a successful brand with an effective website. The homepage immediately informs visitors about what it does and its current cashback partnerships with popular brands like Adidas, Nike, and Levi's.
Design-wise, PayPal's website implements a simple interface and consistent color palettes – white for the background, black for text, and blue for call-to-action (CTA) buttons.
8. Implement Content Marketing to Build Authority
After building a website, nurture relationships with readers by creating informative blog posts. This content type lets businesses showcase their expertise and authority on a topic.
Start by conducting keyword research to identify the target audience's pain points using tools like Google Keyword Planner. Simply enter your business niche or industry, and the tool will display a list of keyword ideas along with their search volume.
Alternatively, run a Google search and look at the suggestions, Related Searches, and People Also Ask sections for topic ideas. We recommend keywords to create evergreen content, as they remain relevant over an extended period.
After deciding on a topic, consider making one of the following pieces:
Ultimate guides. Create comprehensive and detailed tutorials so readers do not have to read competing articles.
Industry reports. Reports, studies, and other fact-driven articles are valuable for readers and help you generate backlinks.
Case studies. Tell the success stories of past and existing clients to convince potential buyers.
Find a Unique Brand Voice
With millions of blog posts published daily, a brand personality will give you a competitive advantage. It lets companies shape the audience's perception of the brand and persuade them to convert through written content.
One of the best ways to establish a brand personality is by finding a distinctive brand voice.
When deciding on a brand voice, consider the target audience. Use a professional tone when writing for a business-minded audience. In contrast, injecting some personality and wit into your writing might be more appealing to casual readers.
Brand Example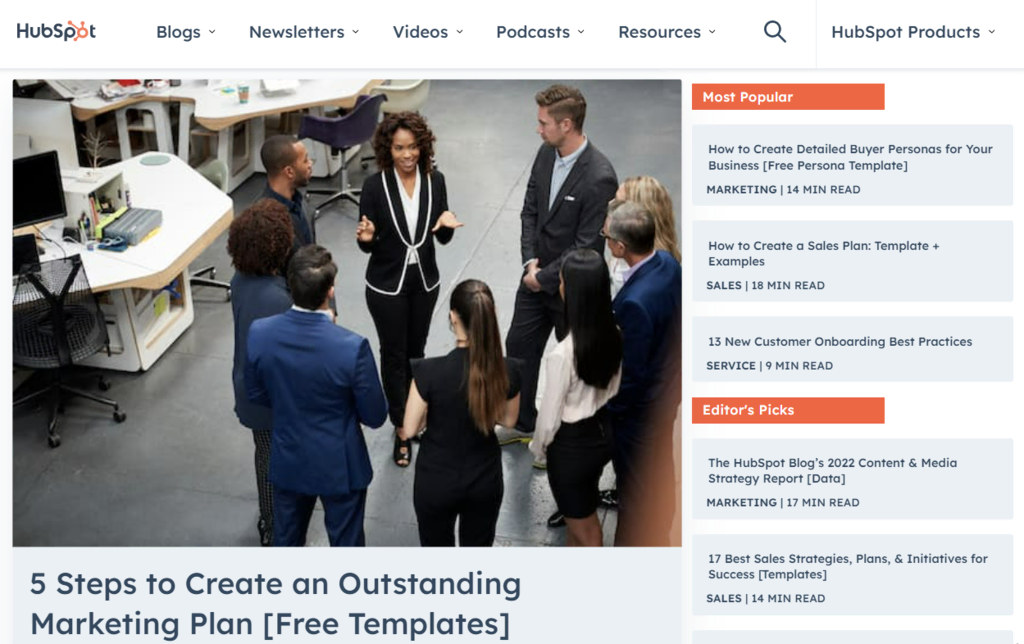 As a marketing software company, HubSpot positions itself as an industry expert through educational content pieces.
Using a formal yet resourceful brand voice, The HubSpot blog consistently delivers relevant and informative content to help readers solve marketing, business, and customer service issues.
9. Integrate the Brand Effectively Across Other Marketing Channels
Social media, email, and search engine marketing are other effective marketing channels for promoting a business.
Social Media Marketing
Due to their popularity, social platforms like Twitter, Facebook, and Instagram provide a great starting point for building brand awareness and customer interaction.
There are many ways to market through social media. For example, you can create entertaining and relatable posts, reply to followers' comments, engage in popular topics, and partner with influencers.
Email Marketing
Creating email newsletters is an excellent way to build connections with potential leads, share company updates, and promote a product.
To start an email marketing campaign, sign up for services like Sendinblue or Drip. Then, convince users to subscribe by offering incentives like free eBooks or coupon codes.
When sending newsletters, use catchy subject lines to increase the email open rate. Compelling copy and a clear CTA also help encourage recipients to perform the desired action.
Search Engine Marketing (SEM)
Although it's mostly free of cost, building organic traffic through SEO is a long-term process. To speed up the process, consider buying ad space on the search engine results pages (SERPs).
The most popular paid advertising model is pay-per-click (PPC), where advertisers pay the publisher for every click their online ads receive. Sign up for advertising networks like Google Ads and display ads and attract more visitors.
Brand Example

GoPro engages with customers through unique image and video content, resulting in millions of followers on Instagram, Facebook, and Twitter.
To build an email list, the camera company displays a pop-up banner on its website. Signing up for the email list offers visitors a 10% discount.
And despite the brand's massive popularity, GoPro still implements search engine advertising to promote its online store.
10. Maintain Brand Reputation
After starting a brand, maintaining its reputation is crucial in helping the business thrive. To maintain brand reputation, consider the following tips:
Deliver excellent service. Satisfied users are more likely to become brand advocates. In fact, 72% of consumers share a positive user experience with at least six people.
Monitor brand mentions. Google your business regularly to find good and bad reviews of your brand on other sites and discussion forums. Tools like Agile CRM help monitor brand mentions on social media.
Address negative comments adequately. Quickly respond to negative comments. Contact the unhappy customer, provide solutions, and offer compensation to restore their trust.
Improve employee satisfaction. Unhappy employees may express their dissatisfaction on social media. To prevent this, ask for their feedback consistently to create a better work environment.
Gather social proof. Encourage past and existing clients to leave positive testimonials on popular review sites. This is important, as nine out of 10 consumers read online reviews before making a purchase.
Benefits of Developing a Strong Brand
Dedicating time, effort, and resources to developing a brand may seem unnecessary for new business owners. If that's your case, let's take a look at how a strong branding process can help a business succeed:
Provide a clear guideline. Brand identity helps business owners determine the company's vision and goals upfront, providing a clear path to success.
Boost credibility. Most people consider established brands more credible and reliable, prompting them to make purchases.
Increase recognition and exposure. Customers tend to recommend brands they like to their friends and families. Free word-of-mouth marketing increases a company's reach and potential leads.
Attract ideal customers. It's easier to attract customers when they relate to the brand's values and mission statement.
Get repeat sales. Providing a unique selling proposition can help businesses acquire returning customers.
Increase revenue. Good brand-building efforts increase sales and revenue. In fact, 46% of US consumers spend more on businesses they trust.
Conclusion
Designing an entire brand is crucial to establish your business in the market. Since the brand-building process entails a lot of time and investment, it's important to prepare accordingly.
To build a successful brand strategy, apply the following best practices:
Define the business purpose, goals, and values.
Conduct research to understand the target audience and competitors. Then, offer unique selling points to establish a strong market positioning.
Create a strong brand image and identity through a memorable name, logo, catchy slogans, compelling stories, and consistent visual design.
Promote the brand using various marketing channels, including websites, social media platforms, and email. Drive traffic to your website through search engine optimization strategies and paid advertising.
Maintain brand reputation by answering negative reviews and compensating unsatisfied customers.
We hope this article has encouraged you to build a successful business through solid and effective branding. Read our FAQ below if you have more questions.
How to Build a Brand FAQ
This section will answer some commonly asked questions about brand creation.
How Much Does it Cost to Start a Brand?
Depending on the branding package, design agencies charge around $5,000-100,000. That package may include a logo, color palettes, business cards, email templates, and social media graphics. For a more affordable option, freelance graphic designers are available for $15-300/hour.
What Makes a Strong Brand?
A strong brand has a clear identity that separates it from competitors. The brand's core values, eye-catching design, compelling story, and unique market positioning make up its identity.
How to Build a Personal Brand
Creating a solid personal brand involves developing unique selling points, showcasing your expertise through various marketing channels, and building a positive reputation. Consider creating a website, as it's one of the best platforms for building a personal brand. Check out these personal website examples for your inspiration.