The Top 8 Website Builders for Small Businesses in 2023
A professional and user-friendly website is essential for the success of a business, especially with how many opportunities a strong online presence can grant in today's digital environment.
A good website is a central hub for a brand's online identity, making a striking first impression and acting as a reliable channel for converting visitors into loyal customers.
The best website builders for small businesses typically offer features that make your website creation process easier. Therefore, choosing the right one for your business is important.
This article will guide you through this crucial decision-making process by looking at some of the best small business website builders available today.
Download Website Launch Checklist
Top 8 Website Builder Options for Small Business
In this section, we will look at the eight best website builders for small businesses as well as their key features and pricing plans to help you decide on the best solution for your online venture.
1. Hostinger Website Builder
Hostinger Website Builder Stats:
Rating: 4.7/5
Best for: Best overall value and advanced AI tools
Price: Starting from $2.99/month
Hostinger Website Builder is one of the most popular website builders that allows business owners to build their online stores with ease. With an all-in-one website-building solution with designer templates, eCommerce features, and advanced AI tools, it establishes itself as the best business website builder for newcomers.
Users can start building their websites by choosing a premade design template. Our professional designers created these responsive website templates, ensuring they provide the best user experience for visitors.
In fact, users don't need any prior knowledge of how to create a website – everything can easily be customized with the intuitive drag-and-drop editor that lets you move website elements freely with zero restriction.
Hostinger Website Builder also offers AI tools to make your site-building process easier, making it a great alternative to platforms like Wix. The AI website generator lets you create a new business website in no time. All you have to do is describe your brand, what the company does, and what type of website you want to create.
The AI builder will use the information and create a professional website with images and copy. You can then make small adjustments to the result using the drag-and-drop interface to make your site fit your preference better.
Other AI tools are also available to speed up your website set-up processes. These tools allow you to allocate more time to growing your venture instead of dealing with the manual labor needed to launch your business website.
Create an SEO-friendly website with compelling content easily using the AI Writer. The AI Logo Maker is another great tool for quickly creating a unique logo for your small business.
Additionally, you can predict visitors' behavior using the AI Heatmap. This will help you determine the most optimized place to put elements like calls to action and achieve higher conversion rates.
Small business owners will also benefit from the eCommerce features. Hostinger Website Builder lets you sell various types of products, including physical and digital products, services, and donations. You can add up to 500 products and sell them with zero commission fee.
Your online store is also more accessible with popular payment gateways, including PayPal and Stripe. Unlike some business website builders, these eCommerce features are available at no additional cost for all Hostinger hosting clients.
Hostinger Website Builder also supports integration with popular third-party tools like Hotjar and Google Analytics for free to make your business website more robust.
By getting the Premium Web Hosting plan for 12, 24, or 48 months, you can also get a free domain name for the first year, making this solution a great value for your money.
Key Features
All-inclusive and robust eCommerce features suitable for small businesses
Advanced AI tools to make website building easier
High-quality hosting
Essential third-party integrations


2. Wix
Wix Stats:
Rating: 4.5/5
Best for: Wide range of app integrations
Price: Starting from $4.50/month with a free plan available
Wix is a popular website builder that has emerged as a solution for small business owners. You can create various types of websites for your business, including online stores, booking sites, and ticket-selling platforms.
One of the standout features of Wix is its user-friendly interface, making it accessible to people with varying levels of technical expertise.
Its drag-and-drop editor allows you to effortlessly customize your site's layout, add content, and incorporate multimedia elements like images and videos.
Business owners can save time designing their websites by choosing from more than 500 templates catering to different industries and aesthetics.
These templates are ready-to-use, but you can use them as website design inspirations and customize them further to implement your unique brand personality.
Wix also comes with a robust list of eCommerce tools. These include the ability to add up to 50K products to sell in your online store, multichannel inventory management, and abandoned cart recovery.
Users can also sell different types of products like digital goods and subscription-based services. These features let you find ways to generate revenue from your small business website.
This website builder software includes popular payment gateways like PayPal, Stripe, and Square and its native Wix Payments option.
You can access a robust list of additional features to enhance your business website in the Wix App Market. These add-ons include email marketing, analytics tools, and SEO tools. Keep in mind that some of these tools may require additional costs to use.
Wix's pricing plan starts from $4.50/month. However, to sell products and services from your business website, you'll need a business plan starting from $17/month. All of Wix's paid plans include the ability to use a custom domain for your business website.
Key Features
Ease of use
Robust eCommerce features for various types of businesses
Wide range of third-party apps
3. Squarespace
Squarespace Stats:
Rating: 4.5/5
Best for: Attractive website designs
Price: Starting from $16/month
Squarespace is renowned for its visually stunning templates and modern design aesthetic. It places a strong emphasis on providing high-quality, professionally designed templates that cater to a wide range of industries.
These templates offer a polished and visually appealing foundation for creating the best small business website without needing users to have expertise on how to design a website.
You can easily customize your website's appearance using Squarespace's user-friendly interface and intuitive drag-and-drop editor. Users can modify fonts, colors, spacing, and other visual elements to align with their brand identity and create a unique business website.
This can help small business owners to create and manage their websites independently, saving time and reducing reliance on web designers or developers.
Another factor that makes Squarespace a good website builder for small businesses is its eCommerce features. This website builder offers templates specifically designed to optimize online stores, allowing visitors to browse and buy products efficiently.
Users can sell various types of products, including merchandise, subscriptions, services, and content. Squarespace also has an intuitive store management page where users can handle fulfillment and order management processes in one place.
The built-in SEO tools let you make your business website appear higher on the search results. The system automatically optimizes essential settings like page titles and descriptions, URLs, and navigation to make them search-engine friendly.
Users with more advanced knowledge who want to control their SEO settings themselves can access them easily via the dedicated SEO panel.
Squarespace also provides analytics features, allowing users to see metrics representing their websites' performance.
You can use Squarespace starting from $16/month for the Personal plan. However, its eCommerce platform is only available on higher tier plans starting from $23/month. All annual plans include a free SSL certificate.
Key Features
Built-in SEO tools
Professional and visually appealing templates
Award-winning customer support
4. Weebly
Weebly Stats:
Rating: 4/5
Best for: Easy-to-use user interface
Price: Starting from $10/month with a free plan available
Weebly is known for its user-friendly interface, making it an excellent choice for individuals with limited technical expertise. Its intuitive drag-and-drop editor allows users to easily customize their websites without the need for coding or design skills.
The simplicity of the platform makes it accessible to beginners, enabling them to create professional-looking websites with ease.
Weebly ensures that all websites built on its platform are mobile-responsive. With the increasing number of mobile shoppers, having a website that looks and functions well on different devices is essential for small businesses to reach their audience effectively.
Business owners who want to sell online products on their websites can also benefit from Weebly's eCommerce features.
Track and manage your inventory with Weebly's advanced inventory management tools. You can also ship your products easily using its built-in shipping features. Connect your carrier accounts to Weebly and get real-time shipping rates dynamically by carrier, address, weight, and quantity.
Other essential features, such as product badges, checkout settings, coupons, and gift cards, are easily accessible through the intuitive dashboard. This website builder lets you accept payments through popular payment gateways like Square, Stripe, or PayPal.
Remember that some payment gateways like PayPal are only available on the higher tier plan.
Furthermore, Weebly's App Center offers a wide range of apps and integrations that extend the functionality of small business websites.
From marketing tools to customer relationship management (CRM) systems, these integrations let businesses enhance their online presence and optimize their operations.
Weebly offers a free plan that includes some basic features for your website. It is worth noting that the free and Personal plans will include Square ads on your site.
Those who want to remove the ads and get access to more advanced business website features can opt for the Professional or Performance plans, which cost $12/month and $26/month, respectively.
Key Features
User-friendly interface
Integrated eCommerce and marketing features
Extensive App Center
5. Shopify
Shopify Stats:
Rating: 4.5/5
Best for: Small businesses selling online products
Price: Starting from $29/month
Shopify is specifically designed for eCommerce, making it an ideal platform for small businesses looking to sell products online. With Shopify, small businesses can easily set up and manage their online stores without the need for extensive technical knowledge.
Anyone, including beginners, can create their own website easily using Shopify's editor's drag-and-drop functionality. Jumpstart your building process by choosing among hundreds of professionally-designed website templates from the Shopify Theme Store.
We recommend using one of the free themes for a small business website. Currently, there are 12 free templates you can pick and customize to fit your needs and preferences.
Shopify offers many online store features, including inventory management, secure payment processing, shipping options, and order tracking. You can access these features easily from the admin dashboard.
Another feature that makes Shopify a great website builder for small business owners is its native shipping solution. Users can get up to 88% shipping discount on popular couriers like USPS, UPS, and DHL.
Shopify also has its own payment gateway that lets you skip the process of connecting third-party payment providers to your online store. However, users can still integrate third-party gateways like PayPal, Authorize.net, and Amazon Pay.
With this site builder, you can enhance your eCommerce website using plugins from its App Store. These plugins cover various purposes, including marketing, product search, and store management.
Shopify's site builder is available on its Basic plan, which starts from $29/month. Note that even though the plan includes a free domain for all stores, it is a myshopify.com domain. Therefore, you must buy one separately for a fully custom domain name.
Moreover, note that Shopify charges an additional fee for every successful transaction you make. So, if you want to keep all the profits, consider other Shopify alternatives that charge no extra cost.
Key Features
The highly extensive online store features are perfect for an eCommerce business
Native shipping tools with discount benefits on popular courier solutions
Access to numerous plugins via its App Store
6. Webador
Webador Stats:
Rating: 3.9/5
Best for: Small businesses selling online products
Price: Starting from £4.50/month with a free plan available
Webador is one of the best website builders for small business. It includes essential features to build a business website without any coding or advanced technical expertise.
Like most website builders in this list, you can start building your own website by choosing a premade template and customizing it with the drag-and-drop editor. You can change the color scheme, move elements, and add images and videos to make your site more appealing.
Webador has more than 50 design templates to choose from, so you don't have to create a web design from scratch. All templates are also mobile-friendly, allowing you to give the best user experience on your small business website.
With its Webshop features, users can also sell products online on their websites. Configure your online store, create and customize product pages, and manage incoming orders easily using the intuitive store management system.
The eCommerce website can accept online payments via popular methods, including credit cards, PayPal, and Apple Pay. Webador itself won't charge you any transaction fees.
This small business website builder also lets you manage fulfillment more efficiently with multiple shipping methods. You can calculate shipping costs for local and international shipments and set up automatic "track and trace" email messages for your customers.
Webador's eCommerce platform is SEO-friendly by default. This builder software lets users integrate their sites with Google Analytics and Google Search Console to get the necessary performance statistics and reports.
Compared to other entries in this list, Webdador may have some limitations, particularly in template choices and app integration. However, it still provides a straightforward solution to create a basic business website with online store functionality.
Webador's paid plans start from £4.50/month. However, this plan doesn't include the Webshop features. You will need to choose the Pro or Business plan to sell products online, which costs £8.50 and £17/month, respectively.
Both plans include similar features, except that you are limited to 10 products for the Pro plan. There is also a free plan for personal use, but we don't recommend building your small business website with this since it lacks essential features.
Key Features
Mobile-friendly website designs
Integrations with analytics tools
Efficient shipping management to help small eCommerce businesses
7. Canva
Canva Stats:
Rating: 4/5
Best for: Single-page websites
Price: Freemium
If you only need to create a simple website with a single page, then Canva can be a good web design platform. This online design platform is popular for its beginner-friendly interface that lets users with any experience create appealing designs.
This is also true for its website builder. Canva features a drag-and-drop interface to help you create and customize your one-page website quickly and easily. You can grab free illustrations, images, and videos from Canva's content library to improve your site's appearance.
Those who don't want to design their websites from scratch can choose from hundreds of website templates and customize them. Alternatively, you can start from a blank template and let your creativity flow.
Canva's site editor includes all the essential tools to create an appealing single-page website. Access different styles to find the perfect color and font combinations you can apply to any design.
The color palette generator can help you find the right color scheme for your website based on an image or logo. Additionally, Canva allows multiple people to access the editor simultaneously, making it great for collaborative work.
However, since Canva only specializes in providing a simple website builder, there are no additional features such as eCommerce and blogging.
Therefore, we only recommend this builder for small ventures who want to create an event page, online menu, or limited promotional campaign.
Canva's website builder is available for free for all Canva users. However, some features, like the Brand Kit and the ability to use a custom domain name, are only available for Canva Pro users. Canva Pro itself costs $199.99/year or is equal to around $10/month for the annual subscription.
Key Features
Beginner-friendly user interface
Excellent collaborative work features
The editor is accessible from multiple devices, including mobile phones
8. Pixpa
Pixpa Stats:
Rating: 4.5/5
Best for: Small creative businesses
Price: Starting from $3.60/month
Pixpa is an excellent option for a creative who wants to run their own small business website. The service excels in providing solutions for professionals to showcase their works online. But more than that, Pixpa also lets creatives earn money from their own websites.
This small business website builder lets you create your professional website, complete with an eCommerce, blog, and client galleries, without any coding knowledge.
Pixpa lets users sell various products, including physical products, digital content, and services, with its integrated online store capabilities. But what makes it different from most website builders is Pixpa's eCommerce Galleries.
This unique feature is crafted for designers or photographers who want to sell images and photos as prints and downloads. You can sell your products as canvases, gallery wraps, or downloadables.
This website builder offers Automated Lab Fulfillment to help you fulfill print orders from your clients. Pixpa partners with WHCC to handle your print orders. Alternatively, you can connect with any custom lab you choose or self-fulfill for your clients.
Manage orders easily with Pixpa's full-featured eCommerce toolset. This is an intuitive dashboard where you can access essential online selling settings, like discounts, taxes, shipping rates, and abandoned cart recovery emails.
The eCommerce platform includes three payment methods, including PayPal, Stripe, and offline payment. It does not charge any commission or listing fees on your sales so you can keep all your profits.
Pixpa's pricing plans start from $3.60/month for the Basic plan. However, to access its online selling platform, you must subscribe to at least the Creator plan, which costs $7.20/month for the two yearly cycles.
Please note that some features might not be available on this plan, and you must choose a higher-tier plan to access them.
Key Features
Perfect features for small creative businesses
All-in-one visual website builder
Robust eCommerce capabilities
What to Look For in a Website Builder for Small Business
You must consider several qualities when looking for the best website builder for your small business.
Here are four essential factors to look for in small business website builders:
Ease of Use
As a small business, you might not have a dedicated IT team or web developer, so look for web builders with intuitive interfaces. You should be able to easily create and update your website without understanding code or any complicated technical configurations.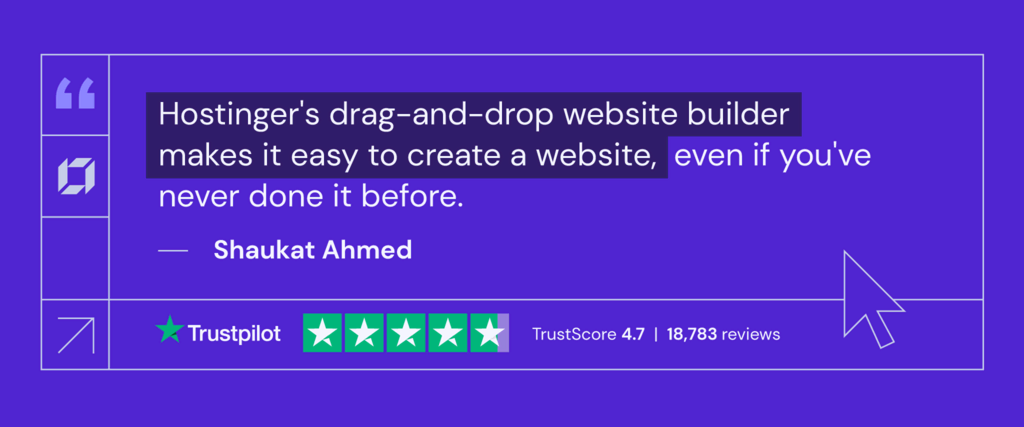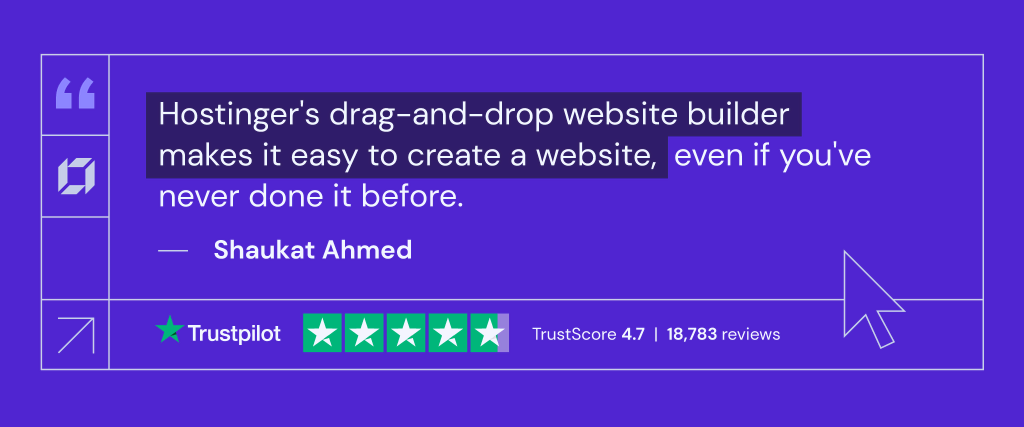 Design Flexibility
The best website builders for small business are the ones that offer a range of free templates and customization options that fit your brand. You should be able to easily modify color schemes, fonts, and layouts easily without the help of a professional web designer.
Mobile Responsiveness
Nowadays, many people access the internet through their mobile devices. A good website builder for small businesses should let you make a mobile-friendly website easily, allowing you to provide the best user experience to more potential customers.
eCommerce Capabilities
The best website builder for business should offer eCommerce features to help you generate more revenue. This includes shopping carts, secure payment gateways, inventory tracking, and easy product listing. Consider choosing a solution that provides this functionality without additional cost.
Speed and Security
Another crucial factor to consider when bringing your business online is providing a platform that increases customer satisfaction. To achieve this, choose a hosting provider for small businesses that offers fast loading times for your pages and SSL security to keep your site and customer information safe.
Value for Money
The best value for your money is not just about being the cheapest website builder. The best website builder for small businesses should include all the essential features without needing you to pay more.
Determine your budget, and compare each option against what you get at each price point.


Conclusion
Choosing the best small business website builder is a vital decision that can significantly influence your online presence and success. It's not a one-size-fits-all situation, as each business has unique needs and goals.
Based on our test and research process, here are the three best website builders for small ventures:
Hostinger Website Builder: The best overall value proposition with advanced AI tools and high-quality hosting ensures your website always performs well.
Squarespace: Visually stunning website templates with modern design aesthetics that cater to a wide range of industries.
Wix: The app market includes a robust list of additional features to enhance your business website, including analytics and marketing tools.
Nevertheless, it's essential to remember that the best website builder for small businesses is the one that offers ease of use, design flexibility, essential features, and value for your money.
By doing your due diligence and weighing the pros and cons of each platform, you can build a website that positions your business for success in the digital landscape.
Best Website Builder for Small Business FAQ
In this section, we will answer the most frequently asked questions about the best website builder for small business owners.