10 Best Website Builder Options for 2024 and How to Choose the Best One
A well-designed and successful website is crucial for businesses and individuals to establish an online presence. However, building a website without coding experience can be a hassle. Thankfully, the process can be made effortless by using a website builder.
However, with so many platforms available, choosing the best website builder can be overwhelming. In this article, we have selected the best website builders based on pricing, design flexibility, and features.
Therefore, we will examine each website builder's pros and cons, highlighting their key features and benefits. We'll also provide practical tips to aid your selection process. With our help, you'll be able to pick a platform and create professional-looking websites in no time.
Download Website Launch Checklist
Top 10 Website Builders
Before we weigh the options, we'll list the best website builders below.
| | | | | | |
| --- | --- | --- | --- | --- | --- |
| Website Builder | Rating | Pricing | Best For | Pros | Cons |
| Hostinger Website Builder | 4.9/5 | Starts at $2.99/month | Site owners who want an all-in-one solution | Various AI tools and third-party integrations | Can't make a paywalled section |
| Wix | 4.8/5 | Freemium | All types of websites | Free plans and various app integrationsare available | Low design flexibility |
| Shopify | 4.7/5 | Starts at $39/month | eCommerce | Optimized eCommerce tools | Pricey |
| WordPress | 4.6/5 | Freemium | Beginners | Affordable and easy to use | Limited customization |
| Squarespace | 4.5/5 | Starts at $16/month | Monetizing websites | Can make member-only areas | No free plan |
| Webflow | 4.4/5 | Freemium | Intermediate to advanced users | Highly customizable and offers collaboration functionality | Steep learning curve |
| Square | 4.3/5 | Freemium | eCommerce | Cost-effective choice for eCommerce | Limited customization |
| Duda | 4.2/5 | Starts at $14/month | Web agencies | Allows white-labeling | No free plan |
| GoDaddy | 4.1/5 | Starts at $9.99/month | Beginners | Easy to use and offers web design services | Limited customization |
| Jimdo | 4.0/5 | Starts at $9/month | Beginners | Fast load time | Limited customer support |
1. Hostinger Website Builder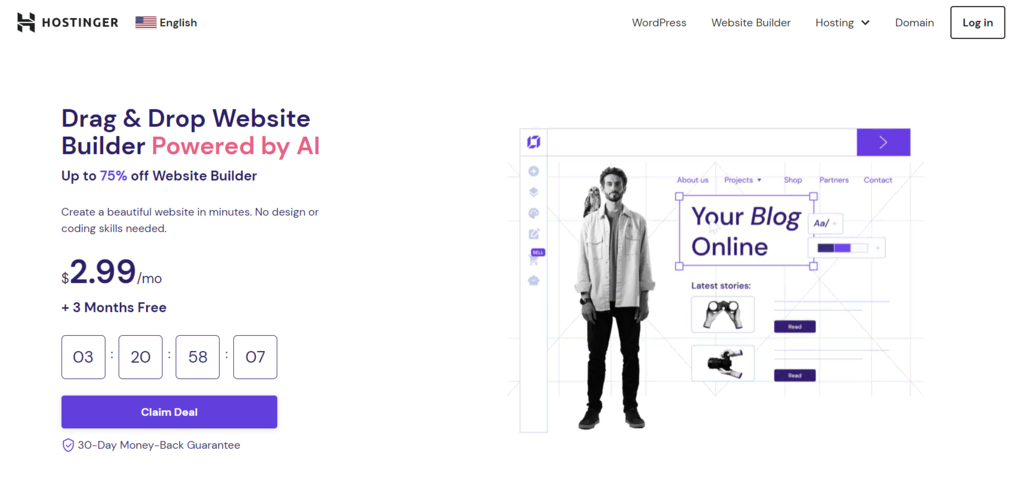 Hostinger Website Builder Stats:
Rating: 4.9/5
Best for: site owners who want an all-in-one solution
Price: starts at $2.99/month
Hostinger Website Builder is a user-friendly solution that allows you to create stunning websites effortlessly. With its intuitive drag-and-drop website builder interface and extensive feature set, this tool stands out from the competition.
Our website builder introduces various AI tools: AI Builder, AI Heatmap, AI Logo Maker, and AI Writer.
The AI Builder revolutionizes the site creation process. Users can easily generate a personalized site by simply filling out a form. This saves time and delivers a professional, visually appealing result.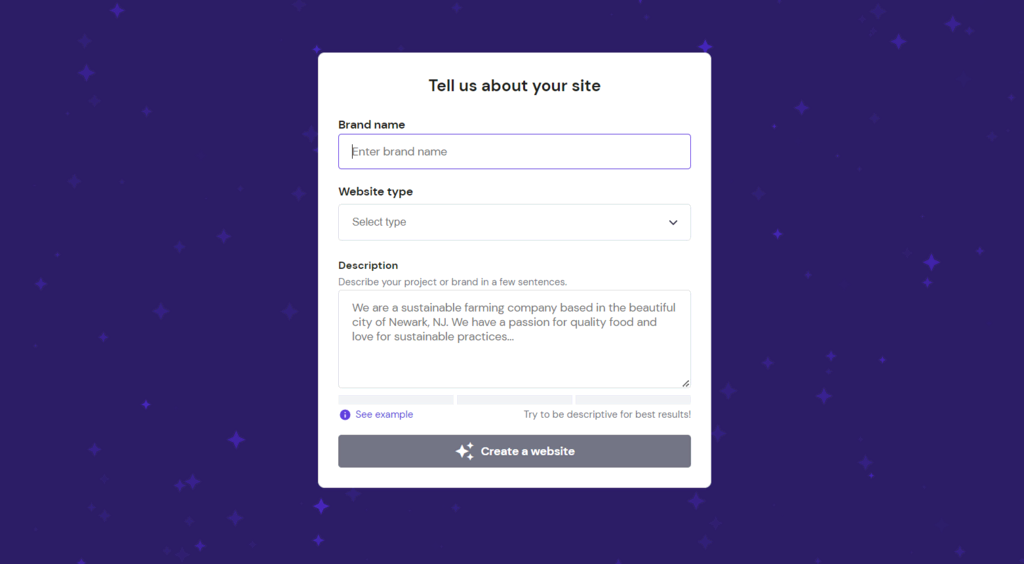 These AI features streamline website creation. You'll even get an AI-generated search engine optimization (SEO) tool to help you generate high-performing keywords, page titles, meta descriptions, and headings for your site.
You will also gain all the benefits of our Google Analytics, Google AdSense, Hotjar, Facebook, and WhatsApp integration.
Our web builder also equips users with eCommerce tools to start, manage, and grow their online businesses. With no commission fee, users can create mobile-friendly online stores easily. You'll get access to various features such as organizing up to 500 products, 20+ payment gateways, 25 shipping options, as well as invoice and tax management.
On top of that, you can access all our web hosting features, such as a free domain name, SSL certificate, email, website migration, Cloudflare-protected nameservers, a malware scanner, and 24/7 support from our Customer Success team.
This option is scalable as well, making it an excellent alternative to builders like Wix. As your website grows, you can upgrade to plans with dedicated hosting resources, like Cloud Hosting or VPS.
However, it's worth noting that you can't create a paywall or member-only area on your website. Having said that, Hostinger Website Builder is still a cost-effective, feature-packed choice that fits all types of websites.
Key Features:
AI Heatmap. It visually represents the website, highlighting areas that attract visitor attention. This feature helps optimize the design for better engagement.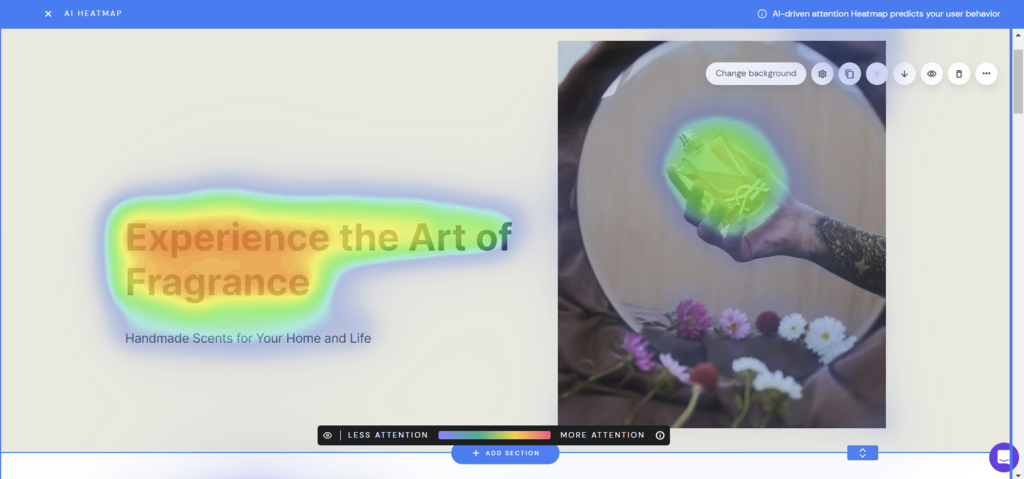 AI Writer. This tool writes high-quality website text while building the site, saving time and effort in copywriting.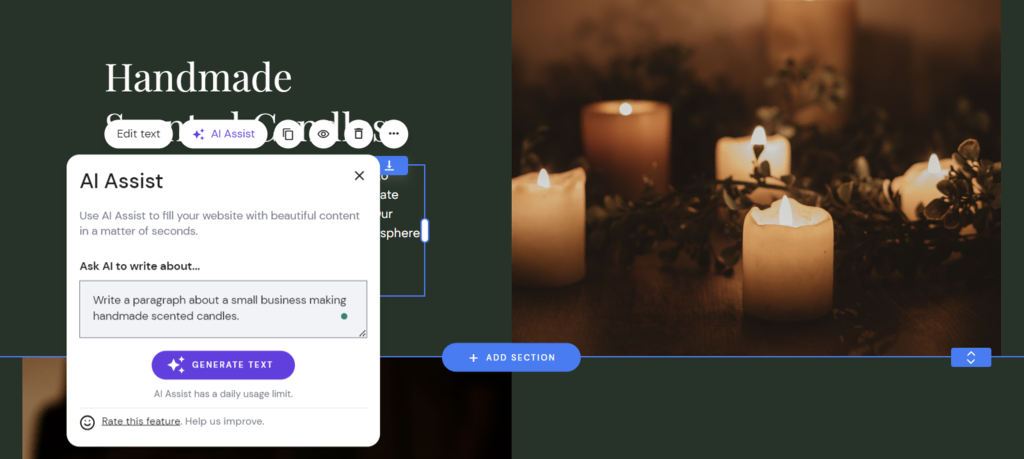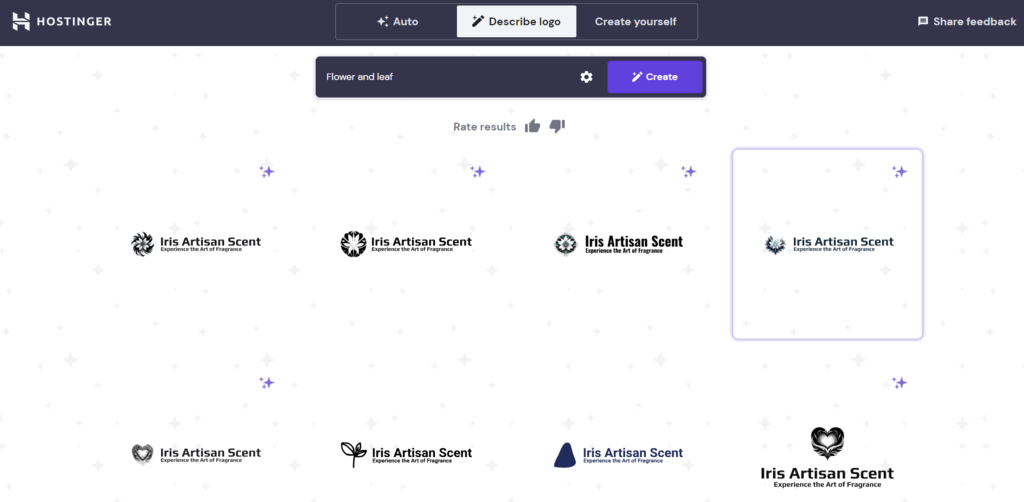 2. Wix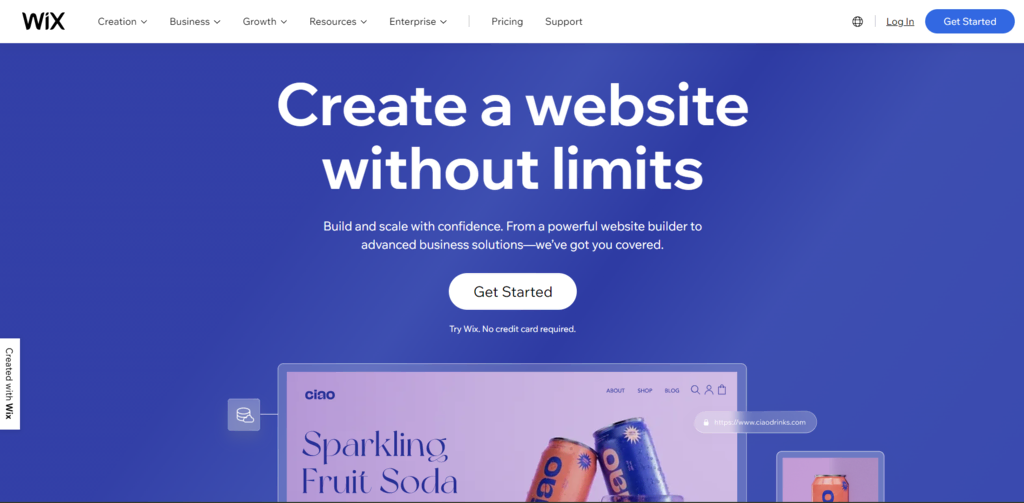 Wix Stats:
Rating: 4.8/5
Best for: all types of websites
Price: freemium
Wix is one of the most popular website builders. While it offers a free plan, you'll be forced to display ads on your site. Furthermore, your free domain will look like example.wixsite.com.
Wix provides over 500 design templates on the drag-and-drop interface. However, choosing your Wix template wisely is important since once your site is launched, switching templates is not possible.
While you can make minor design adjustments within your chosen template, a complete site redesign would require starting from scratch.
Furthermore, Wix has a built-in SEO tool to optimize your site for search engines.
Key Features:
App integrations. Wix has an open application marketplace that allows users to add various add-ons to their websites without coding knowledge.
Various templates. Many pre-designed templates are available for any kind of site, such as photography, video, music, events, or restaurants.
Blog optimization. Wix offers a dedicated blogging platform. You can also add multiple writers or editors to the same blog.
3. Shopify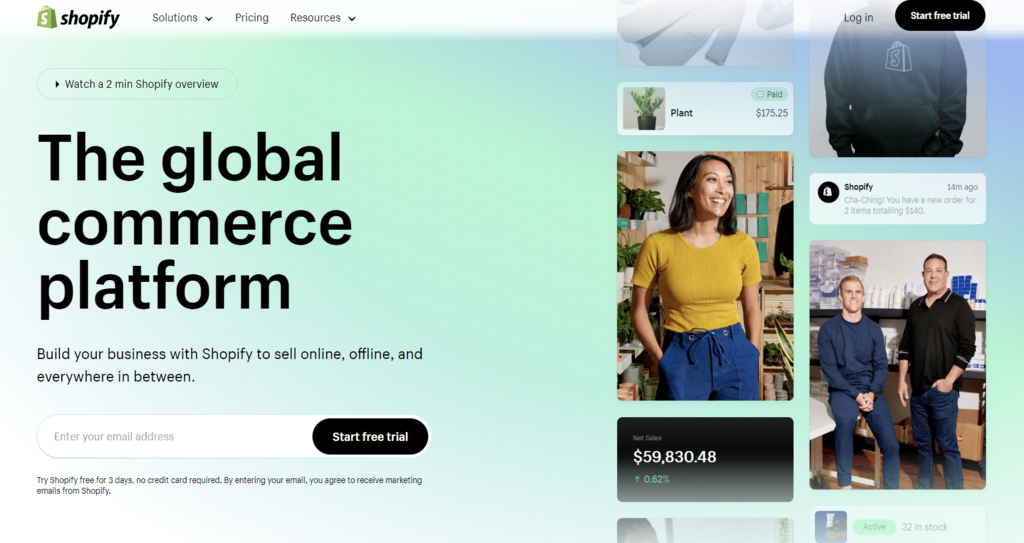 Shopify Stats:
Rating: 4.7/5
Best for: eCommerce websites
Price: starts at $39/month
Shopify is one of the best online store builders on the market.
Its drag-and-drop editor is easy to use. Users can customize their online store using pre-designed templates or by installing Gempages for more design freedom. Shopify also has an app store that offers many add-ons and integrations to extend the functionality of your online store.
Shopify's free plan offers only 11 eCommerce templates, and its paid plans can be expensive. However, Shopify offers a 3-day free trial. It also provides 24/7 customer support and external consultants for more advanced help.
While Shopify may not be the cheapest, it is an excellent option for those looking to build a scalable, eCommerce-focused website with advanced features and integrations.
Key Features:
Payment gateway integration. Shopify integrates with over 100 payment gateways, allowing users to accept customer payments easily.
Order management. Shopify allows users to manage their orders, including tracking shipping and fulfillment. It also includes refunds, cancellations, and order editing.
Marketing tools. Shopify includes various marketing tools to promote an online store, including email campaigns, discount codes, and social media integrations.
4. WordPress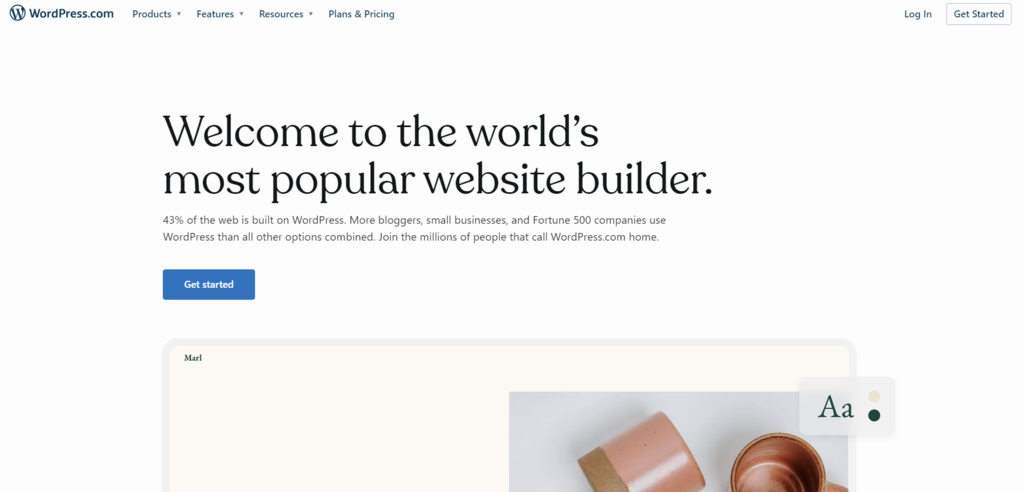 WordPress Stats:
Rating: 4.6/5
Best for: beginners
Price: freemium
WordPress.com is a user-friendly website builder that caters to both beginners and experienced users, offering a simple drag-and-drop interface for creating and editing your website.
One of the significant advantages of WordPress.com is the wide range of themes and plugins it offers. Many of these options are available for free, allowing you to customize your site to your preferences and requirements while staying within your budget.
WordPress.com follows a freemium model, making it an appealing choice for those on a budget. The basic plan is entirely free, providing a great starting point for your website.
If you find that you need additional features or more storage space, you can easily upgrade to a premium plan, which starts at $4 per month. This scalability ensures that you can choose the plan that best suits your needs as your website grows.
In addition, each plan comes with Akismet, an anti-spam plugin that checks all your comments using its extensive database. This feature ensures that spam comments will be effectively filtered and prevented from cluttering your website.
However, it's important to note that WordPress.com does have some limitations in terms of customization. Unlike the self-hosted CMS (content management system) version, WordPress.org, the ability to install custom themes and plugins is restricted on the free and lower-tier plans. If you require greater flexibility and control over your website's design and functionality, you must subscribe to the Business plan or a higher tier, which grants access to custom themes and plugins.
Key Features:
Community support. The WordPress community is extensive and provides ample support to users through its forums.
Website design service. WordPress offers professional paid web design services to help you get started.
Payments Block. This feature allows you to accept payments for products, memberships, donations, tips, or digital downloads.
5. Squarespace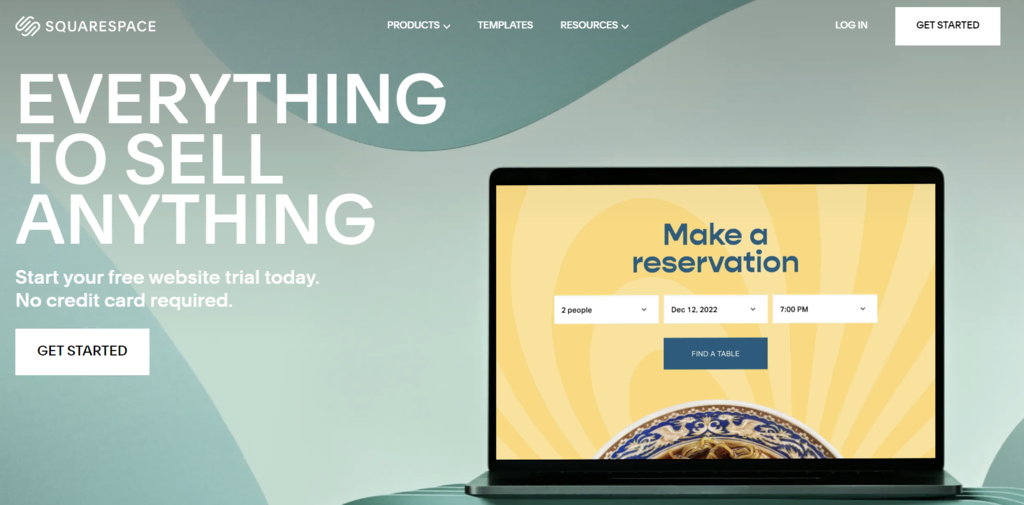 Squarespace Stats:
Rating: 4.5/5
Best for: monetizing websites
Price: starts at $16/month
Squarespace offers a range of clean, modern templates for creating professional-looking websites. Squarespace's unique feature, the Fluid Engine, allows users to resize and reposition content blocks easily, providing greater flexibility.
This great website builder also provides various eCommerce tools. You'll get a built-in shopping cart, inventory management, and shipping and tax calculators, making it easy to set up an online store. The platform also provides tools to make appointments, create memberships, and sell classes through your website.
However, unlike other website builders, Squarespace does not offer free plans, and its paid plans can be quite expensive. Furthermore, some plans charge transaction fees on eCommerce stores.
Key Features:
Member-only areas. You can monetize your site with Squarespace Member Areas, where you can post subscription-only content like newsletters or guide videos.
Professional services. For an additional fee, a team of experts can help you perfect a site you've made with the Squarespace website builder.
6. Webflow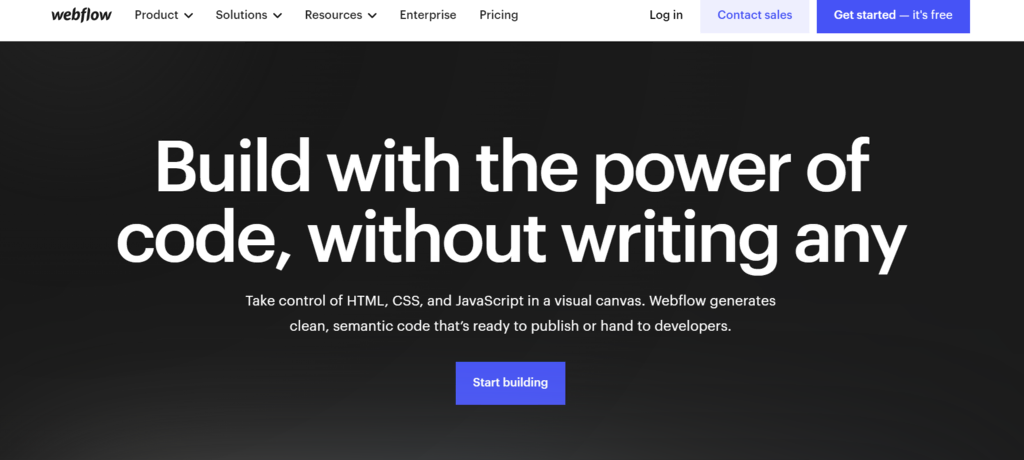 Webflow Stats:
Rating: 4.4/5
Best for: intermediate to advanced users
Price: freemium
Webflow is a highly customizable builder. Its open marketplace provides various add-ons and templates to enhance website functionality.
Site owners with various creative website ideas can create advanced design features with Webflow. This includes parallax scrolling and animations. These tools are accessible from the drag-and-drop editor.
While it may require more technical skills to customize and publish, Webflow remains popular for designers and developers seeking complete creative control over their websites.
Key Features:
eCommerce tools. Webflow offers eCommerce tools, including payment integrations and inventory management.
Interactions and animations. Webflow provides an advanced animations feature, allowing users to create dynamic and engaging website experiences.
Collaboration. This website builder platform allows for collaborative website building, enabling multiple team members to work on a website simultaneously.
7. Square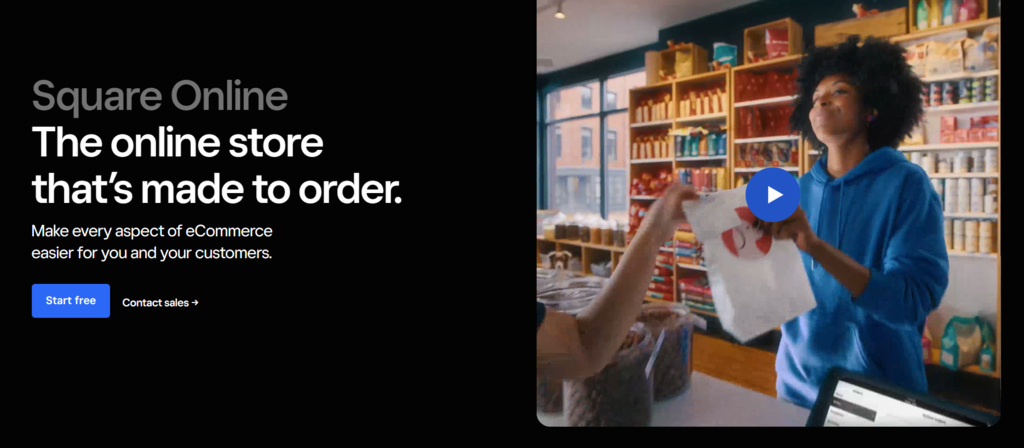 Square Stats:
Rating: 4.3/5
Best for: eCommerce
Price: freemium
Square, which merged with Weebly, offers a user-friendly experience with its easy drag-and-drop editor, making it accessible even for beginners.
This builder is a good choice if you want to sell online. Since Square Online is part of a payment processor company called Square, its eCommerce features are abundant. You can add an unlimited number of products, and Square can then automatically categorize them. It also provides various fulfillment options and an automatic tax calculator.
Another standout feature is the unlimited bandwidth, allowing your website to handle high traffic without limitations.
However, this eCommerce-focused builder is limited in its customization. It restricts the ability to add individual elements and only allows you to add predefined sections to pages.
Key Features:
Minimal advertising. Unlike other free website builders, Square keeps advertisements minimal, placing a small ad at the bottom of the website instead of larger, intrusive ads.
Unlimited bandwidth. Square offers unlimited bandwidth for all plans, including the free one.
Social media integration. Connect to Facebook, Instagram, or Pinterest, and sell your products there.
8. Duda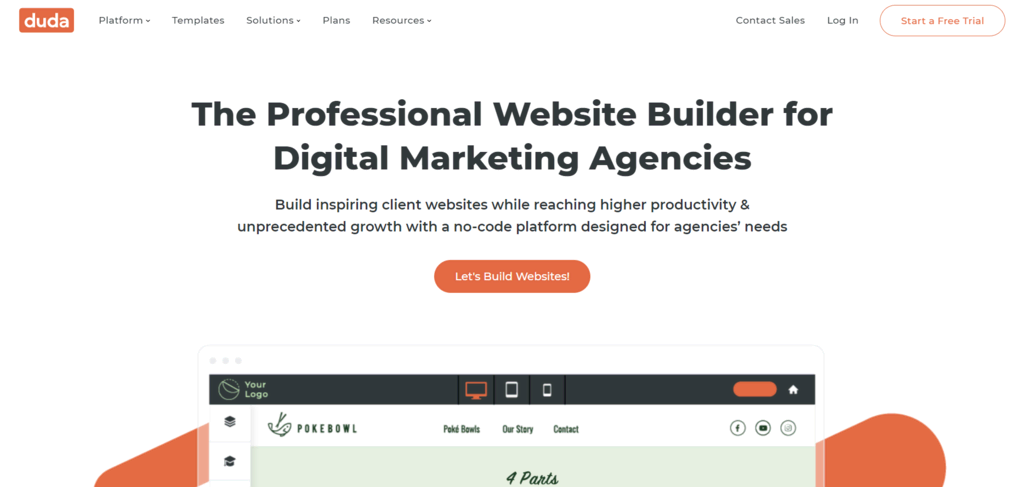 Duda Stats:
Rating: 4.2/5
Best for: web agencies
Price: starts at $14/month
Duda is relatively new in the market. It offers plenty of website templates, and its drag-and-drop editor allows for easy customization.
It stands out from other online website builders because it offers white-label options, so you can use it for building a website for clients.
Furthermore, you can limit each team member's accessibility to Duda's features. For instance, a copywriter or designer can edit the site's appearance but can't touch the domain or backup tools. This is also beneficial for agencies to let their clients preview their websites without risking them misclicking anything.
While Duda does not offer a free plan, it provides a 14-day free trial.
Key Features:
White label. Duda offers white-labeling features, allowing agencies to brand the platform with their own logo and color scheme.
Client management. Duda provides client management features, allowing agencies to manage multiple clients and their websites from a single dashboard.
Customer support. This company has award-winning customer service. You can expect to get 24/7 support regarding your concerns.
9. GoDaddy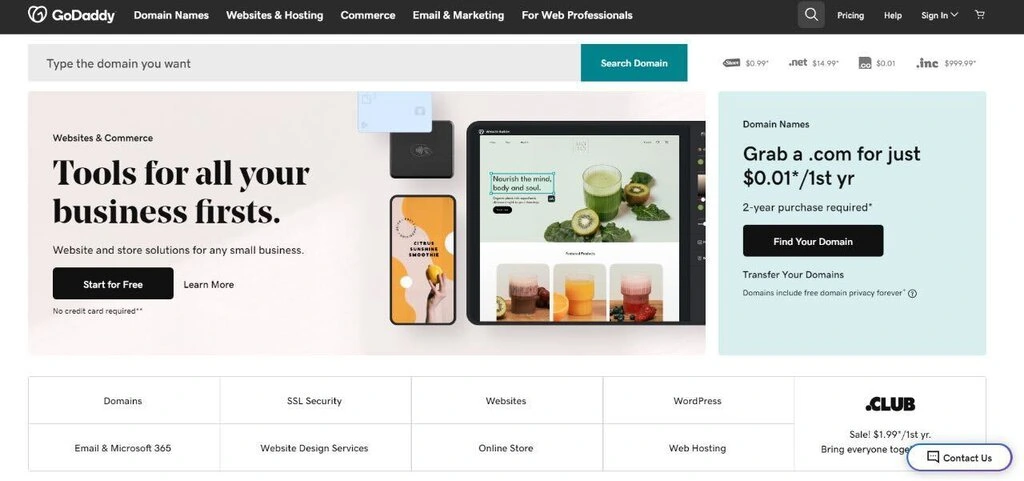 GoDaddy Stats:
Rating: 4.1/5
Best for: beginners
Price: freemium
GoDaddy offers pre-made themes for users to choose from to build their websites. The basic features of GoDaddy are easy to use and sufficient for creating a simple website.
GoDaddy has many templates, but they are quite inflexible. Also, it offers limited fonts and layout adjustments, making it less suitable for those who prefer more control over website design.
However, this is a good option for those who are new to website building and do not want to be overwhelmed with too many options.
The GoDaddy builder is free. However, you must use its web host service or upgrade to premium for a custom domain. Otherwise, your free domain will have to include a GoDaddy section, looking like example.godaddysites.com.
Key Features:
Web design services. You can contact GoDaddy for professional consultation and web design, which is good for beginners.
Email marketing. GoDaddy offers an email marketing tool that allows users to create and send targeted email campaigns to their subscribers.
eCommerce tools. This builder offers various eCommerce features, including multiple payment options like PayPal, Apple Pay, Google Pay, and Venmo.
10. Jimdo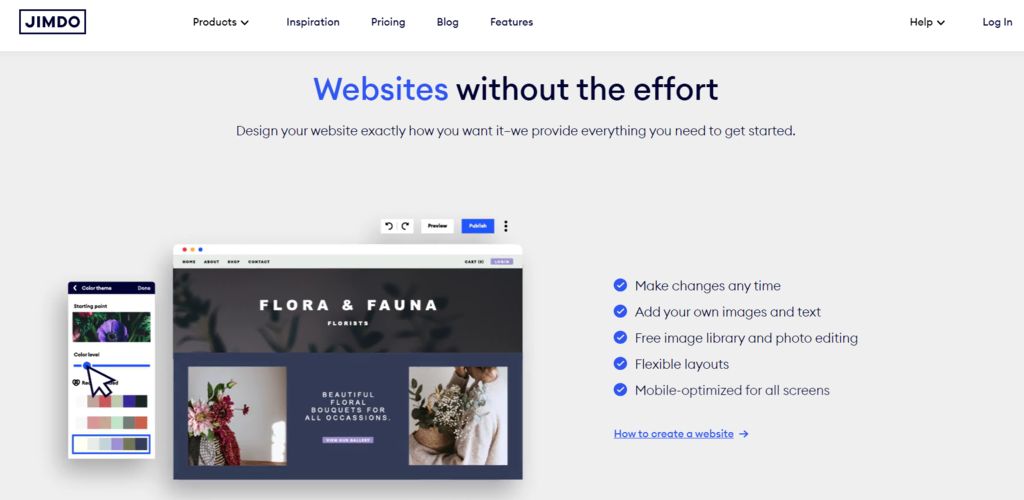 Jimdo Stats:
Rating: 4.0/5
Best for: beginners
Price: freemium
Jimdo is user-friendly and perfect for beginners. Its intuitive platform makes professional website creation easy, with a slight learning curve at the start.
This easy and simple website builder shines in mobile optimization, delivering fast page load time and mobile-responsive templates. Therefore, you'll ensure a positive user experience on mobile devices.
However, free plan users have little support through the help center, while paid plan subscribers enjoy faster and more personalized assistance. Furthermore, the customization options are limited. You can add and edit pre-designed elements but can't customize them.
Key Features:
Coding editor. While you can make your site without code, Jimdo Creator mode provides a coding editor for further enhancement with custom CSS, HTML, or Javascript.
ADI (artificial design intelligence) builder. Easily build your site with the help of AI.
Fast load times. Jimdo is one of the fastest site builders on the market.
How to Choose the Best Website Builder
Below, we'll discuss what to consider when choosing the best website builder for your needs.
1. Determine Your Budget
Define your website cost plans before choosing a platform to narrow your options.
Free and low-cost builders like Wix, Square, and WordPress.com are available for those with limited budgets. However, premium builders like Squarespace or Shopify offer more features and customization options for a price.
Consider additional costs like a domain name and hosting service. Evaluating your needs and comparing costs and benefits will help you find a builder within your budget that suits you.
With Hostinger, you'll get a web hosting service plan, domain name, and access to a website builder starting at $2.99/month.

2. Evaluate Your Needs and Priorities
When selecting a site builder, evaluate your needs and priorities to find the right fit. Consider the following factors:
Purpose. Determine the main goal of your website, such as showcasing a portfolio, selling products, providing business contacts, or other purposes.
Ease of use. Assess your coding skills and how much learning curve you want. Opt for a user-friendly website builder if you lack coding experience and want to make a website easily.
Customization. Decide how much control you want over the design and functionality of your website.
Templates. Choose whether you prefer using pre-made templates or creating a custom design from scratch.
Scalability. Anticipate future growth and determine if your website might expand, such as more pages, higher traffic, or eCommerce functionality. Choose a website builder that can accommodate your future requirements.
3. Explore Key Features
Ensure the website builder software features meets your needs. Consider the following:
eCommerce. If you plan to sell products or services, choose a builder with robust eCommerce capabilities, including a shopping cart, payment processing, and fulfillment options.
Customization. Look for a builder that suits your customization needs, whether it offers flexible design templates, drag-and-drop editors, or the option to add custom code.
Mobile responsiveness. Ensure the builder provides responsive design templates and can preview your site on mobile devices.
SEO tools. Opt for a builder with built-in marketing and SEO tools like meta tags, sitemaps, and keyword optimization.
Integrations. Depending on your business needs, choose a builder that offers integrations, such as social media or email.
Analytics. Select a builder with built-in analytics tools for tracking website performance, such as traffic reports and conversion tracking.
Security. Look for a builder with SSL encryption, secure payment processing, and regular backups to protect your website and customer data.
4. Consider Design Options
When choosing a website builder, consider the design options carefully. The design of your website greatly impacts how visitors perceive your brand and how effectively you communicate your message. Here's what to look for:
Design templates. Check if the builder offers visually appealing and professional templates. Are there enough options that suit your industry or niche? Can you customize them to match your brand's look and feel?
Design flexibility. Assess the level of design flexibility provided by the builder. Can you easily add or remove elements on the page? Can you customize the layout and spacing of different elements? Are there tools for editing visual content like photos?
Mobile responsiveness. With the increasing use of mobile devices, ensure the design is mobile-responsive. Check if the builder offers mobile-optimized templates or tools for customizing the mobile layout of your website.
Additional design features. Consider whether the builder offers extra design features like animations, videos, or interactive elements. These elements can enhance engagement and create a positive experience.
5. Evaluate Customer Support Availability
When choosing a website builder, it's important to consider the availability and quality of customer service. Even the most experienced web designer may encounter issues or need assistance, so it's crucial to have reliable support options.
Look for a builder that offers multiple support channels such as phone, email, and live chat. Some builders also have community forums or knowledge bases where you can find answers to common questions. Make sure to check the hours of availability for each support channel, as some may only be available during certain times or days of the week.
Finally, consider if there are any additional fees for customer support. Some website platforms charge extra for premium support options, while others may include it in their pricing plans. It's important to understand the costs associated with customer support before deciding on a website builder.
The Hostinger Customer Success team offers 24/7 live chat support, so you can contact us with your concerns anytime.
Conclusion
Many website builder options are available for those looking to build a website easily. Each builder has its strengths and weaknesses, and choosing the best one will depend on your specific needs and preferences.
Some key factors to consider when selecting a website builder include ease of use, design flexibility, eCommerce features, mobile optimization, and SEO capabilities. It's also important to consider whether the pricing fits your budget.
Our final best website builders recommendations are:
Hostinger Website Builder – the best value for the price.
Shopify – best for eCommerce.
WordPress – best for advanced users.
Wix – best free website builder.
Webflow – best for design flexibility.
We hope you find the best website builder for you with the help of this article. Drop a comment below if you have any questions.
Best Website Builder FAQ
This section answers the most frequently asked questions about website builders.
How Does A Website Builder Work?
Website builders are platforms to build websites and customize them without needing to have coding skills. Users select a template, add content, and personalize the design using a visual interface. The site builder converts these choices into code, and the website is hosted on the platform's servers. Updates and changes can be made through the same interface.
Are Website Builders Worth It?
The value of a website builder depends on individual needs and goals. They are an excellent choice for those seeking an affordable and user-friendly way to create a website. Professional website builders provide templates and tools for customization without requiring coding or design skills. However, using a professional developer may be necessary for complex websites or unique features.
Is Creating a Website From Scratch Better Than Using a Website Builder?
Creating a website from scratch offers complete control for design and functionality but requires extensive technical skills, time, and resources. Using a website builder is more accessible and affordable, especially for individuals without coding expertise. Website builders offer templates and tools for customization, though the customization may be limited compared to building from scratch.
What's the Difference Between a Site Builder and Web Design Software?
Both site builders and web design software can build a website but differ in flexibility. Most website builders provide templates and a no-coding drag-and-drop tool for customization. On the other hand, software like Adobe Dreamweaver requires technical skills to develop custom designs and code websites from scratch. Site builders are more accessible, while web design software suits complex and unique designs.