20 Top Small Business Website Examples: From Clothing Stores to Restaurants
More than 80% of consumers look up a business online before making a purchase. Without an online presence, your business may lose potential customers and struggle to compete with competitors who have websites.
To help you make your own website, we have researched 20 of the best small business website examples to inspire you. These small business websites span various industries, such as fashion, home goods, health and wellness, food, and entertainment.
For each small business website example, we will briefly describe it and point out its best site design choices. In addition, we will list factors to keep in mind when creating a small business website.
We hope these small business websites can help you conceptualize and create your own website design. Let's begin.


20 Best Small Business Website Examples in 2023
The following are 20 top small business websites you can turn to for website ideas and inspiration. Each example features a different business type, giving you a sense of how to tailor your small business web design based on your target audience.
Based in Lithuania, La Petite Alice sells handmade linen clothes and accessories using a made-to-order system. Examples of the brand's products include kitchen and table linens, aprons, and clothes for men, women, and children.
The online store sports an earthy brown and beige color palette that aligns with the brand's commitment to slow living, growing alongside nature, and sustainability.
The homepage has clickable images and product sliders leading to different product pages. They do a great job of promoting items and enticing customers to purchase.
Movement LAB is a boutique fitness studio based in Vilnius, Lithuania. Emphasizing the effectiveness of training in small groups, it provides private and semi-private training sessions led by coaches specializing in various exercises.
This small business website example, hosted on Hostinger, shows all the important information on the homepage, so people don't have to navigate to other web pages to find them.
This information includes the address, the registration process and (call-to-actin) CTA button, pricing packages, coaches, and contact information.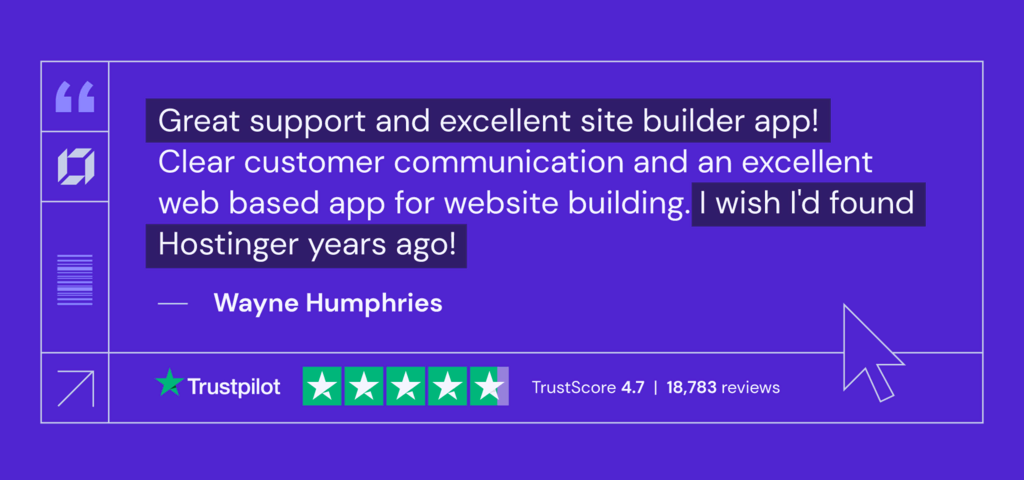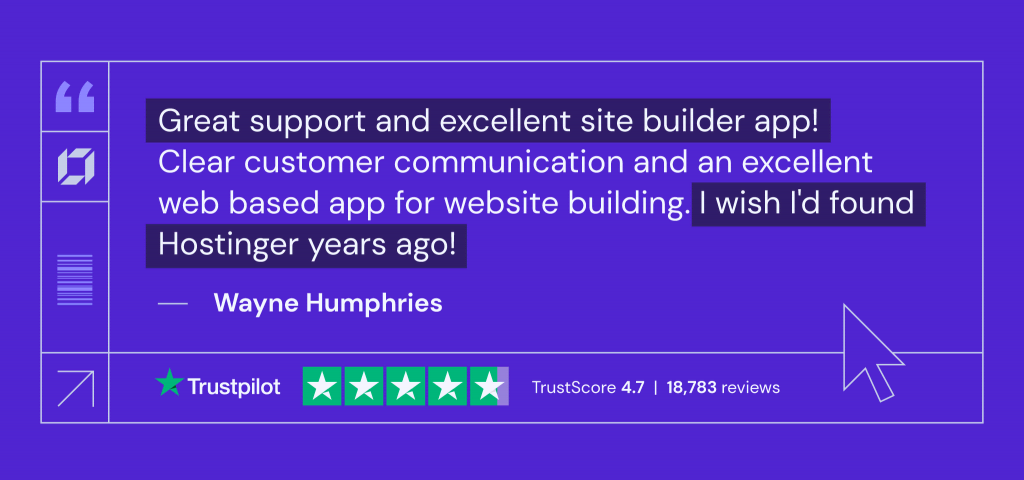 Founded during the COVID-19 lockdown in 2020, Little Karma Co. provides vegan, clean-burning, and environmentally friendly candles. Made of 100% natural wax, the handcrafted candles can be refilled and personalized.
This small business website example has strong branding. It uses various ways to promote its products on its homepage, like listing why people should love the brand and ways to personalize their candles.
Additionally, it displays quotes from the press and customer testimonials to increase brand credibility.
Sureshot Brewing is a Manchester-based brand that provides high-quality beer in small batches.
The homepage of this online store website displays a hero image featuring a glass of beer and the brand name in large white text. This creates a clean and minimalist design that showcases the main product.
Under the brand name, a CTA button leading to the shop page catches people's attention with its color-changing animation.
5. Beauty and Skincare Brand – SOLIDU
SOLIDU is a Lithuanian solid beauty product online store. These include items like shampoos, conditioners, soap, and body butter. Created out of love for the environment, the brand emphasizes eco-friendliness through low-waste products and compostable packaging.
The shop page of this eCommerce website has product photos that change when a cursor hovers over them. This allows site visitors to quickly see how the products look outside and inside the packaging without navigating to individual pages.
Based in Denmark, Ine Agresta is an Uruguayan artist, designer, and maker formally trained in fashion and textile design. She loves experimenting with different art types and bold colors and seeks to tell her life story through her works.
Agresta's website, hosted on Hostinger, serves as both a virtual portfolio and an online shop selling art pieces like soft sculptures, recycled paper art, ceramics, and prints.
The shop page features a drop-down menu, sorting items based on popularity, rating, price, or time posted. This useful feature helps customers quickly find items they are interested in.
If you want to learn more about this project, read a full customer spotlight story on Hostinger's blog.
Specializing in custom-made fetish furniture, BDSM Architecture is an online store offering products such as cages, benches, and restraints.
The small business website example has a full-screen video background that serves a dual purpose. It creates an immersive site-browsing experience while excellently demonstrating how to use its products.
The large white text overlaid on the video summarizes the business simply and concisely – making it clear to visitors what the brand is all about at first glance.
Based in the UK, Gate Foot Forge is the brainchild of Owen Phillips, an artist blacksmith and knifemaker. In addition to offering custom commissions, the business provides ironwork products and unique services like blacksmithing and knifemaking classes.
This small business website design features a sticky navigation bar that stays visible as potential clients scroll down, letting them visit other pages without scrolling up.
The homepage also shows a photo of Phillips along with a short description. This is great for boosting credibility, as many people love to learn about the person behind the business.
9. Off-Grid Power Store – Climbingvan
Two self-built camper van enthusiasts founded Climbingvan, which offers off-grid electrical system products. These include items like batteries, solar panels, and chargers.
The homepage of this beautiful website features product sliders with different categories, showing high-quality photos of products along with their price and stock status.
Product sliders allow people to quickly browse available items and see if the online store has what they need – all without going to other pages.
Simone Dicosta is a formally trained photographer specializing in architecture, commercial, and corporate photography. Some examples of his work include corporate headshots, exterior and interior design images, and product photos.
The professional website sports a minimalist layout with plenty of white space and a simple grayscale color scheme. These great web design choices let his colorful photos be the center of attention.
Dicosta's contact details are also immediately visible upon first accessing the site, so visitors don't have to scroll far down the homepage to figure out how to get in touch.
Created out of the need to fix the broken coffee industry, Progeny Coffee is a brand that strives to provide high-quality products and bring coffee farmers out of poverty. The company offers three main products – specialty whole bean coffees, single-serve coffees, and brewing gear.
This small business website is a great example of how to design a website centered around a story, like the company's mission of improving coffee farmers' prosperity.
The homepage reflects this mission consistently via the hero image, ad copy, and principles. A clear brand story that champions a noble cause helps build trust and invites people to support your business.
12. Subscription Service – Seamwork
Seamwork is a subscription service dedicated to helping people sew. Members can access monthly sewing patterns, sew-along classes, and a private community of over 20,000 sewists.
This small business website design example uses one of the best marketing strategies to sell online – offering free digital products. Examples include its free webinar, a sewing pattern, and a 2-minute quiz to help people discover their ideal areas to focus on when learning to sew.
Based in Richmond, Virginia, Finer Palate is a catering business providing high-end foods for private or corporate events. It offers various customizable menus for lunch, dinner, carving stations, hors d'oeuvres, and sides.
The homepage displays useful statistics that are great for marketing. For example, the number of catered events and years of experience help increase credibility. Meanwhile, the number of dishes to choose from emphasizes the large variety of foods the service offers.
Additionally, the site has a scroll-back-to-top button, helping people return to the top of the page without manually scrolling up.
Unladylike is a feminist lifestyle podcast hosted by Cristen Conger. It combines storytelling, fact-finding, and advice-giving while exploring topics surrounding womanhood.
The site background features past episodes' cover artworks arranged in a grid. It creates a bright and lively color scheme while showcasing the wide range of topics Conger has covered.
The homepage also features an audio player with over 200 podcast episodes. Therefore, visitors don't have to access other sites or platforms to start listening to the podcast.
The Boston Tattoo Company has worked on tattoos and piercings in the Boston area since 2004. It has two studio locations with over a dozen artists and piercers.
This small business website design example combines bold fonts, a full-screen video background, and parallax scrolling to create an immersive, dynamic, and aesthetically pleasing website.
It embedded its Instagram feed into the homepage to showcase the best of its tattoos. This is a great choice for small businesses that rely on visual-heavy marketing strategies.
Bar Kismet is a family-owned and operated restaurant and bar located in Halifax, Canada. It serves cocktails, wine, fresh seafood, and handmade pasta.
This small business website example facilitates quick and easy table bookings via a window that pops up when people click Reservations.
Customers can simply adjust the date and guest number on the window's drop-down menus and select their desired time slot. The window also shows the restaurant's contact information and physical location.
17. Home Designer – Truoba
Made up of a team of architects and house designers, Truoba is an online business providing house design services.
The small business website design has a sticky navigation menu, so the top bar stays with visitors when they scroll down, letting them easily visit other pages.
Its homepage also lists its house plans categorized by popularity, collection, and size. All the house plans have clickable items to help customers reach product pages easily and facilitate quick purchases.
18. Cleaning Service – Cleanadora
Based in Cambridge, Massachusetts, Cleanadora is a house and commercial property cleaning service aiming to free families and businesses from tiring chores. The cleaning crew is insured and bonded and uses the best cleaning equipment, including hospital-grade disinfectants and HEPA filtrations.
Its homepage design features a full-screen slider showing images of clean houses paired with customer testimonials to help establish credibility.
Important information like the company's address, telephone number, and operational hours are immediately visible at the top of the page. New customers don't have to search all over the site to find them.
Based in Brooklyn, Gone to the Dogs offers limited-run pet goods that are handcrafted, eco-friendly, and ethically made by artisans.
The small business website design features photos of various products with their names and prices right on the homepage for easy catalog browsing.
Its shop page has useful drop-down menus filtering items by type and sorting them by popularity, price, date, and alphabetical order. This makes it easy for people to find their desired products.
20. Musical Instrument Store – Music Villa
Located in Montana, Music Villa is a musical instrument store mainly focusing on acoustic, electric, and bass guitars. The business carries guitars from popular manufacturers like Gibson, Taylor, Martin, Collings, Fender, and PRS.
The eCommerce site homepage uses catchy and punchy headings like Just Arrived and Must See Arrivals to draw people's attention to their newest and best products.
This business also creates videos to market its products, from educational clips to short skits. Creating content that offers great value or entertainment fosters trust and fondness for the brand.
What Makes a Great Small Business Website
The following are the most important factors that make good small business websites:
Responsive design. A responsive or mobile-friendly website renders well on all screens, including mobile devices like tablets or phones. These sites also rank higher on search engine results pages, driving more organic traffic.
Relevant domain name. Find a reliable domain registrar and buy a custom domain that is the same as your business name. You can also purchase close alternatives to your domain name to ensure they also lead to your website.
Search engine optimization (SEO). Understanding SEO is an integral part of learning how to sell online, as it affects site traffic and brand visibility. The best SEO practices help your website rank high on search engine results pages. These strategies include researching and incorporating keywords and writing image alt text.
Fast website load time. The probability of people leaving a website increases the longer it takes to load. Some tips to improve site load time include finding the right web hosting and using a CDN.
Clutter-free and user-friendly design. One of the most important web design best practices is to avoid crowding the site with too many elements. Include only essential information, avoid a flashy color palette, and provide intuitive navigation.
Visible contact details. Display your contact information above the fold. This is especially important for small businesses that rely on customers making appointments.
Accurate information. Before publishing new content or updates, proofread them for accuracy and quality. Avoid grammatical errors, replace outdated data, and cite credible sources.
CTA buttons. These buttons are one of the essential design elements of a business website. The best business websites have strategically placed CTA buttons to encourage site visitors to buy a product or sign up for a newsletter.
About section. This tells the visitors of your small business website all about what your company does and the people behind it. We recommend including photos of you or your team.
When you're ready, turn your small business website concept into reality using a flexible CMS or a user-friendly website builder.


Conclusion
Regardless of the industry, having a website is essential for a small business as it may increase exposure, sales, and credibility. However, it can be difficult to figure out where to start.
In addition to researching the best site-building tools and resources, looking at various small business websites can help you learn how to make a website.
If you still struggle to pick design examples to learn from after looking at our list, the following are our final recommendations of the best small business websites:
Movement LAB – shows all essential information on one page so potential customers don't have to search all over the website.
Little Karma Co. – exudes a strong brand voice by using various ways to promote the brand and its products on the homepage.
Progeny Coffee – uses story-driven branding that is visible in all aspects of its web design and marketing materials.
Boston Tattoo Company – utilizes a full-screen video background and a parallax scrolling effect to impress potential clients and immerse them in its website design.
Music Villa – captivates people's attention, enhances business credibility, and fosters brand loyalty and fondness through its unique video-focused content marketing strategy.
Whatever small business you choose to start, remember that setting up an online store or a good business website can greatly increase your chances of success. Good luck.
Small Business Website Examples FAQ
This section answers the most commonly asked questions surrounding how to make a small business website.