You might have dreamed about having an online drop shipping business. But you don't know exactly where to start. Worry no more, because this article will explain all of the details to you. Let's start the journey!
What is a Drop Shipping Business?
Firstly, we will tell you about the definition of drop shipping.
In short, it is a type of business model where you'll be able to sell products without owning the physical product. So, the supplier of the product will send it directly to the customer after a transaction occurs.
So, how will you manage to make a profit? You can do it by setting markup on your pricing. Which means that you have to put a higher price than the one provided by the supplier.
Therefore, the mechanism of drop shipping goes like this:
The customer buys the product from the retailer (drop shipper)
The retailer orders the product to the supplier
The supplier sends the product to the customer
Despite its popularity, drop shipping business does have some advantages and disadvantages which have to be considered. Here are the things that you have to know before plunging into the drop shipping world.
Advantages
In this list, we will show you some of the factors which makes the drop shipping business becomes so appealing:
Starting is easy – unlike other businesses which oblige you to follow some complex procedures and have some particular resources. Building an online drop shipping business only requires you to have a laptop and a stable internet connection.
Low risk – the only cost that you have to consider is one of the product you will offer to the customer.
Low overhead cost –  since you don't have to think about inventory costs nor you have to hire employees to take care of it. Your overhead cost will be much lower than you think.
Sell various products – as a drop shipper, you can choose to sell your products from more than one supplier. This means you can be creative about what kinds of products which you want to offer to your customers.
Convenience – since you conduct business via laptop, you work anywhere you want.
Disadvantages
Although the business sounds unbelievably promising, there are some things that you have to anticipate before you get into the drop shipping business:
Fierce competition – there are a lot of people who take part in the drop shipping business, so you'll have to work hard to stand out.
Low-profit margins – since you are facing a lot of vendors in the competition, there would possibly be a price war. Which means you have to set your price as low as possible to make your offers much more compelling. But this can be prevented if you manage to find a low-competition niche product to sell.
Supplier issues – if you choose a bad supplier, then you will set yourself for failure. Because a bad supplier can ruin your reputation with shipping errors, bad packing, and long responses. However, the fault is beyond your control.
Hard to manage inventory – you have to frequently keep track of the inventory of your supplier in order to align it with the number of available stocks in your store.
Customer service – you are the one who is directly connected with the customer. So if there's any problem, you have to patiently listen to the complaints.
How to Start a Drop Shipping Business?
So, you already know about the fundamentals of the drop shipping business. Now we will tell you what you should do in order to build one.
We will guide you from looking for product ideas to marketing your drop shipping store. Here are the steps:
1. Generate Drop Shipping Business Idea
You need to know what you want to sell before you go into the market. Because it would be a bad idea to choose the products only by your own will.
At first, identify who you are trying to serve. Find out what their problems are, and choose a product which can solve them. Therefore, your products will be regarded as valuable by your customers.
Above all, the product has to be valuable to both the buyer and the seller. That's why you also have to check whether the product that you want to offer is profitable and the industry has good prospects in the future.
With Google trends, you can check whether your chosen products are trending or not.

If you are sure about choosing a specific niche, the next step is to find the right supplier.
You have to compare the supplier candidates in terms of credibility, trade policies, and the quality of products that they are offering.
Make sure that the supplier will not hurt your business in the long term. What is more, you have to convince the supplier that you will be a great partner. In other words, the relationship has to be mutually profitable.
After all, here are some questions that you have to look up to before choosing the product:
How popular is the product niche?
What kind of suppliers that you want to work with?
What region you will be selling to?
Answering those questions will help you to find the right product for your business.
2. Get a Domain Name
Knowing what products to sell is one thing, but getting your customers to find out about your products is another.
That's why we have to make sure that the customers know where to go when they want to buy our product.
After all, every store needs an address. Similarly, an online business also needs an address in the form of a domain name.
The thing is, you have to make your domain as memorable as possible and make it relevant to your targeted customers. Because that's what your customers going to type whenever they need your products.
You might already have some ideas about the domain name. But, is it available?
Don't worry, because you can check the availability of your domain name in Hostinger's domain checker.

Just type in your domain name to see if it's available or not. Aside from giving you information regarding the availability, it will also suggest other related domain names.
3. Build An Online Store
So, you already got your own address, but how about building the store?
Building an online store can be accomplished by using WordPress. For this reason, the first step is installing it.
To make your life easy, use the WordPress auto installer on Hostinger. It will automatically set up and install WordPress into your website.
After you have successfully made your WordPress site up and running, you can start installing the Woocommerce plugin. It will allow you to create an online store within your website.

Lastly, after finishing the WordPress and Woocommerce installation, you are ready to complete your website by adding the products and designing your online store.
4. Decide on the Details
Adding products to your online store can be tricky. Because there are some things that you have to consider, such as:
Shipping Costs
You have to consider what kind of shipping rate that will be charged to your customers. Sometimes customers examine the shipping costs first before making a purchase. In the meantime, there are three kinds of shipping rates that you can choose:
Per type rates – this rate will categorize the cost based on the size of the products. This means that smaller product can get a smaller cost than the bigger product.
Real-time rates – this option is more flexible. Because the cost will be based on the product's weight and destination. Hence, the shipping cost between products may differ.
Flat rate shipping – a flat rate is one of the easiest rates to apply. Because it only charges a fixed price for all kinds of shipment.
Taxes
If you live in a state where it obliges you to pay for the sales tax, you have to find out how much the taxes will be. Then, you have to adjust the cost with the total spending the customers must pay per product.
For this task, it's always best to consult with a tax expert.
Payment Methods
The payment method will affect your customer's shopping experience. The more convenient the method, the happier your customers will be.
You can also harness the popularity of a particular payment method to gain customer's attention. Moreover, you will also need to confirm that the payment method is offering a low transaction fee.
5. Market Your Store
On this stage, you should think about promoting your drop shipping business. You could use some digital marketing practices to expose your business out to the world.
Hence, these are some digital marketing methods that you can use to your online drop shipping store:
SEO
People are constantly searching on the internet, and if you are making use of search advertising, it will surely give you an advantage.
One of the most popular methods of search advertising is search engine optimization (SEO). It is a way to make your website rank higher in the search engine results page.
To manage the SEO performance of your website, you need to do some research about how the search engine works.
If you implement the SEO well, you can gain more exposure by gradually increasing your website's rank.
Paid Ads (PPC)
There is another way to place your website on the top of the search engine results page that is called search engine marketing (SEM). It can be used as one of your digital marketing strategies.
Basically, you purchase an ad spot on the search engine, then you need to bid a keyword into your campaign. The success of your bid depends on the relevance of your keyword with the ads, and the value of your bid.
To manage all of this, you can use Google Adwords.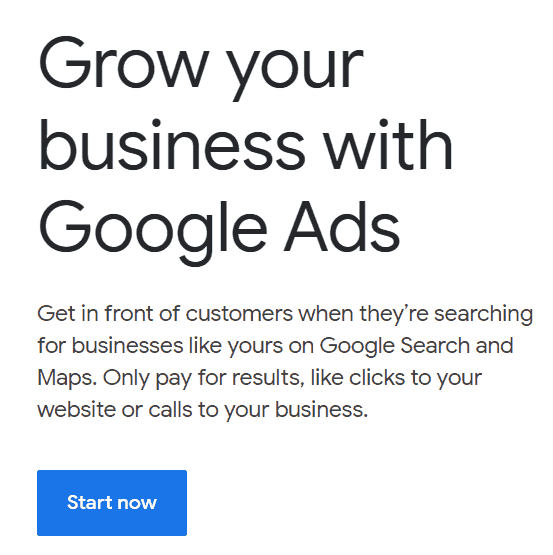 Unlike SEO, this method will cost you some money. Because as the name implies, the ads need to be paid as per how much it gets clicked on. The more it gets clicked, the more you have to pay.
But, in exchange, your drop shipping online store can get a lot of exposure from the secured ad spot.
Another PPC option lies with social media. You can order paid ads on Facebook or Instagram, target them to a specific demographic and have them point people to your dropshipping business.
Email Marketing
You can prevent losing customers by keeping them in touch with you via Email Marketing. At this point, you are probably wondering how this method could actually work.
The first step of email marketing is an email list. You can do this by offering free goods, discounts and other attractive deals.
From there, you build an email marketing campaign. Send out newsletters, special offers, triggered emails and so on. This strategy will help you to maintain a close relationship with your customers.
Conclusion
You have to consider the advantages and disadvantages before you hop into the drop shipping business bandwagon. However, if you're willing to put in the work – you'll surely be successful.
In this article, you have learned some steps to build your own drop shipping business, let's quickly recap:
Generate drop shipping business ideas
Get a domain name
Build an online store
Decide on the details
Market your store
That's it! Good luck on building your own successful drop shipping business!