Top 20 Website Design Templates for Hostinger Website Builder
Most website builder templates are tailored to fit a specific website type while being responsive and feature-rich from the get-go.
However, choosing the right template for your business can be daunting, especially if you don't know how to design a website from scratch.
That's why we've tested various Hostinger Website Builder web designs and shortlisted our favorite ones. To help you decide which one to use for your project, we've separated them into four categories based on purpose and functionality.
Download Website Launch Checklist
Top 5 Website Design Templates for eCommerce
An intuitive and attractive website helps you sell your products more effectively and grow your online business.
Beyond page designs, there are some essential features that most eCommerce websites benefit from – like the Shopping Bag menu element, image galleries, and a payment gateway.
Let's look at our five top picks to help you choose the right eCommerce template for your store.
1. Tangier
Tangier is one of the most popular eCommerce templates on Hostinger Website Builder. Combining the K2D font type and rounded square buttons gives the template design an active and casual feel overall.
The color palette mainly uses black and white with a little bit of light green for some CTA buttons. Consider using bright-colored and high-quality pictures to get the most out of this layout.
Tangier has five types of pages: a homepage, a product overview page, individual product pages, an about page, and a contact page. The homepage layout is perfect for showcasing general product information and customer testimonials, and the wide hero section catches the user's attention easily.
This template is fully responsive, meaning all pages work well on desktops and mobile devices.


2. Niqvist
Niqvist is a perfect template for artists or bands who want to promote and sell their art through one platform. The homepage includes unique sections showcasing discography and tour schedules you can't find in traditional eCommerce website designs.
The template features a unique product page layout for music albums with buttons you can link to popular music streaming services. Niqvist also has essential eCommerce functionality, making selling physical products like merchandise or vinyl records easy.
By default, Niqvist uses a simple color palette that includes shades of black and grey along with punchier colors like red for some buttons. Combined with Sans Serif fonts like Red Hat Display and Roboto, this template is perfect for a simple and modern-looking website.
3. Shom
Shom is a template specifically designed for gamers and streamers, showcasing a stunning darker color palette and a futuristic typeface. This website template has all essential eCommerce features, like user-friendly product page layouts and a shopping bag side panel.
What makes Shom unique are the Team and Stream pages. The Team page works like an about us section where you can showcase your esports team members and link to their social media accounts.
If you are a solo streamer, you can customize this page as a profile page for yourself.
The Stream page makes it easy to inform the audience about your streaming schedule or upcoming events you will be attending.
4. Marlow
Marlow is a simple, professional-looking one-page store template focusing on a streamlined online shopping experience. The template only has a homepage and individual product pages by default.
The homepage layout displays the products immediately under the hero section instead of having a separate page for the storefront. This minimizes the need for CTA buttons on the homepage and lets visitors browse products with a single scroll.
Since you can include additional information like phone numbers, physical addresses, and social links in the footer, you won't have to add additional pages to your design. This makes Marlow a great choice for a small business with limited product variation.
Marlow uses DM Serif Display for its headings. Like most Serif typefaces, this font has an air of professionalism and authority throughout the design.
Because of this, Marlow is perfect if you run a business that sells printed media like books, newspapers, or magazines.
5. Torin
If you are looking for modern and clean web layouts, consider choosing Torin for your online store. This template uses the light Arsenal and Montserrat fonts and a grey color palette to create a minimalist eCommerce web design.
Torin is a great template for a business that wants to project a modern, sleek, and stylish look online. The template's pages use familiar layouts to help visitors navigate the store and find products more easily.
We recommend using pictures with limited color schemes, especially on the homepage, to maintain the sophisticated style of this template.
Top 5 Website Design Templates for Online Portfolio
A good-looking online portfolio can increase your chances of attracting clients and landing new gigs. With a modern and professional aesthetic, our top five designs are all about giving your site a polished finish.
6. Dexter
Dexter is all about hooking visitors by using a strong tagline in the template's hero section. Thanks to the simple solid color of the design, the homepage focuses on the text the moment visitors land on the page.
This online portfolio template includes essential elements like a short profile, a list of projects, and a form on the main homepage, effortlessly showcasing your skills and work to the readers.
The Projects page's layout allows you to describe your past work effectively. The design features space for a short description of the project details and a three-picture gallery.
Since the template is fully customizable, you can add more text or embed videos to your project pages, to better showcase your skills and expertise.
Dexter is a good choice for those who prefer simplicity and straightforwardness in their online branding.
7. Adelina
Adelina is a visual-heavy template perfect for designers and illustrators. It uses a single-page layout that lets potential clients explore your content intuitively.
This template features a unique typeface and animations to highlight a playful and casual look for your personal brand.
Adelina's design focuses on informing visitors about your professional skills and experience through continuous scrolling. Acting as a one-page layout, this template includes a gallery, a short profile, a list of skills, and a contact form on the main homepage.
You can easily edit this template into a multiple-page layout by adding navigation menus and additional pages in the website editor.
Consider showcasing customer feedback using the Testimonials feature to add social proof to your website and increase the chance of landing more clients.
8. Linas
Linas uses magazine-like layouts that highlight pictures, combining the picture-heavy design with a clean Sans Serif typeface. This is a great template for fashion photographers who want to drive visitors' focus to the images.
Users can showcase their work on the homepage and link each project to a dedicated page for more details. Linas works well with a complementary color palette like blue and yellow to create a strong visual contrast and make the website look more vibrant and dynamic.
This website design includes a contact page, an about page, a list of previous customers, and individual pages for different projects. This template is easily customizable, too, in case you want to create additional pages or change up the layouts for different page sections.
9. Noble
Noble has a unique way of presenting its content using large and bold fonts that easily grab the audience's attention when they land on the page. The striking typography and imagery are balanced with a monochromatic color scheme and plenty of white space to improve readability.
This bold design approach is great for people or brands who want to build an explorative and daring brand image.
Thanks to Noble's responsive layout, the design automatically adjusts itself for mobile devices. This way, you don't have to worry about your pages looking jarring on a smaller screen.
10. Kofi
Kofi is a minimalistic yet elegant website design with simple typography, navigation, and a layout that focuses on the pictures. This makes Kofi a good choice to showcase artwork, photos, or any visual work.
The pages are clean and uncluttered, which makes them easy to navigate. The design has a neutral color scheme to avoid distracting visitors from the artwork.
Kofi combines Serif font for headings and Sans Serif for the paragraph, creating a sense of elegance while maintaining readability.
Top 5 Website Design Templates for Blogs
Hostinger Website Builder also offers numerous web design templates that let you create a good blogging site for personal or business purposes. Each theme helps you make your content stand out and remain easily readable.
Let's take a look at our top five blogging themes on Hostinger Website Builder.
11. Kodah
Kodah is an excellent template for a plain and simple-looking personal blog. It has a straightforward site design template that boosts readability and drives focus to your content.
With plenty of white space, Kodah looks uncluttered and easy to navigate. The theme uses a monochromatic color scheme with no distracting elements, allowing your audience to become immersed in your content.
Kodah uses a grid layout to display blog posts, making your site easier to explore. Additionally, the built-in newsletter subscription form on the footer can help you better connect with your audience and gather leads for marketing campaigns.
12. Good News
One of the most important elements of a news publication site is the ability to make its content discoverable. The Good News template has this quality and is recommended for a blogging website.
Good News makes it easy to arrange your blog post with its premade post categories. Since you can customize them according to your needs, website visitors will have an easier time browsing your content.
Users can navigate to a specific category by clicking the menu buttons in the hero section. Alternatively, they can browse your content by scrolling down the homepage.
The blog page is intuitive and uncluttered, letting you provide the best reading experience for your audiences.
13. Elisha
Elisha is a good choice for a personal blog. The homepage displays a clear CTA on its header that leads visitors directly to your posts.
Below the hero section, you can briefly describe yourself and what your content is all about. The homepage uses a unique layout with large fonts to grab readers' attention and create a more casual browsing experience.
Elisha uses lighter and pastel colors, suitable for creating a gentle and inviting atmosphere. Websites that focus on topics like parenting, fashion, or self-care can benefit from this type of site design.
14. Thos
Culinary blogs are popular among foodies and casual readers alike, making Thos a good choice if you are looking to create a food blog. The predominantly white color palette, accented with some light browns, makes this template look calm and easy to approach.
In addition to that, the layout drives audiences' focus to the food pictures and makes your articles more visually appealing.
The homepage showcases your published articles, making navigation a breeze. Thos also include a subscription form on its footer to encourage readers to subscribe to your newsletter.
15. Manpreet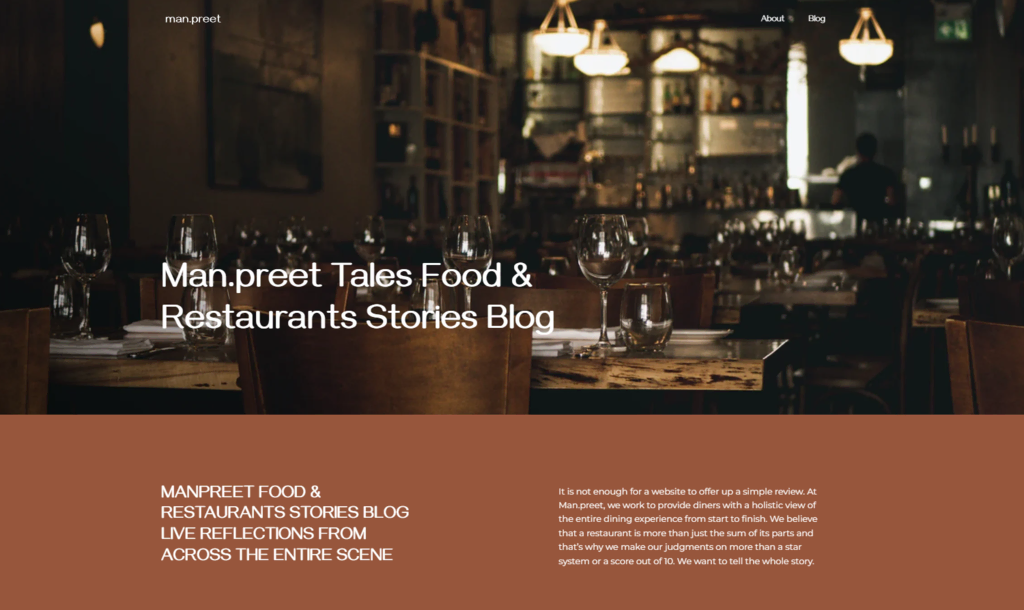 If you want to deliver a professional and luxurious browsing experience on your blogging website, consider opting for Manpreet. Combining its warmer color palette with darker pictures also creates a sense of exclusivity and sophistication.
This theme works well with niches like luxury restaurant reviews and wine tasting. Additionally, Manpreet uses the clean-looking Sans Serif typeface to balance out the relatively strong background color palette.
The layout is simple, making your website look stunning while being easy to navigate. Manpreet also has an in-built newsletter subscription form, making it easy to start collecting marketing leads.
Top 5 Website Design Templates for Landing Pages
Having a well-designed landing page can be highly beneficial if you want to convert visitors into leads or sales. Here are the five best landing page designs that can help improve your campaign performance.
16. Blick
Blick has all the necessary qualities of a good landing page. It features a vibrant color palette and a clear hero section to attract visitors' attention the moment they land on the page.
The CTA buttons use contrasting colors, allowing them to stand out while still maintaining a coherent style throughout the design.
You can add more information about your product or service further down the page to make your offer more compelling. Additionally, Blick comes with a client testimonial section to help build trust with potential customers.
The combination of bold colors like purple, pink, and black and the Sans Serif typeface helps convey a sense of creativity and sophistication, popular among tech brands.
17. Kirkwood
Kirkwood lets users create an attractive and professional-looking pre-launch landing page. The design is simple, with a clear heading, a brief message, and a subscription form for visitors who want to get more info about your upcoming site or product.
Most of the elements are placed toward the bottom of the page, enabling you to draw more attention to the background image.
For the best results, we recommend choosing a high-quality and representative picture as your landing page background to communicate what your business or personal site offers.
18. Ramus
A link tree landing page like Ramus is a popular layout for those who want to share multiple links with their audiences through a single landing page. This theme features a list of buttons that link to various resources and pages.
This type of landing page works well to complement platforms like Instagram, where only a single link is allowed on your profile bio.
Ramus lets you create a link tree landing page quickly since you only need to make minimal adjustments before publishing your site. Users can customize the header and tagline to describe what they do or what they have to offer. Adding or reducing the number of buttons on the page is also fast and easy.
19. Eren
Eren is a good choice for photographers and visual artists who want to showcase their works on a single landing page. This one-page website features a clear header section, a short paragraph block, and a CTA button above the fold to encourage visitors to take the desired action.
This theme's calm and simple color palette lets you draw more attention to the strategically-placed picture gallery, ideal for displaying your portfolio or product offerings. Additionally, Eren also includes a footer where you can put links to your social media accounts.
20. Mischa
Mischa makes setting up a landing page for events like marathons and concerts an absolute breeze.
The layout lets you share important event details like dates, venues, and ticket prices in a simple and intuitive way. This template also includes clear call-to-action buttons to encourage people to book tickets or register their interest in your event.
Additionally, you can showcase your event better with high-quality images using the gallery feature.
What to Look For in a Website Design Template
You should know what to look for in impactful web design before choosing the right design for your site. The most popular design templates have certain things in common, including:
Responsiveness – almost 60% of all web traffic worldwide comes from mobile devices. That's why having a responsive and mobile-friendly web design is essential.
Design and layout – look for a theme that suits your brand and the type of website you want to create. Consider the template's visual appeal, color scheme, and overall layout.
Features – make sure that the design of your choice includes the necessary features your website will need. This may include image galleries, forms, or eCommerce functionality.
Customization options – to create a website based on your needs, check that your chosen design lets you customize design features like colors, fonts, or page layouts.
User experience – all design elements on your pages are intended to provide a positive user experience for visitors. Good web design makes site navigation easier and highlights important elements.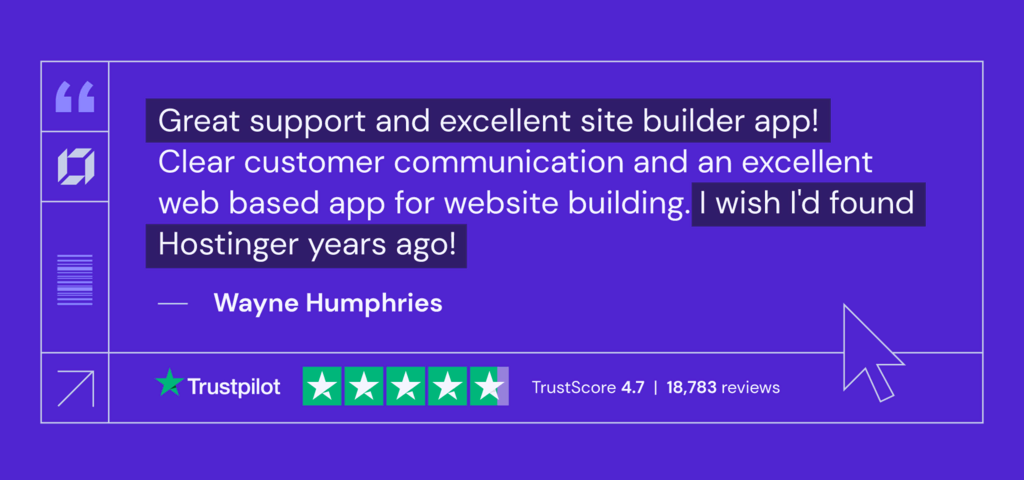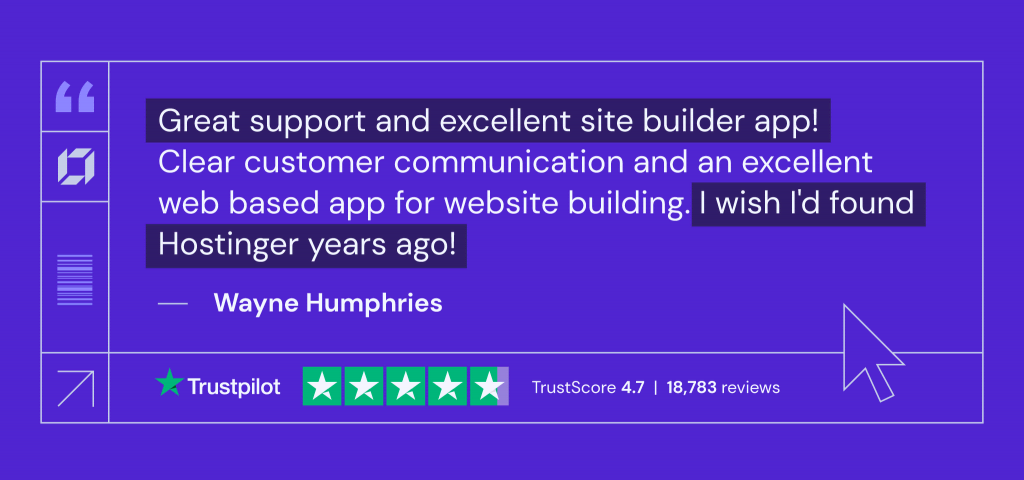 Conclusion
Attractive design and intuitive layouts are important to deliver the best user experience for your site visitors. Hostinger Website Builder provides numerous ready-to-use designs that make creating a good-looking website easy.
We've compiled 20 best free design templates to help you choose the right look for you. Our favorites can be categorized as follows:
eCommerce: Tangier, Niqvist, Shom, Marlow, Torin
Portfolio: Dexter, Adelina, Linas, Noble, Kofi
Blogging: Kodah, Good News, Elisha, Thos, Manpreet
Landing pages: Blick, Kirkwood, Ramus, Eren, Mischa
Each design is responsive, works on all popular browsers, and is highly customizable, meaning you can change the colors, fonts, and other elements to fit your preferences.
Combined with AI tools for website, Hostinger Website Builder makes designing and building an online brand simple and effortless.
We hope this article can help you choose the perfect website design template for your needs. Remember to be creative and use your own unique style to create something that truly reflects who you are and what your business stands for.