What Is a Website Builder, How Does It Work, and How to Choose the Right One in 2024
In the age of mobile shopping and social media, a strong online presence is crucial for success, whether for personal branding, small businesses, or multinational corporations. This is where website builders come into play.
This article will guide you through the ins and outs of website builders, how they work, their pros and cons, and how to select the right one for your needs.
Download Website Launch Checklist
What Is a Website Builder?
A website builder is an online tool designed to help individuals and businesses create their own websites without the need for extensive coding knowledge. It's an all-in-one package that makes launching a website straightforward, efficient, and budget-friendly.
How Does a Website Builder Work
Website builders work by providing pre-made templates and intuitive drag-and-drop interfaces, which make the site creation process less complex, especially for beginners. They also provide tools for customizing the look and feel of your site, from color schemes to typography.
This eliminates the need for technical skills in website design best practices and development, making it possible for anyone to create a professional website.
Typically, most website builders come with multiple features, including search engine optimization (SEO) tools, mobile responsiveness, and third-party integration.
With these features, users can enhance their website's visibility on search engines, improve user experience, and effectively engage with their audience.
One key aspect of website builders is their emphasis on responsive design. As internet usage trends shift towards mobile, a website's mobile optimization can greatly impact its performance and rankings.
Most website builders automatically ensure your website is mobile-responsive, meaning it adjusts to fit any screen size.
Different Types of Website Builders
Website builders come in various forms, each with its unique advantages and considerations. Template-based, drag-and-drop, and CMS-based website builders are the three most common types. Additionally, website builders can be broadly categorized as either online or offline.
Template-Based Website Builders
Template-based site makers are popular, particularly for those wanting to create a professional website without starting from scratch. These builders provide a range of pre-designed templates.
Each is created to cater to different website types – blogs, portfolios, eCommerce stores, and more.
You simply select a template you like, then replace the placeholder content with your own. You can often tweak certain design elements, such as fonts and colors, but the overall structure of the template remains fixed.
Drag-and-Drop Website Builders
Drag-and-drop site builders offer a higher degree of flexibility compared to their template-based counterparts. They feature a user-friendly interface where you can choose from a range of pre-made elements like text boxes, images, and contact forms.
Users can drag and drop these elements using the website creator to place them on the web page and make further customizations such as resizing and repositioning.
This approach lets you build a website exactly as you envision it, with no coding required. It's ideal for those who want to have creative control over their site's look and feel.
Content Management System-Based Website Builders
Website builders based on content management systems (CMS) provide the most flexibility and scalability. Platforms like WordPress let you build a site using a WYSIWYG (What You See Is What You Get) builder or edit the site's code directly.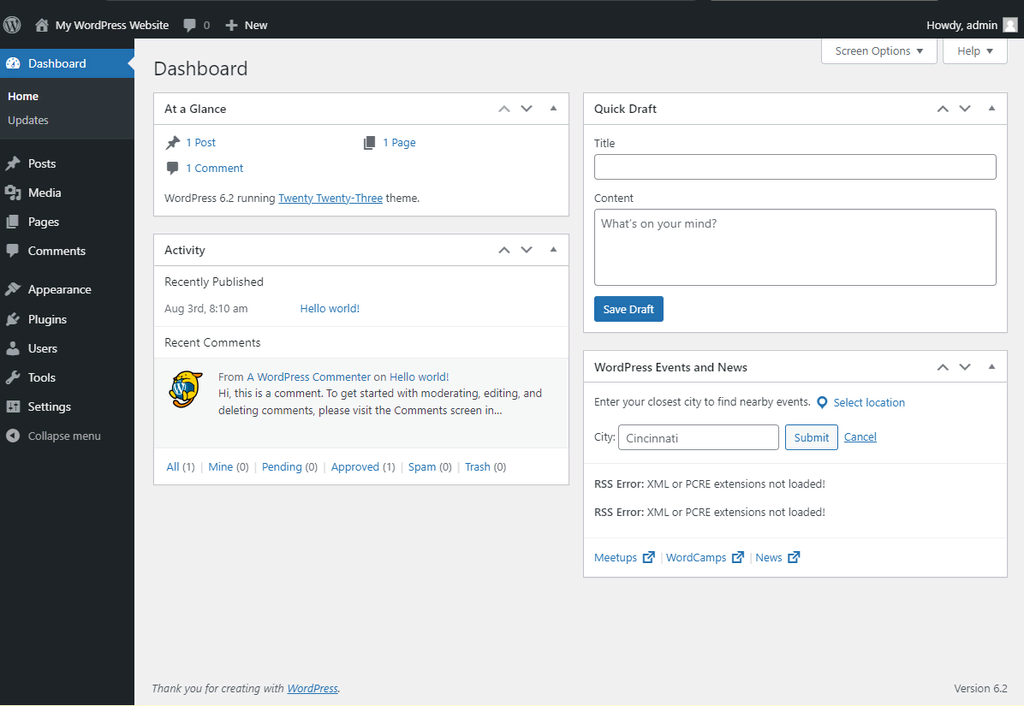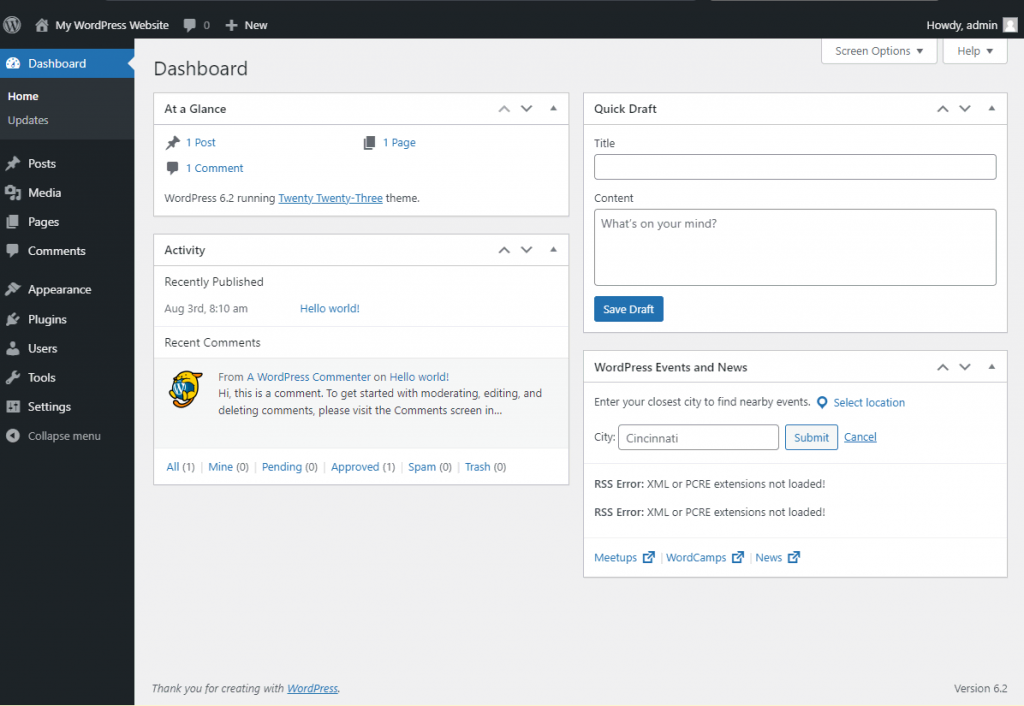 This allows you to build virtually any kind of website and add a wide range of features, from eCommerce functionality to forums, membership areas, and more.
CMS-based builders do have a steeper learning curve, but they're a great choice for those who want a website that can grow with their needs.
Online vs Offline Website Builders
Website builders can also be classified as online or offline based on how they are accessed and used.
Online website builders are web-based applications that run in your web browser. This means you don't need to download or install any software on your computer to use them – all you need is an internet connection. The main selling point of an online website builder is its intuitiveness. Users will get a variety of templates and customization options that will help them easily create a good website.
Online builders are generally subscription-based and include web hosting services in the cost. This type of builder is ideal for beginners and those who want to be able to work on their website from anywhere.
Some popular online website builders include Hostinger Website Builder, Wix, and Squarespace.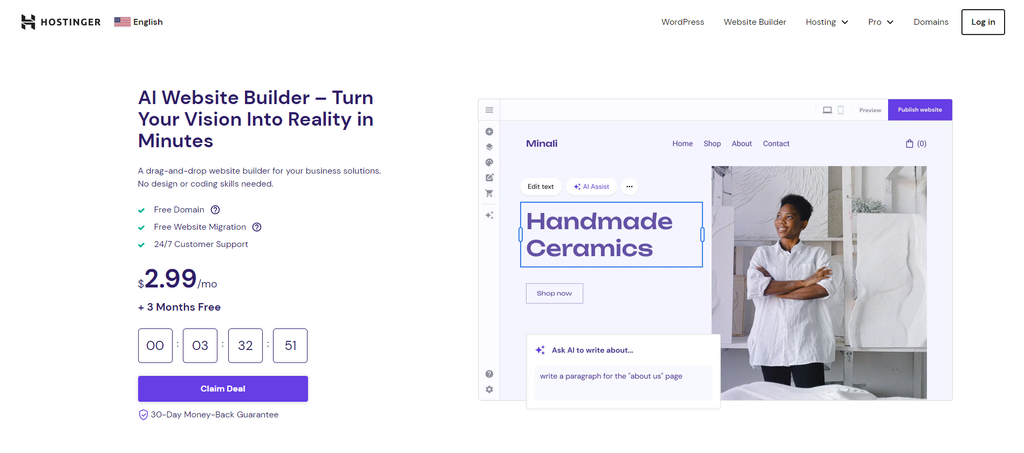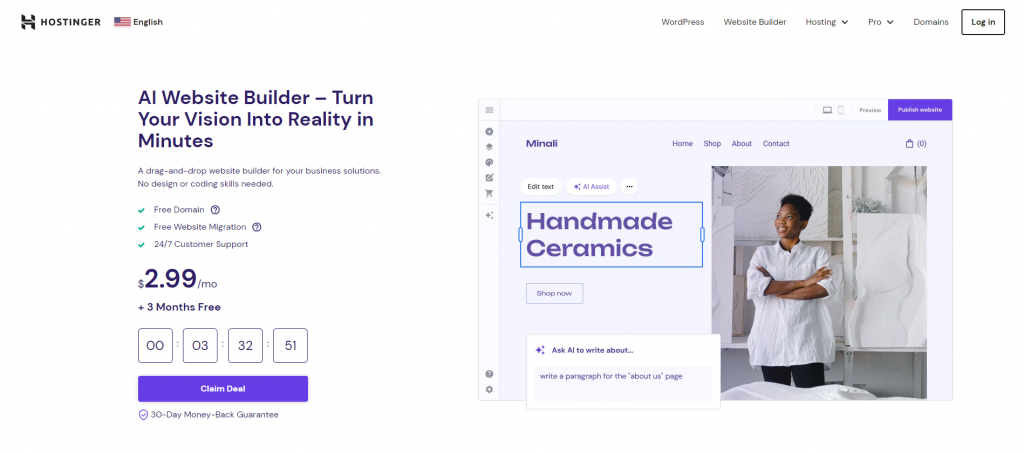 In comparison, offline website builders work like downloadable software programs you must install on your computer.
You can build the site locally on your device without an internet connection, then upload the finished site to a web hosting provider. Offline builders offer more reliability; you don't have to worry about your internet connection during the building process.
If you are an experienced web developer or designer who wants full control over every aspect of your site and prefers to work offline, this can be a great option. However, using an offline site builder can be a bit more complicated, as you'll need to find a web host and manually upload your files.
Some popular offline site builders include Figma, Dreamweaver, and Mobirise.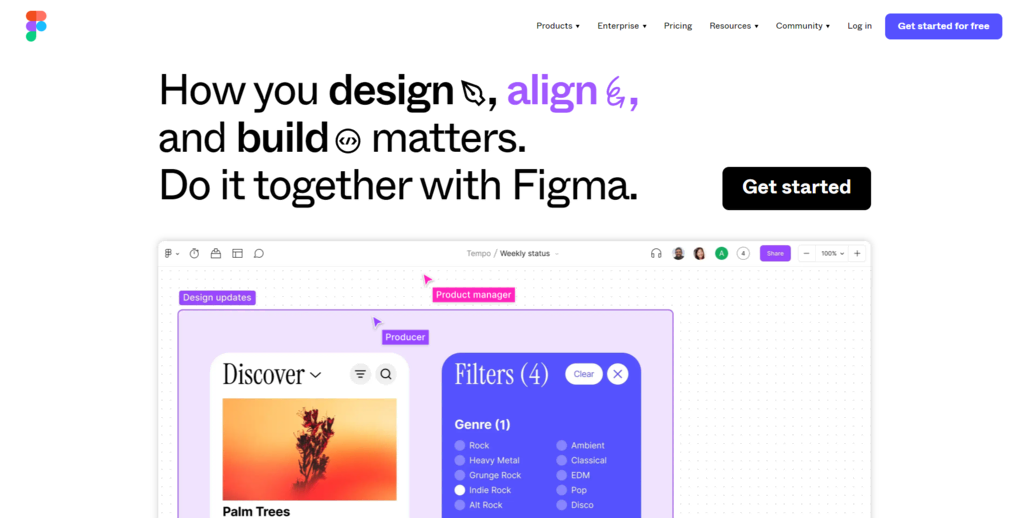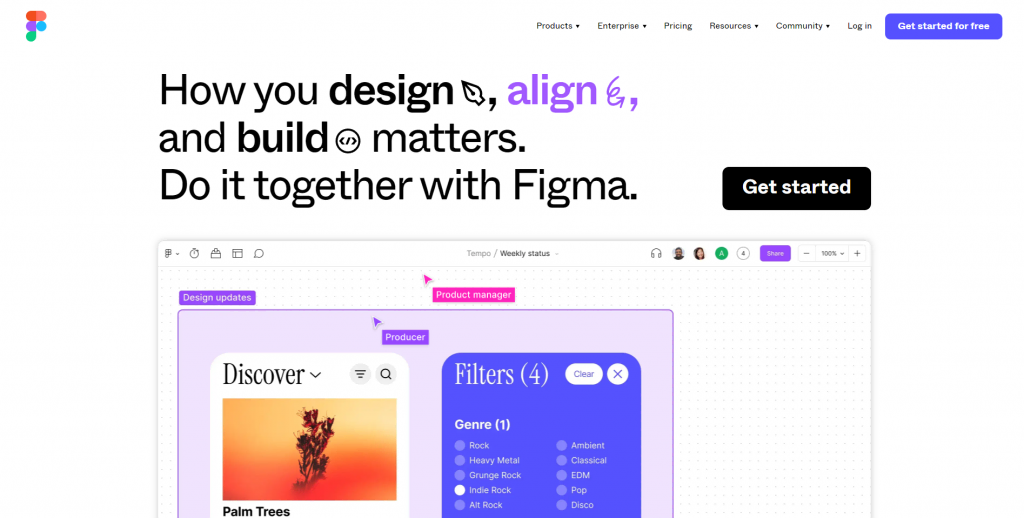 The type of web builder you choose should depend on your needs, technical comfort level, and the specific features you're looking for. Each type has its strengths and weaknesses, so consider your needs carefully before deciding.
Website Builder Pros and Cons
While website builders can be an excellent tool for easily creating professional-looking websites, it's important to understand their advantages and drawbacks to make an informed decision.
Website Builder Pros
Website builders offer several significant benefits, including:
Ease of Use
The primary attraction of website builders is their ease of use. The best website builders are the ones that let anyone create a website, even with minimal technical expertise.
Most website builders feature a drag-and-drop interface where you can easily select elements like text boxes, images, and videos and place them anywhere on your webpage. This simplicity extends to features like setting up a contact form, adding a map, or even creating a blog.
Users don't need to know HTML or CSS to use website builders – if you can use a word processor, you can create a website.
Customization Options
Website builders typically come with hundreds of free, professionally-designed website templates that you can customize. You can change everything from the color scheme and font styles to the overall layout and structure of the site.
Many website builders also offer a library of free images and integrate with free stock image sites to give you even more personalization options. You can display social media icons or add other visual elements to your site without designing them from scratch.
Customizable website builders can help you create a unique and professional-looking website and speed up the overall development process.
Mobile Responsiveness
As more people use their smartphones to access the internet, it's essential to have a website that looks good and works well on mobile devices. Most website builders offer templates with a responsive website design that will look great on various screen sizes.
Mobile-friendly website builders make this process automatic, so you don't have to do anything extra to ensure your site works on different device types.
Website Builder Cons
Despite the numerous benefits, there are some limitations to using website builders:
Limited Flexibility
Website builders offer many customization options, but they are still limited compared to custom-built websites. Some of the most popular website builders have a closed ecosystem, which means you will work within the constraints of the template and the website builder's framework.
There may be certain design elements or features that you can't implement with online website builders.
However, most beginner-friendly website builders come with different templates and many customization options, enabling the website maker to use their creativity and build a unique site.
Dependency on the Provider
With a website builder, you depend on the service provider for your website's operation and maintenance. If the provider experiences server downtime, your website will be offline.
And if the provider decides to shut down their service or stop supporting the site maker service you used, you might have to rebuild your site from scratch.
This is why it is important to choose a reliable website builder and hosting provider that can ensure your website works at its best at all times.
Limited Scalability
Website builders are perfect for small to medium-sized websites, but they may not be the best choice for large sites with complex structures or advanced functionalities. As your site grows, you may need to add more features and pages that require more resources.
To tackle this situation, look for site builders and web hosting services that offer advanced options like cloud hosting to handle your growing needs and preferences.
Factors to Consider When Choosing the Right Website Builder
When deciding which website builder to use, consider the following factors:
Features and Functionality
Your choice should depend heavily on the kind of website you want to build. A basic website builder will do if you're building a simple blog or portfolio site.
But if you plan on selling products, you'll need a builder with eCommerce capabilities. Features like social media integration, SEO tools, and customizable forms can also be essential, depending on your website's purpose.
Your best option is to find a great website builder that offers options no matter what type of website you want to build.
Mobile Responsiveness
With more than half of all internet traffic coming from mobile devices, choosing a website builder that can create mobile-responsive websites is critical. Ensure the templates offered are optimized for mobile viewing.
While there are many user-friendly website builders, look for the one that lets you create a desktop and mobile website seamlessly with no complicated settings.
SEO-Friendliness
Your website needs to be easily discoverable by search engines to attract traffic. Therefore, look for a website builder with SEO functionality, such as editing meta descriptions, title tags, and alt text.
Some SEO-friendly website builders also integrate with tools like Google Analytics to track your site's performance.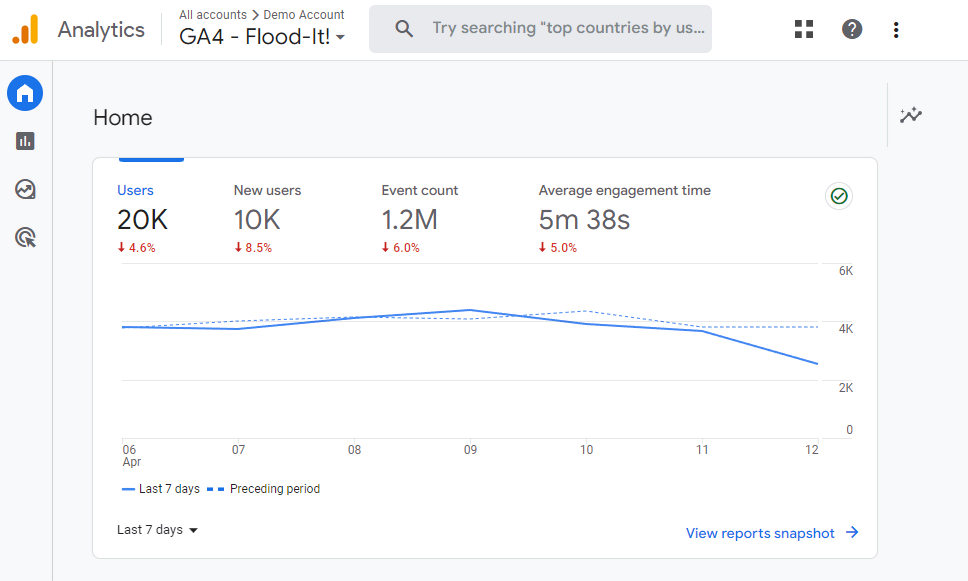 Scalability and Flexibility
Consider your plans when choosing a website builder. If you plan to grow your website or business, the website builder should be capable of accommodating that growth. The flexibility to add pages, create new sections, and add more features to the site should be factors in your decision.
For example, small business owners must pick excellent eCommerce website builders with essential online store features.
Additionally, make sure to choose an easy website builder that offers different web hosting plans that enable you to scale up your website as your business grows.
Since Hostinger Website Builder is available with all Hostinger plans, it is an excellent solution for fast-growing websites needing an alternative to platforms like Wix.
Value for Money
Compare different website builder pricing plans to ensure you're getting good value for your money. Free plans can be a great way to start, but they usually come with limitations like branded domains and ads on your site.
Paid plans offer more features and control over your site, so it is a better option if you want to grow your website in the long run.
Many affordable website builders include more value for your budget by offering benefits like free domain registration and additional features. Take your time to do research and consider your budget and the features you need before choosing a site builder for your project.
User Reviews and Reputation
Look at reviews from other users to get a sense of a website builder's reputation. Keep in mind that every website builder will have some negative reviews, but if multiple users mention recurring issues, it may be a red flag.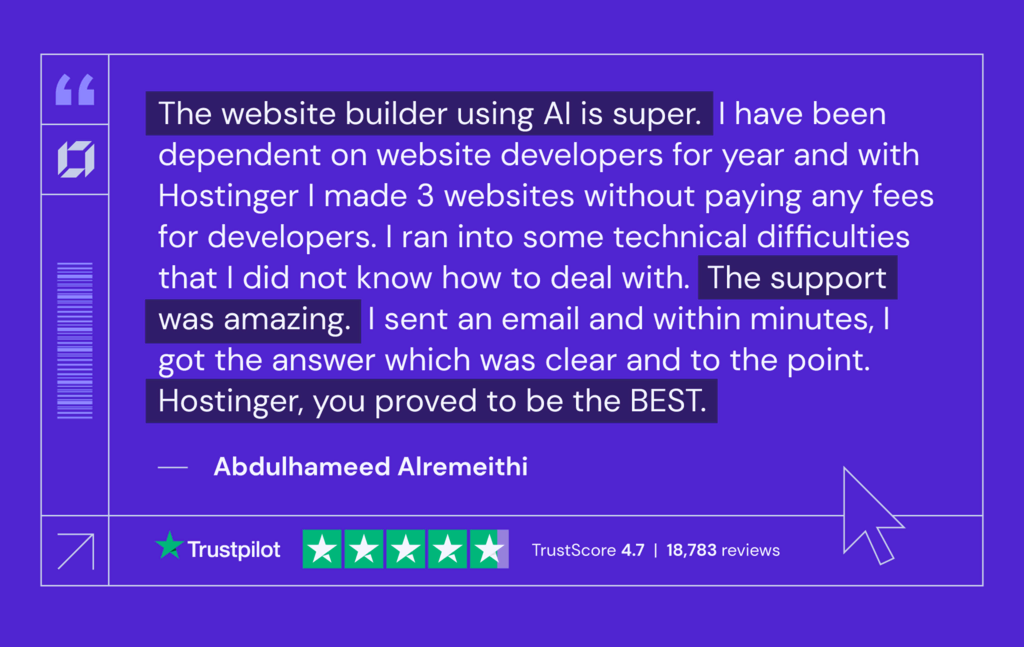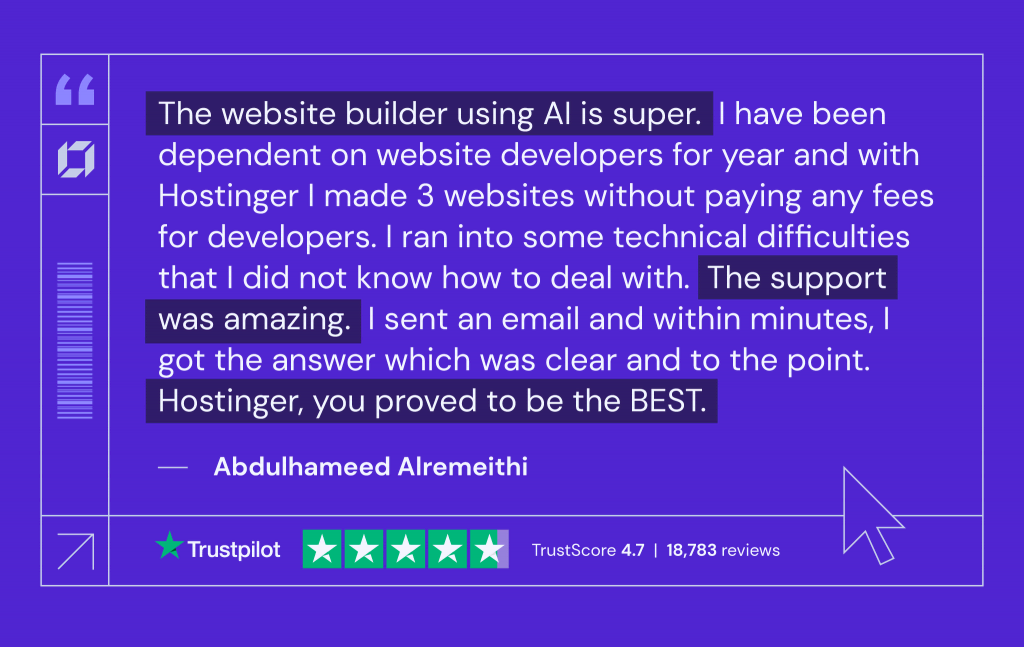 Get Started With a Website Builder
Now that you know what website builders are, how they work, and the factors to consider when choosing one, it's time to look for the best option. A top choice for many is Hostinger's Website Builder, known for its value for money, user-friendly interface, and rich feature set.
This online website builder offers an intuitive editor with drag and drop interface and grid guidelines to ensure flexibility when you create pages on your website. You don't need to know how to build a website with code to use our site editor.


Hostinger Website Builder features an advanced AI website generator and tools to help users create a new website quickly and easily.
Hostinger has the easiest AI website builder in the market. Users only need to describe what type of website they want to create and pick a related industry. The AI will generate a complete website draft based on your previous choices, and you can customize it further using the editor.
Other AI-powered features like like AI Writer, Logo Maker, and Heatmap are useful for creating site and branding content.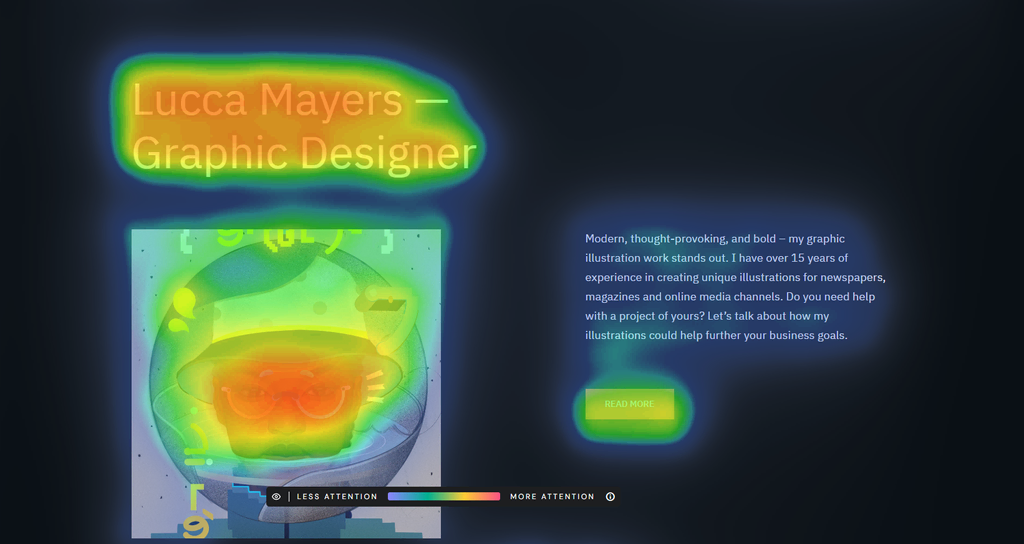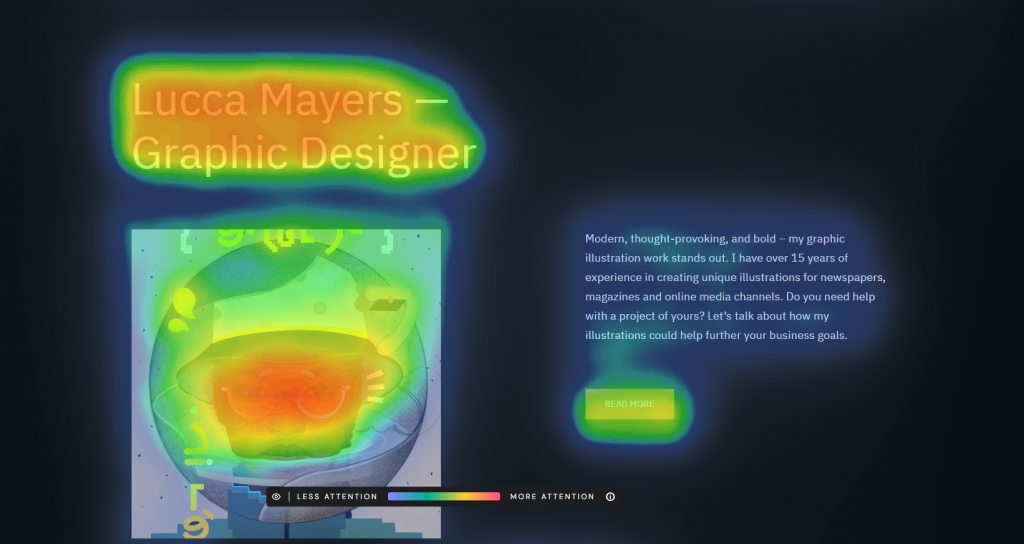 Creating eCommerce websites is also easy with the built-in online store functionality. Users can manage product pages, handle orders, and customize shipping options via the all-inclusive store management page.
Our eCommerce website builder lets you display up to 500 different products and enable supports popular payment methods, including PayPal and Stripe.
As a popular hosting company, Hostinger also offers a high-quality web hosting service with a 99.9% uptime guarantee, ensuring your site is always available for your customers.
Users can reach our technical support team 24/7 via the live chat feature. This allows for a more efficient troubleshooting process, and you don't have to wait for someone to pick up your call.
These features and benefits are available for every customer at no additional cost. You will also get a free custom domain for a year if you subscribe to a certain hosting plan like the 12-month Premium Hosting plan.
All these benefits make our solution the best choice for those looking for an affordable website builder with the best value for your money.


Conclusion
Creating your own website in 2023 is not as daunting as it once was, thanks to the convenience of website builders. They are a powerful tool for individuals and businesses looking to establish a strong online presence without the need for extensive coding knowledge or web development experience.
Website builder platforms like Hostinger Website Builder offer customers the tools to sell online products, build a professional online portfolio, or create a content-rich blogging website.
Choosing the right website builder software ensures your online journey's success. Take your time and research to pick the best solution that fits your needs and preferences.
What Is a Website Builder FAQ
In this section, we will answer some of the most common questions related to what is a website builder.
Is It Worth It to Use a Website Builder?
Yes, website builders are worth considering if you want to create a professional website quickly and affordably. They are particularly suitable for small online stores, bloggers, and anyone new to website building.
Are Website Builders Suitable for Beginners?
Absolutely! Website builders are designed with beginners in mind. They provide easy-to-use tools and pre-designed templates to help you build your site without needing to learn how to code.
What Is the Best Website Builder for a Small Business?
The best website builder for a small business varies depending on the business's specific needs. However, platforms like Hostinger's Website Builder are often recommended due to their balance of ease of use, value for money, and robust features.