How to Start a Business: A Guide to Launching a Profitable Company
If you have a brilliant business idea but have no clue how to start a business, you're not alone. After all, building a new business is complex – there are so many moving parts that it can be tough to figure out where to start.
Running a business also requires a lot of time, hard work, and dedication. One of the factors that can increase your chances of starting a successful business is thorough preparation. Creating a solid foundation before launching your store can help you tackle the numerous challenges of this new venture.
This how-to guide will equip aspiring entrepreneurs with all the necessary tools and knowledge for starting a business. We will explain the steps on how to build a successful business, the resources you'll need, and how much starting a business will cost.


What Do You Need to Start a Business
In this section, we list and explain everything you need to start a new business, from developing the business idea to getting insurance coverage.
Important! This section was written based on US regulations on business taxes, banking, licenses, permits, and insurance. Make sure to conduct the proper research on your local government regulations to determine all applicable requirements.
Business Idea
A business' success starts from finding the right product or service to offer.
Start by determining your strengths, abilities, and interests. Try to identify an industry in which you would have an advantage. Finding a business idea that aligns with your passion enables you to deliver a great product while enjoying the process.
If you love helping people establish an online presence through SEO, growing a digital marketing agency can be a solid option.
For those who enjoy cooking, some profitable small business ideas include opening a catering company or food franchise, publishing digital cookbooks, or creating an online cooking course.
Alternatively, try looking at trending products. This approach helps ensure you'll have promising market demand. You can use Google Trends to monitor interest in a product. For example, below is the Google Trends data showing the global search volume for the term "dog toy" over the past 12 months.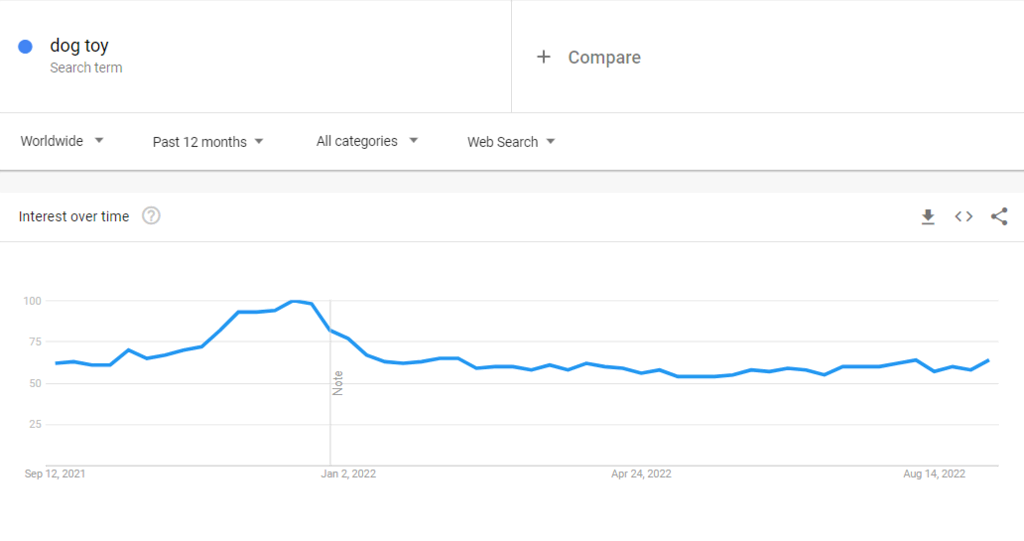 Another method is to visit popular online marketplaces to find current in-demand items. For example, Amazon has a Best Sellers page that is updated every hour. It shows the top-performing products from various categories.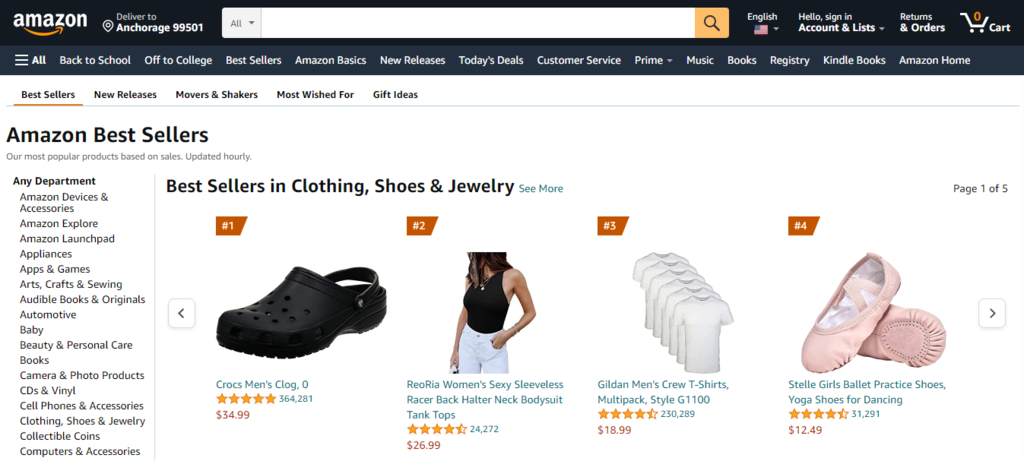 This popular eCommerce marketplace also has a Movers and Shakers page displaying products experiencing a significant rise in sales rank.
If you are interested in selling handmade items, check out Etsy. This online marketplace also has a Best Selling Items page to help give you ideas on profitable products to make and sell.
Financials, Taxes, and Banking
The taxes you must pay will depend on the kind of business you operate. There are two main types of taxes – federal and state.
Most small business owners will typically need to apply for an Employer Identification Number (EIN) – also known as the federal tax ID number.
You will need the EIN to pay federal taxes, open a business bank account, hire employees, and apply for business licenses and permits. The EIN application is free, and you can apply for one using the EIN Assistant provided by the IRS. After verification, your nine-digit federal tax ID number will be available.
Whether you need a state tax ID number depends on applicable state laws. Check your local government's website to research current regulations, as tax obligations differ from one state to another.
To make it easier to file taxes, the IRS recommends separating your personal and business finances. An excellent way to do this is by opening a business bank account.
In addition to facilitating more transparent bookkeeping, here are other benefits of creating a separate bank account for your business:
Legal protection. By keeping your business and personal finances separate, the business bank account limits your personal liability.
Increased credibility. Customers can make payments directly to your small business account instead of to you personally, making the business look more professional.
Business line of credit. When opening a business bank account, you typically have the option to obtain a line of credit for your company. This revolving loan provides a fixed amount of money useful for short-term business expenses.
More purchasing power. A business credit card enables your company to make large purchases and establish a business credit history.
Licenses and Permits
Most business structures require a combination of licenses and permits issued by federal and state agencies. The application requirements and fees differ according to the business location and activities, as well as the agency issuing the business license or permit.
Get a federal license or permit if a federal agency regulates your business activities. However, if the state regulates your business activities, you'll need licenses and permits from your state, county, or city.
States typically regulate a wider range of business activities compared to the federal government.
Examples of business activities regulated by the state are farming, retail, and construction. On the other hand, some business activities that fall under the federal government's jurisdiction are those involving alcoholic beverages, aviation, and radio and television broadcasting.
Note that many licenses and permits have expiration dates. Keep track of when to renew them to ensure your business operations align with legal requirements. It is also often easier to renew your business license than to reapply.
Software and Hardware
A lot of work goes into running a business. Luckily, there are various software and hardware to help automate business processes.
Some types of software you may need to run a small business are as follows: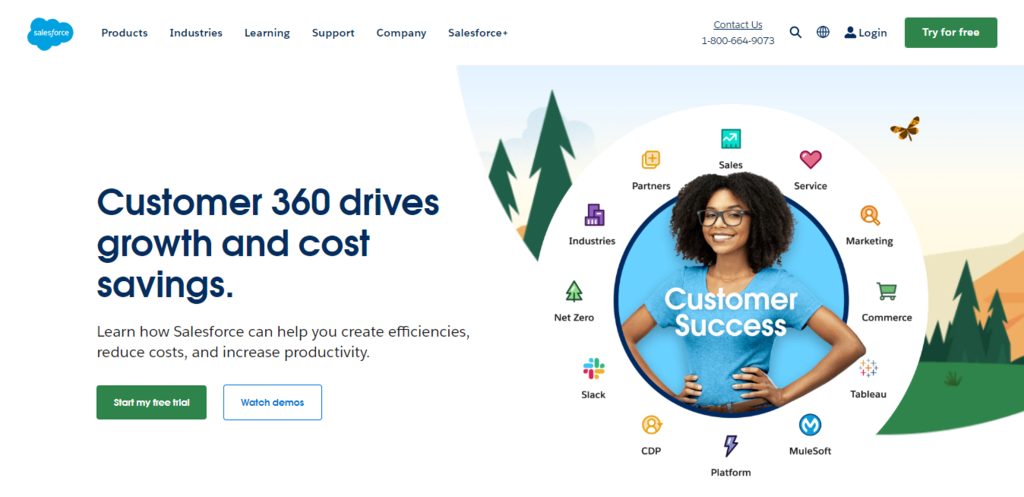 Many of these platforms often have overlapping features. For example, if your CRM software already has built-in business analytics tools, you may not need a separate app for tracking sales data. So, assess your needs and analyze the features of each software thoroughly.
If you are planning to launch a physical store, a type of hardware you may need is a point-of-sale (POS) terminal. It is a hardware system people use to process card payments. These days, there are also POS systems that can be operated via mobile devices. Examples of POS system providers include Clover and Vend.
Business Insurance
Without the right insurance, you could go out of business due to unexpected catastrophes like natural disasters, accidents, or lawsuits. That's why finding the right business insurance coverage is crucial to safeguard your company and personal assets.
Some businesses may even be required by law to purchase some type of business insurance. For example, companies with employees must have workers' compensation, unemployment, and disability insurance to comply with federal regulations.
Similar to other legal requirements, business insurance laws differ across states, so make sure to check your local government's website for the most updated information.
Purchasing the legally-required insurance is the bare minimum. Afterward, you can also get different types of insurance to cover other business risks. Some examples include:
General liability insurance for any business type.
Product liability insurance for businesses offering products.
Professional liability insurance for businesses offering professional services.
Commercial property insurance for businesses with a large amount of property and physical assets.
Home-based business insurance for small businesses operated from the owner's home.
Business owner's policy for most small business owners.
Additionally, researching retirement and health insurance plans for both you and your employees is a good idea.
After assessing the risks, find reputable and licensed insurance agents. Then, compare insurance rates from several providers to get the best deal.
Make sure to get insurance coverage for any expenses you can't pay for out of your own pocket. In addition, remember to reassess your business risks and insurance coverage needs annually as your company and its liabilities grow.
How to Start a Business
In this section, we will provide a step-by-step guide on how to start a small business, from writing a business plan to crafting the right marketing strategies.
1. Write a Business Plan
Once you have a general idea of your company goals, it's time to write a business plan. A solid business plan acts as a step-by-step roadmap for a business owner.
A business plan generally consists of:
Executive summary. Briefly explain the company goals and methods to achieve them.
Company description. Highlight the problems your business solves and what makes it different from the competition.
Market analysis. This includes an industry overview, target audience profiles, and competitor analysis.
Team organization and management. Design your business structure, management hierarchy, and working principles.
Product or service details. Write the product description, how you'll source the product materials, who will be responsible for making the product, and how much it'll cost.
Marketing plan. Identify the proper marketing strategies for promoting your product or service to potential customers.
Financial projections. Propose a budget and list the projected financial statements. Then, start developing a five-year financial plan.
When writing a business plan, know the purpose and audience. Small businesses generally make a business plan to attract investors. Many business owners also use it to provide direction for employees and potential collaborators.
Therefore, use clear and concise language, and keep the plan structured to help the intended audience understand the information easily. If you need to provide more details, add a list of appendices instead of squeezing too much data into the main content.
2. Conduct Market Research
Researching the market is the process of collecting and analyzing information about a particular industry. This includes learning about the industry's profitability, trends, and market saturation.
There are two main types of market research – primary and secondary. Primary research involves analyzing data from interviews, surveys, or experiments with focus groups. Secondary research means studying publicly available information from research papers or statistics published by government agencies or other organizations.
Two important aspects to focus on during the research process are your industry niche and fellow competitors.
Operating within a niche can help you develop a more effective business strategy and narrow down the competition. For example, instead of selling generic food products, your business can sell gluten-free products.
Utilize powerful search engine optimization (SEO) research tools like Google Trends or Ahrefs' Keywords Explorer to gauge people's interest in your niche or product idea.

Part of conducting thorough market research is also doing competitor analysis to help you understand where your business might stand in the industry. Find information about your competitors' strengths, weaknesses, products, unique qualities, target audience, and business strategies. Tools like iSpionage and Sprout Social are useful for researching competitors.
3. Clarify Your Target Market
Understanding your target market is crucial to learning how to start a business. This is the group of consumers to whom you plan to market products and services. Knowing the intended audience will help you develop more effective advertising campaigns and build trust between your brand and customer base.
Identifying the target audience is part of market research. Collect data from potential clients by conducting surveys or interviews. You can also analyze the kinds of consumers your competitors cater to, as it might be similar to the people you are targeting.
Then, create personas to better understand your target market's general demographics and characteristics. A persona is a fictional character representing your business' ideal type of customer. Some factors to consider when creating personas include age, location, gender, income, job, and interests.
Develop a few personas, and adjust them as you gather more information through research and running the business. This will help you to establish a more accurate picture of your target market. In many cases, you may end up having to create new personas over time due to significant changes in the industry or market demand.
4. Choose a Business Name
Research shows that 77% of customers refer to certain products by their brand names. This means finding a suitable business name is crucial for building company's brand image.
Start with your business' vision, values, and brand personality. Then, brainstorm names around those terms by:
Looking up relevant keywords.
Using a search engine to find unique words and their meanings.
Getting inspiration from literature and mythology.
Incorporating your own name into the brand.
Utilizing a business name generator.

Whichever method you choose, make sure the name is easy to spell, memorable, and relevant to your business.
After finding your preferred business name, check if it is available to use as a website domain to maintain consistency across all your marketing platforms. Use a domain checker, run the name through the official trademark database, and see if it is available to use on your social media accounts, as well.

Finally, don't forget to register the name to your company. In the US, there are four main ways to register your business name:
Entity name. Registering a business entity name protects you at the state level. Depending on the company structure and location, the state may require business owners to file for one.
Trademark. This type of name registration protects your brand on a national level. Trademarking prevents other businesses from using your company name.
Doing Business As (DBA). Also known as a trade, fictitious, or assumed name, the DBA doesn't technically offer legal protection. However, you may still be required by law to register for one.
Domain name. Buying a domain name secures your business website address. This prevents other parties from using your registered domain for as long as you own it.
Pro tip
Check out our guide for more tips on how to buy a domain name. It includes a step-by-step process for registering a domain and answers other related questions.
5. Choose a Business Structure
In this section, we will focus on the most common business structures in the US. This might differ depending on your business location, so make sure to conduct proper research.
There are four common business structures – sole proprietorship, partnership, limited liability company (LLC), and corporation.
Sole Proprietorship
A sole proprietorship is a business entity where one person owns and runs the business. The sole proprietor can use their personal name as the business name or operate the business under a separate name by filing a DBA.
As there is no legal distinction between the owner and the business itself, the sole proprietor is personally liable for the debts and obligations of the business.
As a result, getting small business loans from banks or financial institutions can be challenging. That's because most creditors prefer working with established companies with a clear business credit history.
Partnership
A partnership is a business structure where two or more individuals own a business together. There are two main kinds of partnerships – limited partnership (LP) and limited liability partnership (LLP).
LPs consist of at least one general partner with unlimited liability and at least one partner with limited liability against the business' debts and losses. The former performs business activities, while the latter acts as a silent business partner or investor. On the other hand, all partners in an LLP have limited liability and are allowed to make business decisions.
LLC
An LLC is a business structure that protects the owner from personal liability, meaning their personal assets won't be at risk if the business fails. LLCs don't have to pay corporate income taxes, but because members of LLCs are considered self-employed, they must pay self-employment tax.
Most states do not restrict the number of LLC memberships. In addition, members can include individuals, corporations, and even other LLCs. Many states also permit LLCs with only one owner – also known as single-member LLCs.
Corporation
A corporation is a legal entity that is separate from its owners. It can make a profit, pay taxes, and be held liable. This legal structure provides business owners with the strongest protection against personal legal liability, but it is also very expensive to set up.
By default, a corporation will be taxed as a C corporation under IRS rules. This means it may be subject to double taxation. However, certain corporations can choose to be taxed as an S corporation instead. S corporations' special tax status lets them bypass paying corporate income tax, but they are also subject to more regulations on business ownership and stock classes.
6. Perform a Break-Even Analysis
A break-even analysis calculates the number of items a business needs to sell to cover all startup costs. This is called breaking even – the point at which the total cost of production and operation is equal to the total revenue.
This calculation is a requirement for attracting investors or taking out a loan to fund your business. In addition, performing a break-even analysis helps you to price products, mitigate financial risks, and set sales goals.
The formula to calculate the break-even point is the fixed costs divided by the average selling price minus the variable costs. You can also use a break-even point calculator to help conduct the analysis.
Let's say you plan to sell vegetarian meal packages and have determined that:
The startup cost is $500.
The variable cost is $2/package.
The meal package's selling price is $10.
The formula would be $500/($10 – $2) =62.5. This means you need to sell at least 63 units to cover your startup costs. Selling more than that equals profit.
7. Create a Marketing Plan
Before you start selling, create a plan detailing how to market your products and services to prospective customers.
Generally, a marketing plan contains information such as:
Summary of the overall marketing plan.
Vision, mission, and goals of the business.
Business branding elements like the company logo, colors, fonts, voice, and tone.
Data about the industry, competitors, and target market.
The business' budget plan.
Most of all, however, the marketing plan's focus should be on your marketing channels and strategies. Here are some marketing methods for promoting your business and products:
Social media marketing. Create high-quality social media content, post them regularly, and foster engagement by interacting with your followers. You can also run ads on social platforms using tools like Facebook Ads Manager and Twitter Ads.
Influencer partnership. Collaborate with influencers by paying them to promote your products or sending them free products to review. Influencers impact their audiences' buying decisions and can turn them into your customers.
Email marketing. Build a list consisting of potential customers' email addresses. Using email marketing automation tools like Mailchimp and Constant Contact, inform customers of new product releases, special offers, or news about your store.
Paid search ads. This marketing strategy involves paying search engines like Google to place ads on the top of relevant search engine results pages. Google Ads is a popular platform offering this type of advertising.
Giveaways and contests. These promotional events can be held offline or online to generate buzz about your new business. Encourage people to participate in the event by sharing a post about your products or answering surveys. To create online giveaways and contests, use tools like Woorise and SweepWidget.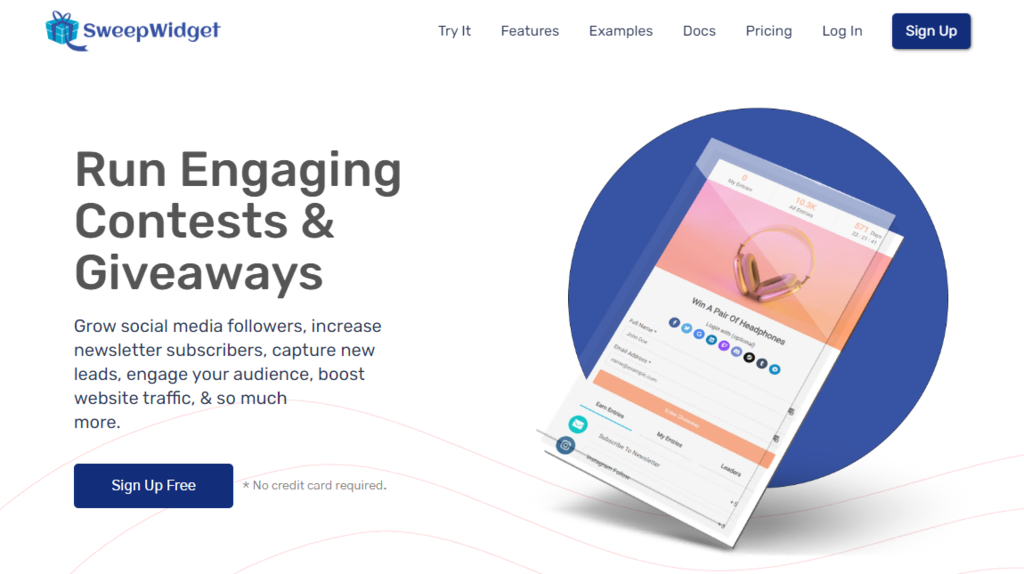 Remember to monitor the performance of your marketing efforts to find out what works and what doesn't and adjust your strategies accordingly.
8. Consider Franchising
If starting your own small business seems too daunting, buying and opening a franchise of an established company can be an alternative. Examples of popular franchises include McDonald's, 7-Eleven, and Taco Bell.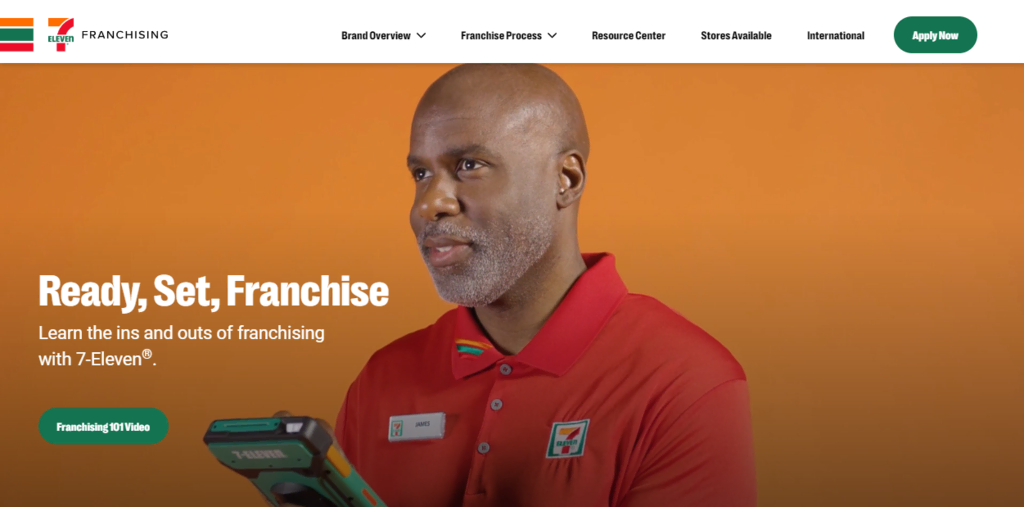 Besides an established business model and brand popularity, the franchiser will even provide training guidelines and standard operating procedures. All you need to do as the franchisee is find a store location, secure funding, and hire employees. Buying a franchise may sometimes even cost less than creating your own business.
However, opening a franchise also comes with many conditions. Entering a franchise agreement means you must follow the franchiser's guidelines on how to operate the business. You also have to share profits with the franchiser. In addition, franchisers may choose not to renew the franchise agreement at the end of the term.
Keep in mind that franchising doesn't guarantee success. Just like any other business, you need to put in hard work and implement good business practices to see favorable results.
How Much Does It Cost to Start a Business
Starting a business can cost anywhere from a few thousand to hundreds of thousands of dollars. It all depends on your business activities and how you source funding.
Consider Your Funding Options
When it comes to seeking capital to cover business costs, 77% of small business owners use their personal savings. This option frees them from investors' pressure and expectations to raise profits immediately.
However, seeking external financing is often a better way to scale a business quickly. Here are five external funding sources to consider:
Crowdfunding. Raise money by inviting people to fund your new venture. It can be through your personal network or crowdfunding sites like Indiegogo and GoFundMe.
Small business loan. A bank can offer a business loan of $5,000–$500,000 with an average of 3.19-6.78% interest rates, based on the startup's condition.
Venture capital (VC). VC firms like Sequoia Capital and Accel raise funds from wealthy investors, financial institutions, and investment banks. They will then examine potentially profitable businesses to fund.
Angel investment. Compared to VC, this option might be easier to get for early-stage small businesses. Angel investors use their own money, so it's up to them to pick a company they want to invest in.
Government programs. Unlike the previous options, many government funding programs don't require businesses to pay the money back. However, finding a suitable program takes time as many small business grants only fund certain sectors or business owners, like veterans or underprivileged entrepreneurs.
Start a Business Without Capital
If you have little to no money, starting a business is still possible. However, it will typically require you to have a computer or a mobile device to access the internet. Beyond that, no significant capital is needed – just your time and skills.
The following are examples of small businesses you can start with little to no funding:
Doing remote work. Make money online by turning your skills into work you can do remotely. Examples include becoming a virtual assistant, doing freelance writing, performing data entry, translating documents, and providing social media marketing services. Look up remote freelance jobs on sites like Upwork and Fiverr.
Offering simple services. Time is your main asset here, as this involves doing small tasks for others who don't want to or are too busy to do themselves. Examples are house sitting, dog walking, cleaning, shopping, and car washing.
Selling digital products. Start an online business creating and selling digital products using only a computer. Some examples of products to sell online are eBooks, design templates, and online courses.
Creating a print-on-demand business. Create designs and let on-demand printing and fulfillment companies like Printful and Printify handle the rest. When a customer orders a product with your design on it, the company will print the design onto the item and send it to the buyer. You only have to pay the company a commission after the customer pays you.
Dropshipping. Similar to a print-on-demand business, this model lets you sell products without managing inventory. Find suppliers on sites like SaleHoo and Spocket and let them fulfill the orders. Then, split the profits with them.
Next Steps to Start Your Business
The following sections outline more steps you can take to further increase your small business' chances of success.
Create an Outstanding Team
Many companies fail due to mismanagement, so consider hiring some help when starting a business. After all, handling all the responsibilities of running a business can overwhelm a person.
Smart business owners have the foresight to outsource work they lack the time or skills to do, especially as the amount of work will grow alongside the business.
Before hiring employees, consider the time and expenses that go into finding and onboarding new team members. Here is a step-by-step guide on how to hire employees:
Assess the kinds of job positions to open.
Create a recruiting strategy.
Post listings on job search websites like Indeed and ZipRecruiter.
Review candidate applications.
Interview qualified candidates.
Perform background checks on prospective employees.
Extend job offers to the best candidates.
Conduct an onboarding process for new employees.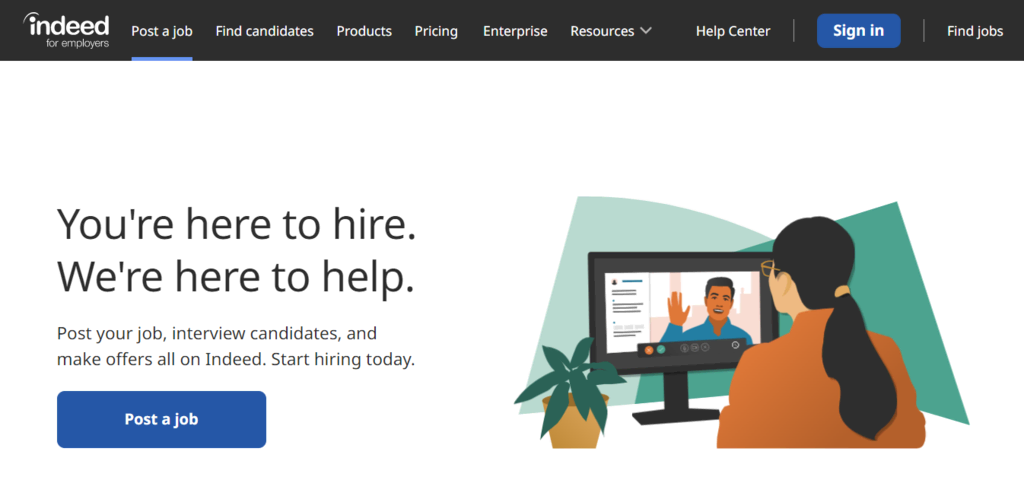 The kinds of roles to hire for will differ across businesses. However, some common roles include a marketer, a graphic designer, a social media manager, and an inventory manager. Additionally, you can hire remote workers for positions whose job doesn't require them to work in a physical store or office space.
Create a Website
Knowing how to make a website for your business is a must in this digital age. Research shows that over 70% of small businesses have a website. If you run a business without a website, it's harder to compete with the vast majority of companies that have established their online presence.
Additionally, small business statistics reveal that up to 80% of consumers research a small business online before purchasing products or visiting a store. Therefore, creating a website decreases the chances of losing potential customers to other brands.
There are two types of platforms to build your business website or online store – hosted or self-hosted.
Going with a hosted platform means creating a website using a website builder that also provides web hosting. Examples include Hostinger Website Builder, Wix, and Squarespace.
We recommend Hostinger Website Builder due to its powerful AI tools that can help with various website-building and design tasks. And for those who want to create a website to sell products online, Hostinger has eCommerce builder plus hosting packege.


Choosing a self-hosted platform means setting up your own web hosting with the help of a web hosting provider and building your website using a content management system (CMS). Examples of popular CMSs are WordPress, PrestaShop, and Drupal.
A CMS has a steeper learning curve than a website builder but will give you more control over your website in terms of design, SEO, and scalability. For this reason, we recommend opting for the self-hosted route.
Get a Hosting Plan and a Domain
If you are creating a website using a self-hosted platform, you will need to purchase a hosting plan and a domain name.
Web hosting is an online service helping you store website data, while a domain name will be your website address – the URL people type into their browsers to access your site.
Many kinds of hosting services are available, so choose the right web hosting plan for your needs. For example, those creating a website for a small business can opt for a shared hosting plan. Meanwhile, website owners expecting high amounts of traffic might choose cloud server hosting for better performance.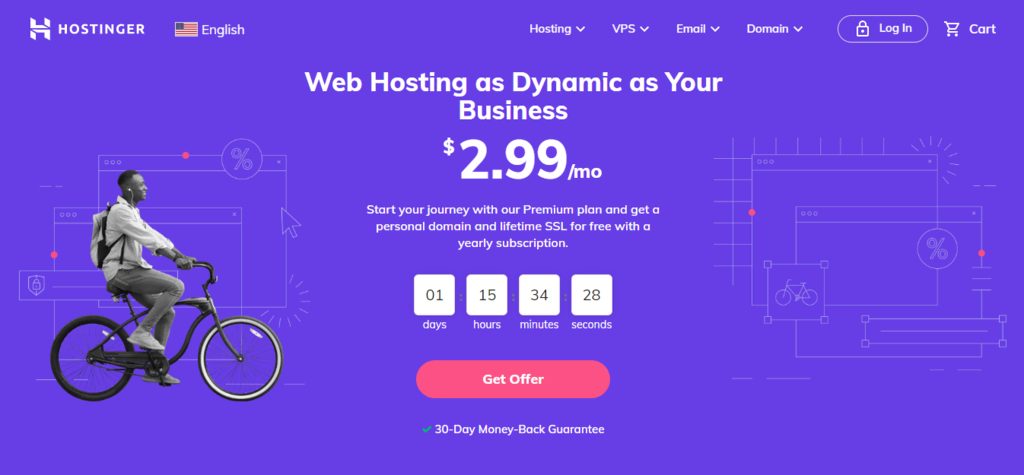 Some web hosting providers even offer hosting plans for specific CMSs. For instance, at Hostinger you can get hosting plans for WordPress. Another popular service is PrestaShop hosting.
Many companies also offer free domains for websites as part of their hosting plans, so look out for those to save some money in your website creation journey.
Conclusion
Almost anybody can start a business nowadays. All you need to begin with is find a business idea and take care of the financials and legal requirements. Then, consider the software and hardware you need to run the company and get insurance coverage.
To help you get organized, here is a recap of the steps summarizing how to start your own business:
Write a business plan.
Conduct market research.
Clarify your target market.
Choose a business name.
Choose a business structure.
Perform a break-even analysis.
Create a marketing plan.
Consider franchising.
Once your core business plan is set, consider hiring employees and creating a website or online store. To fund the company, look at options like crowdfunding, loans, investors, and government grants.
If you want to start a business without raising capital, consider doing remote work, offering simple services, selling digital products, dropshipping, or creating a print-on-demand business.
We hope this article has helped you learn more about how to start a business. If you have embarked on your own startup journey, we'd love to hear about your experience in the comment section below.