Webflow vs WordPress: Comparing Features, Ease-of-Use, SEO, Pricing, and Support
If you're deciding how to build your website, you might find yourself comparing Webflow vs WordPress. It's important to understand how each one works before deciding which is a better fit for your needs.
In this post, we'll take a closer look at Webflow and WordPress. We'll then compare their primary advantages, including features, ease of use, search engine optimization (SEO), and pricing. Let's jump in!

What's the Difference Between Webflow and WordPress?
The main difference between Webflow and WordPress is that Webflow is a visual website builder that allows you to create and design your website without any coding, while WordPress is a more complex platform that requires some coding skills but provides greater flexibility and customization options for your website.
An Overview of Webflow vs WordPress
There are a handful of website platforms on the market, but two of the most popular options are Webflow and WordPress. Let's take a closer look at each one, shall we?
What Is Webflow?
Webflow is a web-based, drag-and-drop-based platform that allows users to create responsive websites without writing a line of code.

Webflow also provides several hosting options alongside eCommerce and CMS features. It's a popular choice among users who are looking for WordPress alternatives.
Geared primarily toward web designers, Webflow is a visual builder that offers a high level of control and flexibility. Unlike other website builder platforms, such as Squarespace or Wix, Webflow gives users access to all the site's code, including HTML, CSS, and JavaScript.
What Is WordPress?
So, what is WordPress exactly? In short, it's a platform that allows its users to create a website or blog entirely from scratch. It's free and open-source and used by millions, including many well-known organizations and companies, and is often praised as one of the best CMS out there.

WordPress comes with a wide range of features and plugins that can help customize any type of site to suit someone's specific needs. WordPress is also relatively easy to use, even for those with no experience in web development or design.
It's important to note that there are two versions of WordPress – WordPress.org and WordPress.com.
WordPress.org is for self-hosted websites, and you'll need to buy a domain and hosting yourself. WordPress.com handles the hosting for you, but it's not as customizable or flexible as WordPress.org.
For the purposes of this article, we'll be referring to WordPress.org only.
Webflow vs WordPress – Features
| | | |
| --- | --- | --- |
| Features | Webflow | WordPress |
| Themes/Templates | 1,000+ | 9,000+ |
| Plugins/Extensions | N/A | 59,000+ |
| eCommerce | Paid plan | Free (WooCommerce) |
| Drag-and-drop builder | Yes | Available via plugin |
| SEO-friendly | Yes | Yes |
| Support | Email/Documentation | Forums/Documentation |
| Solution | SaaS Website Builder | Self-Hosted CMS |
| Blogging options | Yes | Yes |
Webflow Features
Webflow features a drag-and-drop editor that allows users to create responsive websites without using a single line of code.
It makes it easy to manage website content and offers a variety of templates and themes to choose from. It also comes with an option to export sites to HTML/CSS or WordPress themes.
Some of Webflow's key features include:
Powerful visual editor
1,000+ themes
Webflow University
Integrated eCommerce engine
Zapier, QuickBooks, MailChimp, ShipStation integration
Template editing
Direct customer support with paid plans
This only scratches the surface of what Webflow has to offer. However, is Webflow better than WordPress?
WordPress Features
WordPress initially started as a blogging platform but is now one of the most extendable site-building platforms available, with thousands of free themes and plugins.
Some of WordPress' key features include:
Extensive theme and plugin libraries
Free eCommerce integration via WooCommerce
A plethora of official documentation and learning resources
Visual theme customizer
Options for categories, tags, and custom post types
In short, WordPress is a complete CMS solution. While it comes packed with everything needed to start your very own blog, you can also use it to launch an eCommerce site.
Webflow vs WordPress – Ease of Use
If you want to build and design a website with ease, it's important to consider the usability of the tools and platform you choose. Unless you're a designer or developer, you likely want an easy solution to navigate and use.
Webflow Usability
To start using Webflow, you'll need to create an account. The platform will ask you to complete a survey to understand your needs better. Then, you can begin designing your site from scratch or using a pre-made template.
Webflow's drag-and-drop editor makes it easy to create professional websites.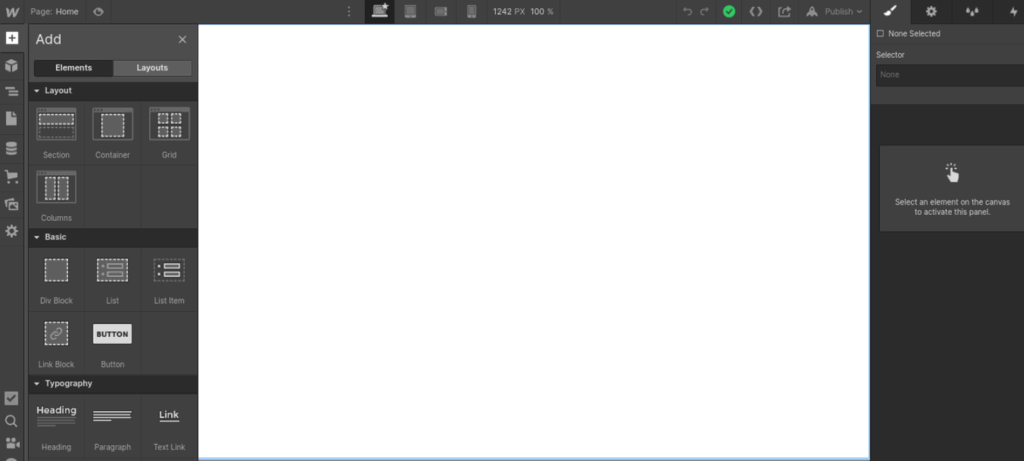 The back end visual editor features an intuitive interface that lets you quickly build and modify the layout. It can seem somewhat overwhelming at first, especially if you're a beginner.
However, once you feel like you have grasped the basics, there are plenty of features that can help customize the pages of your site and select a wide range of elements to modify their properties.
It's important to note that Webflow is aimed primarily at designers and developers. Therefore, it doesn't contain many content publishing features, like tags or categories. However, you can still use it as a CMS and blogging platform.
Webflow can also be somewhat limited for addons and third-party integrations.
WordPress Usability
WordPress is relatively easy to use, even for beginners. Most hosting providers, including Hostinger, offer a one-click installation process.

It also uses an intuitive visual editor that lets anyone create pages and posts with ease.

Each page can be built using blocks, which work similarly to widgets for various elements, such as headings, buttons, and paragraphs. If you don't want to use the default editor, you'll find plenty of third-party page builder plugins that you can use, such as Elementor or Beaver Builder.
However, there is a bit of a learning curve with WordPress. For example, you'll need to learn some CMS terminology, such as plugins, themes, categories, widgets, etc. However, there's plenty of support and official online documentation available to help guide users through the learning process.
Webflow vs WordPress – Themes and Extensions
When it comes to WordPress vs Webflow, one of the most significant differences in the availability of themes and extensions.
WordPress has an extensive range of plugins and themes, making it one of the most flexible platforms for website builders. However, that doesn't mean that Webflow doesn't have a solid amount of options to offer.
Webflow Themes and Extensions
Webflow is somewhat limited when it comes to themes and extensions, especially compared to WordPress. However, it does offer more than 1,000 custom templates. This includes themes for businesses, portfolios, blogs, and agency sites.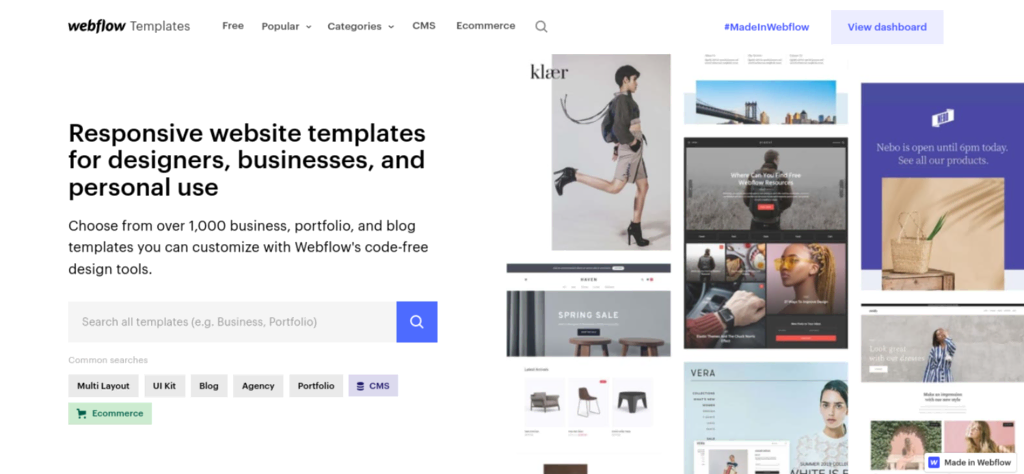 However, unlike WordPress, most of these templates are premium add-ons, and only a few dozen are available for free.
There are also a handful of extensions and third-party integrations available. These include Adobe After Effects and Lottie Animations. Webflow also supports third-party integrations for Mailchimp and Zapier.
WordPress Themes and Extensions
One of the most significant benefits of WordPress is that it offers an extensive library of themes and plugins that can help extend the functionality of your website.
The WordPress Theme Directory features over 9,000 free templates.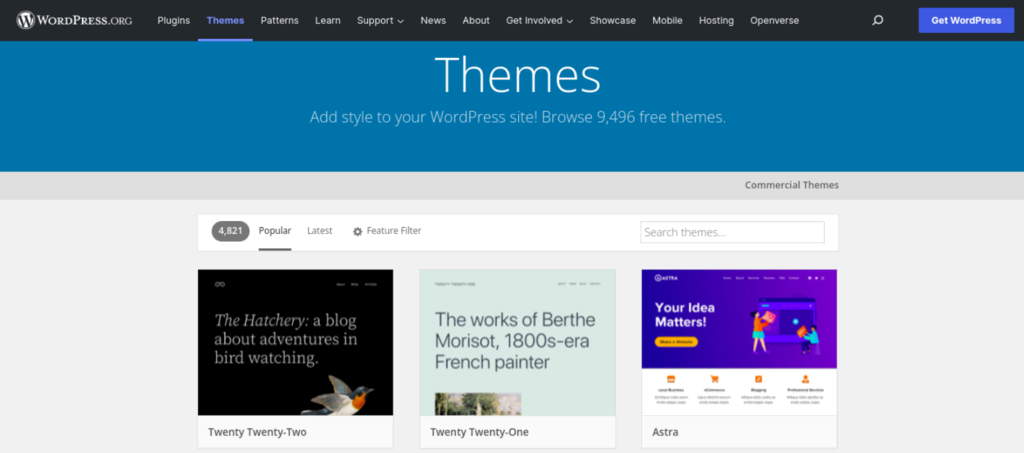 Browse through, install, and activate these themes directly from the WordPress admin interface. Additionally, you can use different filters based on specific features, industries, or more.
This selection is just what's officially available in the directory. There are also thousands of premium themes that you can find online via marketplaces and developers.
The WordPress Plugin Directory features over 59,000 plugins. These include tools for site security, maintenance, and SEO. Similar to themes, this only consists of the official WordPress options as there are plenty of premium extensions available on third-party websites.
Webflow vs WordPress – SEO
If you want your website to rank well in the search engines, it's important to consider what SEO features each platform has to offer.
Webflow SEO
Webflow comes with a handful of features that can help boost a website's SEO. You can modify title tags, meta descriptions, and more within the editor. You can also change the open graph settings and share posts directly to social media.
If you upgrade to a paid plan, there are additional SEO features available, such as the option to generate a sitemap automatically. You can also add and edit schema markup, create indexing rules, and apply redirects.
If you use the Amazon Web Services (AWS) hosting plan, you can leverage worldwide content delivery networks (CDNs), which can help significantly speed up a website. This may, in turn, improve your site's rankings. Each Webflow site also has a built-in Secure Sockets Layer (SSL) certificate.
WordPress SEO
WordPress is an SEO-friendly CMS first and foremost. It comes with built-in features for optimizing websites and plenty of extensions that can help improve search engine visibility.
WordPress allows changing URLs and permalink settings, arranging pages and posts based on categories and tags, and optimizing WordPress images according to best SEO practices.
You can also install such plugins as Yoast SEO or AIOSEO to optimize the content as you're writing it. These tools suggest targeting defined keywords, increasing the overall readability of posts and pages.
However, the performance of your WordPress site will also be influenced by your hosting provider. Most WordPress hosting plans include CDNs, SSLs, and other tools that can help enhance SEO.
WordPress vs Webflow – Pricing
You may be asking, how much does it cost to build a website exactly? There is no simple answer, as pricing can vary depending on a number of factors. Let's overview the basic cost breakdown between WordPress vs Webflow.
Webflow Cost
Webflow operates as a SaaS model. Pricing varies based on features, upgrades, and hosting services.
However, you might be wondering whether Webflow is free? While you can get started free of charge, this version is limited and requires you to host your site with a Webflow subdomain.
There are two types of paid plans available – Site and eCommerce. Site plans are billed per site and range from $12-$36/month. You can add a custom domain or upgrade to secure hosting for high-traffic websites with these plans.
eCommerce plans range from $29-$212/month. These plans come with helpful features for accepting payments, handling shipping and taxes, and product and store management.
There are also Workspace plans available starting at $19/month. However, these plans are designed for teams looking to collaborate on projects.
WordPress Cost
WordPress pricing can vary widely. The CMS itself is open-source, meaning it's free to download and use.
However, in order to fully launch your website, you'll need to purchase a domain name and get a hosting plan. Costs can vary depending on the provider and type of plan you choose. Choosing a WordPress hosting plan will be the most ideal if you're looking for a WordPress-optimized solution.


For example, domain name prices come down to about $10/year, while hosting plans can range from a few dollars a month to a couple hundred a month. Learn how to buy a domain name from a reputable registrar to avoid any unnecessary add-ons.
Another cost consideration when using WordPress is premium themes and plugins. While plenty of free options are available, you may want to upgrade to paid tools for more high-quality designs and functionality.
However, using premium themes and plugins isn't necessary. The WordPress plugin and theme directories offer thousands of free options. For example, you can use WooCommerce to create an online store for free.
When it comes to creating a powerful website, WordPress lets you do so with relatively little expense when it comes to creating a powerful website. The amount of money you spend will simply depend on how many premium add-ons you use and the type of hosting you will invest in.
Webflow vs WordPress – Support
If you're an experienced developer or designer, you may not need a lot of support from your website builder. However, if you're a beginner, you might want to consider the support options available with WordPress and Webflow.
Webflow Support
If you need help using Webflow, you can explore the wide variety of resources available through Webflow University.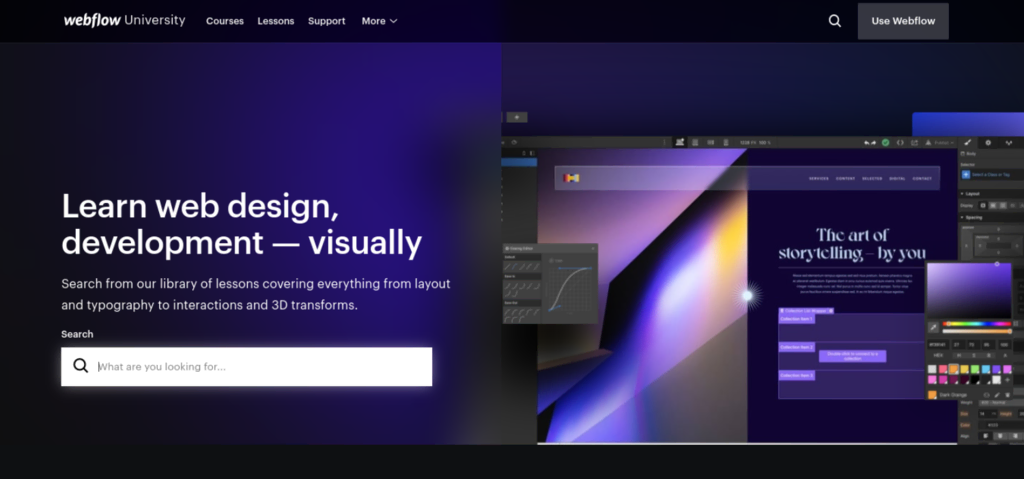 Here, you'll find an expansive library of tutorials, articles, and how-to guides, including video tutorials.
Email-based support is also available during working hours. You can also submit questions to the support forum to receive feedback or assistance from other Webflow users and staff.
WordPress Support
As one of the most popular CMSs out there, WordPress has plenty of online documentation and support. A simple online search will produce tons of results for designing a WordPress site or troubleshooting technical issues.
On the WordPress website, you'll also find handbooks and support forums. If you need one-on-one assistance, you can hire a developer or reach out to your hosting provider for guidance. While there's no dedicated support team, plenty of experts and WordPress users are ready to lend a helping hand if and when needed.
Webflow vs WordPress – Summary
At this point, you should have a better understanding of the main differences between WordPress and Webflow. Both offer powerful, robust solutions for creating a variety of websites.
In short, Webflow is a SaaS website builder that is geared primarily toward designers. It provides an intuitive, feature-rich interface. You can design your site from scratch or choose from a handful of templates.
While there is a free plan available, it is pretty limiting. If you upgrade to a paid plan, you can use the CMS and the eCommerce builder. You also get direct support, and Webflow will take care of your hosting for you.
Meanwhile, WordPress is an incredibly flexible and versatile CMS. You have virtually endless design and customization options, thanks to the vast library of themes and plugins available. Once you purchase a domain and hosting plan, you can get your site up and running in no time.
WordPress is a solid option if you want to minimize your costs while still being able to exercise complete control over the appearance and functionality of your website.
Conclusion
When it comes to choosing a platform for building your website, you may be comparing Webflow vs WordPress – two incredibly popular and reliable options. However, there are some key differences between them.
In summary, Webflow is worth considering if you're looking for a SaaS solution that handles nearly everything for you. Meanwhile, WordPress is an ideal alternative if you plan on publishing a lot of content or creating an online store and want plenty of customization options on the side.
Essentially, you'll want to choose the platform that best meets your needs and budget. If you have any more questions, feel free to leave a comment below!