Elementor vs. Beaver Builder: Which Page Builder Is Best for Your WordPress Site?
Elementor and Beaver Builder are two of the most highly rated WordPress page builder plugins, with over 5,300,000 downloads.
They are easy to use, offer several customization options, and don't require coding knowledge. You might feel tempted to give both a try, but the idea of potentially reworking your site twice does not sound good.
To help you choose the best WordPress page builder for your site, we'll compare Elementor vs. Beaver Builder based on ease of use, features, customizability, pricing, and customer support.
The main difference between Elementor and Beaver Builder is that Elementor has an easier-to-understand interface, making it a better fit for beginners, while Beaver Builder is better for agencies and developers as it allows for white labeling, but is overall more expensive.
Now let's dive into a more detailed overview.

What Are Page Builder Plugins?
Page builder plugins are tools that help you build and customize your WordPress site's pages without having to code – all you need to do is install a plugin.
They allow you to easily add images, icons, grids, videos, and other features to the pages through an intuitive drag-and-drop editor.
There are three main reasons why you should try using a page builder:
It's easier than learning how to code. Before page builders, creating a website was a skill restricted to developers who learn different programming languages to design layouts and develop functionality. Now, anyone can create a website design with the help of page builder plugins.
Cost-efficiency. Before page builders, it was necessary to hire professionals to develop the website's functionality and design. Using a page builder, you're free to design the website at your own pace and save money. Your only recurring cost will be the page builder's monthly or yearly fee. If you are on a tight budget, you can use the plugin's free version, which is usually limited.
Time-saving. Creating a page is quick and efficient with page builders. Since you don't have to deal with the back-end, customization will only take a few clicks.
What Makes a Good Page Builder?
Here are a few aspects of good page builders to consider before we compare Elementor vs. Beaver Builder:
Ease of use. Plugins come with varying degrees of difficulty. A good page builder should be quick, efficient, and beginner-friendly.
Features. Page builders have features that aim to facilitate the page-building process. Most page builders have a variety of widgets, layouts.
Templates and customizability. With page builders, there is no need to hire someone to take care of web design. You can use pre-made templates or easily design your own.
Pricing. Most plugins come with a free and a premium version, so it is worth checking the different features each offers.
Support. Page builders are beginner-friendly tools, but it is important to check if there is customer support if you run into any trouble.
Now that you know what makes a good WordPress page builder plugin, we'll compare Elementor vs. Beaver Builder to help you choose the best tool for your website.
Ease of Use
We'll analyze how easy it is to use Elementor vs. Beaver Builder by examining their interfaces. An easy-to-use interface means that you will have little to no trouble using the page builder plugin.
Elementor

Elementor has an intuitive interface, accommodating the actions we're used to when we use our computers. For example, Elementor implements well-known shortcuts, like CTRL+Z to undo an action.
When users right-click on a section, column, or page, a familiar popup menu will appear with copy-and-paste options to edit the page's elements.
The page builder's interface has two parts. On the right side, you have the page you are creating, where you can add and customize elements to design its layout.
On the left, you will find Elementor's panel. It allows you to access different widgets to implement in your sites, like inner sections, headings, images, and text blocks.
You only need to drag elements to place them on the page. Then, you can customize them as much as you want to fit the page's style.
Elementor's panel also includes features like navigation, history, responsive mode, and preview.
Navigation helps users by giving an overview of their page with all the elements they've added. This way, they can freely adjust them into any column they want.
History keeps track of your actions when using the plugin, giving you the option of redoing or undoing an action at any time.
The responsive mode lets you preview the site on different devices. You can then adjust the design to accommodate mobile and desktop visitors before hitting Publish.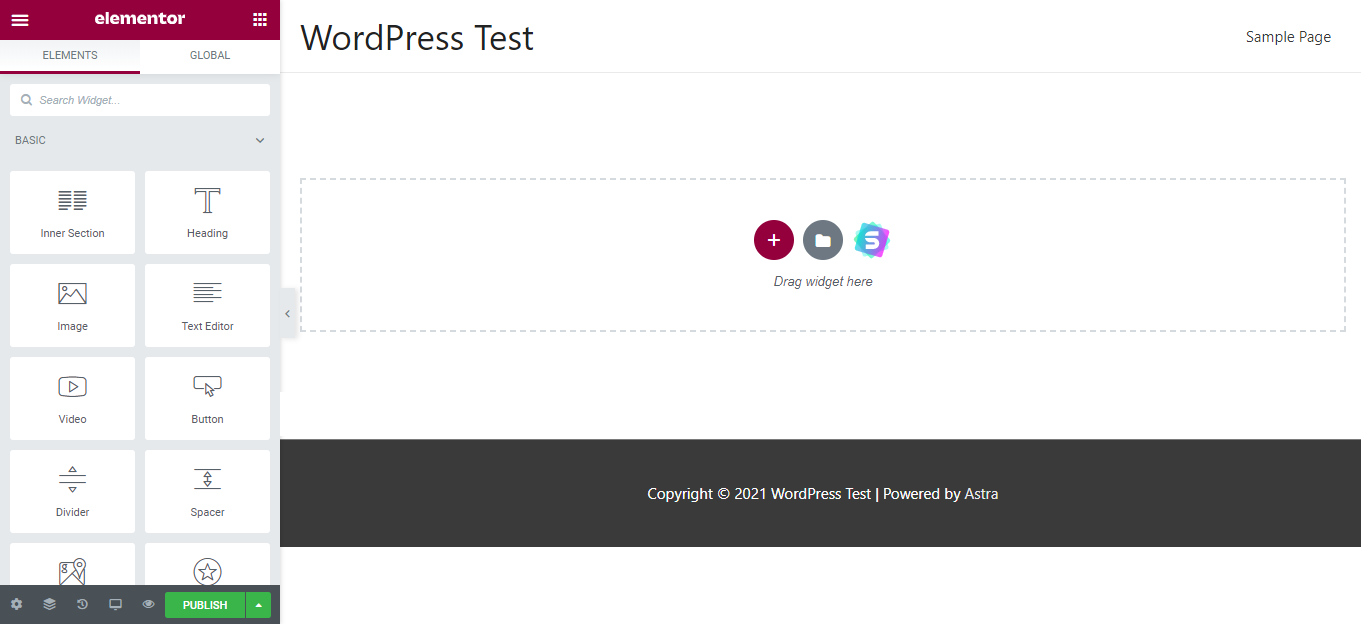 The interactive live-editor gives you a preview of the site. Whenever you add a new element to the page, the editor will immediately show its changes. There is no need for a page-preview mode.
This makes it easier for you to design the page layout and have the website look the way you imagined it.
Elementor also provides a pre-made page layout structure divided into sections and columns.
Each section can contain as many as six columns, and you can place elements as you wish. Just drag them to the page and mix and match as you see fit.
If you don't like any of the pre-designed page layouts, you can customize them by either adding or deleting columns.
To go back to the widget options, you only need to click on the icon at the panel's top-right corner.
Best of all, Elementor has an autosave, so users don't have to worry about losing their progress.
Beaver Builder

When you first access the Beaver Builder interface on WordPress, you'll get a quick tutorial on using the plugin.
This is especially useful for beginners who are just starting with page building. It tells you the basics about the plugin – like where the content panel is, what to do, and how to do it.
Similar to Elementor, Beaver Builder's interface is easy to navigate and intuitive.
Its drag-and-drop editor helps to quickly build pages. Unfortunately, the Beaver Builder interface doesn't have a right-click menu like Elementor.
Instead, users have to hover over the rows and columns to access their interface settings.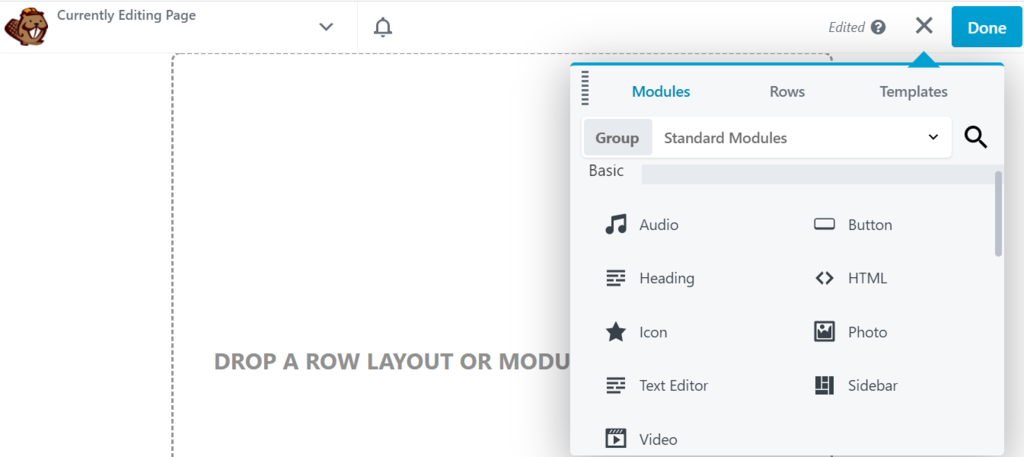 Beaver Builder's user interface has two main parts – content panel and live preview.
To access the content panel click the + button. It will extend down like a sidebar similar to Elementor's. When you are not using it, the sidebar will be automatically hidden, giving a convenient full preview of the page.
The content panel itself comes in three parts – modules, rows, and templates.
Content modules, on the top-left corner of the panel, is how Beaver Builder refers to widgets. They include audio, buttons, headings, HTML, icons, and photos.
The rows tab is in the middle. This is where you can customize the layout of your page. As with Elementor, Beaver Builder separates the layout into columns and modules.
Beaver Builder categorizes the rows, columns, and modules into two types – standard and global.
Once you edit a global element, the changes apply everywhere on your website where this element is in use.
Edits to a standard row, column, or module are only applied to the element you are changing.
To access Beaver Builder's free template library, click on the templates tab located at the panel's top-right corner.
Like Elementor, Beaver Builder has a live preview allowing you to see your page's progress. Whenever you place a module on a page, a popup will appear for you to edit it.
In the above example, we've placed a text editor module. You can either add text to it by using the editing popup or directly edit it inline.
Like Elementor, Beaver Builder also saves your work automatically. Once you finish editing, click Done at the top-right corner of your screen.
The Verdict
When comparing the interfaces of Elementor vs Beaver Builder, it's quite clear that both work similarly. They are easy to use and accommodate beginners.
However, Elementor with its intuitive build and familiar shortcuts will be easier to navigate. Beaver Builder's interface is a bit more complicated, so we recommend it for more tech-savvy users.
Features
Elementor and Beaver Builder both offer unique elements and styling options, letting users know what they can achieve with each tool when building WordPress pages.
Elementor
The plugin offers more than 40 basic element widgets for users of the free version.
They include text editing blocks, buttons, videos, images, Google Maps, and icon boxes. This gives users a lot of styling options when building the site's pages.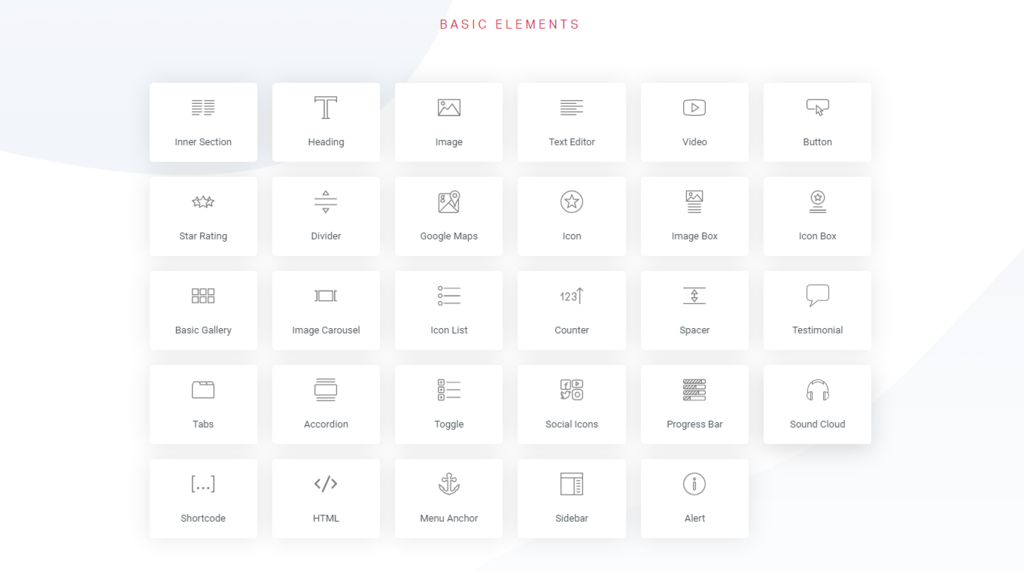 By upgrading to Elementor Pro, you get access to exclusive widgets such as slides, portfolios, tables of contents, countdowns, price tables, and calls to action. These features are great for creating portfolios or business websites.
Elementor also offers a set of theme element widgets that allow users to customize single posts. This section includes elements such as the site logo, post title, author box, and post excerpt.
For those building eCommerce pages on their site, Elementor offers exclusive WooCommerce widgets. They include product images and price, add-to-cart buttons, and product ratings.
With these elements, you can build your ideal business web page and customize it however you wish.
Additionally, Elementor features a popup builder to help grow your subscriber list or inform visitors about your business's latest news. A wide variety of popup templates is available, including styling options like full-screen, sliding, and fly-in popups.
Beaver Builder
Beaver Builder modules come in three main groups.
The basic content modules are all the modules necessary to make a basic page. They include elements like the text editor, audio, images, and icons.
Pro content modules are the modules that make a page more interactive. They're great for business pages. You can add contact or login forms, calls to action, and BigCommerce products with them.
The last module is called WordPress widgets. It includes almost every widget you can find on the WordPress admin panel, like archives, categories, navigation menu, and recent comments.
In addition to the content modules, Beaver Builder comes with a tools menu, accessible by clicking on the arrow at the top-left corner of the page.
It allows you to preview, duplicate, and publish layouts, as well as edit responsive pages, and add custom CSS and JavaScript.
Duplicating a layout will help you save time and keep your website pages consistent since you can reuse pages instead of designing them from scratch.
The responsive-editing mode lets users edit their pages to work well on different devices. For example, here we are editing the page's mobile version: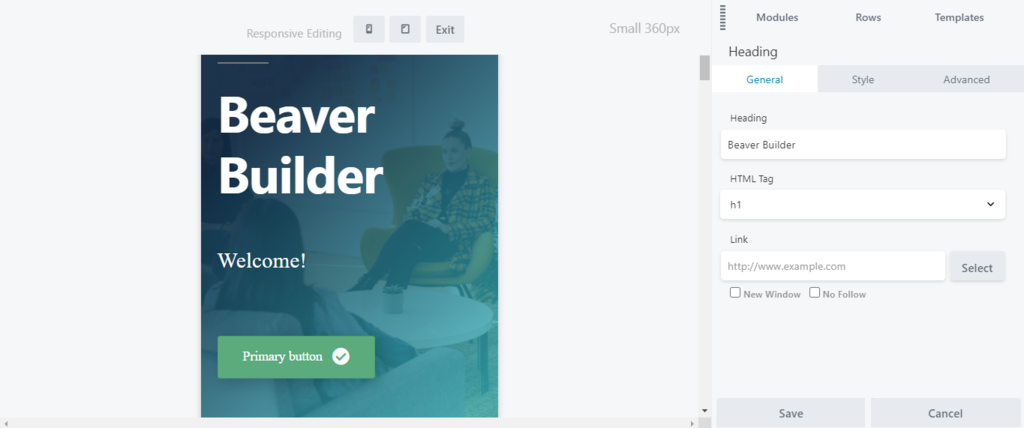 The Beaver Builder tools include a history tab where users can review all their actions. It makes it easy to spot mistakes or achieve a similar look on other pages.
If you are working as part of a team, you will be able to restrict your page's access by defining different roles. This way, each user can contribute to the page without accidentally deleting something important. There are three types of front-end user access:
Builder access. It lets users edit pages, posts, and custom posts.
Unrestricted editing. It gives full editing access.
Global rows, columns, and modules editing. It allows its users to open global rows and modules.
For those looking for a large-scale solution, Beaver Builder offers the option of white labeling the plugin. You will be able to place your own company's name and logo instead of Beaver Builder's in the backend of your page.
The Verdict
Elementor and Beaver Builder have great page-building features, covering different websites' needs – from small companies to large eCommerce stores.
However, Elementor allows you to quickly change the page's layout and add elements, while Beaver Builder might require a few more clicks to edit the content modules.
That said, if you own a web design agency, Beaver Builder with its white labeling might be the better solution.
Templates and Customizability
Pre-designed templates help users get a quick start with designing their page. Besides offering styling options that cater to websites in specific niches, page builders also allow further customization.
Let's compare the customization options of Elementor vs. Beaver Builder.
Elementor
In terms of templates and customizability, Elementor is unique, as it offers both pre-designed pages and blocks.
Blocks. They are custom-made templates for a section of your page. For example, if you would like to add a custom price list to another page, save it as a block template in Elementor. Use it again by importing the block to a new page.
Pre-made templates. Elementor has over 200 professionally-designed page templates in its library. They cover most niches, from business landing pages to online portfolios.
Elementor's page templates can do most of the design work for you. All you'll need to take care of is the customization of content and widgets on the page.
If you want to design the site's visuals from scratch, Elementor features a built-in theme builder. With it, you can create and customize your WordPress site's theme, from header to footer.
Even though Elementor is compatible with almost any WordPress theme, it presents Hello as the recommended theme. Users can download it for free and explore its possibilities when combined with the plugin.
Beaver Builder
Beaver Builder organizes its templates into two main categories:
Landing page templates. Beaver Builder provides three free designs and more than 25 premium templates for landing pages.
Content templates. Users of the plugin's free version have access to five templates. The pro version grants access to over 20 pre-made templates for contact pages, newsletter subscriptions, and more.
Additionally, you can save your custom-made templates for use on any page on the site.
Like Elementor, Beaver Builder offers a theme builder, the Beaver Themer. However, it is not a built-in feature. It costs an extra $147/year, and you can only use it with the premium version.
The main features of the Beaver Themer include:
Theme templates. You can create custom layouts for 404 pages, blog archives, and WooCommerce product pages.
Customization of theme parts. The theme builder allows you to create custom header and footer layouts.
Field connections. Connect rows, columns, and modules to external data on your site.
Post grids. Choose whether your posts are displayed in a grid or list layout.
Additionally, the plugin's higher-tier plans come with the Beaver Builder Theme. It is the official framework from Beaver Builder to cater to different WordPress sites. It's coded in a straightforward way and has lots of styling options.
The Verdict
In terms of quality, both Elementor and Beaver Builder offer top-notch professionally designed templates and styling options.
When it comes to quantity, the Elementor page builder offers over 200 template designs for its users to choose from.
Beaver Builder does provide additional solutions for high-scale projects, but you need to purchase them separately.
Pricing
It's important to compare the pricing of Elementor vs. Beaver Builder, as you want to get the best features for a great value.
In the following sections, we will analyze the free and paid versions of both builders and the features you'll get with each plan.
Elementor
Elementor's visual editor is a feature that users of both free and premium versions can access.
With the free version, you can also access all the basic widgets and more than 30 pre-designed templates. This is enough to build a basic website page.
Elementor Pro, the plugin's premium version, comes in three available plans.
The Personal package allows you to use Elementor on one website for $49/year.
Plus lets you use Elementor on three websites for $99/year. It is recommended for business owners who are looking to expand their operations.
The Expert plan supports up to 1,000 websites for $199/year. If you're part of a corporation controlling many businesses or own a web design agency, then this bundle is for you.
All paid plans include over 50 pro widgets, more than 300 templates, and over ten website-template kits.
People who've purchased these plans have access to the Elementor theme builder, popup builder, form builder, and WooCommerce builder. One-year of customer support and updates is also included.
The only difference between the three Elementor packages is the limit of websites on which you can use the plugin.
Beaver Builder
The plugin's free version, called Beaver Builder Lite, offers standard features such as the drag-and-drop editor, basic modules, and a responsive-editing mode.
This version is excellent for beginners and first-time website owners as it contains the basic tools to create a standard website page.
The Beaver Builder premium plans provide all the features of Beaver Builder Lite and more.
Beaver Builder Standard is available for $99/year and grants access to all premium modules, templates, and a year of professional support.
The Beaver Builder Pro version costs $199/year and includes the Beaver Builder Theme and support for the WordPress multisite feature.
Beaver Builder Agency is available for $399/year and, in addition to all the features of the Pro version, includes the option to white label the plugin.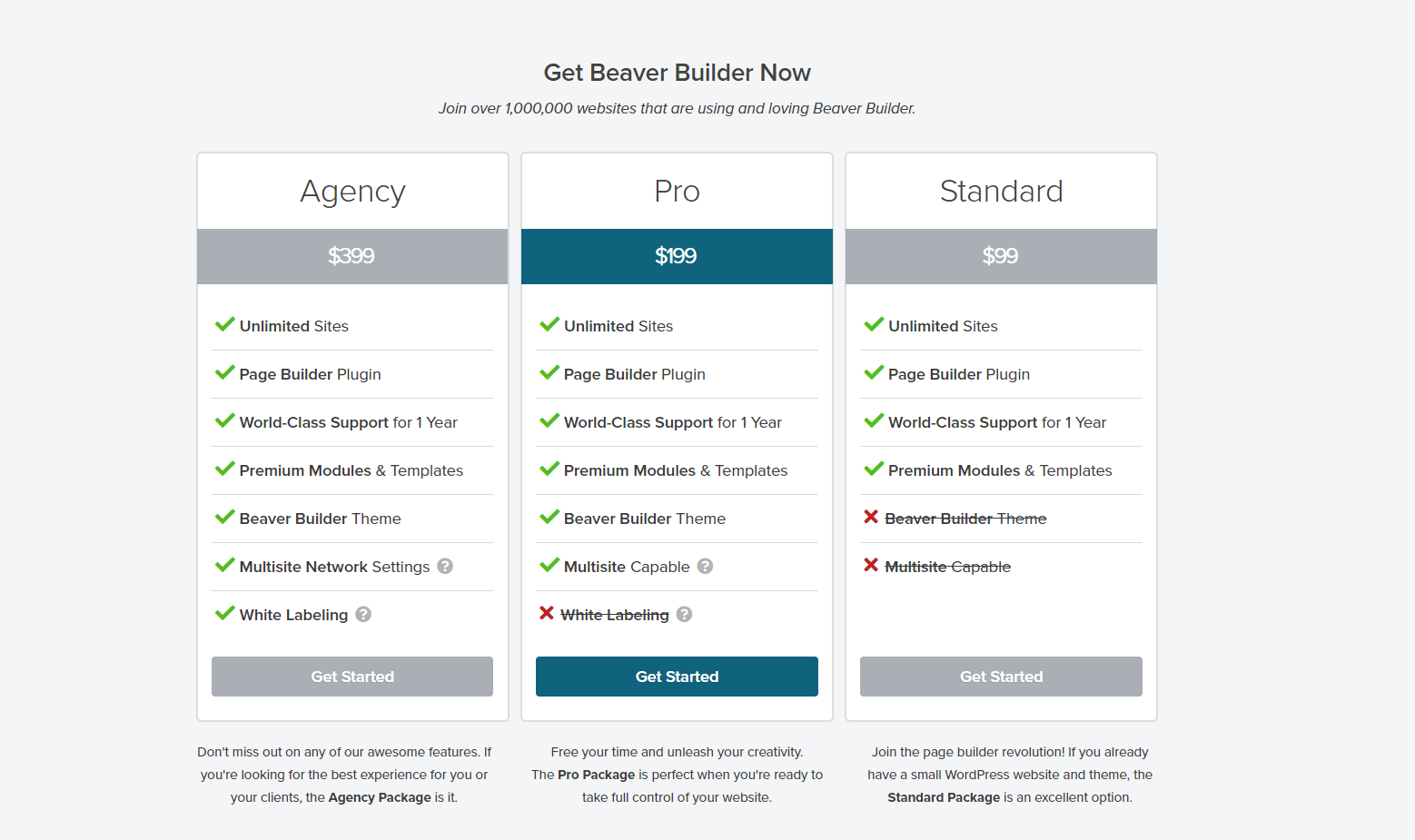 The Verdict
Elementor and Beaver Builder provide reasonable prices for what they offer. That said, Elementor is more affordable, considering its cheapest premium plan starts at $49/year.
Beaver Builder, on the other hand, provides a unique white-labeling feature that Elementor does not offer. Besides, both its free and premium versions can be used on unlimited sites.
Support
A good customer support service helps users solve problems. It also provides a knowledge base or community forums where beginners can learn about their page builders from official resources or more experienced users.
We'll take a look at who offers the better customer support between Elementor vs. Beaver Builder.
Elementor
Elementor offers a few types of customer support:
Elementor help center. Elementor has a help center where users can look up articles. It covers everything about the plugin, from getting started to tips and tricks.
Elementor video tutorials. There are hundreds of video tutorials on topics like building specific web pages, designing with the Elementor theme builder, and even building your own template.
Elementor community. The page builder provides community support through a private Facebook group that anyone can join. Connect with Elementor's user base and learn from their experience.
Elementor Pro support. Elementor Pro users have access to live 24/7 professional support.
Beaver Builder
Beaver Builder doesn't lag behind in terms of customer support. It offers a variety of channels and materials for its users:
Beaver Builder knowledge base. You can find articles and tutorials on a number of topics, starting from how to install Beaver Builder to advanced guides for developers.
Beaver Builder community forums. Users are free to sign up to share their experiences and help each other solve issues. A search bar is conveniently located at the top to help you find what you're looking for.
Beaver Builder video tutorials. Beaver Builder has an official YouTube channel. It features many video tutorials from experts to help people navigate the page builder.
Beaver Builder priority support. Users of the premium version can submit tickets to the Beaver Builder support and have an expert help them with the problem.
The Verdict
When it comes to comparing Elementor vs. Beaver builder, both plugins offer extensive customer support to their users.
From articles to communities and video tutorials, both page builders have you covered.
Who Is Elementor Best Suited For?
We recommend Elementor to people who are still experimenting with page builders, as you can get its full features for a better price.
The free version, even though it is more limited, still allows you to develop great pages for your WordPress site.
Pros
Elementor's interface is intuitive and very beginner-friendly.
A variety of professionally-designed templates.
Pro versions include a theme builder for the website.
Several support channels.
Cons
It is necessary to purchase a premium plan to create page elements for eCommerce or more complex business sites.
It does not allow white labeling.
Scrolling for elements might be inconvenient.
Who Is Beaver Builder Best Suited For?
Overall, Beaver Builder is great for agencies or developers. The white-labeling feature gives them a chance to rebrand a page as their own.
What's more, it is possible to use Beaver Builder on unlimited sites, making it an excellent choice for developers who work on multiple projects.
Pros
White labeling.
All plans can be used on unlimited sites.
Cons
The interface is not as intuitive as Elementor's.
Limited choice of templates.
The Beaver Themer is not available with lower-tier plans.
Elementor vs. Beaver Builder: The Verdict
By comparing Elementor vs. Beaver Builder, we've learned that both page builder plugins offer unique and useful features.
Elementor has an easy-to-understand interface and offers a wide variety of widgets, various professionally designed templates, and a built-in theme builder.
It also doesn't limit the features available with each premium plan. This makes it a great choice for users who want to learn and experiment using a page-builder for a fair price.
Each Beaver Builder version offers a different set of features. To get the most out of the plugin, you need to pay more. In addition, its plans are more expensive than Elementor's.
However, the Beaver Builder Agency bundle is great for developers thanks to the permission of white labeling and multisite capability. Besides, it is possible to use it on unlimited sites, regardless of the plan you choose.
All in all, both Elementor and Beaver Builder are great tools. Whichever works best for your projects will depend on your preferences and budget.
Elementor vs Beaver Builder FAQ
Is Beaver Builder Faster Than Elementor?
Elementor is often considered faster than Beaver Builder, but other factors determine a website's loading speed, like the theme used and the total number of plugins.
Do Professional Web Developers Use Elementor?
Yes, Elementor is commonly used by professional web developers due to its reliability and effectiveness.