WordPress.com vs WordPress.org: Key Differences and Which One You Should Use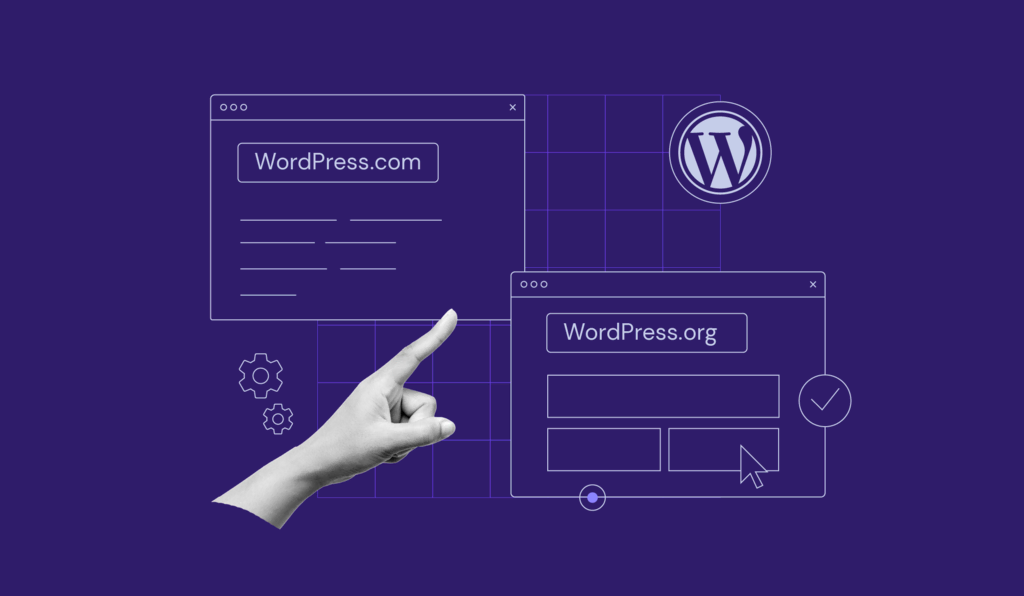 WordPress is a popular content management system (CMS) for building various websites. However, people may confuse the two platforms associated with it – WordPress.com and WordPress.org.
WordPress.com and WordPress.org are not the same. Getting started with either platform involves an entirely different set of steps. Whether for creating personal blogs or building an eCommerce store, choosing the right one will be crucial in the long run.
This article will compare WordPress.com vs WordPress.org based on several factors, including customization, performance, and prices.

What's the Difference Between WordPress.com and WordPress.org?
The main difference between WordPress.com and WordPress.org is that WordPress.com is a fully hosted platform, while WordPress.org is a self-hosted platform. This means that WordPress.com takes care of hosting, security, and maintenance for you, while WordPress.org requires you to find your own hosting provider and take care of security and maintenance yourself. Additionally, WordPress.com has limitations on customization and plugins, while WordPress.org allows for full customization and plugin installation.
WordPress.com vs WordPress.org – Video Tutorial
Watch this video to learn the difference between WordPress.com vs WordPress.org and choose the most suitable platform for your needs.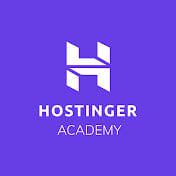 Subscribe For more educational videos!
Hostinger Academy
Subscribe
WordPress.com vs WordPress.org: Quick Comparison
Before diving deep into the differences between WordPress.com and WordPress org, check out a brief comparison of the two in the table below.
| | | |
| --- | --- | --- |
| | WordPress.com | WordPress.org |
| Ease of Use | Only requires creating an account and selecting a plan.A setup guide is available in the WordPress dashboard. | Requires getting a hosting account and a domain name. Uses a similar WordPress dashboard but no setup guide. |
| Flexibility and Customization | Limited access to themes and plugins. Allows additional custom CSS. No access to WordPress files. | Lets you install any themes and plugins.WordPress files are accessible through the hosting account for further customization. |
| SEO | Requires higher plans to unlock SEO tools. | Lets you install any SEO plugin. |
| Price | $4–$25/month. A free plan is available. | Varies greatly from less than $100/year to more than $1,000/year, depending on the hosting and extensions used. |
| Performance | Uses the bundled hosting service.Requires higher plans to use optimization plugins. | Lets you pick a suitable and well-optimized hosting service.You can install plugins for performance optimization. |
| Security | Limited to what the platform offers.Creating backup files requires higher plans. | More options to implement various security measures. |
| eCommerce | You must pick the eCommerce plan to unlock store features. | Lets you start an eCommerce site with a free plugin. |
WordPress.org is a website that lets you download the WordPress content management system (CMS) and has detailed information about it.
A CMS is open-source software that lets you create and manage content. WordPress CMS was built with blogging in mind but has since grown to be flexible and used for various websites.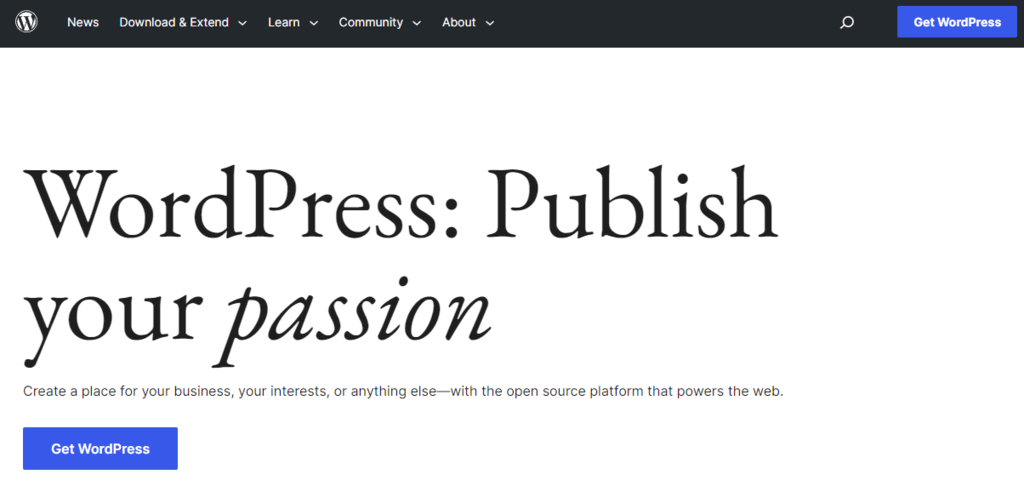 Users need to get a separate hosting plan and domain name to create WordPress sites. In addition, users have to download the software and install WordPress themselves.
Since users have to host the site, WordPress.org is often referred to as the self-hosted WordPress.


On the other hand, WordPress.com is a hosted blogging service. Users get a custom version of WordPress that's already installed on their hosting platform.
With WordPress.com, users can start blogging and customizing their website from the get-go. There are various plans available, including a free one. You can focus on building your own site without worrying about installation and hosting.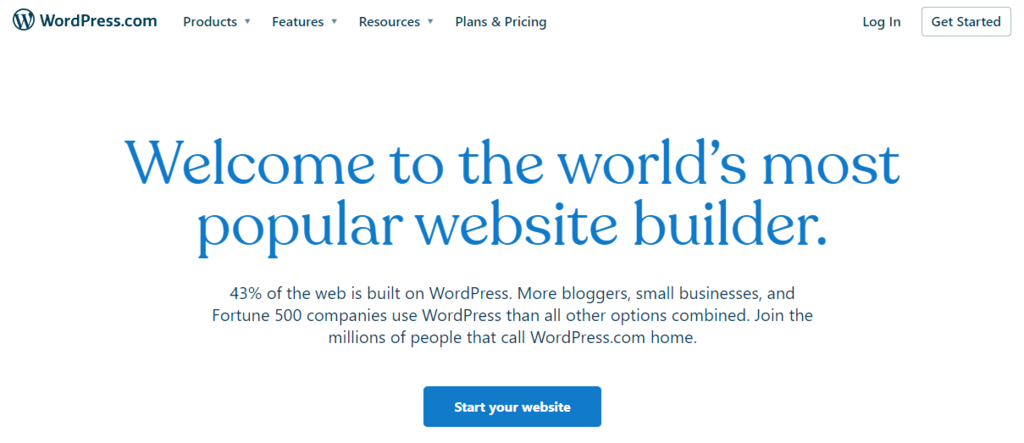 The following sections will discuss other differences between WordPress.com and WordPress.org.
WordPress.com vs WordPress.org: Ease of Use
Both platforms use WordPress software to build websites and manage content. However, some differences in setting up and managing a new website affect the overall ease of use.
WordPress.com
To start a website, you only need a WordPress.com account and plan. You don't have to download software or set up a hosting account.
Once your account is ready, complete the setup in the dashboard.
A blog setup checklist will help you through the steps, including choosing a theme, publishing a WordPress blog post, and launching the website. That's all you have to do to start a website using WordPress.com.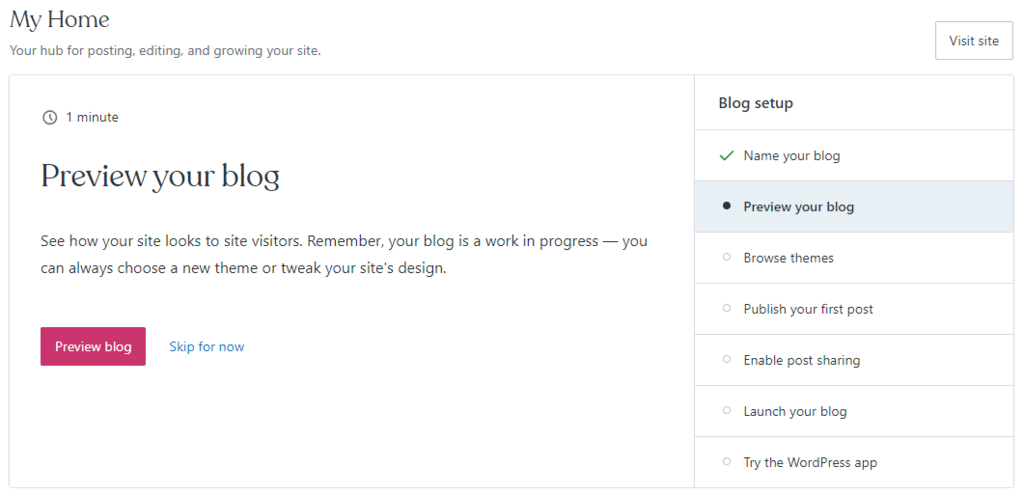 Monitoring your site is easy. Simply navigate to the Stats page to see the Jetpack statistics data.
Like WordPress.org, WordPress.com uses the block editor for adding a new post.
The block editor has useful features that help you build pages more quickly. For example, when adding a new page, you can choose a starting block pattern.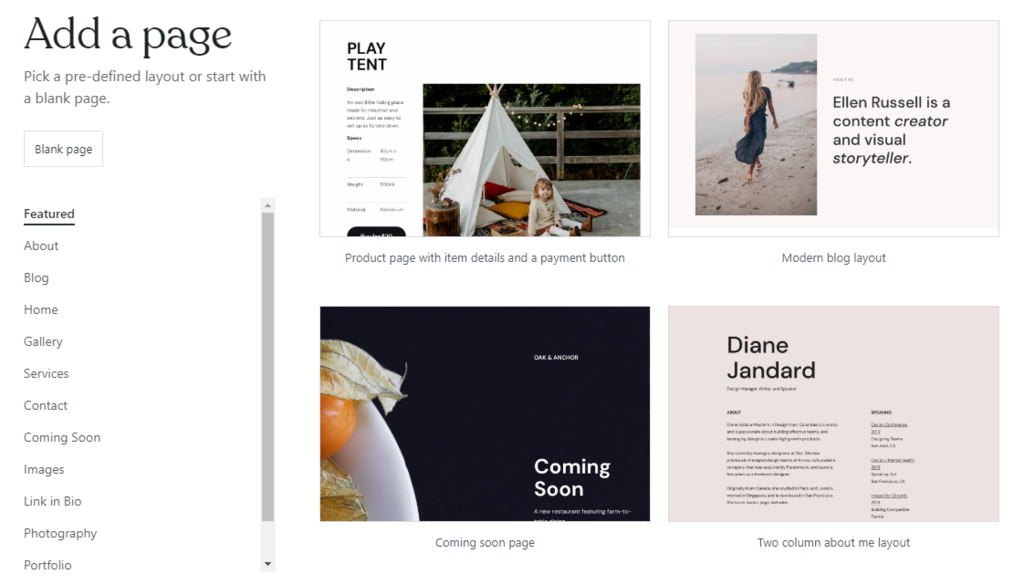 WordPress.org
WordPress.org requires extra steps to get started.
First, choose a web hosting plan and a domain name. This may seem like a hurdle in creating a website, but it offers you more options, flexibility, and features in the long run.
For example, Hostinger's WordPress Starter plan is priced competitively and includes SSH access and a free web domain for one year. This plan is optimized for WordPress and sufficient for the vast majority of small to medium-sized business websites.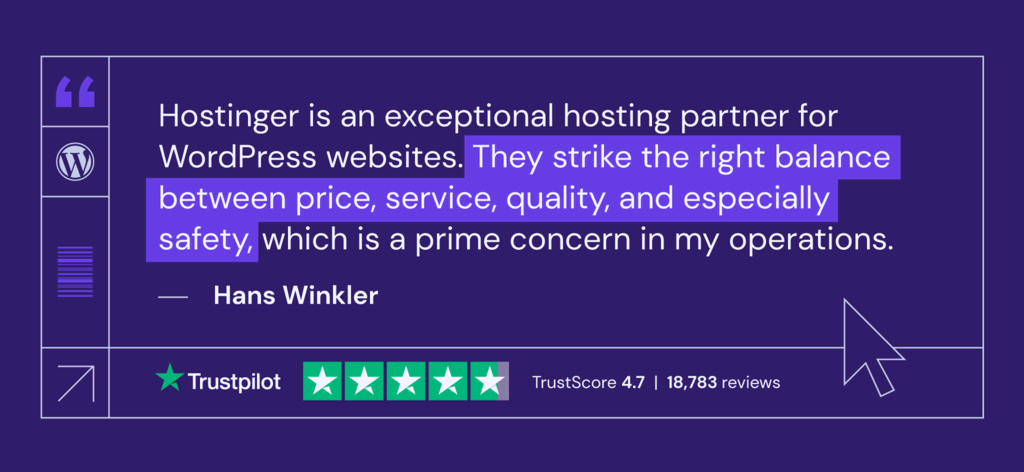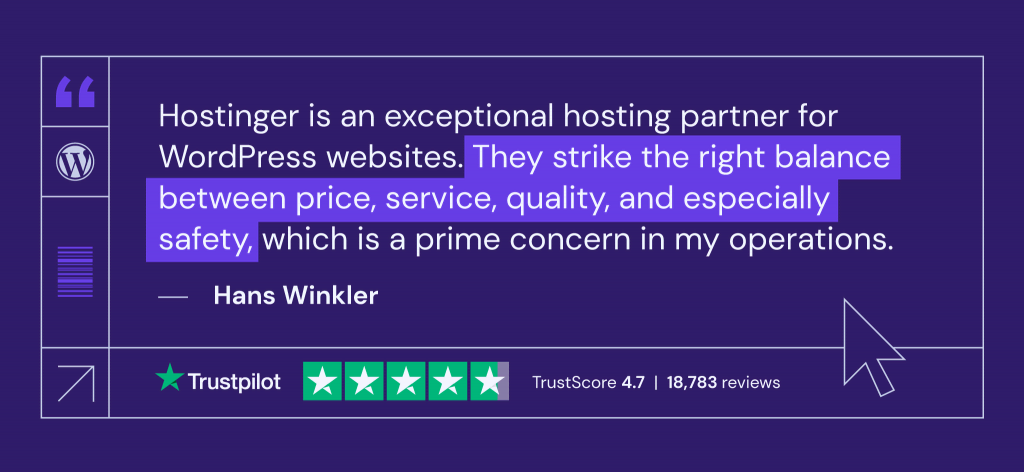 Moreover, many quality hosting services already offer an auto-installer for WordPress. Hence, you don't have to manually download and install WordPress.org files.
The dashboard and block editor are similar to what you would get with WordPress.com. Use them to choose a theme and add content by creating posts and pages for your website.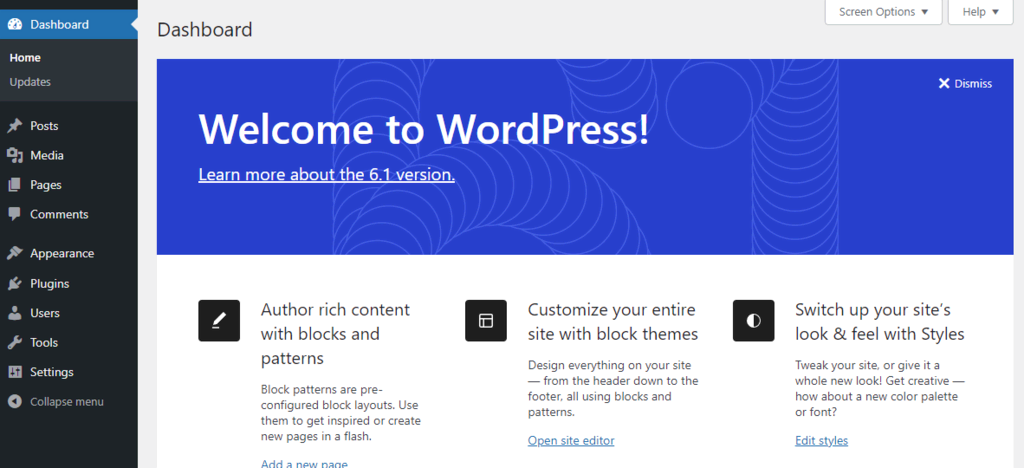 One advantage of self-hosted WordPress over WordPress.com is that you can install plugins without limitations. For example, to easily customize your website, install a page builder plugin.
WordPress.com vs WordPress.org: Flexibility and Customization
WordPress lets users easily customize their websites using themes and plugins.
Themes define the website's appearance and layout. They also provide a good base for further visual customization.
On the other hand, plugins are additional code that lets you add new features to the website, expanding its functionality.
WordPress.org and WordPress.com let users use both. However, there are some differences when it comes to their flexibility and customization options.
WordPress.com
WordPress.com provides some free themes with the Personal and free plans. There are also hundreds of premium themes to customize your website's style.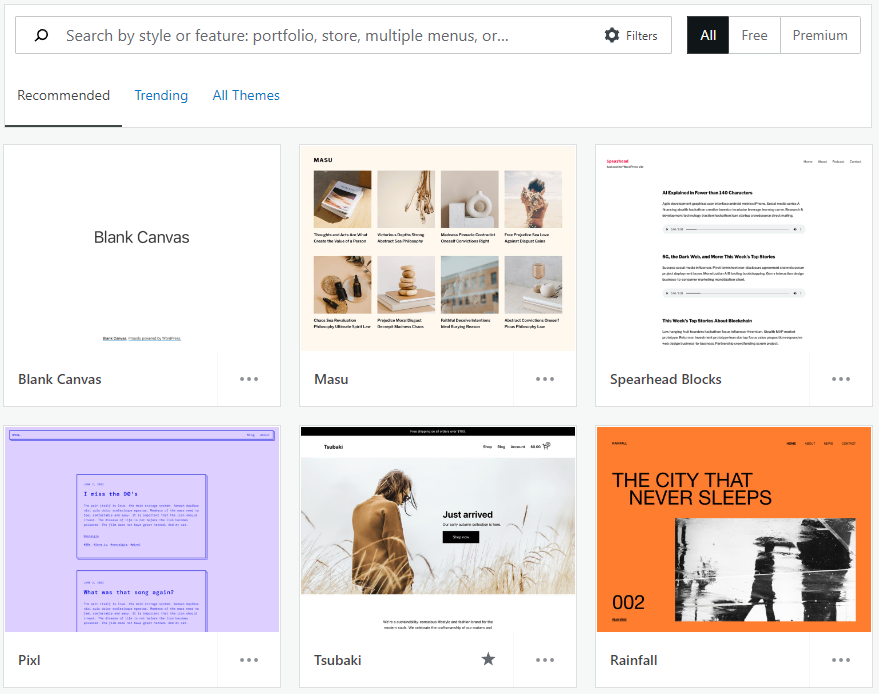 Further customize the appearance of your site using the WordPress site editor or customizer. Then, use WordPress blocks to add or group content.
The site editor allows you to rearrange the content layout easily. Fortunately, plenty of block patterns are available even on the free account.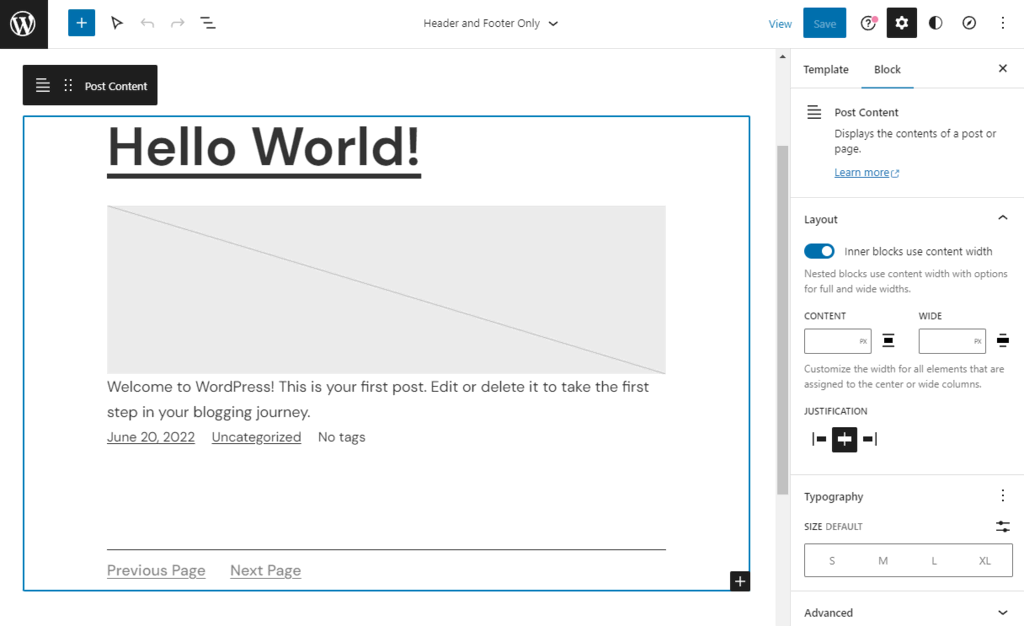 To install custom themes and third-party plugins, you must get the Business or eCommerce plan.
This will open up more content customization options. You can choose any third-party theme and add features like page builders, sliders, social media icons, and custom tables.
WordPress.com allows you to add custom CSS from the dashboard. However, further customizations like registering theme patterns are impossible since you can't access the WordPress installation folder.
WordPress.org
Unlimited access to themes and plugins makes a self-hosted site more flexible than WordPress.com.
A cleanly installed WordPress software comes with a default theme. WordPress' latest version comes with a block theme, which you can customize easily with the block editor.
Additionally, thousands of plugin and theme options are accessible from the WordPress dashboard or in the official plugin and theme directories. You can also install third-party plugins and themes by uploading the files to WordPress.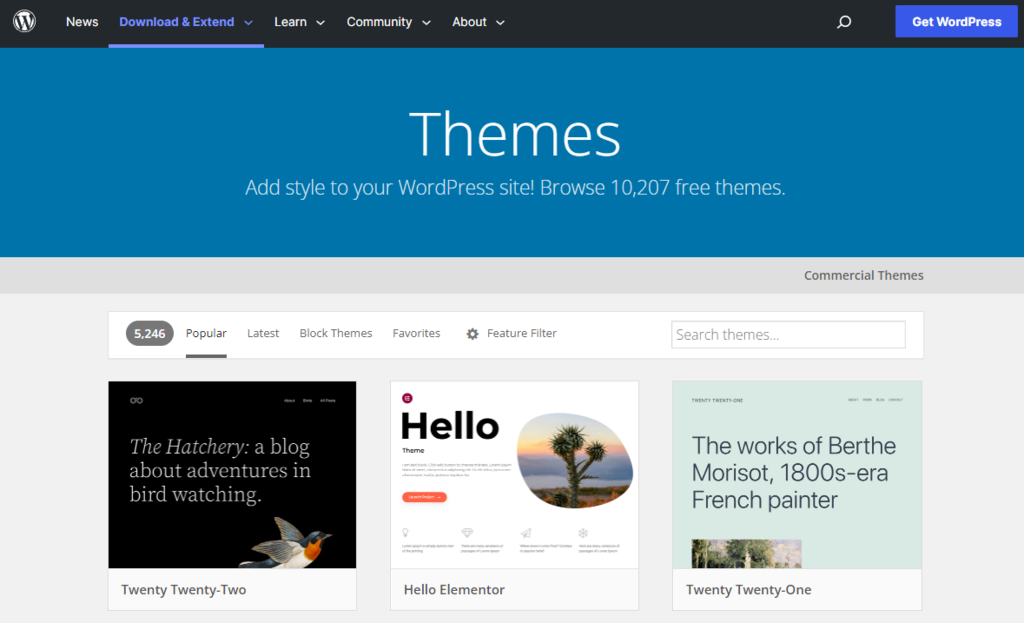 More importantly, the self-hosted version lets you access and edit your WordPress files from the WordPress dashboard via the Theme File Editor or Plugin File Editor.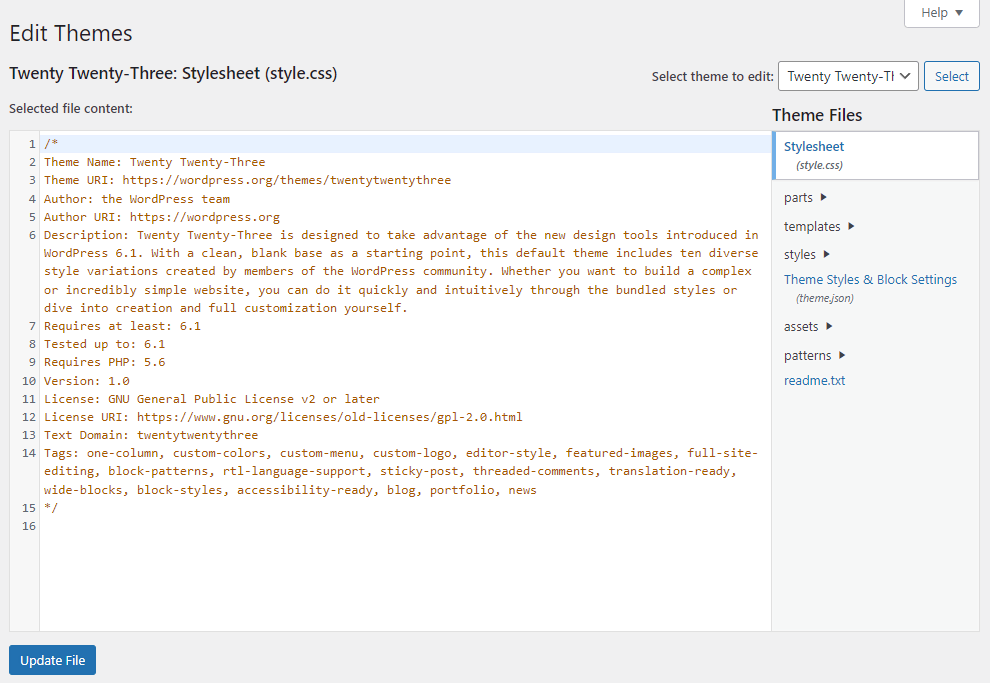 Alternatively, use the hosting account's file manager or FTP access to modify core WordPress files.
WordPress.com vs WordPress.org: SEO
Search engine optimization (SEO) is essential for any website's success. Good WordPress SEO practices will help your website rank higher on search engine results pages, maximizing your site's visibility and increasing organic traffic.
WordPress.com
You must purchase the Business or eCommerce plan to use advanced SEO tools and write meta descriptions, titles, and social previews.
Moreover, you can install any WordPress SEO plugin with one of those plans. Using an SEO plugin, you can improve your content optimization and generate a sitemap to submit the site to search engines.
Unfortunately, you won't get advanced SEO features with the Premium, Free, and Personal plans. That said, you will still get the basic SEO features, such as adding image alt texts and configuring the site address.
WordPress.org
WordPress.org offers more SEO opportunities. Users can easily install any free or premium WordPress SEO plugin and get the ability to write meta descriptions, titles, and enable breadcrumbs navigation.
AIOSEO is one of the most popular and feature-rich SEO plugins.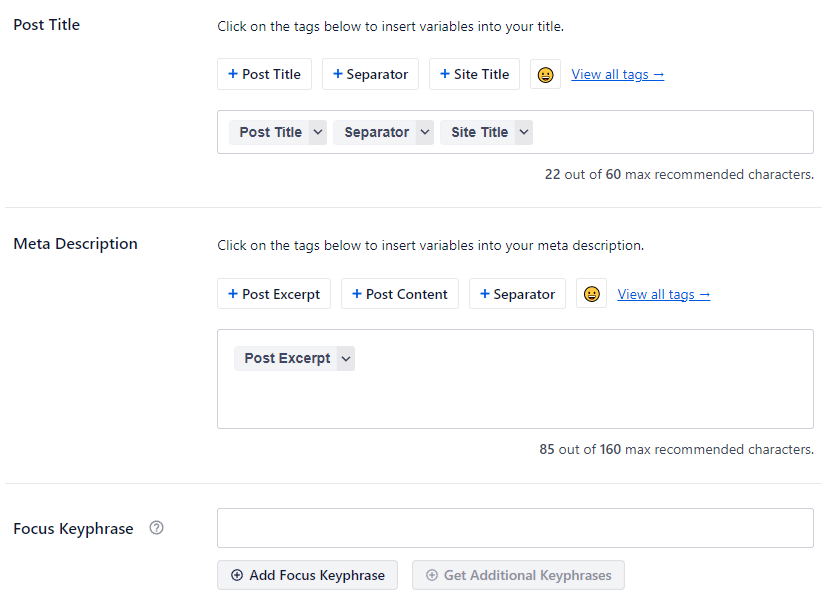 Additionally, install a caching plugin to speed up your WordPress website. After all, website speed is an important ranking factor.
With the self-hosted WordPress, you can also change the permalink settings to a more SEO-friendly structure.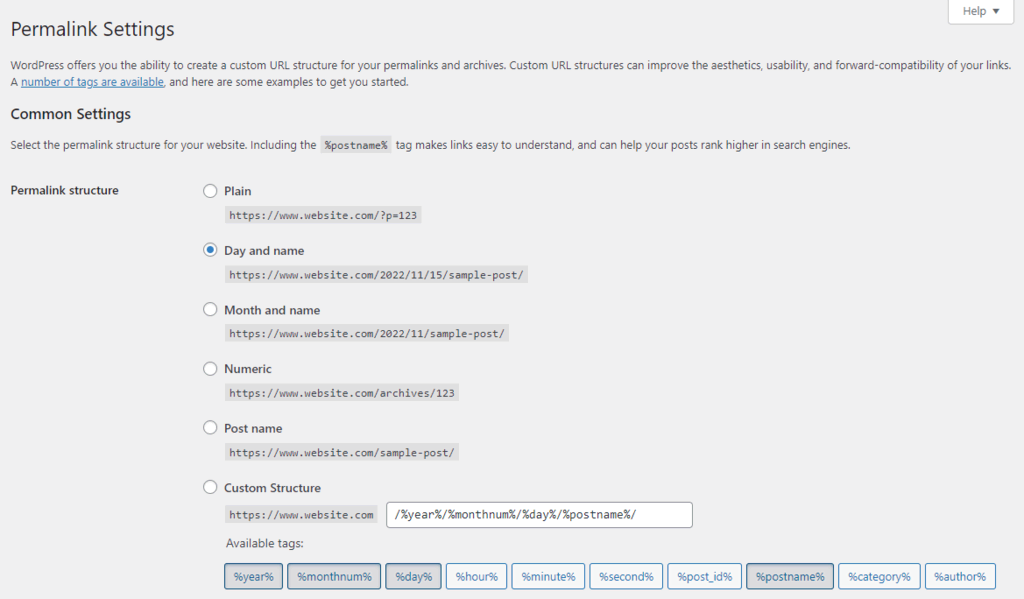 WordPress.com vs WordPress.org: Price
Setting up a website using either WordPress.com or WordPress.org costs money. However, these two platforms have distinct cost structures, which will result in different overall WordPress pricing.
WordPress.com
While creating a website using WordPress.com's free plan is possible, the customization options are minimal. Moreover, you need a paid plan to use a custom domain name and remove WordPress.com ads from the website.
WordPress.com offers four pricing plans with the following key features:
Personal ($4/month) – remove WordPress.com ads and use a custom domain name.
Premium ($8/month) – monetize websites with advertising, receive dedicated support via live chat, use premium WordPress themes, and integrate Google Analytics.
Business ($25/month) – install custom plugins, unlock advanced SEO tools, and access SSH.
eCommerce ($45/month) – accept online payments from 60+ countries, integrate shipping carriers, and use premium, online store-optimized designs.
The paid plan you choose will depend on your site's goals. For example, the Personal plan is suitable for a personal blog, while the Premium plan is sufficient for a small organization website.
The Business and eCommerce plans let you take full advantage of the WordPress ecosystem and let you install custom plugins and themes. We recommend these plans, especially eCommerce, if you want to build an online business site.
Therefore, you'll need to budget at least $25/month to get the most out of WordPress.com.
There are also premium WordPress themes on WordPress.com that cost around $30. Although you don't need one, they often look better and offer more customization options than the free themes.
WordPress.org
The WordPress software on WordPress.org is completely free. However, building a website using the core software requires a hosting plan and a custom domain name.
The cost of a hosting plan depends on the chosen web host and hosting type. Our WordPress hosting plans are perfect for someone building a WordPress.org website for the first time.
The pricing increases for more robust hosting types. For example, VPS prices typically exceed those of WordPress or shared hosting plans. However, it offers full control over your web server.
If you want to maximize uptime and performance, opt for cloud web hosting plans.
When it comes to domains, prices vary significantly. Usually, you can register a .com domain for around $10 with a renewal cost of about $9-15/year.
Domain Name Checker
Instantly check domain name availability.
There are also plenty of premium WordPress plugins and themes you can use on your own website. Their costs vary, but premium plugins start at around $10/license. Meanwhile, premium themes tend to go for $20-30/license.
WordPress.com vs WordPress.org: Performance
To ensure great user experience and rankings, your website should load quickly. When interacting with your website, users should be able to do it without lag.
Many factors can affect WordPress website speed, from the hosting environment to website optimization.
To evaluate website performance, use tools such as GTmetrix and PageSpeed Insights to check its core web vitals.
WordPress.com
When you purchase a WordPress account, the hosting service is already included. Therefore, you can't choose your preferred hosting environment. Yet, WordPress.com claims that they use best-in-class hosting.
You can optimize the website further using caching or image optimization plugins. However, you'll need to upgrade to the Business or eCommerce plan.
WordPress.org
WordPress.org offers more ways to optimize website performance.
First, the website host is important in determining your website speed. Since you can choose any web hosting provider, you must do your research to find one that provides top-notch performance.
You can also migrate to a more advanced hosting environment as the website grows. For example, you may start the website using a shared hosting plan and later upgrade to a VPS or cloud hosting.
There are other ways to improve your site's performance. For example, integrate a content delivery network (CDN) with your WordPress site or leverage browser caching to speed up your website loading speed.
Since you have better control over the hosting setup, you can perform optimizations from the hosting side.
For example, ensure you're using the latest PHP version. If you use Hostinger, enable the built-in caching feature on hPanel.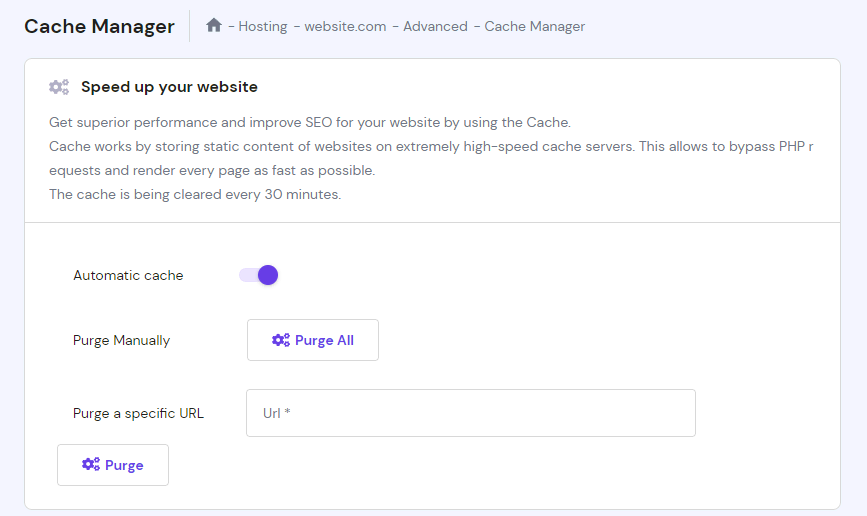 WordPress.com vs WordPress.org: Security
WordPress security is about choosing the right platform and applying security measures to protect your WordPress site and its visitors from potential threats.
WordPress.com
WordPress.com provides managed security maintenance to combat potential vulnerabilities.
WordPress.com provides an SSL certificate with all plans, including the free version. It also takes care of updates and security patches, ensuring that your website will have the latest WordPress version and security reinforcement.
As for the themes and plugins offered on WordPress.com, they are routinely checked and maintained by the WordPress.com team.
When it comes to WordPress backups, only the Business and eCommerce plans get automated backup features.
Since you can't install custom WordPress plugins on the lower tier plans, the lack of backups creates a risk if anything bad happens to your website.
WordPress.org
WordPress.org offers a more hands-on approach to security, giving you more flexibility to extend your security measures.
First, you need to choose a secure web host that follows good security practices. This prevents unauthorized parties from accessing the back-end of your site and causing harm.
You can use any security plugin to secure the website. A great plugin lets you apply various security measures, such as two-factor authentication (2FA), login attempt limit, and auto-logout.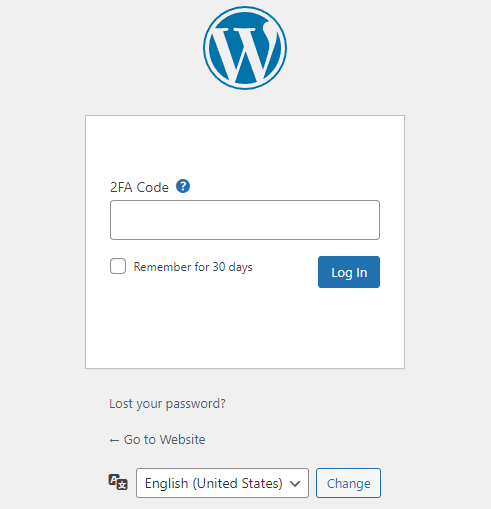 With self-hosted WordPress, you can access core WordPress files and apply another layer of security in the .htaccess file. For instance, add password protection and an IP address whitelist.
This ability to extend security measures gives WordPress.org the upper hand compared to WordPress.com.
WordPress.com vs WordPress.org: eCommerce
As a flexible and customizable CMS, WordPress is often used as an eCommerce platform. You can add various online selling features to WordPress, such as product management, checkout pages, and online payments.
However, the nature of WordPress.com and WordPress.org makes making an online store on each website platform a significantly different experience.
WordPress.com
To build eCommerce sites using WordPress.com, you must choose the eCommerce plan, which costs $45/month. It includes payment processing from 60+ countries and integration with shipping carriers that provide live rates.
With the eCommerce plan, you can sell an unlimited number of products. You will also get tools like social media integration and email marketing to scale your business.
Finally, setting up an online store is also easy, thanks to many premium eCommerce custom themes that are available.
WordPress.org
WordPress.org lets you build an online store using eCommerce plugins. Plenty of plugin options are available, but WooCommerce is the most popular one.
WooCommerce is free to use and offers essential eCommerce functionality, including product management, online payments, and digital downloads.
However, you may have to install premium extensions or additional plugins to enable more features, such as extra payment gateways, marketing tools, and Google Analytics integration.
Conclusion
Both WordPress.com and WordPress.org implement WordPress, the famous content management system. However, these platforms have crucial differences. Learning those differences will help you choose the right WordPress platform for your site.
There's no definite winner when it comes to WordPress.com vs WordPress.org. The best choice will depend on your needs, budget, and website development skills.
We recommend WordPress.org for users who need customization, flexibility, and complete control over various aspects of the site, such as SEO, security, and performance.
WordPress.com is better for beginners who want to build a free WordPress site. It's also a good fit for users who prefer a managed platform for maximum simplicity.
We hope this article helps you pick the right WordPress platform. Feel free to share your choice and opinions in the comments section below.