WordPress.com vs WordPress.org: What Sets Each Platform Apart?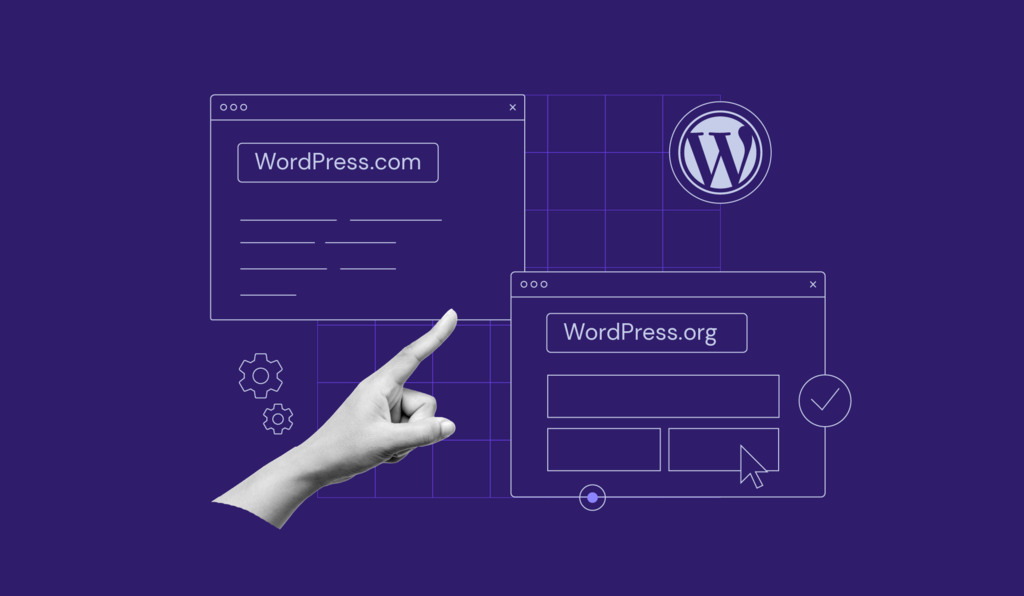 These days, pretty much everyone knows about WordPress. However, when people talk about the platform, they might be referring to either WordPress.com or WordPress.org. If you thought both of them were the same, then you'd be wrong. This could be a problem, especially if you're considering using either platform to set up your next website without understanding the differences between the two.

In this article, we're going to compare WordPress.com vs WordPress.org based on several criteria, including:
Ease of use
Flexibility and customization
Price
Performance
Security
However, before we get into the technical details, we're going to explain the basic differences between WordPress.com and WordPress.org and see which is better for your site. Let's dig in!
WordPress.com vs WordPress.org – Video Tutorial
Learn the difference between WordPress.com vs WordPress.org and choose the most suitable platform for your needs.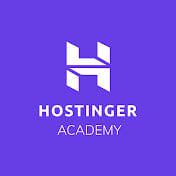 Subscribe For more educational videos!
Hostinger Academy
Subscribe
Difference Between WordPress.com vs WordPress.org: Getting to Know the Platforms
As we mentioned earlier, WordPress.org and WordPress.com are not the same. While you'd be forgiven for assuming this, they're actually two completely different platforms that happen to share the same name.
Over the next few sections, we're going to break down the many differences between WordPress.com and WordPress.org. For now, though, let's focus on the main thing that separates both platforms, which is hosting.
WordPress.org is the website that hosts the open-source version of the famous content management system (CMS) known as "WordPress":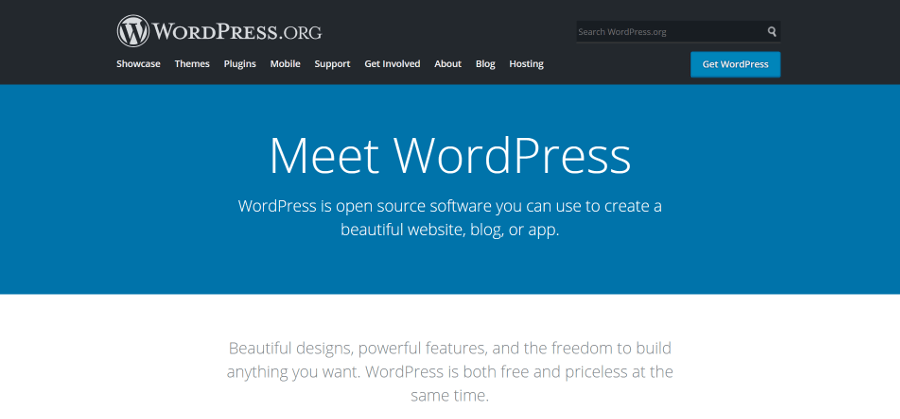 In short, a CMS is a type of software designed to help you create websites and manage massive libraries of content. In WordPress' case, the platform was developed with blogging in mind, but has since grown to be used for almost any type of website or application.
On the other hand, when people talk about WordPress.com, it's referring to a blogging service that is run by Automattic. With WordPress.com, you get to use a custom version of the WordPress software that's easy to pick up, and you don't have to install it on your own: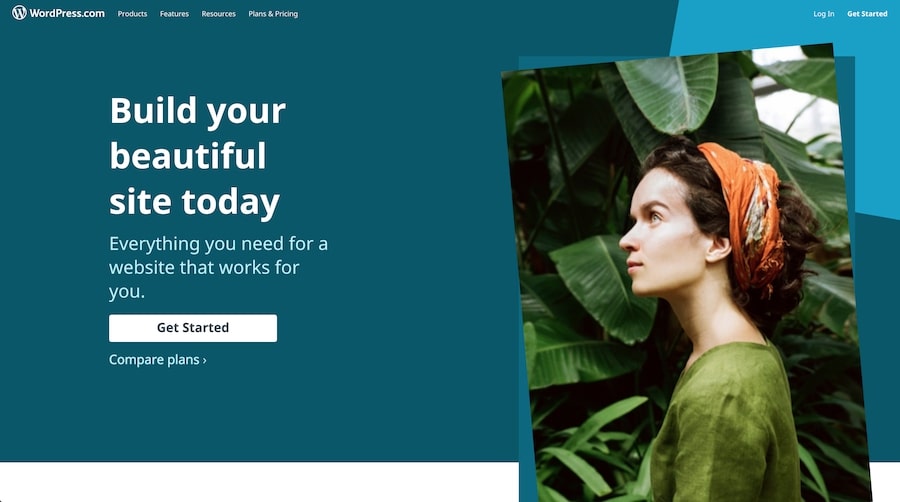 The most prominent difference between the two is how they're hosted. WordPress.org is often referred to as 'self-hosted WordPress', since you have to install it on your own site. Many WordPress hosting providers offer one-click installations, making this process much easier, as you don't need any technical experience to get your site up and running.
In contrast, WordPress.com provides that service for you alongside the blogging platform. You get to choose from a variety of plans – including a free one – so you can focus on building your site without worrying about installation and hosting.
Now that you know the most basic differences between both platforms, let's dig deeper. We're going to look at the comparison between WordPress.com vs WordPress.org and how they differ.
WordPress.com vs WordPress.org: Ease of Use
In this section, we're going to evaluate how simple it is to get started with WordPress.org vs WordPress.com. More specifically, we're going to check out the process of setting up a new website and publishing your first post.
Let's start with WordPress.com. The first thing you'll need to do is set up an account, which you can do for free. You just need to choose a name to start your blog: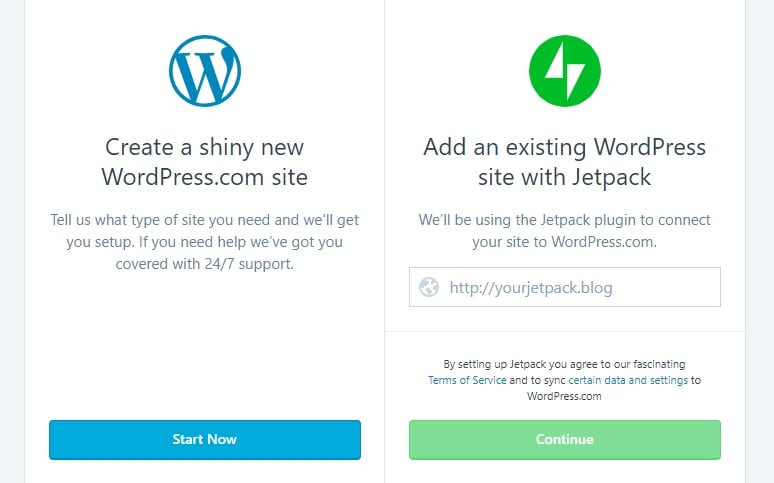 You can then fill out some personal details to sign up for a WordPress.com account. This account can also be upgraded, which we'll talk about later.
Once your account is ready, you'll get access to your dashboard. From here, you can manage your account in general, as well as all your WordPress.com websites.
To check out your new WordPress.com website, click on the My Sites tab. You'll now see an overview of your site's stats, which are naturally non-existent right now: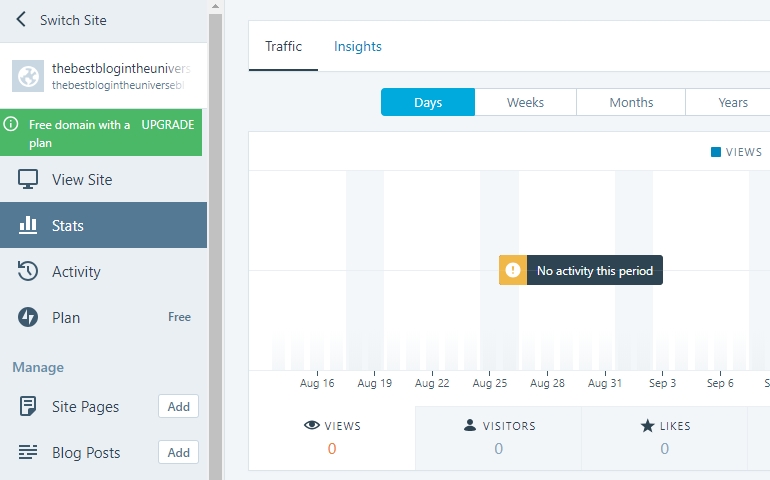 From here, you can check out your website by clicking on the View Site button: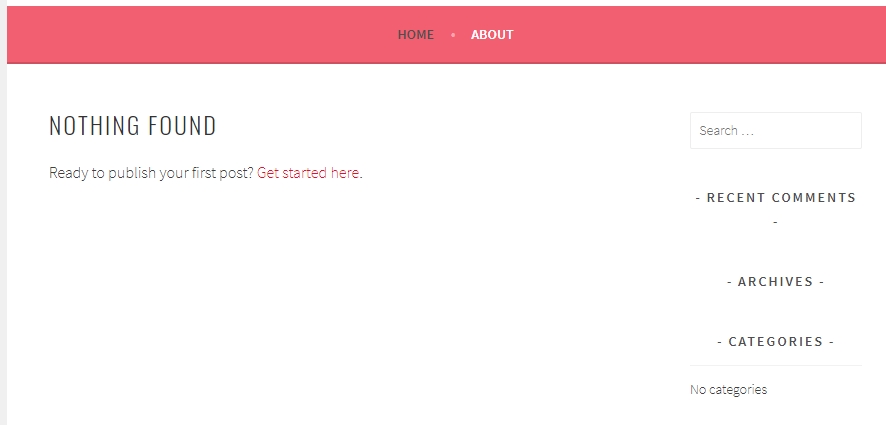 Right now, there's nothing much to see. To fix that, you'll have to start publishing content, which you can do by hitting the Write button at the top of the screen.
This will open the WordPress.com editor, which is relatively straightforward. You have sections to write both your post's title and its content, and to the right, you can edit its settings: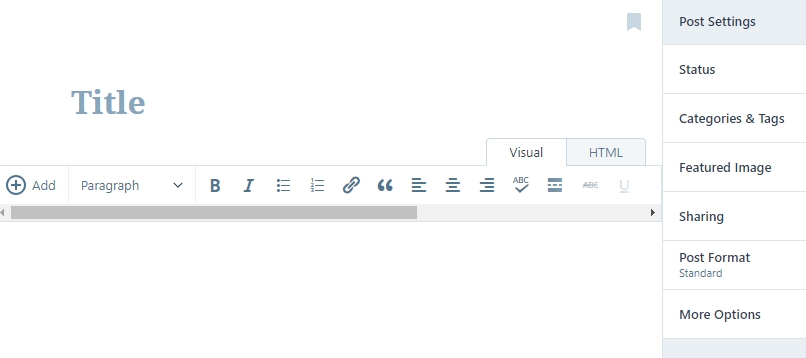 Once your first blog post is done, you can preview it to see how it'll look on the site. You can then hit the Publish button to make the post visible to your site's visitors.
Using WordPress.com, getting your website up and running only takes a few minutes. Writing your first basic blog post should also be relatively quick, but will naturally depend on its length and scope.
Let's now look at WordPress.org. To get started with the CMS, you'll first need to find a hosting provider. This means there's an extra step involved before you can get to work on your website. However, the good news is you get to pick whichever provider you prefer instead of being bound to a single service.
For example, Hostinger provides shared hosting plans at competitive prices. Even with our most basic plan, you get access to a lot of cool features, such as being able to use multiple PHP versions and SSH access.
In any case, once you choose a web host and sign up for a plan, you'll need to install WordPress on your new server. This should only take a few minutes, especially if you're using a one-click installation, but the process is a little less streamlined than WordPress.com.
Once WordPress is ready to go, you'll notice that your new dashboard contains a lot more options than WordPress.com's: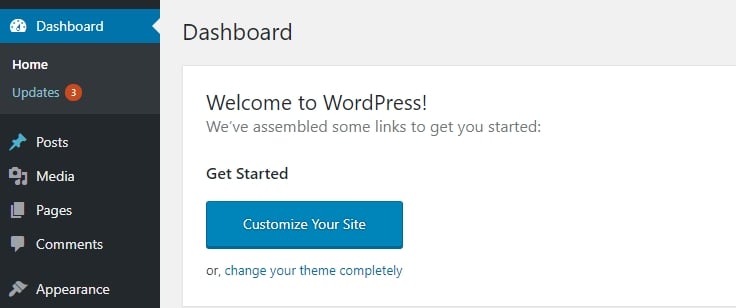 Having more options is fantastic as far as we're concerned, but it also means it can take longer to get the hang of everything you need to know. However, when it comes to creating posts, the process is pretty simple. You just need to go to Posts -> Add New, and you'll get access to the WordPress.org editor: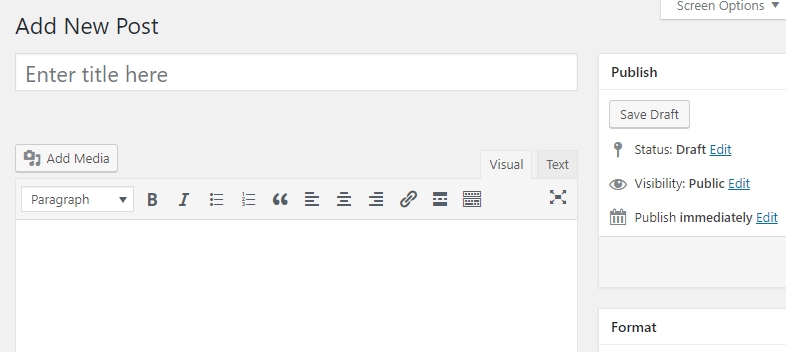 Just as with WordPress.com, you can set a title for your post and add your content in the editor. Plus, you also get to edit your post's settings using the options to the right of the screen.
Overall, the post-publishing experience between both platforms is pretty comparable. While WordPress.com gets a slight edge when it comes to how simple it is to set up your first site, the two are evenly matched once the site is up and running.
WordPress.com vs WordPress.org: Flexibility and Customization
While many still associate WordPress exclusively with blogging, both platforms actually enable you to tackle multiple types of projects.
In this section, we're going to talk about each platform's flexibility and compare WordPress.com vs WordPress.org when it comes to their customization options. Ultimately, what we care about it whether these platforms give you enough freedom to tackle any type of website you want.
Let's start with WordPress.com. Right off the bat, you can customize your site's style using themes. WordPress.com provides you with several dozen free options, so you have a decent amount of choices. There are hundreds of other themes you can use to customize your website's style, many of which are premium options: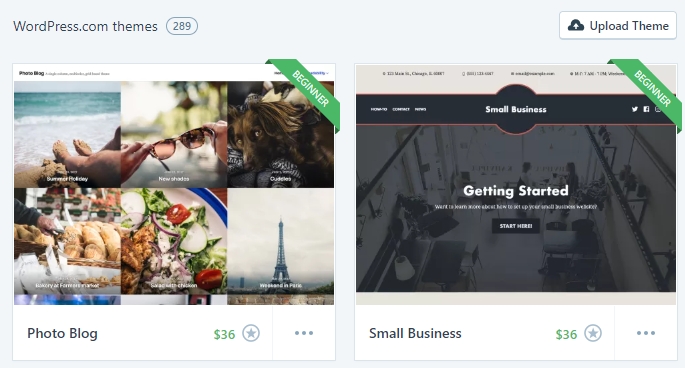 Moving on, let's look at plugins. These are – alongside themes – one of the primary reasons why WordPress is so popular. With plugins, you can add almost any functionality you want to your website, without the need to hire a developer or code it yourself: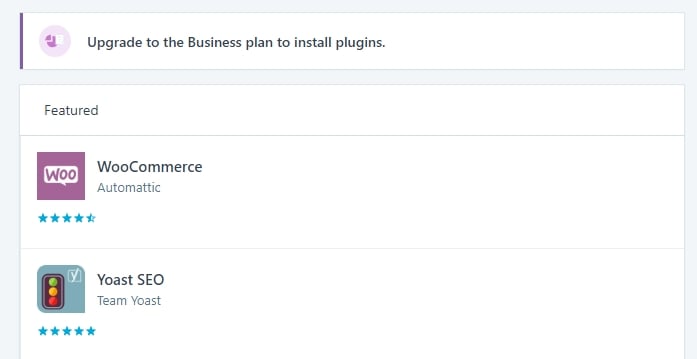 With WordPress.com, you can use all the same plugins as with WordPress.org. However, the platform's free plan doesn't enable you to install any plugins at all. To do so, you'll need to upgrade to the Business plan on WordPress.com.
Self-hosted WordPress, on the other hand, offers no such limitations. As soon as you get your website up and running, you can install any of the thousands of plugins you can find on WordPress.org:

The same goes for themes, of which there are thousands available for you to choose from: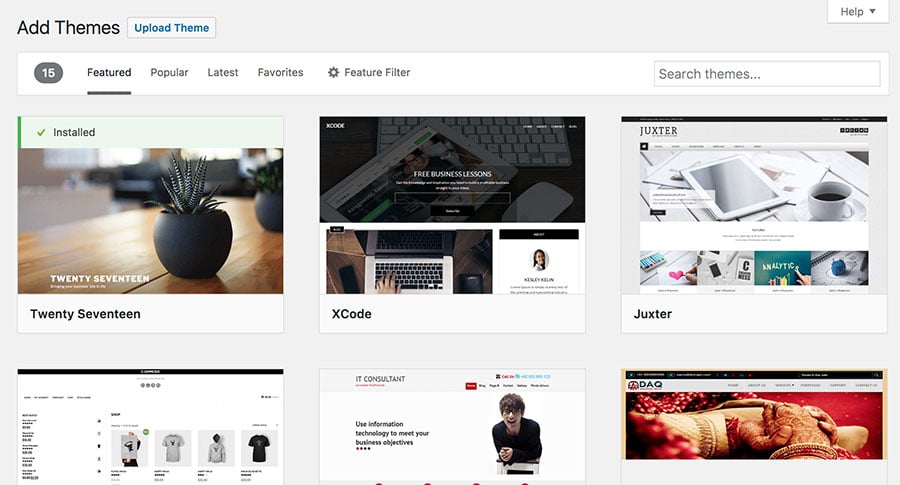 Going by sheer numbers alone, WordPress.org has a clear advantage when it comes to customization. The freedom to use any plugin or theme will make it much easier to create any type of site, customized to your exact requirements. If you're an experienced developer, you can even play around further by creating your own themes and plugins, or even edit WordPress itself.
In comparison, your customization options are going to be rather limited if you're using WordPress.com's free plan. As such, round two of WordPress.com vs WordPress.org goes to the latter.
WordPress.com vs WordPress.org: Price
There's no way around the fact that setting up a website costs money. At the very least, you'll most likely need to pay the pricing for hosting and a domain, alongside the number of other fees involved in running a site.
So far, we've talked mostly about WordPress.com's free tier. However, the platform also offers three WordPress hosting plans:
Personal ($4/month): With this plan, you can get rid of WordPress.com ads and get a custom domain name.
Premium ($8/month): Premium users can monetize their websites with ads and use CSS to edit their sites.
Business ($25/month): This plan enables you to add plugins and themes, as well as integrating Google Analytics into your site.
eCommerce ($40/month): Specifically designed for managing online stores. Accepts payments in more than 60 countries and offers premium design options for online shops.
Which plan you decide to go with depends largely on your site's goals and purpose. However, to get the most out of the platform, you'll likely want to go with the Business tier, as it lets you take full advantage of WordPress' plugin system. Plus, Google Analytics integration is critical if you want to understand your visitors and track their behavior.
With that in mind, to get the most out of WordPress.com, you'll need to budget at least $25/month for your website. You could stick with the platform's free version, but that's not going to get you very far if you're looking to create a professional website.
It's also worth mentioning that there are several premium themes on WordPress.com, with prices usually starting around the $30 mark. While you don't need to buy a premium theme, they often look a lot better than the free alternatives, so that's another budgetary consideration.
Moving on, let's talk about WordPress.org. The platform itself won't cost you a dime, but since you need hosting and a domain, that's where you'll want to start looking.
Just to give you an idea of what kind of costs you're looking at, it's usually possible to find decent shared hosting plans for less than a few dollars.
Those prices go up a bit if you're looking for a more robust solution, such as a virtual private server. A VPS can be overkill for a new website, so there may not be a need to jump straight to a more expensive plan right away.
When it comes to domains, prices will vary significantly. However, it's not uncommon to get a regular .com domain that costs around $9/year.
There are also plenty of premium plugins and themes you may want to use on your website. Costs can vary a lot depending on what type of tool you need, but premium plugins usually start at around $10/license, where themes tend to go for over $20-30.
Of course, you don't need to spend money on premium themes or plugins. However, in our experience, most people do splurge a bit in this area, as it will give them an edge to create a successful site.
In any case, the initial costs of setting up a website can range from practically zero dollars into the thousands, depending on your plan, hosting, domain, and tools. However, due to the abundance of free and cheap options available, we're awarding this round of WordPress.org vs WordPress.com to the former.
WordPress.com vs WordPress.org: Performance
An important consideration for websites of any type is speed. In short, your pages should load quickly, and users shouldn't be faced with lag and slowdown when interacting with your site.
There are many things that can slow down your website that don't really have much to do with which platform you're using. For example, if you decide to upload several high-quality images to a page without compressing them, it'll increase your load times.
However, whichever platform you're using needs to provide a baseline of decent performance. WordPress.com does well in this aspect since it's a hosted platform. In our experience, all its plans provide excellent performance out of the box.
Perhaps the best part about using WordPress.com is that you don't have to worry much about optimization. The platform is consistently fast and there's no downtime.
WordPress.org is a different beast, though. While the software itself is great for performance, your host is an important factor that can determine how fast your site is. Since you can use any hosting provider you want, you need to do your research to find one that provides top-notch performance.
In addition, there are also several ways you can improve your site's performance. For example, you can integrate a content delivery network (CDN) with your WordPress website or leverage browser caching, both of which will have a positive effect on your site's speed. If you're the kind of person who likes to have control over every little aspect of your site, you'll likely appreciate this level of freedom.
When it comes down to it, speed is an important consideration. While WordPress.com does a lot of the work for you, WordPress.org gives you more freedom to optimize your site. As such, this round of WordPress.org vs WordPress.comes to the CMS.
WordPress.com vs WordPress.org: Security
For the last section of our WordPress.com vs WordPress.org comparison, we're going to talk about security. Using a secure platform is critical if you want to keep yourself and your visitors safe. You obviously don't want attackers gaining access to your website and using it to distribute malware or spam.
When it comes to security, WordPress.com provides a very hands-off experience. Since you're using a closed platform, there aren't many vulnerabilities. Plus, the WordPress.com team takes care of keeping your site safe for you, which means you can focus on other aspects of running your site.
WordPress.org, on the other hand, requires you to be much more hands-on when it comes to security. The first thing you'll need to do is ensure that your web host follows good security practices. Even then, you still need to take a lot of steps to protect your WordPress website.
All this work can be both a blessing and a curse. For example, you might just want to set up a WordPress security plugin and turn on Two-Factor Authentication (2FA). You can also go a step further and whitelist which IPs you want to be able to access your dashboard and more.
The point is that WordPress.org's open-source nature enables you to tweak your site's security settings as little or as much as you want to. We're the kind of people who appreciate having options, so this round of WordPress.org vs WordPress.com once again goes to the former.
WordPress.com Advantages
We've covered a lot of ground in this WordPress.org vs WordPress.com comparison, so it's time to do a brief recap for both platforms. First off, let's talk about the advantages of using WordPress.com:
It's incredibly simple to set up a website with the platform.
Your dashboard is easy to use, and it packs a decent range of features.
You get access to dozens of free themes.
When it comes to performance and security, you can leave it in WordPress.com's hands.
However, there's one big con to WordPress.com, which is the fact you can't use plugins unless you decide to splurge for the $25 plan. Plugins are a huge reason why WordPress is such a fantastic platform in the first place, so this is a significant factor.
WordPress.com is still an excellent platform if you want to create simple sites quickly. Using it also means you can focus your full attention on growing your website and publishing excellent content, since you don't have to care about many of the technical aspects.
WordPress.org Advantages
There's a reason why WordPress is so popular. In fact, there are several reasons, and we're going to break them down for you:
The platform's open-source nature gives you full control over every aspect of your website.
You get to use a straightforward dashboard with a lot of options.
You get access to thousands of plugins and themes, which enable you to set up almost any type of site you want.
WordPress can run on any web host or server you want, so you're not bound to a single provider.
It's also worth noting that the WordPress community is incredibly active and helpful. No matter what question you have, chances are you'll find a tutorial, guide, or developer willing to help you.
To be fair, getting started with WordPress.org can involve a slightly steeper learning curve than with WordPress.com. You'll also need to consider how to secure your website and optimize its performance.
However, even those aspects are relatively easy to tackle, even for a beginner. They're also well worth it when you consider the sheer number of customization options it gives you. With that in mind, it should come as no surprise that when it comes to WordPress.org vs WordPress.com, self-hosted WordPress is our preferred choice.
Conclusion
On the surface, there's a lot in common between these two platforms, hence the WordPress.com vs WordPress.org debate. Although the platforms are essentially brothers, it's clear that WordPress.org has the edge when it comes to features, due to its open-source nature.
That's not to say there aren't cases where using WordPress.com is the better option. If you don't want to worry about hosting and just need a simple website, then it can be a good option for you. However, if you're the kind of person who wants to be able to customize every aspect of your website, thenWordPress.org is the clear victor.
So, which is better between WordPress.com vs WordPress.org? Share your opinions with us in the comments section below!