Website Builder vs WordPress: Which One Is for You?
A website is an essential element for the success of a business as it attracts potential customers and generates sales. To create websites efficiently without coding them from scratch, various tools are available.
The most popular options are online website builders and WordPress. Although you don't need coding knowledge to get started with either, they are different in many ways.
This article will explain the differences between a site builder and WordPress, allowing you to decide which platform suits you best.


What's the Difference Between Website Builder and WordPress?
The main difference between website builders and WordPress is that website builders are all-in-one solutions, while WordPress is a content management system (CMS) that requires separate hosting, installation, and customization. Website builders are ideal for beginners who want a fast and easy way to create a simple website, while WordPress offers more flexibility, scalability, and control for advanced users who want to build a complex website with custom features and plugins.
Website Builder vs WordPress – A Comprehensive Look
Before we start with our WordPress vs website builder comparison, keep in mind that we will discuss the self-hosted WordPress.org, not WordPress.com.
This is the content management system (CMS) version of WordPress. It requires you to choose one of the hosting solutions and install the WordPress software on your hosting account.
We also won't compare WordPress with a specific website builder as there are many options available. These site builders vary in prices, templates available, and features, but they generally offer similar user experiences.
Thus, we will compare the best website builders and WordPress in terms of customization, security, value for money, and more.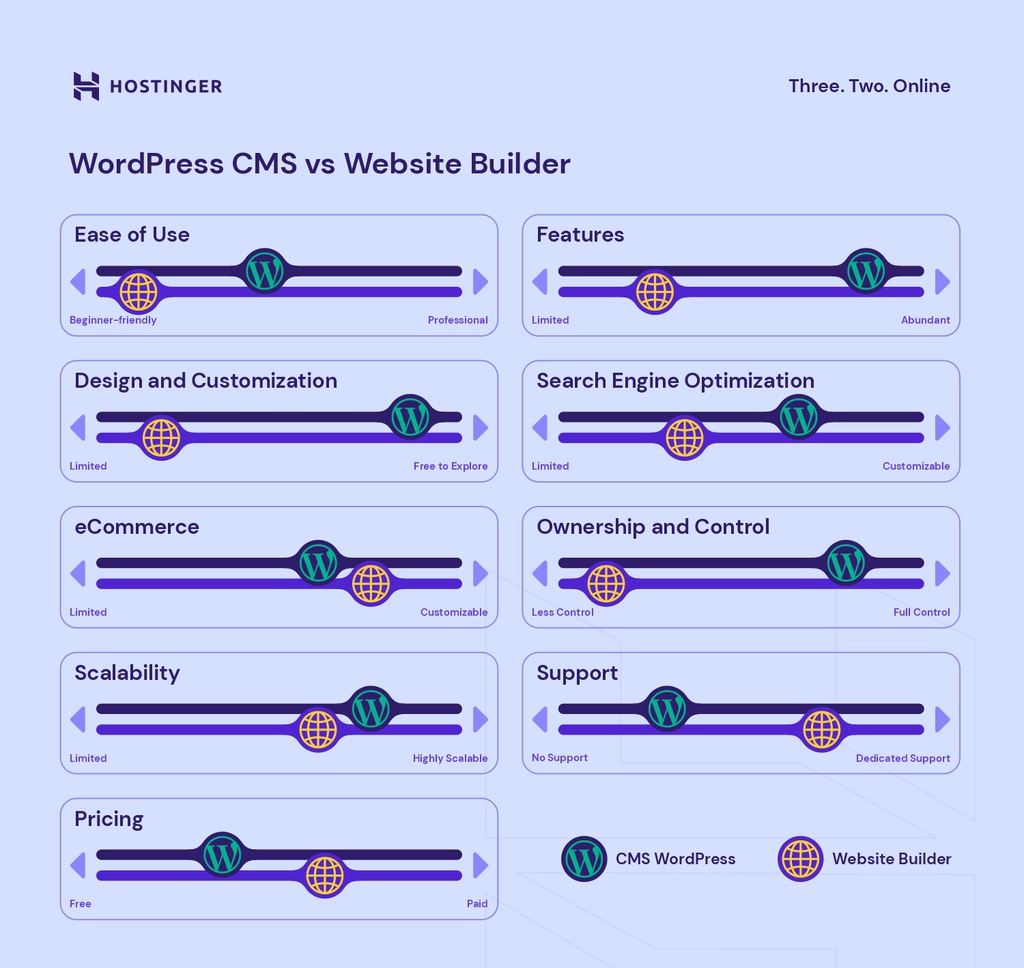 Themes and Customization
Website Builder
Website builders use customizable templates to simplify the website-building process. These are pre-made website designs that include images, layouts, and texts.
While each website builder offers different template options, they usually cover many website types, such as online portfolios, eCommerce shops, and blogs.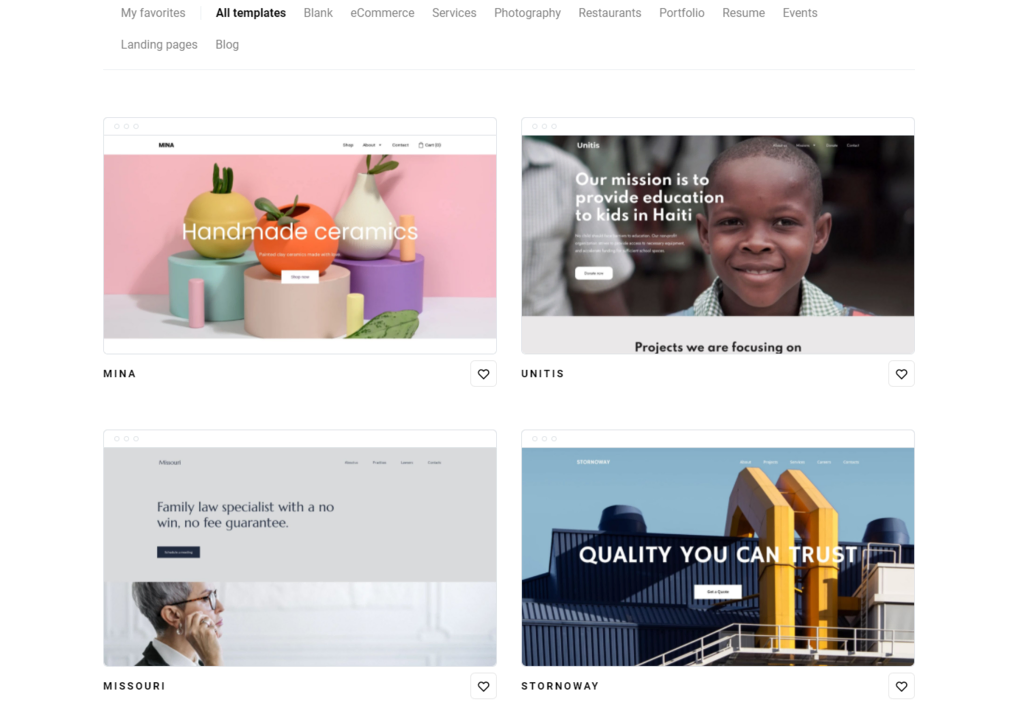 Changing the website layout is easy, as users only need to drag and drop website elements. The editor's panel is also user-friendly, and users can easily upload custom images and texts.
A major drawback of using a website maker is that you get limited templates. While there can be as many as 800 template options on a website builder, that number is much smaller than the selection of WordPress themes. Also, you can't easily switch between templates.
WordPress
WordPress, on the other hand, uses themes to alter the web appearance. A WordPress theme is a package of pre-made templates, website elements, and customization tools.
Thanks to 8,000+ free themes available in the WordPress theme directory and thousands of premium themes on marketplaces like ThemeForest, you get plenty of website design options.
When it comes to customization, WordPress is a bit more complicated. The WordPress Theme Editor is less intuitive than drag-and-drop editors.
However, some themes are compatible with a page builder plugin or the WordPress block editor, Gutenberg.

Opting for a page builder, you'll need to install an extra plugin on your WordPress, but it will provide a drag-and-drop functionality similar to a website builder.
Moreover, it's possible to add custom CSS to alter the theme's default appearance.
Plugins and Features
Website Builder
Website builders offer several plans with different feature packs. For example, the basic or most affordable plan may not include web analytics, while higher-tier eCommerce plans usually have payment integration and email marketing features.
That said, some site builders like Wix offer paid add-ons created in-house or by third-party developers so you can get additional advanced features as needed.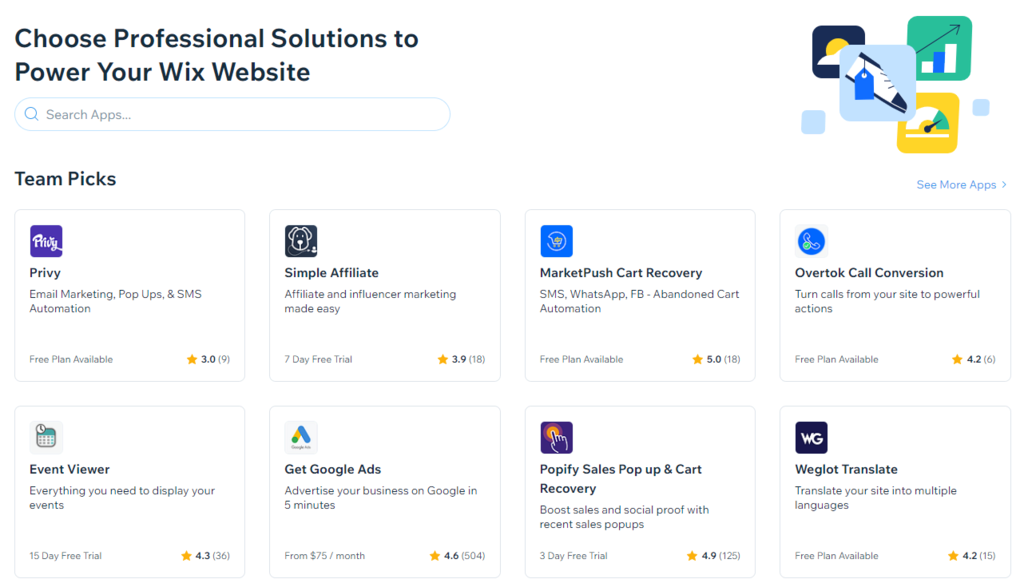 WordPress
There are thousands of free and paid plugins available to expand your WordPress site's features. In essence, there is a WordPress plugin for all site needs, like web analytics, form submission, and social media integration.
This means that you can easily implement the features or functionalities that match your needs. However, it will take more time to browse, select, and install the plugins on your WordPress site.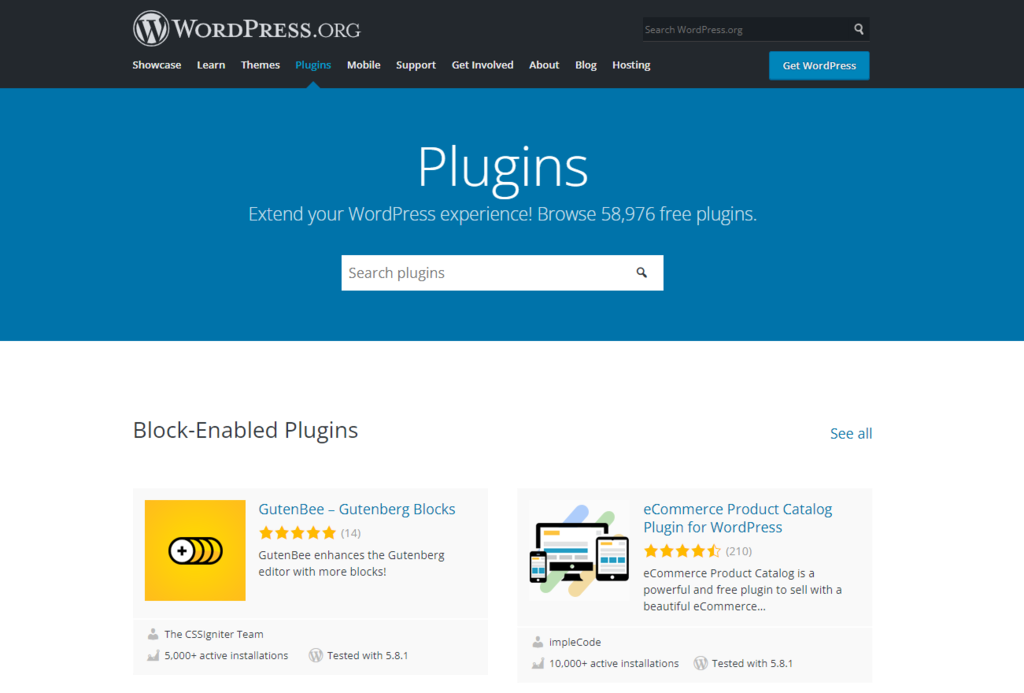 Learning Curve
Website builder
Website builders are ideal for users with little or no coding knowledge. All you need to do is sign up for a plan and choose a template. Then, start editing the website.
The drag-and-drop editor lets users customize their website intuitively. For example, if you want to change a text, simply click on it, and an option to edit the text will appear.
Rearranging the website elements is also as simple as dragging and dropping them to the predetermined block – it only requires getting used to the drag-and-drop interface.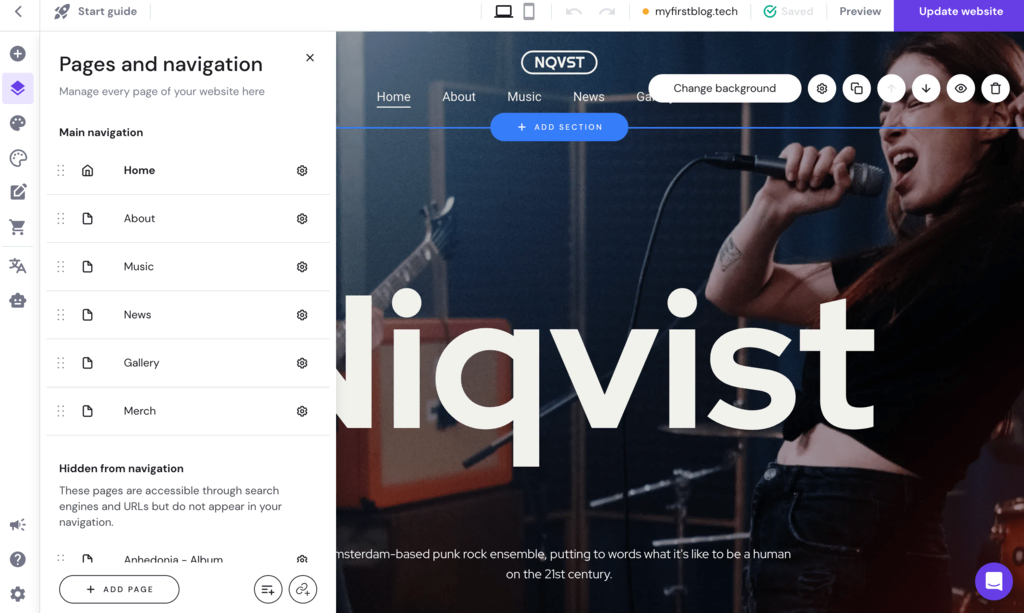 WordPress
WordPress has a steeper learning curve. Getting started with the self-hosted WordPress requires setting up a hosting service and installing WordPress.
Then, you have to navigate through the WordPress dashboard to build a website. For example, to change the appearance of the website, you need to go to Appearance -> Themes from the sidebar. There are also dedicated sections to create and manage pages or posts.
Also, after installing plugins, new options will appear on the sidebar to lead you to the plugins' configuration pages. Plugins don't share an interface, so you will need to learn how to use each of them.

While creating simple WordPress sites without coding knowledge is possible, building websites with advanced features may involve tweaking their code. This ranges from changing a single line in a website file to creating a new plugin.
eCommerce Functionality
Website Builder
Website builders usually offer eCommerce features in specific plans only.

For example, a basic eCommerce plan may include integrated online payments and inventory management. Still, you would need a higher-tier plan to access options like abandonment cart recovery, product filters, and integration with sales channels.
As for customization and website design aspects, the process is quite simple. Most site builders have eCommerce website templates that include shopping cart, product, and checkout pages.
While it's easy to make an online store that sells with a website builder, we recommend this option only when starting a smaller business with fewer items to sell.
Scaling up your website as your business grows means that you need to move to a more comprehensive plan. Also, you may need some essential features that are easier to get in WordPress with plugins.
WordPress
WordPress doesn't come with built-in eCommerce functionality. You need to install an eCommerce plugin such as WooCommerce to launch a store.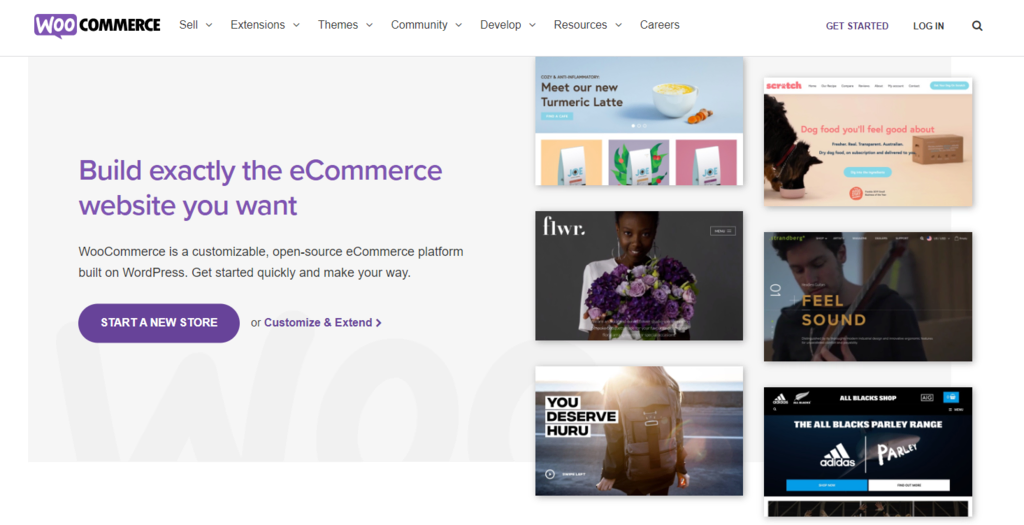 Much like the WordPress software itself, the plugin is free and comes with core eCommerce functionality, including product filters, search, and reviews. It also offers plenty of extensions for shipment tracking, payment gateways, and an automated tax calculator.
When it comes to your online store design and customization, you need to get a WooCommerce-ready theme.
This type of theme includes checkout pages, various layouts for product pages, and shopping carts. Moreover, a single theme may come with several options – single or multi-page checkout process and a pop-up or dedicated-page shopping cart.
For other features, such as email subscription, FAQ sections, and analytics, you'll need to install WordPress plugins accordingly.
Security
Website Builder
Your site will be hosted by the website builder, which will take care of most security aspects.
Website builders also use proprietary software and don't open the code to the public to minimize vulnerabilities. If a bug or vulnerability is detected, their developer team will be responsible for fixing it.
While they are relatively secure platforms, you should ensure that you have an SSL installed on your domain and use TLS encryption for transactions. Some website builders already include this in their plans, but in case they don't, you should get one yourself.
Additional security measures include using a safe password and enabling two-factor authentication if available.
WordPress
WordPress security mainly relies on how the website owner maintains the site. Multiple aspects play a role in security, such as outdated WordPress software, themes, and plugins – the most common weak spots.
The development team regularly updates the WordPress core software to patch bugs and vulnerabilities in the code. However, it's up to the website owners to regularly update the WordPress software on their site.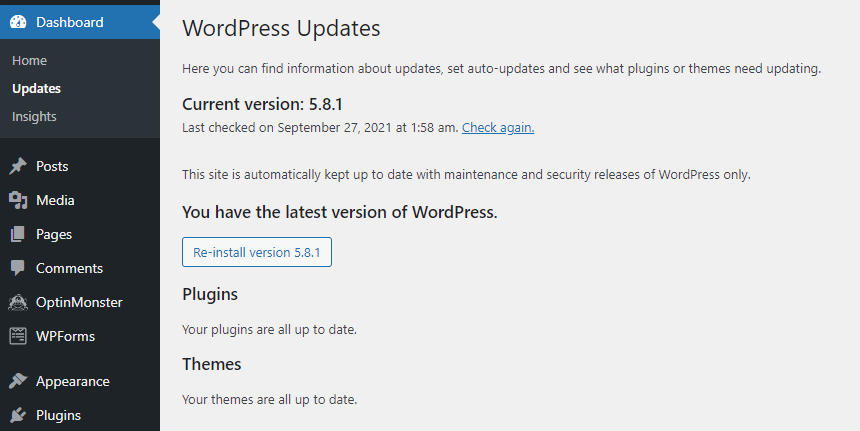 Additionally, they should also update themes and plugins as soon as new versions are available. In addition to new features, these updates usually include bug fixes and security patches.
That said, it's also necessary to only download themes and plugins from trusted sources.
Nulled WordPress plugins and themes are often available at lower prices to attract WordPress users. However, these themes and plugins are modified, unauthorized versions of the original tools.
Thus, they may contain malicious code and other vulnerabilities that could expose your site to cyberattacks.
Another essential element is choosing a reputable web hosting provider. A good hosting provider should implement monitoring and security measures such as DDoS protection to keep users safe.
Maintenance and Development
Website Builder
One of the advantages of using website builders is that the provider will do the maintenance for you. If they have a new update or bug fixes, they will automatically apply that to your account while you don't have to do anything else.
The only site maintenance task you need to perform is renewing the subscription plan, making it a perfect choice for beginners and non-tech-savvy people.
WordPress
You need to ensure your WordPress site receives ongoing maintenance, a process that requires some technical knowledge. While WordPress maintenance varies depending on what type of website you have, here are some of the regular tasks:
Backup – creating a website backup is a safety measure to prevent data loss in case of a security breach. It also lets you recover the website if an error happens.
Updates – developers constantly update the WordPress core software, themes, and plugins. However, you need to install these updates on the site yourself.
Scan for WordPress malware – regularly checking your website for malicious software is essential to keep the site and its visitors safe.
SEO
Website Builder
Most website builders have SEO tools built into their platforms. They include meta tags, alt text, custom slugs, and, in some cases, Google Analytics.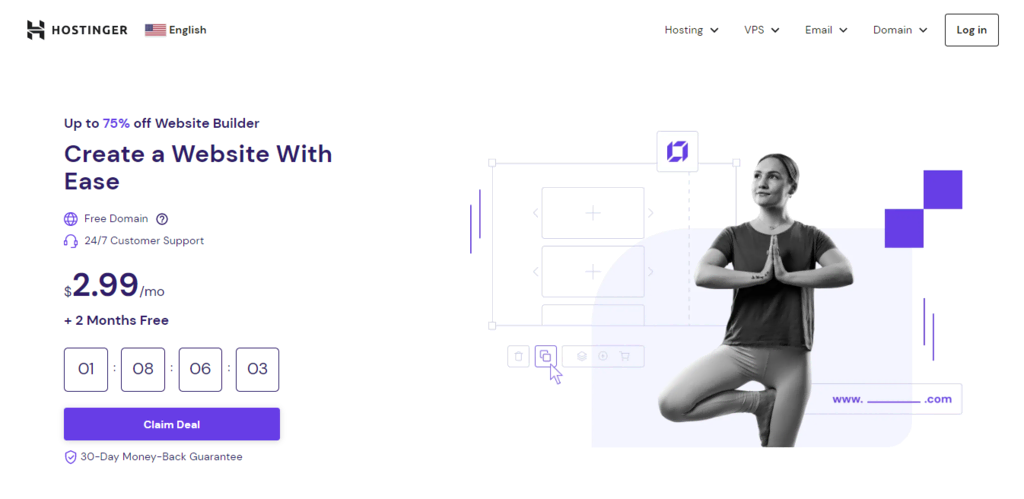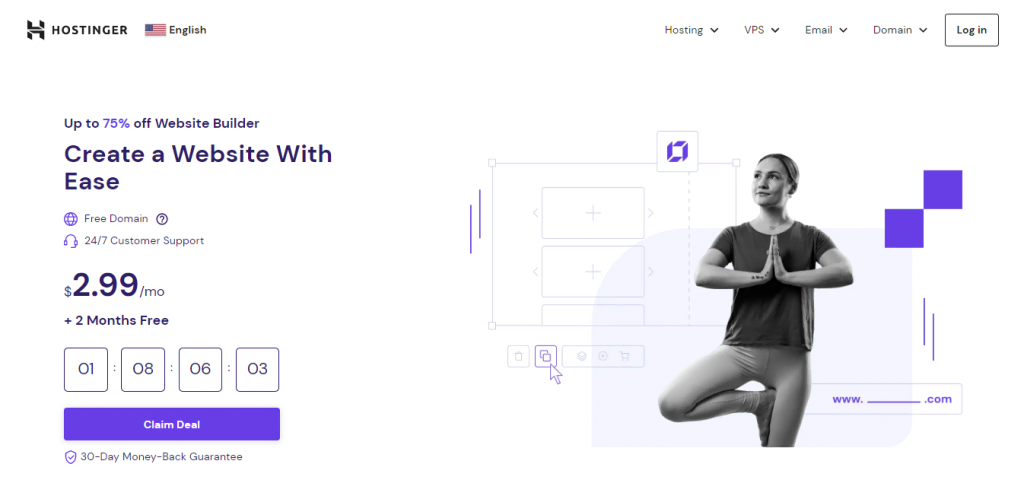 Another good aspect of website builders is that their templates are mainly mobile-optimized. Thus, you don't need to do anything else to make the website fully responsive.
If you need more SEO tools for optimizing the website, website builders offer SEO add-ons on their app market.
As an example, Hostinger Website Builder comes AI tools like the AI Writer and AI Heatmap to help you create SEO-friendly content and improve user experience.
WordPress
WordPress lets you have custom URLs for web pages and change your images' alt texts. However, you'll need an SEO plugin to enable more on-page SEO features.
Yoast is one of the most popular WordPress SEO plugins. It lets you change the meta title, meta description, and slugs of your posts and pages.
It also helps you optimize the content by analyzing your post's draft based on the focus keywords and providing internal linking suggestions.
Ultimately, WordPress is a blogging platform by nature. Thus, you can easily start a blog to create SEO-friendly content to attract visitors to your site.
Also, a mobile-friendly website is essential to optimize your WordPress website for SEO. Picking a responsive WordPress theme is a great way to start.
Customer Support
Website Builder
Most website builders provide various channels for customer support, such as email, live chat, and phone. Often, they also have a knowledge base or support center where you'll find articles and other resources to help you troubleshoot issues and make the most out of the platform.
WordPress
WordPress doesn't have a dedicated support team. Instead, it provides documentation to teach users how to use the platform or fix issues. In addition to that, you can always reach out to its huge community through user forums and websites.
At Hostinger, for example, we have plenty of WordPress tutorials to help you navigate the platform and get the most out of your site.
However, if the WordPress-related content available is not enough to help you, consider hiring a WordPress developer or using a maintenance service. It is a costly solution, but it allows you to focus on business growth and other elements.
Value for Money
Website Builder
You only have to pay for a website builder plan to get started. The plan already includes a hosting service, a custom domain name, and pre-made templates so that you can start creating a website quickly and easily.
The starting price ranges from $2.90/month to $14/month and usually includes up to 3 GB of storage space. Some platforms, like Squarespace, offer unlimited storage and bandwidth, but you should read the terms and conditions to check if there's a fair usage policy.
More advanced plans may cost from $14.90/month for an eCommerce plan to $49/month for a business plan.
When it comes to maintaining the website, you'll only need to renew your website builder plan and domain registration. Expect paying from $8.99/year for a .com domain to $12.99/year for a .net extension.
Website builders can be a more affordable and easier option for beginners, considering that you get everything you need to build a website in a single place. That said, as the business grows, the website builder plan may limit your options.
WordPress
The cost of building a website using self-hosted WordPress varies. The content management system itself is free, but you need to get a hosting service and a domain name to get started, which increases the overall WordPress pricing.
Web hosting costs vary depending on the type of hosting and the plan you choose. A managed WordPress hosting plan ranges from ₹149/month to ₹699/month at Hostinger. Our starter plan, for example, includes 30 GB of storage space, which is more than most website builders' starter plans offer.
As you scale up the website, you may need to move to cloud-based server hosting, which costs from ₹699/month to ₹2499/month.
Often, hosting plans include a domain for free. However, if the plan doesn't have that, you'll need to purchase it separately.
With so many hosting options to choose from, it's best to do your research before making a decision. One of the benefits of opting for Hostinger is that you can leverage the 30-day money-back guarantee to test our hosting services without any risk. This feature is available on all Hostinger hosting plans.

In most cases, a hosting service and a domain name are enough to create a small WordPress site or a personal blog. To customize it, WordPress offers a great selection of free themes and plugins.
However, eCommerce and business websites may require premium plugins and a completely custom theme.
Premium themes range from $47/year to $100/year, while premium plugins range from $49/year to $999/year. The total cost will depend on the number of plugins used on the site.
To summarize, here's a breakdown of the costs of building a WordPress website:
Hosting service – $1.99/month to $69.99/month.
Domain name – $8.99/year to $12.99/year.
Plugin – $49/year to $999/year.
Theme – $47/year to $100/year.
At the lower end, the upfront cost for creating a website using self-hosted WordPress is $10.98, and at the higher end, it can go from $178.98 for a website with a basic premium theme and plugin to over $1,000 for a more advanced WordPress website.
The cost of maintaining a WordPress website varies depending on how you scale your website.
You may need to hire a third-party service to take care of security maintenance, SEO audit, or website design updates. While you can do this yourself, there's an option to hire professional developers. The cost of doing so ranges from $200/month to $4,500/month.
All in all, WordPress is considerably more expensive than a website builder. However, it is an excellent choice for people who know how to manage the CMS and want more control over their websites.
When Should You Use WordPress?
Using WordPress is more complicated than website builders. Yet, it provides more possibilities for website customization. Here are a few cases when you should choose WordPress over a website builder:
Dynamic or Membership Websites
Websites with dynamic interactive content display different versions depending on the visitor's location, time, user account, and input to the website. This requires server-side scripting or using a WordPress plugin.
Another good use of WordPress is creating a membership site. Many membership plugins, such as MemberPress, offer great user registration and member management features.
On the other hand, website builders are not ideal for a membership site as they lack member management and login area features. Some website builders have add-ons to overcome this, but they may be a premium addition.
Large-Scale eCommerce Websites
Building a large-scale eCommerce website is better with WordPress. There's no product limit, so you don't have to worry as your business grows and the product listing increases. Also, you will have more options to use a suitable hosting service to accommodate the growing traffic.
Plus, you don't have any limitations on website features. Simply pick any plugin you need to enable features like email marketing, form submission, FAQ, and analytics. As for the website design, there are plenty of WordPress eCommerce themes to choose from.
If you're looking for a solution with a more specific eCommerce functionality, check out other WordPress alternatives.
Custom Websites
WordPress is the best solution to build a website with unique functionality or design, such as a corporate website. With thousands of plugins available, you can cherry-pick them to enable advanced features like live chat support and website caching.
The same goes for your WordPress theme. There are plenty of options to customize the site appearance to suit your preferences.
However, if none of the available plugins and themes satisfies your requirements, it is possible to customize the code of the open-source WordPress software.
For example, use a WordPress framework to create a custom theme or edit the PHP files to edit a plugin's functionality.
Lastly, you can hire a WordPress developer to build a bespoke WordPress website from scratch.
For Full Control and Ownership of the Website
WordPress lets you control various aspects of your website, such as the type of hosting you use. Moreover, the website is completely yours. Easily download all the website files as a backup or when you want to move to a different web host.
The same cannot be said for website builders. If you stop paying or the company decides to close down, the website files are lost or held by the company.
There's also a limitation for third-party involvement. When you want to expand the functionality of your website, you can only install add-ons or extensions offered by the website builder.
There's not much room for code customization either. Plus, some platforms use a unique coding language, like Shopify's Liquid.
When Should You Use a Website Builder?
A website builder is a more straightforward solution to create a website. It's easy to set up and beginner-friendly, but it also has more limitations compared to WordPress. That said, using a website builder is a good option in the following cases:
No Coding Skills or Web Development Experience
Website builders are best for people with no experience in building websites. Their all-in-one subscription solution cuts some steps in the web creation process, such as getting a web hosting and installing a CMS.
Simply sign up for a website builder plan, and you're ready to create the website. You get plenty of template options to get started, too. Once you select one, the visual drag-and-drop editor lets you customize the website's design without touching a single line of code.
Creating Brochure or One-Page Websites
Website builders are great for creating a basic website to provide information to visitors and create an online presence, such as portfolios, online catalogs, and landing pages.
One of the weaknesses of website builders is in the capability to handle dynamic content and member management. While some website builders offer these functionalities, they tend to fall short compared to WordPress.
Practicality Over Customizability
A drag-and-drop website builder is better than WordPress when you have little time available for the site creation process. With just a few clicks, you can create a functional and beautiful website.
Conclusion
Website builders and WordPress are two very different platforms that fit different categories of users. Website builders are best suited for beginners who don't have coding knowledge or web development skills.
Thus, website builders are a great solution for users who need to build websites in a shorter time.
However, WordPress also works for beginners. They will have to spend more time learning how to create a website but will have more freedom and control over the process.
WordPress is also a better choice for experienced developers, who can use the platform's full potential.
Let's recap the main differences between WordPress vs site builder:
| | | |
| --- | --- | --- |
| | Website Builder | WordPress |
| Themes and customization | Easier to customize thanks to the drag-and-drop editor. | More customization options. |
| Plugins and features | Features depend on the chosen plan. However, some website builders offer add-ons. | Countless options are available through plugins. |
| Learning curve | It is easy to use, thanks to its all-in-one approach. | Beginners will have to learn how to navigate the WordPress dashboard. |
| eCommerce functionality | Available in specific eCommerce plans. Best for creating small-medium online stores. | Only available through plugins. |
| Security | Taken care of by the website builder company. | The website owner is responsible for implementing security measures. |
| Maintenance and development | Taken care of by the website builder company. | You have to maintain your own website. |
| SEO | It comes with tools such as alt text and meta description editor. | Basic SEO functionality, expandable using an SEO plugin such as Yoast. |
| Customer support | Various support channels, such as email and live chat. | There's no customer support service. You have to rely on documentation and community forums. |
| Value for money | With a lower starting cost, website builders are a good option for beginners. | Starting costs vary but tend to be more expensive than website builders. It offers great value for experienced users. |
Website Builder vs WordPress FAQ
Understand website builder vs WordPress better from the following frequently asked questions.
Do Professional Web Developers Use WordPress?
Yes, professional web developers use WordPress for building websites. WordPress is a popular content management system that allows for easy customization and management of websites. Many professional developers use it as a starting point for building custom websites or developing custom themes and plugins.
Is Using a Website Builder Worth It?
Using a website builder can be worth it for those with limited technical skills or time. Website builders offer user-friendly interfaces and pre-designed templates for building websites quickly and easily. However, for more complex or custom websites, hiring a professional web developer may be a better option.