How to Make a Photography Portfolio: 8 Simple Steps + Tips to Attract Potential Clients
When building a photography career, you will need more than technical skills, creativity, and attention to detail. Having people notice your work is crucial, and having a digital portfolio is one of the best methods.
An online portfolio offers a channel for photographers to showcase their work, connect with broader audiences, and land clients. It also empowers them to highlight their unique skills and techniques, differentiating themselves from the competition.
If you need help building a photo portfolio, you've come to the right place. In this article, we'll showcase how to make a portfolio for photography and give you five tips to attract more clients.


How to Create a Professional Photography Portfolio in 8 Steps
Without further ado, let's go over the eight steps on how to build an online photography portfolio. We'll also include some portfolio examples from professional photographers for your inspiration.
1. Identify the Goals and Target Audience
First, photographers must determine why they want to make photography portfolios. For example, you can build a general portfolio or aim for a specific job. Setting out goals helps construct the portfolio content and style.
Here are some aspects to consider when identifying your goals:
Audience. Consider what kind of prospective clients or visitors you want to reach, such as companies, individuals, or publications.
Strengths. Ask yourself whether you're better at nature photography or excel at Photoshop retouching.
End game. Pick a target you want to accomplish. Examples are branching out into another type of photography and getting more high-level clients.
Personal brand. Understand your positioning and personality to determine your tone of voice and overall portfolio style, such as professional and minimalist or quirky and colorful.
photoGRAPH is a great tool to learn more about your strengths and interests. This online quiz helps identify the right approach that aligns with photographers' natural strengths, including suitable subjects, shooting style, and planning method. It also provides tips to improve their skills.
At this stage, it's a good idea to select and secure a domain. Your online presence begins with a domain name, so it's essential to choose one that aligns with your personal brand and makes it easy for potential clients to find you. Consider using your name or a variation of it for a professional touch. You can also incorporate keywords related to your photography niche to enhance discoverability.
2. Choose a Niche or Specialty
Choosing a niche enables you to be more focused and build expertise. Some of the most popular ones are:
Portrait photography. Photographers in this category specify in graduation shoots, family portraits, and headshots for aspiring actors and models. Some similar niches include newborn and pet photography.
Sports photography. It generally requires expensive equipment, such as a heavy lens capable of zooming in to specific sports actions and shooting at fast shutter speeds.
Commercial photography. Several niches can fall under this category, depending on who you work with. Examples include architectural photography for the real estate sector, food photography for restaurants, and fashion photography for clothing brands or media.
Travel photography. Similar to commercial photography, travel photographers can specify their interests further, like landscape, wildlife, or astrography.
Event photography. Photographers for this category are usually hired for parties, corporate events, and concerts. They'll mostly deal with low lighting and a lot of motion.
Photojournalism. It resembles a documentary-style approach and tells a story, usually covered in the news.
Fine art photography. It's purely about the artistic appearance of a piece or subject, usually reached by playing with editing software to make particular effects. You might sell this artwork to hotels, restaurants, or individuals to hang in their space. A professional photographer from this niche is Alex Stoddard.
Some photographers specify their niche further by locations, such as Shawn and Adam from Love + Water. This couple specializes in portrait photography for special moments like proposals and babymoons in Maui.
Finding the best photography niche will depend on your goals, target audience, personality, and interests. If you don't like crowds, for example, portrait photography will suit you better than event photography. Also, imagine the type of photography clients you would enjoy working with, such as big corporates, couples, or models.
3. Select Your Best Photos
Including all photos on an online portfolio can be tempting, but we recommend showcasing only the best shots to make a strong photography portfolio. Doing so helps potential clients save time and grasp your utmost abilities.
Go through all your shoots and approach the photo portfolio as objectively as possible. Try to detach personal attachment to photos with positive memories and choose images that display high technical skills and emotionally resonate with the audience.
Another tip is reviewing pieces that received some validation, such as press attention and award or nomination. These shots may not appeal to your eyes, but they clearly attract others'.
Ask for feedback to tell if you've picked the right images. If possible, approach a photo editor or a creative director, as they can give professional feedback based on their experience.
Alternatively, join online photography forums like LightStalking and Fred Miranda Forum. Other options include people in the creative industry, friends, and previous clients.
Ensure that the selected photos are still on-brand for your photography business. Let's say your niche is commercial photography. You might need to set aside wedding photos, although those are your favorites.
4. Find the Right Platform for a Portfolio Website
The next step in creating a photography portfolio is to pick the right platform. Here are five aspects to consider when choosing the platform to make a photography website:
Performance and storage. As you need to upload many high-quality images, ensure the platform offers sufficient space and fast load times.
Customization. Choose a portfolio builder that comes with many customization options to accommodate your needs and help you stand out from the competition.
Learning curve. If you want to set up a website quickly, find a platform providing templates, a user-friendly interface, and built-in SEO features.
Scalability. Ensure the online portfolio platform supports features to help grow your business, such as membership and eCommerce capabilities to create an online photography course or sell prints.
Budget. Calculate if the website development cost with the platform matches your budget. Some require more upfront investments, while others let you pick packages according to your needs.
Generally, there are two methods for how to build a website – using a content management system (CMS) or a website builder. While both platforms don't require coding knowledge, they have some key differences.
A CMS like WordPress offers more customization, control, and scalability because it's self-hosted – meaning it's free, but you need to purchase a hosting plan separately. However, a CMS may have a higher learning curve and lack personal support.
If you prefer a platform with a faster learning and creation process, Hostinger's website maker might be an excellent choice.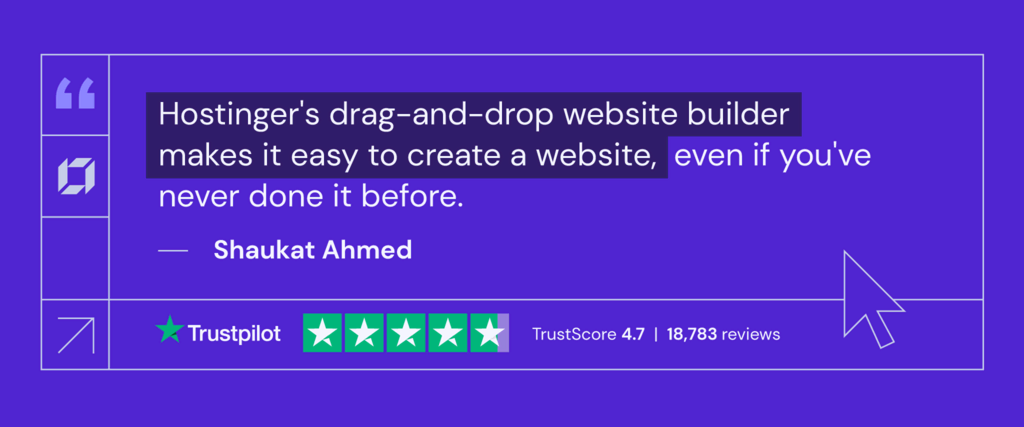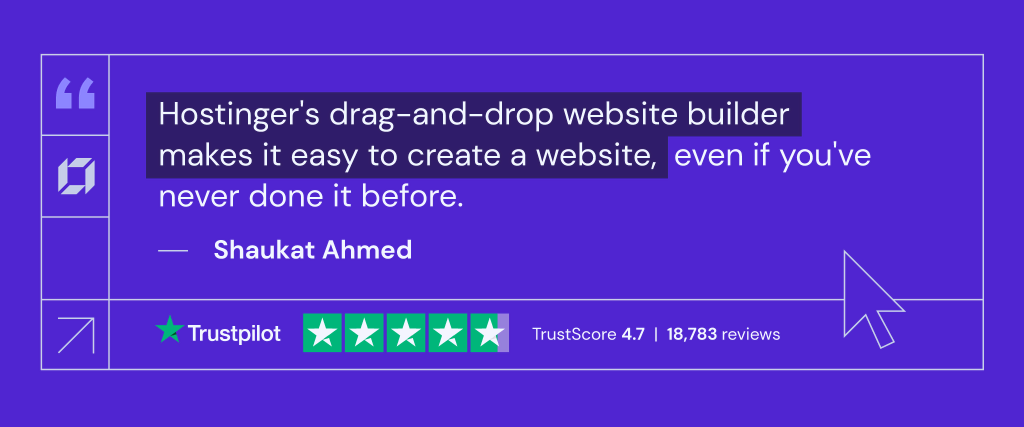 It has a drag-and-drop editor, various templates, responsive support, and built-in eCommerce and SEO features, enabling you to focus on creating a strong photography portfolio without dealing with its technical side.


5. Organize Your Gallery and Layout
After gathering the best images, it's time to lay them out. Consider using predesigned templates from the website building platform, so you don't have to think about the layout from scratch.
If you're unsure, find inspiration from the best photography website examples. Create a mood board from interesting elements, and you should be able to see common themes that guide you through forming your own artistic style.
Milanote is a great tool for making mood boards. Its flexible drag-and-drop interface enables users to arrange various elements in whatever way they prefer, including images, lines, links, and notes.
Many professional photographers take a more minimalist approach to their photography websites to help visitors pay more attention to the images. Pierre Choiniére uses plenty of negative space along with a muted background. This French photographer uses multiple micro interactions, such as moving typography and photos, to add a dynamic touch.
There are many ways to arrange pieces in a photography portfolio website, such as by mood, color, or composition.
Consider your niche when grouping images on the photography portfolio. For instance, a wedding or sports photographer can categorize their pieces based on events. Meanwhile, a travel photographer's online portfolio may look better when they organize the photos based on places and colors to set the mood of the entire portfolio.
You can also feature the best ones as hero images, especially on the homepage, to make a strong first impression.
6. Include Your Story and Professional Achievements
Connect with prospective clients by sharing a story on the About Me page. They will be able to familiarize themselves with your business, story, and values, establishing trust in your brand.
A good About Me page should be straightforward and engaging. It generally describes:
Who you are. It's a short bio of your name, where you're from, how long you've been a photographer, and your specialty. Furthermore, you can add your photo for a personal touch.
Working history. Describe your professional background, like education or certification, awards, mentions, and previous clients.
Values and principles. These can act as a competitive advantage, explaining why your business stands out.
Services. Some photographers may provide services other than photography, such as consulting, directing, and tutoring, so it's important to specify them here.
Working process. Explain your photography approach to let people know what it feels like to work with you.
Take a look at The Voorhes' About Me page on their photo portfolio. They use headings to structure the content and include links to important details, like email and studio addresses. The photographers also use selfies and conversational language to express their fun personalities.
Martin Olson's photography portfolio is also a great example. This professional photographer includes three short paragraphs of his bio, experiences, passions, and some photos. Moreover, he adds testimonials and previous clients' logos to build trust with visitors.
We recommend putting a CTA button at the end of the page with a link to the most relevant web section, such as Bookings or Contact, or email address. This will encourage action and help convert visitors into clients.
Another way to include a story on your photography portfolio is to describe the photos and equipment details. Professional photographer Diana Matar describes what happened behind the scenes of each project, making her portfolio more engaging.
7. Add a Pricing Page and Contact Form
Searching for a pricing page is a natural part of a client's buying decision. People who have made it down to the funnel and considered hiring you will likely look at the pricing page.
That's why having a pricing page that converts is a prime opportunity to make it easier for clients to buy and increase your conversion rates. In fact, pricing pages packed with information result in confident users who convert more.
Among the essential elements of a high-performing pricing page is a user-friendly layout. A simple way to do this is by using a table, columns, or boxes to divide packages. Alternatively, use an interactive calculator like Mack & Pouya to let clients personalize and estimate package prices according to their needs, such as total hours, add-ons, and the location.
In addition, make sure you use simple language and clear pricing. Specify your rate – flat or hourly – and some extras, if any, such as prints and photobooks. Love + Water, for example, includes the total hours, the number of photos they'll share, travel fees, and taxes.
You can also include frequently asked questions to speed up the decision process, such as refund policies and the photo editing process.
Finding photography prices online can be challenging because many photographers don't show their rates on their portfolio websites.
Going to freelancing websites like Upwork or Fiverr and recruiting platforms like Glassdoor or Indeed can be a good starting point. You can also check at a paid site like Payscale. Simply type in "photographer", and you should see an income scale in your area.
Besides looking at external aspects, calculating your expenses is also important when deciding service rates. The National Press Photographers Association has a helpful calculator to input expenses, such as equipment and taxes, and predict the minimum price you must earn.
Finally, include a contact form or an email address so visitors can ask about your services and pricing. If you use WordPress, install the WPForms or Gravity Forms plugin to add a contact form to the photography portfolio.


8. Share Reviews and Testimonials
If you've built a client base, ask for clients' reviews and show them on the digital portfolio. Positive testimonials create social proof, developing potential clients' trust. In fact, over 90% of customers read reviews before making a purchase.
You can put testimonials wherever you want to on the portfolio website. Christian Oth Studio makes an individual Testimonials page, while other photographers display customer reviews on the About or Pricing pages.
Collect reviews by sending a short feedback survey after the photo sessions. Some questions to ask for the photography business client survey include:
On a scale of 1-10, how do you rate our service?
How did you hear about us, and why did you book us?
What did you enjoy most about working with us?
Were you happy with the shot quality, communication, and image delivery process?
What could have made your experience better?
Use a questionnaire tool like Typeform to make a client feedback survey. It has a user-friendly interface, multiple templates, and various features to create an engaging survey, like ratings and conditional logic.
You can also embed reviews from a business listing or review platform like Google Business and Yelp.
Encourage clients to give feedback by incentivizing them with discounts, gift cards, or extras. Another method is to donate to the client's favorite charity once they complete a survey.
5 Tips to Attract Potential Clients With Your Photography Portfolio
In this section, we'll go over five tips to market your personal portfolio and attract more clients.
Optimize Image Quality
Displaying high-quality images is essential to build a great photography portfolio website since it helps demonstrate skills and encourage visitors to hire you. However, it's equally important to ensure they don't slow down the portfolio website.
First, choose the best image format. We recommend using Portable Network Graphics (PNG) since it retains the original quality, including the detail and contrast.
Then, use the right image dimensions. The recommended ones on a photography portfolio website will depend on their use as a hero or featured image, for example, but a rule of thumb is to keep them between 1500px to 2560px wide and at any height.
However, high-resolution pictures generally have bigger file sizes. Compress them using lossless compression through a tool like ShortPixel to get smaller file sizes without sacrificing image quality. A website's optimal image file size is up to 500 KB, but it's okay to go up to 1 MB for full-screen photos.
Create a Print Photography Portfolio
Besides creating an online portfolio, we recommend printing one, especially when you have an in-person meeting with a potential client.
A well-printed photography portfolio makes you look professional, physically demonstrates the quality and detail on paper, and has no potential technical issues.
The classic printed portfolio format is a print folder. This option lets photographers display various print sizes and structure the content however they like. Another method is designing a photo book or magazine to include a narrative for your photos.
Find nearby print shops and select the best paper for a photobook in your niche. Luster is generally good for wedding, portrait, and family photography due to its durability and subtle texture. Meanwhile, travel and architectural photographers can use high-gloss papers for a bright and distinctive look.
Another option is to visit an online printing site like Vistaprint. It offers personalized photo books with different sizes for up to 120 pages.
Improve User Experience
Search engine optimization (SEO) is crucial to increase your portfolio website's visibility and attract more potential clients. Meanwhile, a good user experience (UX) is an essential SEO factor.
Security is among the important signals of a good UX. Ensure your photography portfolio website is served over HTTPS by installing an SSL certificate – a digital certificate that keeps visitor information private and secure by encrypting the connection. Hostinger users will get a free SSL certificate with every hosting plan they purchase.
Another aspect is mobile friendliness. Almost 60% of global internet traffic comes from mobile devices, so ensuring the photography portfolio works well and looks good on those gadgets is vital. Check if your photography website is mobile-friendly with Google's Mobile-Friendly Test. This tool will also provide tips to improve performance when needed.
We also recommend monitoring the navigation of your entire website. Good navigation gives visitors confidence in where they are and what they can expect, making them stay longer on the site.
Integrate commonly used navigation menus like Home, About, and Blog to avoid confusion. Be careful when using uncommon formats such as horizontal scrolling. If you apply this style, have a clear indicator like an arrow that helps readers know that the particular page will scroll horizontally.
Use On-Page SEO Strategies
While user experience is important, Google still seeks to rank pages with the most relevant information. Therefore, apply on-page SEO methods to boost your performance. They're practices of optimizing web page content for search engines and users, such as:
Use relevant keywords. Find what people are searching for in your niche and include them in your portfolio. Google Trends and WordStream's Free Keyword Tool are excellent starting points. If you have more budget, consider a paid option like Semrush or Ahrefs for more complete insights.
Write high-quality content. Create a blog section and share informative content with visitors. Doing this helps you insert more keywords naturally and build expertise in the industry. Mark Delong's digital portfolio is excellent. He makes blog posts about photography tutorials and business updates, such as tips on photographing celebrities and his achievement of winning the Emmy Awards.
Come up with attractive titles, headings, and meta descriptions. These elements can grab attention and entice people to read your post. Use CoSchedule's Headline Analyzer, which gives the headlines score based on various aspects, like clarity and sentiment.
Expand Your Photo Portfolio Reach
As SEO is a long-term strategy, consider developing a presence in other platforms besides your photography portfolio website to increase visibility faster, such as:
Social media. Many creative professionals use Instagram and Pinterest to share photos or informational content. An example is Kyle Nutt, who often shares his behind the scene, equipment reviews, and work results on his Instagram profile.
Online directories. Google Business and Yelp, for instance, are great sites to solidify your local presence.
Free portfolio platforms. Take a look at free image hosting platforms, such as Behance, Adobe Portfolio, and Flickr. Some of them also let the users recruit or apply for jobs.
Stock photo websites. Sign up for Shutterstock or Pexels and put your social links and professional photography portfolio on the profile to entice them to visit.
Freelancing sites. Register for a freelance website like Freelancer or Upwork to connect with people looking for photographers and attach your online photography portfolio as their reference.
Marketplaces. Sell prints on Saatchi Art or Etsy to make money online alongside your photography services.
Still, you shouldn't stretch your budget and time to be active on every platform. Focus on those that bring you closer to your goals, such as earning more money or building expertise.
Conclusion
Good online portfolios are essential for professional photographers to show clients they're the right fit for the projects.
However, creating a photography portfolio might take time. Start by defining your goals, target audience, and niche. Then, collect only the best photos and choose a platform to build the photography website. Pick a layout suitable for your needs and personality.
After that, include your story, achievements, and pricing packages. Consider adding testimonials to build trust with visitors. When designing a photography portfolio, optimize your image quality and navigation because they can influence visitors' impressions and website performance.
While having an online space for displaying your work is crucial, we also recommend owning a printed portfolio to stand out.
We hope this article has helped you build your own photography portfolio and give your career a kick in the right direction. Good luck!
How to Make a Photography Portfolio FAQ
Get answers to these most frequently asked questions about how to make a photography portfolio.