8 Shopify Alternatives: Save Money and Do More
If you consider launching an online store, you probably have already stumbled upon Shopify while researching the best eCommerce platforms.
Despite being one of the most well-known names in the industry, Shopify may not be the right eCommerce platform for you.
Some reasons to avoid Shopify include its hefty transaction fees, meager product options, and limited configuration settings.
Taking into account the monthly fee, the transaction fees, and the paid plugins, running an online store with Shopify can get quite costly in the long run.
If you are looking for Shopify alternatives to set up an online store, this article might help you.
We will cover the top eight Shopify alternatives, detailing their features, pros, and cons.
Afterward, we will also provide a table comparison of the eight eCommerce platforms and pick the best one in different categories.
Download Website Launch Checklist
Top 8 Shopify Alternatives in 2023
Let's start by looking at some of the best Shopify alternatives for small businesses.
We will list them in no particular order since each eCommerce platform listed here offers something different – you'll just have to pick the right one for your business.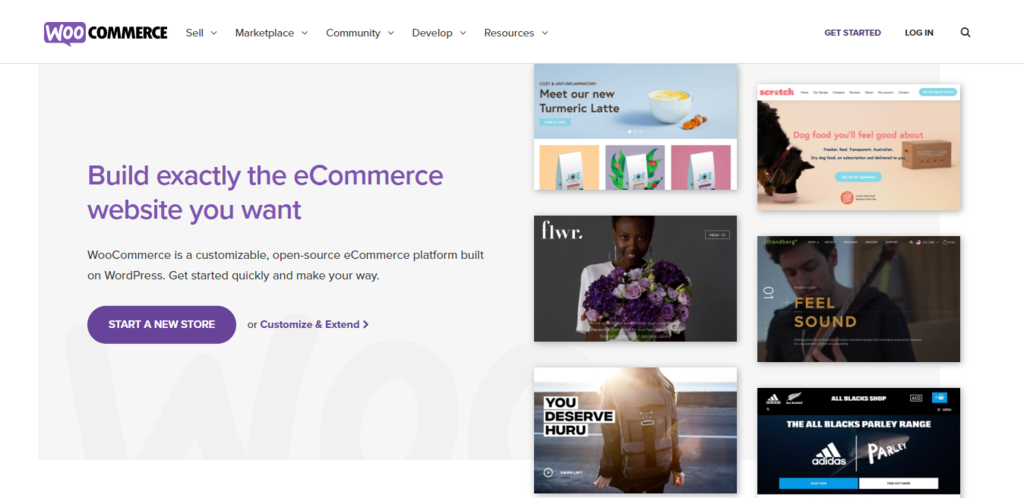 WooCommerce is a flexible, open-source WordPress shopping cart plugin ideal for setting up any online store. Easily customize and scale the website as you see fit.
As it is a plugin and not a separate eCommerce platform, you will have to be familiar with WordPress. Users will also get to enjoy WordPress's SEO features, such as meta titles and meta descriptions.
Since the platform, unlike Shopify, is free to use, it is one of the best Shopify alternatives. However, additional themes, templates, and extensions come with a price tag. In terms of payment methods, it supports over 100 payment gateways.
You will need to take care of your own web hosting, domain, and an SSL certificate to use this WordPress plugin. Luckily, Hostinger's WooCommerce hosting can take care of all web hosting-related issues.
Pros:
Large user community. WooCommerce has a big community of users and contributors, so it won't be difficult to find all kinds of guides and documentation.
Extensions and third-party applications. A wide selection of third-party add-ons such as Jetpack and Stripe can be downloaded from the WooCommerce store.
No transaction fees. Unlike Shopify, WooCommerce does not take a cut out of the transactions of your online store.
Cons:
Steep learning curve. WooCommerce is best for people familiar with WordPress and basic coding. Online store owners with no prior experience can find the platform to be overwhelming.
No dedicated support. Compared to the dedicated support offered by Shopify, WooCommerce only provides support through FAQ and documentation.
2. Magento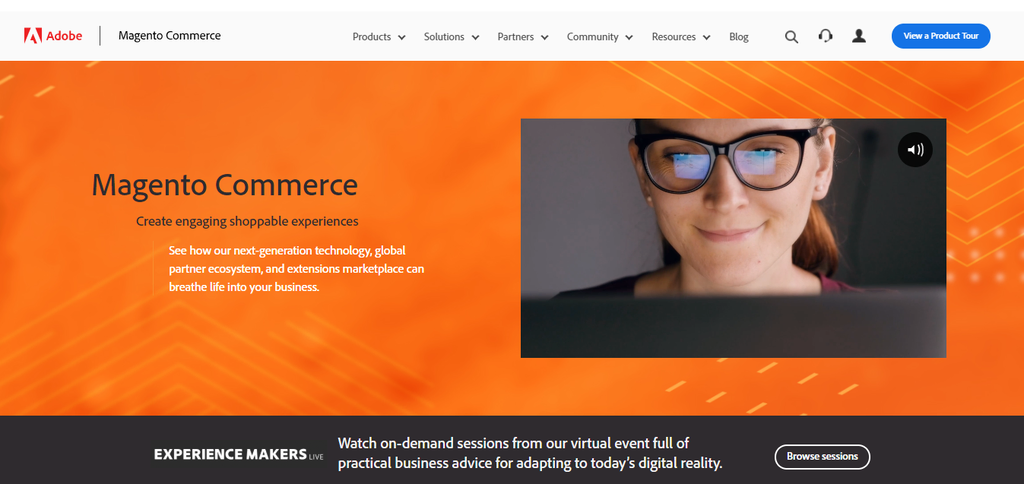 Magento is a customizable and open-source Shopify alternative used to power various online stores. Using Magento, you can sell both physical and digital goods through an online store.
Just like WooCommerce, Magento is practically free to use, making it a much more budget-friendly option compared to Shopify.
Magento is also equipped with SEO features such as metadata for products, image alt tags, and search engine-friendly URLs.
This platform also comes with three out-of-the-box payment gateways – PayPal, Braintree, and Authorize.Net. There are also over 300 payment integration extensions available on its marketplace.
Magento is not cloud-based, so you will need to figure out and pay for your own web hosting services to use the shopping cart software.
Pros:
Highly scalable. Similar to Shopify, Magento platform can evolve alongside your business, with features for selling products through multiple stores and using various languages, currencies, and worldwide shipping providers.
Extensions and third-party applications. Due to its open-source and community-driven features, Magento provides over 5,000 apps and add-ons to use with its platform.
No transaction fees. Magento will not charge business owners a fee for every sale made.
Cons:
Has a learning curve. Magento can be complicated to use or set up for beginners, as it is best suitable for people with web development experience. To streamline your Magento installation, make sure to follow our guide.
No dedicated support. Customer support is provided through articles, documentation, and user forums.
3. PrestaShop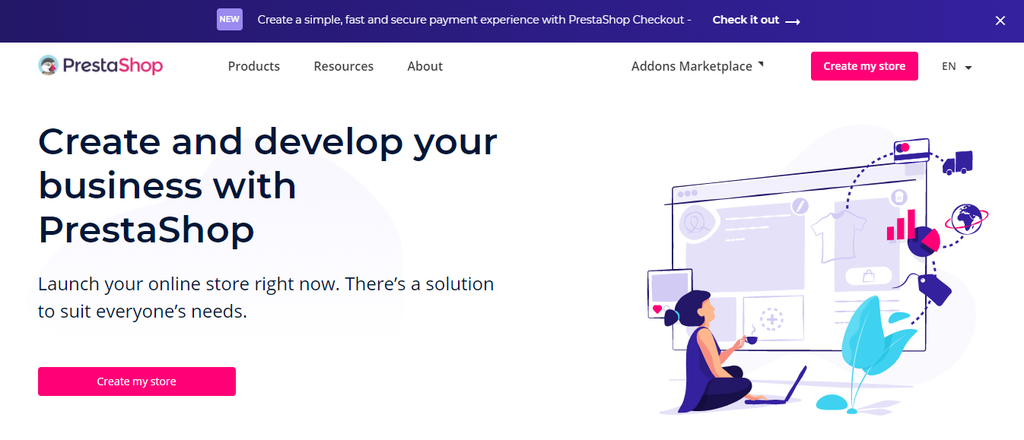 PrestaShop is an open-source and highly customizable eCommerce platform built using PHP and MySQL programming languages. This software is free to use, making it an excellent alternative in terms of price compared to Shopify.
In addition to having SEO features such as URL rewrites, meta descriptions, and meta titles, the platform also supports over 250 payment modules. It provides various payment options – by card, wallet, invoice, or cash on delivery (COD).
However, PrestaShop is one of the Shopify alternatives that require setting up and managing your own web hosting.
Pros:
Multilingual support. For global customer reach, PrestaShop is translated into 75 different languages. Besides, you can integrate your own translator.
Extensions and third-party applications. You can find many templates and modules – PrestaShop's version of integrations or widgets – by accessing the PrestaShop Official Add-Ons Marketplace.
No transaction fees. Same like Magento, PrestaShop doesn't take commissions from your sales.
Cons:
Learning curve. PrestaShop's complexity comes from its many configuration options. Setting up your eCommerce store here may take longer than on Shopify, which is more optimized for beginners. Luckily, the manual set up process for Prestashop is done for Hostinger users.
Paid support. PrestaShop only provides free support through its forums, guide, and documentation. To get technical help from an expert, you will have to purchase the PrestaShop Support Plan, whose price starts at $301.82.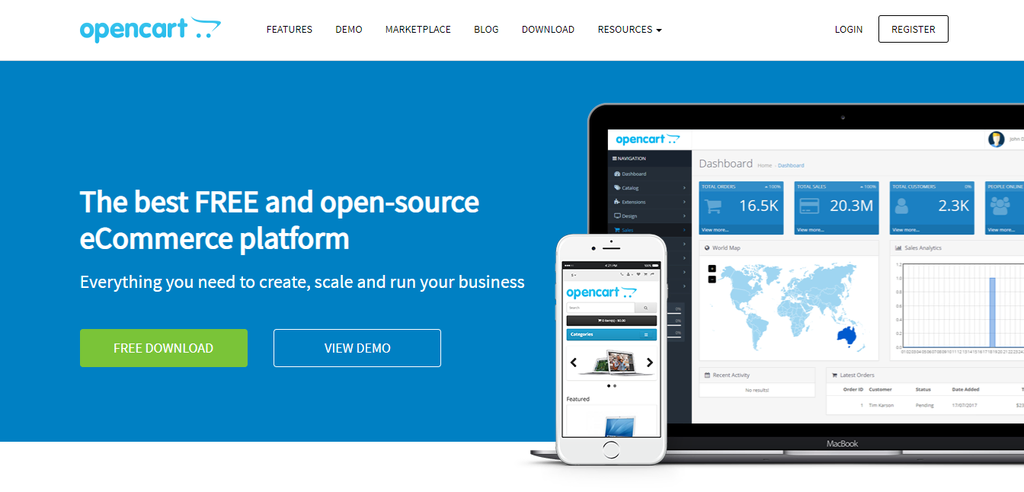 OpenCart is a powerful, open-source eCommerce platform for managing several online stores from a single back-end. It also has SEO enhancements to change your title and meta description as well as insert keywords.
This eCommerce platform is free to download and use, making it one of the most affordable Shopify alternatives. You can sell as many products as you want through multiple stores with unlimited categories and subcategories.
Furthermore, users can receive payment in multiple currencies using the 36 payment gateways integrated with OpenCart, in addition to the numerous others provided through its marketplace.
As this Shopify alternative is a self-hosted platform, you will have to take care of the web hosting services on your own.
Pros:
Multilingual support. The platform is available in over 40 languages, making it easier to sell products to customers from different countries.
Extensions and third-party applications. The OpenCart Extension Store offers more than 13,000 extensions and themes.
No transaction fees. OpenCart does not take a cut out of your transactions.
Cons:
Learning curve. Users experienced in programming can bring out the best of OpenCart's customization and capabilities. For beginners, however, OpenCart will take some time and effort to master.
Paid support. Support comes in the form of a community forum, blog posts, and documentation. If you are willing to pay, OpenCart's dedicated support price starts at $99 for a one-time password reset or $120/month for a monthly dedicated support subscription.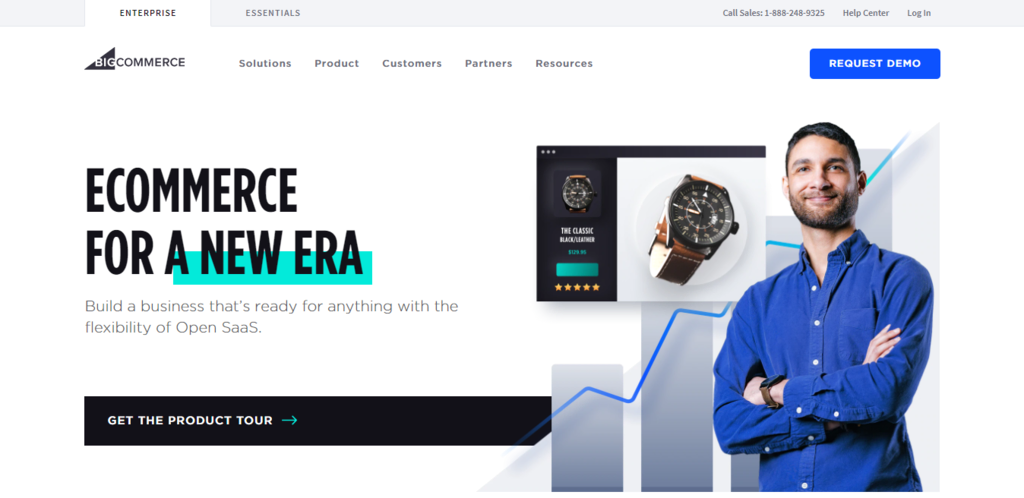 BigCommerce is another Shopify alternative, a hosted platform equipped with many built-in features to help you set up and sell products through your online store.
At first glance, BigCommerce might be similar to Shopify – their prices appear to be relatively the same. Upon closer inspection, however, you will realize that BigCommerce usually ends up being a more affordable eCommerce platform compared to Shopify.
BigCommerce offers more features than Shopify for virtually the same price. This makes it one of the best Shopify alternatives on the web.
For example, some of the features from the BigCommerce Standard plan are missing from the Basic Shopify plan – the former's equivalent – including professional reporting functionality, a built-in page builder, built-in ratings and review system, automatic currency conversion, and real-time carrier shipping rates.
Other features BigCommerce also provides include unlimited product variants, multi-store selling with a single login, and SEO tools such as SEO-friendly URLs, metadata, and robots.txt editing. It also supports over 50 different payment gateways.
Plans and Pricing
BigCommerce offers four plans – Standard at $29.95/month, Plus at $71.95/month, Pro at $269.96/month, and the Enterprise plan, whose price is only available upon request. Note that these are prices for an annual subscription.
Pros:
Extensions and third-party applications. The BigCommerce Apps Marketplace integrates with various apps such as Mailchimp, ShipStation, and more.
No transaction fees. Unlike Shopify, BigCommerce does not take a commission from your sales.
Multi-channel selling. Use this feature to manage online stores on Amazon, Facebook, eBay, and Pinterest from a single back-end.
Support. BigCommerce's team provides dedicated, round-the-clock support via chat, phone, and email.
Cons:
No free plan. BigCommerce doesn't have a free plan, offering a 15-day free trial period instead.
Sales limit. Each BigCommerce plan has an annual sales limit. Once you exceed the threshold, your plan will automatically be upgraded to a higher one with a higher cost.
No multilingual functionality. There is no multilingual feature for your online store unless you can code one for yourself.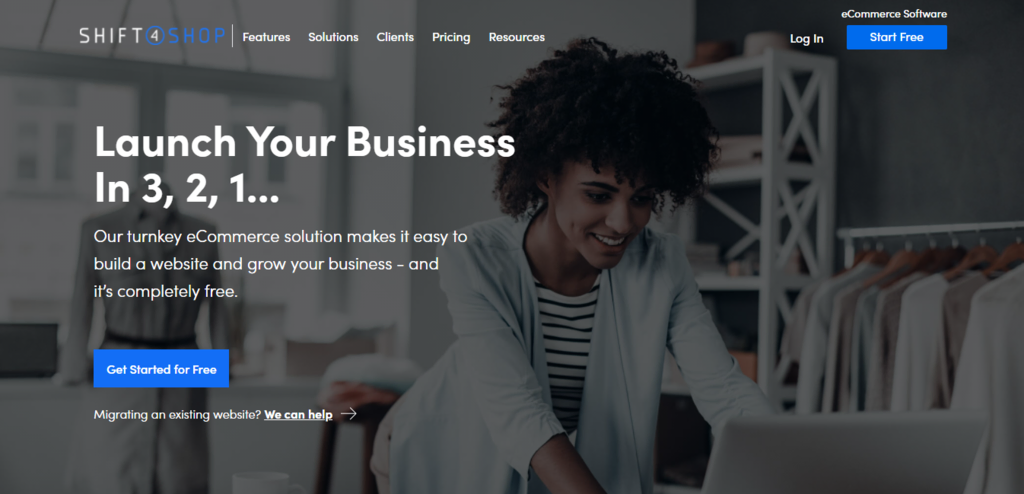 Shift4Shop, formerly 3dcart, is a hosted eCommerce platform that helps business owners thrive in the competitive eCommerce market.
The prices for Shift4Shop plans range from $29 to $229/month. However, US citizens can open an online store using Shift4Shop for free.
The platform provides numerous out-of-the-box features, for example, affiliate program, Google Customer Reviews, reward loyalty program, and back-in-stock notifications. Shopify users would typically only get these features through installed apps.
Shift4Shop also trumps Shopify in terms of SEO. Besides being equipped with SEO tools such as image alt tags and XML sitemaps, it also modifies URL slugs to generate clean URLs for better optimization – a feature you can't enjoy with Shopify.
In terms of payment, Shift4Shop is set up to receive credit card payments via Shift4 Payments by default. Furthermore, the platform also supports over 160 payment providers, including PayPal, Google Pay, and Apple Pay.
Plans and Pricing
Shift4Shop offers four plans – the Basic Store plan at $29/month, Plus Store plan at $79/month, Pro Store plan at $229/month, and the free End-to-End eCommerce plan, which is only available for the US merchants.
Pros:
Extensions and third-party applications. The Shift4Shop App Store provides various third-party apps to extend your store's functionality, such as ecomdash, LuckyOrange, and ClearSale.
No transaction fees. It charges no additional transaction fees.
Unlimited product variants. Unlike Shopify, users have the freedom to create as many product variants as they want using Shift4Shop.
Dedicated support. Shift4Shop's support team provides round-the-clock technical support through phone, live chat, and a ticket system.
Cons:
Learning curve. As Shift4Shop provides numerous out-of-the-box features, it may take some time for users to get familiar with how they work.
Conditional free plan. Besides only being available to US citizens, the free plan also requires users to use Shift4 to process their payments. Otherwise, users have to opt for one of the paid plans.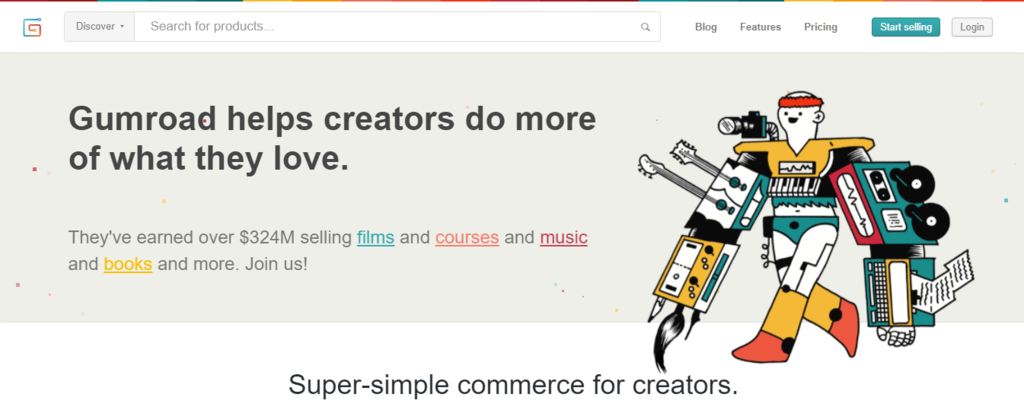 Gumroad is a hosted online marketplace platform for artists and creators to sell their products directly to customers. While most of the products sold on this platform are digital, you can also sell physical products.
Like Shopify, Gumroad takes transaction fees out of every sale. Gumbroad won't be charging you for products offered for free. However, even with the transaction fees, Gumroad is still much more affordable than Shopify.
To facilitate transactions, Gumroad supports six different payment gateways: Discover, Visa, Mastercard, AMEX, Diner's Club, and PayPal. In addition, Gumroad supports 13 third-party integrations, including Zapier, Printful, and Booklaunch.
Plans and Pricing
You can choose between a free account and a Premium account, which costs $10/month. For the free account, Gumroad takes a fee of 8.5% and an additional $0.30 for every sale. For the Premium account, the fee goes down to 3.5% plus $0.30 for every sale.
Pros:
Free account. Gumroad offers the option for users to sign up for a free account.
Integration with your website. Gumroad has two widget options for building Gumroad into your website: Gumroad Overlay and Gumroad Embed.
Dedicated support. Contact Gumroad's support team through a Contact Us form or email.
Cons:
Limited payment channels. Unfortunately, Gumroad does not support Apple Pay or any cryptocurrency.
No bump offers and upsells. Gumroad does not provide you with features for bump offering or upselling products to your customers.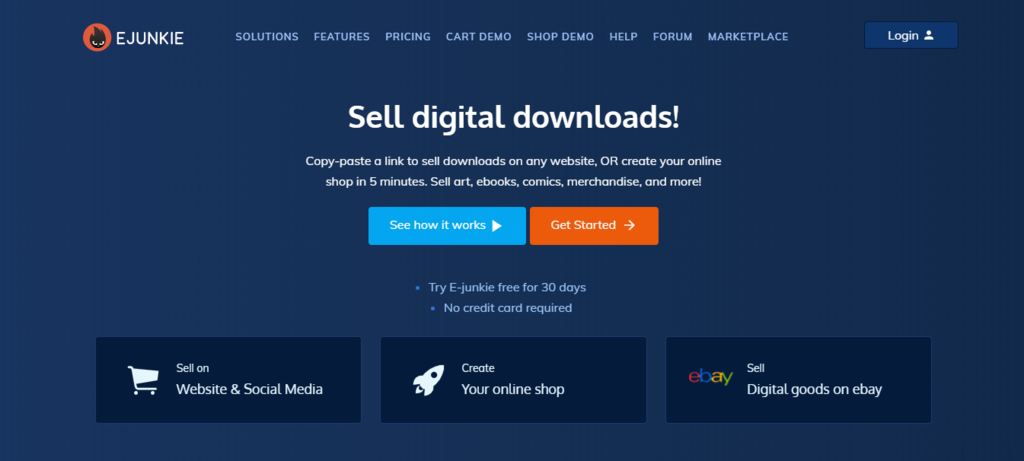 E-junkie is a shopping cart software and digital delivery service that focuses mainly on helping people sell digital goods, such as file downloads for music, books, software, and more.
People can also use this alternative to Shopify to sell physical items that require shipping calculations.
Integrating E-junkie with your website is easy – just copy the code of your cart or the button from E-junkie's seller admin page and paste it onto the page you want.
With prices ranging from $5 to $40/month and no limit on bandwidth or the number of transactions, this hosted platform is more cost-effective than Shopify.
In addition to supporting 15 payment gateways, including PayPal, Braintree, and Authorize.Net, E-junkie also supports various third-party integrations, such as Zapier, MailChimp, and Acutrack.
Plans and Pricing
E-junkie provides four plans: for $5/month, $10/month, $20/month, and $40/month.
Pros:
Multi-channel selling. Sell products on E-junkie's marketplace or use E-junkie's purchase links to sell products through social media, messengers, email, and other digital platforms.
No transaction fees. E-junkie doesn't charge any fees for sales made.
Dedicated support. Reach E-junkie's customer support team via a "Contact Us" form and email during business hours.
Cons:
No free plan. E-junkie does not offer a free plan. However, it provides a 30-day free trial period instead.
Limited number of products. The $5 plan has a limit of 10 products, the $10 plan a limit of 40 products, and the $20 plan a limit of 150 products. For an unlimited number of products, you have to go for the $40 plan.
Limited download storage. The $5 plan has a limit of 200 MB, the $10 plan a limit of 2 GB, and the $20 plan a limit of 8 GB. To get unlimited download storage, go for the $40 plan.
Which Shopify Alternative Is Best for You?
All eight platforms are worth considering. However, you should select the Shopify alternative with features that best meet the needs of your online business.
If you still aren't sure, take a look at the following recommendations from our experts:
Best value for money: Shift4Shop, BigCommerce
Best for control and flexibility: WooCommerce, Magento
Best for global eCommerce: PrestaShop, OpenCart
Best for small businesses: WooCommerce, PrestaShop
Best for scalability: BigCommerce, Magento
Best for selling digital goods: Gumroad, E-junkie
Also, you can always opt for a website builder to make an online store using a convenient drag-and-drop interface that requires no coding skills or experience in design.


Conclusion
People may consider starting an eCommerce store using alternatives to Shopify for various reasons, such as Shopify's expensive plans, hefty transaction fees, meager product options, and limited configuration options.
There is a wide variety of Shopify alternatives available online to help people set up their online stores. Each eCommerce platform has its strengths and weaknesses.
The eight Shopify alternatives discussed in this article are summarized below.
WooCommerce. A free, flexible, and open-source WordPress shopping cart plugin that is best for people already familiar with WordPress.
Magento. A free, self-hosted, open-source, and community-driven eCommerce platform that provides a wide selection of apps and add-ons.
PrestaShop. A multi-lingual, free, self-hosted, and open-source eCommerce platform best used by people who wish to step into the global eCommerce marketplace.
OpenCart. A powerful, free, self-hosted, and open-source eCommerce solution that boasts a multi-store functionality manageable through a single back-end.
BigCommerce. A hosted eCommerce platform that offers more built-in features than Shopify for relatively similar prices, making it one of the best Shopify alternatives.
Shift4Shop. A robust and cloud-hosted eCommerce platform with comprehensive out-of-the-box features.
Gumroad. An affordable online marketplace platform catering to digital artists and creators who want to sell products directly to their customers.
E-junkie. A shopping cart software and digital delivery service focusing on the sale of digital products with no limit on bandwidth or transactions.
Evaluate the eCommerce platforms listed above in terms of how well they suit your needs.
Consider important factors such as the transaction fee charged, product variant limit, transaction limit, flexibility, and scalability. If you want to maximize your customer reach, use alternatives providing options for multi-store or multi-channel selling.
When you are ready, make your choice and begin your online business journey. Don't hesitate to leave a comment below if you have any further questions or feedback.