Magento vs Shopify: Which One Is Ideal for Your Online Store?

eCommerce is one of the most popular ways to make money online. In 2021, the global online retail market was worth around $5.2 trillion. Statista forecasts the figure to grow by 56% over the next few years, reaching $8.1 trillion by 2026.
Before jumping into the eCommerce world, you'll need to build an online store to run your business. When looking for the best eCommerce platform, Magento and Shopify are two popular choices. Both eCommerce platforms have similar functionality, yet their features and target audiences are vastly different.
This article will explore the differences between Magento vs Shopify and discuss how each eCommerce platform can help you start selling online. We'll break down our analysis of Magento vs Shopify based on various key factors, including ease of use, customizability, marketing, search engine optimization (SEO), and pricing.
Download Checklist: How to Start an Online Business
What's the Difference Between Magento and Shopify?
The main difference between Magento and Shopify is their target user base and level of customization. Magento is an open-source platform that is highly customizable and geared towards large enterprises with complex needs. Shopify, on the other hand, is a hosted platform that is more user-friendly and geared towards small to medium-sized businesses.
What Is Magento?
Magento Open Source is a self-hosted eCommerce platform with robust tools for starting an online business. It's ideal for enterprise-level companies and users who want complete control and customizability for their websites.
The platform has a module-based architecture to expand eCommerce stores' functionalities. Site owners can launch online stores and add a broad range of eCommerce features by coding or choosing from the thousands of Magento extensions available on the marketplace.
Magento comes in two versions ‒ Magento 1 and Magento 2. Since the eCommerce platform stopped releasing updates for Magento 1, this article will focus on Magento 2, specifically the Open Source version.
As of 2022, Magento powers over 267,000 active online stores. Land Rover, Liverpool, Ford, and Nespresso are a few big brands that use Magento.
What Is Shopify?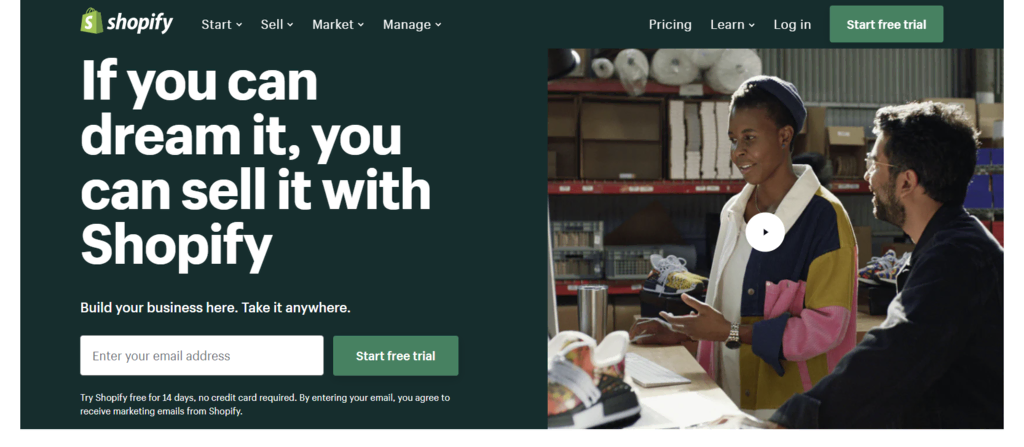 Shopify is a highly popular eCommerce platform that caters to all kinds of businesses, including offline and online stores. Its point-of-sale functionality is a versatile solution to support offline transactions in brick-and-mortar stores and pop-up shops.
This platform offers extensive features to build a full-fledged online business capable of handling online transactions and branding and marketing campaigns. Shopify users can also easily scale their online store by installing plugins from the Shopify App Store.
The eCommerce platform powers over 700,000 online stores worldwide, with a market share of around 10%. Big brands like Sephora, Gymshark, and Penguin Books are among Shopify's most notable customers.
Magento vs Shopify: Which Is Easier to Use
Ease of use is an essential factor to consider when choosing a new platform, particularly if this is your first time building an eCommerce store or you plan to run the site independently. Otherwise, site owners must consider the extra cost of hiring a developer to maintain their website.
Shopify
To start a Shopify account, simply sign up on the official website by choosing a name for your store and filling in the required business details. From this point forward, you'll be running on a three-day free trial.
The platform will redirect you to the dashboard of a demo store using a default theme and placeholder products. Here, you can start configuring your Shopify store while learning how the platform works.
Shopify's user interface is intuitive, so navigating the relevant tabs to set up your Shopify plan, payments, and other store settings is easy, even without coding knowledge.
Changing the look of your eCommerce store simply requires you to install another theme. You can get one from Shopify's theme collection or a third-party marketplace like ThemeForest and Creative Market.
Adding products is also straightforward. On your Shopify dashboard, navigate to the Products tab and click Add product. Configure each item's details on the next screen, such as the product title, description, images, and pricing.
Pro Tip
There are other ways how you can launch an online store without coding. Hostinger's online shop builder is a beginner-friendly tool that lets you build a store online using intuitive drag-and-drop interface.
Magento
Since Magento is a self-hosted platform, its start-up process is more involved than Shopify. After securing a domain name and a web hosting plan that supports this eCommerce solution, the next step is downloading Magento Open Source.
Depending on your hosting provider, there are multiple ways to install Magento. On Hostinger, you can set up Magento manually or use our auto-installer.


After completing the installation, you'll have access to the Magento dashboard. Here, you can set up the online shop, monitor sales, view recent orders, and check the view count of each item.
Unlike Shopify, your Magento store will look pretty bare to begin with. Fix this by installing a theme from the Magento Themes Marketplace or uploading a custom theme from a third-party website. To add products, navigate to Catalog → Products and click the Add Product button.
Magento vs Shopify: Which Has Better Store Management
Both Magento and Shopify have a robust store management system to support all business types and sizes. However, the two platforms offer different types of tools to run your online shop.
Shopify
Shopify offers all the necessary features to manage your store through the admin dashboard. Here, you can set up a custom domain, configure shipping and tax rates, and enable various payment methods.
This eCommerce platform has an in-house payment gateway called Shopify Payments. You can start accepting online payments after filling in your account details, such as the store currency, bank account, and tax information.
Installing a Shopify app also only takes a few clicks. Navigate to the Shopify App Store and select Add app to integrate the chosen extension into your admin dashboard. A demo video is included on each app's listing page, helping you determine whether it suits your eCommerce needs.
Magento
Like Shopify, Magento users can manage their store via the admin dashboard. Since Magento is a content management system (CMS), you can easily create and customize product catalogs and pages from here.
Adding products, external payment gateways, and delivery methods are also straightforward. Navigate to Store → Configuration → Sales from your admin account to set up payment processors and shipping rates.
The key difference here is that installing Magento modules is slightly more complex than Shopify apps. There are two ways to do it ‒ via Composer or manually using the Magento configuration. Although there are tutorials to guide you through the installation process, it can be daunting for users without technical knowledge.
Magento vs Shopify: Which Has Lower Payment Fees
Many payment gateways charge processing fees, which will affect your overall cash flow. Ideally, site owners should find ones that set low payment fees or, at the very least, fall within the average range of 1.5% to 3.5%.
Shopify
Shopify's transaction fees vary depending on your plan. The more premium your subscription plan, the lower your transaction fees will be.
Basic Shopify charges 2.9% + $0.30 per online transaction or 2.7% per in-person transaction. The mid-tier plan, Shopify, imposes 2.6% + $0.30 per online transaction or 2.5% per in-person transaction. Meanwhile, Advanced Shopify charges as low as 2.4% + $0.30 per online transaction or 2.4% per in-person transaction.
If you want to use another payment provider besides Shopify Payments, there will be additional transaction fees of 2% for the Basic plan, 1% for the Shopify plan, and 0.5% for the Advanced plan.
Magento
There's no built-in payment processor for Magento, so the open-source platform doesn't charge transaction fees. The only transaction fees you pay will come from your chosen third-party payment gateways.
Magento vs Shopify: Which Is More Scalable
The goal of running a business is to grow its customer base and profitability over time. To do so, you need to find a scalable solution that can cater to your growing business. Many eCommerce platforms provide add-ons to expand website functionality, and Magento and Shopify are no exception.
Shopify
Shopify offers around 7,000 add-ons on its App Store, and over half of these are free. Use the search bar to locate specific extensions or browse through the categories to see all available options.
All the necessary apps to expand your store's capabilities are available at various prices. From search engine optimization to dropshipping, Shopify lists numerous apps by reputable merchants in different industries. Notable examples include Yoast SEO and Zendrop.
Those with more advanced technical knowledge can join the Shopify Partner Program and upload their own add-ons to the App Store. The program is free to join, and you can earn extra income by selling your application on the platform.
Magento
When it comes to scaling your store, Magento users will need to install modules as add-ons. Around 900 free modules and 2,400 premium ones are available on the Magento Extensions Marketplace. Use the filter function to search for specific modules based on their edition, version, pricing, rating, and category.
Similar to Shopify, essential eCommerce functions like checkout modules, abandoned cart recovery, and inventory management are available in free and paid options. Each listing page contains details of the module's specifications, including a quality report, release notes, Q&A, and reviews.
Magento users who have advanced coding knowledge can upload their own extensions. The Magento Marketplace offers a complete guideline for setting up a developer account, submitting your extension per Adobe quality standards, and promoting it to other users.
Magento vs Shopify: Which Is More Customizable
Customizability is critical when choosing the best platform for your business. You need the right eCommerce tools to create a unique digital storefront that stands out from the competition. Both Magento and Shopify provide pre-made themes for customization.
Shopify
Customizing the look of your Shopify store means installing a theme and editing it using the platform's drag-and-drop website builder.


There are around 100 Shopify themes in free and paid versions, all of which have responsive templates and cater to different niches and store sizes. Each Shopify theme comes with a demo store, giving you a better idea of its look and feel, user interface, and features.
Shopify offers sections and blocks to eliminate coding from the customization process. Using the built-in drag-and-drop page builder, you can control the placement of all website elements to produce your ideal storefront. Additionally, Shopify supports custom HTML and CSS for advanced edits.
Magento
If you compare Shopify's customizability to Magento, the latter falls a bit short for beginners due to the absence of a built-in drag-and-drop website builder. Instead, this functionality is available as an extension, so you must install it separately.
However, if you have coding knowledge, the lack of a website builder shouldn't cause an issue. That's because the platform gives you unlimited freedom to build a completely custom theme that fits your Magento store's needs.
Magento has two default free themes ‒ Luma and Blank. The former is a responsive demo theme, while the latter is a basic theme for creating a custom design via coding. However, the Magento Marketplace offers three additional free themes and two premium ones costing $499 each.
However, plenty of third-party marketplaces sell ready-to-use premium themes for all kinds of Magento online stores. These are useful if you don't want to build one from scratch or use the platform's basic default themes.
There are multiple ways to install a custom theme on Magento, regardless of whether you created it or downloaded it from a third-party marketplace. We recommend following Magento's theme development best practices to ensure proper usability and compatibility.
Magento vs Shopify: Which Is Better for Marketing and SEO
Having access to marketing and search engine optimization tools helps you drive traffic to your online store. The higher your site ranks on search engines, the easier it is to generate sales and gain profits. Both Magento and Shopify offer these functions to boost your store's online visibility.
Shopify
The Shopify platform automatically updates your sitemap with new product listings, web pages, and blog posts. It also lets you customize the products' meta tags and URLs with SEO-friendly keywords.
All Shopify plans include social media integrations with popular platforms like Instagram and Facebook, making it easier to drive traffic and create backlinks. What's more, its marketing automation feature is particularly useful for sending automated emails with pre-made or custom templates.
Additional marketing and SEO add-ons are available to download via the Shopify App Store.
Magento
Magento offers plenty of tools and guides to optimize your store for search engines. Like Shopify, this platform supports custom image alt tags and URLs and provides additional modules to improve your SEO efforts.
The platform also has an SEO best practices guide to help Magento sellers improve their website rankings. It includes information on enhancing metadata, generating a sitemap, changing URLs, and configuring robots.txt files.
Built-in marketing tools like newsletter functionality and trigger-based promotional emails are also available to attract potential customers and generate leads.
Magento vs Shopify: Which Performs Better
Since 40% of people will leave a website if it takes more than three seconds to load, speed and performance should be a priority when selecting an eCommerce platform.
Both Magento and Shopify offer the infrastructure needed to guarantee website performance. However, their performance optimization methods vary significantly due to their hosting types.
Shopify
As a hosted platform, Shopify takes care of all maintenance and optimization processes. This makes Shopify a highly suitable platform for beginners and users who don't want to manage hosting resources.
Shopify carries out several procedures to speed up its websites. For example, it uses a content delivery network (CDN), sets browser and server-side caching, and adopts fast global servers to achieve quicker loading times.
The platform also has a list of best practices to improve your online store's performance, which includes disabling unused apps, using well-coded themes, and optimizing images.
Shopify also recommends against doing complex edits or customizations to their site's Liquid code since it may negatively impact overall website speed.
Magento
Like any other self-hosted platform, Magento's speed and performance greatly depend on the hosting provider. If you pick a subpar web host and a hosting plan that lacks the server resources to run a Magento store, your website performance will most likely suffer.
Securing a reliable Magento hosting service lets you scale features as needed and achieve optimal website performance. Make sure to review Magento's system requirements when looking for a potential web host to avoid choosing an insufficient provider.
Running on a self-hosted platform also means updating the core software, setting up a CDN, and enabling caching on your own. While you have the freedom to configure the settings to fit your exact needs, it's far from beginner-friendly.
Magento vs Shopify: Which Is More Secure
As a website owner, you are responsible for implementing measures to protect your and your customers' valuable data. Therefore, choosing a secure eCommerce platform is crucial.
Moreover, protecting customers' data from hackers helps to build strong brand credibility and trust, resulting in a higher chance of sales and conversions.
Shopify
Shopify enables business owners to take a hands-off approach regarding security. The platform maintains secure server networks, protects cardholder data, and regularly monitors and tests its systems for security vulnerabilities.
All Shopify stores are PCI compliant by default. This guarantees secure online payments via debit and credit cards.
Additionally, all Shopify plans include a free SSL certificate and a built-in fraud analysis functionality as part of its standard security features.
Magento
Like with website performance, your web host plays a significant role in keeping your Magento store safe. Make sure to opt for a hosting provider with robust built-in security measures that conducts regular maintenance and security monitoring.
As part of Magento's internal security efforts, the platform has a thorough guide on security best practices and releases security patches regularly. In addition, Magento supports PCI compliance so your store can safely accept credit and debit card payments.
Additionally, Magento offers built-in security features, such as strong data encryption, session validation, cookie validation, CSRF protection, and XSS protection.
Magento vs Shopify: Which Provides Better Customer Support
Having access to customer support when needed ensures an uninterrupted business workflow. The quicker the platform fixes any technical issues, the faster you can return to making sales, attracting customers, and generating profit.
Both Magento and Shopify offer quality customer support via multiple channels. Users can also refer to their respective knowledge bases and online tutorials.
Shopify
Shopify offers dedicated 24-hour support via email, live chat, and social media.
Serving as the platform's knowledge base, the Shopify Help Center provides general information about the platform's different tools and features. Learn how to manage and grow your online business from Shopify experts by taking free online courses on Shopify Learn.
Users looking for more tips and advice can join the Shopify Community and participate in discussions on various topics, such as marketing, accounting, and troubleshooting.
Magento
Unlike Shopify, the Magento Open Source platform doesn't have a dedicated in-house support team. However, it has an extensive Developer Guide to help users build and customize their online stores. Alternatively, refer to the User Guide for merchant-focused documentation.
There's also an active Magento community forum where users and developers can share information, tips, and ideas to optimize eCommerce sites and troubleshoot technical issues.
If you have the budget to spare, plenty of third-party dedicated Magento support services can help you take care of website maintenance and troubleshooting. This solution is popular among medium to large-sized businesses that don't mind spending extra for premium support.
Magento vs Shopify: Which Is More Cost-Effective
Since Magento is self-hosted and Shopify is a hosted platform, they have different pricing structures. The following comparison table focuses on the basic costs of starting an online store on Magento and Shopify:
Magento
Shopify
Cost
Magento Open Source: free
Magento Commerce: from $22,000/year
Shopify Starter: $5/month
Basic Shopify: $29/month
Shopify: $79/month
Advanced Shopify: $299/month
Shopify Plus: from $2,000/month
Hosting
Ranges from ₹449–₹1699/month (VPS hosting)
Included in all Shopify plans, except Shopify Lite
Themes
$0-$499 (one-time fee)
$0-$310 (one-time fee)
Extensions
$0-$15,000
$0-$1,000+/month
Shopify
Shopify charges monthly subscriptions with monthly and yearly billing cycles. Scaling up or down your online store is also possible by switching plans. While the platform doesn't offer a free option, you get a three-day free trial when signing up for a new account.
Shopify's most affordable plan is Basic Shopify, costing $29/month. It includes two staff accounts, basic reports, and up to four inventory locations. It's an ideal option for new eCommerce business owners.
Their mid-tier plan, Shopify, costs $79/month. Compared to Basic Shopify, this Shopify plan gets upgraded staff accounts for up to five users and five inventory locations, making it an excellent choice for fast-growing businesses.
Advanced Shopify is their most expensive plan at $299/month. You get up to 15 staff accounts, eight inventory locations, and third-party calculated shipping rates. This option caters to businesses that require advanced sales and management reports.
In addition to the three core plans, the platform offers two alternative pricing options – Shopify Starter and Shopify Plus.
The Starter plan, costing $5/month, is ideal for merchants who want to integrate Shopify's features and sell on social platforms like Instagram and WhatsApp. On the other hand, the Plus version offers enterprise-grade solutions for high-volume stores starting at $2,000/month.
Magento
Magento Open Source is free to download. Even so, there are essential costs for creating a fully functional and feature-rich Magento online store.
First and foremost, you'll need to find web hosting. We recommend opting for a VPS hosting service, as this type of solution provides enough server space and resources to handle a Magento installation. Depending on the hosting provider's payment policies, you'll have to renew the plan every month or year. You will also need a domain name and SSL certificate to run your Magento website.
Payment gateways, premium themes and extensions, and website maintenance services are additional costs you'll have to pay as your website grows.
Magento Commerce, now known as Adobe Commerce, is the hosted version of Magento Open Source. It offers dedicated support, premium eCommerce features, and multi-brand support for large-scale businesses.
While Magento Commerce pricing plans cover hosting costs and website maintenance, the starting price of $2,000/month can be a massive barrier to entry for new and small businesses.
Magento vs Shopify: Comparison Table
Now that we've gone through the ins and outs of both Magento and Shopify, let's recap how each platform performs in various key areas explored above.
| | | |
| --- | --- | --- |
| | Magento | Shopify |
| Learning curve | High – best for users with technical knowledge. | Low – caters to users of all skill levels. |
| Store management | Built-in features accessible via the store admin. Add-on installation process is rather complex. | Built-in tools accessible via the store admin. Features are relatively easy to configure. |
| Payment processing fees | No platform fees. | Depends on the plan and payment gateway. |
| Scalability | 3,300+ modules | 7,000+ apps |
| Customizability | Coding knowledge is preferable. No built-in page builder.Limited default themes. | Offers a drag-and-drop page builder and around 100 pre-designed themes. |
| Marketing and SEO | Built-in marketing tools, meta tag customizations, newsletter functionality, and trigger-based promotional campaigns. | Meta tag customizations, social media integrations, auto-generated sitemap, and email automation. |
| Speed and performance | Depend on the hosting provider. Manual optimization using add-ons and third-party solutions is possible. | Guaranteed and optimized by Shopify. |
| Security | Built-in security features, but site security mostly depends on the hosting provider and online store owner. | Implemented and monitored by Shopify. |
| Customer Support | No dedicated support team. Users must rely on the knowledge base, community forum, and third-party support services. | 24-hour support via email, live chat, and social media. |
| Pricing | Flexible depending on your chosen web host and add-ons. | Core plans start at $29/month. |
Shopify Pros and Cons
Despite offering many useful tools and features, Shopify has some drawbacks. The following table of Shopify pros and cons will give you a better idea of what aspects the platform excels and falls behind in.
| | | |
| --- | --- | --- |
| Pros | Cons | Best for |
| Great for beginners. Shopify has an intuitive user interface that'll get you selling in no time. | Pay to use. Shopify's core plans range from $29-$299/month. | Users who prioritize convenience and don't mind paying extra. |
| A hosted solution. Everything you need to run a website, like web hosting and an SSL certificate, is included in all Shopify plans. | Limited customization. You have to rely significantly on predefined design settings. | Users who want an all-in-one solution to launch a website right away. |
| Optimized for mobile. Your mobile eCommerce site is fully integrated and has the same functionality as its desktop version. | Transaction fees. This applies to users who don't use Shopify Payments. | Busy small business owners who want to grow their brand quickly. |
When it comes to ease of use, Shopify wins by a large margin. The onboarding process guides new users through various website-building stages, eliminating any confusion that those without technical skills may have.
The subscription system also simplifies resource management. You don't have to worry about buying hosting and a domain from a third-party provider or maintaining the site. All essential eCommerce tools come built-in, and it has a decent collection of Shopify themes to get you started.
However, Shopify may not be as cost-effective as Magento due to its transaction fee policy. If Shopify Payments isn't available in the country where your target audience resides, you'll have to cover the transaction fees based on the current plan.
Shopify's predefined customization options are also not ideal for users who want complete flexibility in designing their online store. Scalability is also limited, as you can only upgrade your plan twice to get more tools and resources before having to purchase its costly enterprise solution.
Pro Tip
Shopify's steep pricing plans may not be ideal for everyone. Check out our list of Shopify alternatives to see if one of them suits your budget and needs better.
Magento Pros and Cons
Just like Shopify, Magento has its strengths and weaknesses. Consider the following Magento pros and cons before choosing a platform for your online business.
| | | |
| --- | --- | --- |
| Pros | Cons | Best for |
| Flexibility and customization options. Easily design and scale your website by choosing from thousands of extensions. | Steep learning curve. Magento is more complex to manage than Shopify, so it's best for enterprise-level businesses looking for long-term scalability. | Intermediate to advanced users who want ultimate control over the design and functionality of their online store. |
| Large user community. The platform is mainly community-driven, enabling you to connect with experienced users and Magento developers. | No dedicated customer support. Unless you opt for Magento Commerce, the free version doesn't have a dedicated support team. | Users who prefer a hands-on approach when setting up their eCommerce site. |
| Free to install. There are no costs when downloading or signing up for the Magento Open Source platform. | Longer setup time. You'll need some web development and technical knowledge to launch your online store. | Users who don't mind investing more time in the set-up process. |
Unlike its contender, Magento is better suited for those with experience in website creation and management. Opting for Magento enables you to choose your preferred eCommerce web hosting solution, purchase a domain name, handle general site maintenance, and manage your own hosting costs.
If you compare Shopify to Magento, the latter is the better option for users who want a low initial cost to start their online business. Open Source is free to download, and you can find excellent hosting options for less than $10/month – still more cost-effective than Shopify's lowest-tier core monthly plan.
Plus, there are no transaction costs when selling on Magento, meaning that site owners keep all the profit they earn from sales.
That said, you need to invest in powerful hosting to fully optimize your online store. Magento requires a ton of resources to function properly, so make sure to choose the right web host and hosting plan.


Conclusion
When deciding on Magento vs Shopify, it's important to note that the two eCommerce platforms target different types of users. To choose the right eCommerce platform for your business, consider both immediate needs and long-term goals.
We recommend Shopify if the following factors are important to you:
Beginner-friendliness. You're just starting out and want an easy-to-use platform.
Quick start-up process. You want an all-in-one solution to launch an online business immediately.
Intuitive website building tools. You prefer using built-in themes and extensions to develop your eCommerce site.
Convenience. You don't want to worry about maintaining and optimizing the site for performance and speed.
On the other hand, Magento might be a better choice if you prioritize the following points:
Scalability. You run a fast-growing business and potentially need to scale resources quickly.
Customizability. You are an intermediate or advanced user and want complete access to edit the code and structure of the website.
Control. You don't mind investing a lot of time to completely manage your online store's configuration and maintenance.
Regardless of your choice, both Shopify and Magento are great platforms to start an eCommerce business and make money online. Good luck!