PrestaShop vs Shopify: Two Modern eCommerce Platforms Compared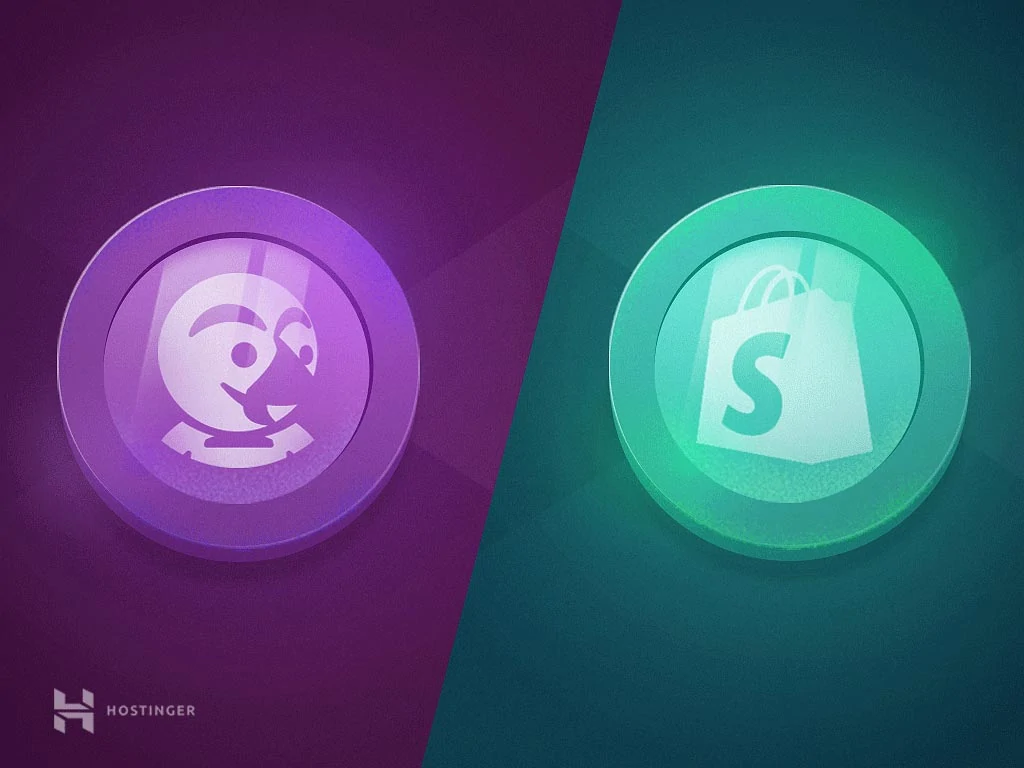 Choosing the right platform is essential to simplify the setup and maintenance of an online store.
PrestaShop and Shopify are top eCommerce platforms that offer great functionality without requiring coding knowledge. That said, the two platforms have their own set of different features and tools.
This article will share in-depth comparisons of PrestaShop and Shopify regarding ease of use, store management, customizability, performance, and security.
We will also explain each platform's strengths to help decide on the right eCommerce platform for your online store.
Download Website Launch Checklist
What's the Difference Between PrestaShop and Shopify?
The main difference between PrestaShop and Shopify is that PrestaShop is an open-source eCommerce platform that allows for more customization, while Shopify is a subscription-based eCommerce platform that offers a simpler, more user-friendly experience. PrestaShop requires more technical knowledge to set up and maintain, but provides more control over the design and functionality of your store. Shopify, on the other hand, is easier to use and offers more built-in features, but has less flexibility for customization.
An Introduction to PrestaShop vs Shopify
PrestaShop and Shopify are different types of eCommerce platforms. PrestaShop is a self-hosted platform that offers excellent scalability and flexibility. Meanwhile, Shopify is an online store builder that simplifies creating a secure eCommerce site.
PrestaShop is free, but users need to buy website domain and hosting first. We recommend choosing a web hosting provider that offers both. For example, two of Hostinger's PrestaShop Web Hosting plans come with a free domain: 
Premium Shared Hosting. Includes 100 GB SSD storage, starting from $2.99/month.
Business Shared Hosting. Includes 200 GB SSD storage, starting from $6.99/month.
Also, all Hostinger's hosting plans include free SSL certificate so you don't have to purchase it separately.
As an open-source content management system (CMS), PrestaShop helps online stores scale flexibly. For instance, its International feature enables eCommerce sites to reach different markets by providing multiple languages and currency options.
PrestaShop is best for medium to large eCommerce stores. A great example of a PrestaShop store is Freshly Cosmetics, with its multilingual feature. The website is available in English, Spanish, Catalan, Italian, Portuguese, and French.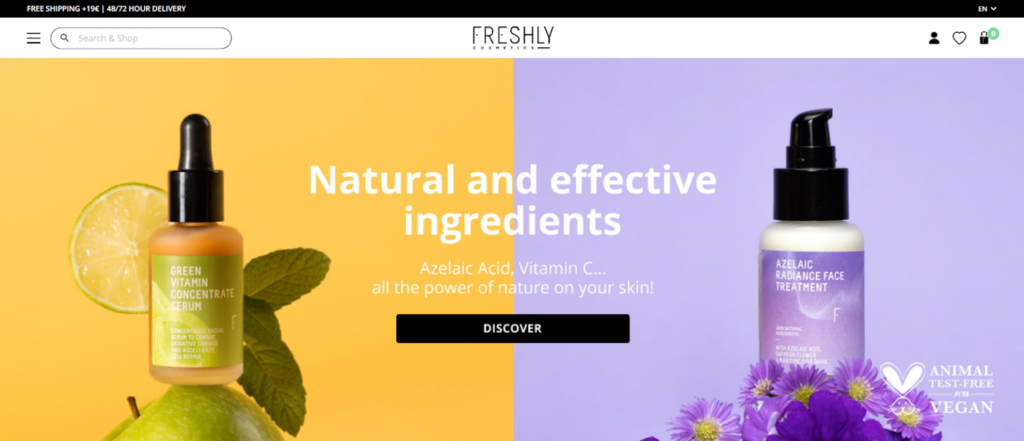 In contrast, Shopify is a fully-hosted platform that provides various eCommerce features through a user-friendly interface. To activate the 14-day trial period and create a Shopify store, users need to choose a pricing plan:
Basic Shopify. Offers up to four inventory locations and two admin accounts for $29/month.
Shopify. Offers up to five inventory locations and five admin accounts for $79/month.
Advanced Shopify. Offers up to eight inventory locations and 15 admin accounts for $299/month.
All the plans include a free SSL certificate, the ability to sell in 133 currencies, and unlimited products. One of Shopify's core features is its abandoned cart recovery, which reminds customers to return to their shopping carts and make purchases.
With its user-friendly features and tools, Shopify is best for small to medium online stores. An example of a Shopify store is Nomz, a healthy snacks brand that sells products in the United States and Canada. The website shows a different currency when visitors change the location.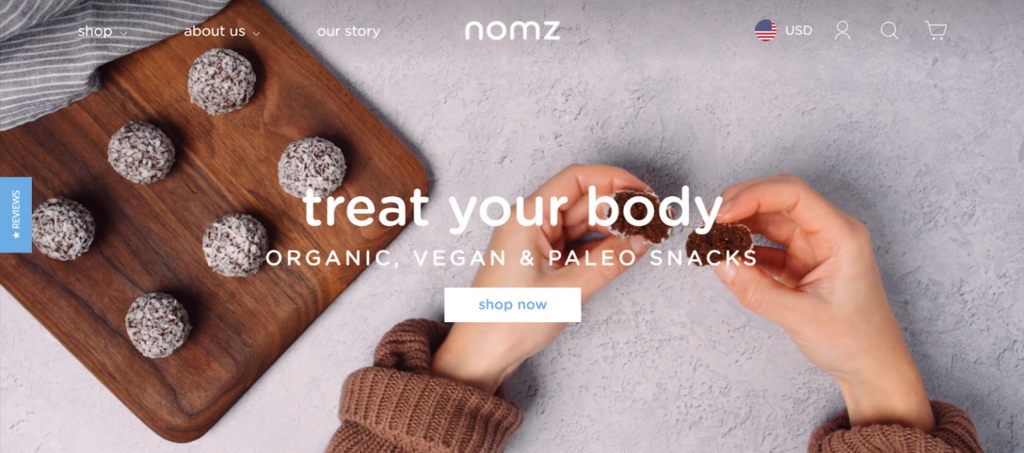 PrestaShop vs Shopify: An In-Depth Comparison
Comparing the following elements of Shopify and PrestaShop will help you to choose the most suitable platform:
Ease of use. Whether or not a platform is suitable for beginners, from setting up to navigating its dashboard.
Store management. The product settings, payment gateways, and shipping options.
Customizability. The options offered by each platform when it comes to website design.
Performance. Each platform's loading speed and how they handle different levels of traffic.
Security. Each platform's security features, such as tools to protect sensitive information like shipping addresses and credit card numbers.
We will finalize each comparison with a summary of which eCommerce platform offers the better overall experience.
PrestaShop vs Shopify: Ease of Use
Depending on your technical knowledge, some platforms can be more challenging to use than others. Even though both platforms simplify creating an eCommerce site, they have different learning curves.
Here are the factors that help determine which platform is easier to use:
Website setup process.
Dashboard navigation.
Access to built-in tools.
To set up PrestaShop, do a manual installation or use an auto-installer. Download the newest version of Prestashop and use a File Transfer Protocol (FTP) client to install the eCommerce software manually.
An easier way to set up this eCommerce platform is to use an auto-installer on your web hosting's control panel. Here are the steps to install PrestaShop automatically using Hostinger:
Head to hPanel -> Auto Installer and select Other.
Under the Search an application section, choose PrestaShop and click on the Select button.
Insert your Website Title, Administration Username, Email, and Password and click Next.
From the drop-down menu, choose the latest version of PrestaShop and then pick your preferred update schedule. Tap the Install button to finalize the process.
To access the website's Dashboard, head to hPanel -> File Manager and look for a folder with 16 random letters.
Head to a web browser and add the random letters to your domain. For example, it might look like this: http://yourdomain.com/jfnujbcvu8vrgkvd.
Insert your Email and Password to log into your PrestaShop account and access your Dashboard.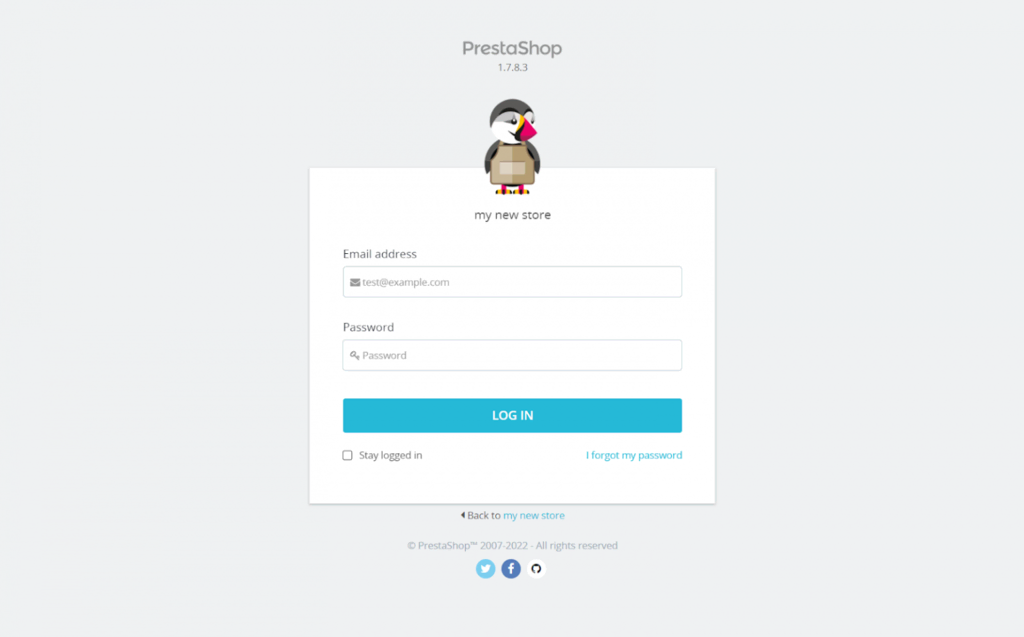 The built-in features and tools are available under Dashboard, including Orders, Catalog, and Customer Service. PrestaShop also makes it easier for an eCommerce business to see the store's growth, from Activity overview and Products and Sales.
In addition, this eCommerce platform has a Quick Access button that includes shortcuts to the most common tools. There is also an option to Manage quick accesses, which organizes which tools to fit under this button.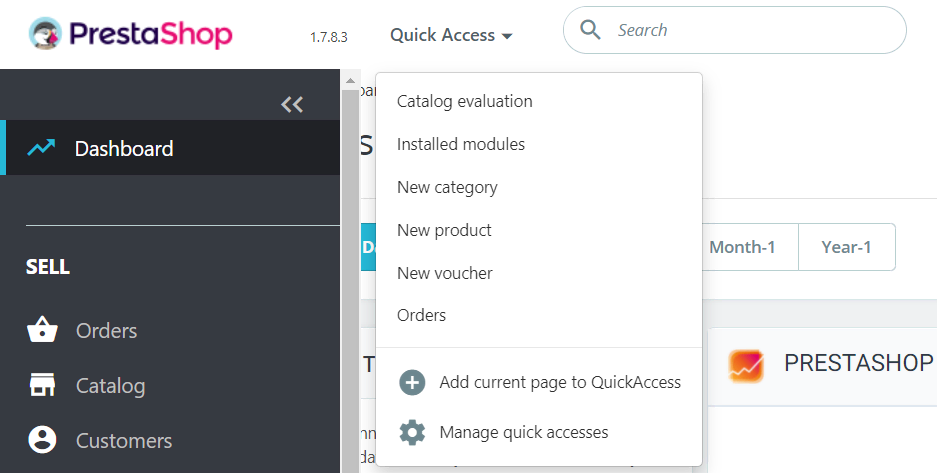 In contrast, Shopify's setup is more straightforward. The steps are to select a plan, create an account, and insert a store name right away. Then, Shopify's Home page will include steps and quick links to help set up a store.
For example, there are links to Add product and domain, Customize theme, and Set up sales channels. You can also find suggestions to help optimize a store, such as adding a shipping policy and learning more about selling globally.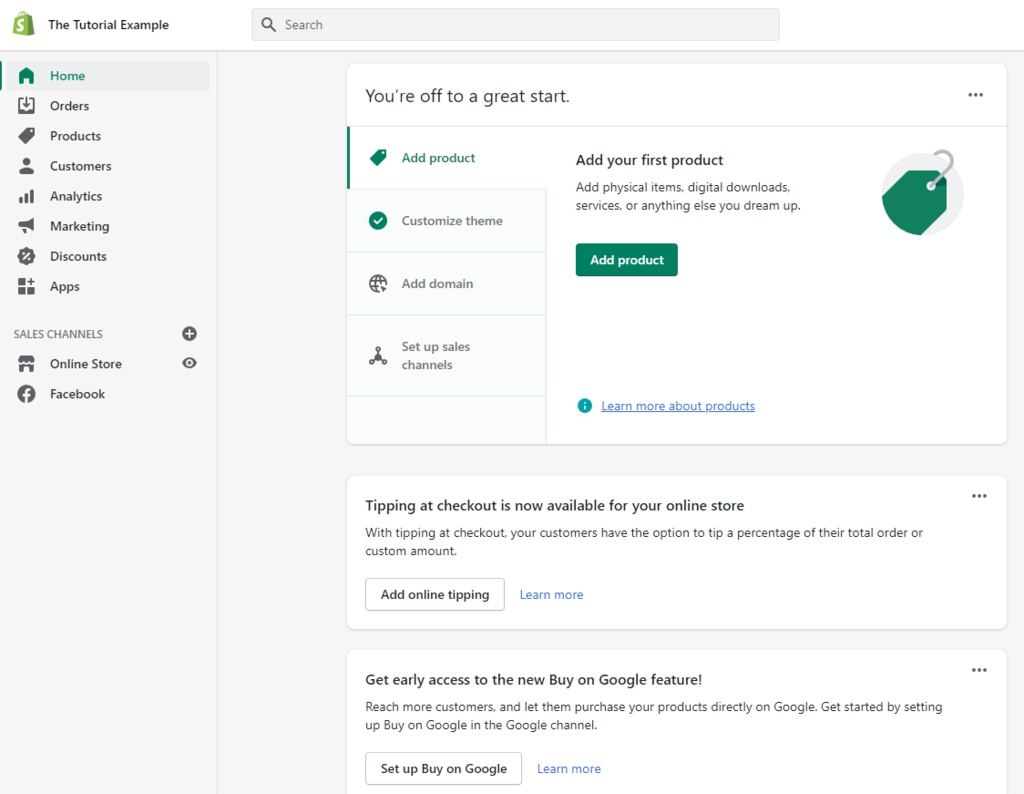 Some of the most common eCommerce tools are available on the left corner, including Orders, Analytics, and Marketing. To access the complete list of built-in tools, click on the Settings button on the bottom left corner, which will show more tools like Billing, Taxes, and Metafields.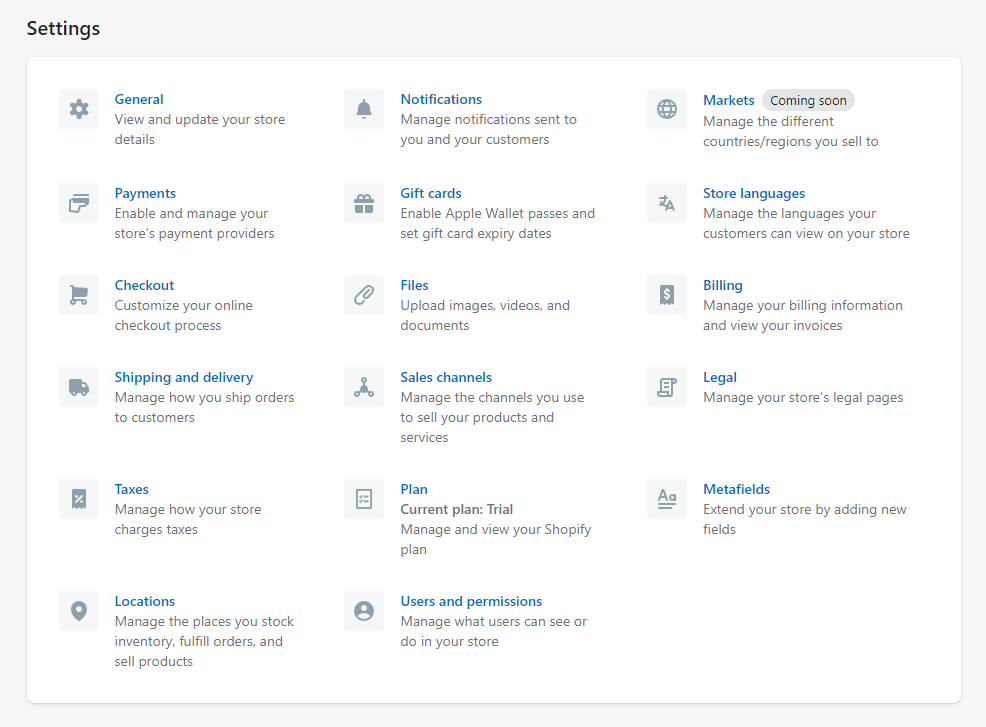 PrestaShop vs Shopify: Which One Is Easier to Use?
Shopify is the better eCommerce platform for overall ease of use. However, PrestaShop can be just as easy to set up when using user-friendly web hosting. Its intuitive Dashboard is also more straightforward than Shopify.
Pro Tip
If you're looking for a beginner-friendly platform that lets you create a website online, consider using online store website builder such as Hostinger.
PrestaShop vs Shopify: Store Management
Excellent store management will include all the necessary information to encourage users to make money online. We will analyze and compare PrestaShop and Shopify's store management tools, including product settings, shipping, and payment gateways.
PrestaShop offers a broad range of store management options. This eCommerce platform allows unlimited admin accounts and the ability to run multiple stores from one Dashboard.
Another functionality that PrestaShop offers is the ability to sell customizable goods. To add a product, head to Dashboard -> Catalog -> Products -> New product. There, Enter your product name on top and fill in as many details as possible, including:
Basic settings. Add product images, a summary, a description, features, brand, and related products. Then, assign the quantity, price, and categories.
Quantities. Determine the minimum amount of purchase, stock information, and availability preferences.
Shipping. Set the package dimensions, delivery time, and shipping fees.
Pricing. Add the retail price, the price with and without tax, and the cost price.
SEO. Create a meta title and description to optimize the product page and change the URL to make it more user-friendly.
Options. Select the product page's visibility and add its condition, references, and customization.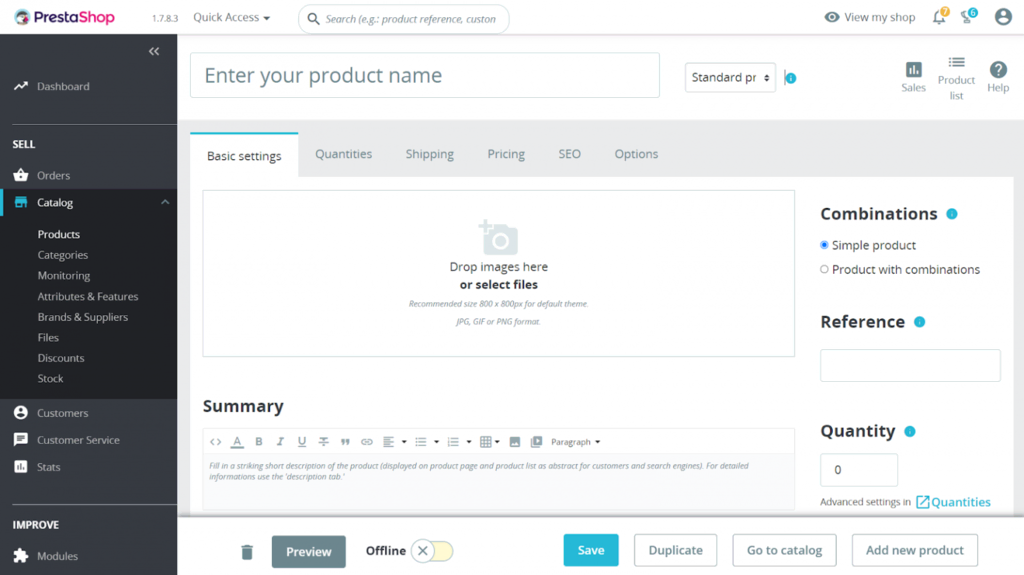 In terms of Shipping, it is vital to have a proper carrier registered in PrestaShop. Popular carriers are available in the PrestaShop Marketplace, such as DHL, UPS, and FedEx. If there are no modules for your carriers, add them manually from Dashboard -> Shipping -> Add new carrier.

PrestaShop enables users to include Preferences, such as free shipping and default carriers.
As for payment getaways, PrestaShop automatically includes two methods: Payment by check and Bank transfer. Payment modules add more options, such as PayPal and Cash on Delivery.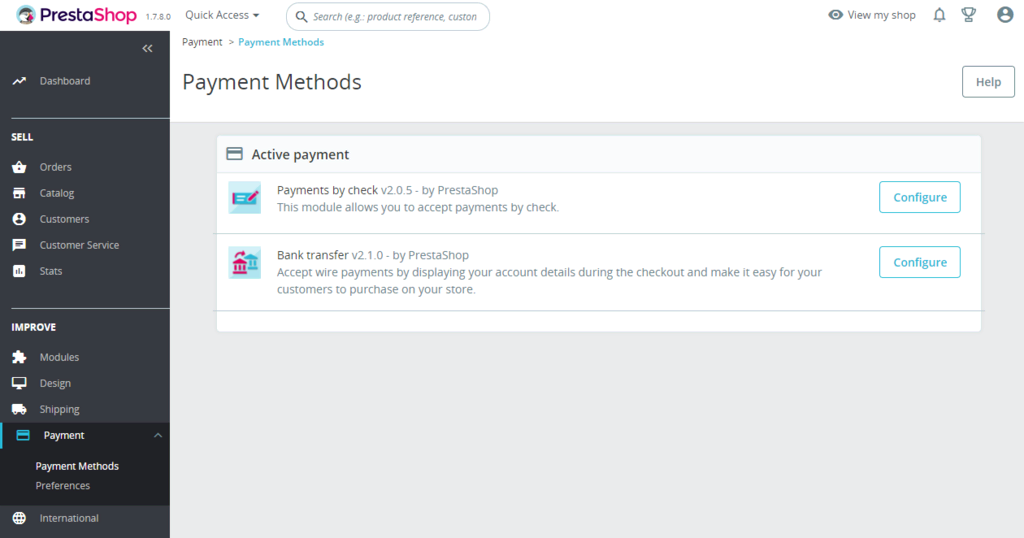 Once you include all the methods, set your Preferences:
Currency restrictions. Select the available currencies for every payment module.
Group restrictions. Choose the available payment modules for different customer groups.
Country restrictions. Mark each checkbox for the countries you want the payment module to be available in.
Carrier restrictions. Pick the available payment modules for every carrier.
On the other hand, Shopify eCommerce features differ depending on the plan. Fortunately, all plans allow Shopify stores to add unlimited products and essential store tools for optimizing product pages.
Head to Products -> All products -> Add your products and include all the necessary information. With Shopify, data for the product page includes Title, Description, Media, Pricing, Inventory, and Shipping. Users can also include product options, such as size and color.
Another notable feature is the Sales Channels, which help sell products on social media platforms or popular online marketplaces without additional cost. Users can add a Buy Button to products displayed on an existing website or blog.
With each product, select the channel under Product status.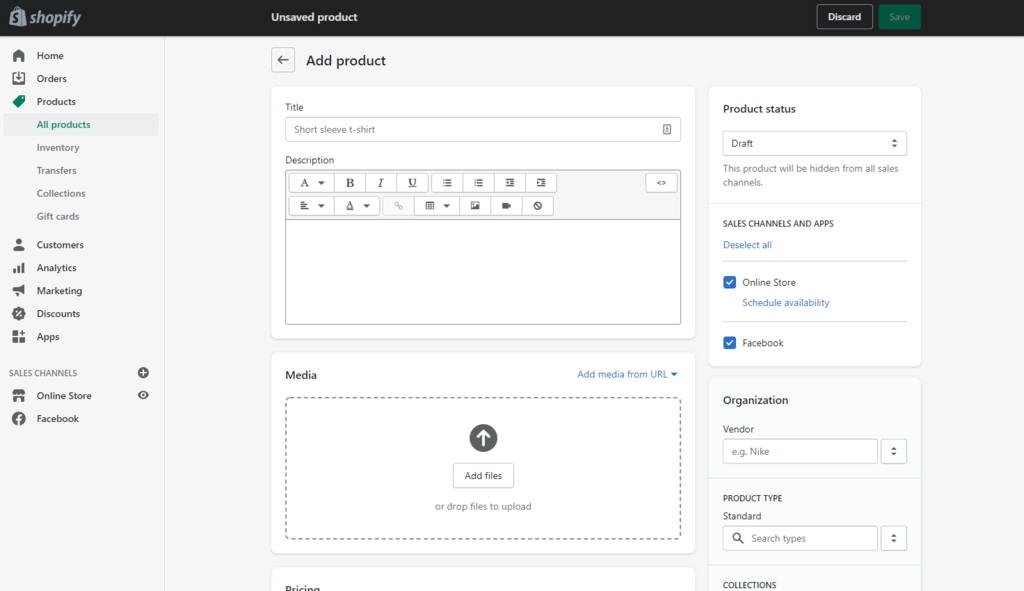 Under the Products settings, users can manage the Inventory, Transfers, Collections, and Gift cards. There is also an option to use dropshipping apps, such as Oberlo, to source new products or design your own.
The Shopify platform provides a shipping discount for DHL Express, UPS, or USPS. All pricing plans also include automated shipping labels for orders.
Under the Shipping and delivery settings, there are options to manage:
Delivery methods at checkout. Choose how much you charge for shipping at checkout. Create a shipping profile to add custom rates or destination restrictions.
Packages. Add all of the packages' names, types, sizes, and weights to help with calculating shipping rates.
Carrier accounts. Use negotiated shipping rates if you have an account with a shipping carrier.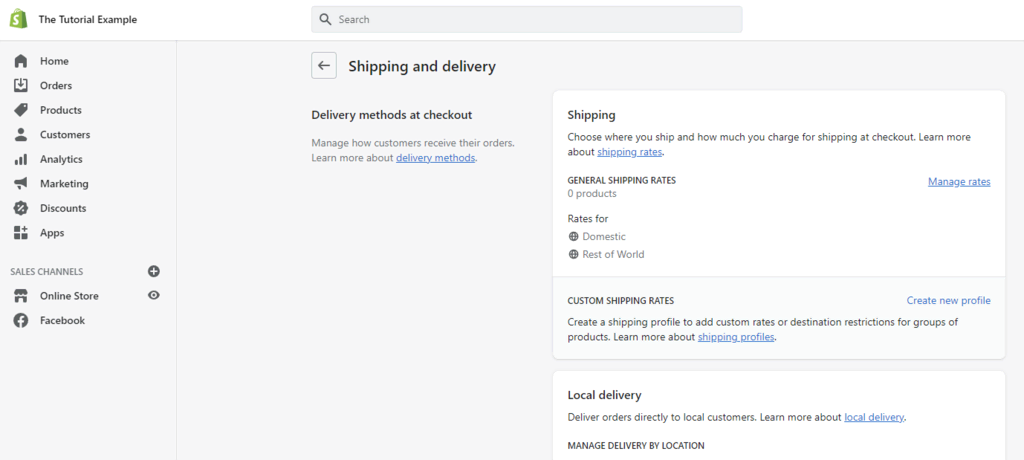 Another advanced functionality that this platform offers is Shopify Payments. This feature helps customers in specific regions avoid transaction fees. Without this feature, an additional fee will apply to new orders depending on the pricing plan:
Basic Shopify Plan has a 2% transaction fee.
Shopify Plan has a 1% transaction fee.
Advanced Shopify Plan has a 0.5% transaction fee.
Shopify provides around 60 payment gateways.
To receive payments in foreign currencies, use PayPal Express Checkout. Shopify gives an account with the email used to sign up for the platform. Simply head to Settings -> Payments -> Activate PayPal Express Checkout to use this feature.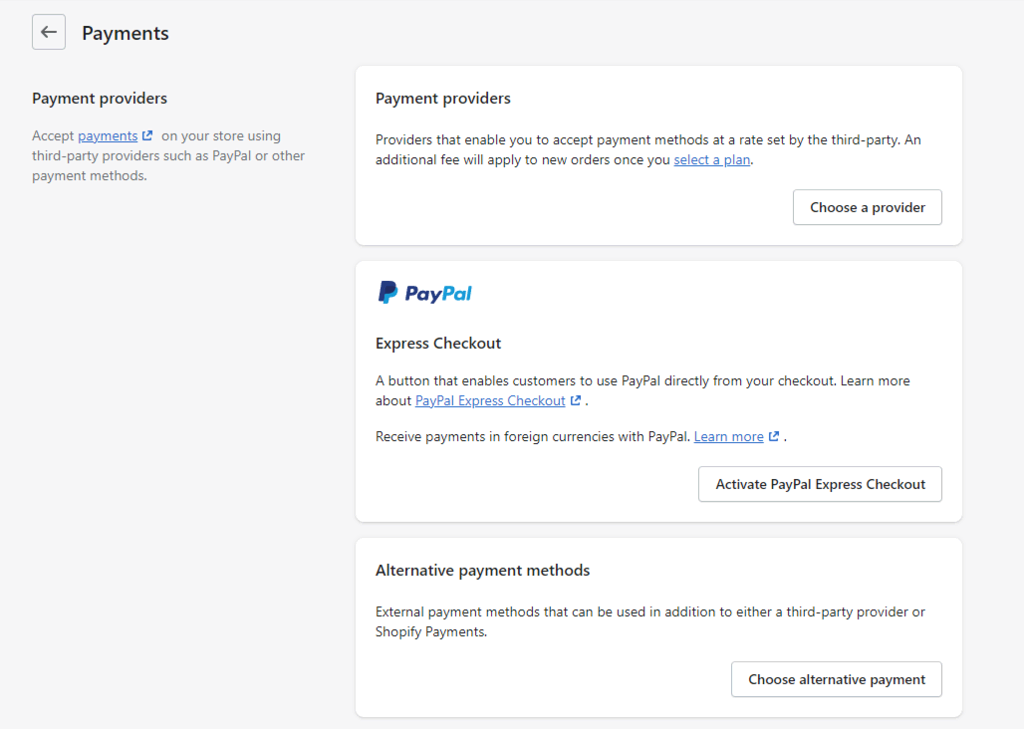 PrestaShop vs Shopify: Which One Has Better Store Management?
Both Shopify and PrestaShop have excellent store management. PrestaShop offers more detailed functionalities, and Shopify has strong official partnerships for shipping and payment.
PrestaShop vs Shopify: Customizability
Personalizing a website helps an online business stand out from the competition. We will look into each platform's templates gallery and customization tools.
As an open-source platform, PrestaShop offers high customizability. However, the platform requires some coding knowledge, especially of Cascading Style Sheet (CSS), for a more personalized store design. To start customizing, access the theme folder using File Manager.
To access PrestaShop's built-in customization tool, head to Design -> Theme & Logo -> Pages Configuration. There, organize the different layouts for the Homepage, Category page, and Product page. Click on Configure next to the sections to personalize them.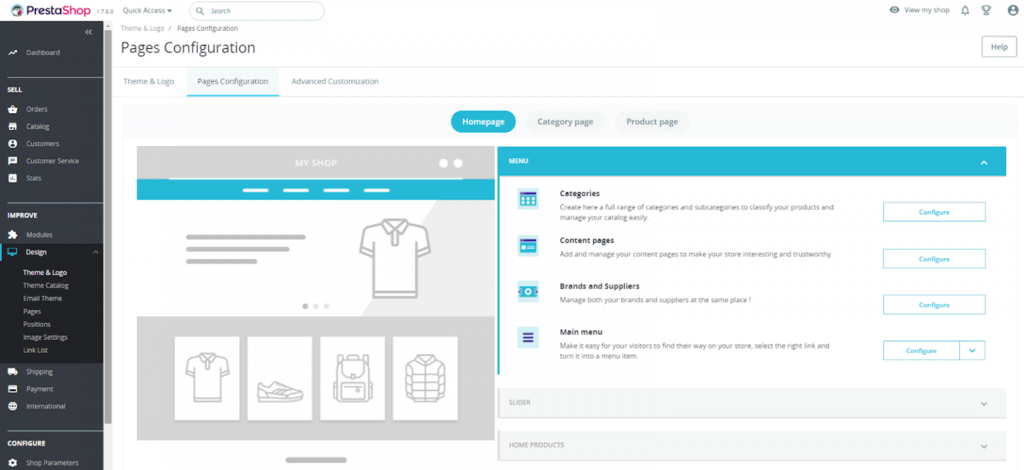 Another built-in feature of PrestaShop is the ability to add the Favicon, Header, Mail, and Invoice logo.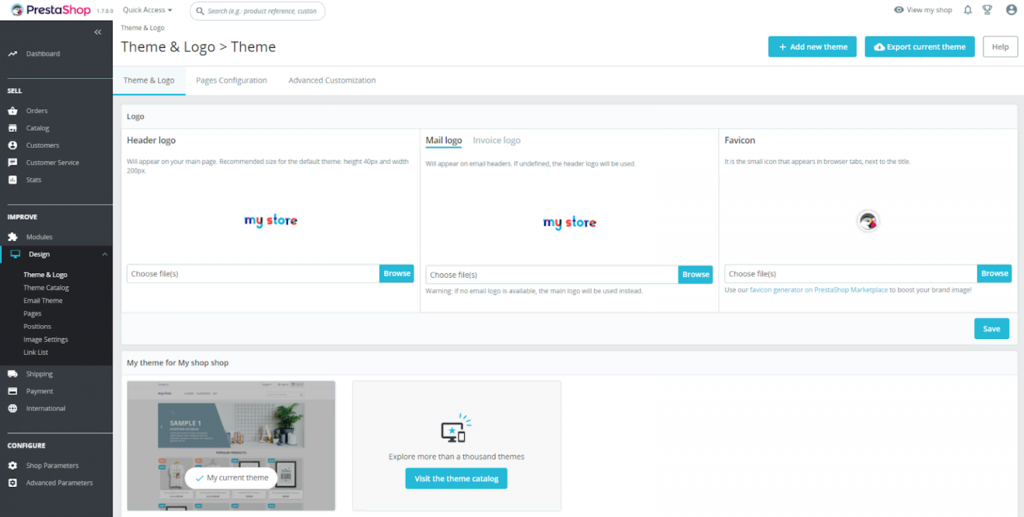 Browse the Themes Catalog to change the default theme to one of over 2,200 templates that cost $69.99 to $839.99 for the first year. Keep in mind that investing in a professional theme can highly improve branding.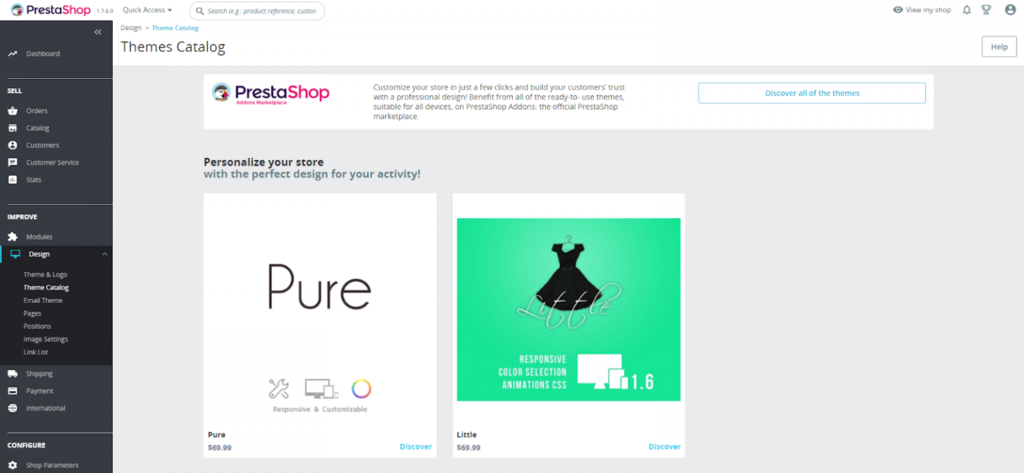 If you choose to upload a third-party theme, head to Design -> Theme & Logo -> Add new theme. You will get the option to add a new template from your computer, the theme's URL, or via FTP.
The PrestaShop Marketplace also offers over 3,000 premium and free modules. The premium modules can cost from $84.99 to $496.99 for the first year.

Some of PrestaShop's top modules for adding more advanced functionality to an online store include:
Creative Elements. A drag-and-drop page builder with a live preview of the edits. This module makes customization easier without needing to code.
SEO Expert Module. Automatically fills both meta tags and social media meta tags to optimize the store site.
Mailchimp. Send newsletters and email reminders to customers as part of digital marketing to increase website traffic and business revenue.
Meanwhile, over 80 premium and free themes are on the ShopifyThemes gallery. Premium Shopify themes cost $150 to $350 for a one-time payment. There is also an unlimited free trial for the premium themes – you only pay when you choose to publish.
Unlike PrestaShop, all the themes in Shopify are highly curated. The platform ensures that the themes are suitable to the latest Shopify version, speed-tested, and mobile-responsive. In addition, users still have access to the theme's CSS to personalize it better.
Shopify's built-in customization feature lets you change the theme's layout easily. To access it, head to Online Store -> Themes and click on Customize next to Current theme. The left side has a drag-and-drop feature to move around Blocks.
Clicking the Theme settings button on the bottom left corner lets you customize the theme's design. Some settings include customizing the theme's colors, typography, styles, and layout.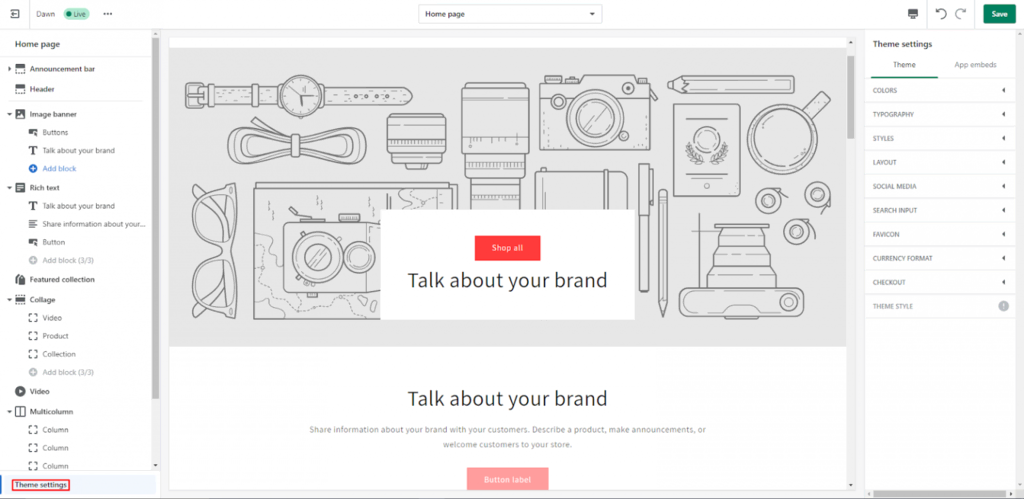 To extend your store's functionality, get applications from the Shopify App Store, which has over 3,200 free and paid options. Each application has its own pricing plans.
Some of the top Shopify applications that help add a store's functionalities are:
Buddha Mega Menu Navigation. Improve website navigation by adding a responsive drop-down menu.
Loox Product Reviews. Display reviews that highlight your business' satisfied customers.
Booster SEO. Built exclusively for Shopify, this application creates SEO health reports weekly, optimizes meta tags, and automatically redirects broken links.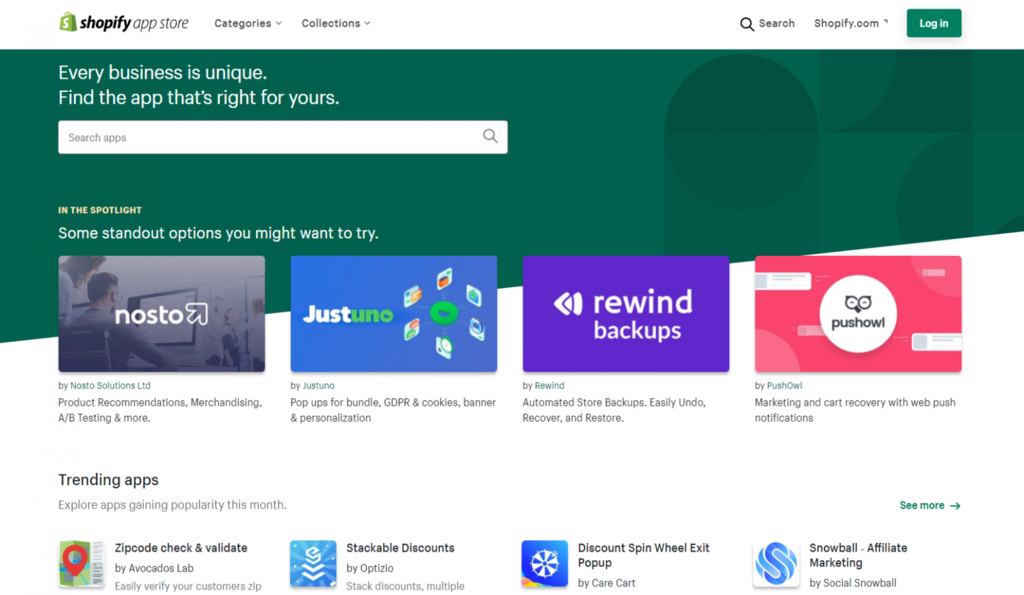 PrestaShop vs Shopify: Which One Offers More Flexible Customizability?
As an open-source platform, PrestaShop offers more customization capabilities than Shopify. It also has a more extensive gallery of additional features. However, Shopify offers more user-friendly, built-in customization tools.
PrestaShop vs Shopify: Performance
When you start selling online, the website performance will highly affect sales. In fact, within the first five seconds of loading time, conversion rates drop by an average of 4.42% with each additional second.
With PrestaShop, a website's speed depends mainly on its web hosting.
For example, Hostinger's PrestaShop Hosting plans have a 99.9% uptime guarantee and unlimited bandwidth. There are also modules to improve loading time, such as SuperSpeed and Google PageSpeed Insight.
For its built-in tools, head to Dashboard -> Advanced Parameters -> Performance and turn on Combine, Compress, and Cache (CCC) settings. By turning on CCC, you reduce the loading time as long as your theme is compatible with the latest version of PrestaShop.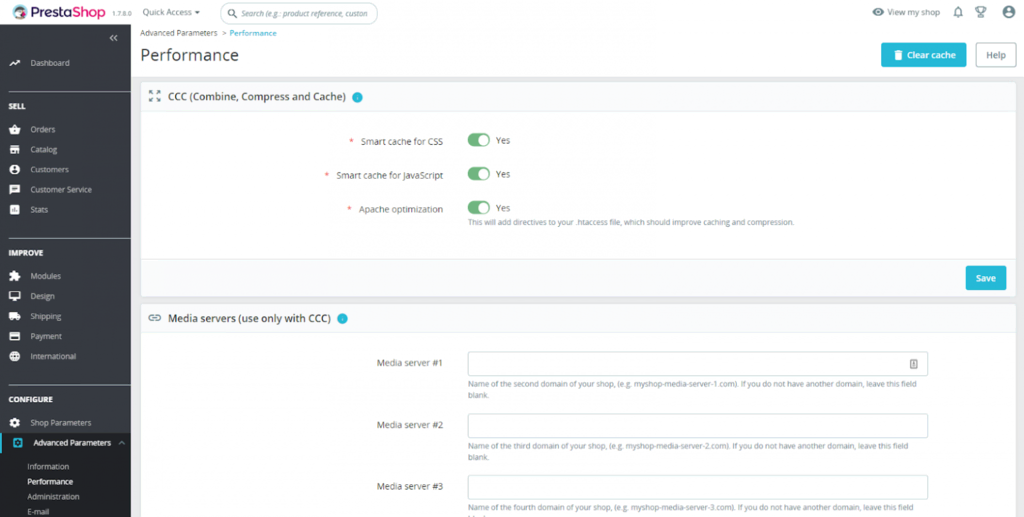 As Shopify pricing plans use the platform's hosting, they offer the same level of performance. Its web hosting uses a Content Delivery Network (CDN) by Fastly to improve website loading time no matter the location.
However, you entirely rely on Shopify as you do not have access to the server. Use the Shopify Status feature to test its server performance.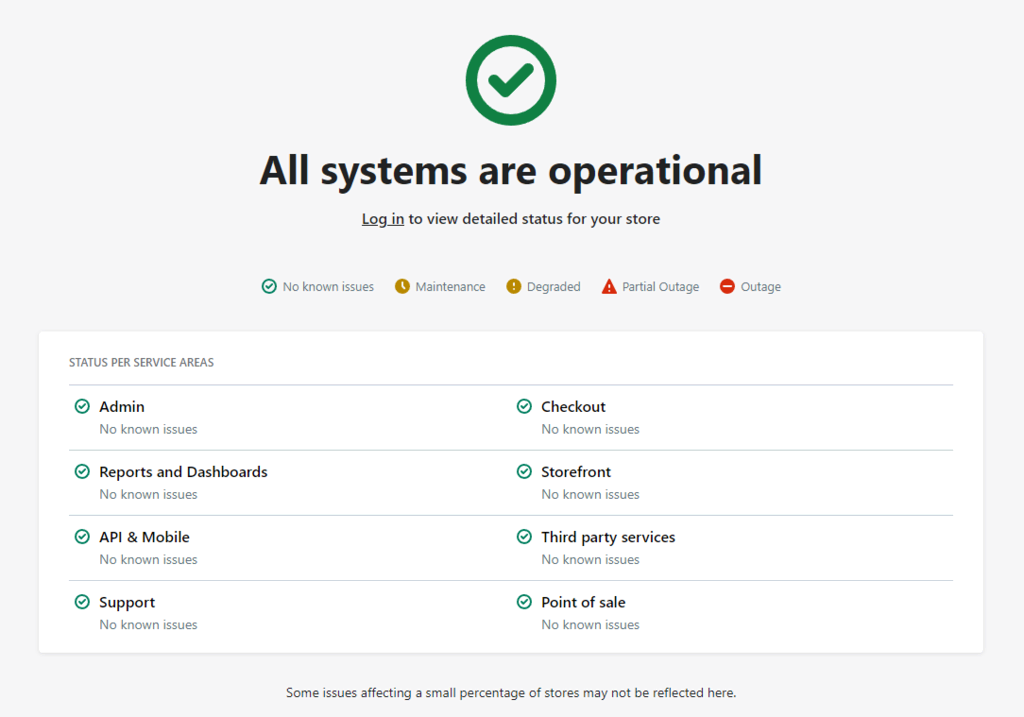 There are also tools on the Shopify App Store that can help improve a website's loading time, such as Core Web Vitals Booster and Hyperspeed.
PrestaShop vs Shopify: Which One Performs Better?
Both PrestaShop and Shopify can offer great website performance, especially when using additional tools. However, there is more control over your server when using PrestaShop.
PrestaShop vs Shopify: Security
When running an online store, security is essential to keep customers' trust. If you use multiple payment providers, securing your buyers' data is imperative. A platform that offers security features will protect sensitive information.
With PrestaShop, you rely on add-ons and coding to improve security. Users can hide core files with .htaccess to ensure that none are publicly visible. There are security modules like Security Pro and Google Authenticator to secure a store without editing code.
Users also have the freedom to choose a secure hosting plan with PrestaShop.
For example, Hostinger's PrestaShop Hosting uses an intelligent Web Application Firewall and custom firewall rules to protect the servers. These features defend websites against Denial-of-service (DDoS) and brute force attacks.
With Shopify, all pricing plans come with built-in security features. After selecting any plan, Shopify will include a free SSL certificate for your web domain. The Shopify Payments feature will also help secure customers' checkout process through fraud analysis.
Shopify is certified Level 1 Payment Card Industry Data Security (PCI DSS) Standard compliant. The platform meets all six categories of the PCI standards, including maintaining a secure network and information security policy.
Additional applications can help protect Shopify stores, such as Ultimate Trust Badges and Locksmith.
PrestaShop vs Shopify: Which One Is More Secure?
Both PrestaShop and Shopify have excellent security features. Shopify provides great built-in security features with its hosting. However, PrestaShop gives more control over securing an online store.


PrestaShop Advantages
With PrestaShop, most of the benefits come from its flexibility and scalability. Here are some of its main advantages:
Flexible budgeting. The software is free, letting you adjust the budgeting accordingly with the hosting, domain name, and additional features.
Open-source. Freedom to expand and customize the website's functionalities by adding or editing existing code.
More control. Choosing your hosting offers greater control over all aspects, including bandwidth, storage, and security.
Modules. Get additional features from its Marketplace, as it offers all the features you might need.
Analytics and statistics. Website data, including conversion rate, forecasts, products, and sales, are available on the dashboard.
Shopify Advantages
Shopify has powerful built-in features and functionality. Some of the main benefits of using this platform include:
Beginner-friendly. Straightforward setup, customization, and dashboard without having to code.
Customer support. Users have unlimited access to a dedicated customer support team via email, live chat, and phone. There is also a community forum for documentation.
Online shopping cart. Shopify boasts a wide range of payment gateways to choose from, including Shopify Payments.
High-quality apps and themes. A comprehensive collection of add-ons and themes makes customizing and extending the platform's functionality easy.
Sales channels. Shopify integrates with all the major social media platforms and marketplaces seamlessly.
Conclusion
Both PrestaShop and Shopify are top eCommerce platforms that allow businesses to sell products and services online. It's worth keeping in mind, however, that the functionality of the two platforms differs.
PrestaShop is a self-hosted platform, so it offers more freedom and flexibility to customize and scale a store. However, it does have a steeper learning curve. The performance and security of your store also depend on the hosting that you use.
On the other hand, Shopify is a fully-hosted platform. Most of its features and functionalities are built-in and differ according to the plans. It offers a user-friendly interface with complete settings to help customize and optimize stores without needing to code.
The two platforms offer great features for an online business. Which platform is better to create a successful online store depends on what you need. Let us know which one you prefer in the comments section below.