How to Start a T-Shirt Business Online: From Zero to Profit in 7 Steps
The market for T-shirts is on the rise and is not going to slow down any time soon, which makes for a great business opportunity. Keep reading as we'll guide you through the steps on how to start a T-shirt business and make money online.
1. Choose a Profitable T-shirt Niche and Marketing Angle
Before you start your online store, it's essential for a new business to analyze the market and pick a niche. Decide on your target audience and what kind of designs they might like.
Though finding the most popular products is a good idea for an online T-shirt business, standing out is more important.
A niche gives you better chances of earning a profit. Even though the audience might be smaller for a given niche, it will usually convert more.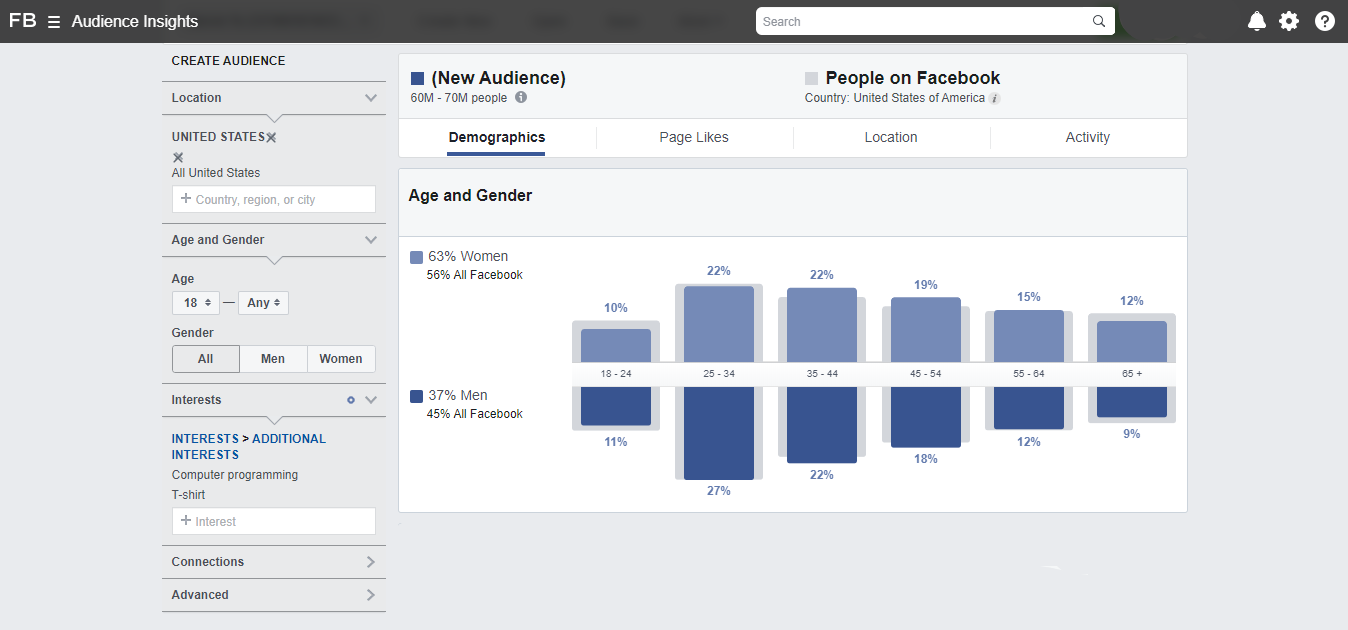 Come up with a list of possible ideas, check how big of an audience each of the niches have. One useful tool to help with this process is Facebook's Audience Insights.The tool allows you to simulate an audience based on location, age, gender, interests, and so on. It will then estimate the percentage of Facebook users that will likely see and engage with your ads.
Another platform that is useful when checking the engagement level of a niche is Reddit. Go through the subreddits related to the topic that you are interested in and note the number of subscribers and how active the subreddit is.
Keep in mind, however, that a positive data analysis won't guarantee that your T-shirts will sell. Rather, use the information to decide which niche to focus on, the audience to target, goals to set, and what kind of marketing strategy to take.
2. Design Your T-shirts
When learning how to start an online clothing business, it's crucial to understand that creating designs is the most crucial part of the process. This should receive most of your attention as the designs you will market, will also represent your brand.
The different types of designs that are popular in the industry are:
Typography – focusing on creative slogans, phrases, and messages, this style puts heavy emphasis on the use of fonts, word arrangements, hierarchy, and spacing.
Graphic – hand-drawn or digital illustrations are the main attraction of graphic designs. They can appear as a lone element or be combined with typography.
Photography – the DTG method (more about methods later) is recommended when printing photography designs. You'll need to purchase or shoot photos that are unique and of high-quality when working with this style.
Branded – this type of design is focused on brand and company promotions. Business logos and catchphrases are the usual choices of subject matter when designing a T-shirt.
Abstract – designs can incorporate anything from the stylized blending of colors to an arrangement of lines and shapes. The neutral message of an abstract T-shirt is the main draw for certain demographics.
If you're experienced in graphic design, the use of your own designs is always preferable as there's no need to worry about copyright infringements. Most digital artists and designers work with drawing tablets and computer software such as Photoshop, Corel Painter, or Artweaver.
Alternatively, your business can offer personalized T-shirts online and rely on your customers to present their custom T-shirt ideas themselves.
However, those with no artistic flair can search for T-shirt design ideas to purchase from places such as Creative Market and Design Cuts.
If you want full control over the look of your T-shirts, you should consider employing or commissioning an artist or designer to work on a truly high-quality custom shirt.
Where Can I Hire a T-shirt Designer?
Designers and artists sell the rights to their work and market themselves as possible employees in a variety of digital marketplaces and hiring platforms.
Dribbble, for example, is a social networking site for designers – the site is packed with hundreds of portfolios, ranging from whole design companies to freelancers available for commissions. If you create an account with the service, you can either list a job opening or search for a specific designer to hire.
Independent online design services such as Penji, Flocksy, and Kimp are good options as well.
3. Validate Your Designs and Tweak Where Necessary
Once your initial designs are ready, get a second opinion, and check whether any changes have to be made before you commit to printing your first batch.
Social media is always a good place to start when looking for feedback. You can upload the mockups of your T-shirts to Instagram, Pinterest, Facebook, and other social networks. Ask your followers to share their thoughts about the designs.
Reddit is also a great platform to ask for feedback. Other designers might come across subreddits you post in and give suggestions. Posts including your design can also attract potential customers and create hype for the launch of your business.
4. Set up a T-shirt Online Store
While you can start selling T-shirts online on third-party platforms, having a website of your own is preferable for a brand that intends to impact the industry. Various tools and website building platforms are available to help with the process of launching a website without any prior experience.
Complete beginners should definitely check out Zyro. No coding is required since you'll be working with a visual editor that allows for drag-and-drop customization.
You won't have to build your website from scratch either – Zyro equips its users with a selection of customizable and responsive website templates. Though there's no template specifically designed for a T-shirt store, Anders is a minimalistic fashion template that's perfect for such a business.
From the colors to the typography, buttons, and images, every element of your website is customizable when using Zyro's editor. The grid system helps align every element for a clean, professional look.
The basic eCommerce package offered by Zyro is enough to help start an online T-shirt business – it's a three-year plan that costs $8.99 per month. If you're not satisfied with the results, a 30-day refund is available.
With this plan, you can list up to 100 products, and there's no traffic restriction due to the unlimited bandwidth. Discount and gift card features are also available to help attract more customers.
Online payment gateway options such as PayPal, iDEAL, American Express are also available. Zyro's dashboard allows you to manage inventory, shipping, and taxes in one place.
Zyro has no transaction or commission fees – the profit is all yours.
Follow the guide below to create an online store with Zyro:
Subscribe to an eCommerce plan and register a domain name.
Sign in to Zyro.
Navigate to the Templates page.
Scroll through the selection. Hover over the one you find the most appealing and click on Start Building.
Customize the website layout, elements, colors, and typography.
Add your products.
Connect a domain name by navigating to Settings -> Domain -> Connect Custom Domain.
Check the Preview, then select Publish website to launch your online T-shirt shop.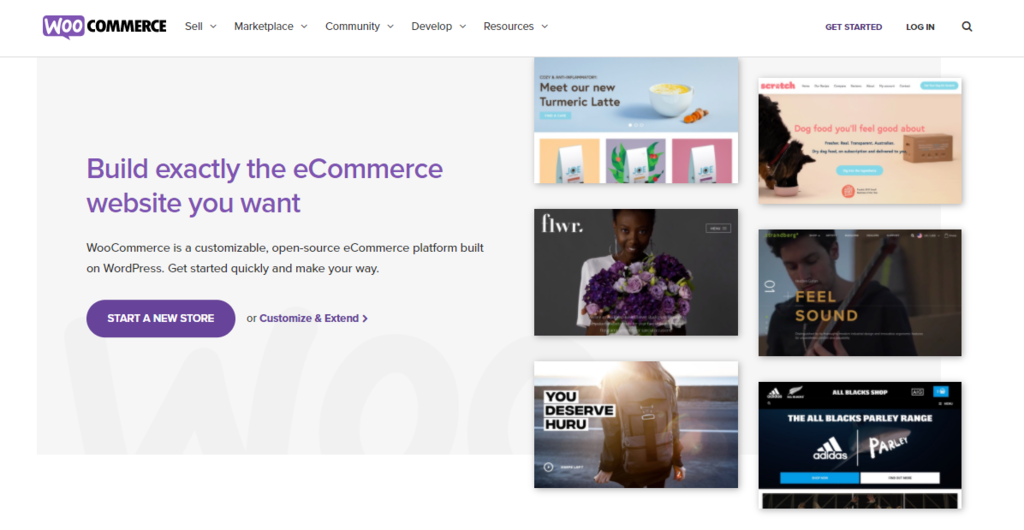 WooCommerce is a free eCommerce plugin that can turn any WordPress website into an online shop.
As WooCommerce is just a plugin, you'll be using WordPress, a content management system (CMS), to build and launch the store. It has a higher learning curve than a website builder. Hence, this solution is recommended for those who want a more complex site.
Both web hosting and a domain name are also needed before installing WordPress and setting up WooCommerce.
While WordPress features mean a more technical development process than drag-and-drop builders, that doesn't mean you need to code in order to build a website. There are tons of customizable themes available to use.
Feel free to edit the site however you see fit since WooCommerce is flexible and scales easily. For example, you can add 360º images, various swatches, a size chart, and much more to your product pages.
There are no limitations to how many products you can list and no commission fees. WooCommerce allows you to categorize your products, add ratings and reviews, and set currencies and languages based on the customer's location.
What's more, it's available on mobile, which lets you manage the store anywhere at any time.
Here's how to set up a WooCommerce store:
Sign up for a WooCommerce hosting plan and register your free domain name.
Install WordPress with just one click.
From the WordPress dashboard, go to WooCommerce -> Help -> Setup Wizard and follow the guide.
Upload your products by navigating to WooCommerce -> Products -> Add New.
Go to Themes under Appearance to change or install new WordPress themes. Or, select Customize to edit the current theme.
Hover over Plugins and click Add New to install any supplementary plugins to further enhance your site.
5. Price Your T-shirts for profit
Knowing the production cost of a printed T-shirt is the key to determining the price of your products.
The formulas to determine your production cost are:
Total product cost = fixed cost + variable cost
Product cost per unit = total product cost/units produced
Fixed costs stay the same no matter how small or big the production scale is, such as salaries, rent, printers, and machinery.
The variable cost, on the other hand, includes all costs that change with different production projects, such as the specific T-shirt blanks, designs, and inks used.
Once the production cost of making your own shirts is figured out, select a pricing strategy:
Markup pricing – this entails adding a profit margin percentage that is pre-decided to the production cost. To illustrate, to receive a 35% profit for a shirt that costs $10 to produce, the retail price would have to be $13.50, taxes excluded.
Keystone pricing – this strategy involves doubling the cost of a product, or a 100% markup. If a T-shirt costs $10, then the sale price would be $20.
Competitive pricing – depending on how much your competitors set their price, you can choose to react and go above or below it. This can also be a clever way to stand out from the competition.
6. Make Your T-shirt Business Legal
Just like any other business, legalizing your T-shirt company is very important. It shows potential customers that you are professional and serious about running the business.
When you have the required licenses and permits, it'll be easier to receive any financial help or resources as well as solve any legal disputes if they occur.
So how to legalize a business?
Check if your company name is available in your area. If you're in the U.S, feel free to follow a complete guide here.
Establish a legal entity. Starting with a Limited Liability Company (LLC) is recommended, though there are other structures, such as a corporation or partnership with investors.
Apply for an Employer Identification Number (EIN) at the IRS website.
Register for state and federal taxes.
Open a new bank account and credit card – personal and business assets should be separated.
Start recording and keeping detailed financial accounts.
Get the necessary licenses and permits such as state and local business permits and apply for a resale certificate and copyright protection. Safety permits are also essential.
Sign up for business insurance. Initiate with General Liability Insurance. If you have employees, then the Workers' Compensation Insurance and health insurance are necessary as well.
7. Launch and Promote Your T-shirts
Once everything is in place and your website is up, it's time to promote on social media and create ads.
Take advantage of Instagram, especially if millennials are your target audience. Showcase the shirt designs with related hashtags.
Engage with potential customers through social media comments, stories, live broadcasts, and IGTV. Don't forget to add a link to the online shop in the bio section.
Also, take the opportunity to interact with influencers and other T-shirt businesses. You might land product placements or endorsement deals that can boost brand awareness.
If your brand focuses on creating T-shirts for women, kids, or family, then Pinterest is the best place to promote your products. The platform has over 400 million monthly users and reaches 83% of women in the U.S.
In Pinterest, each pin has a link – when an image is clicked on, users will be directed to its source. By posting pictures on this platform, you're more likely to direct traffic to your online store.
Driving traffic and sales can also be achieved through the use of ads. Google Ads is a great place to create advertising campaigns for your online T-shirt business. However, take note that the platform is keyword-oriented – researching the search volume of keywords related to your brand beforehand is necessary.
Google Ads lets you target almost anything with your ads, from devices consumers use to a one-mile radius of a location. Moreover, it has a remarketing feature which can be set to your website visitors and related pages.
Make sure to utilize Facebook Ads as well. Not only does the social media platform boast 2.7 billion active monthly users, but it is also popular among most demographic groups. It lets users target their perceived ideal customers based on their interests, profession, gender, location, and so on.
Facebook ads can also be tracked in real-time in order to help you get your information at a moment's notice. If you're not satisfied with how effective your online T-shirt business marketing campaign is, changes can be made straight away.
Once people are visiting your online store, remember to build an email list and send email updates to your customers whenever new designs come out.
Can I Sell T-shirts Without Holding Inventory?
You don't need to stock or print your own T-shirts and instead work solely with the design facet of the business. However, a partnership is needed with a fulfillment company like Amplifier, Printful, or Kite.
These services will produce and ship the finished products that use your designs straight to the customers.
This method is called print-on-demand (POD). It's a great way to start an online T-shirt business as it takes little to no upfront cost. This saves you time as well since you won't be working with printing machines and managing inventory.
Important Facts About T-Shirt Business
To fully understand and know how to start a T-shirt business, there are several important factors that need to be considered.
T-shirt Printing Techniques
Choosing the right printing method for T-shirt making is crucial as It can affect the cost and amount of time to produce a batch of T-shirts.
Before you can create your own T-shirt, you need to know your options for doing so:
Screen printing. This technique involves the use of stencils to transfer designs onto blank shirts through a mesh screen. It produces durable and long-lasting prints – the reason why screen printing is popular among T-shirt businesses.
You can only print one color at a time. It's not suitable for intricate designs with various colors. Manual labor is needed, and the process can be a bit messy. However, this method is cost-effective when mass-producing a single shirt design.
Heat transfer. This cheap T-shirt printing process uses heat to transfer images onto the fabric. The technique utilizes a heat press, transfer paper, and pigment ink, letting you print complex and colorful designs without much hassle.
It's ideal for shirts on-demand as it's much more affordable when printing in small batches. However, the prints are less durable – the layer is relatively thin, which can wear off over time.
Direct-to-garment printing. This is the most modern method of printing onto T-shirts as it uses a unique inkjet printer that can transfer digital designs straight onto shirts. DTG printers use water-based inks that work well with natural fibers such as cotton, bamboo, and hemp.
High-quality and detailed prints can be produced with unlimited color options and in a short amount of time. The designs are also durable. However, this method is not as suitable for mass-production as well as requiring a considerable upfront cost.
Brand
The T-shirt industry has been around for a long time, so competition is expected. To stand out as a new business and start selling T-shirts successfully, you'll need to have a unique and memorable brand.
A brand isn't merely the logo and name of your business or domain – it's the identity of your business.
Other than making you appear more reliable, the brand should also reflect with and connect to your target audience – customers should readily recognize it and allow for them to build a trusting relationship with your business.
As an example of strong branding, The Organic T-shirt is a brand that focuses on its eco-credentials. They only use organic materials for their shirts and are transparent with their social responsibility. The company is also encouraging people to be environmentally-friendly.
Quality
To start a successful and sustainable T-shirt business, the quality of your printed T-shirts must be of crucial importance. A customer won't be coming back if they don't feel comfortable or confident wearing your products due to rough fabrics or designs that fade or crack.
When choosing the material, take note of its density and softness rather than the weight and thickness. Keep in mind that different fabrics have their own lifespan as well. A T-shirt should be breathable yet durable.
Most T-shirt businesses go for 100% cotton fabrics as they have strong fibers and cooling properties. Plus, they are hypoallergenic, comfortable to wear, and relatively easy to take care of.
Other than fabric, make sure to check the longevity and aesthetic value of your designs. Pay close attention to image sharpness and resolution, as well as color vibrancy and saturation.
How Much Does It Cost to Start a T-shirt Company?
The budget you'll have to set aside to start a T-shirt business depends entirely on its intended scale. The main three costs you need to consider are those of equipment, blanks, and labor.
Equipment expenses are closely tied to the shirt printing technique your T-shirt designs and business is based on.
Screen printing:
Heat transfer:
Direct-to-garment:
The cost of blanks or plain shirts depends directly on their type of material, brand, quality, stitching, and color. Currently, cotton is less expensive than polyester. At Shirt Space, the cost of 100% cotton T-shirts starts from $1.58, while 100% polyester is priced at $1.86.
However, take note that cotton is prone to market fluctuations. So there might be times when it is pricier than synthetic fiber.
Labor costs will vary depending on the printing method, how big and complex the designs are, and the minimum wage of the country you are operating in.
To give an idea, the minimum wage in the U.S is $7.25 per hour, not including overtime. The labor cost for screen printing might also be higher than that of DTG since it requires manual handling.
If you don't have a big budget but want to try your hand in the industry, try the POD business model. This way, you won't need to stock up on blanks, buy machines, or hire employees.
For example, the total cost to print a 100% ring-spun cotton shirt using the DTG method at Printful starts at only $7.95.
Is the T-shirt Business Profitable?
Every year, the apparel market is expected to grow by 5.3% and the average price per unit is also expected to rise. The same report predicts that in 2021 there will be a 4.7% increase in volume.
Conclusion
Selling T-shirts online is definitely one of the most profitable business ideas. It's also cost-effective as there's no need for a physical store.
Here's a recap of the steps on how to start a T-shirt business:
Pick a niche and marketing angle.
Start making T-shirt designs.
Validate your designs and make the necessary adjustments.
Set up an online store.
Price your T-shirts.
Legalize your business.
Launch and promote your T-shirts.
We hope this article has helped you figure out how to start a T-shirt business of your own.