How to Start a T-Shirt Business Online: From Zero to Profit in 8 Steps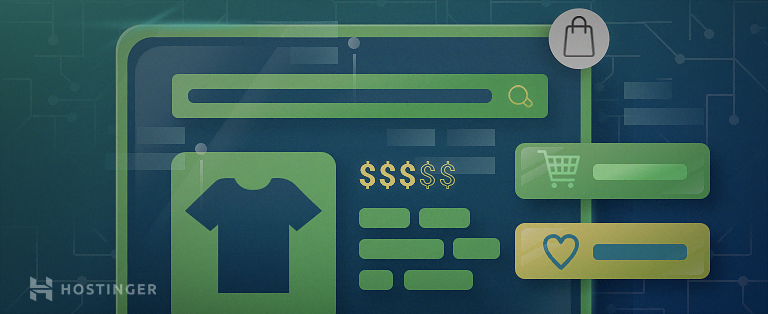 If you are looking for a new online business venture, consider starting a T-shirt business. The global T-shirt industry is constantly evolving, and the market for T-shirts is on the rise.
Not only is there a demand for T-shirts with fun slogans or pop culture designs, but various companies also use custom shirts for branding or promotional purposes. The versatility of T-shirt designs means one can appeal to a wide range of target audiences with different interests and backgrounds.
In addition to being lucrative, a new T-shirt business can be low-risk and cost-effective depending on the adopted strategy. For example, with the print-on-demand business model, it's possible to maintain a stream of income just by creating your own T-shirt designs, leaving the production and shipping to a fulfillment company.
If you want to learn how to sell T-shirts online, this article may be right for you. We will provide you with a step-by-step guide, from choosing the right niche to launching and promoting your online T-shirt business.
Download Checklist: How to Start an Online Business
1. Choose a Profitable Niche and Create a Business Plan
Before starting an online clothing business, analyze the market and pick a niche. Choose your target audience and think about what kind of designs they might like.
Even though selling the most popular products can be a good strategy for launching an online clothing store, standing out is more important.
Targeting a niche market will give you a better chance of making money online. The audience in a given niche may be smaller, but there will usually be more conversions.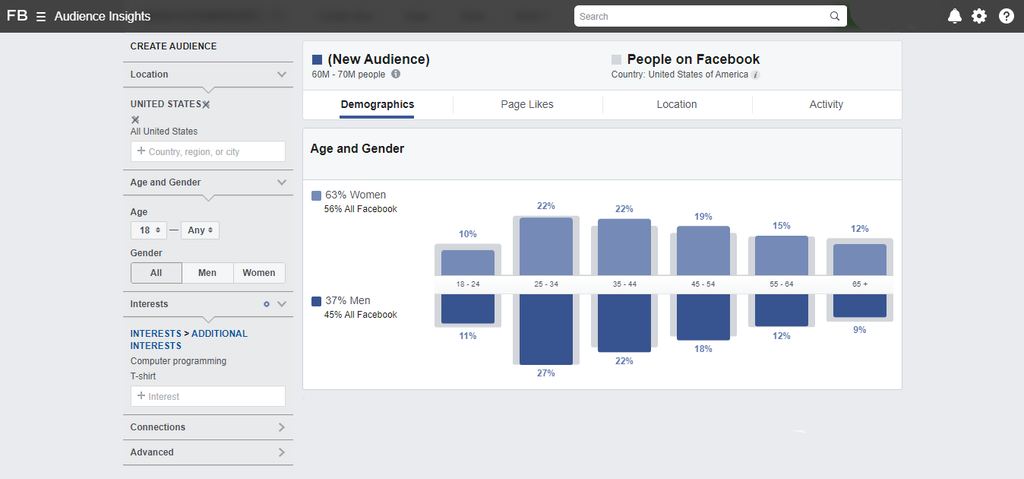 Come up with a list of possible online business ideas, and check how big an audience each niche has. To do so, use a tool like Facebook's Audience Insights.
It lets users simulate an audience based on variables such as location, age, gender, and interests. The tool will then estimate the percentage of Facebook users likely to engage with your ads.
Another platform to check a niche's engagement level on is Reddit, a discussion website filled with forums on any imaginable subject. Go through the subreddits related to the topic you are interested in and note the number of subscribers and engagement rate.
However, remember that a positive data analysis doesn't guarantee your T-shirts will sell. Instead, use the information to create a business plan – a detailed proposal to help set up your small business.
Creating a good plan can help your business grow and develop by guiding your actions moving forward. It will also increase your business' credibility, helping you seek funding or resources and hire employees. In general, people want to be sure you know what you are doing before they get involved.
Consider including the following elements in your online T-shirt business plan:
Niche. This is the specific section of the industry you are targeting.
Company mission, history, and goals. Think about why you have chosen to start your own online T-shirt business and what you hope to achieve.
Target market. Use analytics to decide the group of people you want to market the T-shirts to.
Competitor analysis. Research your fellow competitors and learn from them.
Product description. Elaborate on the kind of T-shirts you will produce, such as graphic, business, or custom T-shirts.
Marketing strategy. List the promotional methods you plan to use and decide the marketing budget.
Business reporting. Set up a system to keep track of your finances, including the balance, cash flows, income, profits, and losses.
Company hierarchy. Come up with the organizational structure of your business to aid with supervision, management, and decision-making.
Legal documents. Prepare the documents necessary to make your small business legal and obtain the required licenses and permits. We will explain this later in the article.
2. Find a Supplier
Save money and time by purchasing plain T-shirts in bulk from a wholesale T-shirt supplier. The trusted suppliers may differ according to your location. If you're based in the United States, some well-known wholesale apparel distributors include The Adair Group, Jones T-shirts, and Blank Apparel.
The price of blank T-shirts often depends on their quantity. Naturally, the more shirts you buy, the higher the chances of getting a bigger discount.
Since most new clothing brands don't have the budget to order many shirts, a common practice is to get the T-shirt printing company to order the shirts instead.
When searching for the right wholesaler to purchase new T-shirts from, look for experienced vendors. In addition to having more shirts in stock, they will usually know more about T-shirt manufacturing, including the various styles and fabrics available.
When choosing the T-shirt material, take note of its density and softness rather than the weight and thickness. Keep in mind that different fabrics have their own lifespans as well. A T-shirt should be breathable yet durable.
Most T-shirt businesses go for 100% cotton fabrics as they have strong fibers and cooling properties. In addition, they are hypoallergenic, comfortable to wear, and relatively easy to take care of.
Besides fabric type, consider the longevity and aesthetic value of your designs. Pay close attention to image sharpness and resolution, as well as color vibrancy and saturation.
Another significant factor impacting the design quality is the T-shirt printing method. Additionally, the printing method affects the cost and time to produce a batch of T-shirts.
With this in mind, research your printing options before you start a T-shirt business.
Screen Printing
This T-shirt printing technique involves using stencils to print designs onto blank shirts through a mesh screen. Screen printing produces durable and long-lasting prints, making it a popular option among T-shirt businesses.
However, you can print only one color at a time. Screen printing is therefore not suitable for intricate designs with multiple colors. Manual labor is needed, and the process can be a bit messy. On the other hand, this method is cost-effective when mass-producing a single shirt design.
Heat Transfer
This cheap T-shirt printing process uses heat to transfer images onto the fabric. The technique utilizes a heat press, transfer paper, and pigment ink, letting you print complex and colorful designs without hassle.
It's ideal for shirts on-demand as it is much more affordable when printing in small batches. However, the prints are less durable – the layer is relatively thin, and colors may fade after a few washes. In addition, ironing the heat transfer designs ruins the images.
Direct-to-Garment Printing
This is the most modern T-shirt printing method as it uses a unique inkjet printer that can print designs straight onto shirts. DTG printers use water-based inks that work well with natural fibers such as cotton, bamboo, and hemp.
High-quality and detailed prints can be produced in a short amount of time with unlimited color options. The designs are also durable, albeit less washable than screen printing. This method requires a considerable upfront investment due to its expensive equipment.
3. Create T-Shirt Designs
When learning how to start a business, it's crucial to understand that creating designs is an integral part of the process. This should receive most of your attention as the designs will represent your brand.
Some of the most popular design types are:
Typography. This design type focuses on creative or funny slogans, phrases, and messages. This T-shirt style puts heavy emphasis on fonts, word arrangements, hierarchy, and spacing.
Graphic. Hand-drawn or digital illustrations are the main attraction of graphic designs. They can appear as the only element or be combined with typography.
Photography. This DTG method is great for printing photography designs. You must purchase or shoot unique high-quality photos when working with this T-shirt design.
Branded. This type of design focuses on brand and company promotion. Business logos and catchphrases are the usual choices when designing a brand T-shirt.
Abstract. These designs can incorporate anything from blended colors to random arrangements of lines and shapes. The neutral message of an abstract T-shirt is the main draw for certain audiences and it's a popular way to make trendy all over print shirts.
Design T-Shirts on Your Own
If you are experienced in graphic design, come up with your own T-shirt designs as you won't need to worry about copyright infringement. Most digital artists and designers work with drawing tablets and computer software such as Photoshop, Corel Painter, or Artweaver.
Alternatively, your online T-shirt business can sell custom T-shirts and rely on customers to present their personalized T-shirt ideas.
However, those with no artistic flair can always search for T-shirt design ideas and purchase them from places like Creative Market and Design Cuts.
If you want complete control over the look of your T-shirts, consider employing or commissioning a designer to work on a high-quality custom shirt design.
Hire a T-Shirt Designer
Artists sell the rights to their work and market themselves as available for hire on various digital marketplaces and platforms.
Here are some websites you can visit to find designers to hire.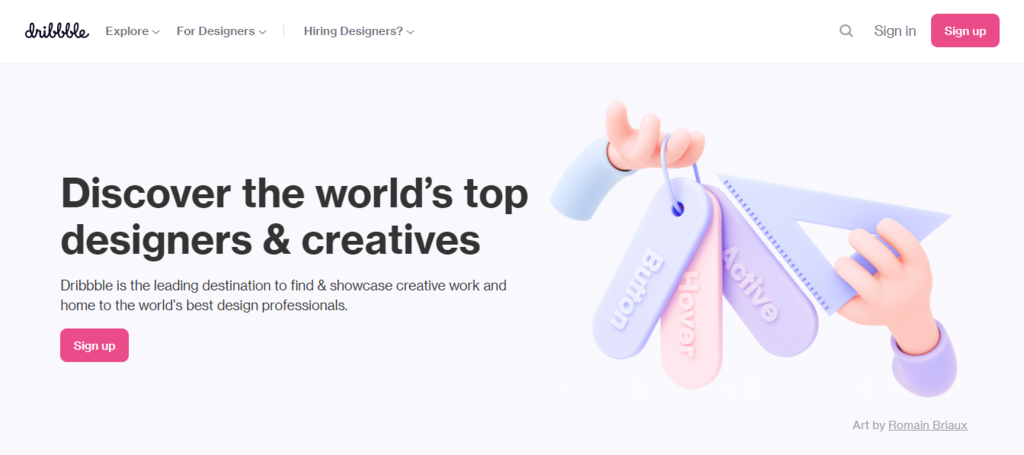 Dribbble is a social networking site for designers. The website is packed with hundreds of portfolios, ranging from whole design companies to freelancers. If you create an account, you can either list a job opening or search for a specific designer to hire.
Kimp provides both graphic and video design services. For graphic design, customers can submit design requests for Kimp's dedicated designers to work on. When the draft is done, clients can give feedback and request revisions.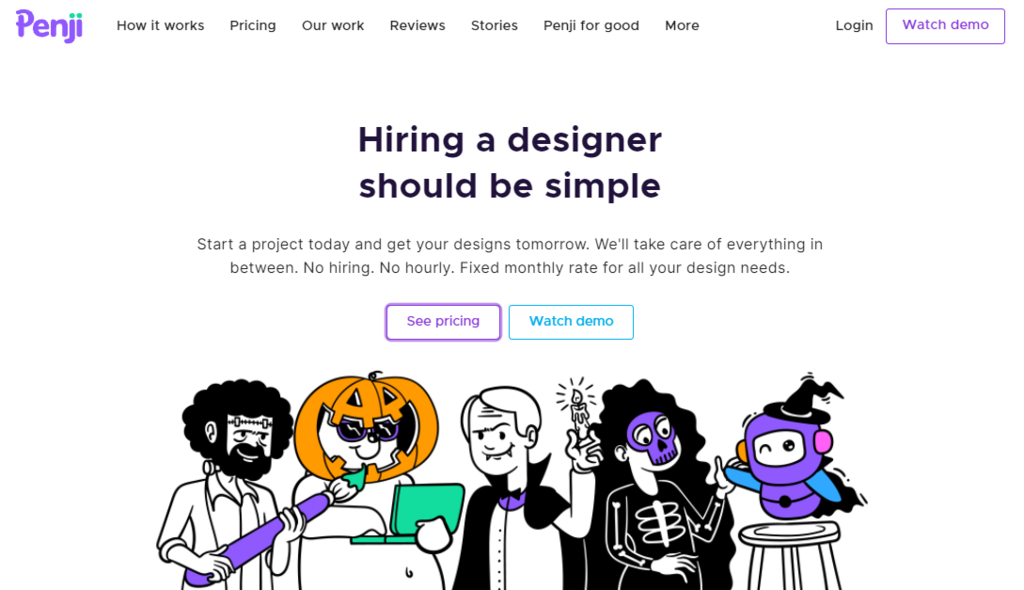 Penji is a website dedicated to fast, simple, and affordable graphic design. Business owners can submit projects by filling out forms. The site then assigns the project to designers vetted through a design test. Customers can review drafts and offer feedback before downloading the final version when they are satisfied.
4. Create Mockups to Validate Your T-Shirt Designs
A mockup is a model or replica of a product created for design evaluation before making the actual item.
In the case of T-shirts, the mockup is a photo of a blank T-shirt onto which you add the desired design using photo editing software. You may even feature a model wearing the T-shirt mockup to let customers see how it would look on a person.
If you are not skilled at editing photos, don't worry. You can create T-shirt mockups using many available T-shirt mockup generators.
The following are three examples of tools anyone can use to create T-shirt mockups.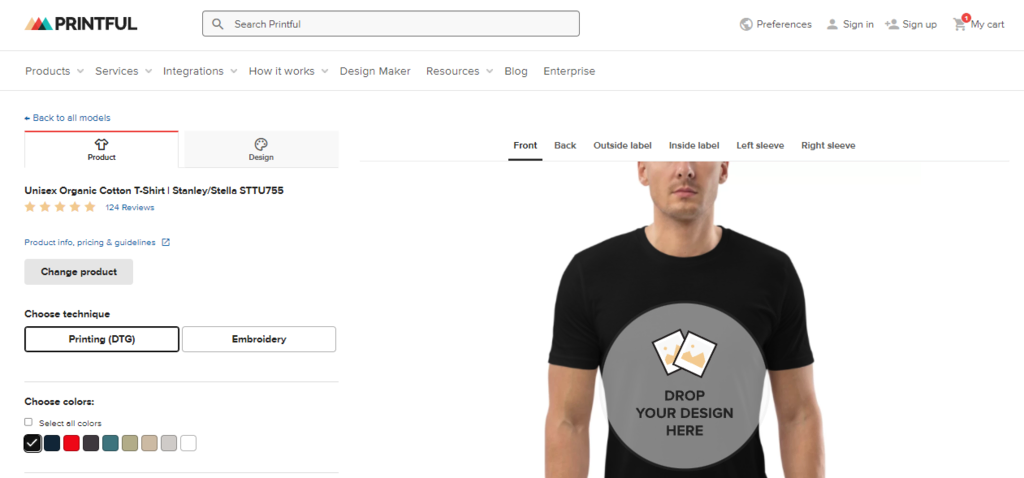 Printful is a print-on-demand product fulfillment and warehousing company. Its mockup generator lets users create mockups of various items of clothing, accessories, and even home products. For T-shirts, users can customize the front and back, sleeves, and label.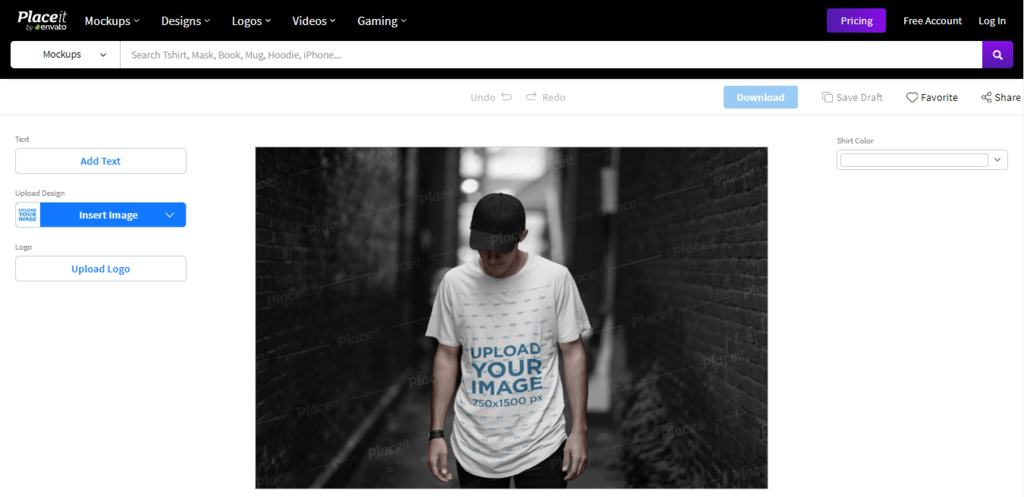 Placeit is a mockup, video, and design template generator. With thousands of designs, the platform lets users create mockups of their own T-shirts of any shape and size. The models in the photos are of different ages, races, and genders, letting you cater to a wide range of target audiences.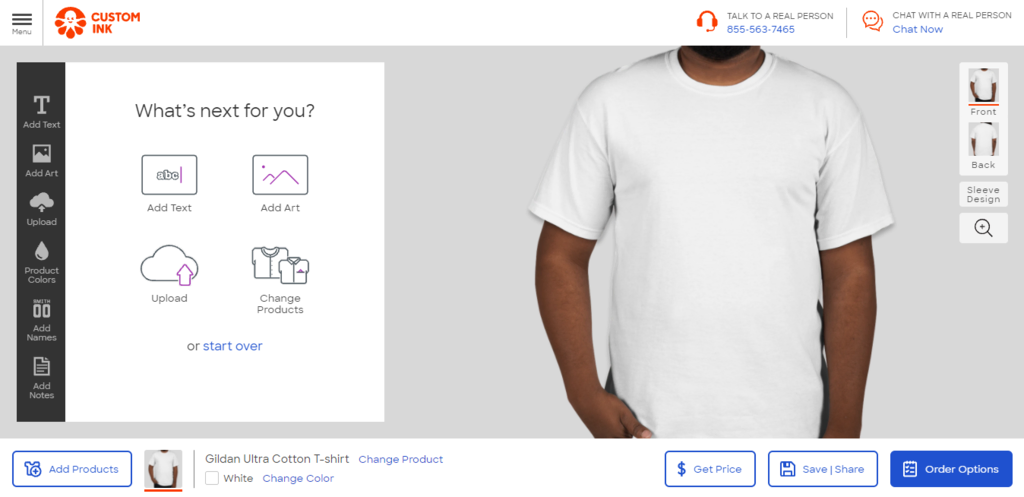 Custom Ink is a company specializing in custom apparel such as T-shirts, hoodies, and sweatshirts. Its T-shirt Design Lab lets people create mockups of various products, from apparel to stickers and magnets. In terms of T-shirts, users can add designs to the front, back, and sleeves.
Once the initial designs are ready, download and examine them. Check whether any changes should be made before printing the first batch.
Social media is always a good place to start when looking for feedback. Upload the T-shirt mockups to Instagram, Pinterest, Facebook, or other social networks. Ask your followers to share their thoughts about the designs.
Reddit is another great platform to ask for feedback. Other designers might come across the subreddits you post in and give suggestions. Posts including your designs can also attract customers and create hype for your business launch.
5. Set Up an Online T-Shirt Store
While you can sell T-shirts online on third-party eCommerce platforms, having your own eCommerce business website will help you stand out from the competition. Various tools and website-building platforms are available to help you launch an online store without any prior experience.
Newbies should check out Hostinger's Website Builder, one of the most beginner-friendly eCommerce platforms. No coding is required since you will be working with a drag-and-drop visual editor.
There's no need to build the website from scratch either – the platform equips users with a selection of customizable and responsive website templates.
Users can edit every website element from the colors to the typography, buttons, and images via the website editor. The grid system helps everything align for a clean and professional look. The dashboard lets you manage inventory, shipping, and taxes in one place, too.
This eCommerce platform also supports over 70 different payment gateways, including PayPal, American Express, Stripe, and Afterpay. It charges no transaction or commission fees.
Hostinger Website Builder is included with all web hosting plans, but to get enough resources for your store, we recommend choosing one of the Business Hosting plans.


Follow the guide below to create an online store with Hostinger Website Builder:
Subscribe to a hosting plan and register a domain name.
Sign in to hPanel.
Navigate to Websites and choose to create a new website with the Website Builder.
Follow the instructions for connecting a domain to your site.
Scroll through the template selection. Hover over the most appealing one and click Start Building.
Customize the website layout, elements, colors, and typography.
Add your products.
Check the Preview and then click Publish website to launch your online T-shirt shop.
.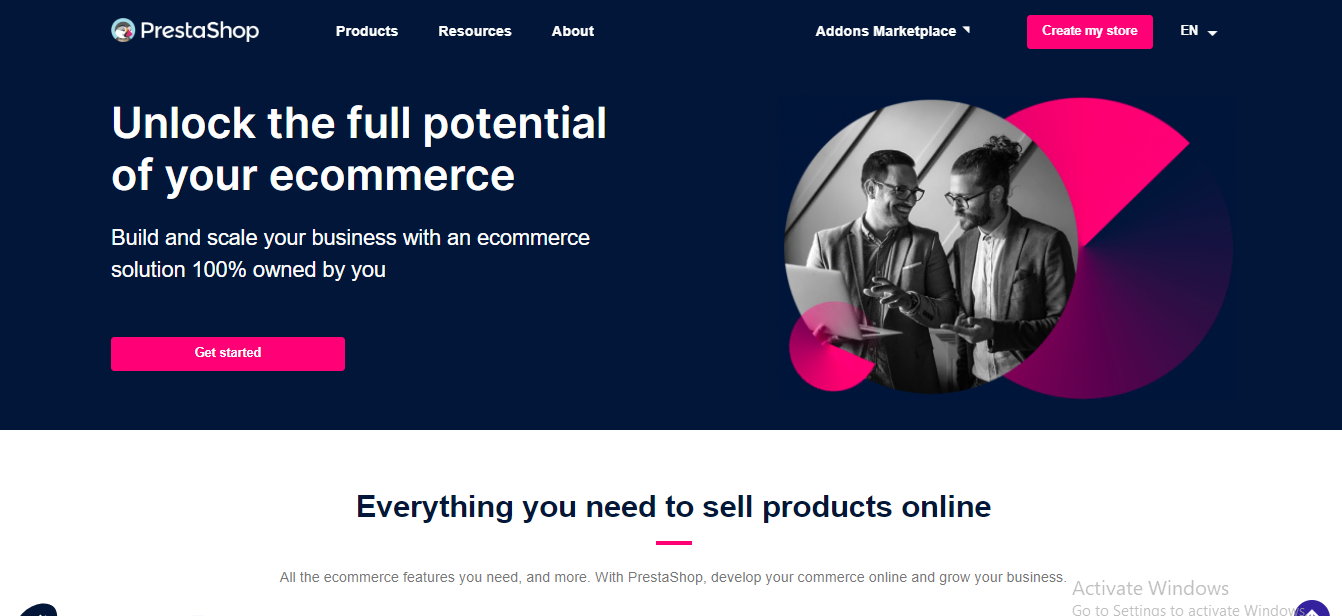 PrestaShop is a free and open-source eCommerce platform for creating and managing online stores.
It has a similar learning curve to a CMS – a bit more technical than drag-and-drop website builders, but it still doesn't require any coding knowledge. It is also a self-hosted solution, meaning you will have to set up your own web hosting and a domain name.
To streamline the process of creating an eCommerce website, PrestaShop offers numerous free and paid themes and modules – small programs users can use to tailor various site functionalities to their needs – via the official PrestaShop Addons Marketplace. Besides the official ones, you can install third-party PrestaShop themes and modules.
In addition to various marketing and order management features, PrestaShop offers extensive business analytics tools. Merchants can get insights into variables like sales, traffic, in-site visitor behavior, marketing campaign performance, and product popularity.
It also supports international selling by letting users automate exchange rate calculations and accept payments from over 100 countries in 20 currencies. Furthermore, the platform is available in over 70 languages.
The following are the steps to set up an online store using PrestaShop:
Choose and purchase web hosting for PrestaShop and register a domain name.
Use the automatic installer provided by your web host to install PrestaShop in one click.
Access your admin panel, navigate to Design -> Theme Catalog, and click Discover all of the themes.
Purchase the theme of your choice and activate it by navigating to Design -> Theme & Logo on your admin panel and clicking Use this theme.
Customize the site's layout, pages, elements, and style to your liking.
Navigate to Catalog -> Products on the admin panel and add your products.
To further extend your site's capabilities, explore various PrestaShop modules by going to Modules -> Module Catalog on your admin dashboard.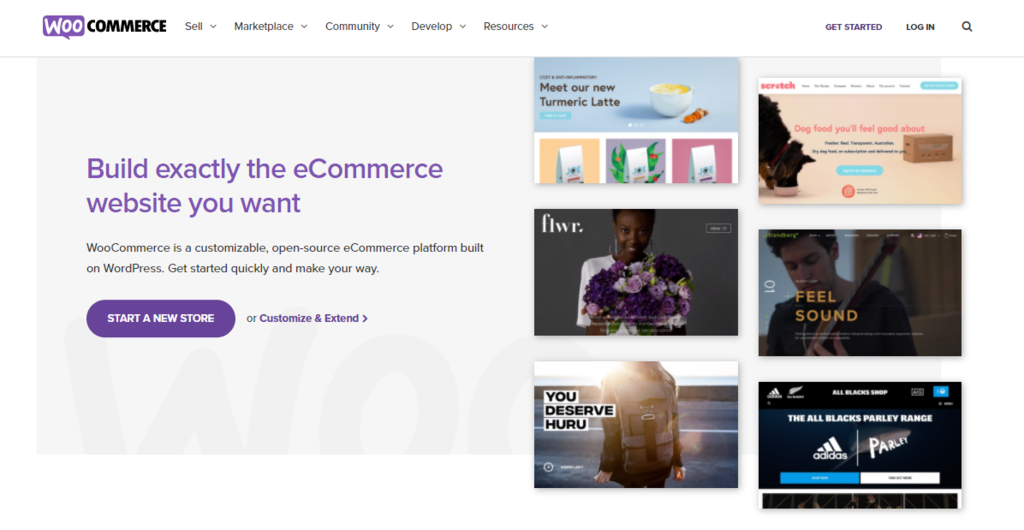 WooCommerce is a free eCommerce plugin that can turn any WordPress website into an online shop.
As WooCommerce is just a plugin, you will be using WordPress, a content management system (CMS), to build and launch your online boutique. It has a higher learning curve than website builders. Hence, this solution is great for those who want a more complex site.
Both web hosting and a domain name are also necessary before installing WordPress and setting up WooCommerce.
While building your own business website with WordPress requires more technical knowledge compared to drag-and-drop builders, coding is not necessary since users can pick from numerous customizable WordPress themes and various useful plugins.
Since WooCommerce is flexible and scales easily, you can edit the website anyway you see fit. For example, users can add 360º images, various swatches, and size charts to product pages.
Furthermore, WooCommerce lets users categorize products, add ratings and reviews, and set currencies and languages based on the customer's location. There are no limitations to how many products users can list and no commission fees.
There's also a mobile app for both iOS and Android, letting users manage their stores more conveniently.
Here is how to set up a WooCommerce store:
Sign up for a WooCommerce hosting plan and register a free domain name.
Install WordPress in one click using the automatic installer provided by your web host.
On the WordPress sidebar, navigate to Plugins -> Add New, and type WooCommerce into the search bar.
Click on WooCommerce's Install Now button. Once done, click Activate.
Select WooCommerce from the WordPress dashboard and check the Get ready to start selling guide.
Go to Themes under Appearance to change or install new WordPress themes. Alternatively, select Customize to edit the current theme.
Hover over Plugins and click Add New to install extra plugins to enhance the site further.
6. Price Your T-Shirts
Before you start your T-shirt business, it's necessary to find out the production costs of printing a T-shirt. It is important to determine the price of products.
The formulas to determine production cost are:
Total product cost = Fixed costs + variable costs
Product cost per unit = Total product cost/units produced
Fixed costs stay the same no matter how small or big the production scale is. They include salaries, rent, and the cost of printers or machinery.
On the other hand, variable costs include all costs that change with different production projects, such as the specific T-shirt blanks, designs, and inks used.
Once you have figured out the production cost of making the shirts, select a pricing strategy for your online business:
Markup pricing. This means adding a profit margin percentage to the production cost. To receive a 35% profit for a shirt that costs $10 to produce, the retail price should be $13.50 without tax.
Keystone pricing. A strategy that involves doubling the cost of a product, also known as a 100% markup. If a T-shirt costs $10 to make, then the sale price would be $20.
Competitive pricing. Using this method, choose to either go above or below competitors' prices. This can also be a clever way to stand out from the competition.
7. Make Your T-Shirt Business Legal
Just like any other business, registering your T-shirt company is vital. Not only does it help avoid legal issues, but it also shows potential customers that you are professional and serious about running the business.
Furthermore, it will be easier to receive any financial help or resources.
Here is a brief guide on how to register an online business:
Check if the company name is available in your area. For those in the United States, feel free to browse the business entity search.
Establish a legal entity. Starting with a Limited Liability Company (LLC) is recommended, though other structures, such as a corporation or partnership with investors, are available too.
Apply for an Employer Identification Number (EIN) via the IRS website.
Register for state and federal taxes.
Open a new bank account and credit card – personal and business assets should be separate.
Start recording and keeping detailed financial accounts.
Get the necessary licenses such as state and local business permits and apply for a resale certificate and copyright protection. Safety permits are also essential.
Sign up for business insurance. Begin with General Liability Insurance. If you have employees, then the Workers' Compensation Insurance and health insurance may be necessary as well.
Important! The procedure might differ depending on the regulations in your area.
8. Launch and Promote Your T-shirts
Once everything is in place and the website is up, it's time to engage in one of the most effective digital marketing strategies – social media marketing. It is best to be active on multiple social media platforms and post content regularly.
Take advantage of Instagram, especially if your target audience includes young people. Showcase the shirt designs with related hashtags.
Engage with potential customers through social media comments, stories, live broadcasts, and IGTV. Don't forget to include a link to the online shop in the bio section of your profile.
In addition, find opportunities to interact with influencers and other T-shirt businesses. You might land product placements or endorsement deals that can boost brand awareness.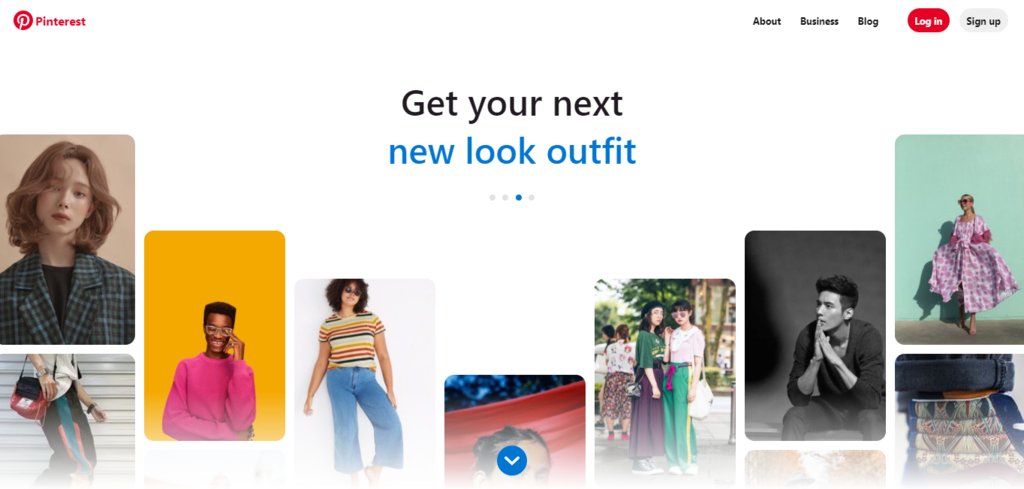 If you plan to start a T-shirt business that targets women, Pinterest will be the best place to promote the products. The platform has over 400 million monthly users, with women making up more than 60% of them.
On Pinterest, each pin has a link. When users click on an image, they are directed to its source. Thus, by posting pictures on this platform, you will be more likely to direct traffic to your online store.
In addition to using social media accounts to post organic content, you can also drive traffic and sales using ads.
Google Ads is a great place to create advertising campaigns for your online T-shirt business. However, note that the platform is keyword-oriented – researching the search volume of keywords related to your brand beforehand is necessary.
The tool lets users target customers according to many variables, from their device to location. Moreover, it has a remarketing feature for recapturing the attention of people who have interacted with your brand before.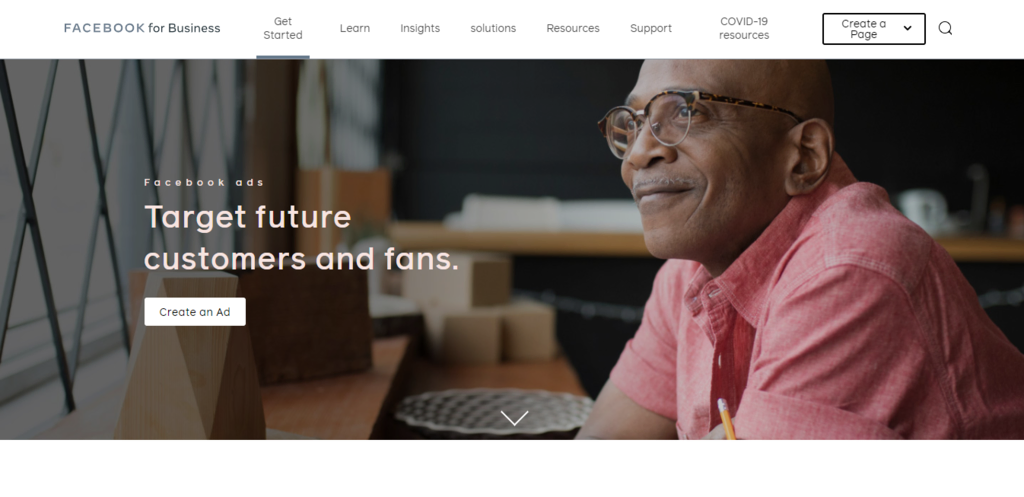 Make sure to utilize Facebook Ads as well. Not only does the social media platform have around 3 billion active monthly users, but it is also popular among most demographic groups. It lets users target their perceived ideal customers based on attributes such as their interests, profession, gender, and location.
Facebook ads can also be tracked in real-time in order to get information at a moment's notice. If you are not satisfied with how effective the digital marketing campaign for your online T-shirt business is, you can make changes straight away.
Once people start visiting your online store, remember to build an email list and send updates to customers whenever new designs come out.
Online T-Shirt Business Success Stories
Before starting your own T-shirt company, it's a good idea to check out the competitors in the industry – both for inspiration and research to scale your business. With that in mind, let's take a look at these three successful online clothing brands.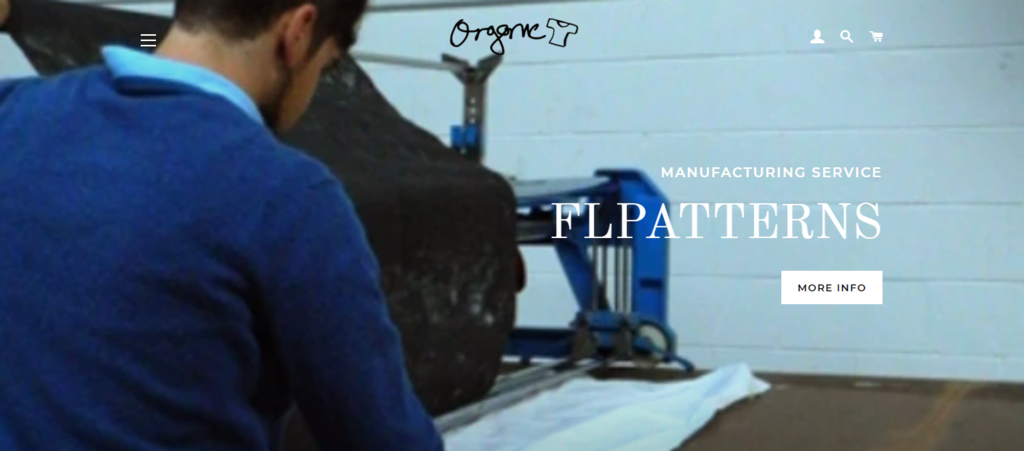 A local family business based in Sydney, the Organic T-shirt, was founded to manufacture high-quality and sustainable clothes in Australia.
Its main selling points emphasize the business being sustainable and ethical. The shirts are made of 100% organic cotton and grown without pesticides or fertilizers to help reduce pollution and contamination.
In addition to selling T-shirts for both men and women, the store offers other articles of clothing such as singlets, hoodies, and dresses.
What We Can Learn From This Business
This T-shirt brand does an excellent job of marketing its products to potential customers by showcasing their advantages right on the homepage.
Immediately after accessing the business's site, people can see their two main selling points: the business is local, and the products are sustainable and ethically made.
The homepage also features a video of the shirt production process, further increasing brand credibility through transparency and hammering home its mission of providing sustainable fashion choices.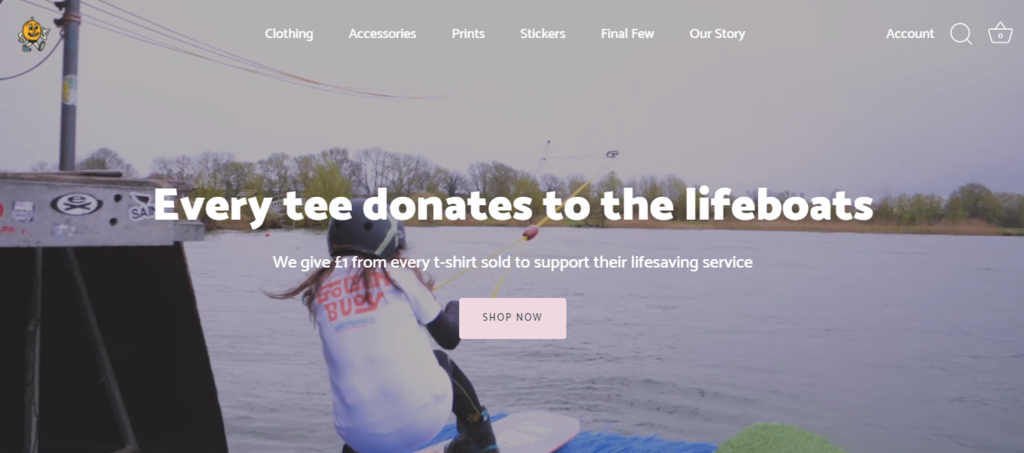 Based in the United Kingdom, Golden Buoy sells T-shirts inspired by a passion for watersports as well as ocean and beach conservation. The clothing design features slogans and illustrations related to surfing, canoeing, water skiing, and saving the ocean.
This eco-friendly clothing brand avoids using plastic and delivers orders in recycled cardboard packaging. It also has a shirt recycling system where customers can send the brand's old and used T-shirts back instead of throwing them away in exchange for discount vouchers.
The business offsets carbon emissions from the manufacturing process by donating a portion of each order's profit to reforestation projects. The amount varies according to the order's size, weight, and delivery method.
By sourcing their clothing from production lines verified by the Fair Wear Foundation, the brand makes sure they only work with ethical suppliers. The business also donates £1 from every T-shirt order to the lifeboat service and makes regular donations to watersports and ocean-based charities.
In addition to high-quality T-shirts, Golden Buoy also sells various accessories, prints, and stickers with similar themes.
What We Can Learn From This Business
The brand's niche makes it appealing to a specific target market – people interested in watersports and ocean conservation.
Golden Buoy understands its target audience and tailors its products and business practices around them. This can be seen from the design of the products, the eco-friendly packaging, the shirt recycling system, the charities it donates to, and even the watersports athletes it sponsors.
The regular donations the brand makes also encourage people to purchase its products. Besides increasing brand credibility, most people will find the idea of performing a good deed while purchasing a product quite appealing.
In addition, the official site has a visually attractive and colorful website design, with sections of the site fading in smoothly as people scroll down the page.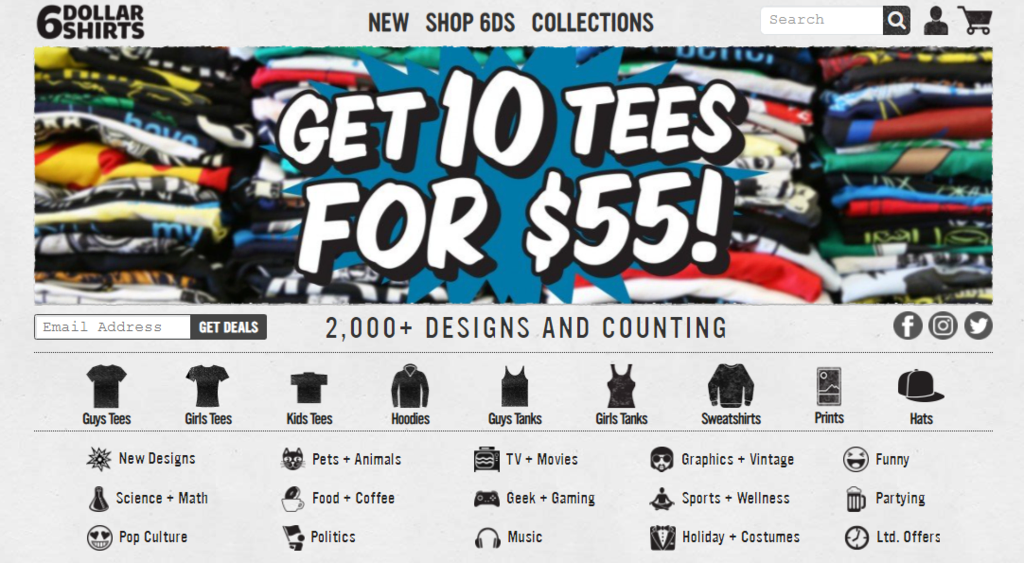 Created with the belief that customers shouldn't pay $20 or more for a good T-shirt, 6 Dollar Shirts is an American T-shirt brand offering shirts with competitive prices for men, women, and children.
The Florida-based business purchases shirts in bulk from global brands before printing unique designs on them. All illustrations are created in-house, with categories ranging from TV and movies to graphics and vintage. Over the years, the brand has accumulated a portfolio of over 2,000 designs which are printed onto shirts in a local warehouse.
In addition to offering $6 tees, 6 Dollar Shirts sells shirts for other affordable prices like $9 or $12, with promotions like 10 tees for $55. Besides T-shirts, it also sells tank tops, sweatshirts, hoodies, prints, and hats.
What We Can Learn From This Business
This clothing brand's unique pricing strategy makes it stand out from other T-shirt businesses in the fashion industry. Competitive pricing is one of the strongest selling points a brand can have, especially if it can still provide high-quality products.
If you start a T-shirt business based on competitive pricing, make sure to stay as consistent with it as 6 Dollar Shirts has. Although providing other pricing categories, the brand clearly states that the price of its $6 shirts has not been raised for the past 12 years since the business started.
In addition, another strength of this T-shirt business is that it provides a wide range of options in terms of pricing, styles, and designs. Customers are more inclined to stay on the site and browse if there are many choices to pick from.
Conclusion
Selling T-shirts online is one of the most profitable business ideas due to the ever-growing global industry.
The business is also versatile, as a single T-shirt store can target different demographics. Once you understand how to sell online, you can start a T-shirt business selling various designs, from funny slogans and pop culture references to shirts created as company merchandise.
In addition, an online business can be low-risk and cost-effective as there is no need for a physical brick-and-mortar store.
Here is a recap of the steps of how to start a T-shirt business:
Choose a profitable niche and create a business plan.
Look for a supplier.
Come up with T-shirt designs.
Create mockups and validate your T-shirt designs.
Set up an online T-shirt store.
Price your T-shirts.
Make your T-shirt business legal.
Launch and promote your T-shirts.
We hope this article has helped you figure out how to start a T-shirt business of your own. Good luck.
How to Start a T-shirt Business FAQ
Our experts have answered some of the most common questions on how to set up an online T-shirt store.
If you are still unsure about starting a T-shirt company, this section might convince you to take the first step.
Is Selling T-Shirts Without Holding Inventory Possible?
You can sell online without inventory using the print-on-demand eCommerce business model. It's a great way to start an online T-shirt business as it has little to no upfront costs and saves time. With the print-on-demand business structure, there is no need to stock or print your own T-shirts.
How Much Does It Cost to Start My Own T-Shirt Business?
The budget to prepare to start a T-shirt business depends entirely on its intended scale. The three main costs to consider are those of equipment, blank T-shirts, and labor. If you don't have a big budget, consider trying print-on-demand. With this model, you can sell T-shirts online with ease.
Is the T-Shirt Business Profitable?
The T-shirt business is lucrative because the industry continues to grow in value. The global custom T-shirt printing market was valued at $3.64 billion in 2020. The same study expects it to maintain a compound annual growth rate of 9.7% from 2021 to 2028.