How to Change Your WordPress Username (3 Methods)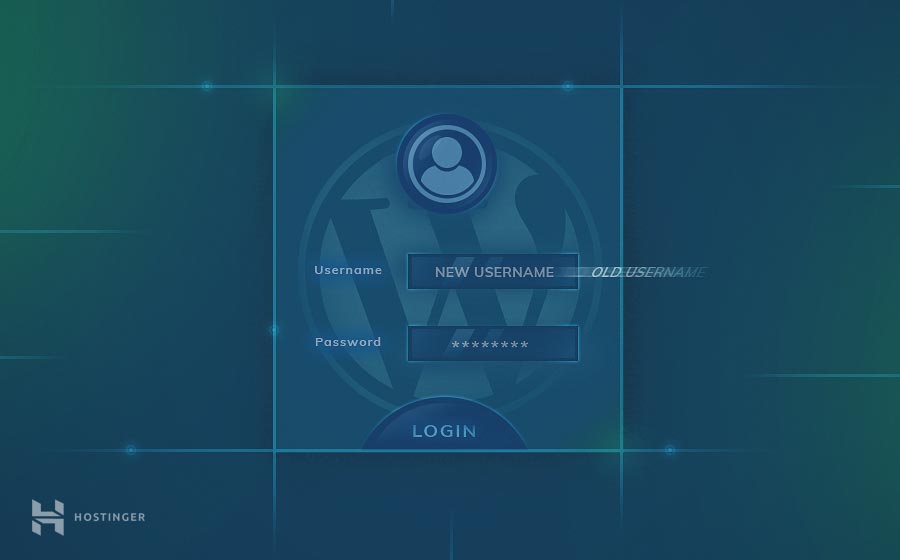 Changing a username shouldn't be a big deal. However, you'd be surprised at how few platforms provide you with a way to do that without jumping through hoops. With WordPress, there are a few not-so-obvious methods for tackling this problem, and we'll guide you through all of them.
Start A Free 7-day Email Course On WordPress
Here's what we'll cover in this article:
Changing WordPress username using a plugin.
Modifying your username through the WordPress database.
Creating a new user to replace your existing one.
We'll also talk about why it might be necessary to change your WordPress username in the first place. Let's get started!
Why You Might Want to Change Your WordPress Username
There are plenty of reasons you might want to change your username at some point. Some people set up usernames like "silverwolf3000" when they're young, and then they realize they just sound silly later on. In a lot of cases, you have no other option but to create a new account and call it a day.
Aside from youthful bad taste, you might also want to change your WordPress username for a host of other reasons. For example, you may need a new username if:
It sounds too similar to another username on your site.
You made a typo or other mistake when setting up your username
You're concerned that your username isn't secure enough ("admin" is easy for hackers to guess, after all).
The site or account is being transferred to a different person, and you want to change the name accordingly.
In the end, the choice of username is a personal decision. However, it's still something you should consider carefully. The only problem is that WordPress doesn't include a feature out of the box to help you change your username. If you want to do that, you'll need to look for a workaround.
How to Change Your WordPress Username (3 Methods)
In the following sections, we're going to explore three methods to change your WordPress username. We'll teach you how to use a plugin approach, change your credentials through the WordPress database, and simply create a new account. Let's start from the top.
When you want to add specific functionality to WordPress, the easiest way to do it is often with a plugin. In this case, Username Changer is a straightforward tool that will enable you to get the job done in minutes:

Before we get started, please note that this plugin hasn't been updated for a little while. Usually, we shy away from recommending plugins that don't receive regular updates, since they're more prone to causing compatibility issues. However, you can make exceptions to this rule depending on how simple the plugin's functionality is. In this case, what the plugin does is make a basic change to your database, so it's not likely to conflict with any other tools on your website.
With that out of the way, go ahead and install and active the Username Changer plugin. When you're done, navigate to the new Settings › Username Changer tab in your dashboard. Before you change your username, you need to configure the plugin so that it works as intended. First, you'll need to choose which user roles will get permission to change their own names:

You'll notice that this list doesn't include the Administrator role, which should be the level of your own account. By default, the plugin grants username-changing capabilities to all administrators, so there's no need to enable it again.
Now, it's up to you to choose what other roles get access to this new feature. We recommend enabling it only for Editor, Author, and Contributor users at the most. Enabling it for subscribers can lead to messy situations, with regular users changing their names all the time.
Moving on, you can also set a minimum length for your site's usernames. The default is set to three, but a minimum of five is often a better idea (to enforce more unique names):

Finally, you'll also want to enable email confirmations to be sent when users change their names. This way, users won't have to wonder if the changes went through. More importantly, this will alert a user in case someone is trying to hijack their account and change their name:

The plugin automatically sets up a template for WordPress username change emails, but you can modify it however you want. Do note that there are several tags you can use within the email template so that it shows a customized version to each user.
Now, scroll down to the bottom of the page and save any changes you've made. Scroll back up to the top, and jump over to the String Settings tab. Here, you'll be able to change the buttons and messages users will see when they try to change their WordPress usernames.
The default settings work well, but you can always make them more descriptive if you want to avoid confusion. You'll want to pay special attention to the error messages your users will get if they try to use duplicate names since otherwise, they might keep trying over and over:

Once more, remember to save any changes you make. When you're done with that, it's finally time to tell WordPress to change your username.
Go to the Users › Your Profile tab, and scroll down until you see the Username field. You'll notice there's a link that says Change Username to the right, so click on that now:

This option will enable you to edit your username right within the same tab. Once you choose a new one, click on Save Username. If the change succeeds – which it should unless the name is a duplicate – WordPress will ask you to log back in again. Remember to use your new username, along with your existing password.
Before we move on, we should mention that this plugin also enables you to change other users' names (as long as you're an administrator). To do that, just go to the Users › All Users tab, and click on the Edit button below the user whose name you want to change:

On the next screen, you'll see the option to change their name, just as you saw within your profile. What's more, the process here works just the same. Keep in mind, of course, that it's not a good idea to change your users' names without their consent unless absolutely necessary.
2. Use Your WordPress Database
In the previous section, we mentioned that the Username Changer plugin simply alters your username through your site's database. For this next method, we'll teach you how to do that directly, in case you don't like installing plugins for tasks you can do on your own.
To do this, you'll need to access your WordPress database. A lot of web hosts enable you to do this through your hosting control panel. If you're using cPanel, for example, you'll see a menu like this one:

Hostinger users, on the other hand, have access to a custom panel. If you log into yours, you'll find an option called phpMyAdmin right under the Databases section: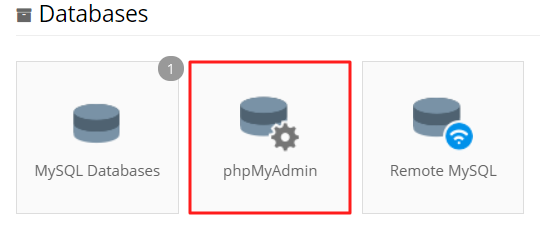 Once you click on this, you'll be able to choose which database you want to access. If you're hosting a single site, there should only be one option, so go ahead and open it.
Before we move any further, you should understand that making changes to your database can be dangerous. We don't recommend that you change any value unless you know exactly what you're doing, or are following instructions from people who do (like us!). In any case, the safe thing to do is to back up your database whenever you intend to make any changes to it, so let's do that first.
Right now, you should be on the main phpMyAdmin screen. Look for a tab that says Export within the top menu:

On the next screen, choose the option labeled Quick, which will select all your database's tables automatically. Then hit the Go button:

This will export your database in SQL format, and enable you to save that file to your computer. For added security, we recommend that you also save that backup to a second location, such as to cloud storage. Then, if you ever need to restore your database from that backup, you can follow our handy tutorial to get the job done.
Now that your database is secure, return to phpMyAdmin's main screen and look for the table called wp_users. In some cases, your web host may change that name slightly for security purposes, but it should still be easy to recognize. Once you access the table, you'll see a list of all the user accounts on your WordPress website.
Go ahead and find your user account, which you can do by looking it up under the user_login column. When you find it, click on the Edit button next to that row:

You'll see a list of all the values associated with your account. What you need to do is look for the user_login row. Then, type your new username into the Value field:

You'll also notice there's a second row called user_nicename. In most cases, it should be the same value as user_login. However, if you decide to use your email as your login, the user_nicename field will include your actual username. Remember not to change any other value here, and instead click on the Go button in the lower right-hand corner of the screen.
That's it! You just learned how to change your WordPress username without using a plugin. Just as with the previous method, you can also use this technique to change other users' names if you like.
3. Create a New User (And Delete the Old One)
Technically, this final approach is cheating, since you won't actually be changing your username. Instead, you're going to create a new account, delete the old one, and assign all its posts over to your new name. This is a quick and simple workaround, but we saved it for last because it's more straightforward to change your WordPress username via other methods.
To get started, go to your dashboard and visit the Users › Add New tab. On the next page, you'll be able to set all the parameters a new account requires, including its username, email, password, and more: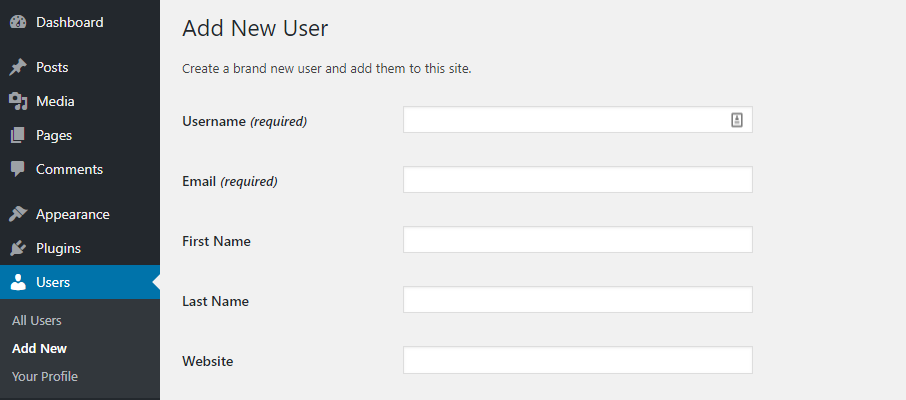 Think carefully about which username you choose. After all, this is going to be your new account. You'll also need to use a different email than the one associated with your existing administrator account. You can change it back later, so don't worry about that too much.
Before you save your new user, make sure to assign it the Administrator role: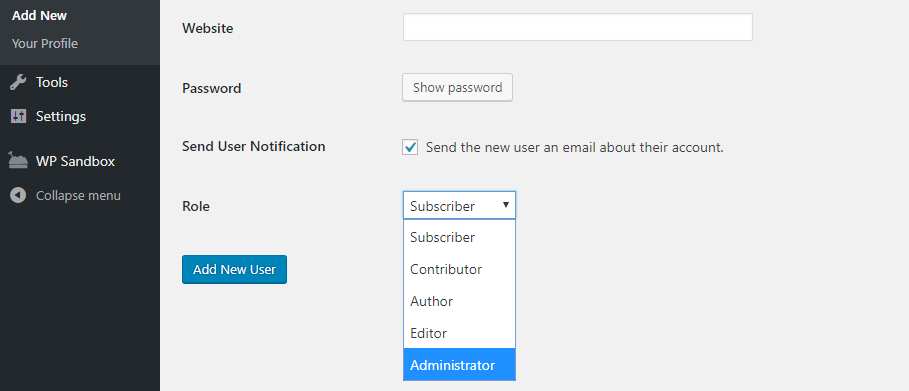 This will ensure that your new account has all the same privileges as your existing one. Now save your new account, log out, and log back in with your new credentials. Return to the All Users tab, look for your former account, and hit the Delete button right underneath:

As an administrator, you can delete other accounts of the same level. When you try to do this with an account that already has content associated with it (as yours probably does), you'll get a prompt asking if you want to reassign that content:
Select Attribute all content to, and choose your new admin account from the drop-down menu. Then select the Confirm Deletion button. Your old account will be removed, and your new account will be all set up.
Conclusion
Changing your username should be simple, but few platforms enable you to do it directly from your profile. However, there are a few ways to change your WordPress username. For example, you can install a plugin like Username Changer, edit your database information, or just go ahead and create a new account (this is technically cheating, but we won't tell!).
Do you have any questions about how to change your WordPress username? Let's talk about them in the comments section below!
Was this tutorial helpful?