WordPress vs Medium: Comparing Ease of Use, Customization, Price, and More 
Both WordPress and Medium are popular content creation and publishing platforms. Each offers different features to help users build an online presence. Yet, picking the right one for your writing project can be challenging.
Thanks to its extensive collection of free and premium themes and plugins, WordPress lets users create a website to publish content without coding. Meanwhile, as a publishing platform, Medium allows users to easily post articles and grow a community.
This article will compare Medium vs WordPress to help you decide which is most suitable for your needs.


WordPress vs Medium: Quick Comparison
Before we dive deeper into WordPress and Medium, here's a quick comparison between the two platforms:
| | | |
| --- | --- | --- |
| | WordPress | Medium |
| Ease of use | Offers an intuitive, feature-rich block editor | Comes with a minimalist editor |
| Ownership | Full control over site files and data | User content is hosted on Medium's server |
| Customization | Lets users install WordPress themes and plugins to extend site functionality | Limited profile page and content customization |
| SEO and traffic | Offers built-in SEO features and plugins to grow traffic | It has many active users and a high domain authority |
| Scalability | Highly scalable with many options to modify site elements | Less control over site scalability |
| Price | Requires initial investment and potential additional costs depending on the WordPress site's complexity | Completely free to use for writers |
| Monetization | Offers various ways to generate revenue | Has limited options to make money |
| Security | Users must take care of their own site's security | The platform handles security measures |
| Support | Has a support forum, an active community, in-depth documentation, and developer resources | Provides a help center, writers and readers network, and email support |
Understanding WordPress and Medium
WordPress is a free and versatile content management system (CMS) used by 43% of websites, from personal blogs to business websites like Microsoft. Created as a blogging tool, WordPress is now the go-to tool platform for creating websites.
As a younger platform, Medium offers simplicity both for readers and publishers. It helps writers quickly start blogging and sharing ideas online. Unfortunately, Medium has limited content options compared to WordPress.
Now, let's overview Medium vs WordPress.
WordPress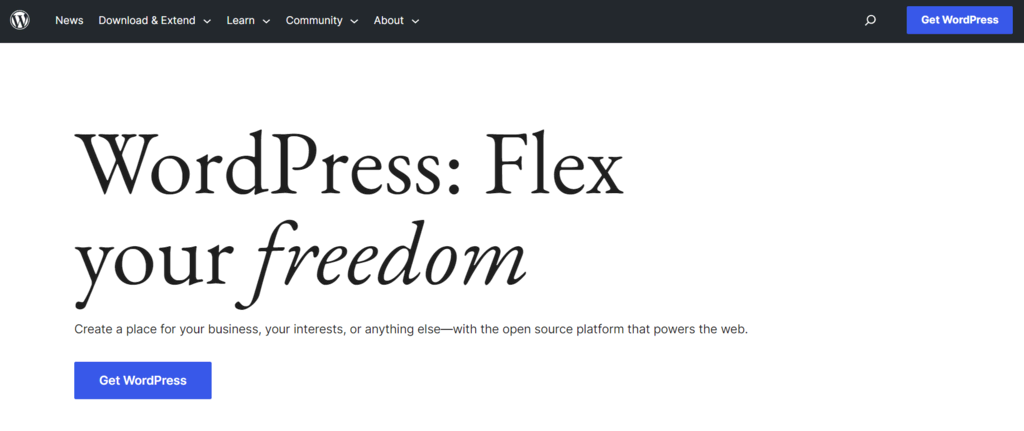 WordPress is the most popular CMS in the market for many reasons. It offers user-friendliness and flexibility, allowing users to build any website type and publish content online. It's great for publishing sites, portfolios, personal websites, business blogs, and online stores.
Another reason is its excellent user management. WordPress allows website owners to assign permissions in a collaborative website, limiting users who can make changes to posts and moderate the comments. This feature prevents unauthorized changes that could harm your site.
Before we dive deeper into WordPress, note that we will refer to WordPress.org in this article, not WordPress.com.
WordPress.org is self-hosted WordPress. This means you will need a separate web hosting service and a custom domain to take your website live. Meanwhile, WordPress.com is a WordPress-based website builder.
Check out our WordPress.com vs WordPress.org article to learn more about the differences between the two platforms.
Medium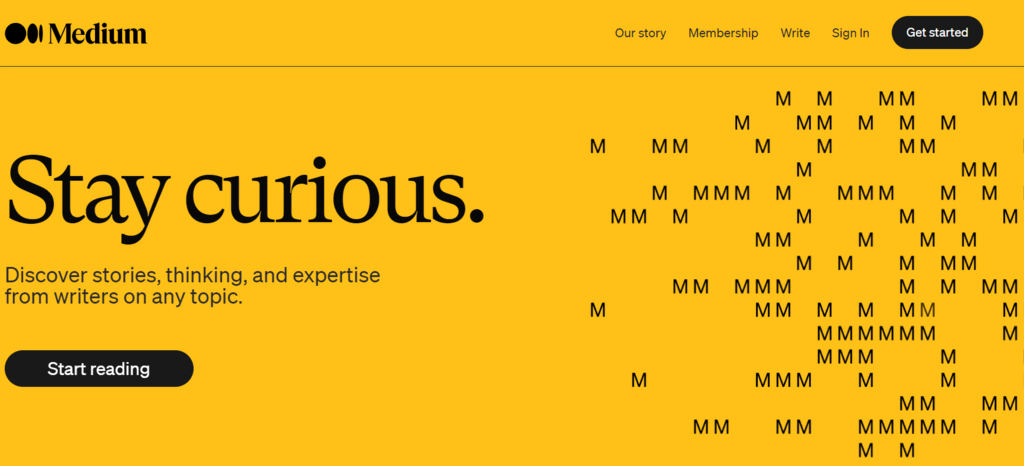 Medium is an open digital publishing platform for independent writers and storytellers to share ideas and perspectives. You might find Medium useful when running a writing-focused business – for example, blogging and freelance writing.
Medium has many active users for more accessible audience building. The key is to make as many friends as possible and publish great content. Find people who share your ideas and turn them into loyal followers.
Medium aims to create an informed society by rewarding high-quality content. It implements a content-based filtering system to recommend readers with relevant content based on their interests.
What's more, you can earn money from writing through the Medium Partner Program.
Medium writers can engage with others in various ways. The Clap rating system lets you appreciate articles you find interesting and useful. It also helps the writer measure reader engagement. The more claps you get, the more insights you get on your article's performance.
Another useful feature to increase engagement is Highlight. The author will be notified when readers highlight certain paragraphs, phrases, or sentences. You can also create and manage a highlights list that's visible to your followers.
Suggested Reading
Differences Between WordPress and Medium
Apart from their core function, WordPress and Medium are also different in more aspects. To help you choose the most suitable platform, we will cover how they differ in the following sections.
WordPress vs Medium: Ease of Use
First, we will compare each platform's ease of use – from the installation process, interface, and visual editor.
WordPress
This all-rounder platform requires a few installation and setup processes, but they are easy to follow. Since WordPress is a self-hosted platform, you must buy a web hosting plan and a domain name to manage your own website.
Hostinger's WordPress hosting plans are specifically optimized for WordPress. Starting at ₹149/month, our WordPress hosting plans also offer a free domain name registration.

Installing WordPress with Hostinger is quick and easy with the Auto Installer feature.
The WordPress dashboard interface is easy to navigate. The admin page has a sidebar menu that allows you to access different settings to add a new post, plugins, pages, and appearance options.
What's more, WordPress comes with the Gutenberg block editor. This advanced visual editor lets users easily add blocks to create dynamic, attractive content.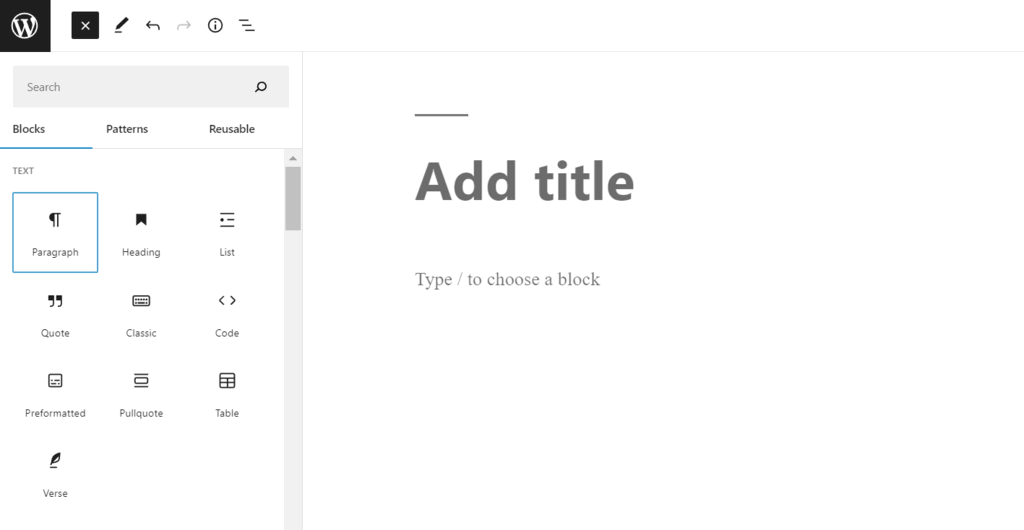 Overall, WordPress is easy to use and powerful for website content management. However, its advanced features may require a learning curve. Thankfully, there are many WordPress tutorials to familiarize yourself with the platform.
Medium
On the other hand, the Medium platform doesn't require you to purchase a web hosting service, a custom domain name, or to install any software. All you have to do is create a Medium account. You can use social login to create an account using an existing social media profile.
After creating an account, it's time to start writing. A minimalist Medium editor will appear on the dashboard, along with tutorials on how to use it.
The Medium editor has a clean, distraction-free look. A clear navigation menu button on the top of the page has options to add elements to your written content.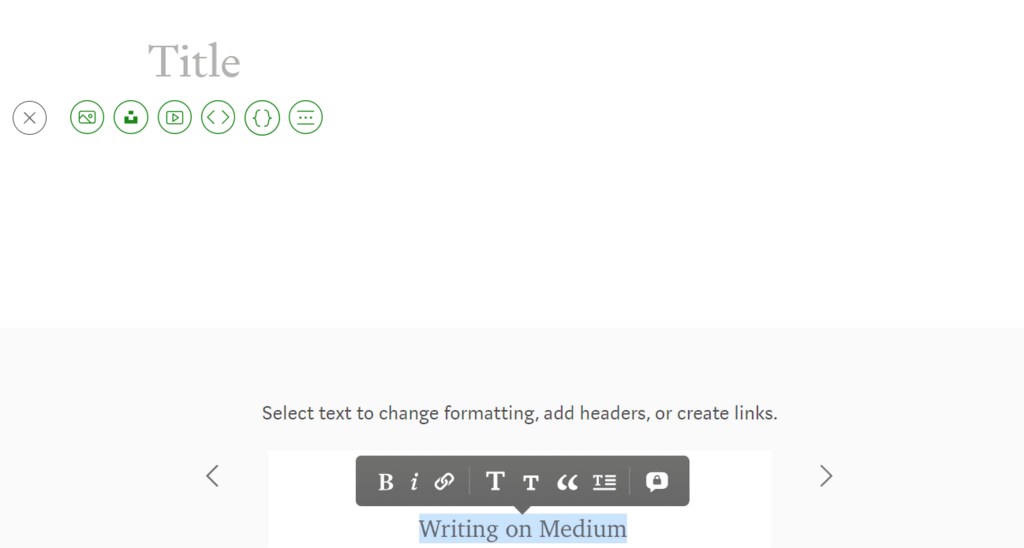 Built to share stories and ideas, Medium is user-friendly for both beginners and experienced writers. Furthermore, Medium's social interaction nature makes it excellent for collaboration and networking with millions of writers and readers.
Manage recommendations on your homepage by following topics, publications, and authors that suit your interests. Also, connect your Twitter account with Medium to engage with authors you're familiar with.
Unfortunately, Medium has very limited features compared to WordPress. But if you're looking for simplicity over functionality, we recommend using Medium.
WordPress vs Medium: Ownership
One clear distinction between Medium and WordPress is website ownership. Let's discuss content ownership on Medium vs WordPress below.
WordPress
When stored on your own hosting account, a WordPress site's data will remain yours. You can create an entire site and its content as you wish, and the hosting platform doesn't have the right to take down your account except for legal violations.
Unlike Medium, WordPress doesn't limit the content type you can create. Moreover, WordPress provides more control over articles. Users can update, delete, and unpublish their posts on WordPress anytime.
Medium
All content you write will stay on Medium's servers. This means you don't have full ownership over your writing.
Medium also has a set of terms of use that users must follow to remain on the platform. The platform weighs on newsworthiness, and content that breaches the rules may be removed anytime.
Unlike WordPress, Medium doesn't allow users to unpublish posts. You must delete the published version if you wish to hide it. This crucial content control feature must be considered when choosing between Medium and WordPress.
WordPress vs Medium: Customization
Customization is a key deciding factor when choosing between WordPress vs Medium for your project.
WordPress
One of the main advantages of WordPress is its abundance of free and premium plugins and themes.
If you don't want to build a site from scratch, themes let you quickly personalize WordPress sites, allowing you to stand out among competitors.
WordPress' official directory has more than 11,000 free ready-to-use themes for various website types. Alternatively, purchase themes from marketplaces for more customization options.
Moreover, installing WordPress plugins let you expand your site's functionality and improve your workflow.
For instance, WordPress eCommerce plugins like WoocCommerce and Easy Digital Downloads are required to integrate online store functionality into your website. Adding pages for social proof, contact form, and FAQ are also easier with WordPress plugins.
Another advantage is the block-based WordPress editor. It lets users fully customize posts and pages with the default block options, such as image, paragraph, video, gallery, code, audio, and columns.
Medium
Medium is all about minimalism and content quality. Users may incorporate a logo, links, and image headings in their content. You can also change the text formatting on Medium.
However, the overall customization options are limited. For example, unlike WordPress, you can't use themes and plugins to add engaging visual elements and additional functionality to your blog.
Fortunately, Medium lets users edit their profile page. In Medium's editor panel, you can customize the homepage header, change the fonts, backgrounds, and accent colors, as well as show your blogroll.
Go with Medium if you don't need a complex, feature-rich website for your content. Meanwhile, WordPress is better if you want to have a highly customizable website.
WordPress vs Medium: SEO and Traffic
Search engine optimization (SEO) and traffic are vital for a successful online presence. Let's explore how Medium and WordPress can help grow your audience.
WordPress
When you start with WordPress, there might be zero visitors on your launch day. Applying SEO best practices can help you grow your traffic. However, understanding SEO itself may take some time.
Luckily, WordPress allows you to build an SEO-ready website. There are many responsive WordPress themes to choose from, and you can adjust on-page SEO elements for better visibility.
Installing WordPress SEO plugins makes optimization efforts even easier. Yoast SEO, All In One SEO, Rank Math, and SEOPress are excellent plugins to consider.
SEO tools can offer insights to improve search engine performance without requiring technical knowledge. This makes WordPress a great option for website beginners.
Make sure to check our article about WordPress SEO tips to enhance your optimization strategy.
Medium
As previously mentioned, building an audience is easier with Medium. The site attracts more than 100 million visits every month. You can benefit from Medium's popularity if you write great stories.
Medium also has a high domain authority, giving a boost to your article's rankings in search engines. Meanwhile, a self-hosted blog can take years to establish strong domain authority.
Medium has standard on-page SEO settings to customize your post's title, meta description, subheadings, URL, and image alt texts. But unlike WordPress, you won't be able to add extensions to automate site optimization processes.
WordPress vs Medium: Scalability
When setting Medium and WordPress side by side, consider their scalability to maintain your website performance as traffic increases.
WordPress
When it comes to scalability, you can depend on WordPress. The platform lets users fully design and control a website to grow their own brand. With extensive customization options, you can add landing pages, eCommerce features, and supporting information about your business.
Make sure the WordPress site can handle high traffic once it grows by upgrading your hosting plan. For instance, if you're using shared hosting, consider changing to cloud hosting in the long run. Cloud hosting offers excellent stability and performance.

Some best practices for creating a highly scalable WordPress site include site speed optimization, caching, security measures implementation, and image optimization. Fortunately, many WordPress plugins can ease these processes.
Medium
Medium lets you scale your profile faster by posting quality content and establishing a network.
However, you have less control over its performance, as the platform has its own infrastructure. Unlike WordPress, you won't be able to adjust every profile element on Medium.
WordPress vs Medium: Price
Budget is a key consideration when starting an online presence, as Medium and WordPress have varying pricing options.
WordPress
Although the platform's software is free to use, there will be an upfront cost to start a WordPress website. You will need to buy a hosting plan and custom domain name, which vary in pricing.
Customization is another pricing factor. Consider purchasing premium themes or plugins to improve your website's visual appearance.
Also, expect other additional costs when you choose WordPress, such as regular site maintenance costs to optimize your self-hosted blog.
Monthly maintenance costs range from $5–25/month for a personal website, $35-500/month for a business website, and up to $5,000/month or more for an eCommerce website.
Medium
In contrast, Medium is completely free to use for content publishing. You won't need to buy web hosting and a domain. Also, no need to purchase plugins or themes – you can only use the built-in customizations and features.
For those on a budget and less concerned about visual aesthetics, creating a Medium account is an excellent choice to establish an online presence.
WordPress vs Medium: Monetization
Consider which platform suits your revenue goals best to make money off your content effectively.
WordPress
The platform offers various ways to make money online, such as displaying ads using Google AdSense on your WordPress site. You can show static, native, or popup ads on your pages and gain passive income.
Another way is writing product reviews for affiliate marketing. Incorporate affiliate links as you mention certain products in your post. This allows you to gain commissions when visitors buy the product on the merchant's website.
You can also provide paywalled premium content. For example, online courses can be a great avenue to monetize your website. However, online courses require a lot of effort. You must structure the course content to engage and achieve learning goals effectively.
Other premium content types you can try selling include exclusive blog pieces, printable blog posts, membership sites, and eBooks.
Overall, there are nearly endless ways to get creative with your content and make more money online with WordPress.
Medium
Medium, on the other hand, offers limited options to monetize your content. The platform clearly states that third-party ads and sponsorships are not allowed.
However, Medium has a Partner Program where users can earn money from writing. Medium will pay writers based on how members engage with their stories. Time spent reading Medium content and monthly reading time are some factors considered for the payments.
Since Medium is a popular platform with many users, you can get freelance jobs from your writing. To achieve this, promote your Medium stories on social media platforms like Twitter, LinkedIn, and Facebook.
WordPress vs Medium: Security
This section compares WordPress and Medium's security features to help you choose the writing platform that's right for you.
WordPress
Since WordPress is a self-hosted CMS, you will have full control of your website, including your site security. Although WordPress's popularity may attract cyber attackers, using the latest version will help minimize security threats.
You can further secure a WordPress site using advanced settings to avoid brute-force attacks and malware threats. Some best practices include activating two-factor authentication (2FA), tweaking access to files and user permissions, and using WordPress security plugins.
Users can report the platform's security vulnerabilities, and WordPress will quickly address the problems.
Medium
Since WordPress is the more popular CMS, cyberattacks on Medium are fewer.
Medium maintains a secure server and uses encryption to protect data transmission. Since Medium handles most security measures, there's no need to worry about implementing them independently, unlike with a self-hosted blog.
WordPress vs Medium: Support
Lastly, consider customer support when comparing Medium vs WordPress.
WordPress
WordPress offers a large and active community that can help you when you're facing issues. The platform also has extensive documentation and developer resources to help you navigate it.
And since WordPress is an extremely popular CMS, you can find other resources for the platform all over the internet. For example, Hostinger has tutorials and a knowledge base for the platform.
If you still have questions, you can ask on the WordPress.org support forum, where other WordPress users can help identify and resolve your issues.
Medium
Meanwhile, Medium has the Medium Help Center. You have the option to request support from their team using a ticket. Moreover, it has documentation that can help you make the most of the platform by following, contributing, and promoting articles.
Conclusion
WordPress and Medium offer unique pros and cons for bloggers and content creators. Ultimately, choosing between Medium or WordPress depends on your specific preferences and needs.
WordPress is great for managing a customizable self-hosted blog, offering advanced security features and more content control. With a self-hosted WordPress site, enjoy powerful customization options and SEO plugins.
If you want a free blogging platform with a built-in audience and user-friendly features, Medium might be a better fit. It allows users to publish writing without dealing with technical and maintenance tasks.
We hope this article helps you understand Medium vs WordPress to start publishing content online. If you have further questions, leave us a comment below.
WordPress vs Medium FAQ
If you still have inquiries about WordPress vs Medium, check out the answers to frequently asked questions below.
How Does Medium Differ From WordPress?
Medium is a simple publishing platform that lets you post stories, gain a following, and build authority in a specific niche. On the other hand, WordPress is an open-source and highly customizable CMS for building various website types, including blogs and publishing sites. 
Which Platform Is Best for Driving Traffic to My Website?
Medium is better at driving traffic in the early stages due to its built-in audience. However, you must compete with other writers to get readers' attention. Meanwhile, WordPress requires more work to get traffic. But once your website grows, you will have your following's full attention without them being distracted by other writers' content.
Can Medium Be Used as a Blogging Platform?
Medium lets you run a simple, free, but limited blog. While it's sufficient for basic blogging, it's not the best for scaling and brand building. A WordPress site offers more customizability and features to run a feature-rich, scalable blog.