What Is a Permalink? Everything You Need to Know

Permalink is another name for the URL of an individual blog post or web page. It's what you write on a web browser address bar if you want to visit a particular article.
Short for permanent link, permalink also means a web address that is expected to remain the same. It's usually readable and easy to understand not only for target audiences but also for search engines.
If the permalinks on your site aren't working or put together correctly, it can lead to various issues like broken links and a high bounce rate. Hence, this article will explain the permalink structure, its importance, and how you can optimize it.
Permalink Structure and Examples
A permalink structure mainly consists of two parts – the website domain and the page slug. Below is a permalink example of what a good permalink might look like: https://www.yourdomain.com/website-ideas/
Here's the breakdown of the permalink structure:
A good permalink should be clear and to the point. Some examples of bad permalinks would be:
https://www.yourdomain.com/how-to-start-a-successful-online-busines-for-beginners-in-2021/
https://www.yourdomain.com/article183
These permalinks are either lengthy or don't give any hint as to what the post or page is about.
How Important Is a Permalink?
The permalink is a crucial part you need to include in your checking list when it comes to blogging or managing a website's content in general.
This is because it affects the usability of your site. Clean and readable permalinks are more attractive and have a higher chance of getting clicked compared to long or spammy-looking ones.
From your permalink alone, readers can imagine what the overall content of your page is about. It also shows that your blog posts are trustworthy. Moreover, since the URL is permanent, it allows people to bookmark your content.
Other than that, permalinks are important for building a solid website structure and improving search engine optimization (SEO).
Having a natural flowing page hierarchy as part of your site's architecture will ease user navigation and the search engines' crawling process.
Plus, URLs are a ranking factor for Google. The way you structure the permalinks will increase the chances of your content ranking high on search engine results.
How to Create a Custom Permalink in WordPress
WordPress has a default permalink structure that is not SEO-friendly. It uses the post number from your website's database with the URL structure: https://www.yourdomain.com/?p=164.
If you want to have a custom permalink structure, you need to change the permalink settings. Follow the guide below to do so:
Access your WordPress dashboard.
Hover on Settings at the sidebar menu, and click Permalinks.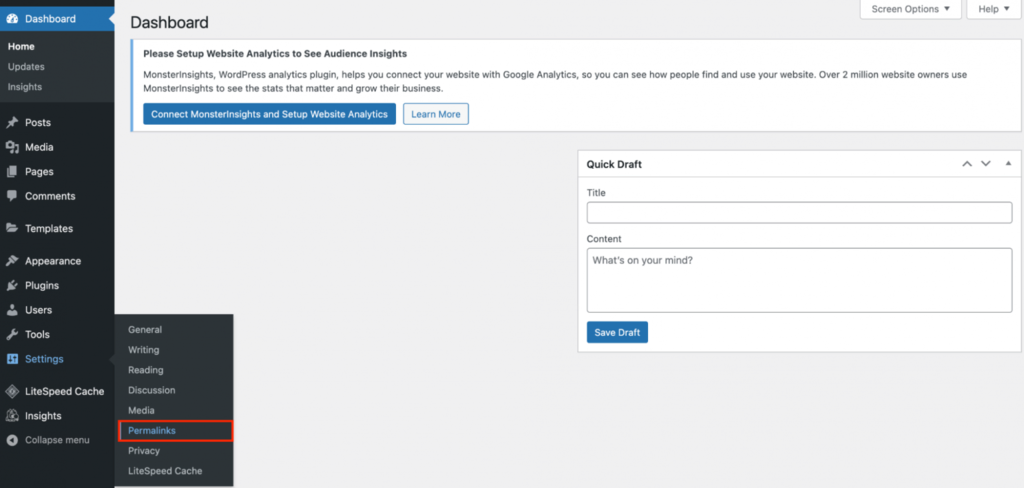 Under Common Settings, select Custom Structure and enable the %category% and %postname% tags. Feel free to choose other options based on your type of website.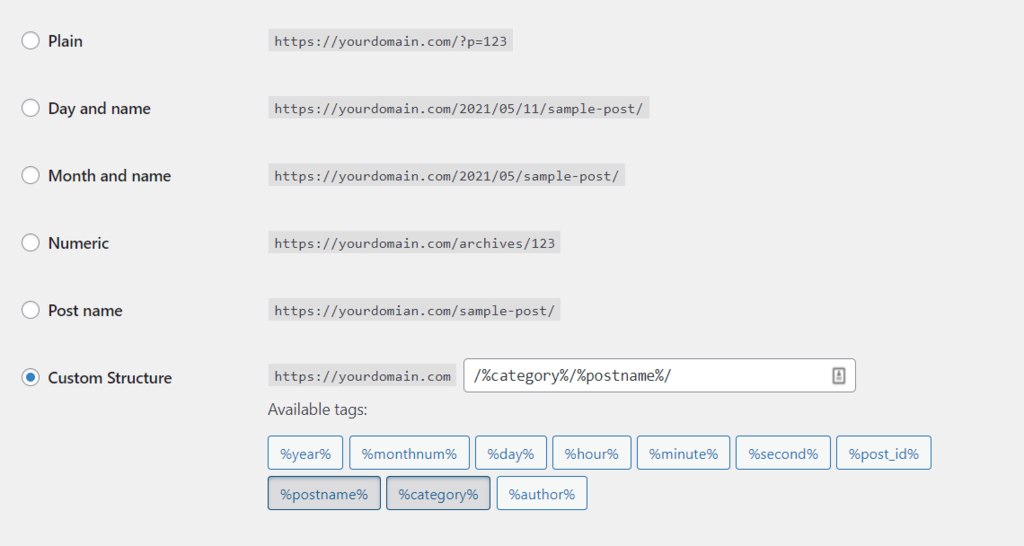 Scroll down and press Save Changes.
Your permalinks will now show the category and post name instead of just showing the archive number. For example: https://www.yourdomain.com/tutorials/how-to-install-wordpress/
How to Optimize Permalinks for SEO
The first step in creating an optimized permalink for SEO is to pick the best structure tag for your website. This is to make sure your new permalink is consistent across the site. Here are some common structure tags to choose from:
Post Name
Suitable for sites that have a blog publishing unique or timeless articles. It also generates simple and easy-to-remember URLs, making it a popular choice among website owners.
This tag has the following structure: https://www.yourdomain.com/wordpress-post/
Category and Name
Creates the hierarchy structure of your website. It's perfect for content-based websites that publish articles under various topics and categories. This new permalink includes the category under which the article will be posted (blog, WordPress, technical or news site and so on) and the post name.
Here's how the permalink will look using this tag: https://www.yourdomain.com/blog/what-is-a-blog/
Day and Name
Preferable for higher traffic news websites that publish multiple articles daily. The structure includes the full date (year, month, and day), separated by a slash, and followed by the post name.
A permalink example with this structure: https://www.yourdomain.com/2021/05/17/news-of-the-day/
Month and Name
An option for sites publishing content that may need to be updated in the future.
With this tag, the permalink will look like this: https://www.yourdomain.com/2021/05/website-statistics/
When it comes to writing the slug of a URL, there are some SEO-friendly permalinks and best practices to follow:
It should describe what the particular page or post is about.
Keep it short and memorable.
Include SEO keywords or words related to the post or page that people typically search for.
If the slug has more than one word, separate them with hyphens. For example, /what-is-a-permalink/.
Avoid using too many stop words, such as "the," "a," "but," "is," "and," "my," "your."
The permalink SEO purposes and tips above are only a part of a website's overall SEO strategy. For more information regarding SEO, check our WordPress SEO tips.
How to Change a Permalink in the WordPress Editor
Another method to edit a permalink on WordPress is through its Posts or Pages editor. This applies to content that is saved as a draft and is not published yet.
For those using the Gutenberg WordPress editor, click the Settings button at the top-right corner of the post to open the sidebar menu. Scroll down to the Permalink section to edit the old URL slug.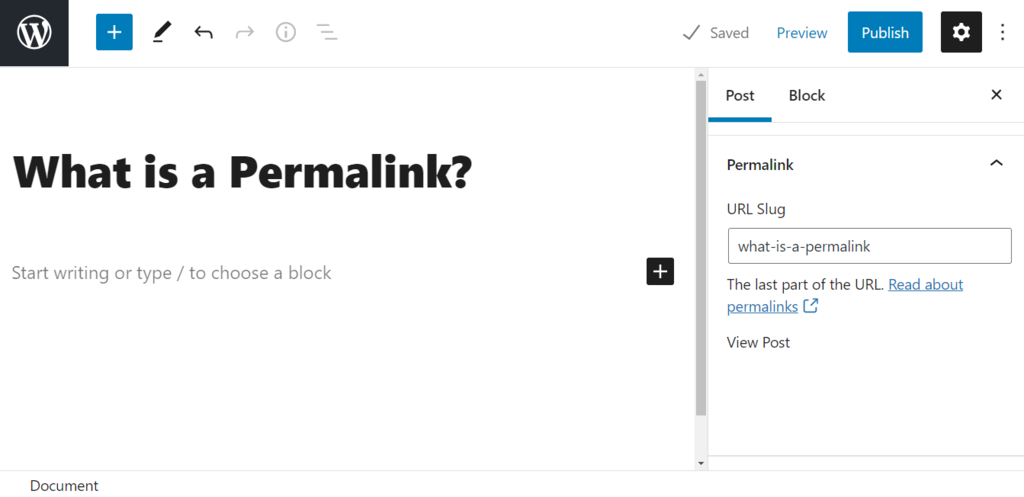 If you're using the Classic editor, the permalink preview can be found above the visual and text editor or under the post or page title. To customize it, simply click on the Edit button, type in the new slug, and press OK.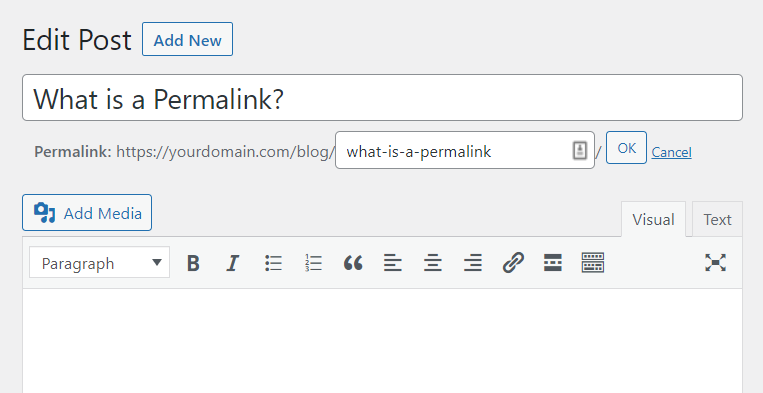 You might not have to manually change every permalink if you've configured the WordPress permalink settings. However, remember to double-check your URL before publishing the post in case you need to make additional tweaks.
Should You Change a Permalink?
A permalink of a published blog post or article should always remain the same. This is because it will affect the internal or external links pointing to the page.
However, there are cases where you do need to edit the permalinks, such as when:
The CMS default structure of a permalink is not SEO-friendly, or it doesn't represent the information of the blog post or article.
You bought or took ownership of someone else's website, and you need to rebrand it.
You want to change the overall orientation of the site. For example, from a blog to a news-oriented site.
Even so, changing published permalinks needs to be done with care.
Tips to Change a Permanent Link without Hurting SEO
If you do decide to modify a permalink, make sure to set up a 301 redirect. This is to notify search engines that the page or blog post has moved to a new URL.
If the 301 redirects are not set up, your website will have missing URLs and broken permalinks. People will automatically leave your site when they find the link is not working, causing a high bounce rate.
Search engines will also reduce your site's organic ranking, not wanting to lead people to an error message or blank page. Hence, by hurting your SEO, you will lose traffic and also the profit you're making through the site.
Furthermore, there's a chance that your site will get penalized if you have too many broken links.
WordPress has plugins specifically to help you create 301 redirects, such as 301 Redirects, Redirection, and Yoast SEO Premium.
Conclusion
Permalink is basically a fixed link to an individual web page or post. During the crawling process, search engines will read the URL of the pages on your site. Visitors will also look at the permalink to see if the post is reliable and has the information they're looking for.
Hence, a permalink has to be user and SEO-friendly. Since it's called permanent link, it should not be changed without thought and consideration. Even if you do have to change the old permalink, remember to set 301 redirects to avoid issues.
By implementing proper SEO permalink practices, you can increase your site's traffic and improve its rank on search engines.