WordPress Blocks for Gutenberg Editor: Top Plugins and Tips
WordPress Blocks are the components that allow you to add content in the new WordPress Gutenberg block editor. WordPress Blocks simplify adding, editing, and organizing posts and pages.
WordPress offers 67 default blocks, such as Paragraph, Image, Video, List, and Column. However, if the default WordPress blocks are not enough for you, WordPress block plugins can add even more content blocks and features to your website. Simply put, the Gutenberg block editor replaces the classic editor with individual blocks.
This article will show you how the WordPress block editor features can help grow and optimize your website.
Reasons to Use WordPress Block Editor
The WordPress new block editor offers more flexibility to all users – from beginners to professionals.
Some notable benefits of the Gutenberg block editor include:
Ease of use – move content blocks around easily as this editor has a straightforward drag and drop interface, showing a layout similar to the website.
Flexibility – if you have little to no experience in web development and design, use the content blocks to create content. Meanwhile, those with coding knowledge can use the WordPress text editor.
Customization – each block has its settings for customizing and personalizing content according to individual needs.
The WordPress blocks are available within these five sections:
Text – includes basic building blocks such as the Heading, List, Quote, and Paragraph blocks. Use them along with a Classic block to make edits using a classic WordPress editor layout.
Media – offers media-related blocks, such as Image, Audio, File, and the Video blocks.
Design – includes blocks that customize the page layout, such as Columns, Buttons, and Group.
Widgets – adds extra content and structure to the site with blocks, for example, WPForms, Calendar, Search, and Social Icons. Those who want to add PHP code to the page or post can use the Shortcode block.
Embeds – add third-party content to the blog post or some page, such as embedding a YouTube video, a tweet from Twitter, or Amazon Kindle content. You can copy-paste the URL link to the Paragraph block as a shortcut.
The steps to use the content blocks are very straightforward. Start by clicking the + icon on the header to open the block gallery. There is a Search bar to help with finding a particular block. WordPress also gives a brief description of each block type by hovering over the icons.
To adjust and edit each block, click on the Settings icon on the right side of the header and select the Block settings.
There's also a way to save customized WordPress blocks, so you won't need to customize each time. To do so, click the three dots and select Add to Reusable blocks. To use the content blocks again, select Reusable under the block gallery.
10 Best WordPress Block Plugins in 2021
WordPress block plugins offer many additional blocks to the content editor, along with the tools to customize them. Plugins add functionality and features to build a site without having to touch a single line of code.
Block plugins expand the block gallery and optimize the features and settings of each content block and the Gutenberg editor. However, don't forget that a block plugin is not a page builder plugin.
When installing a block plugin, consider its affordability, features, and what type of website will use the plugin. Here are the top 10 block plugins we suggest:
Plugin Stats:
Genesis Blocks helps create content faster with its gallery of pre-built layouts and sections. The Layouts are on the editor's header, which will show the pre-built Sections, Layouts, Collections, and Favorites.
The free version adds 14 new blocks, 27 sections, and nine full-page layouts.
Genesis Pro adds 16 new blocks, 56 sections, and 26 full-page layouts for $360/year for more support and control over the blocks. The premium version also has an advanced user permission feature for websites with multiple users to give different access to each block.
Not only does this plugin work with all WordPress themes, but it also offers a separate Genesis gallery with themes more suitable to the blocks.
Plugin Stats:
Downloads: 50,000+
Rating: 4.3/5
Notable features: AMP optimized, support and documentation
Best suited for: blogs and small businesses
Price: free
Although Atomic Blocks is the older version of Genesis Blocks, it's still a more popular option as it highlights the blocks more than the layouts. A great alternative to those who just need more blocks and don't necessarily want to use a pre-built design and section.
It offers the same 15 blocks as Genesis Blocks, with fewer pre-built layouts and sections.
Get more support through documentation, tips and tricks, and code snippets. Head to the Dashboard -> Atomic Blocks -> Getting Started, and select Browse the Wiki for additional support.
For more features, there is an option to use Genesis Blocks instead by clicking Migrate.
Plugin Stats:
Downloads: 300,000+
Rating: 4.9/5
Notable features: pre-built layouts and sections, block manager, reusable blocks
Best suited for: blogs, small businesses, restaurants
Price: free
Ultimate Addons for Gutenberg (UAG) adds 30 new blocks, 54 full website templates, and 68 pre-built sections for free.
The UAG Templates button on the header will show two categories, Pages for website templates and Patterns for the pre-built block sections.
Some of the UAG notable features include:
Price list block – great for creating a detailed restaurant or business menu, and it's one of UAG's unique blocks.
How-to-Schema block – automatically adds schema to the page or post to improve search engine rankings.
Toolbar block – makes the customization easy. For example, move the content from left to middle or expand the background image.
Reusable Blocks – use this feature on sections or groups instead of just individual blocks.
UAG can also deactivate blocks to help maintain the website speed. To do this, head to the Dashboard -> Settings -> UAG, and click Deactivate on the unnecessary blocks.
Plugin Stats:
Downloads: 3,000+
Rating: 5/5
Notable features: block manager, version control
Best suited for: small businesses
Price: free
Premium Blocks for Gutenberg is a free plugin that adds 12 new blocks that have minimal impact on the website's performance and speed.
There is the option to activate and deactivate blocks to minimize the impact of the plugin. Head to Dashboard -> Premium Blocks for Gutenberg -> Block Settings, then choose the blocks to activate and deactivate.
This plugin is updated weekly, and there's an option to choose the version through Dashboard -> Premium Blocks for Gutenberg -> Version Control.
With limited additional blocks, this plugin focuses on each block's Settings to help adjust and edit. Also, this feature gives the option to make your own design.
One of the unique blocks this plugin offers is Dual Heading, which splits headings into two styles. There is also a Fancy Text block to add animation between text – many plugins don't have this block.
Plugin Stats:
Downloads: 30,000+
Rating: 4.7/5
Notable features: block access, email opt-in, default blocks settings
Best suited for: businesses, multi-author blogs, online stores
Price: free
PublishPress, previously called Advanced Gutenberg, gives more control over the blocks. Not only for the additional 23 blocks from the plugin but all WordPress content blocks. Head to Dashboard -> PublishPress Blocks to optimize the settings of this plugin.
PublishPress has a feature that gives different access to blocks for each user for websites with multiple users. Head to Profile to create a new profile and assign it to a user under the Profile Attributions. Then, under the Blocks List, choose the profile and access for each block.
The Default Block Setting changes the default settings for each PublishPress block. This feature helps reduce the need to customize each time manually. Click on the Settings icon next to the block to change the default settings.
It also has email and form settings to set up an email for the Newsletter and Contact Form blocks.
The Login/Register Form block registers readers' contact and gives them access – a unique feature from this plugin.
Plugin Stats:
Downloads: 40,000+
Rating: 4.9/5
Notable features: pre-built layouts and blocks, detailed styling option, block manager
Best suited for: everyone
Price: freemium
Stackable is an excellent block plugin for everybody. While beginners can enjoy the block for free, there are Stackable premium versions for professionals and businesses with multiple websites. Their prices differentiate with the number of sites you have:
Personal, $24/year – Single Site
Business, $99/year – Three Sites
Agency, $149/year – Unlimited Sites
Agency lifetime $499 – One-time fee for an unlimited number of sites
The free version adds 27 blocks, 89 pre-built page layouts, seven website templates, and 58 sections. The premiums give the same amount of blocks, with 355 pre-built page layouts, 30 website templates, and 127 sections.
One of the plugin's rare blocks is the Video Popup block to display a pop-up video. This block displays a thumbnail to play a full-screen video from YouTube, Vimeo, or a self-hosted mp4.
The customization option included Layout, Style, and Advanced settings for each block. Also, click on the Stackable icon for more customization options, for example, changing the Color and Typography.
Another benefit of this plugin is the option to activate and deactivate individual blocks. To do this, head to Dashboard -> Settings -> Stackable -> Enable & Disable Blocks.
Plugin Stats:
Downloads: 20,000+
Rating: 4.9/5
Notable features: blocks manager, SEO friendly
Best suited for: bloggers and marketers
Price: free
Ultimate Blocks solely focuses on bloggers and marketers, as it adds 20 blocks and features to increase the website's engagement.
Some of the blocks to improve the site's SEO and engagement are Review, How To, and Content Filter.
There is a block manager feature to activate and deactivate certain blocks. Head to Dashboard -> Ultimate Blocks -> Manage the Blocks to change the settings.
Besides, there is an active Ultimate Blocks community with over 138 members to support one another and a contact form on Dashboard -> Ultimate Blocks -> Contact Us, so getting help won't be a problem.
Plugin Stats:
Downloads: 100,000+
Rating: 5/5
Notable features: custom editing section, blocks manager, pre-built sections
Best suited for: any website
Price: freemium
Kadence Blocks offer tools to create complex layouts in blog posts or pages with controls over the columns, rows, and spacing.
Each block has a complete custom editing section. Click on the Kadence Blocks logo next to the Settings icon to change the color palette, block defaults, and editor width. The Settings icon helps change position, outline, color, image size, and opacity with ease.
Kadence Blocks has a free option with 15 blocks and 32 pre-built sections. Kandace Blocks Pro offers six additional blocks, premium support, and scroll animation for $59/year.
The Row Layout block will also have a gallery of pre-built sections. Another unique block is the Countdown plugin that urges visitors to do certain things.
Plugin Stats:
Downloads: 100,000+
Rating: 4.8/5
Notable features: default block setting, pre-built sections, blocks manager
Best suited for: blogs and small businesses
Price: free
Gutenberg Blocks and Template Library by Otter known as Otter Blocks, is a lightweight free plugin that adds 19 new blocks.
The plugin offers a great customization option to change color, border, typography and add animation to each block.
There are 51 pre-built sections to create content faster by using the Section block and clicking on the Template Library.
Adjust the default block setting by clicking on the Otter Blocks logo on the right corner of the header, then clicking on Global Defaults. There's an option to change the default color, typography, and spacing of each block.
This plugin also offers unique blocks like Plugin Card to add plugin statistics and Circle Counter to show progress.
Plugin Stats:
Downloads: 400,000+
Rating: 4.4/5
Notable features: responsive margin and padding settings, open-source plugin
Best suited for: restaurants and small businesses
Price: free
CoBlocks is a free plugin that adds a flexible page-building experience to the block editor.
There are features unique to the plugin, including customizing using drag-to-resize on the Row layout block. To do so, click on the Settings icon, and choose Custom under the Gutter section.
The plugin also has a typography control panel that customizes all of the content blocks.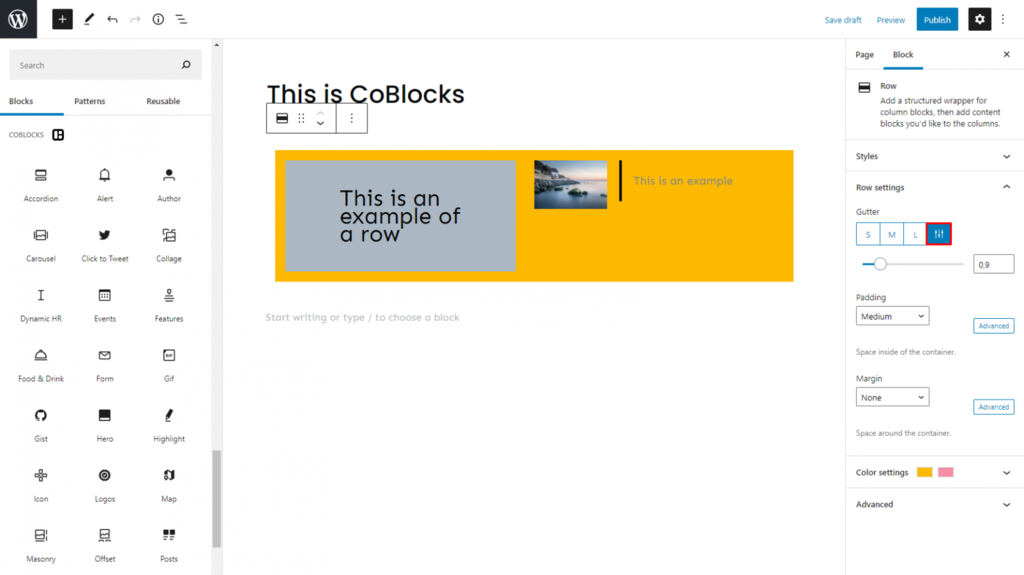 CoBlocks adds 29 new layouts, but it is also an open-source plugin that allows outside developers to contribute. Some of the notable blocks are Gist from GitHub and Gif from GIPHY.
Conclusion
We have gone over how to optimize your site using the new WordPress block editor.
We have also offered the best block plugins to support your site. Here are our suggestions for the affordable WordPress plugins with the most features, suitable for various website types:
Ultimate Addons – a great range of blocks and a collection of pre-built templates to create and edit content elements in the most straightforward way.
PublishPress – a lot of control over the access and default settings of each block.
Ultimate Blocks – focusing on SEO and engagement, this plugin supports your blog post or site to get a higher ranking on search results.
Otter Blocks – makes it easy to change the colors and typography of each block.
Now, go ahead and take advantage of all the WordPress blocks benefits. If you still don't have your WordPress site – no time like the present to create one.
Good luck, and don't forget to mention your favorite block plugin in the comment section below.