27 Profitable Online Business Ideas to Start in 2022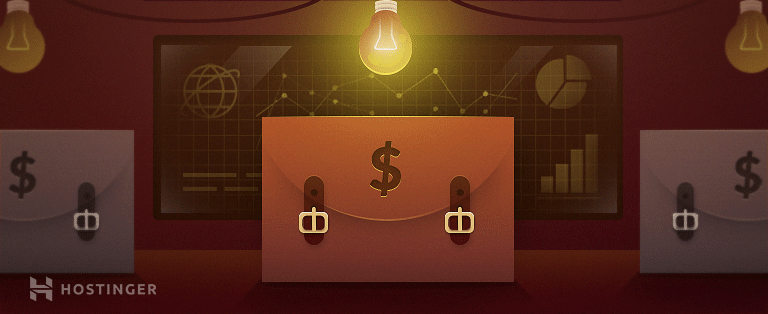 If you're considering starting a small business online, now is the right time – eRetail revenues are projected to grow to $6.5 trillion in 2022.
This shows the number of people that prefer to shop online is steadily increasing. This is an excellent opportunity for more eCommerce businesses to open up online.
However, your success in making money online depends on your idea. And if you don't have one yet, don't worry. This article will list the best online business ideas for you to consider.
Why Start an Online Business?
Here are some of the reasons people decide to start an online business:
The popularity of buying and selling on the internet. While online shopping has been around for years, the pandemic has made it a more common practice.
Flexible office hours and location. An online business owner can work from anywhere at any time. This way, you can make more time for your personal life.
Low setup costs. Unlike a brick-and-mortar operation, there's no need to rent a physical storefront to start an online business. As a result, the ongoing expenses are usually much more affordable.
Wide audience reach. Online business owners don't have to cater to the local market's demands to succeed. They can sell their product or service to customers around the world.
Passive income streams. Monetization methods like affiliate marketing and online ad displays make it possible to make money with minimal effort.
Keep in mind that despite these advantages, starting an online business requires plenty of effort and time to succeed.
To increase the chances of success, consider picking an idea that suits your skills and interests. Having some prior knowledge about the field can make for easier business management.
With that in mind, here are some of the best online business ideas you can start out with:
1. Become a Freelancer
Estimated Income: the average freelancing rate is $21/hour, though the number can vary by industry and location
Requirements: skills and experience in a particular field
With the rise of the gig economy, many people now consider freelancing a viable alternative to the 9-to-5 grind. In fact, 75% of freelancers reported that their income increased after making this career shift.
Those with some prior work experience can leverage the expertise and network they've built to establish a professional brand. Any line of work will do, though web development, graphic design, and writing are the most in-demand.
Since the freelancing market has become more competitive, you must develop a unique selling point to set yourself apart. One way to do this is by defining your ideal clients, like freelance writer Elise Dopson, who focuses on B2B and SaaS companies.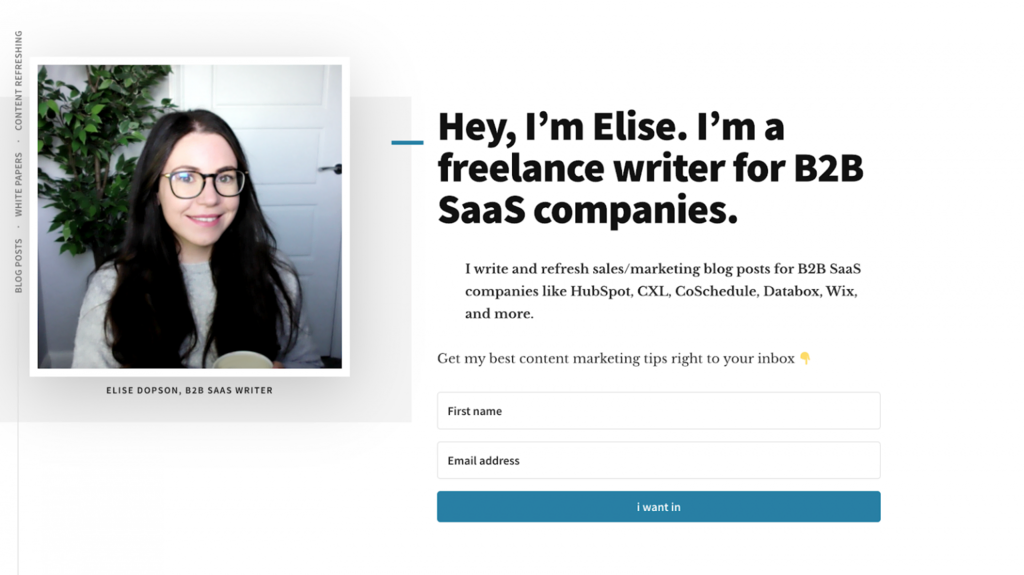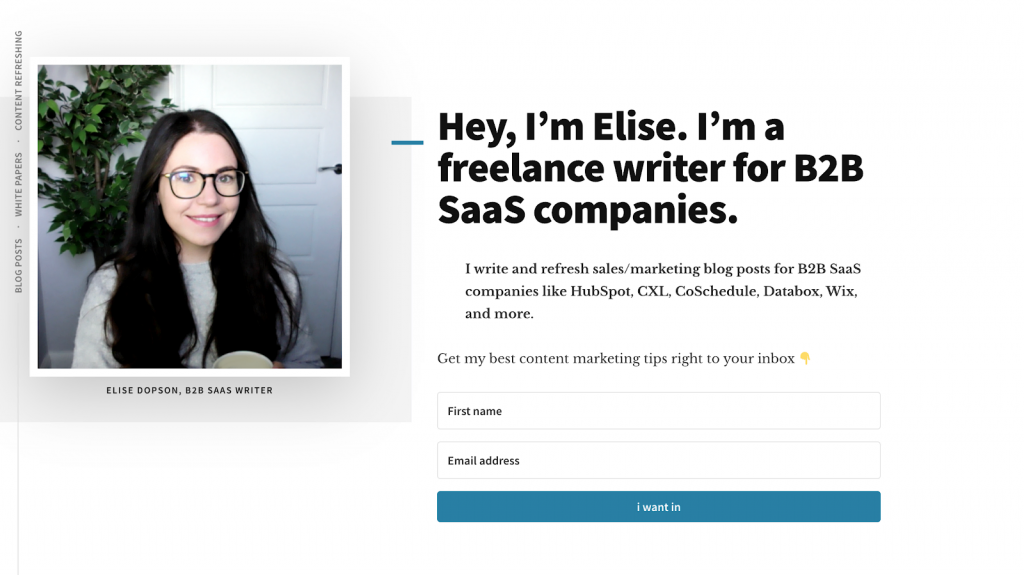 Freelancers usually create a website to promote their services online. We also recommend signing up on sites like Fiverr and creating a LinkedIn profile to increase your visibility.
2. Start a Blog
Estimated Income: $100-$10,000+/month, depending on blog operational expenses and monetization channels
Requirements: writing, content marketing, and SEO skills
Starting a blog is one of the most profitable online business ideas on this list. Many six-figure entrepreneurs, like Pat Flynn, began by blogging about their skills and knowledge to a small audience.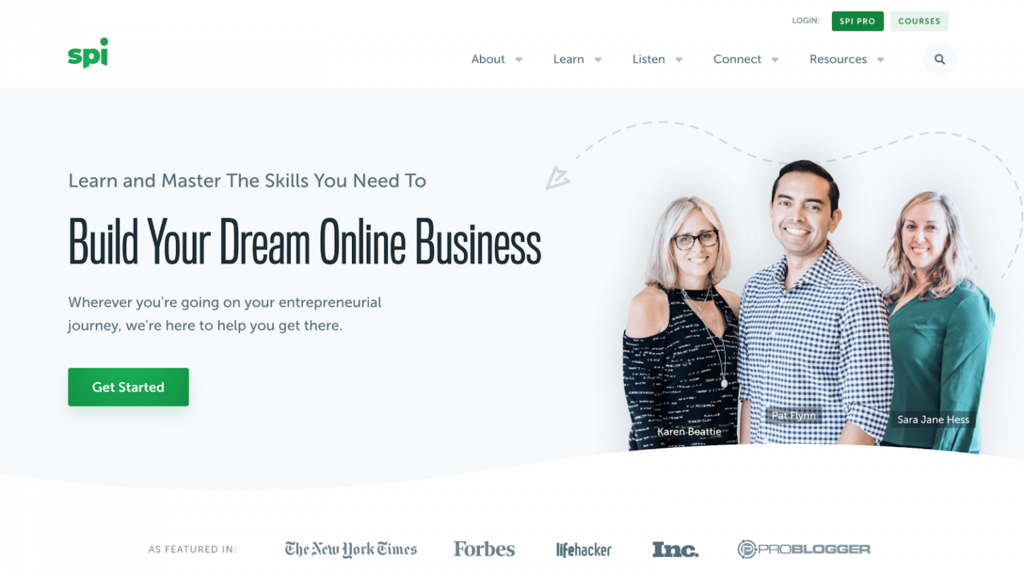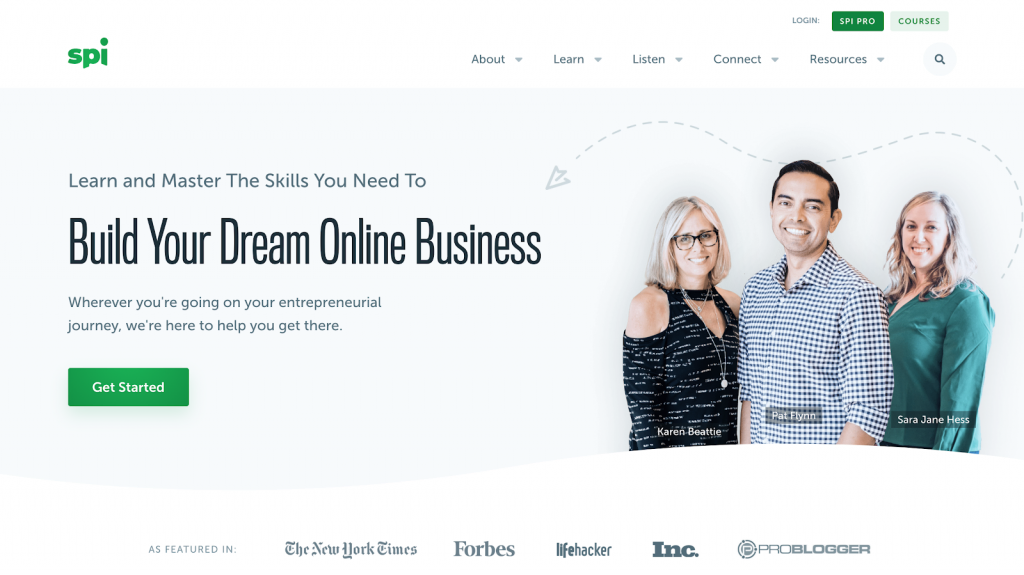 In truth, creating a successful blog is more than just about sharing your thoughts on a subject. As you get started, remember to focus on the following elements:
Niche. It's easiest to grow your website if you're focusing on a specific theme. Check out some blog ideas to get you started.
Content quality. The more valuable the information being offered to the audience, the more likely they are to become loyal readers. Not to mention, the blog will have better chances of ranking higher on search engines.
Traffic size. Bloggers with a high visitor volume usually have better chances at attracting potential business partners and selling their own products or services.
Monetization options. Diversifying the blog income streams will make it easier to maximize profits. Standard methods include affiliate marketing, Google Ads, and sponsored content.
3. Self-Publish an eBook
Estimated Income: depending on the platform, you can get 35%-75% of royalties for each eBook sold. Bear in mind that book production expenses can range between $100 and $6000
Requirements: creative writing skills
Thanks to the internet, becoming an author no longer requires sending a manuscript to a publisher. It's now possible to sell eBooks using a personal website or self-publishing sites, like Amazon KDP.
If you're a blogger, eBooks are great for combining existing content into one comprehensive guide. That's what Elna Cain does with her long-form articles. To add more value to the product, she inserts some printable worksheets.
However, self-publishing sites offer the benefit of a pre-acquired audience, though you won't be able to claim the eBook's total earnings. As such, many writers create a site as an additional monetization channel to maximize their income.
4. Launch an Online Store
Estimated Income: $1000-$100,000+/year, depending on the market size as well as eCommerce store and operational expenses
Requirements: business management, digital marketing, and site maintenance skills
Creating an online store is one of the most rewarding internet business ideas you can try. With the right strategy, you can become the next person to launch a multi-million dollar brand.
The range of products and services to offer is endless. To sell a guaranteed bestseller, consider checking out what products are trending.
Alternatively, try tapping into a micro-niche. It may have low traffic at first, but this also comes with low competition and considerable growth potential.
An excellent example of a successful micro-niche business is Neuro, a caffeinated gum and mint company. The founders created the product to make a healthier alternative to energy drinks and coffee.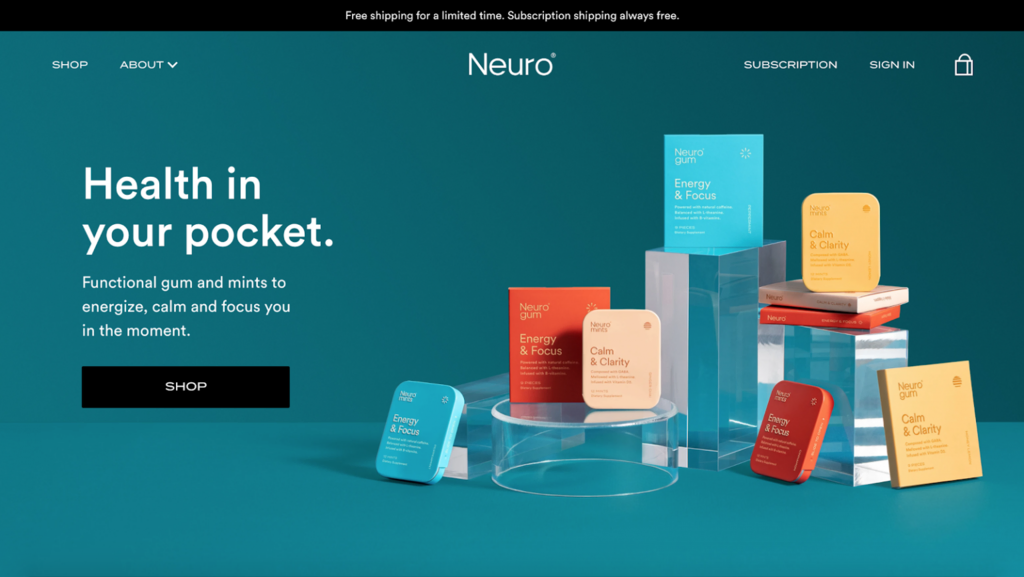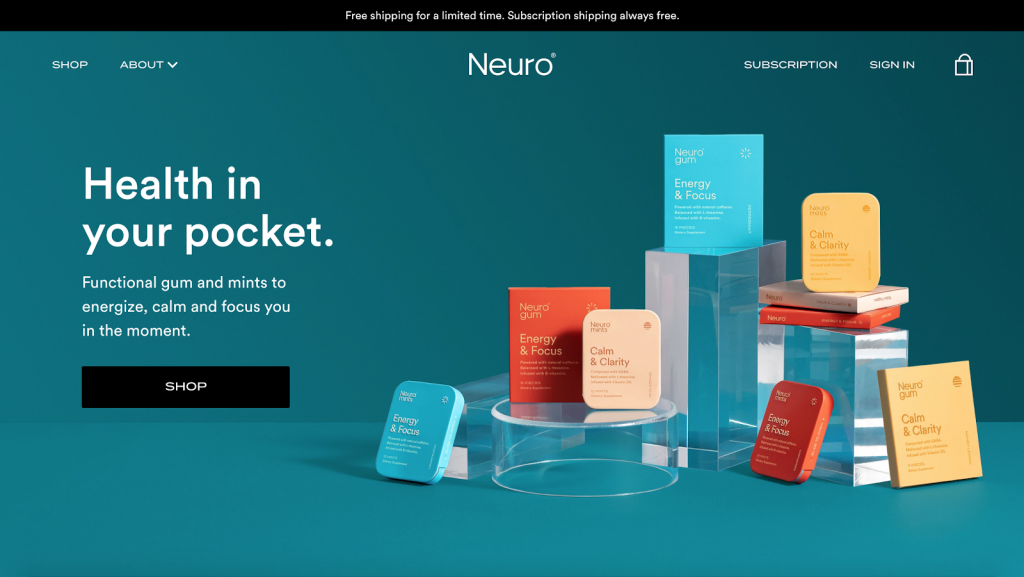 Besides displaying products on your eCommerce site, consider selling on social media sites, like Facebook or Instagram. Diversifying the sales channels can widen the audience reach, which can lead to increased revenue.
5. Start a Dropshipping Business
Estimated Income: $200-$3000/month; the income may vary depending on the online store and market sizes
Requirements: business management, digital marketing, and site maintenance skills
In a dropshipping business model, you will partner with a supplier to sell their products on your platform. The vendor handles the items' storing and shipping, while the seller focuses on marketing the goods to customers.
Since there's no need to deal with inventory management, the startup capital is usually much lower. The average cost of setting up a dropshipping site is $150, which includes a web hosting service, domain name, and membership at a supplier directory, like Spocket.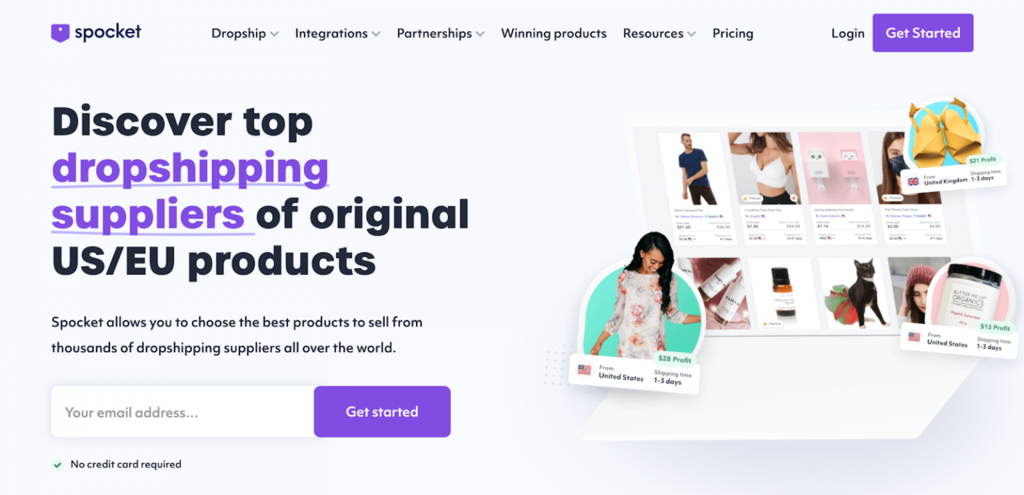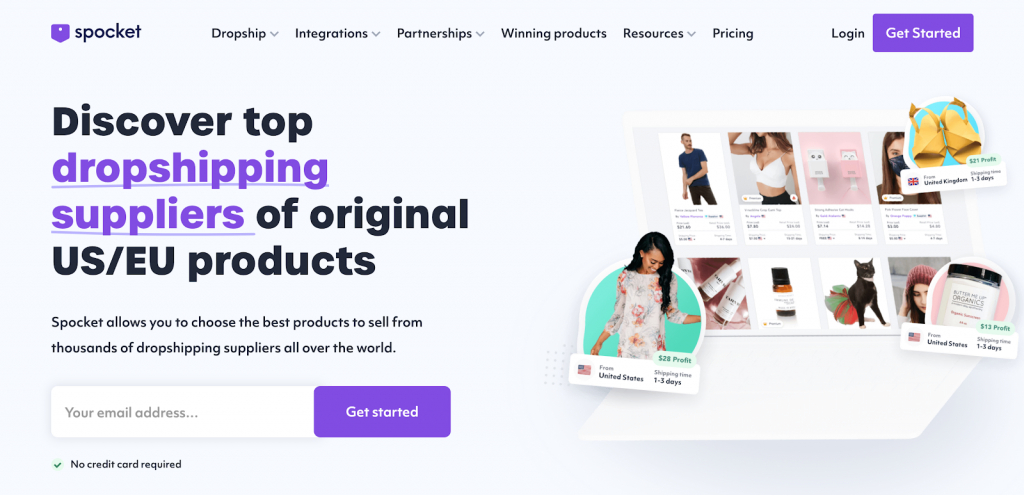 That said, keep in mind it won't be possible to see the product quality or monitor the shipping process in real-time. To avoid any issues, we recommend vetting the suppliers first before working with them.
6. Flip and Sell Thrifted Goods
Estimated Income: $50-$5000+/month; the cost to flip goods can cost anywhere from $0-$1000+/item
Requirements: business management and negotiation skills
If you're looking for an affordable online business idea, consider reselling secondhand goods for profit:
Look for unused items of decent quality around your household
Purchase free or affordable pre-owned goods from thrift stores, flea markets, or websites, like Craigslist or Facebook Marketplace
Once you have the items to sell, figure out their market value to determine a fair price. One way to do this is by researching how much similar products of comparable quality sell for.
In some cases, it may be necessary to repair or recycle the item into something else to increase its value. As such, some basic handyman skills can be convenient, though not a prerequisite.
For more small businesses gone large inspiration, check out Flea Market Flipper. This site offers a comprehensive course on how to make flipping items a full-time gig.
7. Sell Handmade Goods
Estimated Income: according to Recruiter, the average salary within this industry is $30,000+/year
Requirements: artisanal or crafting skills
The internet has made it easier for artisans to turn their craftsmanship into a money-making business.
Unlike merchants that partner with suppliers, you have the upper hand in selling one-of-a-kind goods that customers can't find anywhere else. As such, it's possible to charge higher prices for the crafts.
If you need examples of successful artists selling their work online, check out Bridget Bodenham's eCommerce store.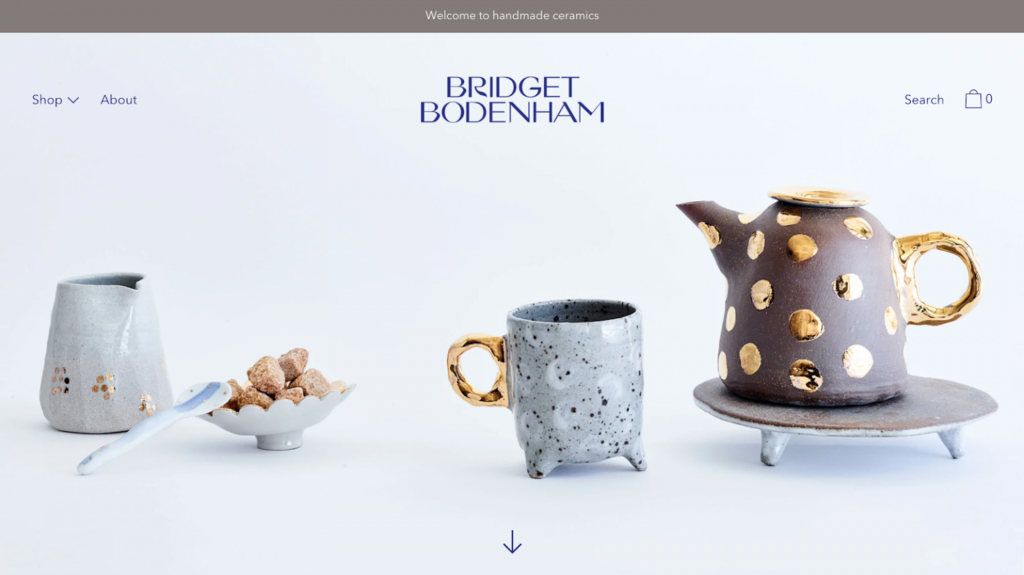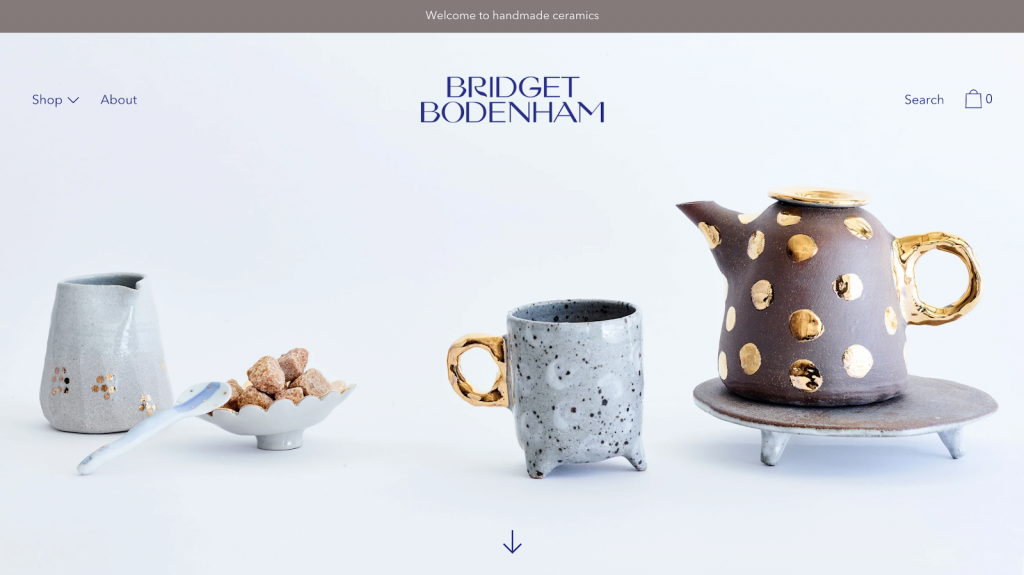 Another way to sell handmade goods online is by using Etsy. With over 60 million buyers, this platform can make it easy to target your ideal customers. That said, be prepared to compete against fellow merchants for users' attention.
8. Sell Prints
Estimated Income: sellers typically charge 10%-20% on top of the total production cost to price each print
Requirements: visual artistic skills, such as photography, graphic design, or fine arts
Selling prints is one of the best online business ideas for visual artists. Aside from making money, it also provides fans a chance to display your work in their homes.
One of the easiest ways to sell prints is by creating an online store and signing up with an on-demand printing service, like Printful. This option allows you to make more artwork and concentrate on marketing the business while taking care of the fulfillment and the shipping.
Some businesses also sell full-size digital files of their prints, like A Beautiful Mess. That way, customers can take care of the printing and framing themselves.
9. Launch a Subscription Box
Estimated Income: based on Starter Story's reports, the revenue can range from $6000 to $400,000+/month
Requirements: business management, digital marketing, and site maintenance skills
A subscription box service is a business model that delivers a package of products periodically to customers, like Dollar Shave Club.
These services have gained more traction in recent years. Reports reveal that 54% of online shoppers are subscribed to at least one subscription box service, usually for reasons like personalized experience and convenience.
The main benefit of running a subscription box service is that the merchant can gain recurring income and foster a long-term relationship with customers. That said, succeeding in this online business requires a product that people are willing to pay for repeatedly.
A good example is Butcher Box. This subscription service delivers various kinds of meat, a grocery staple for many households. The brand uses its organic sourcing as its unique selling point to provide customers with more value when purchasing their products.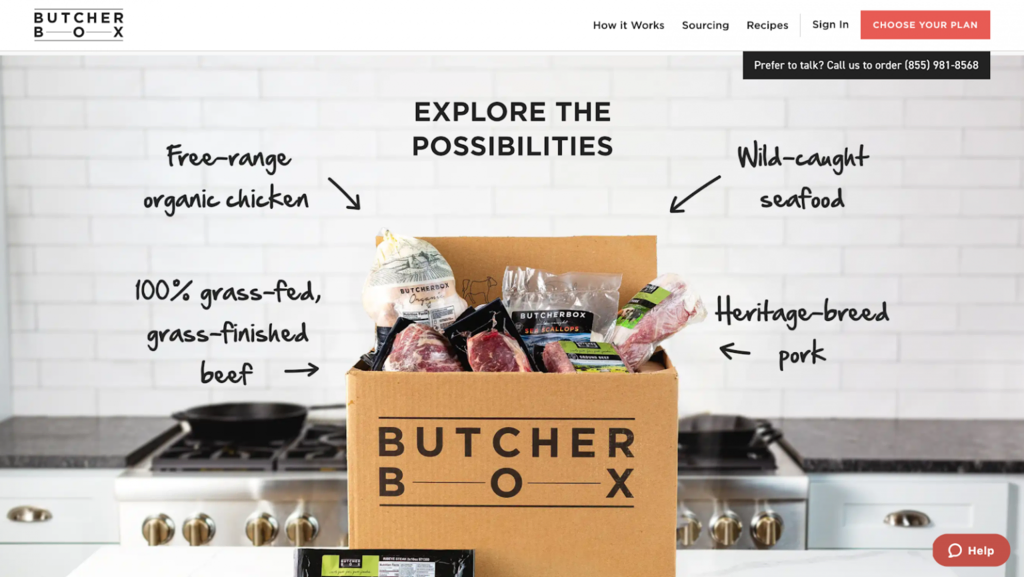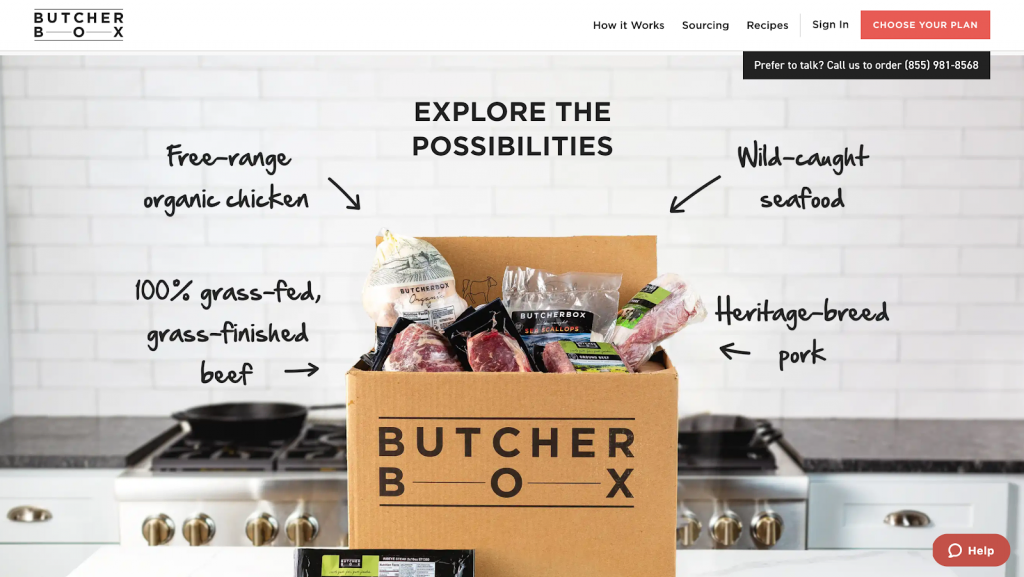 10. Start a Consulting Business
Estimated Income: $60-$400+/hour, depending on the industry and skillset
Requirements: skills and experience in a particular field
This is another great online business idea for people who have advanced knowledge in a particular field. The job here is to help people resolve their company's problems – whether they're related to marketing, operations, or HR.
The challenge with a consulting business is finding clients, especially when you first start. If you want to have a large pool of prospects, consultant Kate Bagoy recommends focusing on generating leads through LinkedIn and cold email pitches during the first six months.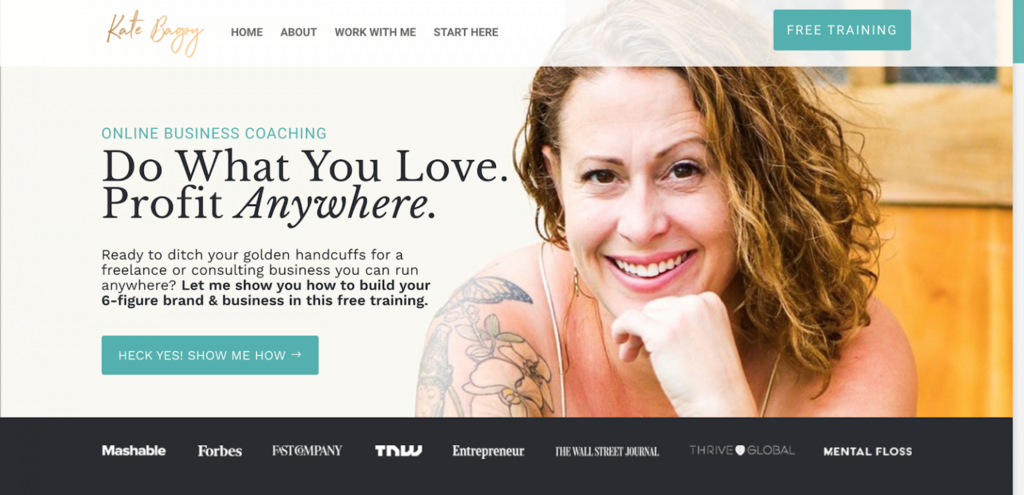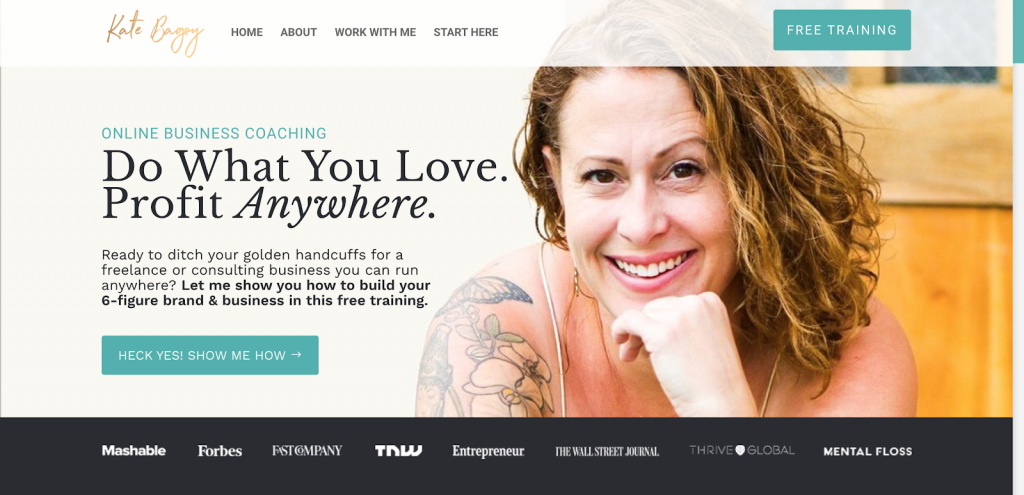 11. Become an Affiliate Marketer
Estimated Income: $300-$10,000+/day, depending on the affiliate program and niche
Requirements: content marketing skills
Affiliate marketing is one of the most affordable online business ideas to start with. What you'll have to do is:
Promote a brand's products or services through your content
Include a link to redirect users to the affiliate eCommerce store
Usually, the marketer will receive a commission every time someone clicks on the link and makes a purchase.
One way to get started with this internet business venture is to create a blog focusing on product recommendations. An excellent example is Baby Gear Lab, a site dedicated to baby essentials.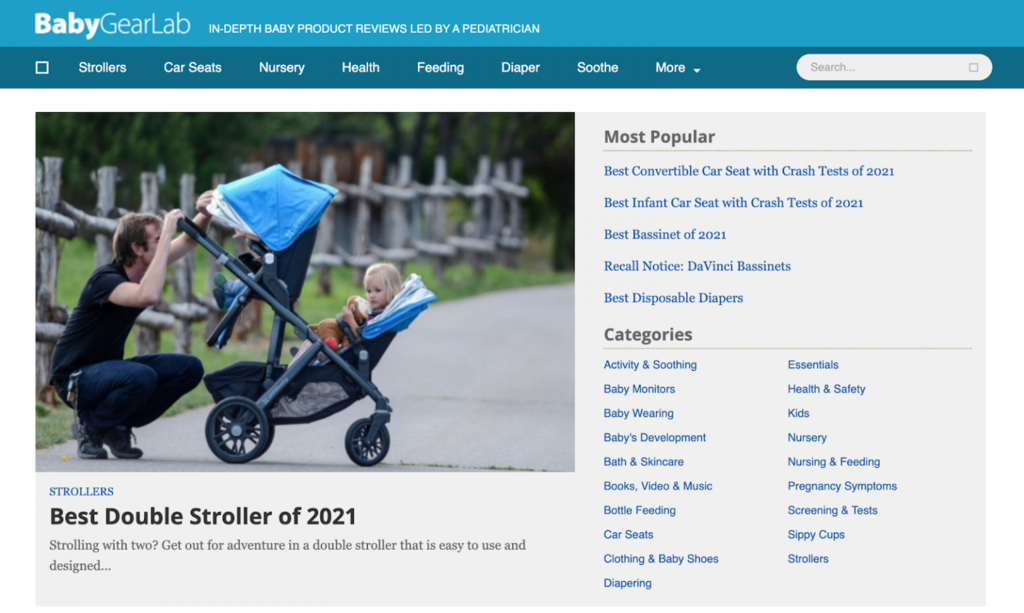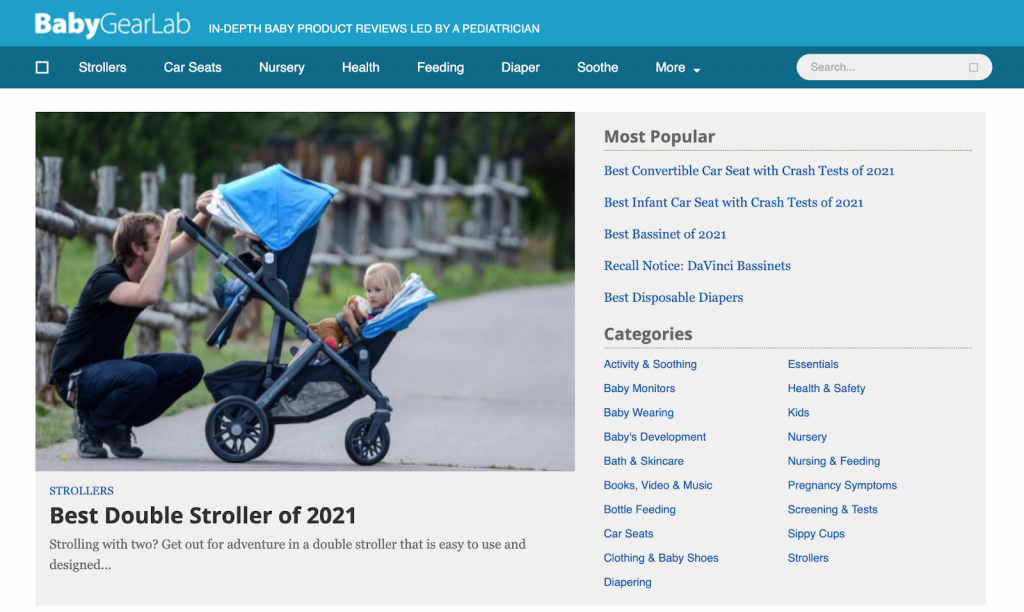 To find products to review, sign up on affiliate programs, like Amazon Associates, Skimlinks, or Hostinger Affiliates.
12. Flip and Sell Websites
Estimated Income: $10,000-$100,000+/year
Requirements: web development, web design, SEO, and digital marketing skills
Website flipping is a slower money-making scheme compared to other ideas on the list. However, like Yaro Starak, many entrepreneurs manage to generate hundreds of thousands of dollars with this type of business.
The process usually starts with purchasing underperforming sites or online businesses with potential. Sites like Flippa have tons of them sold and auctioned for a low price.
Once the deal comes through, begin working on the website improvements. Typically, you need to increase the website's value by tweaking its SEO settings, fixing the site functionality, and figuring out the most effective monetization methods to begin making money.
The website should generate a significant amount of traffic and revenue before being put up for sale. Buyers are usually willing to pay a lot more for a site that shows good profitability.
To price the site, calculate its annual income and increase the total by two to three times. For instance, if an online store makes $1200/year, the price can range from $2400 to $3600.
13. Buy and Sell Domain Names
Estimated Income: $1000-$10,000+/domain
Requirements: digital marketing skills
With the right strategy, buying and selling domain names can be one of the most profitable online business ideas. These properties can sell for up to millions of dollars, especially if they're in high demand.
Unfortunately, domains with such criteria are often unavailable. That's why many flippers often target names with a local keyword, like jobsinlondon.com, which usually has less competition.
To get started, look for affordable domains on a domain checker or auction websites, like Sedo. Consider purchasing multiple names at once to increase the sales prospects.
The next step is to look for buyers, which can be done by creating a landing page on the domain name or sending email pitches to potentially interested parties.
14. Design Website Themes
Estimated Income: $5-$200+/theme license for each theme sold
Requirements: other than skills in web design and front-end development, it's good to be familiar with CMSs, like WordPress
Selling site themes is an excellent online business idea for web designers looking to earn money on the side. As more people launch their own websites, the demand for beautiful and easy-to-use pre-made designs also increases.
To boost a theme's value, consider including regular updates and priority support into the package. Alternatively, provide a custom theme service. Online businesses are usually willing to pay thousands of dollars for a one-of-a-kind design.
Sell the theme on your own website or list it on a marketplace, like TemplateMonster. The latter option offers more exposure, though they charge selling fees.
15. Develop Apps
Estimated Income: According to Codementor, the average salary is $61-$80/hour
Requirements: Skills in app development, UI/UX design, product management
If you have a concept that can translate well into a mobile app, consider this business idea. Nowadays, people turn to apps to solve various problems – from increasing productivity to maintaining mindfulness.
Those who don't have experience in app development can look for relevant online learning platforms, like Treehouse. It's also possible to use software like AppyPie to become an app developer without any coding knowledge.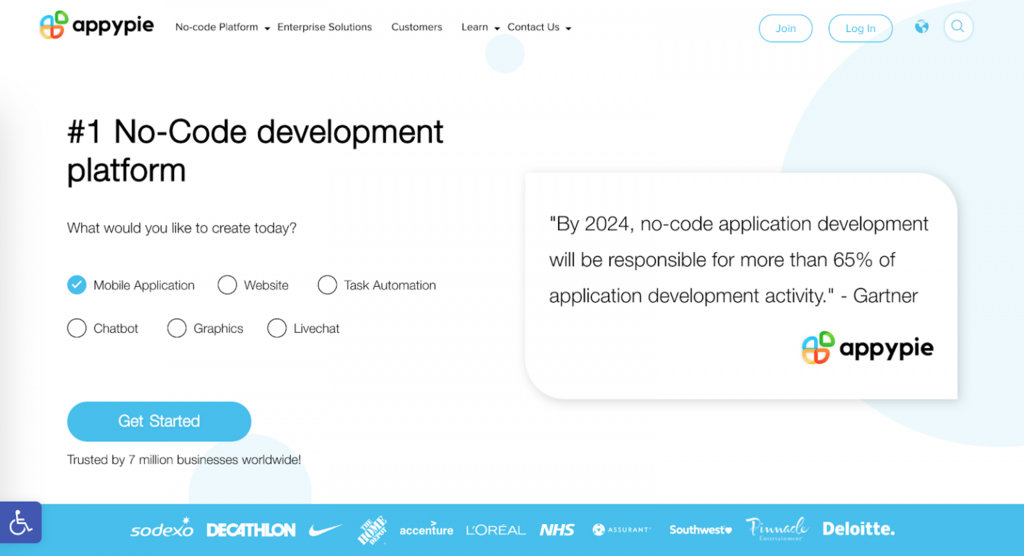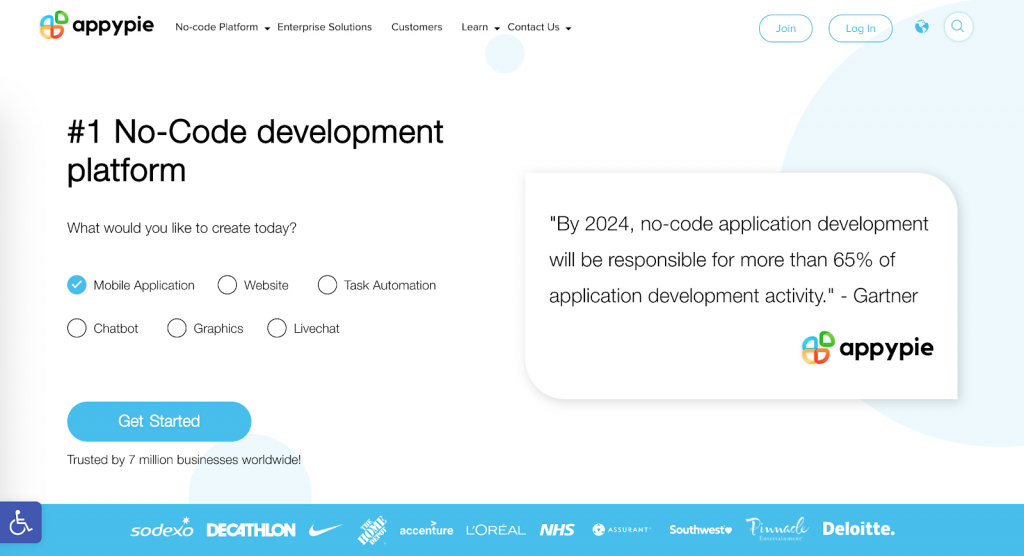 Some ways to make money as an app developer include displaying ads and charging in-app purchases. Alternatively, it's possible to sell the app on marketplaces like Flippa.
16. Offer Social Media Marketing Services
Estimated Income: $15-$80/hour, depending on expertise and years of experience
Requirements: content marketing skills and familiarity with social media trends
This is a great online business idea for those with a strong social media presence. Many small businesses need an expert marketer to reach users within the social media landscape, especially if they target a younger demographic.
The job is to leverage any social media marketing techniques available to boost a brand's visibility, build followers, and foster audience engagement. These may include content creation, social listening, and influencer marketing.
Besides using your own social media profile, consider creating a portfolio site or a blog to market your services, like Nadine from The Social Shells.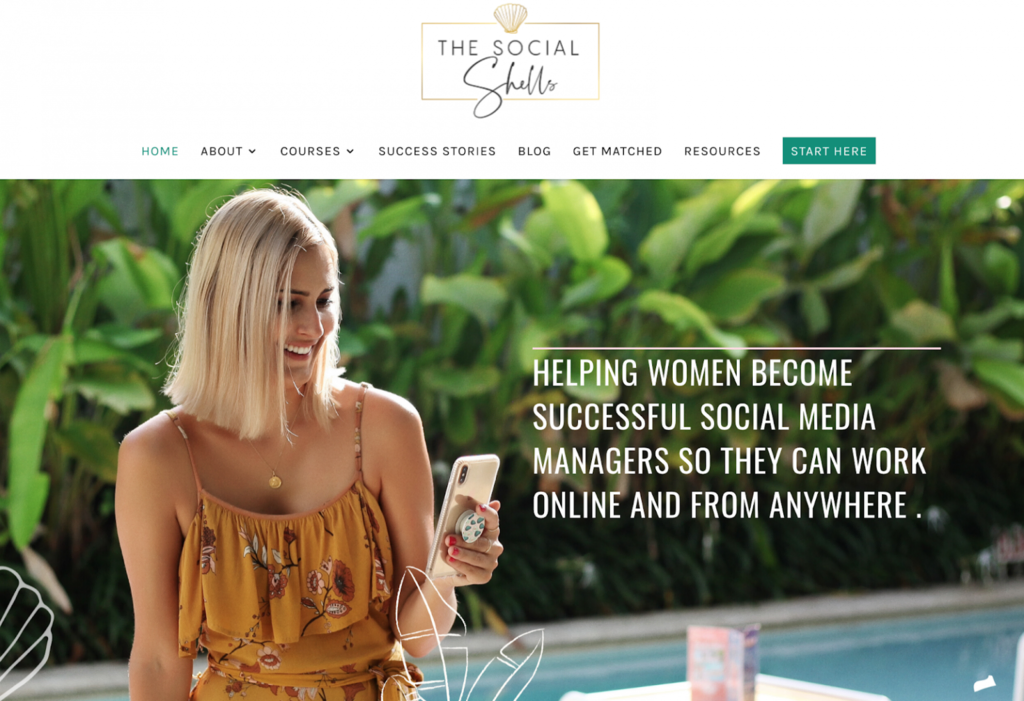 17. Work as an SEO Consultant
Estimated Income: according to Ahrefs, the average rate is $68/hour
Requirements: on-page, off-page, and technical search engine optimization skills
SEO has become one of the most critical success factors for online businesses. It's a cost-effective way to not only raise brand awareness but also generate high-quality traffic.
SEO consultants advise clients on how to optimize their websites for search engines. Since the job market is competitive, consider choosing a specialization or customer segment to target. Doing so can make you the go-to person for specific services.
Finally, remember to stay on top of the latest Google search algorithm updates to provide the newest and most relevant information to your clients.
18. Become a Virtual Assistant
Estimated Income: Indeed reports the average salary is $19/hour
Requirements: administration and digital marketing skills
A virtual assistant is an individual that helps business owners or entrepreneurs with clerical assignments, like scheduling appointments and replying to inquiries.
In some cases, virtual assistants also offer marketing support, such as formatting email newsletters and managing social media accounts. According to The Penny Hoarder, such a skill set can increase the hourly rate to up to $60/hour.
To start a business as a virtual assistant, look for jobs at portals, like Fiverr and Upwork. Additionally, create a website to market your services like Virtual Nina Creative.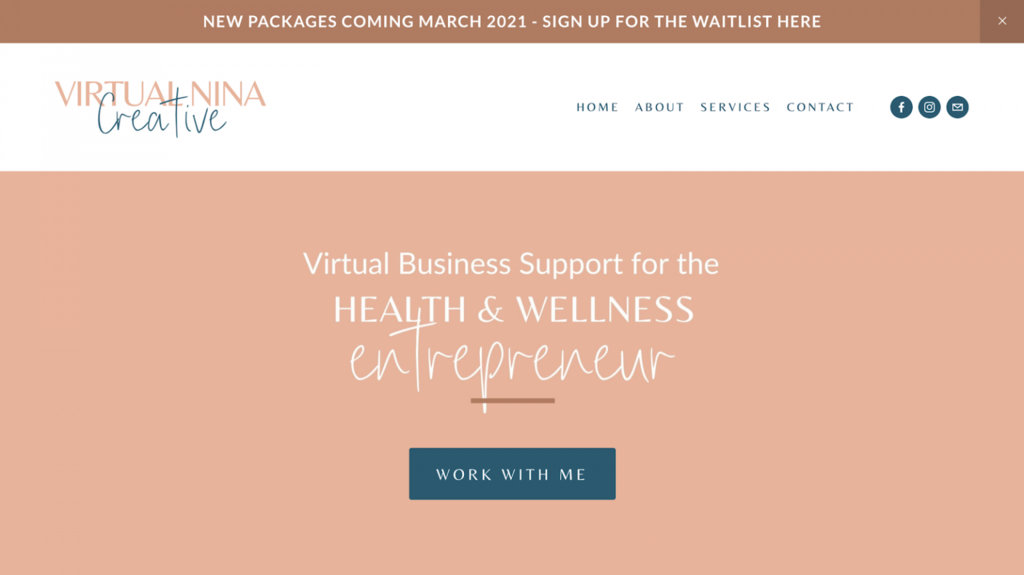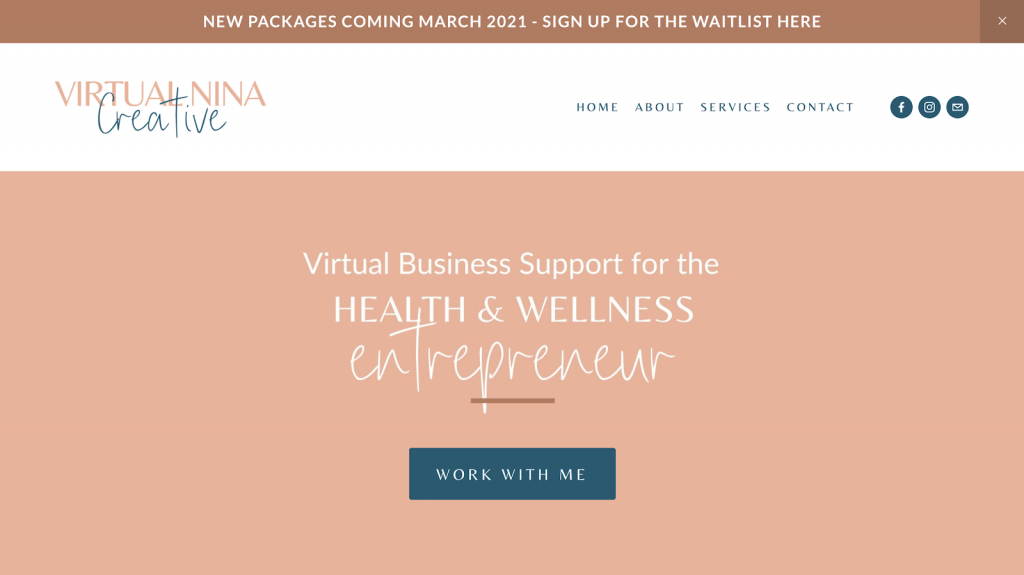 19. Launch a Data Entry Service
Estimated Income: starting from $14/hour
Requirements: average typing speed of 60-90 words/minute and proficiency in data processing software
Data entry is an excellent online business idea for those looking for a side or part-time gig. Many businesses need professionals to document information from various sources, such as daily sales reports or meeting notes, into an organized, digital format.
The faster and more accurate your typing, the more expensive your hourly rate can be. As such, consider taking some typing practice courses before starting a business in this field. Websites like Keybr are good places to check out.
Additionally, it can be a good idea to invest in a numeric keypad to increase your typing speed.
20. Offer Transcription Services
Estimated Income: starting from $5/hour
Requirements: good listening skills, fast typing speed, data processing software proficiency
This online business idea is similar to the previous option. The difference is that you will specialize in transcribing audio files into text documents.
Besides typing speed and accuracy, the niche you pick can affect the number of earnings. Usually, medical transcriptionists have the highest payments, averaging at $26/hour. Be prepared to familiarize yourself with the industry if you want to aim for this rate.
To look for transcription jobs, check out Rev and TranscribeMe.
21. Create an Online Course
Estimated Income: $1000-$50,000+/month, depending on production expenses, online course platform, and the number of students
Requirements: teaching skills and subject matter expertise
This is one of the best online business ideas for those who love sharing their knowledge with others. Many people look for online courses to boost their professional value and spend their free time productively.
Since the online learning market has become saturated, it can be a good idea to pick a unique subject that other programs have yet to tap into.
Crystal Dawn's course on creating raw desserts is an excellent example of this. The topic is specific and caters to a niche market – healthy, plant-based food enthusiasts.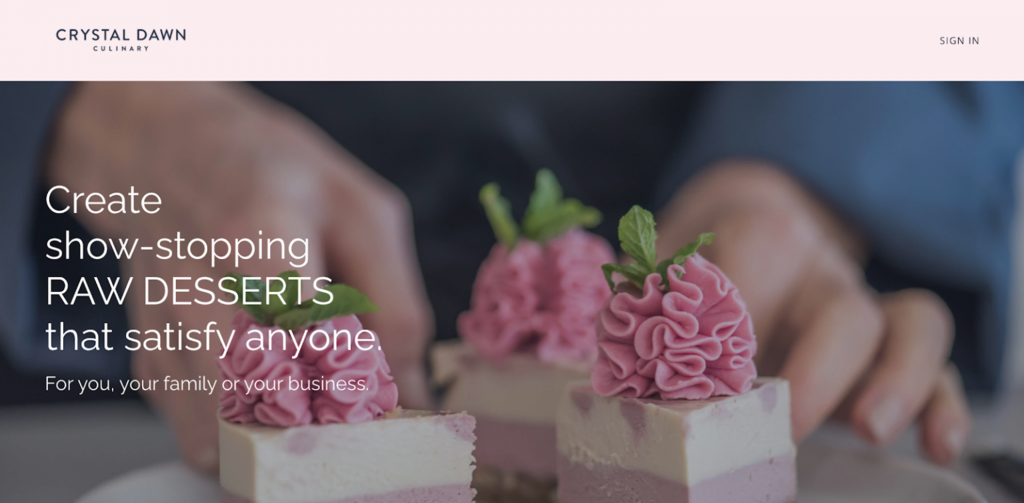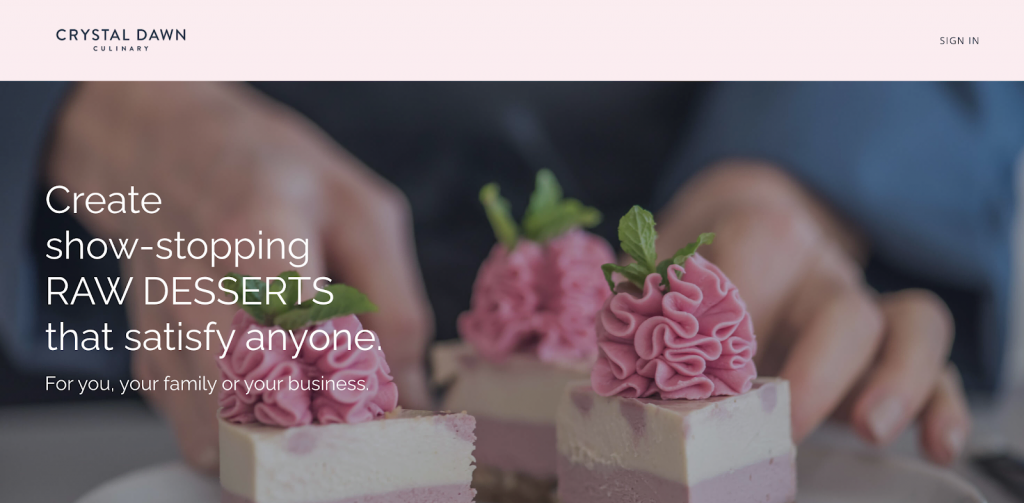 While there is a wide range of hosted course platforms, we recommend creating a website with an LMS extension. That way, you will have full control over the teaching and monetization methods.
22. Tutor Students Online
Estimated Income: the average salary is $17/hour
Requirements: expertise in a school subject or standardized test, as well as teaching skills
Starting a business in online tutoring is another great option for those with teaching experience. With distance learning becoming the new normal, many parents need help with their kids' education.
Sites like Skooli are excellent for finding tutoring jobs. Their built-in user base will make it easy to connect with students looking for your service.
After collecting a sizable pool of clients, create a full-fledged tutoring business using your own website. Should you need some inspiration, this BMAT Crash Course site is an excellent example to look at.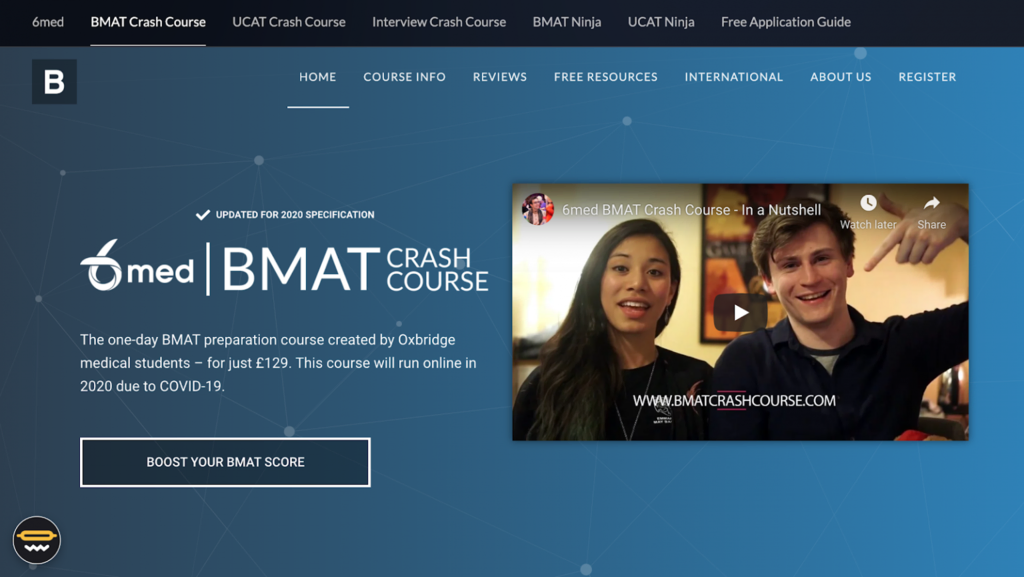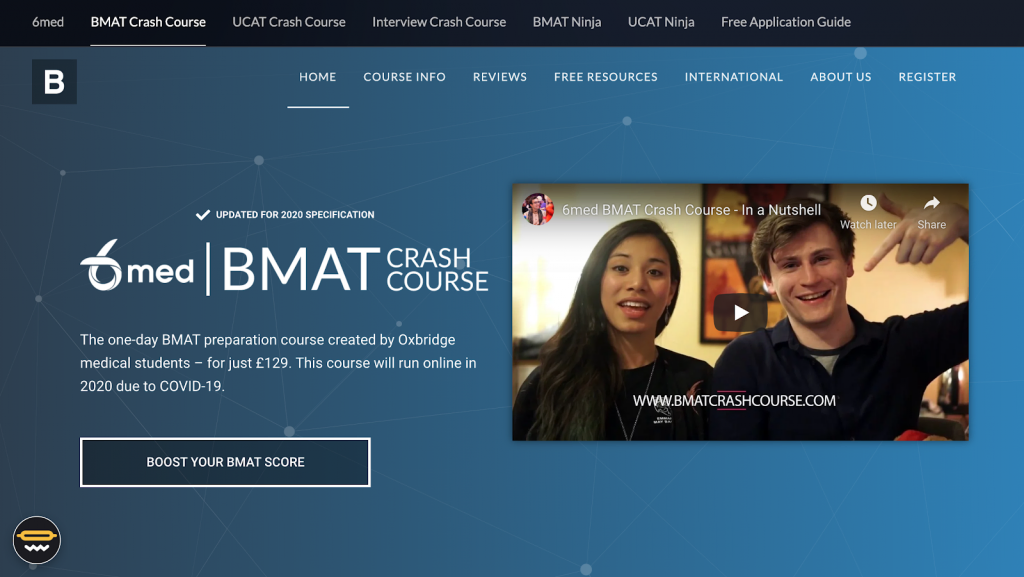 23. Start a Podcast
Estimated Income: $500-$10,000+/month, depending on the monetization channels and number of downloads. The production cost can start from $80 for the audio equipment, recording software, and hosting service included
Requirements: communication, audio editing, and social media management skills
Podcasts have become a popular method of consuming content, particularly among younger generations. As such, many people leverage this window of opportunity to start a business in podcasting.
To make your podcast stand out from the crowd, consider a micro-niche concept. One example is The Pen Addict, which focuses on any pen-related topics. While the scope seems limited, this program has managed to attract a loyal group of enthusiasts.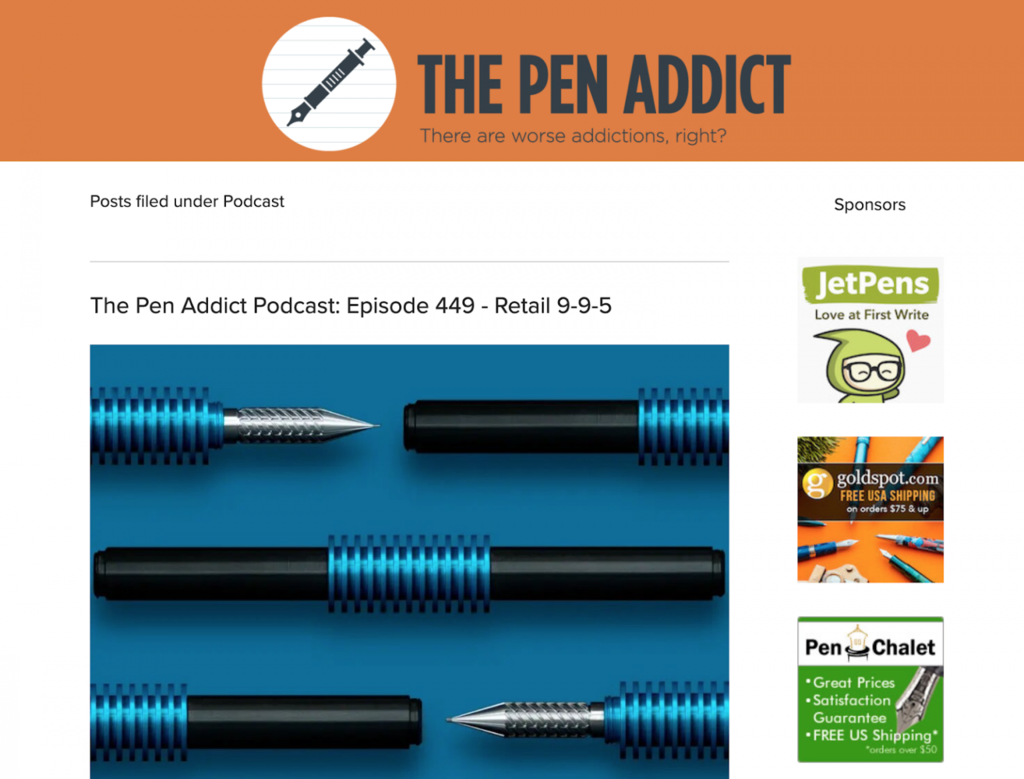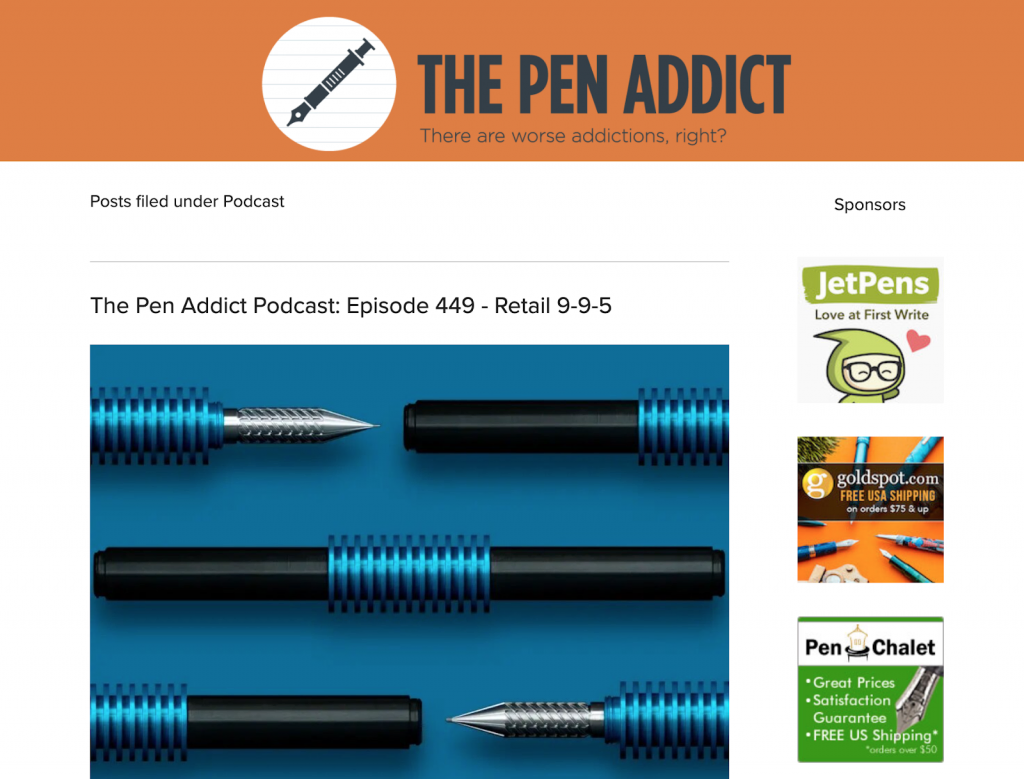 Create a site to host your podcasts, then put them up on Spotify or Apple Music. Don't forget to establish a social media presence to reach potential listeners.
First-time podcasters usually earn money via affiliate marketing. Once their audience has grown, they may consider setting up a Patreon page for crowdfunding or joining an advertising network like Midroll.
24. Launch a YouTube Channel
Estimated Income: $5000/month is the average salary for a YouTuber with one million subscribers
Requirements: communication, video editing, and social media management skills
The rise of YouTubers has made video content creation a viable path for starting an online business. Some channels have also managed to create a six-figure business model out of this video-sharing platform.
There are many types of video content to create, many of which can be done from home. Examples include product reviews, react commentaries, software tutorials, or cooking instructions.
If you decide to become a YouTuber, you should focus on gaining a thousand subscribers and four thousand watch hours during the first few months. This will make you eligible for the YouTube Partner Program. Only then will it be possible to make money from the channel using AdSense.
If you want to earn a full-time income with less than one million subscribers, you can try to do so by Patreon crowdfunding, affiliate marketing, or sponsored content.
25. Write Guest Posts
Estimated Income: from $5 to $2000/blog post, depending on length and quality
Requirements: writing, content marketing, and SEO skills
This internet business idea is excellent for those who want to make money writing online without creating their own blogging site.
The task is to submit articles to a blog that accepts and pays guest writers. In many cases, the website owner may require you to write the post using their name instead of your own.
Many publications, like Business2Community and Writer's Digest, are open to guest post submissions. It's best to pick the ones that use a style and niche you're familiar with to make the writing process easier.
26. Write Resumes and Cover Letters
Estimated Income: between $50 and $300/resume
Requirements: besides writing and personal branding skills, familiarity with the recruitment process and application tracking system will be necessary
With the job market becoming more competitive, people need a person to write the perfect application document on their behalf.
That's where you come in. This online business idea is to write resumes and cover letters for clients seeking new employment. The key is to make their application effective and increase their chances of landing the job.
To build your network, consider conducting pro bono services for your friends and family. Having some projects to show in your portfolio will make it easier to convince clients to work with you.
Additionally, it's good to have a professional certification, such as PARWCC, to boost credibility and increase rates.
27. Become a Technical Writer
Estimated Income: between $400 and $2500/project
Requirements: writing, communication, and research skills
Technical writing mainly deals with making industry-specific ideas easier to understand for a target audience. The copy you will write will typically include user guides, whitepapers, and handbooks.
Becoming a technical writer is one of the most lucrative online business ideas on the list. According to the US Bureau of Labor Statistics, these professionals' demand is growing 7% faster than average. Many businesses need a technical writer for documentation, internal communication, and marketing.
How to Start an Online Business
Now that you have the list of the best online business ideas, it's time to pick one and get started. This section will show you the steps:
1. Choose a Product or Service
The first step to starting an online business is to figure out what kind of products or services you can offer. The following questions can guide your search:
What type of problem do people usually ask you for help with?
What kind of brands do you follow, and why do you like them?
What is an existing product you like but wish you can improve?
After noting down some answers, focus on the ideas that stick out. Ideally, you want to offer a product or service that you can produce without learning about it from scratch.
If you want to sell a product, consider looking into the equipment and components needed to craft it or whether you have access to the businesses that supply it.
For a service, make sure you have the skillset and knowledge vast enough to be desirable by other people.
2. Conduct Market Research
Researching your preferred market will provide insights into whether the products or services are in demand. There are several ways to do it:
Check the trends. Websites like Google Trends and Trend Hunter can reveal what's popular.
Visit eCommerce marketplaces. Their bestseller lists can hint at what consumers are buying online.
Use competitive intelligence software. Platforms like Owler can offer data on existing brands that sell similar products or services.
Open freelancing job portals. These sites usually highlight which professional services are popular.
If the market is competitive, consider looking into gaps within the field. Find out what these businesses have yet to offer and how you can fill in the space to differentiate yourself from other professionals or brands.
3. Create a Business Plan
Now that you know what product or service you want to offer let's create a business plan. Besides serving as a guide for your operations, this document can come in handy for securing funding.
There are several elements to pay attention to in an online business plan:
Business identity. This aspect includes the name and logo. Ensure that they represent your company or professional values and look distinct enough from other brands.
Marketing strategy. This section covers everything about the target market, competitor analysis, pricing models, sales channels, and promotional methods.
Operations plan. It consists of information about inventory management, facilities, and legal requirements. If you sell products, explain how you will produce and deliver the items.
Financial plan. This segment deals with the business's budget, expenses, projections, and milestones to aim for.
4. Legally Register Your Business
Before you can officially start a business, it's good to make sure that you comply with the licensing requirements within your industry and region.
In the US, small businesses are usually registered as a Limited Liability Company (LLC). This business structure will separate personal from company liabilities, which can come in handy in case of bankruptcy or lawsuits.
Meanwhile, solo entrepreneurs often choose sole proprietorship. This business structure doesn't require registration with the government, making it a more affordable option.
5. Sign Up for Web Hosting
Time to create a website for your online business. First, let's choose a web hosting plan that suits your operational needs.
A freelancer usually starts with shared hosting. This type of plan has more than enough resources for a small professional website or an online resume.
Our Business Shared Hosting plan is the perfect solution for this. The unlimited bandwidth and 100GB storage offers plenty of room for the site to scale along with your operations. Plus, it can handle up to 100,000 monthly visits, which is great for when your online business starts to gain traction.
On the other hand, an online store typically requires a more optimized solution to handle tens to hundreds of product pages and other eCommerce content. Some business owners may also need the flexibility to manage the hosting environment in case of traffic surges.
For this, we recommend using our eCommerce hosting plans. Those running a small business can also look into our WooCommerce and PrestaShop subscriptions.
6. Register a Domain Name
When it comes to choosing the right domain, it's best to keep it short and memorable. Longer names are usually harder to remember and difficult to pronounce.
Solo entrepreneurs often use their own name for the domain, while eCommerce business owners will utilize their company name.
Despite this being a common practice, there is always a chance that the name has been taken by someone else. If that's the case, look for alternatives.
One option is to include the type of business you do at the end, such as johnsonconsulting.com or amypalmerseo.com. Be sure to avoid symbols, numbers, and ambiguous characters to maintain the name's readability.
When it comes to the extension, online businesses generally go for .com due to its popularity and commercial purpose. The price for this TLD starts from $8.99/year.
For a more budget-friendly option, consider .xyz or .online, which costs $0.99/year.
Users can register a domain name using our domain checker.
7. Set Up Your Website or Online Store
For this step, let's choose a platform for building your site.
WordPress is a popular option due to its user-friendliness and extensibility, making it perfect for any purpose. However, some basic coding knowledge may be necessary to maximize its capabilities.
For a more beginner-friendly option, we recommend a site builder like Zyro. The drag-and-drop builder allows you to insert and move around elements right on the page, making it easy to visualize the final result.
After choosing a platform, begin customizing your site. Here's a list of steps to complete if you don't know where to start:
Choose an appropriate theme for your business
Set up the web pages, such as Homepage, About Us, Blog, Contact, Privacy Policy, and Terms and Conditions
For an eCommerce site, insert products, enable payment processing, and optimize the checkout procedure
WordPress users can install plugins that suit their business needs
8. Publish and Promote Your Online Business
Finally, let's spread the word about your online business. Consider the tips below to help you get the info out:
Apply the best SEO practices. One way to make a website appear on search engine result pages is to include keywords relevant to your content's products or services. A site's user experience is also a significant ranking factor.
Leverage the right social media channels. Be present on networks your target audience is most active on.
Send cold email pitches. It's a great way to reach potential customers directly via a platform they often use. To get the best results, ensure that the content is concise and personal.
Conclusion
This article has provided you with 27 online business ideas. To make the right decision, be sure to pick an idea that suits your skills, experience, and income expectations. If you'd like to see more website ideas, check out our blog.
Once you've made your pick, all that's left to do is to create a website. With Hostinger, your online business will be in capable hands. Good luck!