How to Start a Food Blog + Tips on Creating Quality Blog Content and Growing Your Blog
If you have a deep passion for food and a desire to share your culinary creations with others, starting a blog can be incredibly rewarding.
With your own food blog, you can showcase your love for cooking, connect with fellow food enthusiasts, inspire others with your food-related content, and make money online.
In this guide, we will provide you with the essential steps and insights on how to start a food blog. From selecting the right platform and hosting provider to creating engaging content and building an audience, we will equip you with the knowledge and tools to kickstart your journey as a food blogger.
How to Start a Food Blog in 5 Easy Steps
There are two major aspects all food bloggers need to take care of before starting a food blogging journey – the technical aspect and the core concept behind the blog.
First, let us walk you through the technical details before you start building your site.
1. Choose a Platform to Build Your Blog
There are various blogging platforms. Here is the blogging platform comparison to help you choose.
Content management system (CMS). WordPress, Drupal, and Joomla offer powerful tools for creating and modifying websites.
Self-coding. This blogging platform involves coding your website from scratch using programming languages such as HTML, CSS, and JavaScript. However, due to its complexity, this option is more suitable for experienced web developers.
Website builders. If you prefer a simple and intuitive approach, Hostinger Website Builder provides a convenient solution. It allows you to design and customize your site using a drag-and-drop interface without requiring any coding knowledge.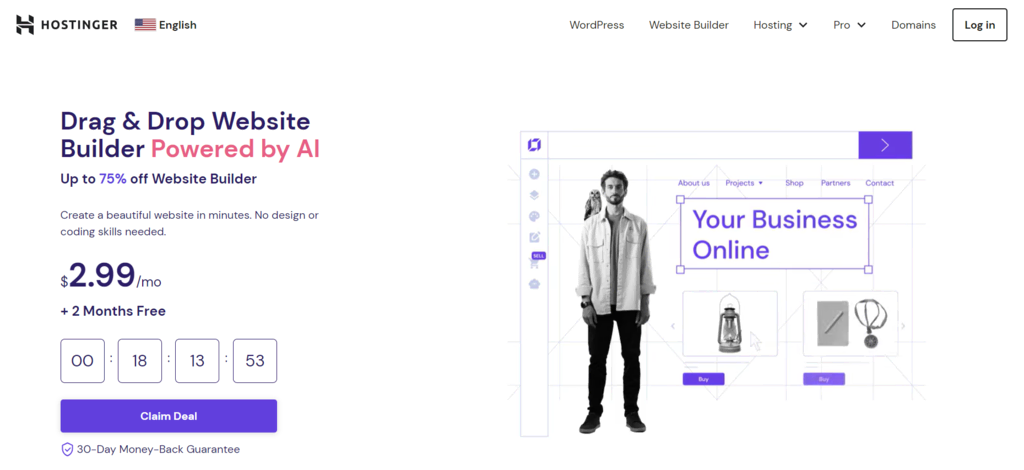 Hostinger Website Builder offers various benefits for starting your food blog:
User-friendly interface. With its drag-and-drop functionality, Hostinger Website Builder makes it easy for beginners to create a visually appealing blog.
AI-powered tools. Hostinger Website Builder provides AI Heatmap, AI Writer, and AI Logo Maker tools to enhance your blogging experience and streamline the process.
Customization options. You can personalize your blog using various templates, layouts, and design elements.


2. Select a Web Hosting Provider + A Domain Name
Web hosting is a service to make your website accessible to people online. A domain name is an address visitors have to enter into their web browser when accessing your website.
First, you need to pick a reliable web host.
When choosing a hosting provider, consider the following:
Ease of use. Find a web hosting service that provides all the necessary tools that make web management tasks much more straightforward.
Price. Before choosing a web hosting plan, make sure that it is worth your money and fits into your budget.
Platform support. Consider whether the web host of your choice supports your blogging platform.
Security. Ensure that the hosting provider has robust security features.
Customer support. Check if your web hosting provider can grant you dedicated and round-the-clock support to help you with any question or problem you may have.
Hostinger has various web hosting plans for your food blog. We provide security features such as free SSL certificates, DDoS protection, Cloudflare-protected nameservers, and a malware scanner. You can also access our AI-powered website builder. Furthermore, our Customer Success team is ready to support you 24/7.


Next, you have to register a domain name. With Hostinger, you get a free domain name with every plan purchase.
Before you choose a domain name, check out these tips below:
Choose the best domain extension. There is a wide variety of domain extensions, such as .net, .org, and .xyz. The most commonly used domain extension is the .com domain.
Make it easy to remember. A good domain name is neither too short nor too long. It is easy to spell and pronounce. If you need ideas, try using a blog name generator.
Include your brand name or niche. A domain name is part of branding for food bloggers. If your site centers around a specific niche, try your best to work it on the blog name. Doing this will also make it easy for people to find you on search engines.
Conduct trademark research. Do proper research to find out if your domain name or brand name is already taken. Avoid names too similar to existing brands.
Avoid hyphens, numbers, and double letters. Doing so will reduce the chances of people mistyping your domain name.
Once you are ready to register your domain name, here is the step-by-step guide:
Check a domain to find out if it is available using a WHOIS Lookup Tool.
Pick your domain name, fill in the required information, and complete the payment process.
Verify your domain ownership through the email used for domain registration.
3. Design Your Blog
An attractive web design that suits your own food blog niche is vital for attracting and keeping readers. While designing a website can be tricky, several features can help you.
For a WordPress blog, you can enhance your blog with themes and plugins. The WordPress theme directory offers various free food blog WordPress themes, while other marketplaces provide premium options for purchase. Some theme developers, like Astra, offer food-specific templates.
Plugins are also an essential part of building a site. The plugin directory provides various options to add specific features to WordPress websites.
We recommend these plugins for food-related blogs:
With Hostinger Website Builder, designing a blog can be easy. Simply type your brand name and describe your site.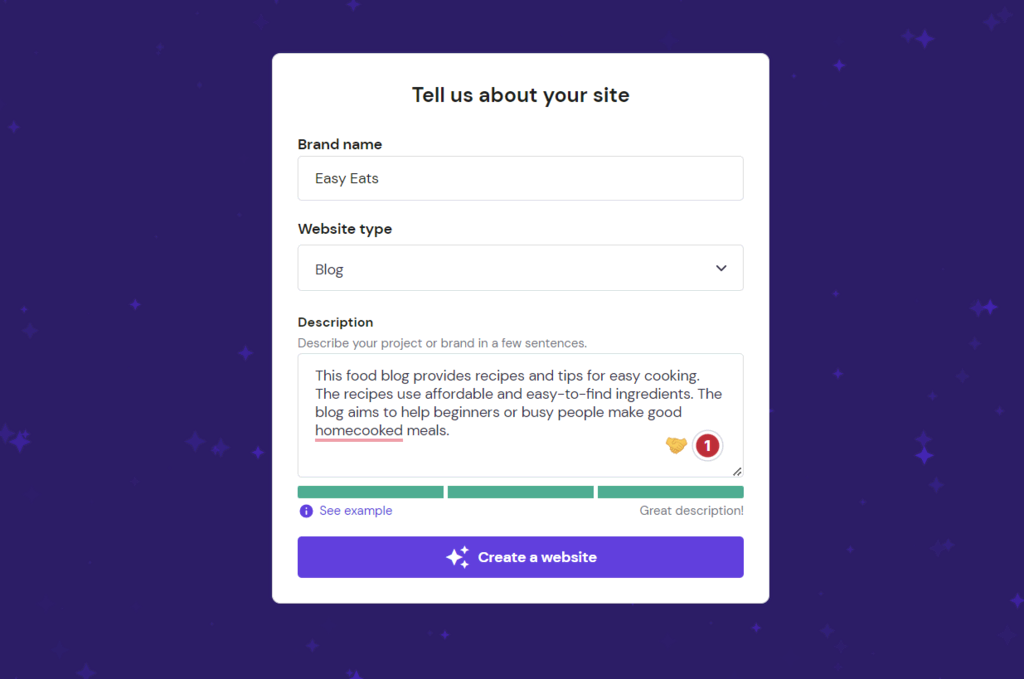 Then, our AI Website Builder will automatically create a customized web design for you. Thus, making your web design process easier and faster.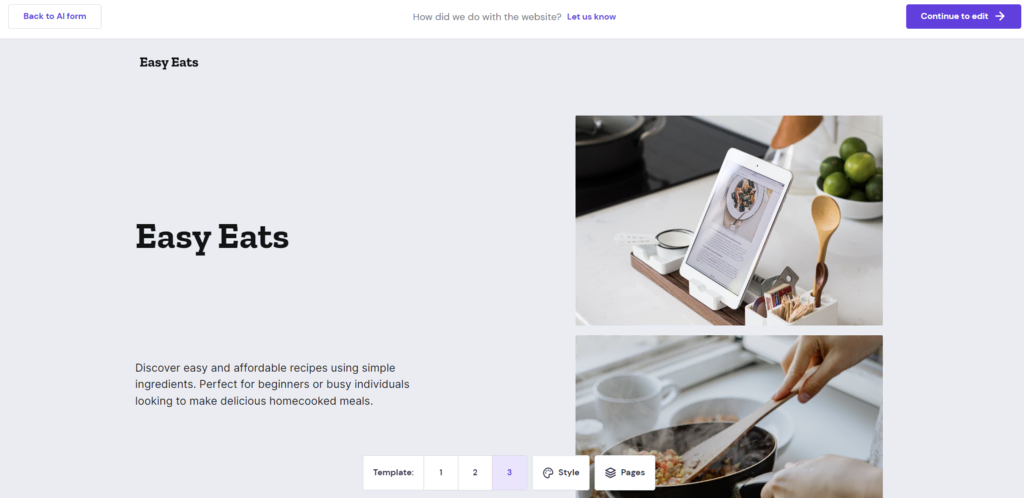 Pro Tip
Use Hostinger AI Logo Maker to make a personalized logo for your food blog design.
4. Market Your Blog
Marketing is crucial for starting a food website. It can attract a wider audience, increasing your blog's visibility and ultimately growing your blog.
It can also help with food blog monetization strategies. If your blog gets more popular, your chance of monetizing a food blog is higher.
Below, we will explore various methods to promote your food blog:
Importance of promoting your blog
Promoting your blog is vital to drive traffic to your website. With numerous blogs online, you need more than creating great content alone. Actively marketing your blog allows you to engage with readers, build a loyal community, and establish your brand's authority.
How to do social media promotion for food bloggers
Utilize social media platforms to promote your site and engage with your target audience. Create accounts on popular platforms like Facebook, Instagram, Twitter, and Pinterest, and tailor your content to each platform's strengths.
Visual social media channels like Instagram or TikTok are great for sharing visually appealing food photos and videos. Facebook is for longer-form content like recipes and articles. Twitter is good for quick updates and sharing blog links. Also, Pinterest can drive traffic through eye-catching graphics and pinning blog posts to relevant boards.
How to use email marketing to promote your blog
Email marketing is a powerful tool for nurturing relationships with your subscribers. Build an email list by offering incentives like a free recipe eBook. Send regular newsletters with valuable content, exclusive recipes, and blog updates. Personalize emails and segment your list to deliver tailored content that resonates with subscribers.
You can try the Hostinger Business Email plan. It seamlessly integrates with your food blog, providing a professional email communication platform with advanced features and ample storage.
Growing the blog with search engine optimization (SEO) and using Google Analytics
SEO for food bloggers is important to grow visibility and attract organic traffic. Conduct keyword research to identify relevant keywords and incorporate them naturally into your blog posts. Focus on creating high-quality and informative content that adds value to your readers.
Additionally, track your site's performance using Google Analytics. It provides insights into website traffic, demographics, popular content, and referral sources. Use this data to optimize your search results, improve content strategy, and better understand your audience's behavior.
5. Monetize Your Blog
When creating a food blog, you also need to know how to earn money with your blog and get into the food blog business.
Here are some methods of making money by blogging:
Affiliate Marketing
Partner with other individuals or companies and promote their products or services on your blog. You can earn a commission for every sale generated through your referrals by including unique affiliate links.
Pay-per-click Advertising
Utilize advertising systems like Google AdSense to display targeted ads on your blog. As visitors click on these ads, you earn revenue from advertisers. This method allows you to generate income based on the number of ad clicks, providing an opportunity to earn passive income as your blog attracts more traffic.
Sponsorship
Collaborate with brands and businesses that align with your blog's content and values. Through sponsored posts, product reviews, or brand endorsements, you can promote their products or services in exchange for a fee.
Digital Products
Leverage your expertise and culinary creativity by creating and selling digital products. These may include eBooks, recipe guides, meal plans, or online courses. These products provide value to your audience while generating revenue.
Membership Site
Establish a membership site where visitors pay a recurring fee to access exclusive content, resources, or personalized services. Consider offering premium recipes, cooking tutorials, personalized consultations, or a vibrant community forum to entice members to join and engage.
Suggested Reading
Food Blogging Ideas for Your Content
Now, it's time to figure out the content ideas.
Determine your unique brand and niche, allowing you to stand out from competitors and gain interactions, shares, and backlinks from other bloggers in the food community.
Here are some food blogs you can start and their examples for inspiration.
1. Recipe Blog
This is one of the most popular types of food blogs out there. It's a great way to share your love of cooking and baking with others by offering up your own tried-and-true recipes. You have the freedom to explore different types of cuisine, ingredients, and cooking techniques, allowing you to create a diverse array of dishes to share with your readers.
Whatever your niche is – vegan, gluten-free cooking, desserts, or international cuisine – there is a specific audience for what you have to offer. For a good cooking blog, make sure you provide clear recipe details and visually appealing images.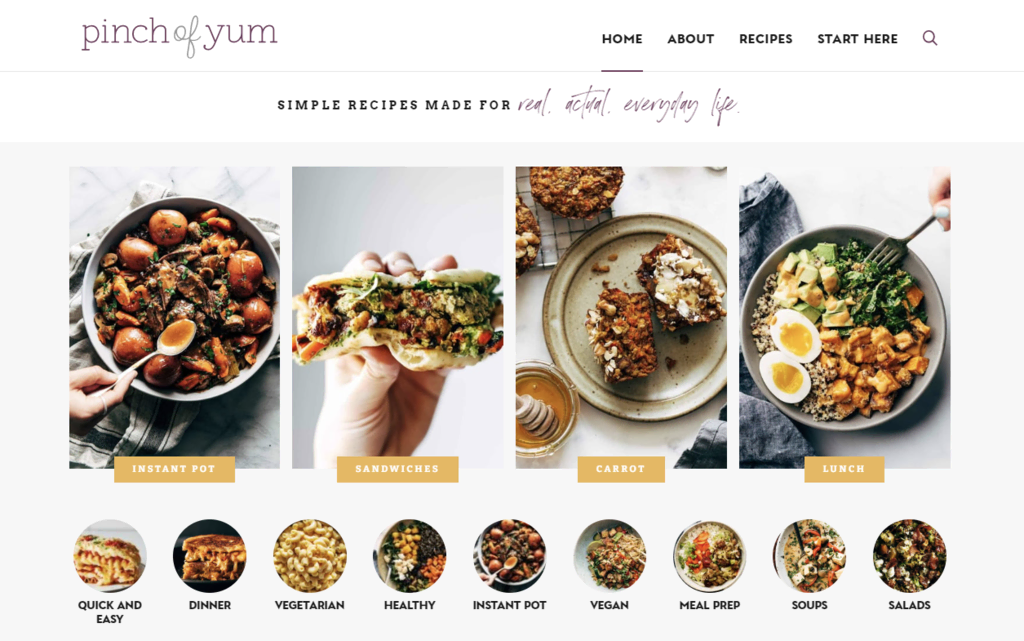 Pinch of Yum, by Lindsay Ostrom, is a beautifully designed blog that offers a wide range of well-organized and delicious recipes. Every recipe is complete with ratings and stunning images, as well as categorized based on various factors.
2. Local Cuisine
Local cuisine is a great way to explore the unique food industry of a specific region or culture. You can make a regional or ethnic cuisine blog. While you can post recipes, you can also make other content, like local restaurant reviews with each spot's contact page.
Local cuisines can be a fun and educational way to introduce readers to new culinary experiences while promoting a particular region's traditions or food trends. This not only helps support the local community but also gives readers a deeper understanding of the area's foodie culture.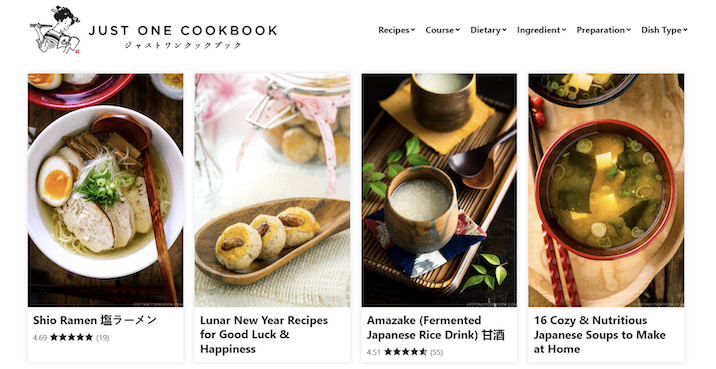 Just One Cookbook is a good food blog focusing on Japanese cuisine. The site has a visually pleasing design and well-organized recipe categories. Aside from showcasing Japanese recipes with colorful pictures, it also posts Japanese cultural resources.
3. Healthy Food
This food blog niche selection is an excellent platform to showcase nutritious and tasty meals that help promote a healthy lifestyle.
Aside from creating healthy food recipes, you can also offer tips on meal prep, cooking techniques, and ingredient substitutions that can make meals healthier without compromising taste.
In addition, a healthy eating blog can include articles on nutrition, wellness, and healthy lifestyle habits, such as exercise and stress management. By providing valuable information and engaging content, you can create a followers' community committed to leading healthier lives.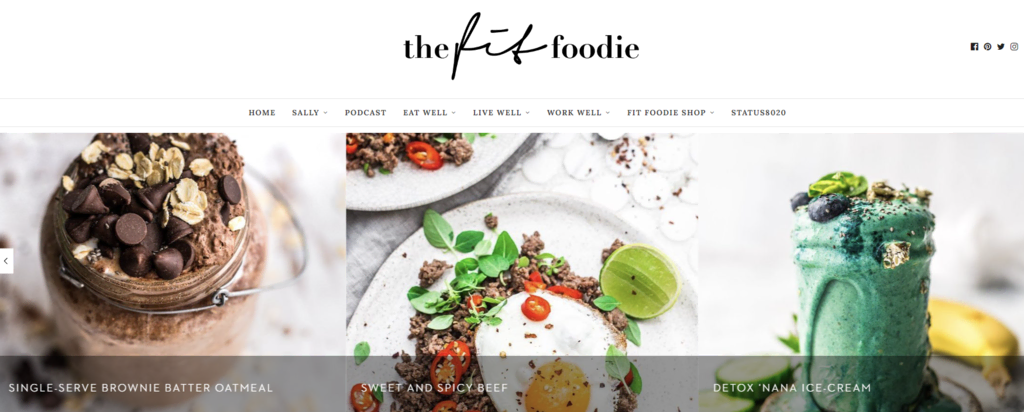 The Fit Foodie is one of the successful food bloggers with a healthy food niche. This site features protein-rich and nutritious food recipes. Its landing page has a slideshow that displays various vibrant food images.
4. Cooking-on-A-Budget
Cooking on-a-budget is popular among readers who want to save money while still enjoying delicious and healthy meals.
The blog can include recipes that use affordable ingredients and substitutes, provide tips on meal planning, and suggest ways to shop smarter. It can also provide information on how to use leftovers and reduce food waste.
By sharing practical advice, easy-to-follow recipes, and money-saving tips, a cooking on a budget blog can help readers stretch their dollars while still enjoying a wide variety of tasty and nutritious meals. With the right approach, such a blog can be a valuable resource for people looking to improve their financial and nutritional well-being.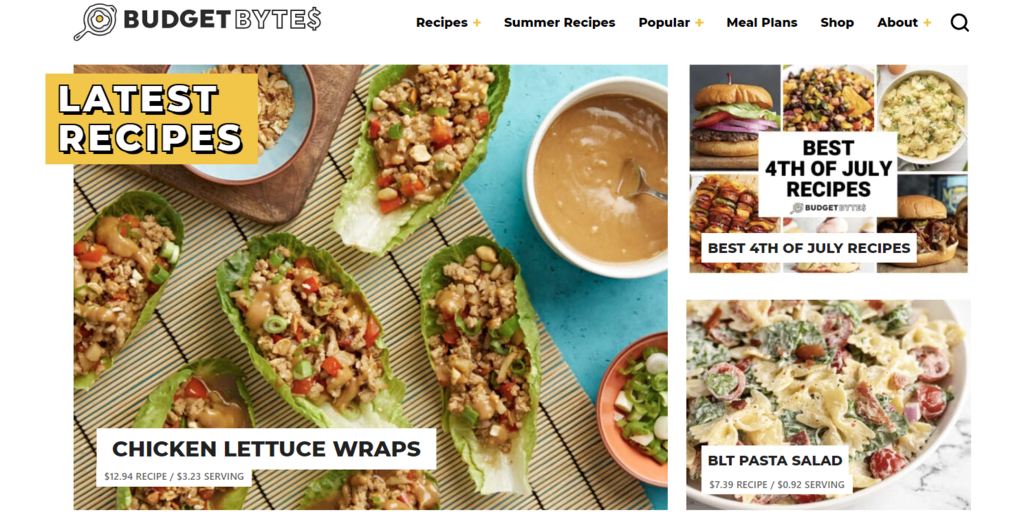 Budget Bytes shares budget-friendly recipes. The blog's landing page displays a banner with colorful food pictures, titles, brief descriptions of the latest blog post, and how much the recipe costs. Additionally, this blog also sells detailed meal plans.
5. Specific Diet
A specific diet food blog is an ideal platform for people looking to explore and learn more about diets that cater to their specific needs. This option includes a gluten-free food blog, vegan food blog, or dairy-free blog. Therefore, you can give readers tips and recipes that align with their dietary requirements.
They can also help readers navigate the challenges of sticking to a specific diet, such as finding suitable ingredients and creating delicious meals that meet their dietary requirements. Through high-quality writing, photography, and recipe development, a specific diet food blog can be a valuable resource for those looking to adopt a particular diet or seeking to expand their culinary horizons.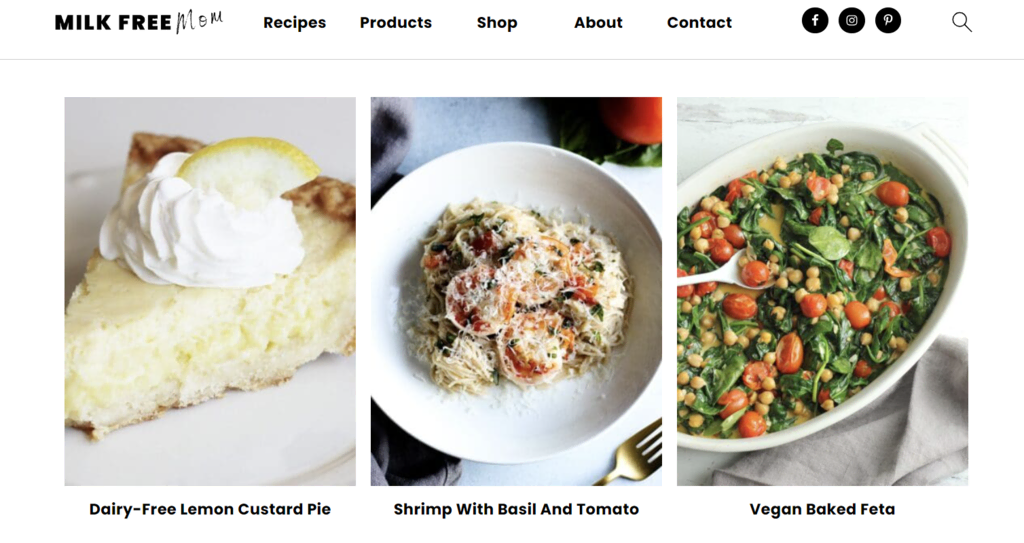 Milk Free Mom is a blog to help people lead dairy-free lives and features dairy-free recipes and food products. The landing page has a simple black-and-white theme with an image carousel showcasing the featured recipes. All photos of food have recipe titles.
Whichever niche you decide on, our AI Writer can help in writing for a food blog. Simply select a topic, and the AI tool will generate the content while you're building the website.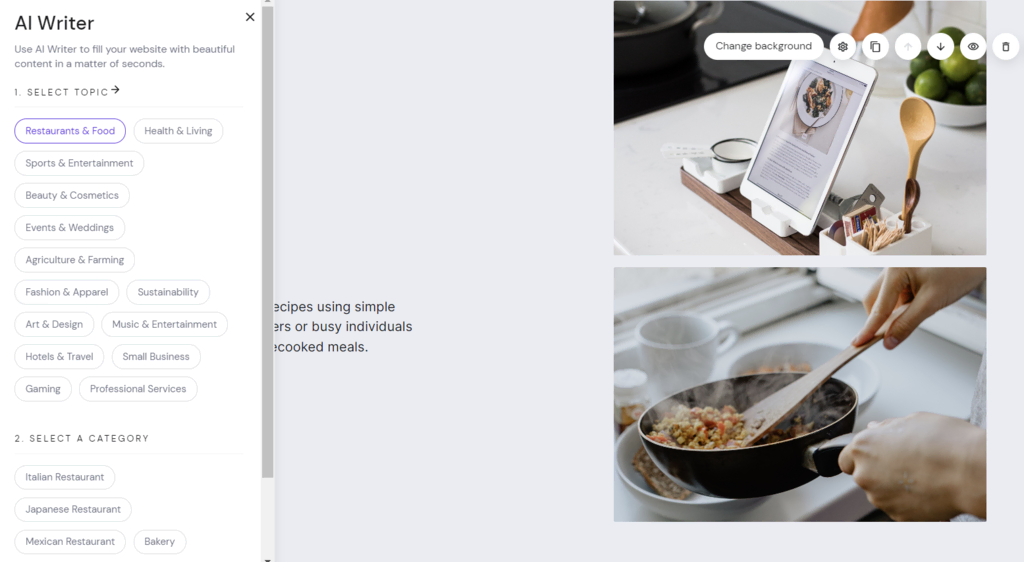 Tips for Creating Food Blog Content
We have covered all the essentials in learning how to start a food blog. However, we also have some food blogging tips below.
1. Provide Quality Pictures and Images
Before you start as a food blogger, provide good food photography to go with your posts. Good product photos add color and life to your blog, increasing the user experience for your site visitors.
Invest in a good high-resolution camera or smartphone and learn basic food photography skills. Pay attention to lighting, composition, and food styling to make your dishes look delicious. Use editing tools to enhance the colors and aesthetics of your photos. Another option is to hire a professional photographer.
2. Find Your Unique Voice
As a food blogger, you need to embrace your unique voice to set yourself apart from other bloggers and connect with your readers on a personal level. Whether you're witty, warm, or straightforward, infusing your authentic personality into your blog will make it engaging and relatable.
So, be unique and let your true voice shine through in your food blog. Your readers will appreciate the genuine and personal touch in each blog post.
3. Share Personal Stories
Food is often deeply connected to personal experiences and memories. Sharing personal stories related to the recipes or dishes you feature adds a personal touch to your blog. It allows readers to connect with you on a more intimate level and creates a sense of authenticity.
When writing about a particular recipe, consider sharing anecdotes about the origin of the dish, memories associated with it, or how it has played a role in your life. These stories create an emotional connection with your audience, making your blog more relatable and engaging. Personal stories can also showcase your expertise, unique perspective, and passion for cooking, elevating your blog beyond just sharing recipes.
4. Engage With Your Audience
Build a strong relationship with your audience by engaging with them on social media and in blog comments. Respond to comments, questions, and feedback. Encourage readers to share their thoughts and variations of your recipes. Create interactive content like polls or contests to boost engagement and foster a sense of community.
5. Collaborate With Other Food Bloggers
Collaborating with other food bloggers, chefs, and industry experts is an excellent way to breathe new life into your food blog and broaden your audience.
By working together, you can bring fresh perspectives, unique ideas, and diverse culinary backgrounds to your content. Here are some ways to effectively collaborate with others in the food blogging community:
Guest posting. Expand your reach by showcasing your expertise on other food blogs and inviting guest bloggers to contribute to yours.
Recipe exchanges. Collaborate with fellow bloggers to feature each other's recipes or create a themed recipe series, attracting new food blog readers and offering diverse culinary options.
Joint projects. Join forces with other bloggers for e-cookbooks, virtual cooking events, or video series, expanding your reach and fostering a sense of community.
Expert interviews. Enhance your blog's credibility by interviewing industry experts such as chefs or nutritionists, and sharing valuable insights with your audience.
Suggested Reading
Conclusion
Starting a food blog can be a rewarding journey for those who have a passion for sharing their culinary adventures with others.
By following the five steps in this guide, you can establish a successful food blog that stands out. From choosing the right platform and web hosting provider to designing your blog, marketing it effectively, and monetizing your content, each step plays a crucial role in creating a thriving online presence.
Remember to focus on your unique voice, provide high-quality images, and share personal stories to connect with your audience on a deeper level. With dedication, creativity, and a love for all things food-related, you can embark on an exciting food blogging journey and earn money while doing so.
How to Start a Food Blog FAQ
This section answers the most asked questions about starting a food blog.
Do I Need Any Special Skills to Start a Food Blog?
You don't need any special skills to start a food blog. However, having basic knowledge of cooking, photography, and writing can be helpful. With the help of online tutorials and resources, you can learn and improve these skills along the way.
How Much Does It Cost to Start a Food Blog?
The cost of starting a food blog can vary depending on needs, preferences, and blogging platforms. It can range from a few dollars per month for basic hosting and a domain name to hundreds or even thousands of dollars for premium themes, plugins, and professional services.
How Often Should I Publish New Content on My Food Blog?
We recommend publishing new blog content on your food blog at least once a week, but ideally, 2-3 times per week to keep your readers engaged and coming back for more. However, it's important to prioritize quality over quantity and ensure that your content is well-researched, visually appealing, and informative to your audience.