Best Free AI Website Builder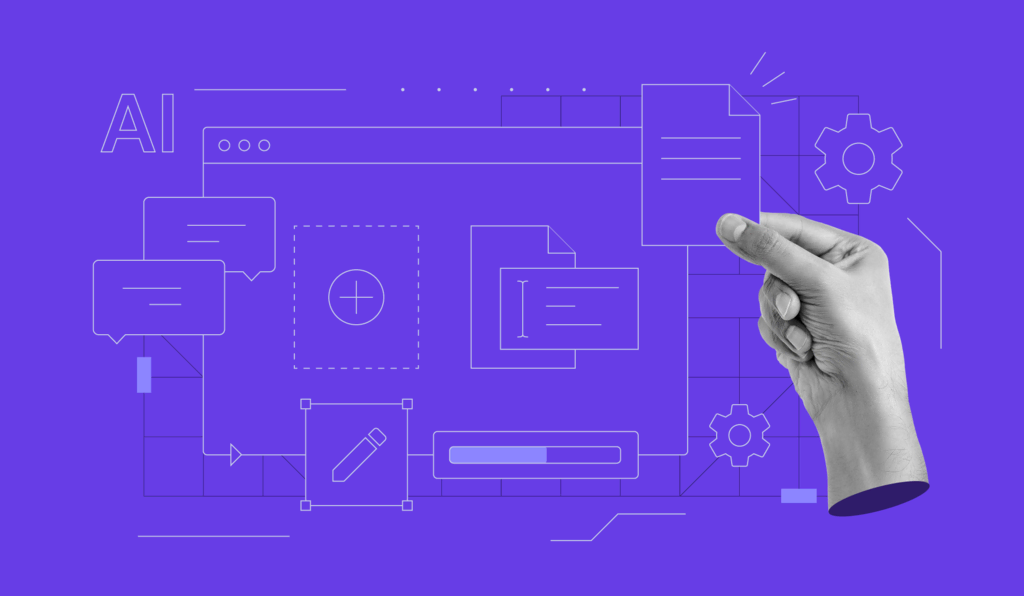 Whether you're a business owner, freelancer, or simply looking to establish an online presence, free AI website builders are key to bringing your vision to life.
In this comprehensive guide, we will explore the best free AI-powered website builders available, highlighting their key features, customization options, and the value they bring to your web development journey.
Download Website Launch Checklist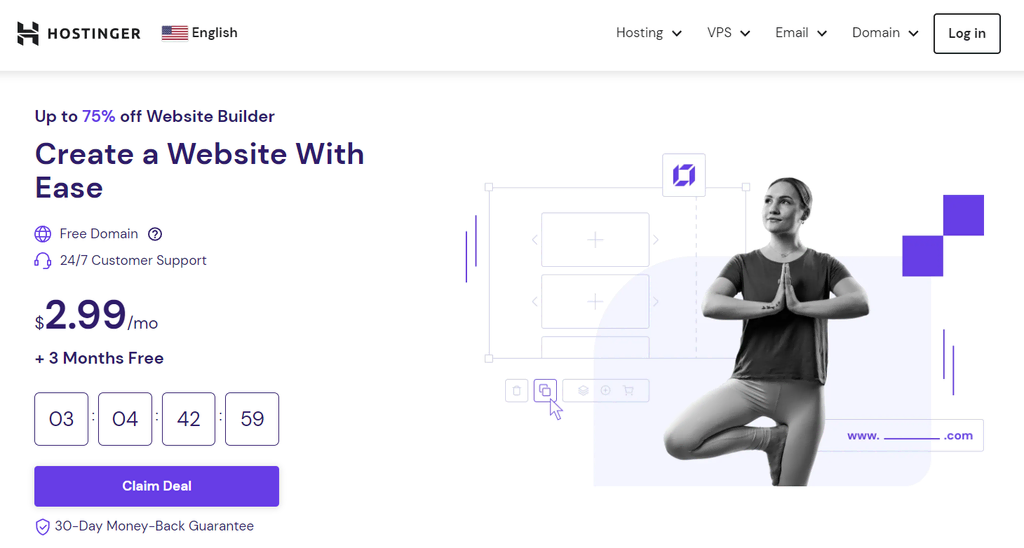 Hostinger Website Builder Stats:
Best for: users who need a professional website quickly and hassle-free
AI tools: website builder, content writer, logo maker, and heatmap analysis
Price: freemium
Hostinger Website Builder is the best free AI website builder for anyone looking to save time and money during the website-building process.
As an excellent Wix alternative, this all-in-one website generator comes with all the tools and features you need. This includes a free custom domain name, email accounts, SEO and eCommerce tools, and marketing integrations – all conveniently managed from a single location.
Getting started is easy, too. Describe your brand or business in a few words, and our innovative AI website maker will create a custom website in just a few clicks. The unique template contains content, images, and other relevant features, like contact forms or an image gallery – all uniquely created by artificial intelligence.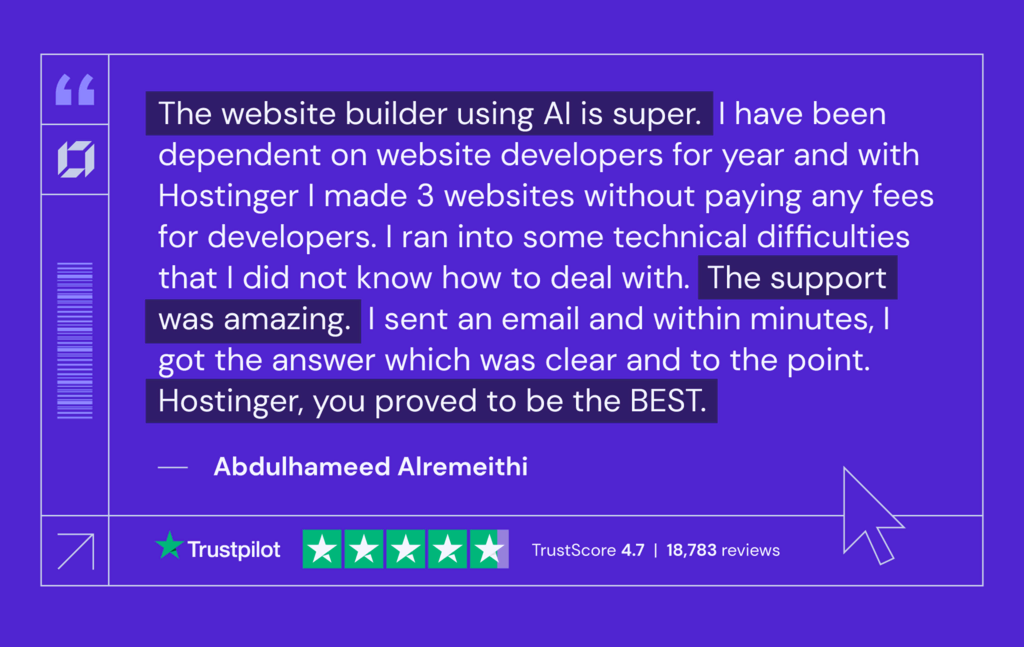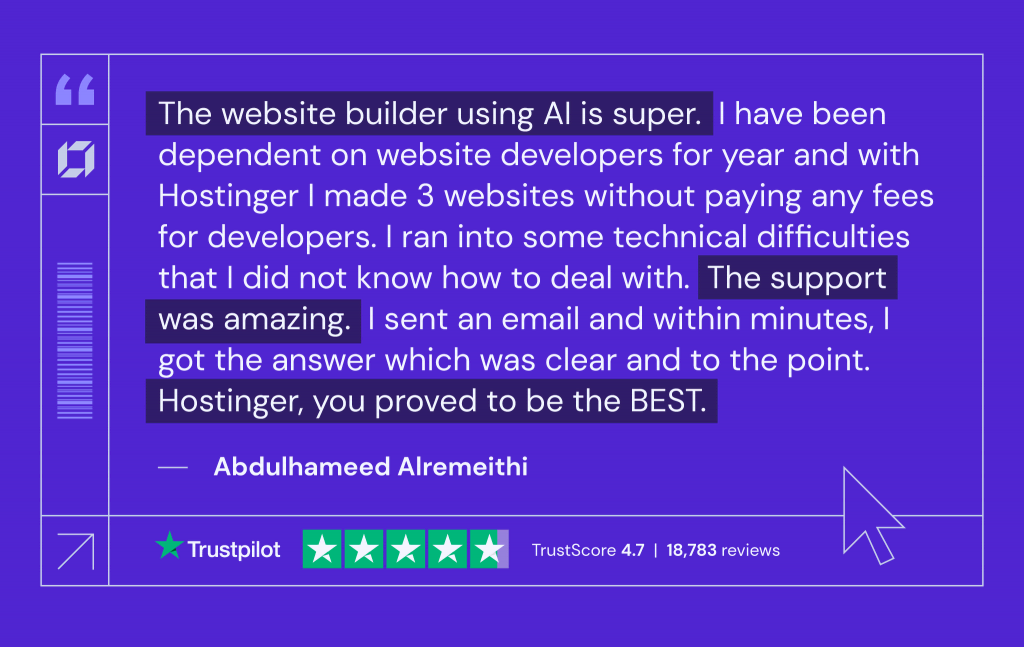 To further refine the design and publish your new website, simply sign up for a plan, starting at ₹149/month.
Note that the builder is included with all web hosting plans. So, if you already use Hostinger, you don't need to worry about ranking up costs while launching your AI-generated website.
Pros:
Cutting-edge AI technology. The AI builder generates a customized, responsive site from scratch in a matter of minutes. There are also a logo maker and other AI-powered tools to help you generate website content and analyze page design.
High site security. Thanks to various security features, including unlimited Secure Sockets Layer (SSL) certificates, Cloudflare-protected nameservers, and automatic backups, your data is safeguarded against malicious attacks.
Budget-friendly. Hostinger Website Builder is included with all web and cloud hosting plans, meaning you don't need to worry about additional costs. If you don't have a plan yet, you can test the website generator for free.
Cons:
Limited collaboration. You can add contributors to your website, but it is not possible for multiple users to edit it simultaneously.
Absence of member area. The tool lacks the ability to create a paywall or members-only web page.
Hostinger Website Builder's AI Tools:
AI website generator. Create a custom site by describing your brand and desired website type, and use the drag-and-drop editor to speed up the overall creation process.
AI writer. Automatically generate compelling content on various topics.
AI logo maker. Inform your business name, industry, and slogan to create a captivating logo for your website.
AI heatmap. Understand how effectively different website elements capture visitors' attention.


2. GetResponse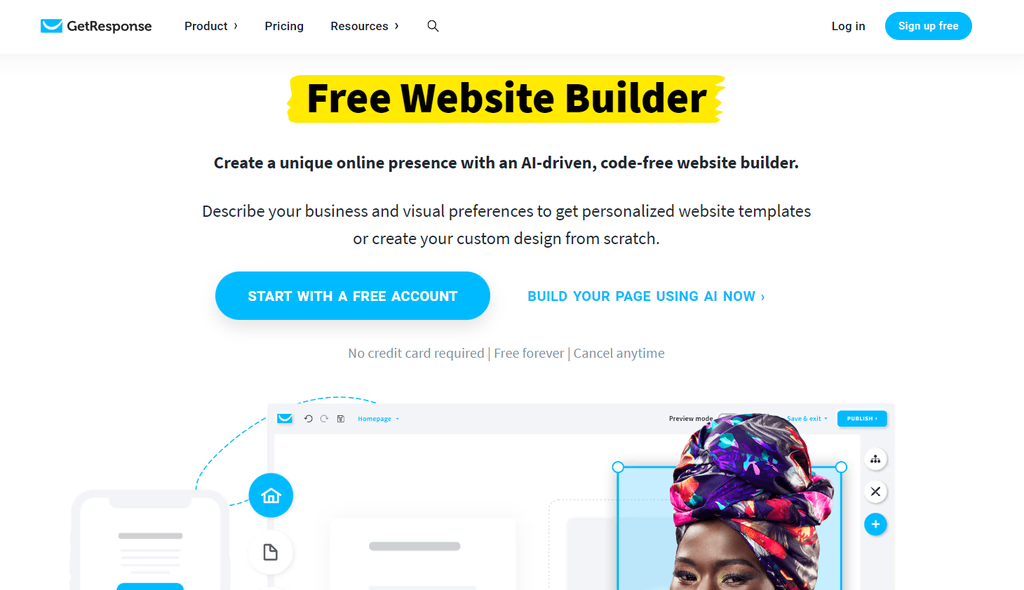 GetResponse Stats:
Best for: businesses looking for comprehensive marketing features
AI tools: design wizard, product recommender, and email subject generator
Price: freemium
GetResponse is a comprehensive email marketing provider that also offers a free AI website builder. With this builder, users can generate a website automatically by answering a series of questions or by selecting and customizing an existing template.
What sets GetResponse apart are the marketing features designed to boost conversion rates. Users can create customized marketing funnels and effectively segment their customers for targeted campaigns.
If you need to create landing pages to support your email marketing campaigns, GetResponse's AI builder could be a great fit for you – premium plans start at $15.58/month.
Pros:
Marketing automation. Streamline your marketing campaigns by automating them based on customer data and behavior, leading to improved conversion rates.
Unlimited website pages. GetResponse's premium plans let users create complex websites with an unlimited number of pages.
Rich learning materials. It's easy to learn more about website-building and marketing through GetResponse's informative blog, helpful guides, and insightful webinars.
Cons:
Premium eCommerce features. eCommerce functionalities, like abandoned cart recovery and order confirmation automation, are exclusively available in the most expensive plan.
Domain name not included. Users will need to purchase a website domain separately.
Unclear pricing. GetResponse pricing is quote-based and varies depending on the contact limit, which may lead to uncertainty in budget planning.
GetResponse's AI Tools:
Design wizard. Build a professional website based on your needs and business goals using its free AI design tools.
Product recommender. Use artificial intelligence to provide personalized product suggestions based on visitors' preferences, needs, and habits.
Subject line generator. Create an attention-grabbing email subject by entering keywords and your business description.
3. Wix ADI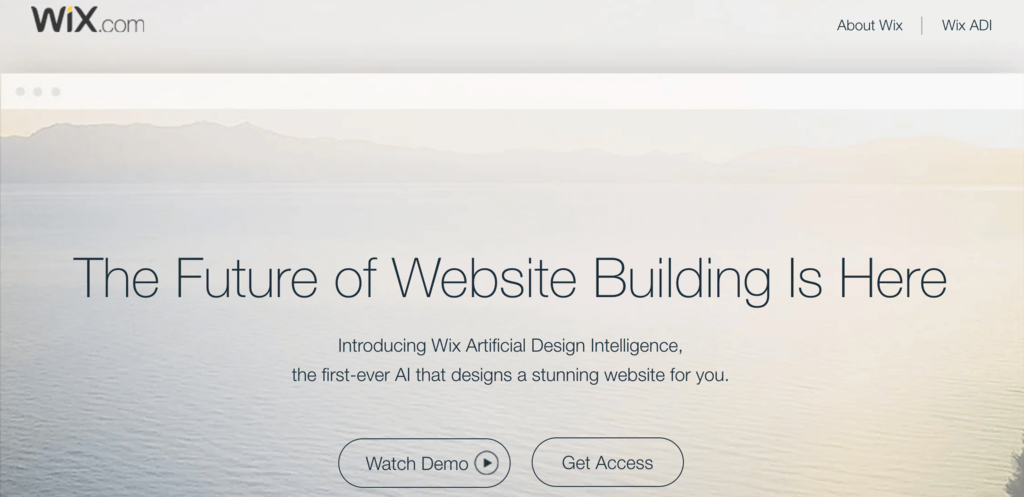 Wix ADI Stats:
Best for: freelancers or small-to-medium businesses
AI tools: web design generator, content importer
Price: freemium
Wix Artificial Design Intelligence (ADI) is a great option for a free AI website builder. The tool generates all the design elements based on a user survey and helps create custom websites fast.
It will first ask you to select the type of website and specify the features you want, such as forms, a comment box, or live chat functionality. Next, choose a theme, select the desired homepage design, and add additional pages to complete the site.
Compared to other website builders, the main strength of Wix ADI is the tool's flexibility. Using Wix apps, it is possible to add more functionalities to your site.
Unfortunately, switching templates isn't as easy. Once you have selected and built a website using a specific template, changing to a different one is hard. This can be a potential hurdle if you plan to rebrand or make significant design alterations.
Pros:
User-friendly setup. Thanks to the comprehensive questionnaire, users can set up a fully-functional website easily.
Versatile plans. Wix offers various plans tailored to different needs, whether it's for personal use, enterprise purposes, or freelancing ventures.
Scalable features. Enhance your free website by installing Wix apps that offer additional functionalities such as live chat, reservation systems, or member registration.
Cons:
Limited customization. Users need to switch to the traditional Wix Editor for more in-depth website customization.
Ads and Wix-branded domain. The free plan displays ads on the website, and you can't use custom domains. Premium plans start at $16/month.
Third-party security limitations. Wix ADI lacks support for third-party SSL certificates and content delivery networks (CDN).
Wix ADI's AI Tools:
Design generator. Create professional websites based on your descriptions and preferences.
Content importer. Import content from your old site and adapt it to the new one.
4. TeleportHQ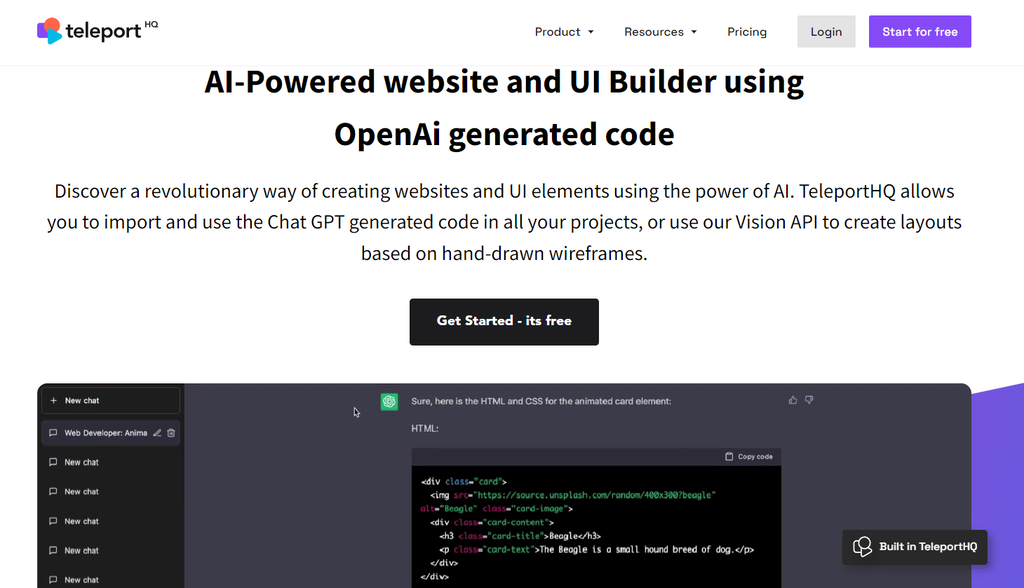 TeleportHQ Stats:
Best for: web developers seeking flexibility and customization
AI Tools: ChatGPT and Vision API
Price: freemium
TeleportHQ is a great free AI builder for users looking for extensive customization options. It makes adding custom HTML and CSS code easy, allowing you to edit any part of the website.
If you don't have much coding experience, TeleportHQ lets you generate HTML and CSS code using ChatGPT. You can also customize the site manually using the editor, but the options are limited.
Instead of asking questions prior to creating websites, this AI website builder will scan your wireframe plan and turn it into a template. To create a plan, use wireframing tools like Figma or do it manually with pen and paper.
Pros:
High customizability. The web design, created by artificial intelligence, will follow your wireframe plan and is customizable with code.
Free version. This AI editor offers an unlimited free plan with a free domain name and hosting service. Premium plans start at €15/month per editor.
Easy collaboration. TeleportHQ's website editor lets multiple users work on the same website simultaneously.
Cons:
Steep learning curve. You need coding skills to fully leverage the tool's features and properly customize your whole website.
Specific use case. This AI website builder is specifically designed for developing your website's front-end.
Additional costs. Enabling editing rights for project collaborators in TeleportHQ has extra costs.
TeleportHQ's AI Tools:
Vision API. A machine-learning tool that will turn your design wireframe into a fully-designed website in minutes.
ChatGPT. It lets you import and use custom HTML and CSS code or content generated by the AI wizard.
5. B12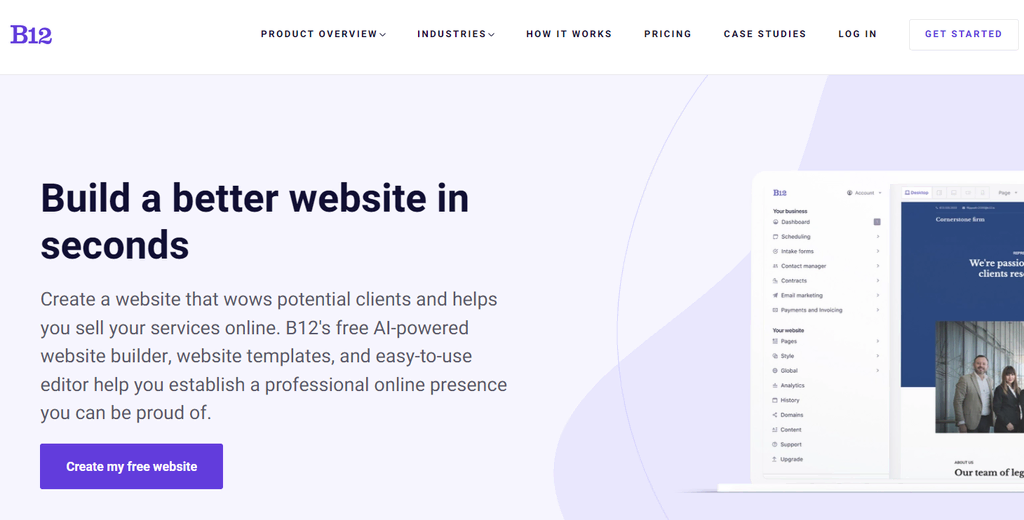 B12 Stats:
Best for: established business owners
AI Tools: website design and layout drafter
Price: freemium
If you would like some assistance when designing websites, B12 could be your free AI-driven website builder of choice. Not only does this platform provide an AI-powered website builder, but it also has a team of professional web designers, SEO specialists, and copywriters to assist you.
On top of the team of in-house experts, B12 comes with additional tools to boost client engagement, such as live chat and email automation. However, if you plan to set up an online store and sell online, keep in mind that this AI builder does not have built-in eCommerce functionality. Instead, you'll need to integrate it with a third-party platform.
One of the best aspects of B12 is that you can explore its services for free. This way, you can create a website and see if the AI website builder fits your needs before committing to the paid services, which start at $42/month.
Pros:
Extensive third-party integrations. Seamlessly integrate your website with various apps, including a calendar, reservation app, and commenting system.
Comprehensive marketing features. Easily reach potential customers with email marketing automation, online scheduling, and client contact management.
Professional assistance. Apart from the website builder, B12 offers services to help you design and create compelling content for your website.
Cons:
Expensive design assistance. The professional assistance service comes at an additional cost of $1,999.
Limited customer service hours. While B12 offers customer support through chat, email, and scheduled calls, it is only available during working hours.
No built-in eCommerce features. It is not the best AI tool for creating online stores, as you need to integrate third-party solutions to set up eCommerce sites.
B12's AI Tools:
Design and layout drafter. B12 uses AI to generate an initial website draft, which is then reviewed by the in-house expert design team.
Conclusion
From effortless customization options to user-friendly experiences, the best free AI website builder empowers you to create websites in minutes without the need for coding skills or design expertise.
If you're just getting started, we recommend opting for Hostinger Website Builder.
Unlike the other free AI website builders on our list, Hostinger Website Builder's built-in AI tools for content generation and design analysis further improve the website creation experience.
Additionally, it offers security features such as unlimited SSL certificates and automatic backups, ensuring data safety.
Are you ready to start building your dream site with the best website builder?