49 eCommerce Statistics for Online Business Owners in 2021
As an online store owner, keeping up with the current eCommerce trends is essential for your success. Failure to make full use of the most up-to-date information can have a lasting negative impact on your business.
To help you, we've compiled the latest 49 eCommerce statistics from the industry. Take a look.
Top 11 eCommerce Statistics (Updated 2020)
There are over 24 million online stores worldwide.
eCommerce is estimated to contribute $4.5 trillion in retail sales by 2021, which is twice the amount of 2017 numbers.
In 2019, eCommerce sales made up around 14.1% of all retail sales worldwide. By 2023, the number is projected to go up to 22%.
Global eCommerce traffic has increased to 22 billion visits due to COVID-19, which is higher than the average traffic during the holiday season.
95% of US citizens have made at least one eCommerce purchase, while only 58.3% of global internet users have successfully shopped online.
Lack of free return shipping can put off 74% of online shoppers.
60% of Millennials' purchases come from eCommerce, with 81.3% consumers shopping online monthly.
The average conversion rate for eCommerce sites is 2.58% globally.
Organic search accounts for 23.87% of eCommerce traffic, while paid search makes up 4.03%.
Mobile traffic contributes 70% of all visits and 55% of the revenue to online stores.
54% of online shoppers prefer chatbots when they want to get quick assistance.
General eCommerce Statistics
First, let's look at how much the eCommerce industry has grown.
1. 2.05 Billion People Around the World are Shopping Online in 2020
Current predictions show us the number of online buyers growing to 2.14 billion by 2021, making up around a quarter of the world's population.
2. Online Retailers Will Contribute 22% to All Retail Sales by 2023
Estimations reveal that eCommerce will generate around $6.452 trillion in sales by 2023, all according to eMarketer. This is almost double the number of sales in 2019.
This discovery is also in line with the decline of brick-and-mortar sales. Due to this, many established brands have started their own online stores in order to future-proof their business.
3. Over 24 Million Online Stores are Available Worldwide
The US alone has 1.3 million eCommerce companies, but only three hundred thousand of them have their own websites, while the rest use online marketplaces to sell their products.
4. Due to COVID-19, Online Retailers Experience 22 Billion Store Visits
To give you a better perspective, online retail stores had around 20 billion visits in last year's holiday season.
As such, businesses have turned to eCommerce to generate income during the crisis. Software Advice's recent survey shows that around 25% of traditional retailers have shifted to online selling.
5. eCommerce Sales for Consumer-Packaged Goods Have Skyrocketed to 12-15%
This is primarily due to the pandemic. In the previous year, the sales made up for only 3% of all eCommerce purchases. However, experts predict that the number will stabilize to around 8% in the next few years.
6. The Most Popular eCommerce Product Category is Clothing
This Nielsen Report says that fashion accounts for 61% of all eCommerce sales.
The sales growth for clothing products is expected to slow down due to stay-at-home policies. However, newly emerging trends like loungewear and athleisure are contributing to keeping fashion sale numbers in balance.
7. B2B eCommerce is Growing Faster than B2C
According to Digital Commerce 360, sales of online B2B businesses increased by 18% in 2019 – 3% higher than B2C companies. This growth applies to all sales channels, including eCommerce sites and marketplaces like Amazon and Alibaba.
8. Sales-Wise, China is the Largest eCommerce Market
Thanks to Alibaba, China makes $672 billion a year through online shopping. This makes up about 15.9% of all retail sales in the country. The US places second on the list of largest eCommerce markets, while the UK is in the third position.
eCommerce Statistics About Consumer Demographics and Shopping Behavior
Next, we'll go through some recent discoveries about the shopping habits of eCommerce customers.
9. 43% of Users Shop Online due to Convenience
According to eMarketer, convenience is the main reason people visit eCommerce sites, regardless of demographics. It should come as no surprise – online stores are open 24/7 and provide intuitive and easy purchasing solutions.
10. 95% of US Citizens Make at Least One eCommerce Purchase a Year
Online shopping has also become common practice – with 80% buying from eCommerce stores monthly. In contrast to 95% of the US citizens shopping online at least yearly, only 53.8% of internet users worldwide have bought an item online.
11. Shipping Costs Negatively Affect Customers' Purchasing Decisions
Clutch's study found that shipping taxation scares customers off even if the price is relatively low. For instance, only 43% of the respondents are willing to make a purchase if the shipping price is $2.99. In contrast, the percentage increases to 77% if the store offers free shipping.
As such, many businesses have started including shipping costs to the displayed price of the product.
12. 76% of Online Shoppers Would Make Repeat Purchases if the Returns Policy is Easy
Based on Narvar's research, 74% of customers would not consider buying if the company doesn't provide free return shipping. 63% also reported that the lack of return policy can cause them to leave the store.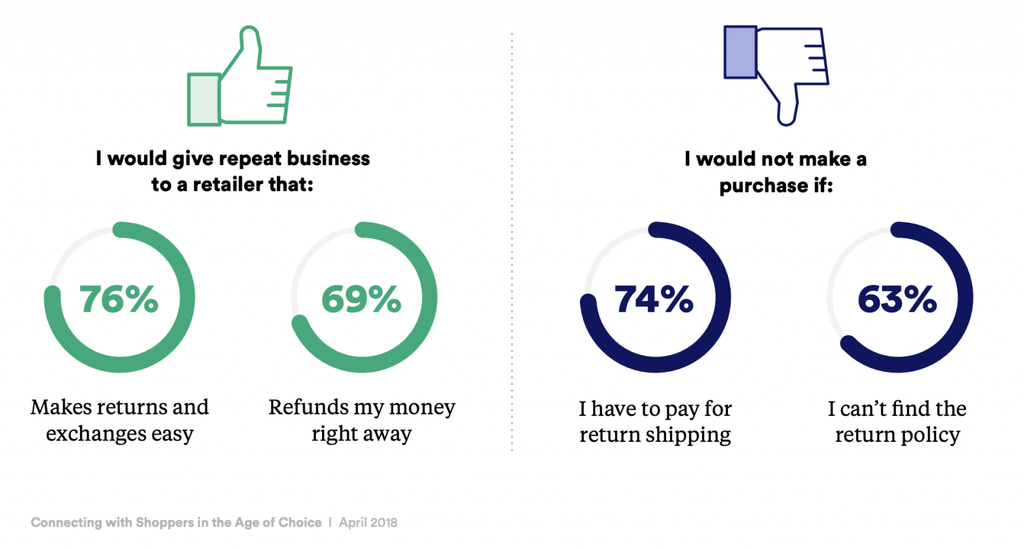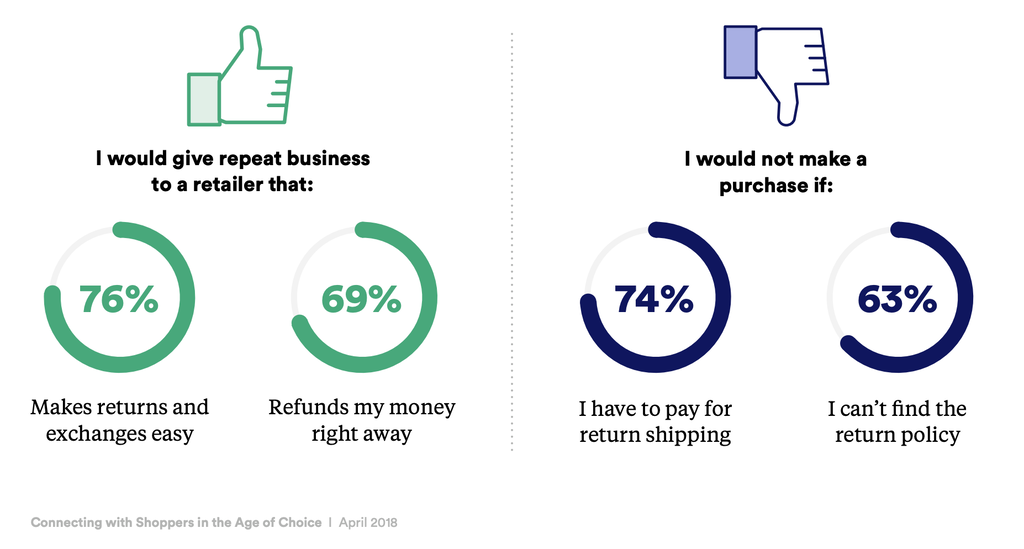 With these statistics in mind, making life easier for your online shoppers can boost both conversion rates and customer loyalty.
13. Women Shop More Frequently, While Men Spend More Per Transaction
Though women shop online an estimated 7.1 times per year, men only do it 5.4 times. However, the latter demographic spend 10 euros more on average than the former.
The study also finds that while women are more prone to impulse buying, men spend more time researching the product.
14. 60% of Millennials' Transactions are From eCommerce
While a study has attributed 60% of the purchasing decisions Millennials make to online shopping, it has also found that this applies to Millennials of any age group. However, the gap between online and offline shopping preferences is more significant among 27 to 31-year-old adults.
Another research also confirms that 81.3% of Millennials make at least one eCommerce purchase monthly. In other words, this age group holds a massive influence on the online shopping industry.
15. Baby Boomers Spend More Than Millennials
The average online spend of a Baby Boomer is $203 per transaction, whereas Millennials spend roughly $173. This discovery suggests that Baby Boomers prioritize quality and value over affordability.
When researching products, this generation prefers to look for reviews and recommendations. As such, having credible social proof can help online retailers succeed in this market.
16. Gen X Consumers are the Most Loyal Customers
Around 70% of the Gen X demographic in the US are less willing to give new businesses a try, while the number is a mere 30% in comparison to other English-speaking countries.
However, personalized marketing is estimated to make a large impact on Gen X, as they want to connect with the businesses they're dealing with. Thus, it's crucial to build a strong relationship with this demographic when appealing to their needs.
17. Gen Z Consumers Are 22% More Prone to Impulse Buying than Millennials
Unlike their older counterparts, the Gen Z demographic is 8% less likely to make a shopping list.
There are several ways to leverage this fact, such as making shoppable posts on social media. This way, online shoppers can instantly make a purchase without leaving the social media platform.
eCommerce Statistics About UX, Conversions, and Cart Abandonment Rate
The statistics below are related to user experience and website performance in online stores.
18. The Global Average Conversion Rate for eCommerce Sites is 2.58%
The percentage for the global average conversion rate regarding eCommerce might fluctuates depending on the country, industry, product line, and so on. For example, online specialty stores have the highest conversion rate at 7.6%, followed by catalog sites and clothing shops.
19. Cart Abandonment Has Cost $260 Billion Worth of Loss
Baymard reports the average cart abandonment rate to be 69.57%. Half of the survey respondents cited extra costs as the main reason, showing the importance of displaying accurate price estimates before checkout.
20. Abandoned Cart Emails Have a 45% Open Rate
One way businesses try to recover abandoned cart losses are mailing lists to customers that have not completed their purchase.
The conversion rate for such a practice is 10.7%. Though it may not make up for the potential revenue, it's still a sizable income.
21. Poor UX Can Drive 89% of Consumers to a Competitor
According to WebFX, every dollar spent on building a good user experience can result in $100 worth of returns. The easier it is to navigate your site, the faster users will find what they're looking for and the less likely that they will purchase from someone else.
22. Websites That Load Under Two Seconds Have the Best Conversion Rates
Based on Portent's research, the conversion percentage for websites that load under two seconds are between 8.11% and 4.64%. This number drops by around 1.2% with each additional second.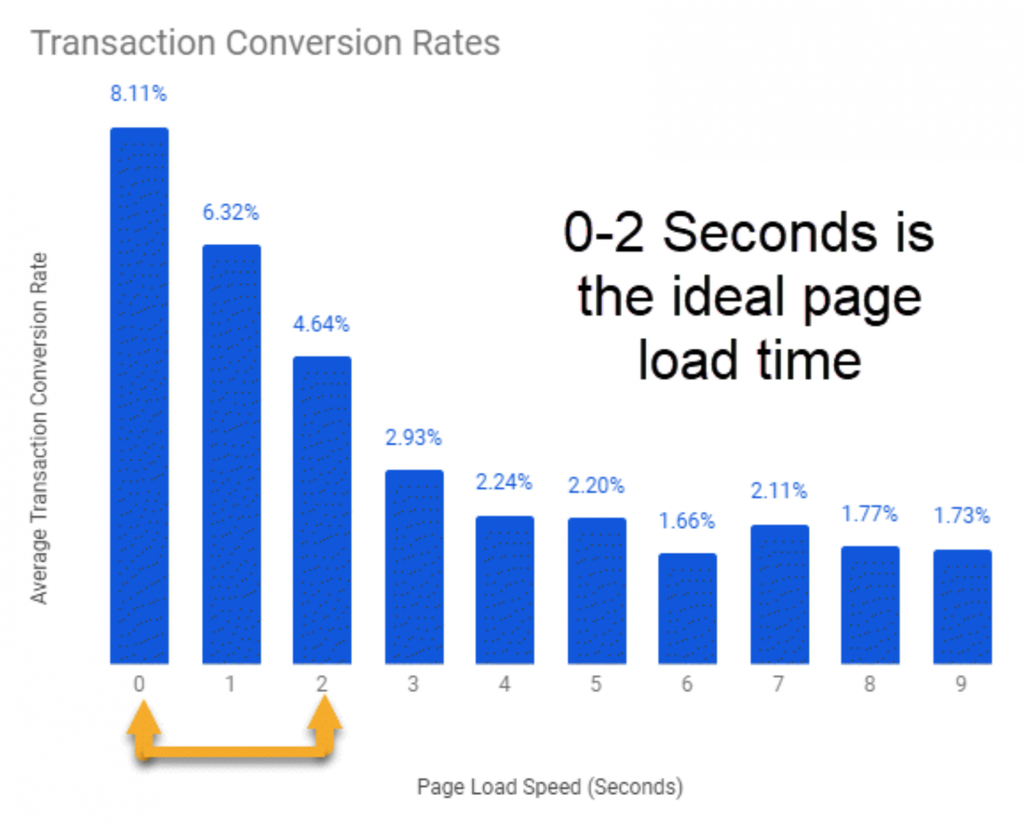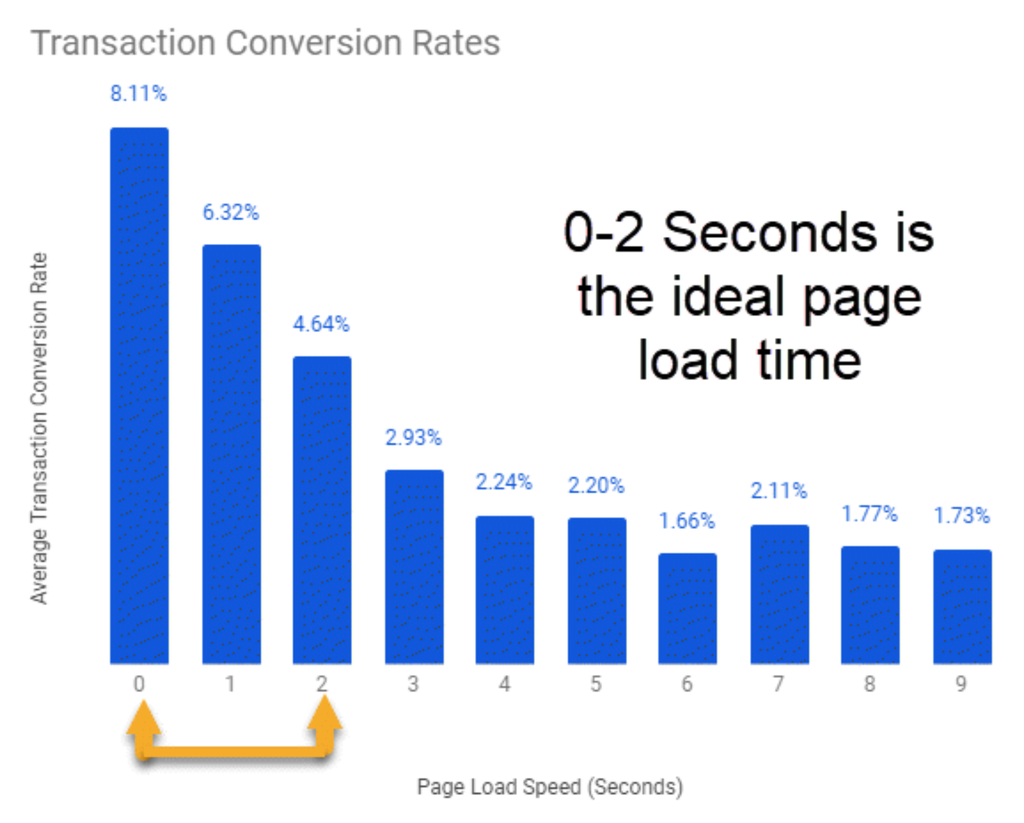 The study suggests paying close attention to the speed of your homepage, product pages, and checkout process. Customers interact with these pages the most, so making them fast should be a priority.
23. 54% of Online Shoppers Prefer Chatbots Over Human Assistance
The main reason for the popularity of chatbots is their speed, especially for dealing with simple tasks such as updating information or canceling orders. 87% of customers are also able to solve their issues just by interacting with the website alone.
However, if problems arise, they might need a live representative to help them.
eCommerce Statistics About Online Payments
This section will explore facts about how online shoppers pay for their purchases.
24. 44% of eCommerce Shoppers Around the World Prefer Using Credit Cards
Based on data from Paysafe, credit cards come out as the most widely-used payment method for eCommerce purchases. They're particularly popular in the US, Canada, UK, and Bulgaria.
25. There is a Growing Preference for Digital Wallets Globally
In the Asia-Pacific region, digital wallets make up 58% of all eCommerce transactions. This payment method has also rivaled debit cards in the UK.
Furthermore, experts predict digital wallets will take over as the US's primary payment method by 2021.
26. PayPal Can Boost eCommerce Conversion Rates by 82% Than Other Payment Methods
The study reveals 88.7% of users who choose PayPal on checkout always finish their purchase.
Not to mention, PayPal's conversion rate is 60% higher than other digital wallets. Considering it has 346 million active users and growing, using this payment method can open your doors to a broader customer base.
eCommerce Statistics About Marketing and Advertising
Use the following statistics as a guide to market your business.
27. 81% of Customers Trust Friends and Family More than Brands
HubSpot's research shows a significant lack of trust in paid marketing, such as advertisements and sponsored content. It states that word-of-mouth remains the most effective method to promote your business.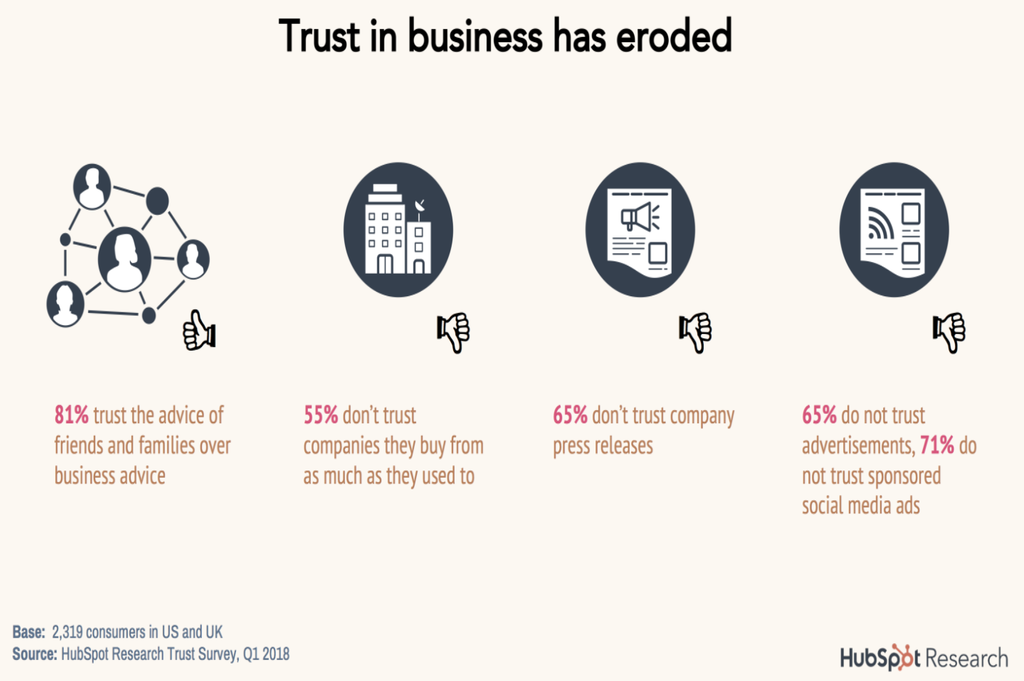 28. 70% of Consumers Believe Brands Should Take a Stand on Public Issues
Based on Sprout Social's report, 47% of customers want brands to be outspoken on social media. Out of the respondents, 36% also confirm they will increase their purchases if they identify with the stance.
However, companies shouldn't jump on any public issue outright. Instead, 43% of respondents think brands should only take a stand when the problem is related to their business.
29. Omnichannel Marketing Can Boost Customer Retention Rates by 90%
Omnichannel marketing requires you to interact with a customer across multiple marketing channels to keep them engaged with your brand.
According to Omnisend, the percentage of retention rates applies to brands that have three or more channels. What's more, the study shows that this marketing method can make customers spend 13% more on average.

30. Email Marketing Has a 122% Return on Investment
Not only does email marketing boast a high ROI, but it is also the highest of all online marketing methods. This is partly due to 50% of customers preferring to receive regular updates by email – whether it's about new product releases or promotions.
31. Google Has a 29.4% Share in Online Advertising Revenue
Google holds the largest share in online advertising revenue among all digital advertising networks. The second on the list is Facebook, with 23.4%. That said, experts predict Amazon will catch up in the coming years.
32. Google Shopping Ads Gain 85.3% Clicks on Paid Search Results
In contrast to Google ads, text ads only get 14.7% of clicks. The majority of Google's search ad spend goes to Google Shopping, which could explain the high percentage of clicks.
This type of paid search result is more prevalent among fashion, electronics, and home decor sites. However, Google is making these ads free for all merchants in the US, which could drive other businesses to give them a try.
33. 82% of Site Visitors Dislike Pop-Ups
Nearly half of the respondents say they don't like how popups appear everywhere on the site that they are visiting. 72.9% also responded that they wouldn't fill in their personal information, even if doing so has appealing results such as a discount.
However, the research suggests ways to make pop-ups effective. For instance, if the pop-up appears after the visitor explores a couple of pages, they are more likely to convert.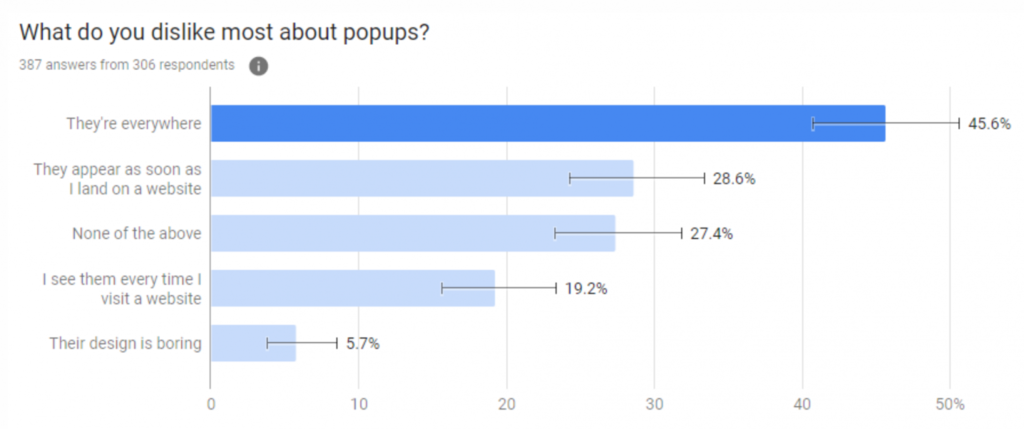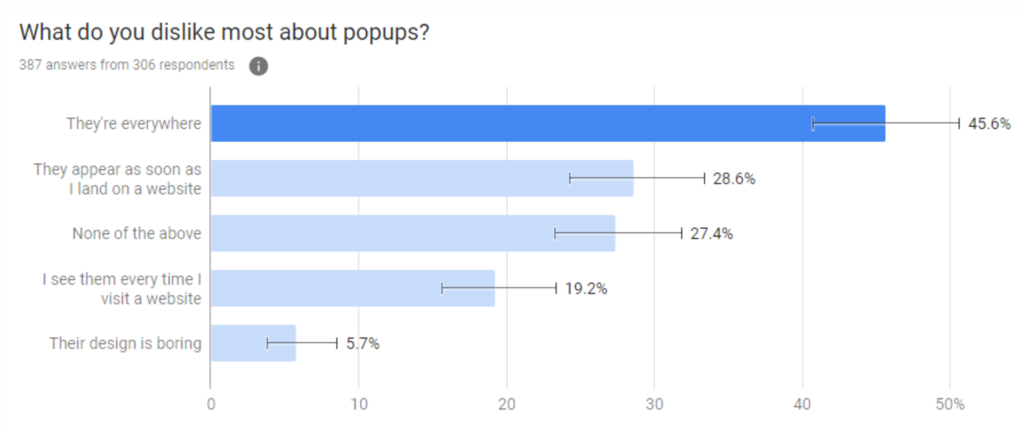 eCommerce Statistics About Consumer Searches and SEO
Here, we'll take a look at some recent discoveries about eCommerce SEO and search behavior.
34. 53% of Shoppers Conduct Online Research Before Buying
According to Think With Google, researching online before purchasing an item allows the customer to pick the right product for the occasion. As a result, searches that start with "best" have also increased by 80%.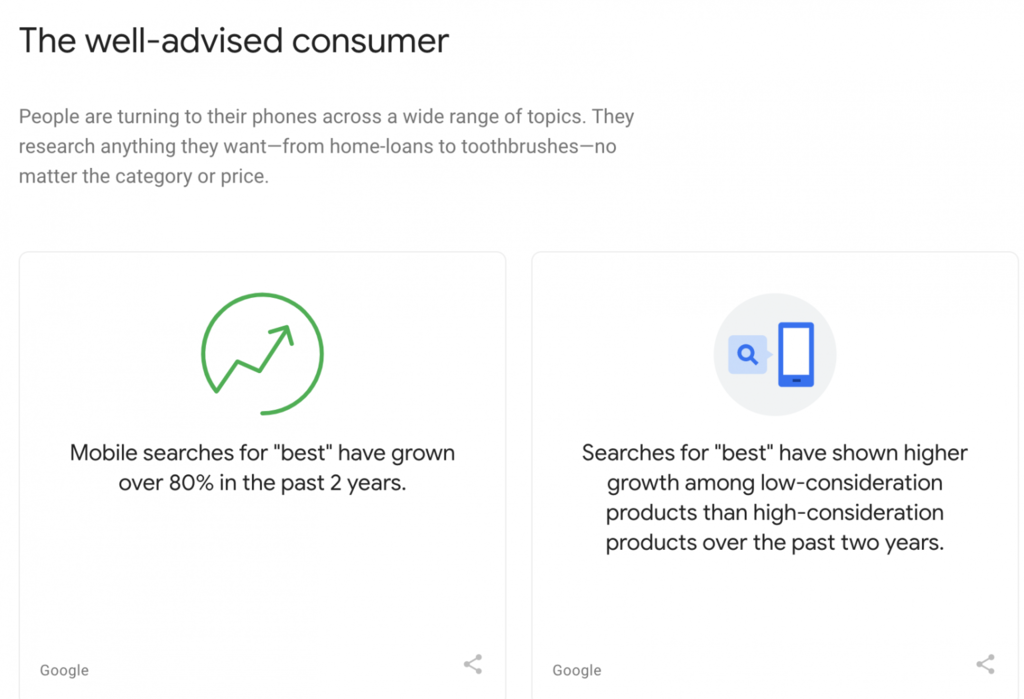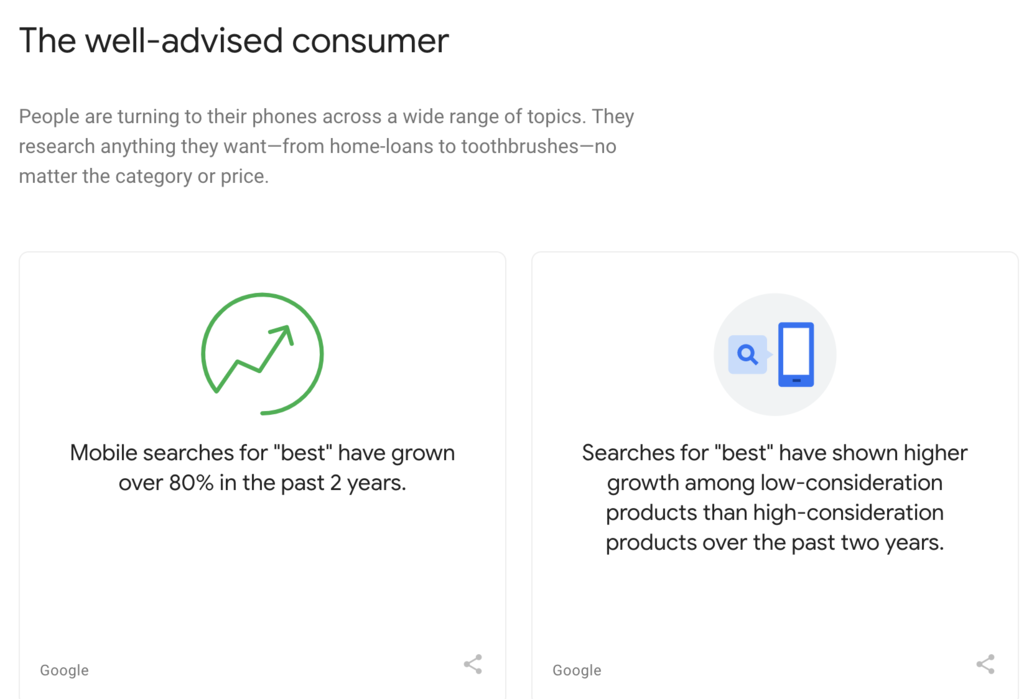 35. Organic Search Contributes 28.87% of Traffic to eCommerce Sites
Based on SimilarWeb's statistics, organic search is the second major traffic channel after direct traffic for eCommerce websites. This number is significantly higher than paid search ads, which only accounts for 4.03% of all visits.
As such, SEO remains a cost-effective marketing strategy.
36. Google Has 92.05% of the Search Engine Market Share
Roughly 9 out of 10 organic searches happen on Google. Thus, following their best website practices would be wise when hoping to rank better in search results.
37. 49% of eCommerce Shoppers Go to Amazon to Search for Products
According to an eMarketer report, Amazon is still the favored starting point for product searches, with only around 22% of them starting with Google.  However, the numbers might differ for regions where Amazon doesn't have a business presence.
When it comes to researching brands, 69% of online shoppers prefer using search engines more than the eCommerce giant.
38. Searches Using Local Keywords Have Increased Exponentially
Think With Google found that search terms using "can I buy" and "near me" have gone up by 500%.
This doesn't just apply to place-related queries. Many people include these phrases for products and services like dresses and car dealerships.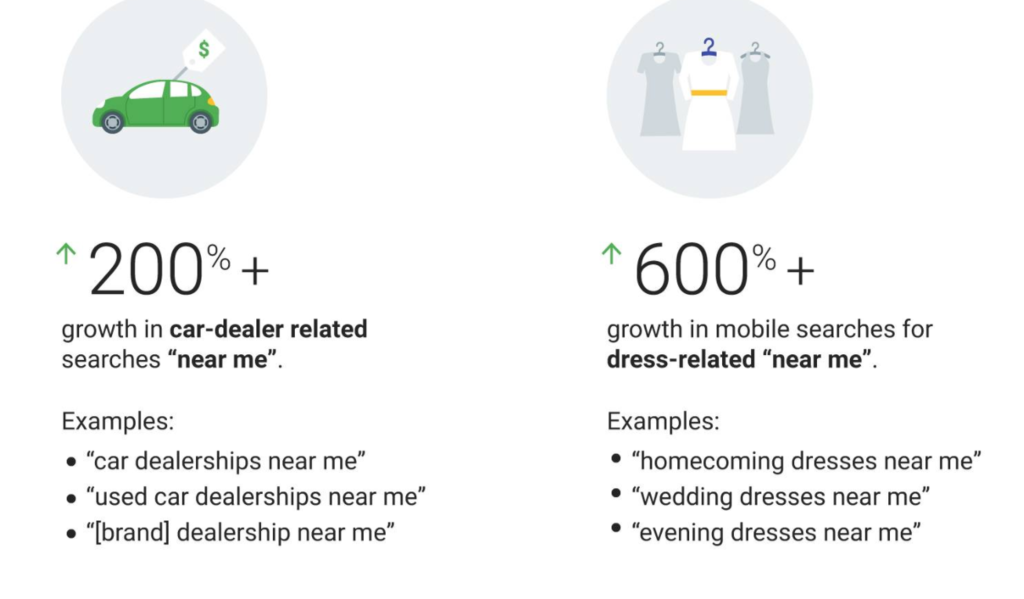 eCommerce Statistics About Devices and Technologies
The statistics below are related to the technologies and devices used in online shopping.
39. 70% of eCommerce Traffic Happens on Mobile Devices
According to Wolfgang Digital, 55% of the revenue comes from mobile shoppers. All the more reason to make your website mobile-friendly.
40. Desktop eCommerce Purchases Have the Highest Average Order of Value
Kibo's research shows the AOV number for desktop purchases is $122.11, whereas tablet and mobile devices have AOVs of $89.11 and $84.31, respectively. This suggests that people prefer using a desktop device when they need to buy high-ticket products.
41. Mobile Dominates Black Friday Traffic, But Desktop Has More Share of eCommerce Purchases
Based on Adobe Analytics' data, mobile visits account for 58% of the traffic but only result in 36% of the total transactions. It's the opposite for desktop users during Black Friday – while only contributing 37% of the visits, they lead to a whopping 59% of the purchases.
Reasons may vary, but a poor checkout process is a common problem with mobile sites.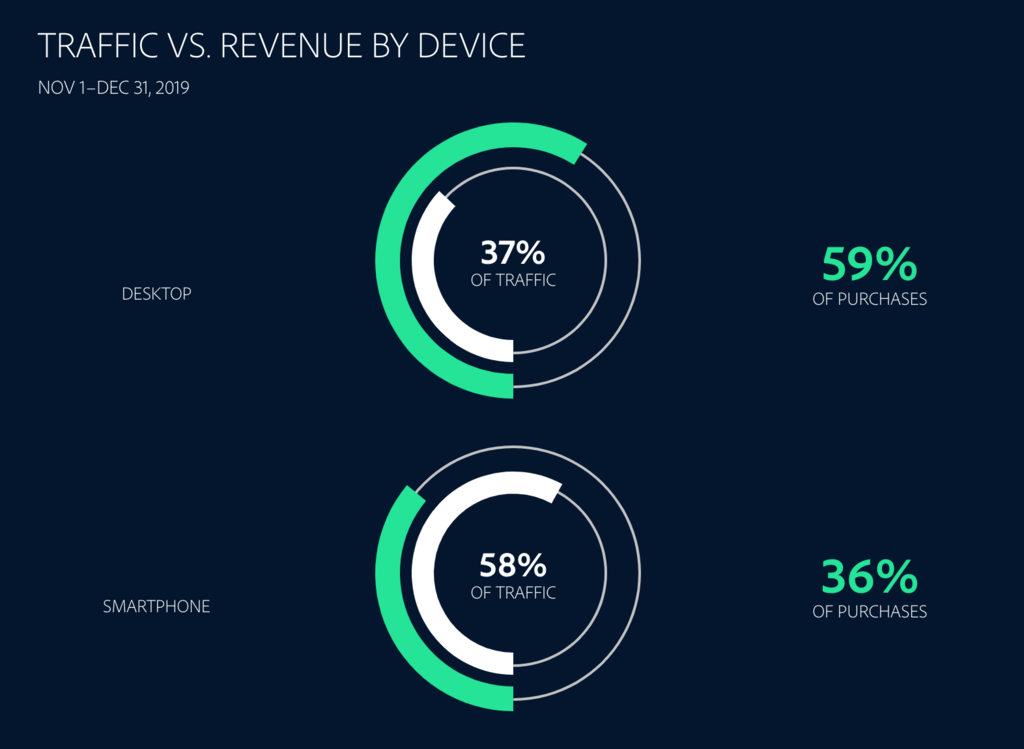 42. WooCommerce is the Most Widely-Used eCommerce Platform
BuiltWith's statistics reveal the WooCommerce plugin has powered around 32% of all eCommerce stores worldwide. The fact that WooCommerce is free and easy to use may explain its popularity, especially among small businesses.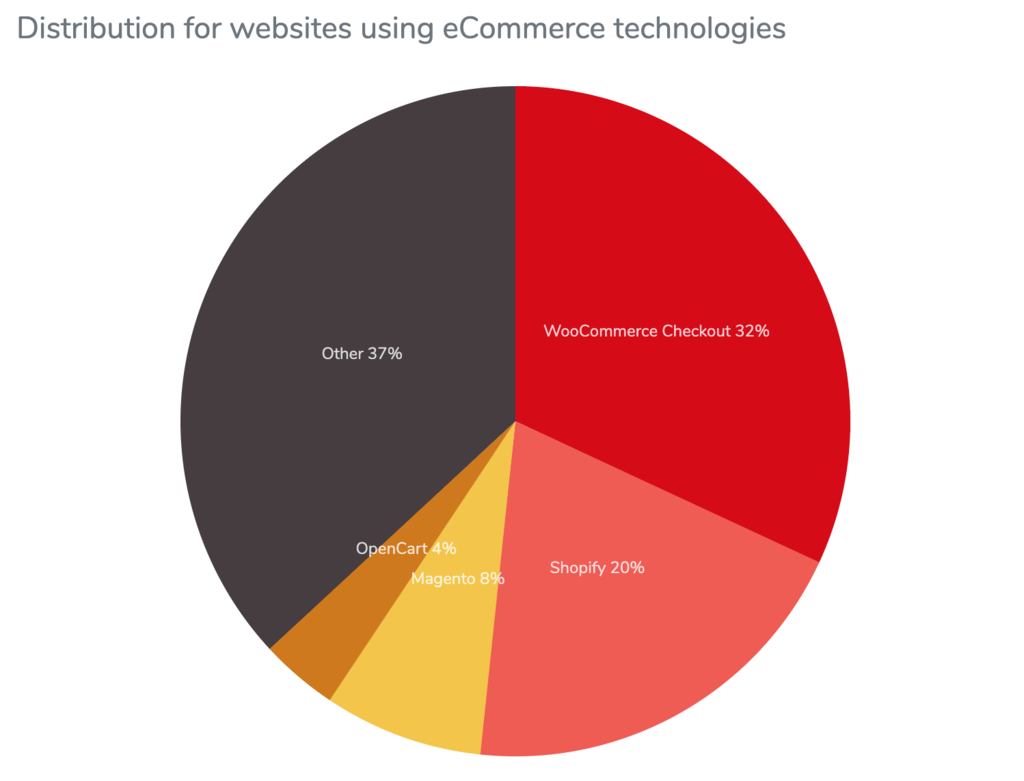 43. 15% of Consumers Have Experienced Voice-Assisted eCommerce Shopping
The number for voice-assisted shopping is higher if you look at voice assistant device owners, with 42% having made a purchase using the item. Roughly 21% of the transactions are for food and groceries.
Walker Sands' study also predicts that voice commerce will increase. Around 77% of the young consumers reported looking to integrate voice assistants into their lives.
44. Businesses Will Spend a Total of $60 Billion on Augmented Reality
Research shows that 61% of users are more likely to make a purchase if the site has augmented reality. Such technology allows customers to view how the product will look in real life without seeing it physically.
Once more online retailers use augmented reality, the rise of eCommerce might accelerate further. Around 22% of consumers say that they will visit physical shops less, and 33% might buy from online stores more frequently.
eCommerce Statistics About Social Media
Lastly, we'll review some recent statistics on social media's influence on online shopping.
45. Social Media is the Second-Most Used Platform for Product Research
According to Global Web Index, 4 in 10 customers head to social media when looking for brands and products. Among the younger age groups, this platform has dethroned search engines as the go-to site for eCommerce research.
46. 55% of Online Shoppers Have Bought an Item From Social Media
Even though the majority of social media initiated transactions seem to go to shoppable posts, 60% of the study respondents mentioned they hadn't purchased products promoted by a social media influencer.
47. Instagram Has the Highest Engagement Rates
While Facebook has engagement rates of 0.16%, Instagram boasts 1.73%. The contrast is even starker with Twitter – its average percentage stands at 0.046%.
Due to these numbers, companies frequently flock to Instagram to promote their business. Another reason is that Instagram claims 90% of its one billion users follow a brand.
48. Facebook Posts with Photos Have 53% More Likes
In extent to getting more likes, Facebook posts that utilize photos also gain 84% more clicks and 104% more comments on average.
You can also increase the engagement rates by including a short description of fewer than 80 characters. These posts get 66% more comments and likes.
49. Pinterest Has the Highest Average Order Value for Fashion Sites
Paid clicks via Pinterest bring around $154 of average order value to online clothing retailers, while unpaid ones amount to $68.
The reason for such a high number is that 90% of regular Pinners go to the platform when deciding on what to buy. What's more, 78% welcome branded content because they find it helpful.
Conclusion
The online business landscape is ever-changing, so make sure to keep in touch with the latest statistics to achieve success in eCommerce.