How to Block Emails: Getting Rid of the Unwanted
Are you overwhelmed by spam, phishing, and unwanted marketing emails? If you want to know how to get rid of them, you've come to the right place. In this article, we'll cover the best practices on how to block emails.
Why Would You Want to Block Emails?
Blocking emails can be an effective solution to keep your inbox neat and clean. Moreover, it offers other advantages, namely:
Spam free inbox.  While it's true that you can get informational content from your email subscriptions, they may flood your inbox and drive you away from the more important emails. Blocking those subscriptions will prevent that from happening.
Time-efficient. With a few clicks, all unwanted emails will be moved to the spam folder. This method will save you a lot of time compared to deleting each email one by one.
Safe from Malware. Many spam emails may attach malware that could harm your computer if they're accidentally clicked. You'll be safe from threats if you block those emails.
How to Stop Getting Spam Emails?
Submitting an email to get a free ebook or a trial account for a service is common, we've all been there. While it seems it's all innocent at first, we might get bombarded with all manner of spam emails.
Fret not. As most of those emails are already CAN-SPAM compliant, they provide links that you can follow to unsubscribe, regardless of what email client you use.
In Gmail, it can be found at the top of the email you got.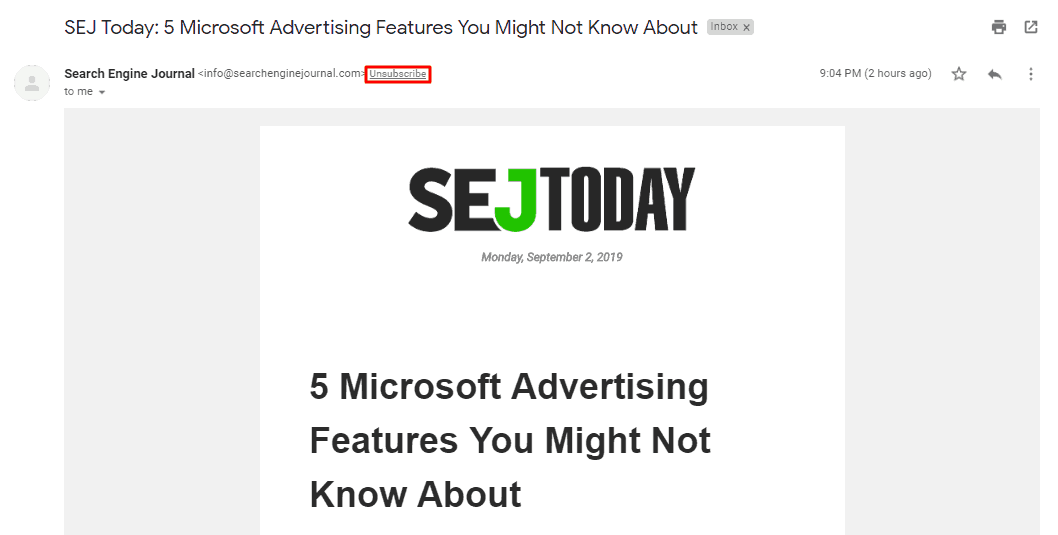 It may also be hidden in the disclaimer section at the bottom of the email.
Simply click "unsubscribe" or "unsubscribe from this list" to stop receiving emails.
You can do that in any other email account provider, such as Yahoo or Outlook — as long as the email has the unsubscribe link.
How to Block Emails?
When you cannot find any links that let you unsubscribe, chances are you need to block the sender. Check these methods on how to do it with Gmail and Yahoo accounts:
Blocking Emails Through Gmail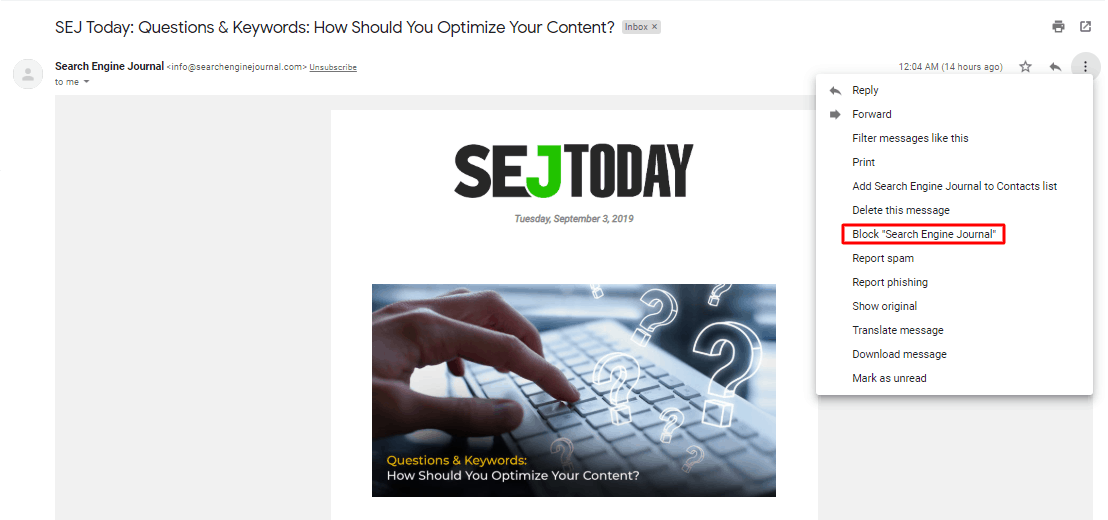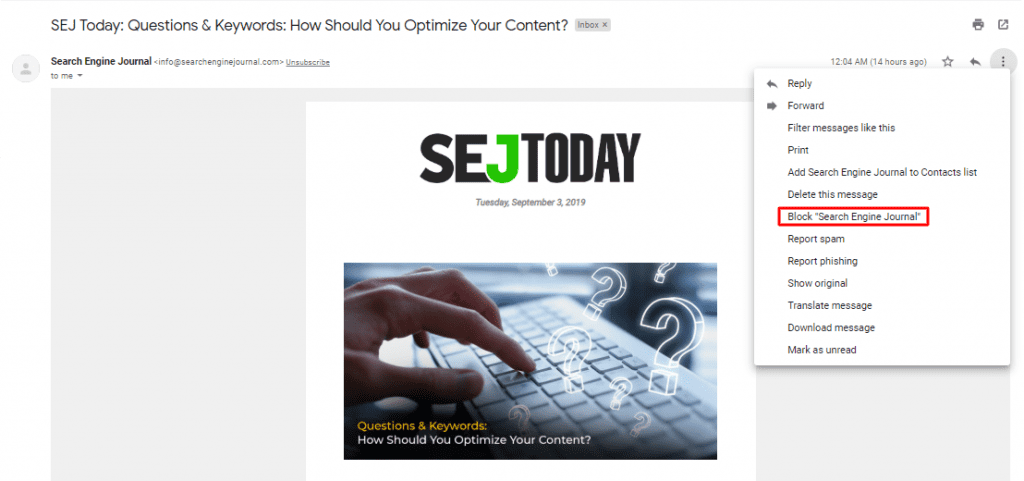 If you're accessing Gmail through your browser, it's possible to block emails with a few clicks.
Once you're signed in, open the email that you want to block within your inbox. Then, click the three-dot button at the top right corner and select Block "Sender name".
Blocking Emails Through Yahoo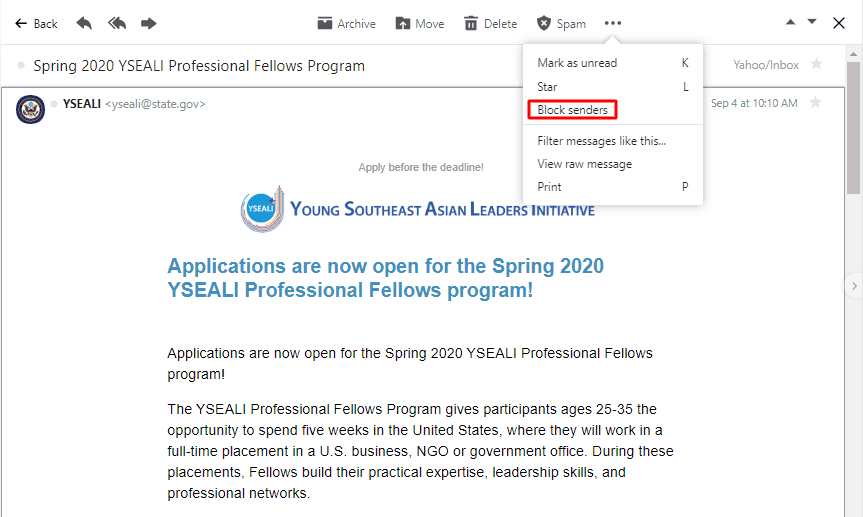 Blocking emails on your Yahoo account is pretty similar to Gmail. Once you're logged in from your browser, head over to your inbox and select the email you want to block. Find the three-dot-button above the email, and choose the "Block Senders".
Blocking Emails on Android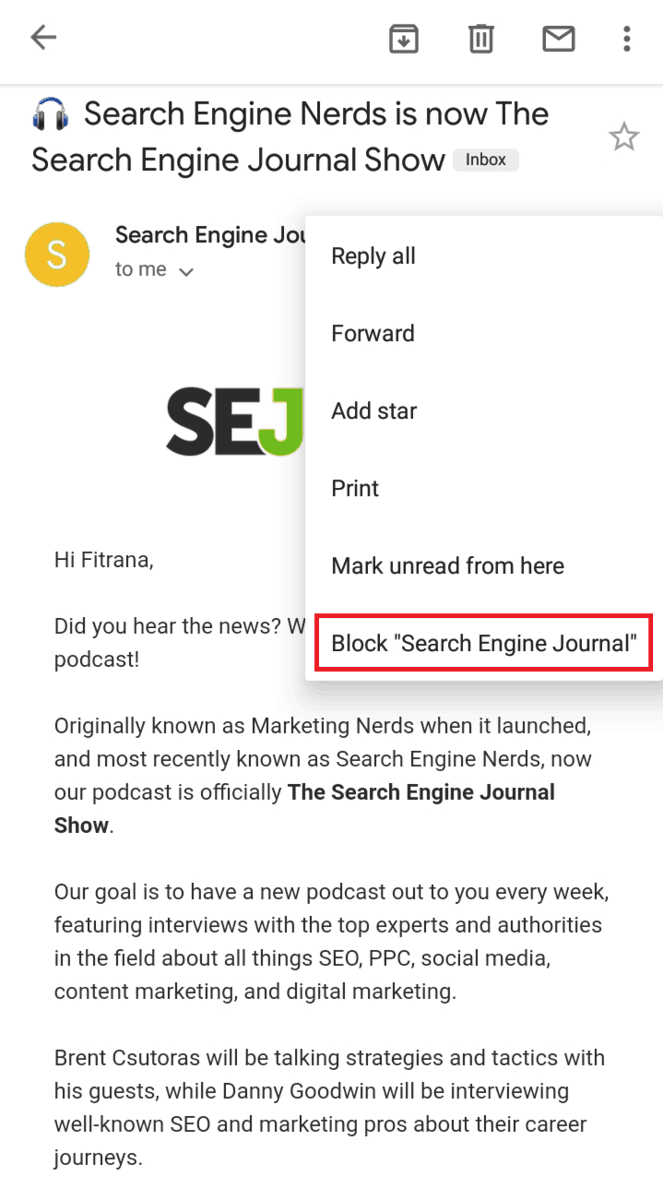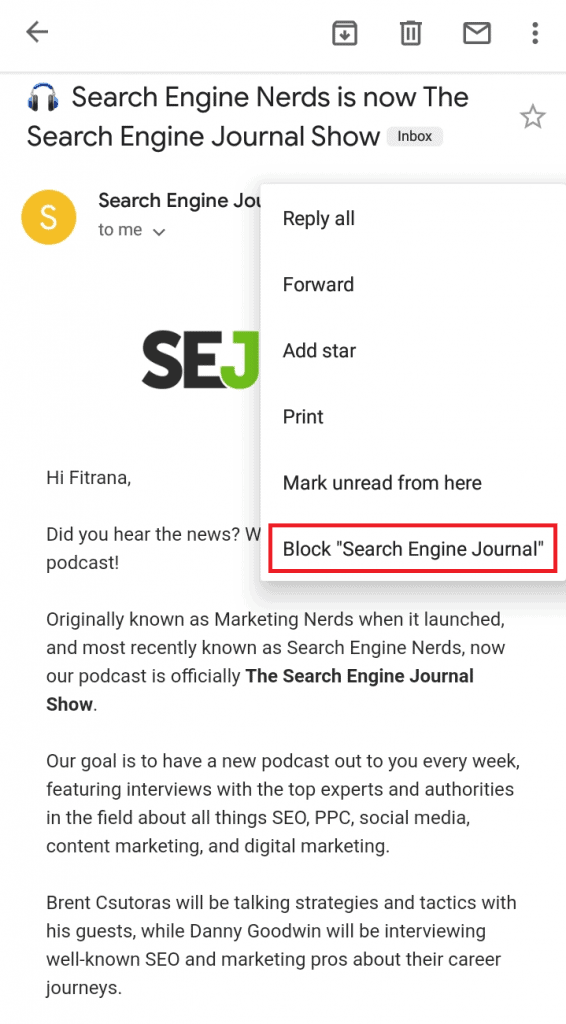 If you're using an Android phone, blocking emails in the Gmail application is no different from the method used in web browsers. Once the email is opened, click the three-dot button beside the sender's details, and then select Block "Sender name" from the drop-down menu.
Blocking Emails on IOS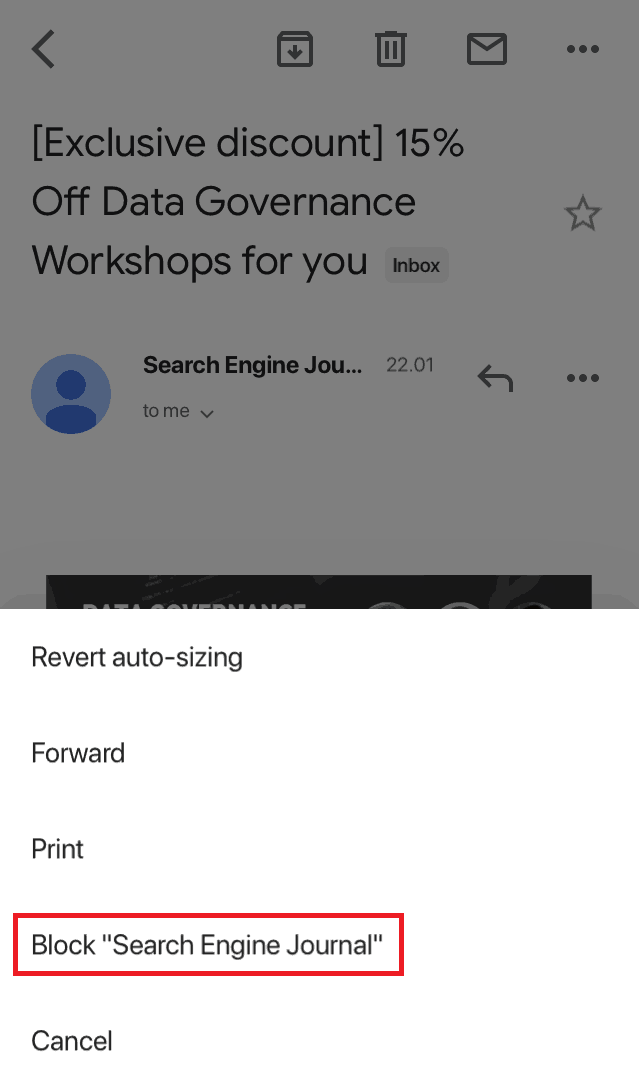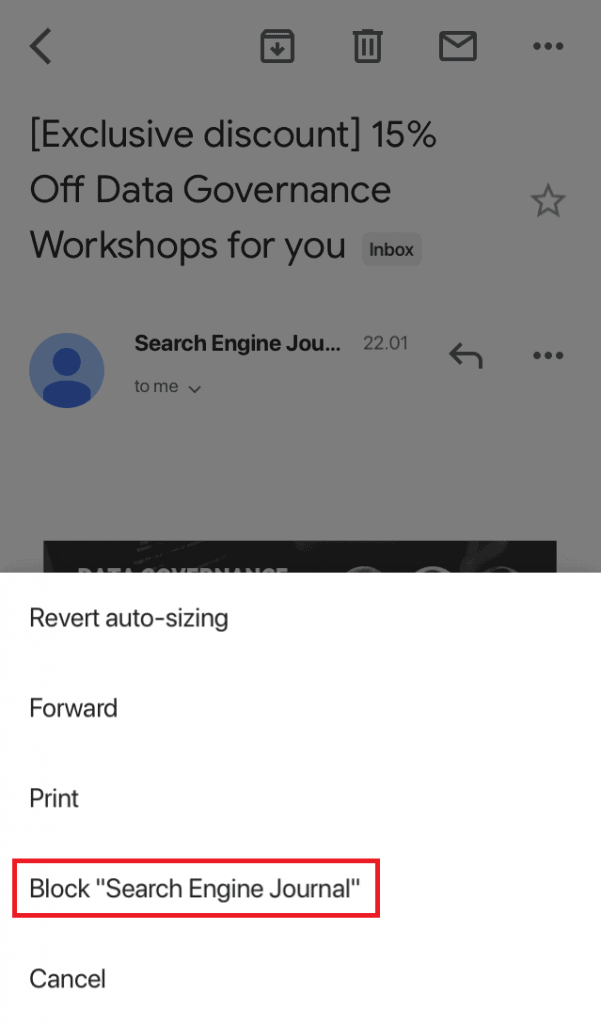 Similar to Android, you can block emails on your iPhone in less than a minute. Open the email you want to block from the IOS's Gmail application, press the three-dot-button, and click Block "Sender name" option that pops up from the bottom of your screen.
Keep in mind that the Gmail application for Android and iOS has two three-dot buttons. Choose the one above the opened email instead of the one at the top-right corner of your phone screen.
Conclusion
If you're getting tired of spam emails, unsubscribing or blocking them can be an ideal way to stop them from coming.
However, sometimes unsubscribing is not enough. You can permanently avoid those emails with blocking.
By doing so, you'll get extra advantages, namely:
Spam-free inbox. Unimportant emails are no longer available
Time-efficient. A clean inbox is a few clicks away.
Safe from Malware. Avoid malware that is carried by spams.
As you can see from the article, blocking emails on different email clients and devices are pretty identical.
Simply open the email, press the button with three dots above the content, and select the Block option from the drop-down menu.
Pretty straightforward, right?