How to Create an Email Account for Professional Use and Set Up a Mail Client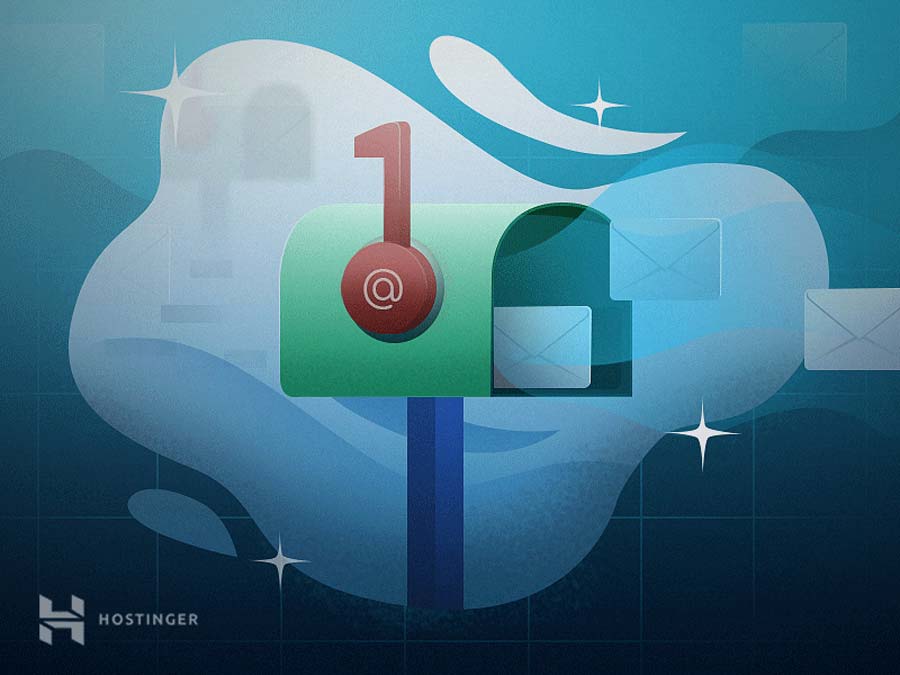 Email marketing is one of the most effective strategies to drive sales. A business email is also essential for businesses and professionals to improve branding and authority. Therefore, this article will explain how to create an email account for professional use.
A professional email address refers to an account with your domain name. Having a custom email address adds credibility to your brand.
By the end of this article, you will be able to create custom email accounts for professional use.


How to Create an Email Account for Professional Use – Video Tutorial
Learn how to create a professional email account in this Hostinger Academy video.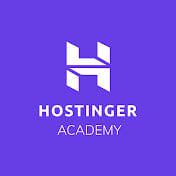 Subscribe For more educational videos!
Hostinger Academy
Subscribe
How to Create an Email in 5 Easy Steps
The process of creating business emails used to be time-consuming and complicated. Fortunately, you can now get custom domain-based emails in five simple steps.
1. Register a Domain Name
The first step in creating a professional mail address is to buy a domain name. Your registered domain will appear after the "@" symbol on the email address – for example, johnsmith@yourdomain.com.
Hostinger's domain checker helps you find unique domain names for your business's website. You can also register a domain name for free if bundled with some of our hosting plans. Therefore, you don't need to purchase a domain name separately.
Domain Name Checker
Instantly check domain name availability.
Here are the steps to register a domain name using Hostinger:
Use the domain checker and enter a preferred domain. Click Search to check its availability. If you're unsure which domain name to pick, use a domain name generator.
Choose an available domain and click Add to cart → Continue to cart.
Select a Period between one to three years, create an account, and select your payment. Once you click on Submit Secure Payment, log into your account.
After logging into your Hostinger account, click Setup to configure the domain name.
The next screen will present multiple forms to fill out. The information you enter is important, as it will be shown in the WHOIS database lookup tool.
To activate your domain name, verify it within 15 days.
Pro Tip
After you bought a domain name from a registrar, add it to your hosting account and point the DNS to our servers. Alternatively, transfer the domain name to Hostinger.
2. Choose an Email Hosting Provider
Once you have a domain name ready, choose an email hosting plan.
All of Hostinger's web hosting plans come with free custom emails. Additionally, we offer two affordable plans with Titan.
The Business Email plan costs $0.99/month, suitable for small to medium businesses. The plan includes 10 GB of storage, with advanced anti-spam and antivirus. Another option is the Enterprise Email plan, which costs $2.49/month and offers 30 GB storage.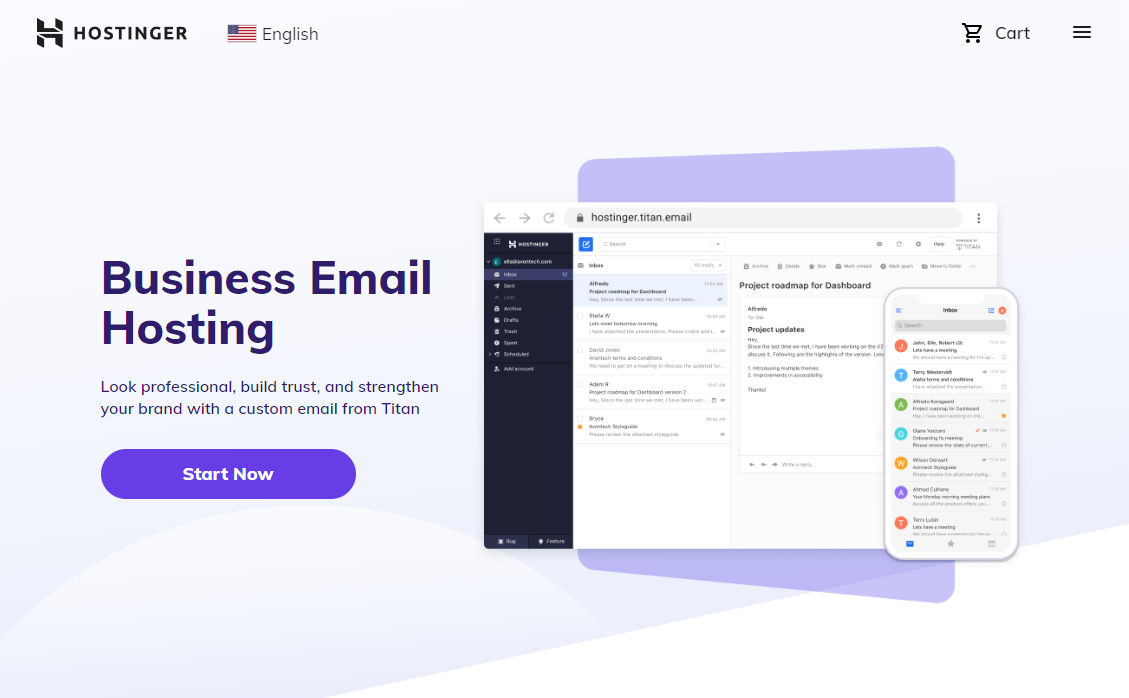 Both options offer a one-click import feature to migrate your old email to Hostinger.
Hostinger also offers Google Workspace email hosting. With this option, you can use other Google tools, such as Calendar, Meet, Chat, Drive, Docs, and Sheets. Hostinger's Google Workspace hosting costs $6/month for 30 GB of email storage.
3. Set Up the Email Services
Every email service provider has its own way of setting up an account. The steps to set up a custom email with Hostinger depend on your chosen service.
Web Hosting Plans
Some web hosting providers include email services in their plans. For instance, Hostinger's web hosting plans come with a free custom email.
Once you log into your account, here are the steps to set up a Hostinger email account with your web hosting plan:
Head to the Email → Manage.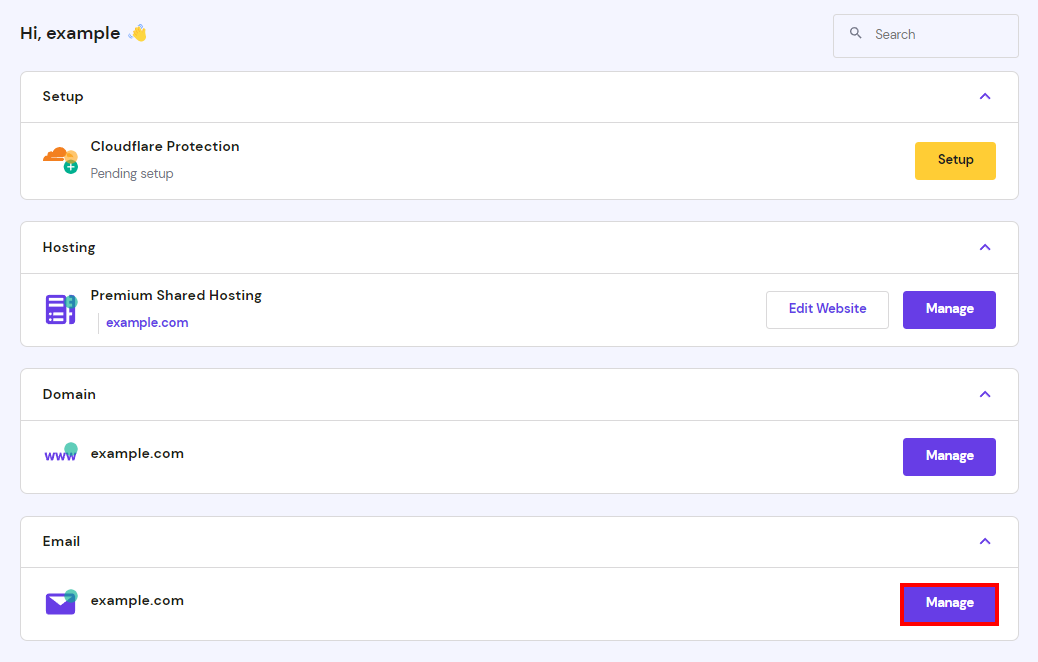 Click Create email account to continue.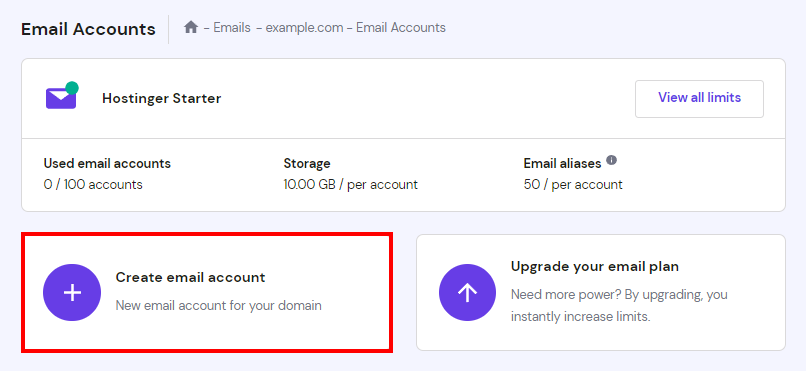 Add the email address and password, then click Create.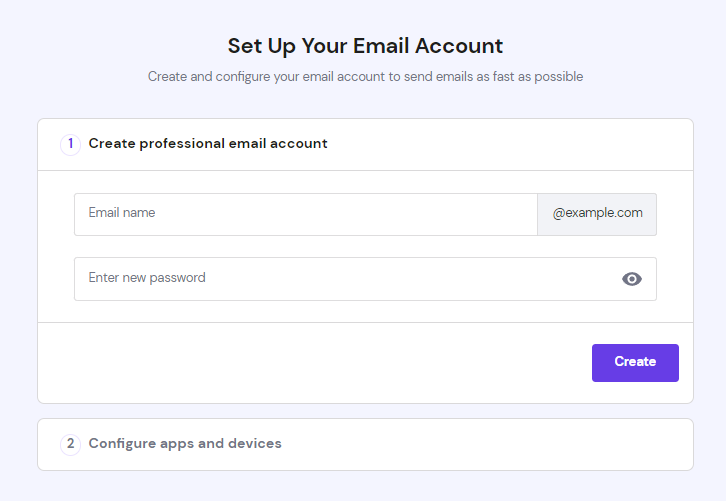 To configure the email account on mobile devices, select the application and click Set up. Follow the instructions according to your application and click Complete.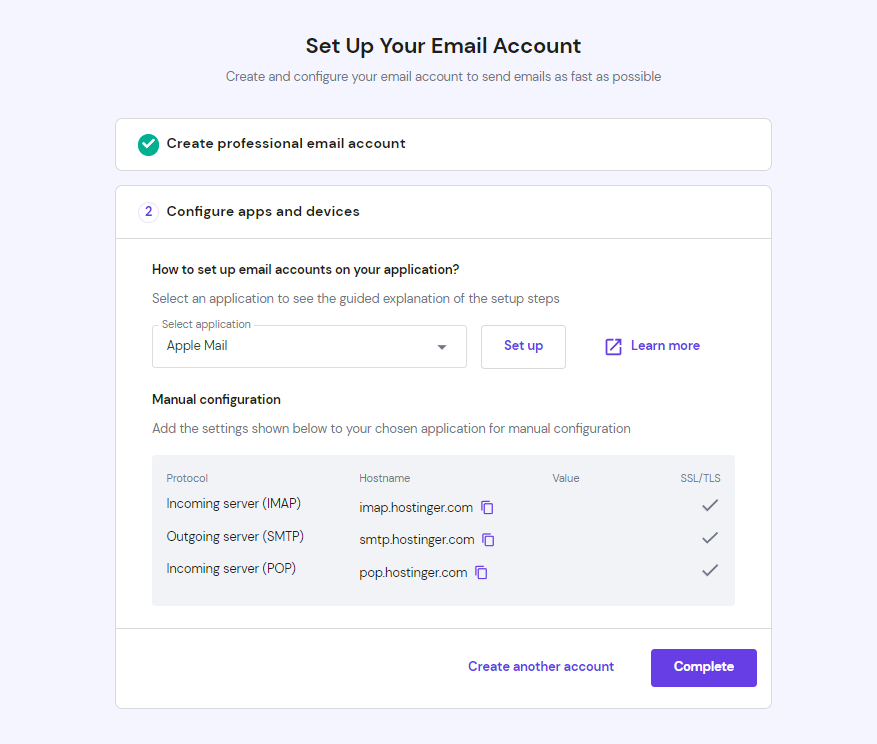 Another option is to choose Create another account to make more custom email addresses.
Titan Email Hosting
If you only want to create custom email addresses, another option is to use a premium email hosting service. For example, Hostinger offers two Titan Email Hosting plans suitable for businesses.
Once you purchase one of the plans, log into Hostinger to create a business email account.
Here are the steps to create a new email address using Titan:
Click the Setup button next to your plan and Enter Domain Name → Continue.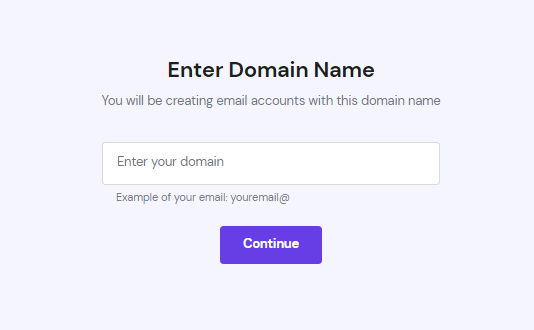 Head to Emails on the main menu and select the domain name. Click Email Accounts to continue.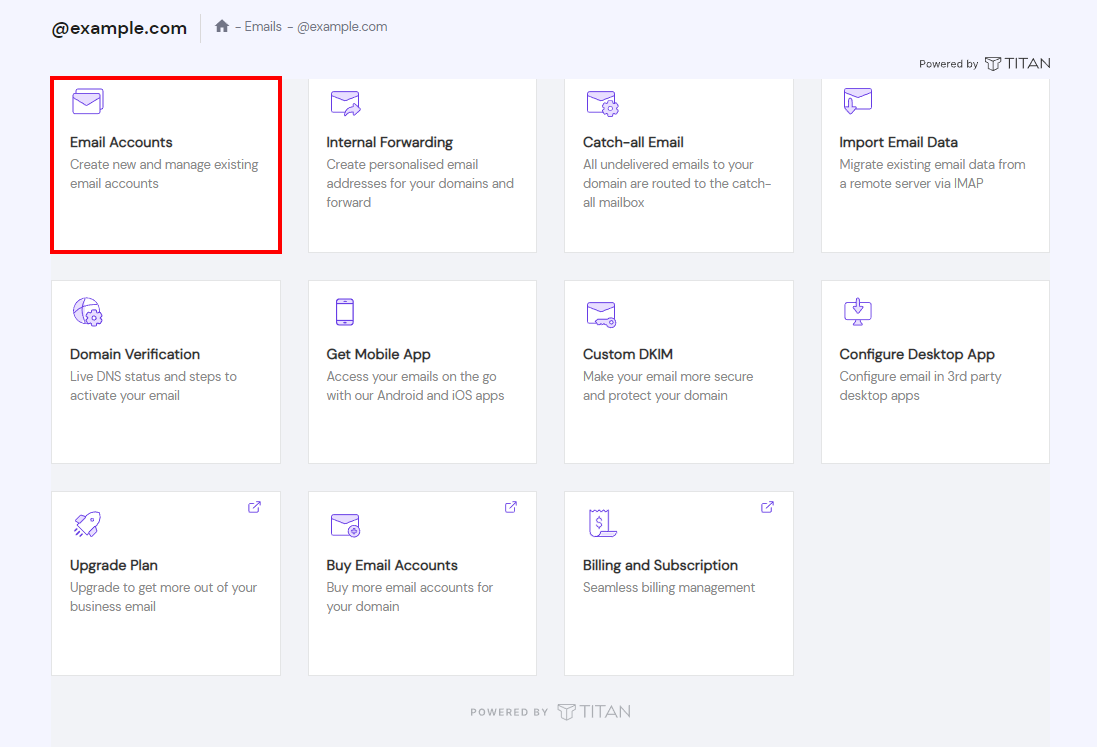 Click the Create new email account button and enter the address, password, and recovery email.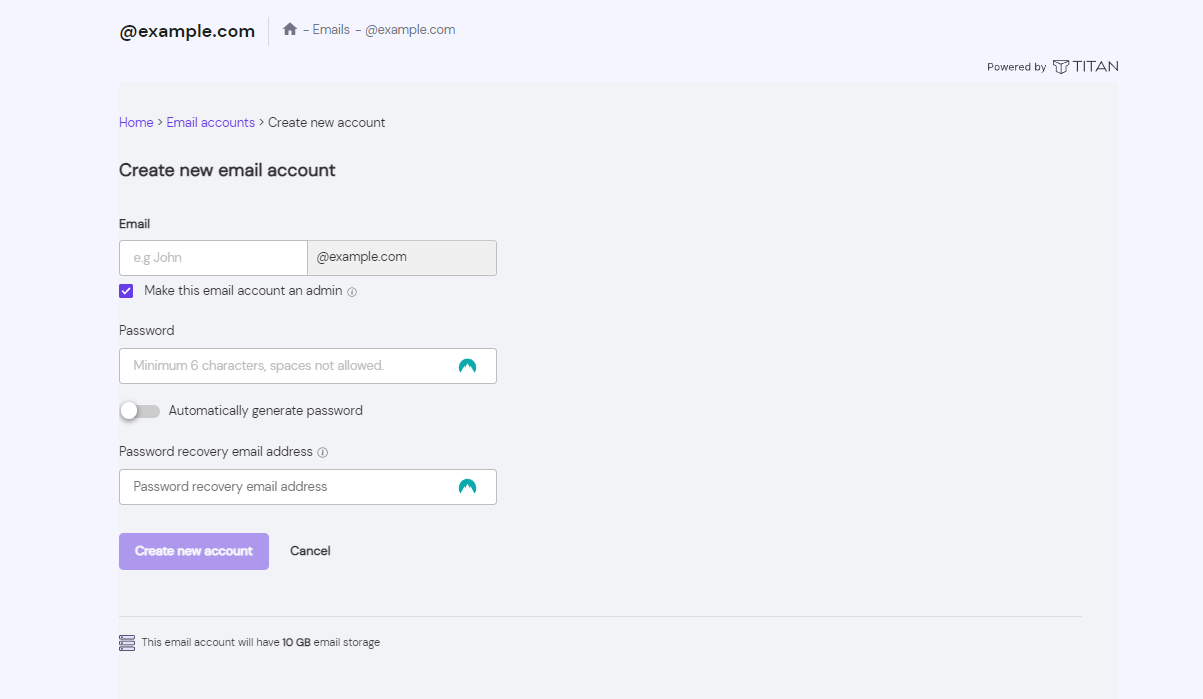 After creating the email, you can access the webmail and the mobile application. Click Done to finish the setup.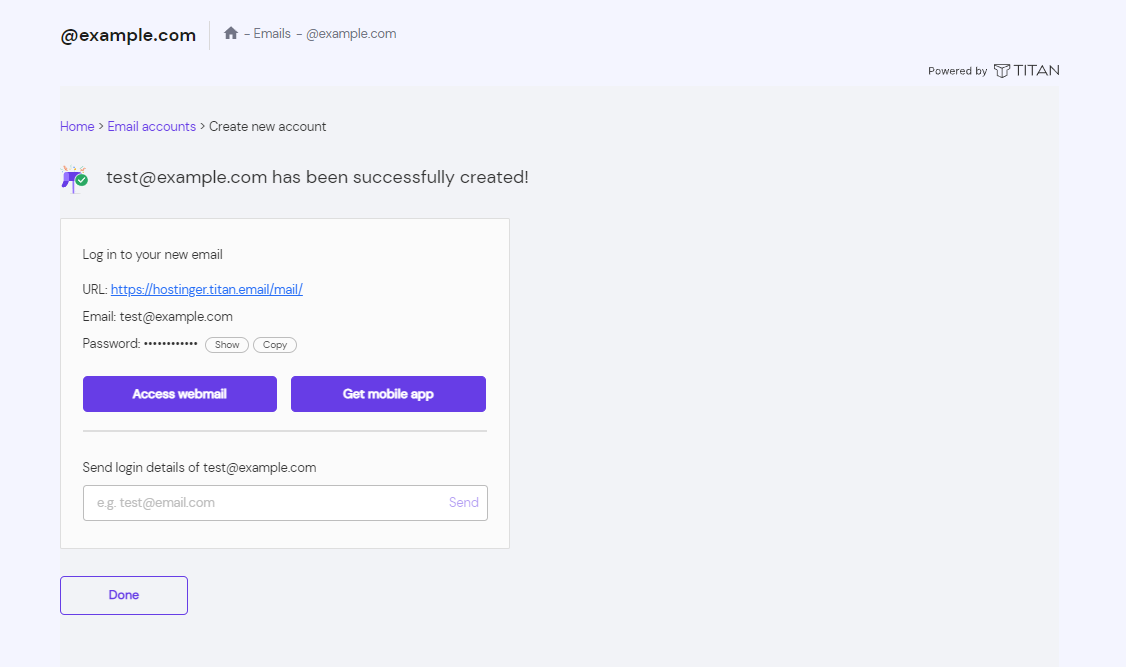 Google Workspace
Another option is to get Google Workspace email hosting. After purchasing it, log into your account to configure the email accounts.
Follow these steps to set up Google Workspace Email using Hostinger:
If you don't have a domain yet, click Claim domain for your custom email address and follow the registration process. If you already have a domain, click Setup next to Google Workspace Email.

Follow the registration instructions by entering your business information and creating the admin email address.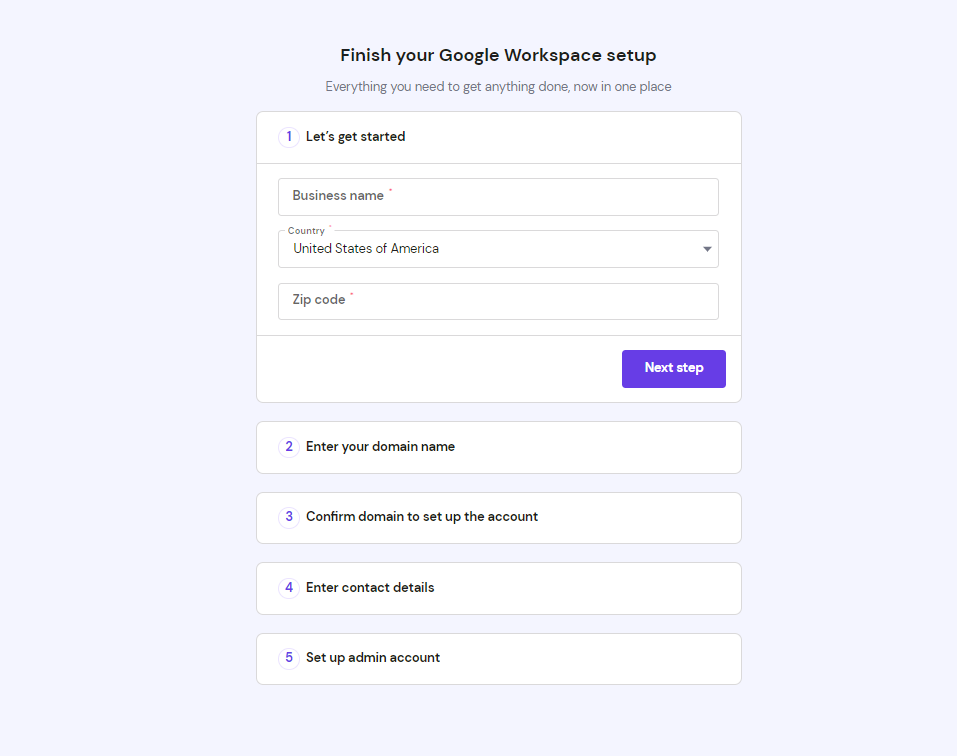 Head to Emails to access the email mailbox or log in from Google directly.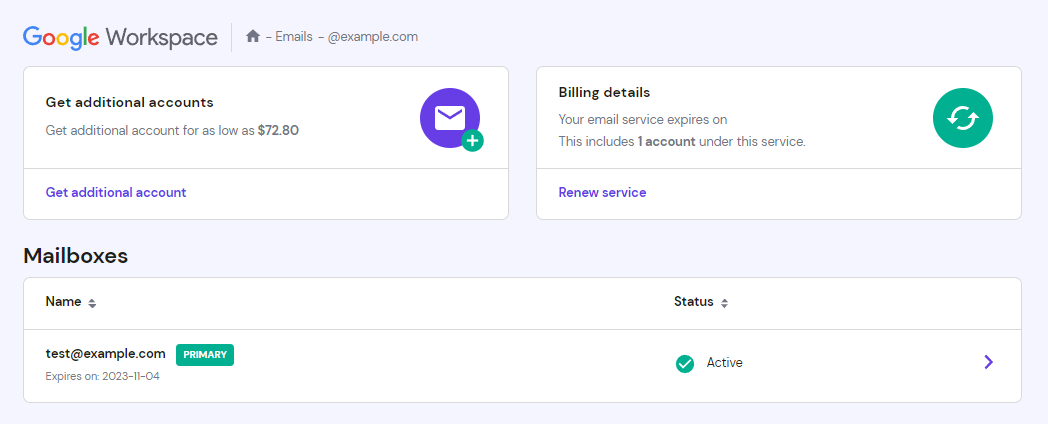 After creating the email address, verify your domain.
Google will give you a domain verification code. Verify domain ownership by heading to hPanel → Advanced → DNS Zone Editor.
In the DNS Zone Editor, add a TXT record with the verification code from Google. You can also verify your domain with a CNAME record.

Important! The DNS record changes may take up to 24 hours to propagate fully.
If your domain points to Hostinger, it will automatically add all the necessary Google MX records. But if your domain is pointing elsewhere, you must set the records up manually.
For those who already have a website, another way to verify your domain is by adding a meta tag from your Google Admin Console.
In the admin console, click Domains → Manage domains → Add a domain. Enter your domain name, and then click Continue and Verify ownership.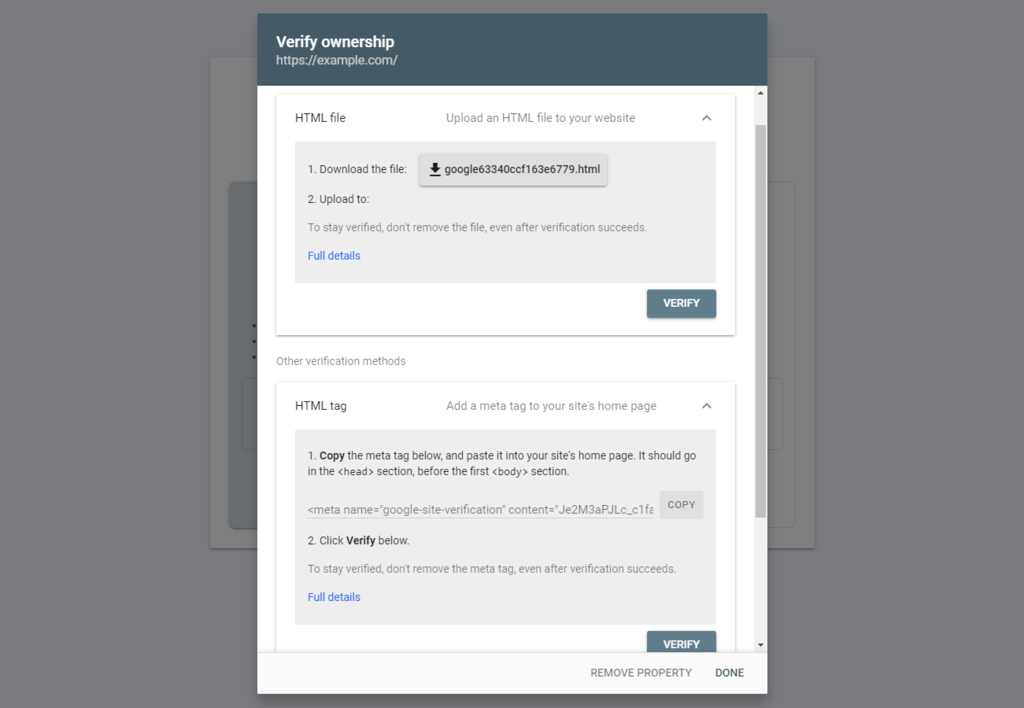 The next page will give you two options to verify your domain: upload an HTML file to your website or add a meta tag.
For the first option, Download the file and upload it to your website via an FTP client. Next, access the file by entering its directory path on a web browser. For example, example.com/thefilename.html.
If you see the google-site-verification text on your screen, return to Google Admin Console and click the Verify button.
Another option is to paste the HTML tag on Google Admin Console in your site's index.html file. Paste the code after the <head> section and before the first </body> tag.
The code should look something like this example:
<html>
  <head>
    <title>Your Page Title</title>
    <meta name="google-site-verification" content="your verification 
string">
  </head>
<body>
Once verified, you can use the custom email address.
4. Configure the Email Addresses
After setting up the custom email address, configure it first before sending messages. Personalizing your email can increase professionalism and authority. For example, you can include a full name, business name, and contact information in every email.
Follow these steps to add a signature using Hostinger Webmail:
Head to your Email Accounts setting and click on Webmail.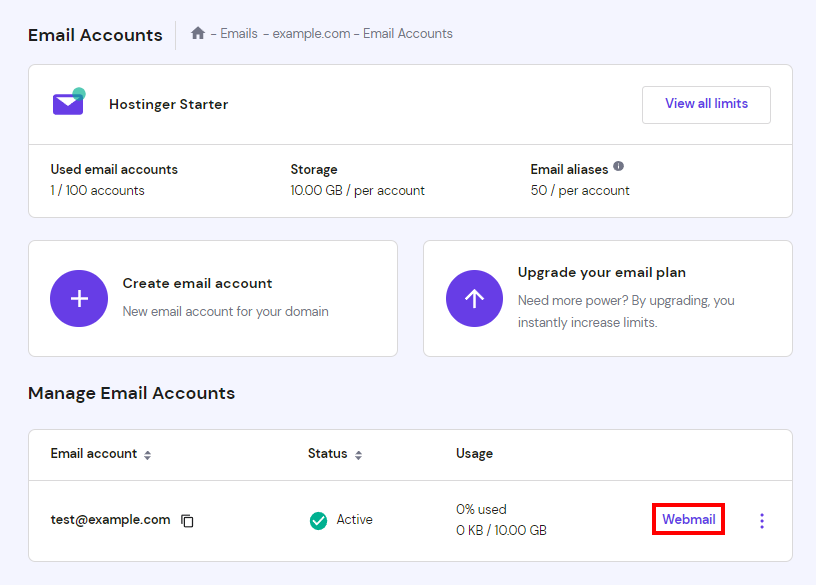 Enter your login information, head to Settings → Identities, and select the email address.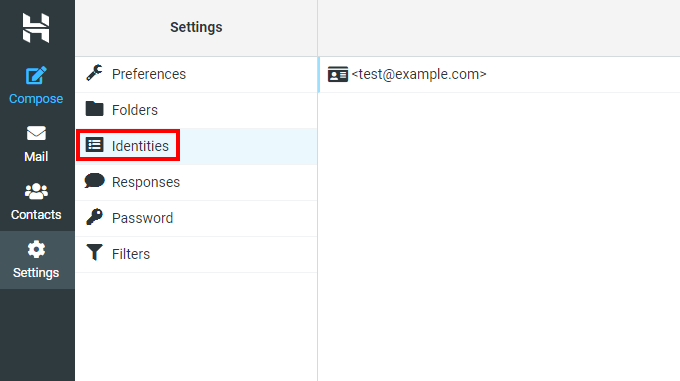 Add your professional information under Signature and click Save to finalize the changes.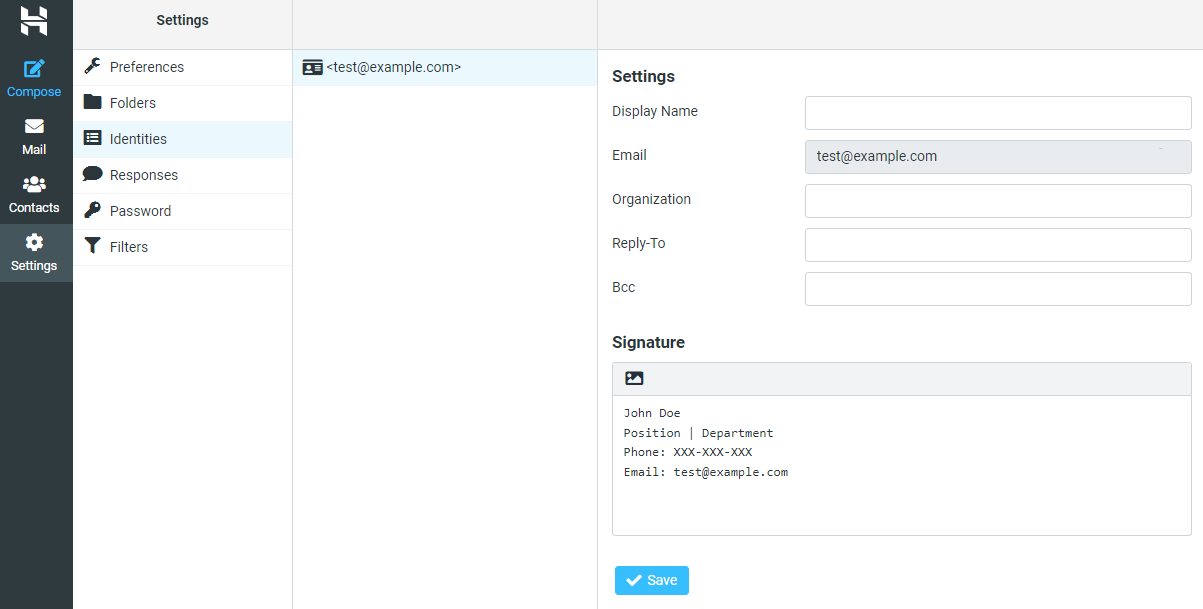 Another option is to use free tools, such as Designhill Email Signature Generator, MySignature, Mail-Signatures, and HubSpot. Some tools provide pre-made templates, and others have drag-and-drop functionality for design customization.
5. Set Up an Email Client
An email client is a program or application that sends and receives emails directly across devices, including desktop computers and mobile phones. It works hand-in-hand with an email server. For this reason, the definitions of the two components often overlap.
Email servers are software running on servers that store all emails from the web. They may belong to a hosting company, an internet service provider, or a webmail provider. Its function is to connect users with email servers.
An email client's main advantage is managing multiple emails in one place, making your work more efficient. Usually, email clients also provide integrations with various apps, such as Google Calendar and Dropbox, to boost productivity.
Users can download a free email application, such as Mozilla Thunderbird and Apple Mail, to set up an email client.
Here is a step-by-step instruction on how to configure each software as an email client:
First, locate the IMAP/POP3 and SMTP server settings. These are protocols that email clients use to fetch messages from email servers.
The steps to do so may differ depending on your email hosting. If you use Hostinger's email hosting as part of your web hosting plan, follow these steps:
Head to your hPanel and click Manage under your email plan.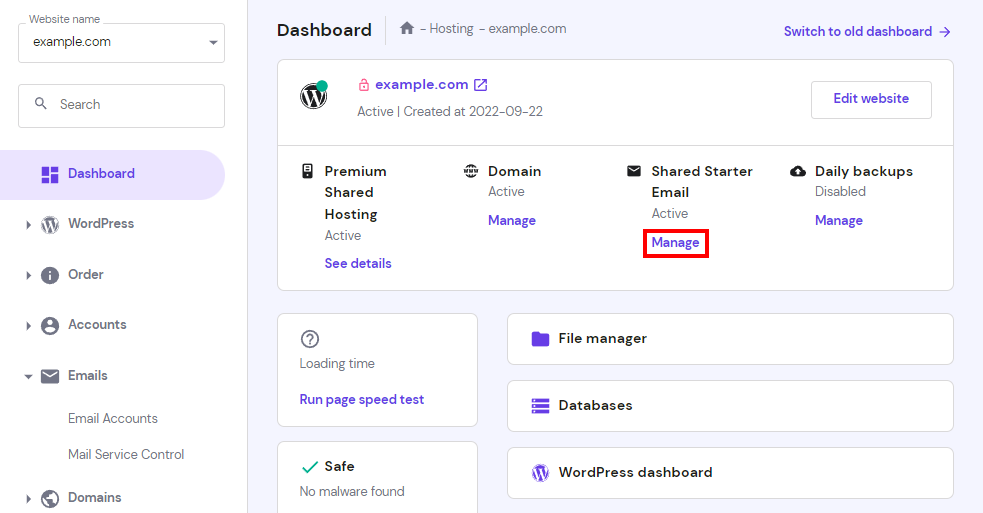 Go to Configuration settings. Under Manual Configuration, access your email server settings.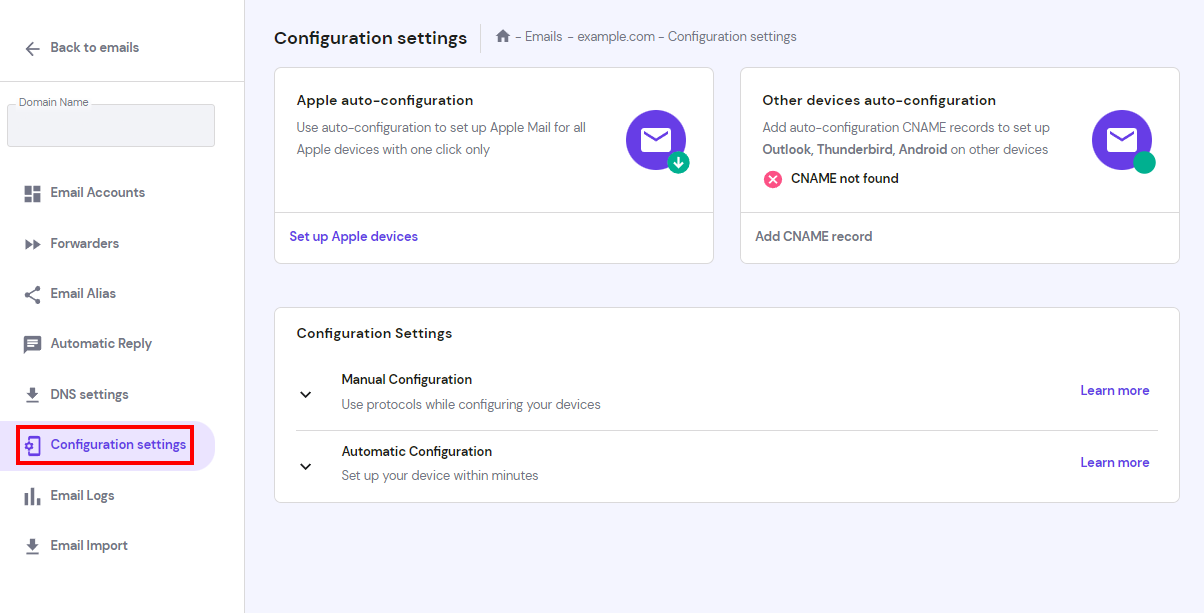 Keep the information for the next steps.
If you use Hostinger's Titan email hosting, log into your account and open the email settings. Click Configure Desktop App to get the email server settings.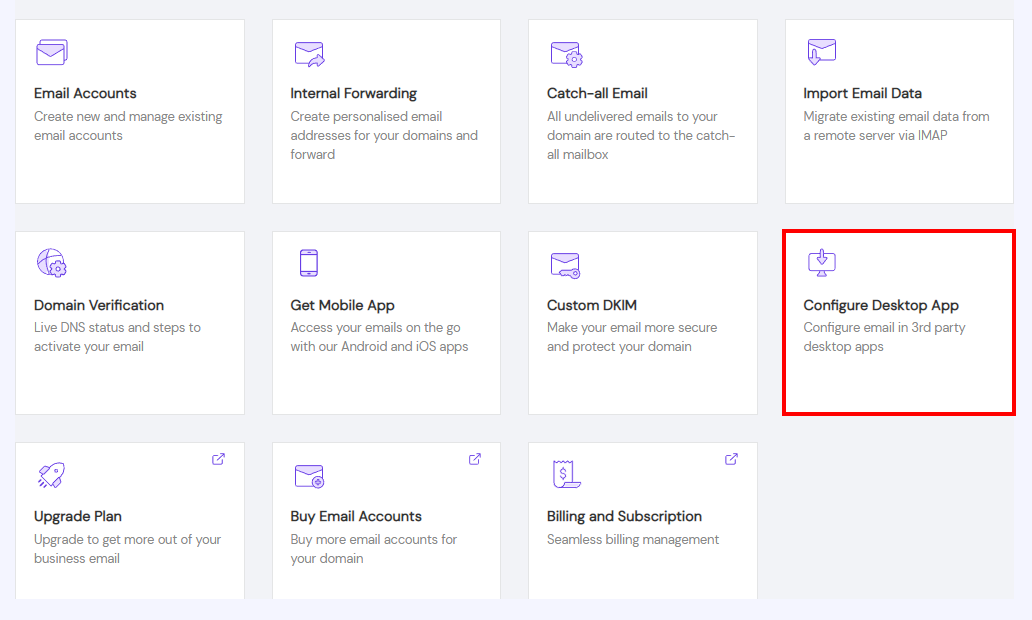 If you use Google Workspace, sign in to your Gmail account and click on the gear icon on the upper-right side of your screen.
Click See all settings and locate the Forwarding and POP/IMAP tab. Enable IMAP access by clicking on the bullet point and Save Changes.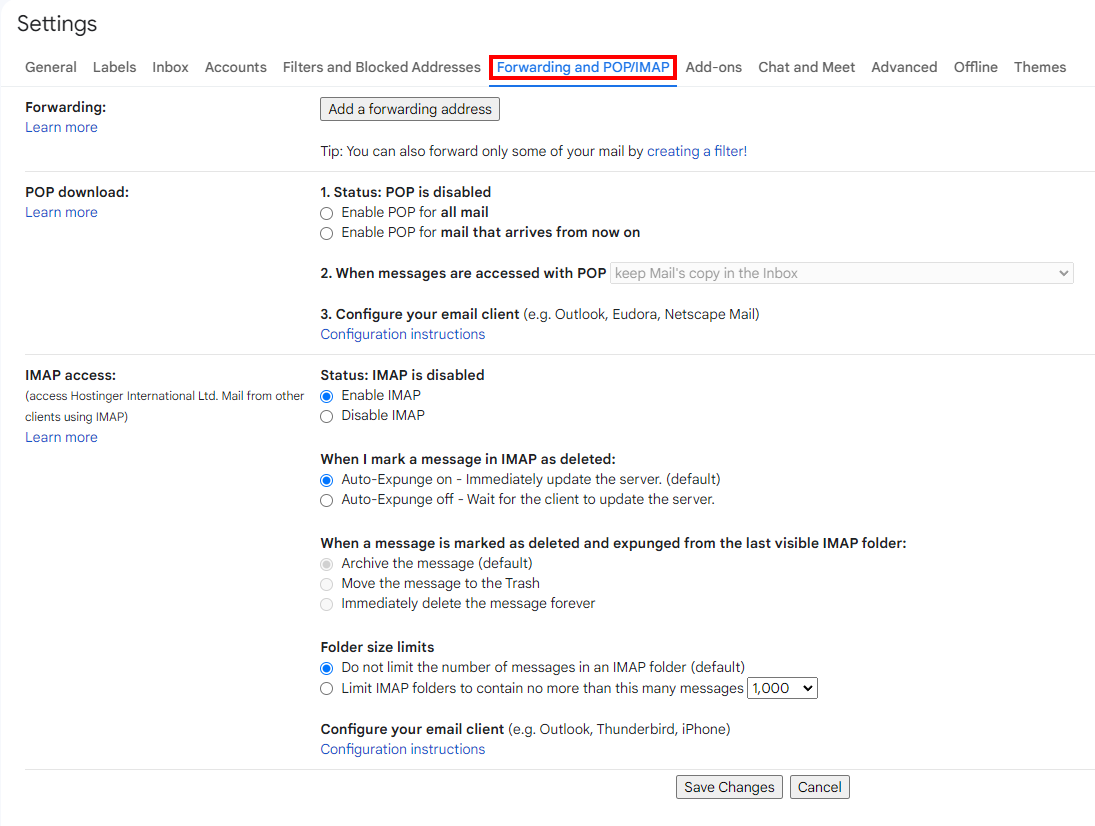 Once you've got all the incoming and outgoing mail server details, add them to your email client. Every application has its own way of adding this information. Here is what the process will look like in Thunderbird and Apple Mail.
Thunderbird
Here are the steps to add mail server details using Mozilla Thunderbird:
Access Mozilla Thunderbird and click the Email button.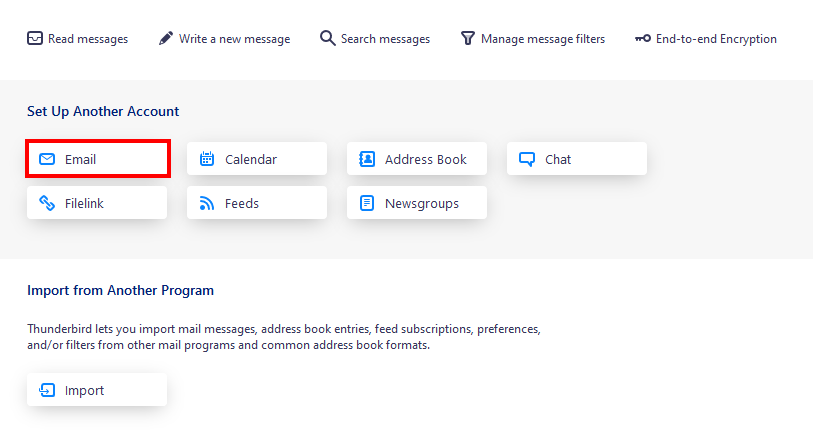 Enter your Name, Email address, Password, and click Continue.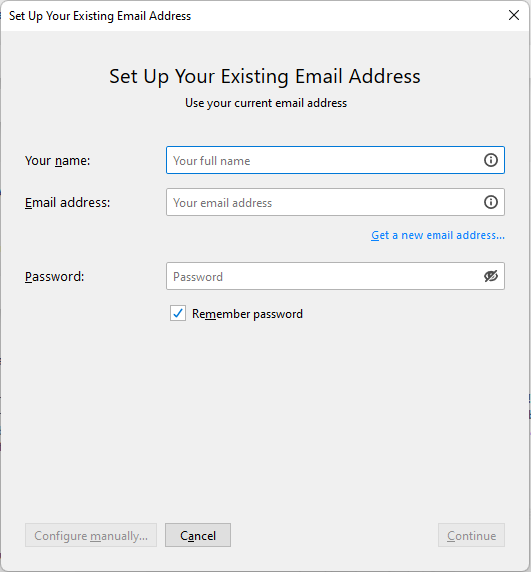 Thunderbird will determine your account settings based on your domain name. Click Done to finalize the process.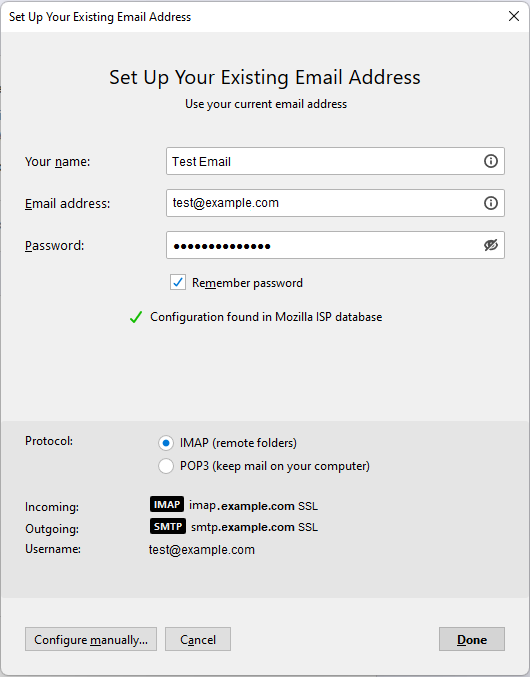 If the system cannot find your account settings, edit your server names and enter the IMAP/POP3 ports manually. Click Re-test until Mozilla Thunderbird can configure your address.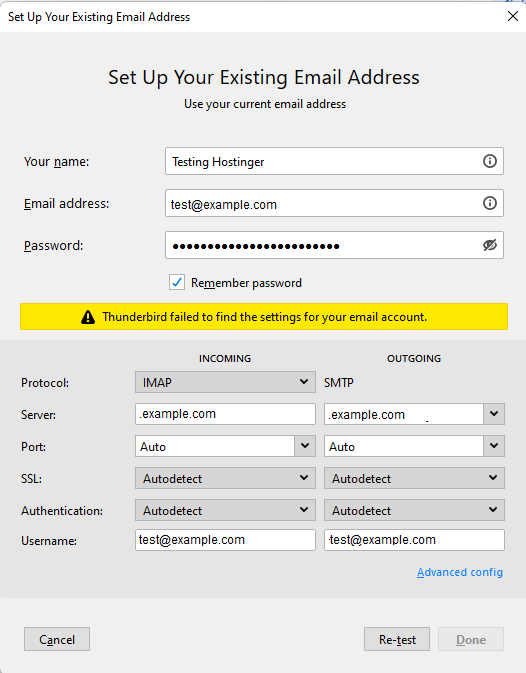 That's it. You can now send and manage emails directly from your Mozilla Thunderbird client.
Apple Mail
Note that Apple Mail is only available on Mac OS 10.0 or later.
Access your Apple Mail client and navigate to Mail → Add Account → Other Mail Account.
A pop-up screen will appear. Select your email account provider and click Continue.
Enter the necessary details, such as your name, email address, and password. Click Sign In.
Apple Mail will attempt to connect with your email server automatically.
If the system fails, the error message "Unable to verify account name or password" will appear. In that case, manually enter the incoming/outgoing mail server values and ports. Once finished, click the blue Sign In button to finalize the setup.
You can now effectively manage all your mailboxes in a single application. With Apple Mail, you can also include multiple supporting apps from your mobile phones, such as contacts, notes, and calendars.
Conclusion
Creating a custom email account is a great way to build branding and authority. Be it for an established business or a freelance professional, a custom email address makes your brand more legitimate.
Here are the steps to create an email account for professional use:
Register a domain name. Purchase a domain from a registrar or buy a hosting plan to make free domain-based emails.
Choose an email hosting provider. Get a dedicated provider and a secure environment to send, receive, and store emails.
Set up the business email services. Activate your hosting service and start creating business email addresses.
Configure your new email address. Personalize your emails to make them look more professional. For instance, use a personal username alongside a company name. Also, create general mailboxes for receiving inquiries.
Set up an email client. Install email client software to manage your business emails from desktops or mobile devices.
After following this guide, it's time to create your own custom email account for professional use. Don't hesitate to comment below if you have any questions or suggestions.
How to Create an Email Account FAQ
Now that you know how to create an email account for professional use, here are some frequently asked questions about the topic.
How Do You Create a Professional Email Address?
Start by deciding on the email format. Most professional email addresses include the person's full name and the company's name, such as firstname.surname@company.com. You should also get a domain, choose your email provider, and set up the email services.
What Is the Best Email for Professional Use?
Some of the best email providers for professional use include:
– Titan Mail
– Gmail
– Proton Mail
– Bluehost
What Is a Professional Email Address?
Professional email addresses are emails that are used mainly for business communication. They are commonly based on the business's own custom domain name. They may also include the person's first and last name, like firstname.lastname@yourdomain.com.
Do I Need to Own a Website to Create a Professional Email Address?
You don't need to create a website to have a professional email address – just a domain is enough. Simply purchase a name from a domain registrar and sign up for an email hosting service.

However, you can also do more digital marketing strategies and reach a wider audience with a website. Some hosting providers, like Hostinger, come with free email accounts.
How to Get the Best Email Performance and CTR?
When done correctly, email marketing can raise brand awareness and drive sales. One way to indicate a successful campaign is by examining the open and click-through rates (CTR). 

To improve your email performance, create an engaging subject line, personalize your emails, use CTAs, and make them mobile-friendly.
How to Open My Custom Email on Mobile Devices?
You will need to set up an email client to manage your custom email on mobile devices. First, locate the IMAP/POP3 and SMTP server settings in your email hosting. Then, add the mail server details to the client on your mobile device.
Why Is It Important to Personalize My Email?
Adding recipients' names in the subject or body of an email can increase open rates by up to 20%. In addition, you can also include interests or locations as personalization tokens. However, make sure to keep it subtle for privacy reasons.