How to Set Up Outlook: Complete Tutorial
If you are looking for an easy and effective way to organize your email accounts, consider using an email client such as Microsoft Outlook.
It's also an excellent platform to manage your calendar, track tasks, and store contacts.
Adding an email account to Outlook may seem daunting for beginners. However, there's no need to worry – this tutorial will show you how to set up Outlook quickly and easily.


Prerequisites
The requirements to configure Microsoft Outlook depend on the type of email account you have.


If you want to set up a custom email account on Microsoft Outlook, you need to have:
An email address – create an email account with your registered domain name by getting an email hosting plan. Your mail address will look like admin@example.com.
An email password – you'll need it when configuring Microsoft Outlook.
Account configuration details – locate your IMAP, POP, and SMTP configuration details. Microsoft Outlook uses these incoming and outgoing server settings to send and retrieve messages from your email provider's server.
If you want to add a Gmail account to Outlook, you'll only need the email address and password. That's because Microsoft Outlook will automatically add your Gmail account using IMAP. The process should be similar if you use a similar free email provider.
If you have two-factor authentication (2FA) enabled, make sure you have your authentication app like Google Authenticator and its password ready.
Finding the IMAP, POP, and SMTP Configuration
Before adding the incoming and outgoing mail server details to an email client, you'll need to find your email configuration details.
The steps to access your email configuration information depends on your email hosting provider.
If you use a Hostinger email, log into your hosting account, go to hPanel, and scroll down to the Emails section. Then, click on Email Accounts.


Click on your Manage next to your domain name and navigate to Configuration Settings -> Manual Configuration to see the mail protocol information.


Copy and paste the details to a Notepad file for safekeeping, or leave the page open while you configure Microsoft Outlook.
How to Set Up Outlook
After collecting the necessary details, it's time to set up Outlook.
Microsoft Outlook comes in different versions. We're going to discuss setting up Outlook 2019 and 2016. It's important to know which you are using since the configuration process is slightly different for each version.
The steps to configure Outlook on both Windows and macOS are very similar. This tutorial will focus on setting up the Windows version of the program.
Expert Tip
Want to manually add your Hostinger email address to Outlook? It's easy and quick – simply grab your IMAP and SMTP configuration details from hPanel. Then, open the mail client and add a new email account. Enter the details into their respective fields. If you encounter any errors, reset your password and input the parameters one more time. For more information, follow the tutorial below.
Microsoft Outlook 2019
This section will teach you how to add an email address to Outlook 2019.
1. Open Microsoft Outlook 2019
When the window pops up, enter your full email address.
To configure the outgoing and incoming mail server settings, click Advanced options, select the Let me set up my account manually box, and click Connect.
2. Configure Your IMAP or POP Settings
On the Advanced setup panel, you'll be asked to pick your account type.
Choose between POP or IMAP. If you use more than one device to access the email account, we recommend selecting IMAP.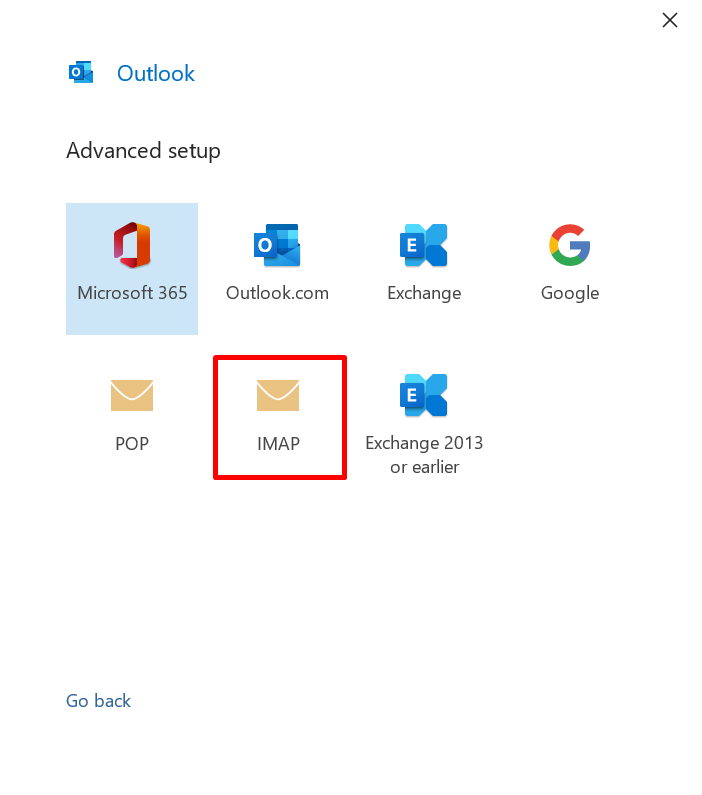 On the IMAP Account Settings page, fill in the Incoming mail and Outgoing mail fields with the hostnames and port numbers of your mail servers. Then, choose SSL/TLS as the Encryption method for incoming mail and click Next.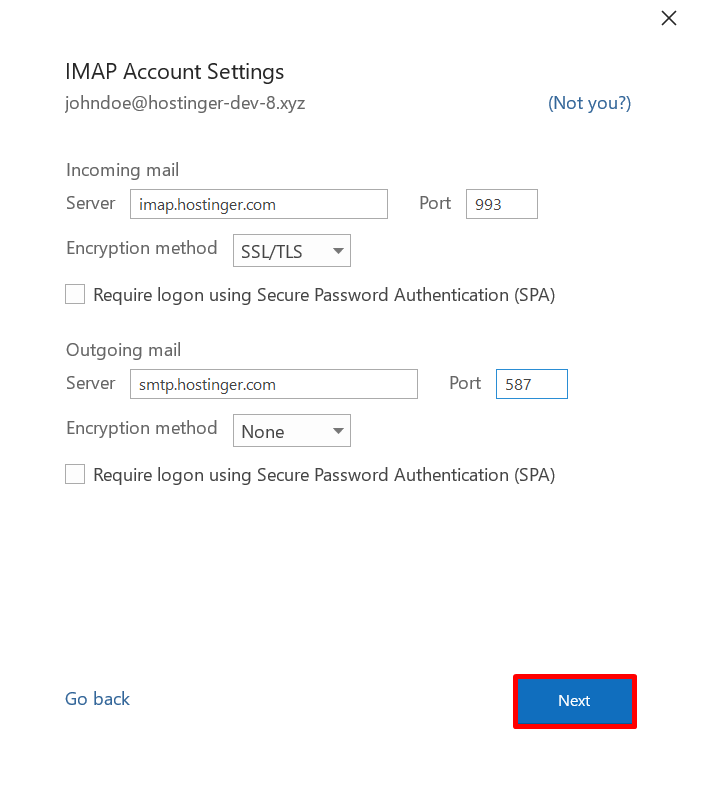 3. Finalize Your Setup
Enter the password for your email, click Connect, and wait for the process to finish.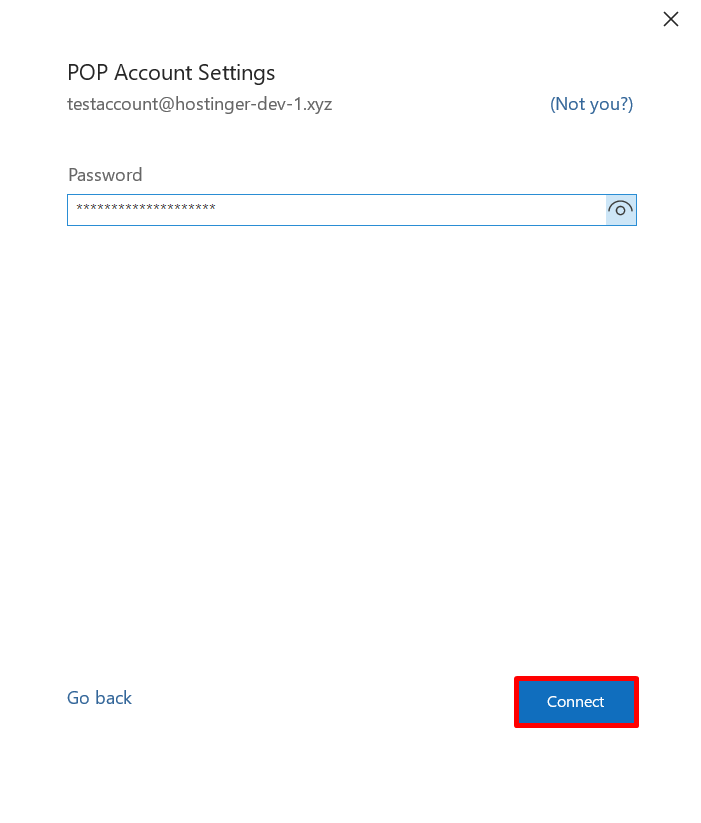 If an error message appears, click on Change Account Settings to go back to the previous screen. Once there, double-check the settings.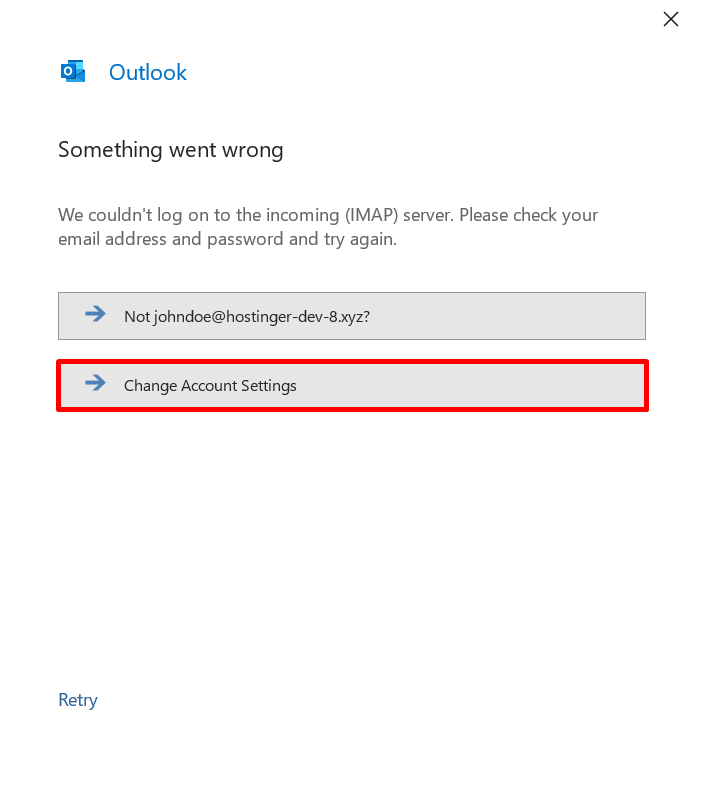 If the information you entered is correct, the window below will open to let you know that the email account was added successfully. Click Done to view your mailbox.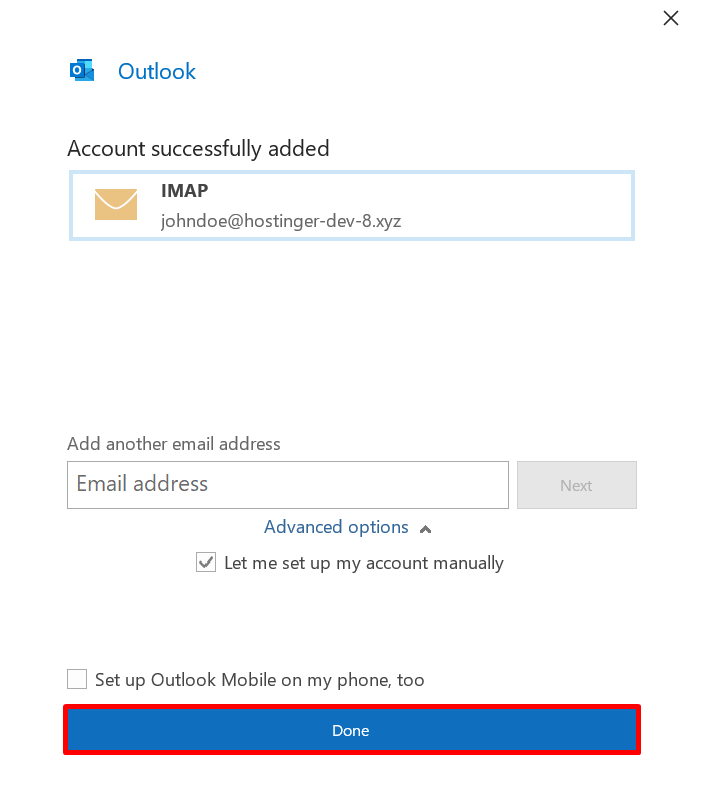 Now, you can start using Outlook to send and receive emails. Here's what the interface looks like: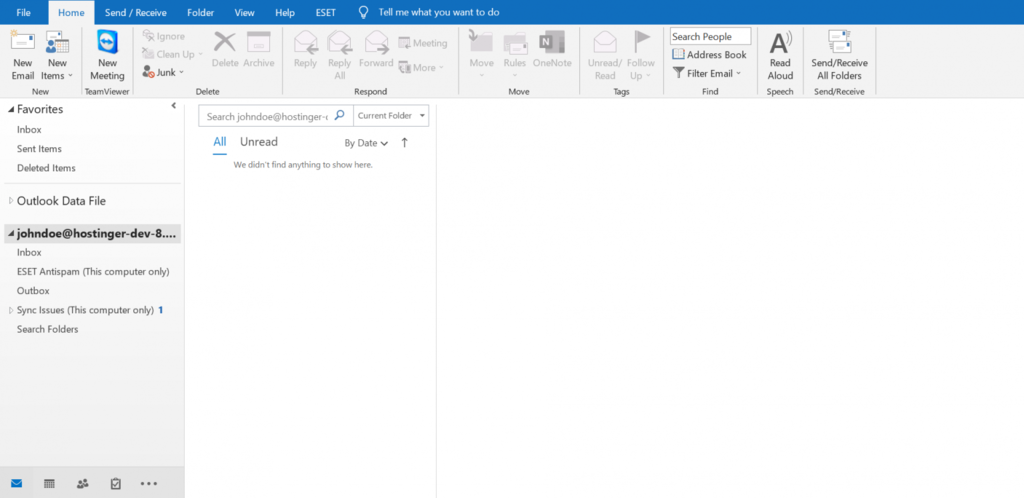 To add additional email accounts, go to File and click Add account. Then, follow the same steps as before.
Expert Tip
To set up an Outlook inbox for a Hostinger email address automatically, you'll need an email address, the right MX records set up, and for your domain to point to our servers. Add the following CNAME record to the DNS zone of your domain:
Name (Host) – autodiscover.domain.tld. Change domain.tld with your domain name.
Target (Pointing to) – autodiscover.mail.hostinger.com.
TTL – 900.
Keep in mind that it may take up to 24 hours for any DNS record changes to propagate. Once that's done, open Outlook and add a new email account. Enter your username and password. It should take up to 10 minutes for the mail client to be successfully linked to your Hostinger mailbox.
Microsoft Outlook 2016
To configure Microsoft Outlook 2016, follow the guide below.
1. Open Microsoft Outlook 2016
After opening the program for the first time, a welcome screen will pop up. Click Next to proceed with the setup.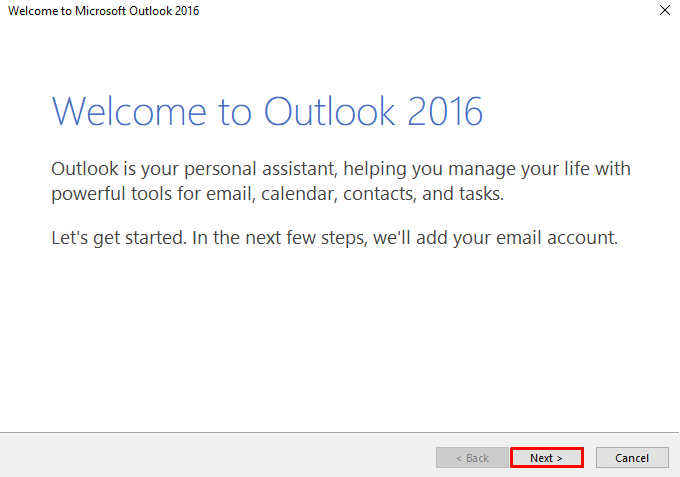 Then, tick Yes and click Next once again.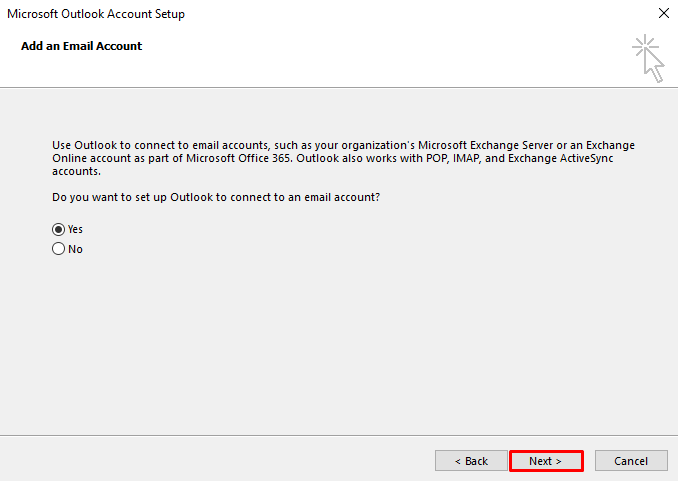 On the Add Account page, choose the option Manual setup or additional server types and select Next.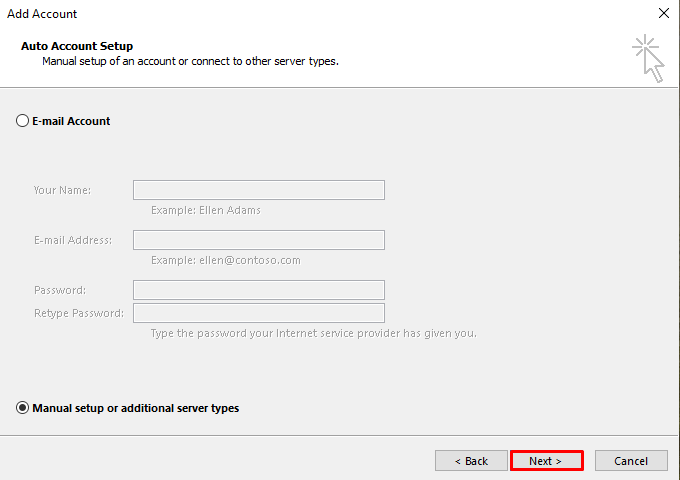 2. Configure the POP or IMAP and SMTP servers
Choose POP or IMAP and click Next to proceed.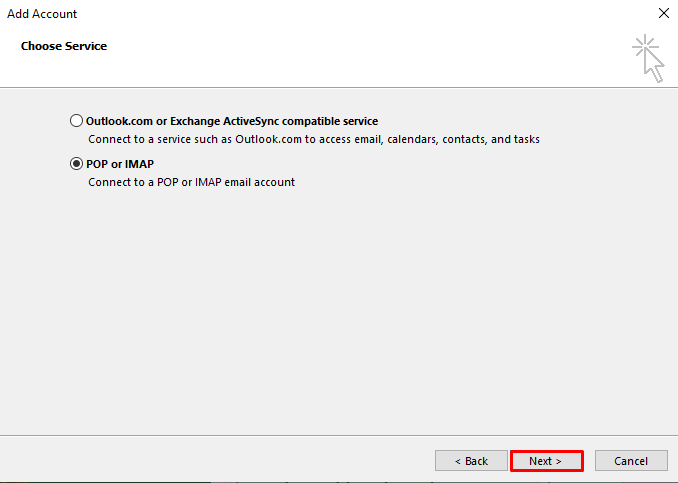 On the POP and IMAP Account Settings page, enter your name and full email address.
Under Server Information, click on the Account Type drop-down menu and choose POP or IMAP – we will select IMAP in this step.
Fill in both Incoming mail server and Outgoing mail server (SMTP) fields with the mail server hostnames.
Then, enter your email address once again in the User Name field along with the password, and click on the More Settings button.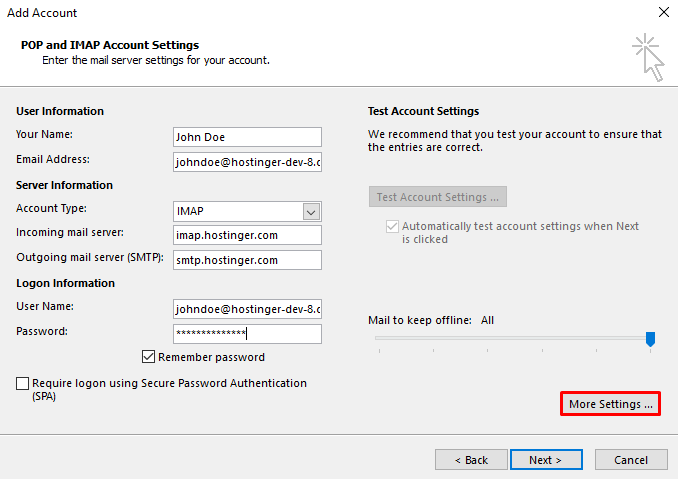 On the next popup window, click on the Outgoing Server tab. Tick My outgoing server (SMTP) requires authentication and select Use same settings as my incoming mail server.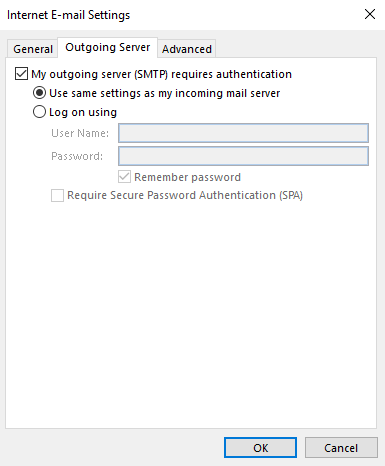 Then, click on the Advanced tab. Type your port numbers in the Incoming server (IMAP) and Outgoing server (SMTP) fields.
Under Incoming server (IMAP), click on the Use the following type of encrypted connection drop-down menu and choose the SSL encryption. Click OK.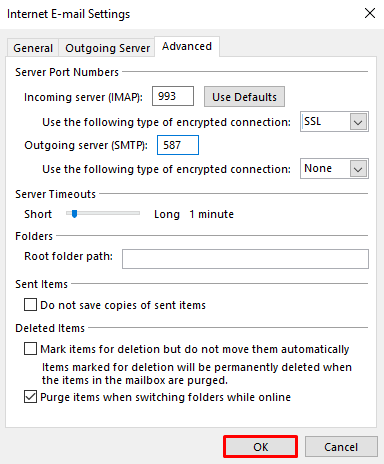 Once you're back on the Add Account page, click Next to proceed.
3. Finalizing the Setup
Outlook will try to connect to your incoming mail server and verify the settings.
It will display a message similar to the one below if it succeeds. Click Close to continue.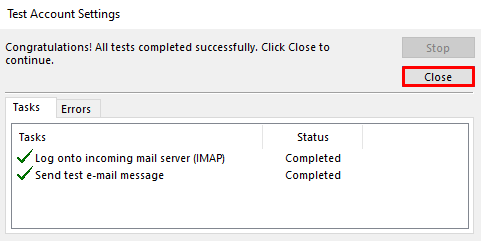 Another window saying that the setup process has finished will appear. Click Finish.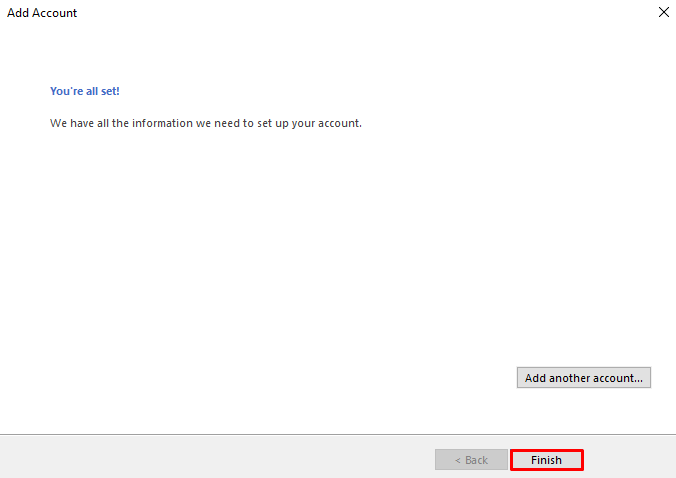 Now, you can start using your email account. Here's what the Microsoft Outlook 2016 interface looks like: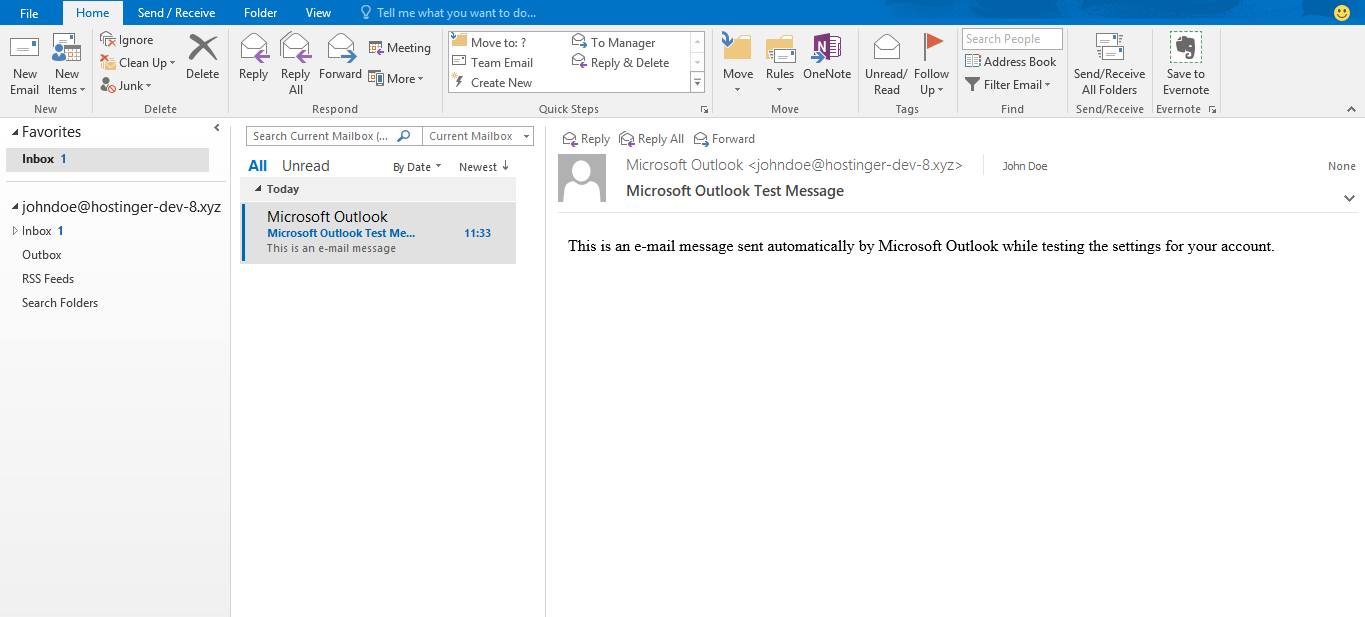 To add additional email accounts to Outlook 2016, simply go to File -> Add account.
IMAP vs POP
IMAP and POP are mail protocols that an email client uses to access messages from email servers.
Internet Message Access Protocol (IMAP) makes it possible for email clients to sync with a mail server in real-time, allowing users to access their email on multiple devices.
When using this protocol, Outlook will only download a message after you click on it. It won't download any attachments automatically.
On the other hand, Post Office Protocol (POP) downloads and stores messages locally but deletes them from the server's inbox. This means that the inbox can be accessed on only one device.
The upside to POP is that users can still access their mail even if there is no connection to the server.
If you're unsure of which email protocol to use, we recommend IMAP since it will allow you to access the email on multiple devices.
Alternatively, if you want to free up space on your server and view mail offline, choose POP.
Conclusion
The process to set up Outlook is straightforward and only takes a few minutes.
Before configuring Microsoft Outlook, remember to prepare an email address, password, and email protocol configuration details.
Let's recap the main steps to set up Outlook, regardless of the version you use:
Open Microsoft Outlook – access the Outlook app and choose to set up the mail account manually.
Configure the POP or IMAP and SMTP servers – choose the type of your mail account and input the incoming and outgoing mail server information.
Finalize your setup – wait for Outlook to sync your mail. If an error message pops up, go back to the settings and check the configuration details you entered.
When choosing between IMAP and POP, consider going with the former as it lets you access your email account on different devices.
We hope this article has helped you set up a mail account on Microsoft Outlook. If you have any questions or suggestions, feel free to share them in the comments section.