How to Add an Email Account on Mac – Apple Mail Guide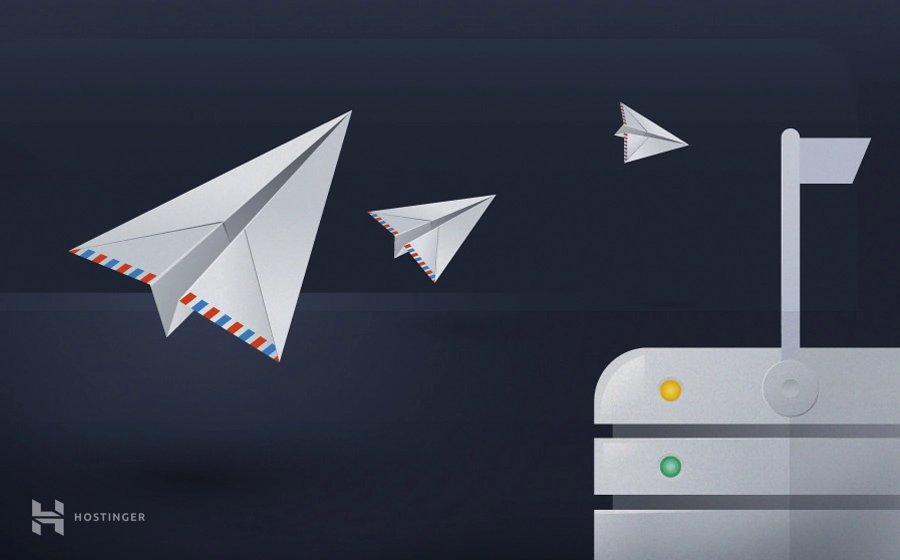 With over four billion people using email every day, it is clear that it plays a significant role in communication and digital marketing. Many individuals, businesses, and organizations use email accounts to connect with their clients, promote their products, and work more efficiently.
To improve your emailing experience, we recommend using an email client – a program for sending and receiving emails from various devices.
Generally, every operating system has its own default email client, for example, Outlook Mail for Windows and Mac Mail for macOS.
We will show you how to add an email account to Mac Mail, also known as Apple Mail. It usually comes pre-installed with every new macOS device since version 10.0.
Download Website Launch Checklist
1. Collect Your Email Details
Before learning how to add an email account to the Mac Mail app, you need to get your account's SMTP, POP3, or IMAP details. These are email protocols that a mail client uses to fetch messages from a mail server. Additionally, you will also need your email password.
Important! This tutorial is dedicated to macOS devices version 10.0 and later. However, the steps shown here should be similar to older versions of this email client. Follow our tutorial to set up your mail account on IOS devices.
If your domain name is already pointing to Hostinger, simply go to mobileconfig.mail.hostinger.com/ios and fill in the email information you can find in hPanel → Email Accounts. Follow the instructions shown on your device, and the rest will be done for you.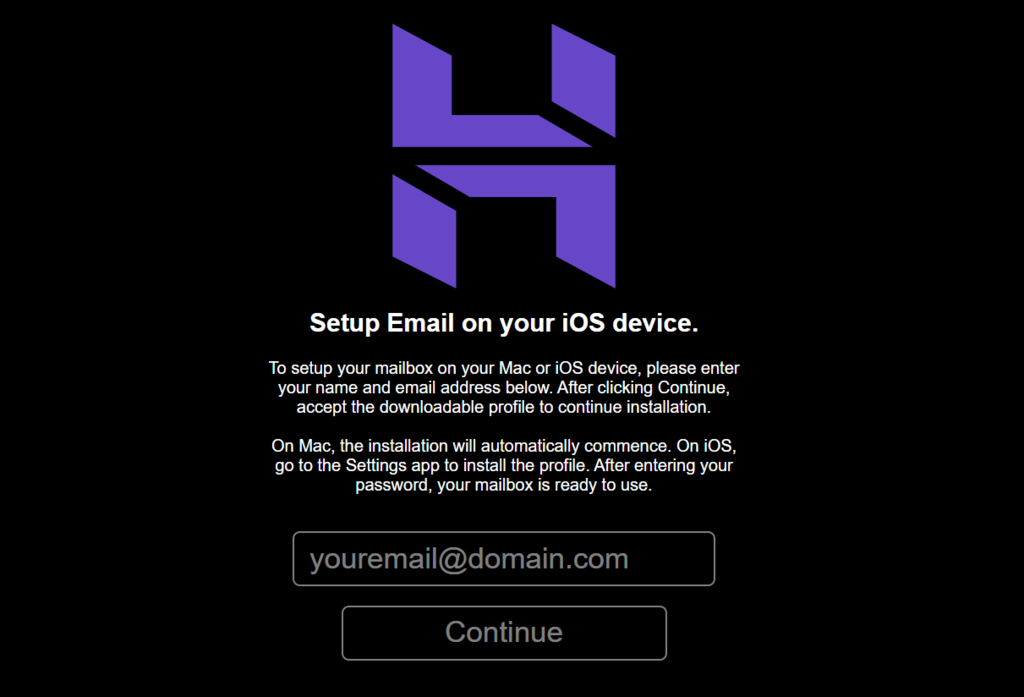 Otherwise, follow the steps below to find your mail details in Hostinger's hPanel and cPanel:
hPanel
Log in to your Hostinger account and navigate to Emails → Email Accounts. From there, click on your domain name.
Choose the Configuration Settings menu.
Click on Manual Configuration, and you will see your account details. Save them for later use.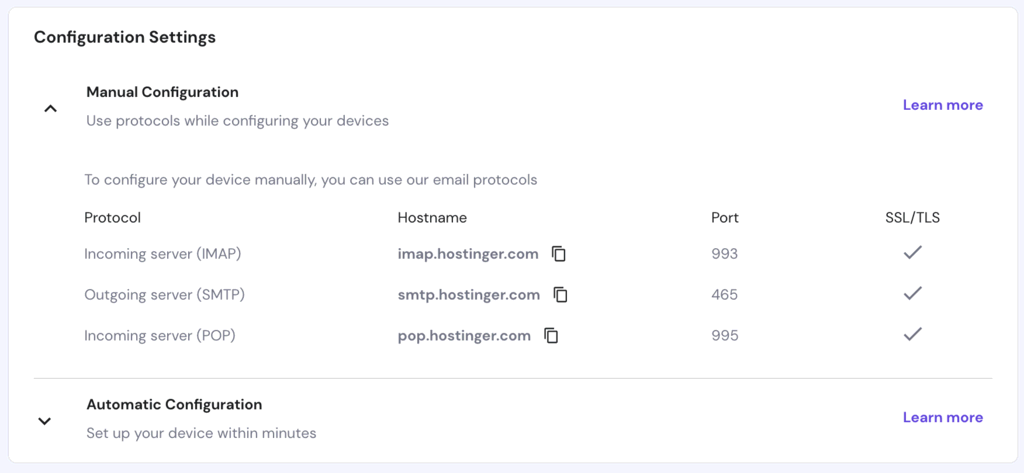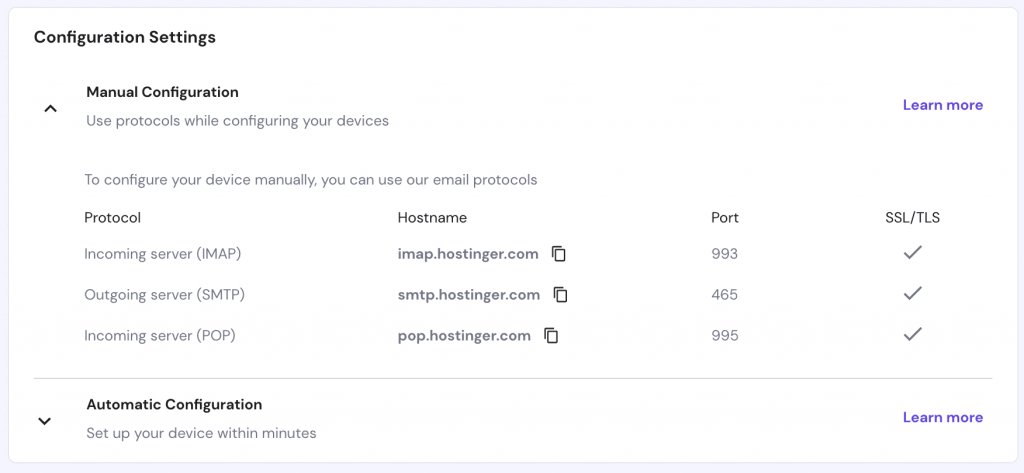 Pro Tip
If you cannot remember the password for your account, reset it by clicking the Change Password button on the same page, or create a new mail address.


cPanel
If you use cPanel based hosting, follow the steps below to locate the IMAP/POP and SMTP configuration of your email account:
Log into your cPanel account. Then, find and click the Email Accounts icon in your dashboard.

The next screen will show a list of your active mail accounts. Hit the Connect Devices button next to the account you want to set up.

Scroll down until you find the Mail Client Manual Settings section. There, you will see your mail account's information.

You can send this information to your personal email by filling out the email box under the Email Instructions section.

Besides using the Connect Device option, you can also view your email information by accessing webmail on cPanel. For a quick shortcut to the webmail dashboard, open your browser and type yourwebsite.com/webmail with your domain name.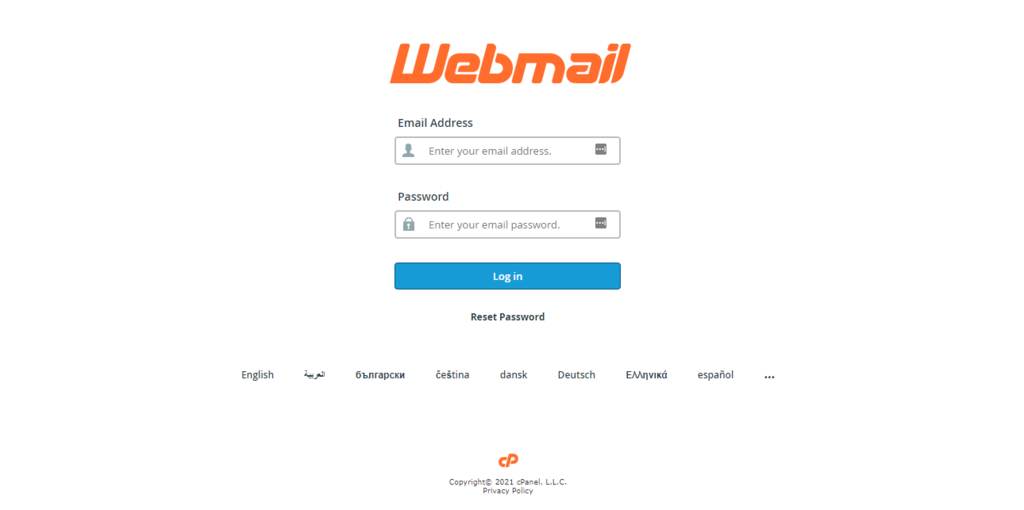 Continue by filling in the account credentials. A new window will open and show a selection of default webmail applications. Since you only need to view the email settings information, skip the webmail selection process and navigate to your email account on the top right corner.
From there, click on the dropdown menu and choose the Configure Mail Client option.

This will display your IMAP/POP and SMTP information. Be sure to write down these details, as you will need them for the next step.
2. Add an Email Account to Apple Mail
Once you have all the required details to set up your mail account, follow the steps below to add an email account to Mac Mail:
Open the app. Click on the Mail menu and choose the Add Account option.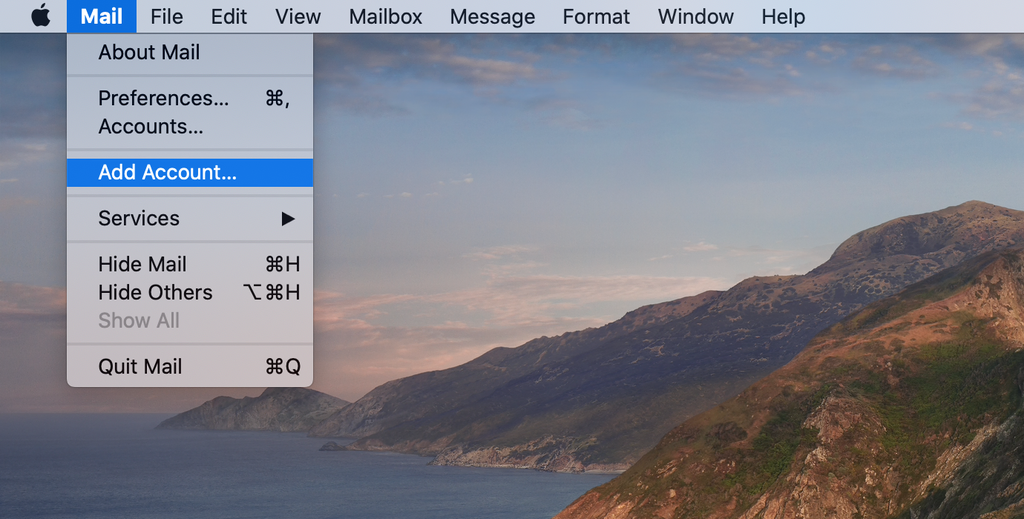 Select the Other Mail Account option and click Continue.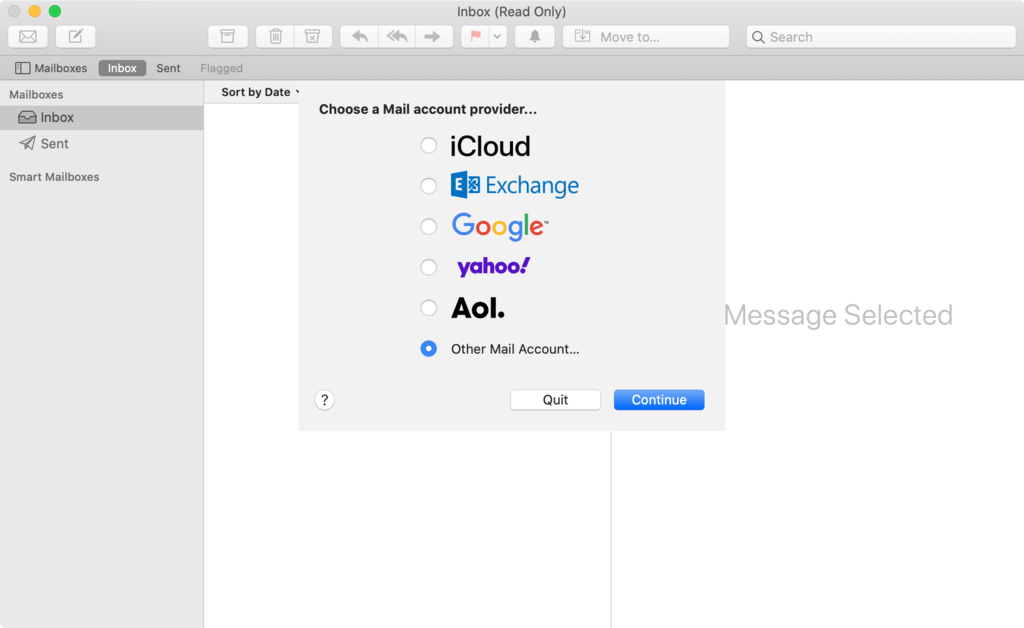 Add your account information and press Sign In. The app will try to sign in, but the "Unable to verify account name or password" message will appear.

This is normal, as Apple Mail cannot reach the email subdomain and will ask you to input email server details manually.
Here's a quick guide on these details:
Email Address – where you have to add your email address.
User Name – what you use to log in to the server. You can leave it empty, as the email client will pull it automatically.
Password – the credentials used to log in to your email account.
Account Type – you can choose IMAP or POP, but we recommend selecting the IMAP account type as it is more secure and has better performance.
Incoming Mail Server – the name of your mail server. For example, Hostinger users should add imap.hostinger.com in this field.
Outgoing Mail Server – similarly to the incoming mail server, for Hostinger accounts this would be smtp.hostinger.com.
Once done, press Sign In.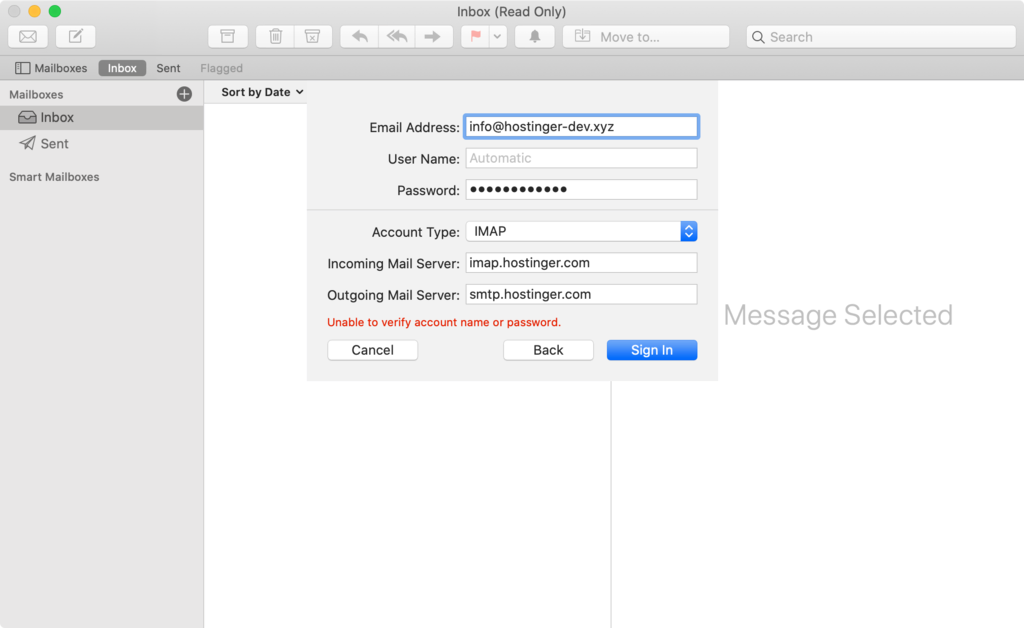 If all of the information you input is correct, sign-in should be successful. The Mac Mail app will then ask you which apps you want to use with your new account. Choose preferred apps and press the Done button.
That is it – you have successfully added a new email account to your Mac Mail client. Simply repeat the same process to add multiple email accounts.
Depending on your email provider, you can also add TLS/SSL encryption for an extra layer of security. This will protect all incoming and outgoing email messages from any malicious threats.
Access your Mail Mac app, navigate to the menu bar, and click Mail → Preferences.
Select the Accounts option and specify which email account requires the TLS/SSL encryption.
Once you have chosen the account, click on the Server Settings tab on the right side.
Under the Incoming Server section, be sure to deselect the Automatically manage connection settings option.
Select Use TLS/SSL – this should automatically change the port to connect to the mail server. The default settings are 93 for IMAP or 995 for POP.
Now, go to the Outgoing Mail Server section and untick the Automatically manage connection settings option.
Tick on the Use TLS/SSL field and set the port to 465.
Just don't forget to save your settings and close the Preferences window.
Conclusion
In this article, you have learned how to add email manually into the Mail Mac app. All you need to do is find your email's SMTP, POP3, or IMAP details. Once you have those details, open the Mac Mail app and fill out the provided fields accordingly.
Depending on your email provider, you can also add a new email account automatically. For example, if you have a Gmail account, you can simply log in using your email address and password.
Now that you know how to add an email on your Mac Mail, you should be able to send and receive emails on the go from any supported devices.