Why Use WordPress? A Comprehensive WordPress Review
Powering 39.5% of all websites on the web, WordPress is one of the best website building tools on today's market.
While it's primarily known for powering blogs, this free content management system (CMS) can cater to a variety of different websites, including eCommerce stores, portfolios, and information portals.
This article will explore the ins and outs of why you should use WordPress. Besides exploring its capabilities, we will also review the pros and cons of using WordPress to build a website. 
Start A Free 7-day Email Course On WordPress
WordPress.org vs WordPress.com
Despite being created by the same team and having a similar name, WordPress.org and WordPress.com are different.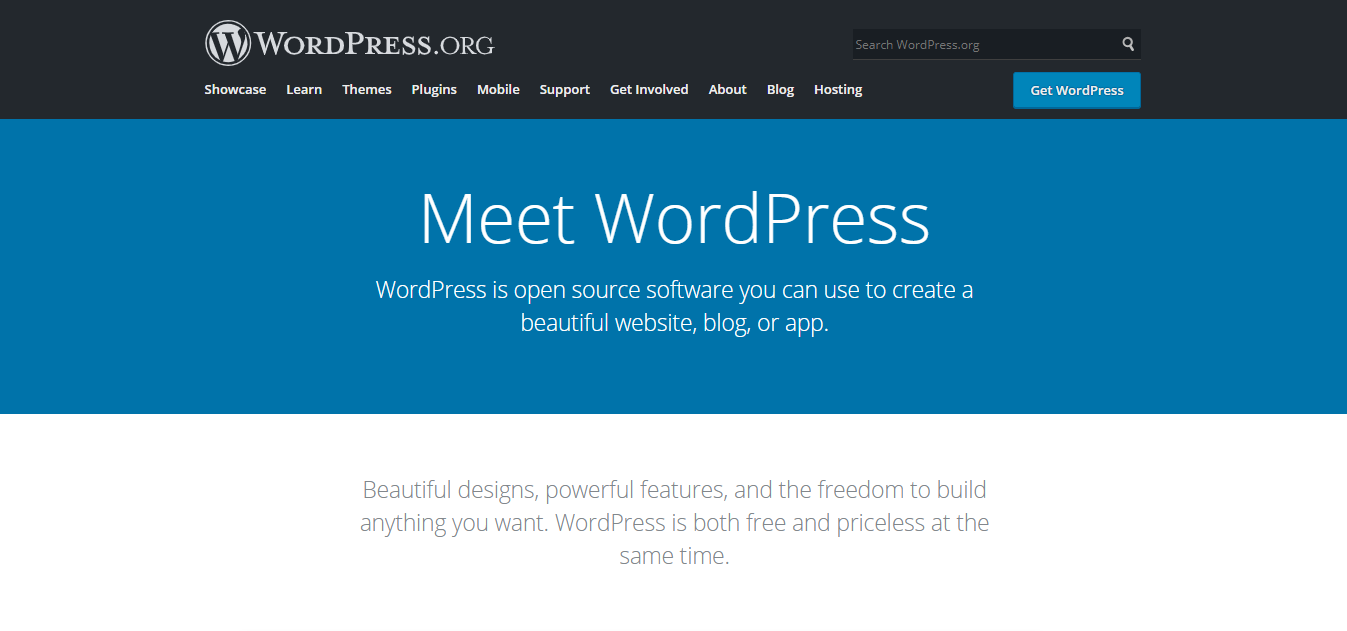 WordPress.org is the original and most widely used version of WordPress. It's a free and open-source CMS that has all the necessary features to build all website types.
Since this WordPress version is self-hosted, you have to sign up for a hosting service and get a domain name first before launching the website.

On the other hand, WordPress.com is a blogging platform, offering its CMS features bundled together with hosting plans. All WordPress.com plans include both hosting and a domain name, or a subdomain in the free plan, allowing you to build a website after registering for an account.
Functionality-wise, WordPress.org offers better scalability than WordPress.com. WordPress.org lets you use themes and plugins upon installation, while WordPress.com limits add-ons to the Business and eCommerce plans only.
This WordPress review article will focus on WordPress.org, which is known as a reputable CMS and popular website building platform.
Is WordPress a Website Builder?
Even though WordPress accommodates users in building a website better than plain HTML, WordPress is a content management system, which is different from website builders.
Website builders typically offer a drag-and-drop editor, with which users can easily move, resize, and edit various elements to build their website.
In WordPress's case, you'll have to use themes and rely on advanced customization through coding for unique, personalized designs.
This introduces a steeper learning curve compared to that of a drag-and-drop website builder. However, the possibilities for website design and functionality through add-ons are endless.
Site builders generally include hosting, a domain name, and an SSL certificate in their plans ‒ ideal for users who don't want to deal with technical configuration. However, you have no say in resource allocation, which is important for scalability.
With WordPress, you're free to choose your own preferred hosting provider and plan, which will give you a higher degree of control over your website when compared to website builders.
What Kind of Websites Can You Make With WordPress?
One of the main reasons WordPress is extremely popular is because it supports any kind of website. With a broad selection of extensions to choose from, you're free to mold your WordPress website into what you need.
Here are some examples of websites that you may create with WordPress:
Blog ‒ known as WordPress's specialty. This includes blogs for personal or business use.
Business website ‒ WordPress is highly popular among businesses. As of 2020, it powered 14.7% of the top 100 business websites.
eCommerce ‒ it lets you conduct transactions and manage inventory online.
Forum ‒ it provides a platform for users and online communities to hold discussions about specific niches.
Job board ‒ individual employers and corporations can promote job vacancies.
Portfolio ‒ showcase personal work for job hunting and promotion purposes.
Information portal ‒ manage and distribute information among members of a certain online community.
Online learning portal ‒ host courses and resources for teaching and learning.
How Does WordPress Work Then?
WordPress is open-source software, meaning that anyone is able to modify it as needed. You can create and install plugins and themes, as well as directly change the website through code.
The three elements that are readily available for customization without having to code are content, appearance, and functionality.
Content is what you upload to the website, whether for personal use or public consumption, such as blog posts. The website's appearance is determined by the theme installed. Meanwhile, its capabilities are expandable via plugins.
The following section provides a brief overview of each element and the steps to set it up.
Adding Content in WordPress (Posts and Pages)
Despite looking similar, posts and pages are two different content types.
Posts are content displayed in reverse chronological order. You can find them in blogs, covering niche-based topics and sometimes time-sensitive events ‒ all of which encourage user interaction.
Here are the steps to adding a new post in WordPress:
On your WordPress dashboard, navigate to Posts -> Add New.
Add the new content to the Gutenberg blog editor. Format it as desired and list the appropriate category and tags.
Click Preview to check how it looks. Once you're done, hit Publish.
On the other hand, pages display static content that isn't time-sensitive. As they're not going to expire, pages don't have a publish date or require frequent updates. Examples of information that a page can display include contact details, mission statements, and FAQs.
Here are the steps to adding a new page in WordPress:
On your WordPress dashboard, navigate to Pages -> Add New.
Add the new content to the Gutenberg blog editor. If you're creating a child page, set its parent page in the Page Attributes section.
Click Preview to check how it looks. Once you're done, hit Publish.
Since the WordPress 5.0 version, the CMS has made Gutenberg its default editor. Gutenberg simplifies content creation by mimicking a visual editor's interface to eliminate the need to code. Content sections are divided into blocks, making it easier to quickly modify them.
We have done a complete coverage of the Gutenberg editor, including how to use it. If you want to change back to the classic editor, you can install the Classic Editor plugin.
Customizing Your WordPress Website Appearance With a Theme
A theme comprises digital assets that set a website's overall look. It alters typography, layout, and color scheme, among other interface elements.
For this reason, a theme has a significant role in shaping user experience. Besides determining your content's readability, it also affects navigation and branding to a certain extent.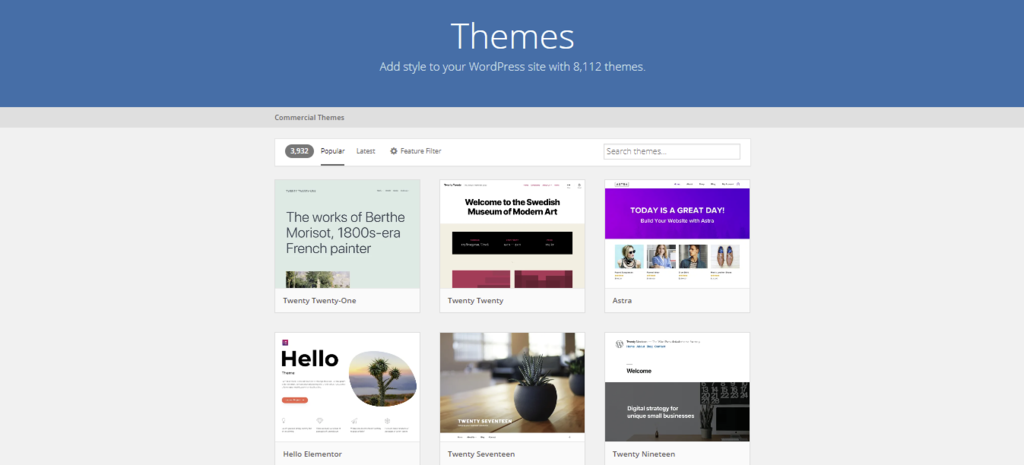 WordPress themes come with free and premium versions. Free themes are available to download from the WordPress theme directory. Meanwhile, freemium and premium versions are sold on marketplaces like ThemeForest and CodeCanyon.
To install a theme from the WordPress theme directory, follow these steps:
On your WordPress dashboard, navigate to Appearance -> Themes.
Select Feature Filter and narrow down your search based on the preferred layout type, required features, and the website's niche. Click Apply Filters.
Click on your chosen theme and click Preview to see a demo. If you're satisfied with how it looks, select Install.
Hover over the installed theme once again and select Activate.
Keep in mind that the tutorial above only works for installing themes provided by the WordPress theme directory. Other theme installation methods, including installing a premium theme developed by a third-party developer or uploading a design manually, are also straightforward.
Adding Website Features via WordPress Plugins
A plugin, also known as an add-on, is software with a set of functions. Webmasters install plugins on their WordPress website to expand its functionality and add new features to it.

WordPress plugins also come in free and premium versions. The WordPress plugin directory provides over 50,000 free and freemium plugins for different purposes.
Alternatively, access freemium plugins' official websites to purchase their premium version. Plenty of marketplaces like CodeCanyon and Codester also sell plugins.
To install a WordPress plugin from the WordPress theme directory, follow these steps:
On your WordPress dashboard, navigate to Plugins -> Add New.
Type the plugin's name into the Keyword search box.
Click Install Now. Once the installation is complete, select Activate.
You can also install WordPress plugins manually or by using an FTP client.
Pros and Cons of Using WordPress
Like any other content management system, WordPress has its advantages and disadvantages. Therefore, make sure you know what it brings to the table and what it lacks before thinking about using WordPress to build your website.
Pros
Being a free, open-source platform makes WordPress accessible and easy to modify. The only expenses are the hosting and domain name registration fees. You can save money by using free plugins and themes.
Functionality-wise, WordPress is highly scalable and flexible. Having access to tons of extensions makes it easy to expand your website's functionality according to your needs. There is a plugin available for any kind of feature.
The same goes for your web design needs. Even though it doesn't have a built-in drag-and-drop website builder, the tools are easy to use and there are plenty of professional themes. When bundled with user-friendly page builders, they are ready to cater to any type of website.
Since WordPress started as a blogging platform, its content organization is excellent. It lets you create custom taxonomies to group posts and custom post types, improving your website's searchability. That said, WordPress promotes the best SEO practices from the get-go.
Due to its popularity, finding resources to learn and work with WordPress is extremely easy. Plenty of free video tutorials and forums are available to help you get started on your WordPress site.
Cons
Building a simple WordPress website is achievable without having technical knowledge. However, developing and maintaining large-sized projects will be much more challenging. Due to their complexity, they might require some level of technical expertise or the help of a web developer.
Since WordPress is open-source, you will need to manage all the technical aspects of your website. This includes conducting updates, creating backups, and implementing security measures. The latter is essential since WordPress websites receive approximately 90,000 cyber attacks per minute.
While WordPress has a massive collection of themes and plugins to choose from, they may need manual integration and customization for optimal performance. Incorrectly setting them up will create vulnerabilities inside your website, making it susceptible to cyber-attacks.
That said, WordPress has a steep learning curve. Since WordPress doesn't offer customer service, you have to rely on online tutorials and forums to solve technical issues. Premium themes and plugins may offer support, but they're already costly, to begin with.
Who Is WordPress Meant For?
Considering its perks and functionality, WordPress is best for people who value flexibility over simplicity. The abundant features and functions make it ideal for developing any kind of project, whether it's a personal blog or a multi-level eCommerce website.
Using WordPress is also ideal for webmasters looking to grow their website traffic. As WordPress gives you the ability to select your hosting resources, you'll be able to handpick the best hosting type for your website and scale it when the time comes.
Above all else, WordPress is best for people willing to explore new things. Since its ease of use cannot rival that of any drag-and-drop website builders, having basic technical knowledge will help you deal with the steep learning curve.
As WordPress continuously evolves, you also keep yourself updated with the latest web development trends.
If you don't want the hassle of doing all of that, you can hire a professional to do the work for you. Keep in mind that experienced web developers will charge higher than amateur web developers due to their years of experience and in-demand skills.
Some Help to Get You Started With WordPress
If you've read this far and decided that WordPress is the best option for you, we have some tips to help you get started.
Get WordPress Optimized Hosting
Since WordPress is self-hosted, you must get web hosting first. Plenty of hosting services at different prices are available. However, make sure to consider the ease of use, features, customer support, and security of the service for an optimal hosting experience.

Hostinger offers shared hosting plans at competitive prices ‒ perfect for people who are new to the web development world and are looking to create a simple website.

All shared hosting plans, costing between $0.99-$3.99/month, come with a free SSL certificate and email addresses. The Premium and Business plans include a free custom domain extension in the first year.
Alternatively, you can opt for our WordPress hosting for WordPress-optimized features and tools. You'll get access to Jetpack integration, dedicated WordPress support, and a one-click WordPress installer, among other perks. Prices range from $1.59-$11.59/month.
You may also want to try out WooCommerce web hosting, which is specialized for running a WordPress online store integrated with WooCommerce plugin.
Hostinger also provides 24/7 support, SSD storage, enhanced security powered by Imunify360, and SSH access for data encryption.
Check Our List of Essential Plugins
With so many extensions available on the market, picking the ones that offer the best new features may be challenging. Installing too many will slow down your website's page load speed, so it's best to use plugins only when needed.
Here are several excellent plugins for an optimal WordPress website's performance:
Check Our WordPress Tutorials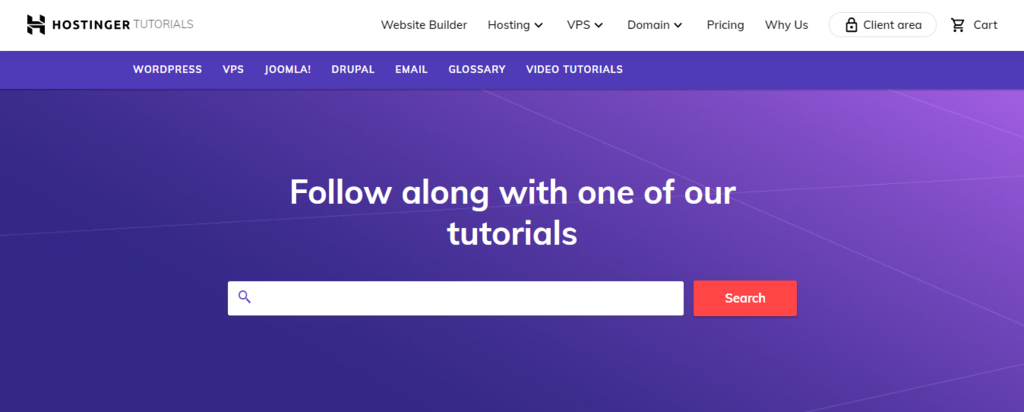 WordPress is always evolving, so there are many things to learn to fully optimize your website. As we mentioned before, plenty of resources are available to guide your learning experience, such as our collection of tutorials.
You can learn how to build a WordPress site in three easy steps ‒ perfect for people with zero web development experience. If you prefer, you can watch a video tutorial with a breakdown of each step.
Knowing how to navigate around your website's backend is essential for its growth. We provide a WordPress dashboard walkthrough to help you familiarize yourself with WordPress' settings.
If you're interested in blogging, we can show you how to turn your WordPress site into a professional blog and how to make money blogging. Take your blog to the next level, you can optimize it for SEO by following our tips on the best website design practices.
We provide WordPress tutorials and web development tips for both beginners and users with technical knowledge.
Conclusion
Now, you have learned the pros and cons of using WordPress to build a website. We hope this WordPress review article has helped you decide whether this CMS is the best choice for your needs. Good luck.
Was this tutorial helpful?