Weebly vs WordPress: Which Platform You Should Use to Build Your Website in 2024
The most popular platforms for creating sites are website builders like Weebly and content management systems (CMSs) such as WordPress.
While the former provides basic site-building tools with a straightforward interface, the latter offers plenty of customization options and a block editor that lets you modify every page element.
Generally speaking, Weebly is a great option for those who want to create a simple web page quickly, and WordPress is best for building a dynamic site with many features. Furthermore, both are suitable for beginners without any technical background.
In this article, we'll compare Weebly and WordPress based on their ease of use, customization, site management, performance, security, search engine optimization (SEO) tools, eCommerce features, blogging capabilities, and support. Keep reading to find out what is the best platform for your needs.

Weebly vs WordPress: Quick Comparison
Here's a quick comparison table between WordPress and Weebly.
| | | |
| --- | --- | --- |
| Category | Weebly | WordPress |
| Ease of use | Provides a drag-and-drop site builder with a user-friendly editor. It also has a simple interface with blocks to add or modify each element. | Comes with the built-in Gutenberg block editor and has a steeper learning curve. If you have coding skills, you can further customize your WordPress sites. |
| Customization | Offers two ways to customize the web design – using themes and the Weebly Code Editor. However, the first option comes with limited free templates. | Thousands of themes and plugins are available in the WordPress Directory and third-party marketplaces. |
| Site Management | Automatically updates website software. This builder also lets you configure basic site settings, such as cookie management and 301 redirects. | Provides more control when adjusting the website settings, from exporting or removing personal data to configuring the language. |
| Performance | Maintains and optimizes its sites automatically by default, lacking adjustable performance settings. | Besides its built-in performance settings, such as the caching system, a WordPress website's performance depends on the web hosting provider's server technology and optimization options. |
| Security | Weebly sites come with pre-installed core security features and a free SSL certificate. | While it offers adjustable auto-update settings, the security depends on the web hosting company's protection measures. |
| SEO | Provides primary built-in SEO features like alt text for images with limited add-ons. | Besides the platform's SEO settings, such as custom URLs, there are plenty of SEO plugins to choose from. |
| eCommerce | Offers eCommerce features with pre-installed tools, including quick shop and unlimited items. | Any WordPress site can be turned into an online store with eCommerce plugins like WooCommerce. |
| Blogging | Includes blogging features, such as media integration, post scheduling and sharing, comments management, and blog SEO. | Comes with advanced blogging features like content importers and password protection for posts and pages. |
| Support | Provides tutorials and guides for creating websites and setting up tools. However, its customer support team is only available during working hours. | Has tutorials and community support forums moderated by WordPress developers. Additionally, you can contact your hosting provider's support team. |
Understanding Weebly and WordPress
Before getting to the differences between Weebly and WordPress, let's take a closer look at how both platforms work.
What Is Weebly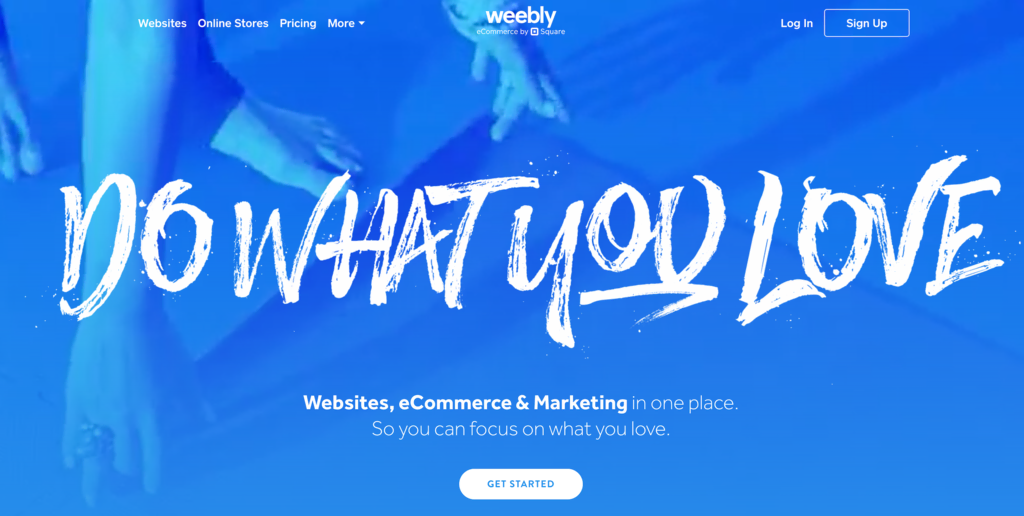 Weebly is a website builder and a software-as-a-service (SaaS) platform with ready-to-use site-building tools that make it one of the best WordPress alternatives.
Due to its eCommerce functionality, Weebly has become a great choice for businesses looking to improve their online presence. Currently, it is the sixth most widely used site builder platform.
Once you choose a subscription tier, you'll get hosting, customer support, marketing features, and an intuitive editor, enabling you to place elements wherever you see fit and create stylish pages quickly.
This drag-and-drop builder also features the App Center, which includes freemium applications to add more features to your site.
Weebly offers four website plans – Free, Personal, Professional, and Performance. However, the free version has limited site features and lacks customization options.
To enjoy more perks and advanced tools like a free domain name and password protection, you need to purchase its higher plans, starting at $12/month.
What Is WordPress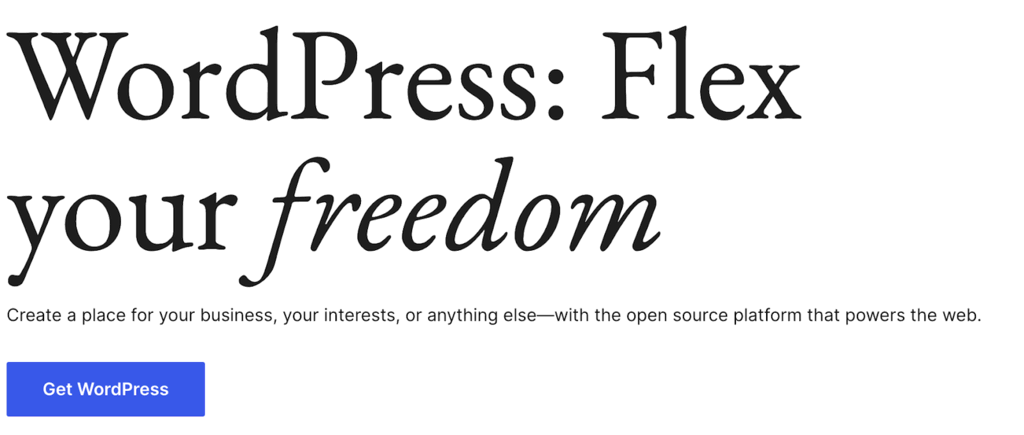 WordPress is an open-source platform for creating websites and one of the best CMS on the market. As of now, WordPress powers over 40% of all websites and is suitable for any kind of site, from a personal portfolio to a large online store.
Even though WordPress has a steeper learning curve than some website builders, its versatility and customization options can make your site stand out from the crowd.
If you're a beginner, you can install plugins to add a new function to your website. For example, add WPForms to create payment forms for your online store or Advanced Custom Fields for customizing the WordPress edit screens.
If you have technical knowledge, this CMS lets you modify the site's code to create a unique web design.
As this is a self-hosted platform, you must purchase a web hosting package and a domain name to use it. A WordPress website's cost may add up depending on the premium plugins and themes you use.
Hostinger offers WordPress-specialized hosting plans, starting at $2.99/month. The most popular plan, WordPress Business starting at $3.99/month, includes a free domain name and comes with advanced features like a malware scanner to identify malicious files and LiteSpeed Cache for WordPress (LSCWP) to speed up your website.

Differences Between Weebly vs WordPress
In this section, we'll discuss nine key differences between Weebly and WordPress. We'll also give our final verdict for each category.
Weebly vs WordPress: Ease of Use
As creating a website from scratch may be difficult, choosing a website platform that provides a user-friendly interface is vital. As both platforms are famous for their ease of use, let's find out which one is more beginner friendly.
Weebly
To start building a free website using this builder, sign up for a Weebly account on Weebly's official website. During the registration process, it will ask what kind of website you want to create.
If you want to create a blog or portfolio, choose the I just need a website option. However, if you plan to create an eCommerce site, select I need a website with an online store. In this example, we will show you how to build a personal blog on Weebly.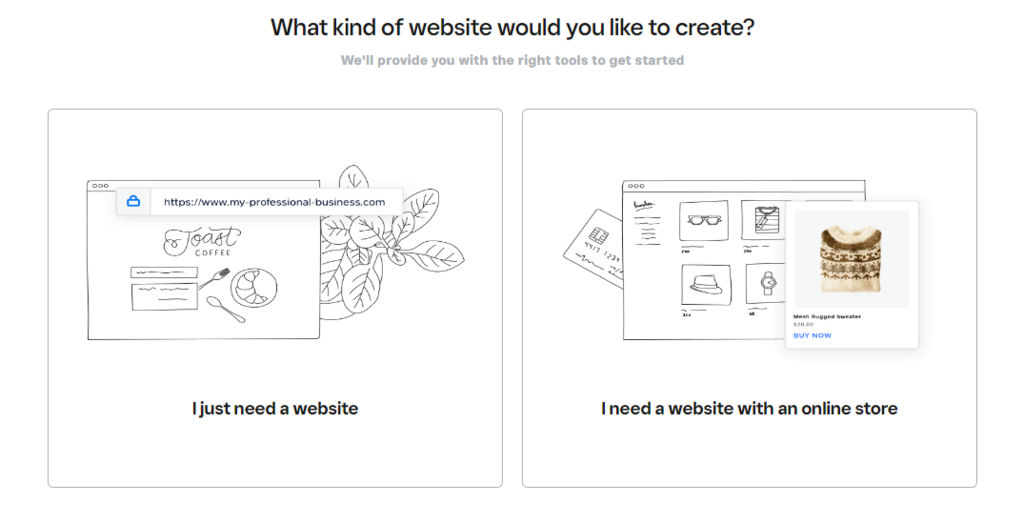 Next, you'll be asked to Select a Theme for your website. The provided templates are designed to suit different concepts, from personal to event sites. This website builder also lets you preview each theme, helping you choose the best one for your needs.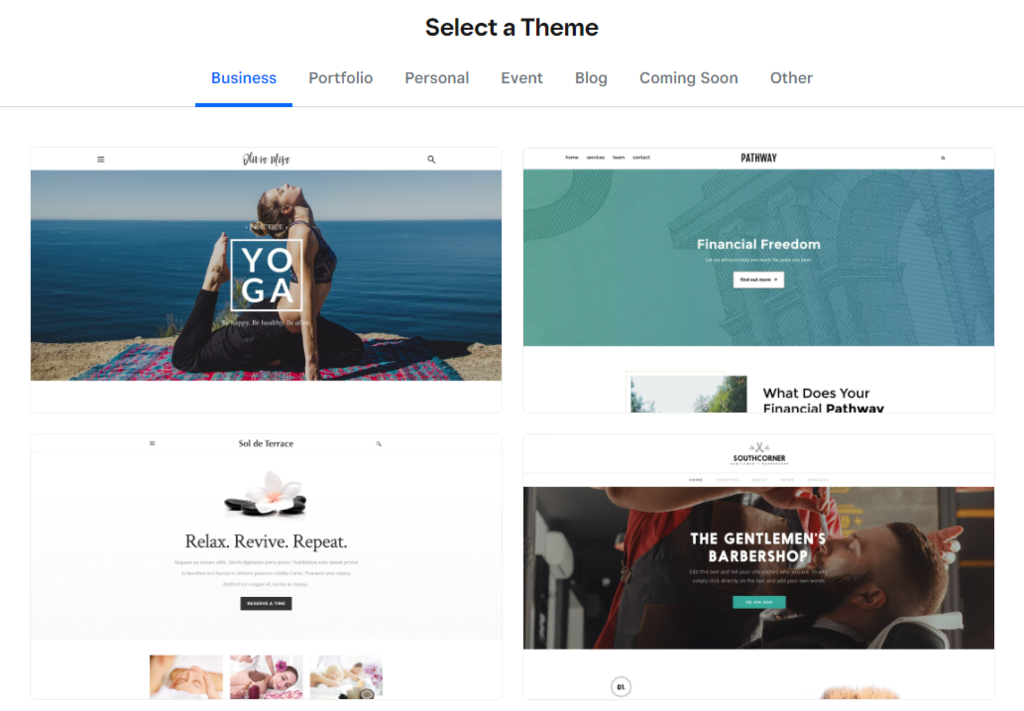 Click Start Editing in the upper-right section to begin modifying your website. Before making changes, you'll be asked to Select your domain name. You can either register a new domain name from Weebly or connect a domain from another registrar.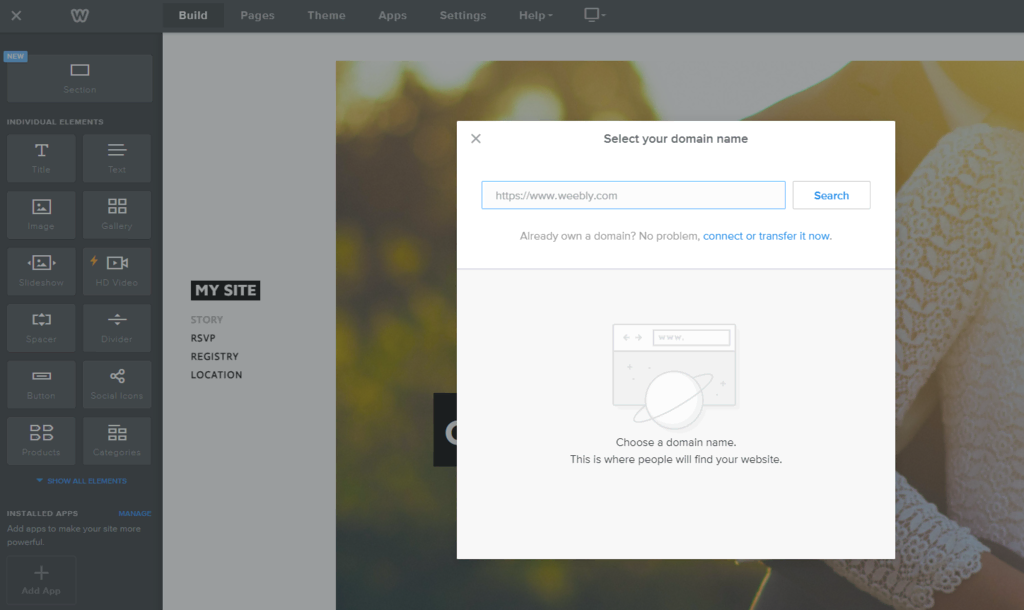 The Weebly site editor lets you adjust the theme's existing elements by dragging and dropping a component to change its location. Furthermore, you can add new sections by choosing the content type from the left sidebar.
The website customization options in Weebly are located in one place, making them easy to find. The menu on the top bar lets you add and edit Pages, switch to another Theme, install Apps, change various Settings, contact Support, and preview the website on desktop or mobile devices.
WordPress
Once you purchase a hosting plan, installing WordPress is relatively easy as most hosting providers offer auto-installers, enabling you to start using the CMS in one click.
At Hostinger, you can install WordPress by going to hPanel → Website → Auto Installer→ WordPress.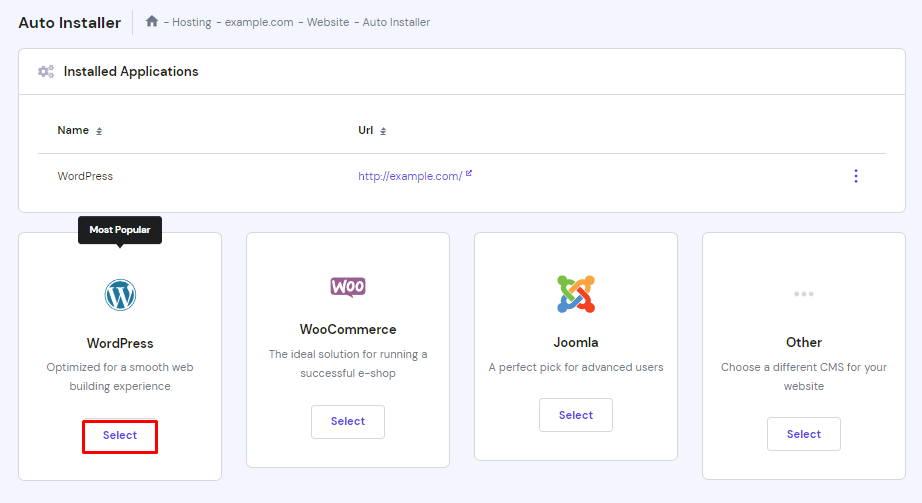 Simply fill in the required fields and click Install.
Once the WordPress installation is complete, you can start setting up and customizing your new website from the WordPress dashboard, also called an admin area. You can access it by entering www.yourdomain.com/wp-admin on your browser.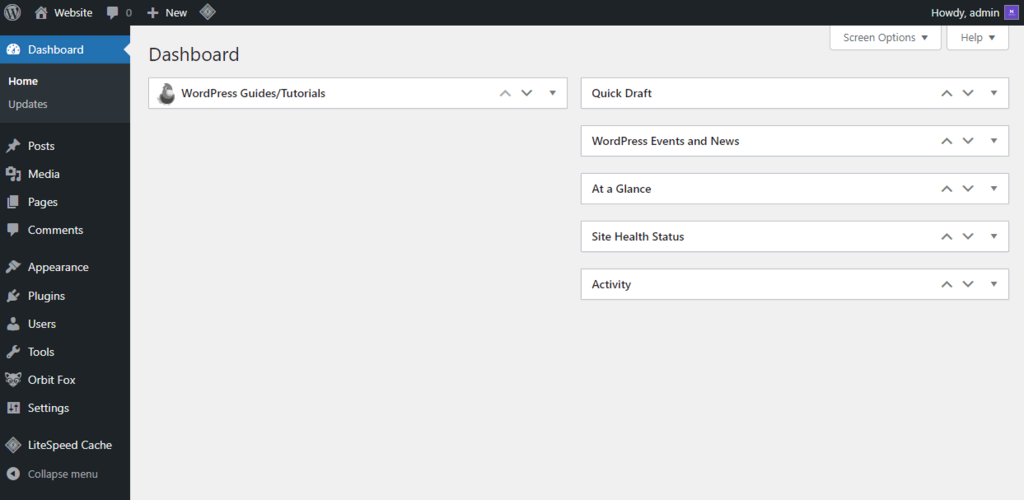 On the left sidebar, you'll see various options for adding Posts, Media files, and Pages. Moreover, you can moderate Comments on the website. To pick a theme and modify your website's look, choose Appearance. To add more features to your site, install WordPress plugins.
You can also edit HTML in WordPress via FTP or the WordPress code editor. This is an important feature for those with a web development background who may be more comfortable customizing their site using code.
The WordPress Gutenberg editor uses individual blocks to modify various elements in posts and pages. While it contains many useful features for customizing your website, building a website with WordPress editor may take longer as it's less straightforward than Weebly's.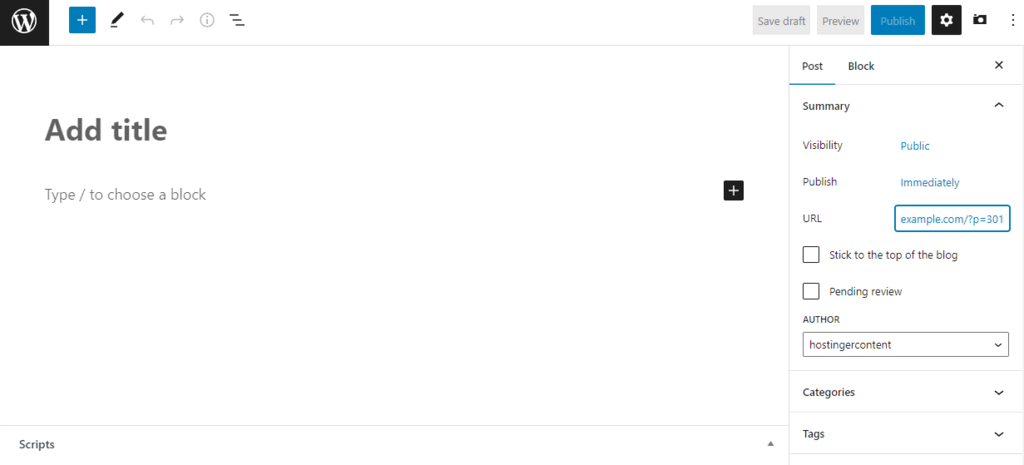 For this reason, the CMS lets you install third-party page builder plugins like Beaver Builder and WPBakery Page Builder that can offer an intuitive and user-friendly experience.
Verdict
While WordPress is relatively simple to use, it might take some time to get used to the platform. In comparison, the Weebly site builder has a straightforward interface and features, as it is designed to create a basic website. So when it comes to ease of use, the winner is Weebly.
Weebly vs WordPress: Customization
To create websites that fit your vision aesthetically and functionally, ensure that the chosen platform provides the customization options needed.
In this section, we'll compare the experience of customizing your site on WordPress vs Weebly.
Weebly
With Weebly, you can customize your web design by choosing a theme and tweaking it using the drag-and-drop editor. For example, you can change the fonts and background from the Theme tab.
However, Weebly has just over 40 free themes in its library, which is quite limited compared to other builders.
If you have HTML and CSS skills, use Weebly Code Editor to adjust your site's appearance or add more features beyond the default elements. Moreover, you can choose the Embed Code option to set custom HTML.

Additionally, you can opt for a third-party theme using the Import a Theme feature. There are many companies that sell premium Weebly themes, including Luminous Themes, Webfire Themes, and Baamboo Studio. However, these premium themes may be expensive, going up to $79 for a license.
To extend your Weebly site's functionality, you can install add-ons from the Weebly App Center.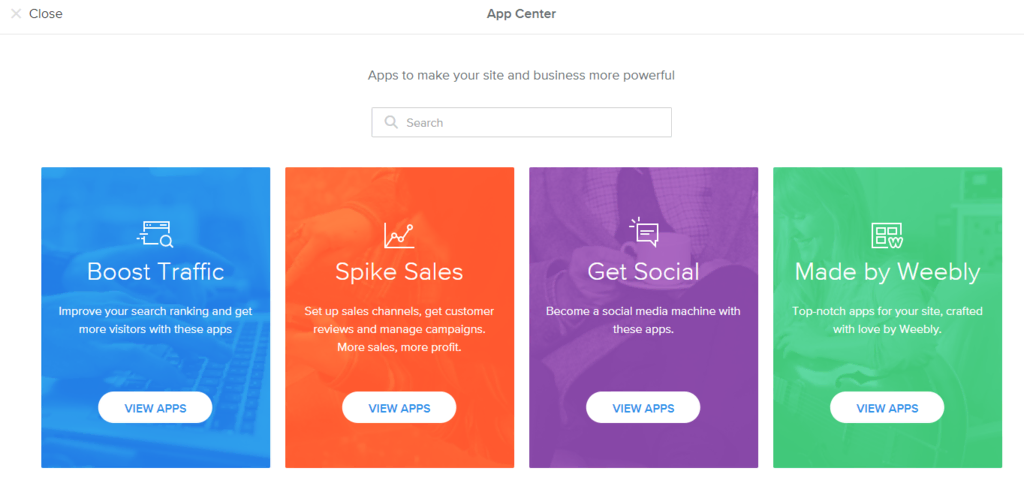 There are 600+ apps available, both free and paid. The apps are designed for many purposes, including adding features like live chat, email marketing, and social buttons to your Weebly site.
WordPress
Thanks to its massive community of users and developers, WordPress has vast customization options.
There are over 10,000 free themes in this CMS's library that you can install and activate from the WordPress dashboard. Installing a WordPress theme adds more design customization options and improves the site's layout.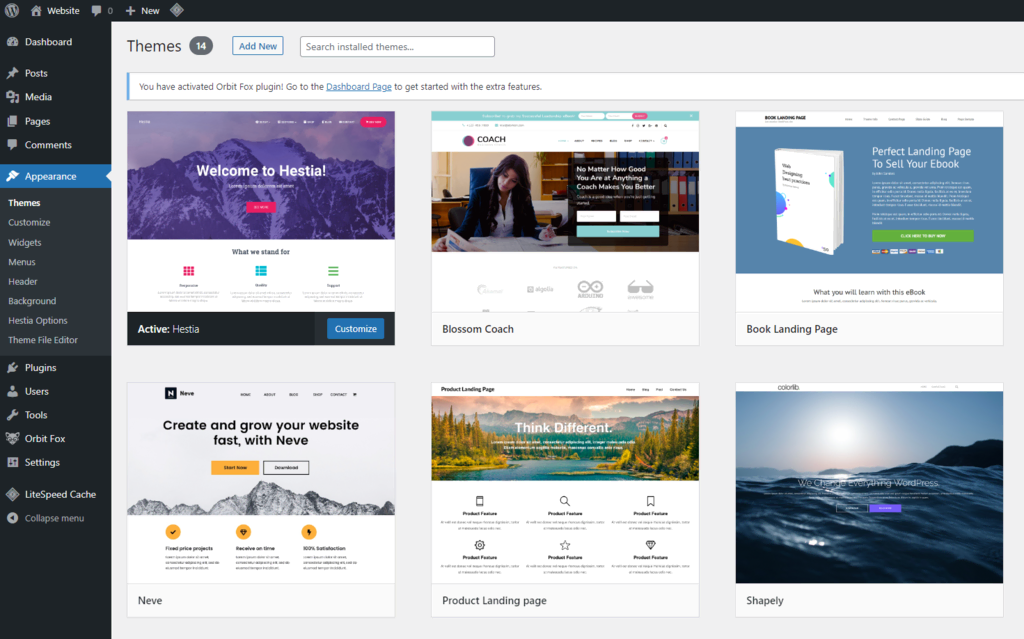 Additionally, thousands of premium and free WordPress templates are available from third-party marketplaces like ThemeForest, TemplateMonster, and MOJO Marketplace. Paid themes mostly offer extra perks like better performance, customer support, and free plugins.
When it comes to extending the functionality of a WordPress site, there are 60,000+ plugins available in the WordPress library, from payment apps to anti-spam integration. You can also purchase third-party plugins from sources like CodeCanyon.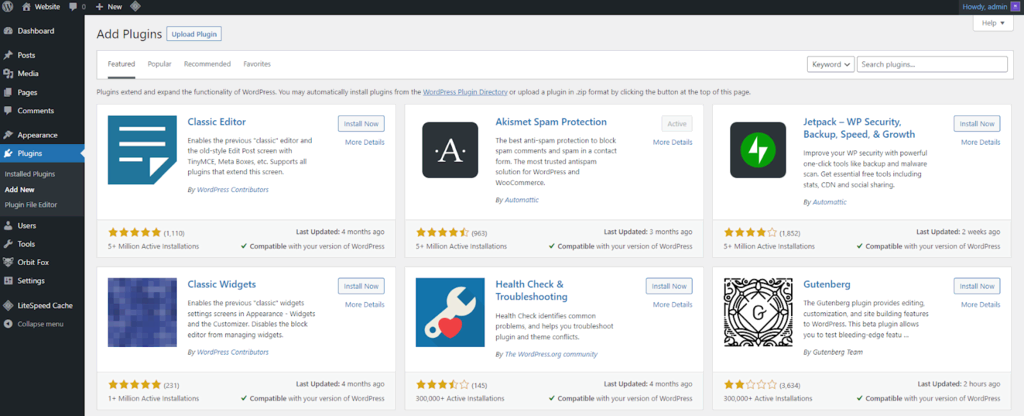 Verdict
When it comes to customization, WordPress comes out on top. Although Weebly lets you add apps to your page and modify source code, WordPress offers more customization options through its themes and plugins.
Weebly vs WordPress: Site Management
Site management refers to the day-to-day tasks when running a website. For example, you may need to run software updates, make changes to your pages, and back up your data. Let's take a look at what Weebly vs WordPress have to offer.
Weebly
A significant advantage of building a site on Weebly is that the platform handles most maintenance tasks. You don't need to update the software regularly or scan your website for security vulnerabilities – Weebly automatically runs these actions for its users.
This builder also lets you modify website configurations from the editor's Settings. With it, you can enable SSL manually, set date and time format, manage cookies, archive posts or pages, and configure 301 redirects.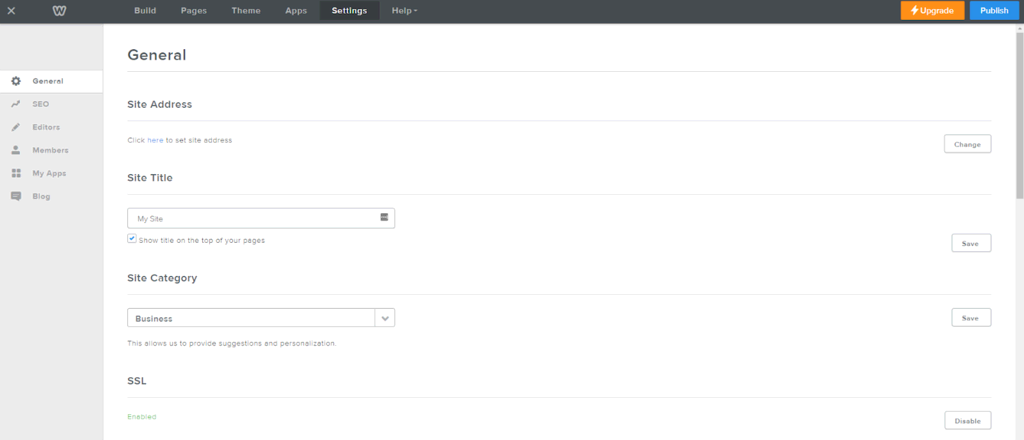 On top of that, Weebly provides the Authorize Adsense field for you to paste the ads.txt file from Google and the Un-publish feature to remove your site's content temporarily.
However, if you use the Personal or Free plan, your website will show Weebly ads that may seem unprofessional. To remove them, you'll have to upgrade to a higher package.
WordPress
With WordPress, you can customize almost every aspect of the site management experience.
The Settings menu contains the main options, such as General, Writing, and Reading, which you can access from the dashboard. You can also adjust various site configuration settings, including altering your pages and posts' permalinks, setting site language, and enabling or disabling comments.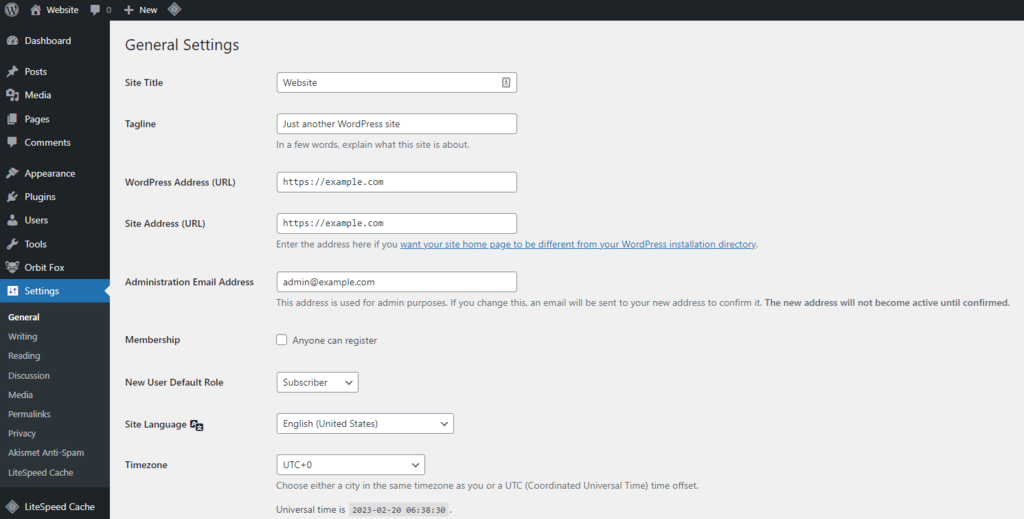 You can also select the Tools menu to perform essential tasks, such as checking Site Health and importing or exporting posts and comments from another platform. On top of that, you can export or remove personal data to comply with local laws and regulations.
Unlike Weebly, WordPress lets users perform maintenance tasks like software updates, security scans, and website backups automatically or manually. In some cases, you'll need to install tools or plugins to perform them, such as ManageWP and InfiniteWP.
In addition, your hosting provider might offer additional site management features. For example, at Hostinger, we provide the Multisite feature on most WordPress plans, enabling you to manage multiple websites using one dashboard.
Verdict
Overall, site management is technically easier with Weebly, but that's due to its limited options. On the other hand, WordPress provides plenty of customizable settings. In the WordPress vs Weebly website management battle, WordPress is the winner.
Weebly vs WordPress: Performance
A good platform has to offer reliable performance. A website that performs well enables pages to load quickly, providing a smooth user experience.
Website slowdowns occur for many reasons, such as low-quality code, poor hosting performance, hotlinking, or too many plugins or apps installed. Hence, it's essential to pick a platform with features to improve your website's performance and speed.
Weebly
As Weebly optimizes your website automatically, you mostly have to rely on the platform to keep your site fast.
A Weebly website owner can speed up their website by using an optimized theme and not installing too many apps. Moreover, try running website audits regularly using tools like PageSpeed Insights.
In addition, it's essential to pick the right builder. If you want to create an eCommerce website, choose the I need a website with an online store option upon registration. This way, you'll get built-in tools designed to enhance the shopping experience without installing too many apps that may slow down your site.
WordPress
With WordPress, you should choose a web hosting provider with solid server performance that advanced technology. This is especially important if you plan to store large files or deploy resource-intensive tasks on your website.
For example, while an eCommerce site needs more resources, a personal website can run on an entry-level shared hosting plan.
At Hostinger, all WordPress plans come with acceleration tools using LiteSpeed Cache to fasten the page load times. On top of that, we offer a 99.9% uptime guarantee.
Additionally, you can speed up your WordPress site's performance by automating image optimization, leveraging browser caching, and integrating a content delivery network (CDN). Our higher tier plans, starting at $3.99, also come with the object cache feature to reduce your server's workload and deliver a fast website.
Verdict
While WordPress has a steeper learning curve, it lets you tweak more performance settings. As a result, this round of WordPress vs Weebly goes to WordPress.
Weebly vs WordPress: Security
Websites may become vulnerable to cyber attacks when you don't implement sufficient security measures. For example, a website might get hacked if you reuse credentials, run outdated systems, or install pirated software. As a result, you will risk losing your website files and exposing sensitive information.
Let's see which platform offers more security measures.
Weebly
Since Weebly is a managed service, it comes with pre-installed core security features on your site. In addition, this platform includes a free SSL certificate on all plans and secured servers with regular malware scans. That said, as Weebly handles the security aspect of its hosted sites, you can't adjust any settings to suit your preference.
However, you can purchase additional apps from Weebly App Center, like Secure Traffic, that can protect your site from malicious users and block IP addresses. However, the overall options are limited and have only a few ratings.
WordPress
While the WordPress core software is secure, it's critical to update the CMS version whenever there's a new release.
This is because cyber attacks mainly occur because of outdated software, including third-party themes and plugins. Therefore, enable WordPress auto updates to ensure the website runs the latest versions of the third-party software. As for the core software, WordPress has an auto-update feature enabled for maintenance and security releases.
To further improve your WordPress website's security, pick a hosting provider that offers additional protection measures. At Hostinger, we provide a firewall system and Cloudflare-protected nameservers.
You can also install WordPress security plugins, such as iThemes Security, Wordfence Security, and Jetpack, that offer all-in-one security solutions for your site.
Lastly, to avoid losing your website files and databases, back up your WordPress website regularly using plugins or your hosting's control panel.
Verdict
While Weebly handles the security maintenance for its users, WordPress gives more options to manage your site's safeguards. For this round of Weebly vs WordPress, we declare a tie.
Weebly vs WordPress: SEO
The next step after building your site is to ensure the target audience can find you. Search engine optimization (SEO) is one of the most effective ways to market your site organically. In fact, the article that ranks first on search engine results pages (SERPs) is 10 times more likely to receive a click.
A well-optimized site can increase your position on the SERPs, bringing more traffic. That's why choosing a platform that comes with SEO tools is essential.
Weebly
Weebly has primary built-in SEO tools with limited options. You can configure page titles and descriptions, page permalinks, alt text for images, canonical tags, and 301 redirects. Additionally, this site builder also comes with SEO-friendly HTML formatting.
You can get additional SEO tools by installing apps from the Weebly App Center, such as Traffic Booster. Unfortunately, they're mainly premium apps, and only a few have decent ratings.
WordPress
WordPress offers vast options of built-in and third-party SEO tools. Using them and following the best WordPress SEO practices will help you drive more organic traffic.
For example, install the Yoast SEO plugin to help with the optimization efforts. It is the most popular freemium SEO plugin with canonical URLs, meta tags, advanced sitemaps, and Schema integration features.
Yoast also has an on-page SEO analysis feature to help you optimize your content as you're writing it. It suggests which key phrases to focus on and their overall readability, giving you a score for your post.
Besides all the basic built-in configuration settings like custom URLs, alt text, and meta descriptions, you can also access the site code to perform 301 redirects and optimize your site even further. Moreover, most WordPress themes are optimized for mobile users.
Verdict
In this Weebly vs WordPress category, WordPress comes out on top as it provides various SEO options, both pre-installed and third-party tools.
Weebly vs WordPress: eCommerce
If you plan to sell products or services on your website, it's important to pick a hosting plan with eCommerce-specific features. A good online store plan should include a shopping cart, payment gateways, shipping options, inventory management, and an automatic tax calculator.
Choosing the right eCommerce platform should be your priority to ensure a good user experience.
Weebly
Weebly's plans include basic eCommerce features, like inventory management, unlimited items, an automatic tax calculator, item badges, shopping carts, and in-store pickup options.
Weebly's mid-range plan, Personal, comes with additional eCommerce features such as digital goods, shipping calculators and labels, and pop-up notifications. However, it only lets you connect to a custom domain name from another registrar.
To get a free domain name and advanced eCommerce features like abandoned cart emails, item reviews, PayPal payments, and extensive eCommerce insights, you must opt for the highest plan, Performance, for $26/month when billed annually.
WordPress
To create an online store, you must set up an eCommerce plugin on your WordPress website. WooCommerce is one of the best choices, as it comes with extensive features, such as a flexible storefront interface, customizable branding, and inventory optimization.
Like WordPress, WooCommerce is open-source, customizable, and developer-friendly software. You can start creating an online store upon installation, and those with coding skills can tweak the code and modify WooCommerce according to their preferences.
To set up WooCommerce on WordPress, you must enter the store information like industry and product type.
The WooCommerce plugin includes many eCommerce capabilities, such as unlimited products, inventory management, shipping options, payment processing, product sorting and filtering, and a tax calculator.
To extend the functionality of your online store, there are 790+ WooCommerce extensions you can install. For example, to create bulk discount packages and personalized boxes, you can add Product Bundles.
While WooCommerce itself is free, some of its themes and extensions are paid.
Verdict
Both Weebly and WordPress are good options for creating online stores.
The main difference between Weebly and WordPress regarding eCommerce is that the former offers all necessary features in one plan. Meanwhile, WordPress provides more flexibility and scalability, but it might take some time to set everything up. This one is a tie.
Suggested Reading
Looking for the best solution to start your online store? Check out our Best eCommerce Platforms article to find one that best suits your needs.
Weebly vs WordPress: Blogging
Blogging features will benefit any website posting regular and relevant content.
For business owners, writing blog posts helps you share product updates and reach your customers, as well as generate new leads.
Weebly
Weebly offers several built-in blogging features that are easy to use and cover all the main functions.
Its drag-and-drop editor makes adding and customizing blog post content more intuitive. Furthermore, Weebly has categories, tags, and sidebar customization. These features help arrange your posts and modify the sidebar content.
It also includes comments management, letting you moderate and integrate the comments section with Disqus and Facebook.
With this platform, you can post any media content on your web page, as Weebly provides integrations to various media sources. For example, you can embed a YouTube video or attach a Scribd document using blocks on the site editor.
Moreover, you can add a page using the Blog Page option to set the header type, visibility, and SEO settings.
Lastly, Weebly includes post-scheduling and sharing features, which lets you set the publish time and share your posts on multiple social media channels.
WordPress
As WordPress was initially designed for blogging, it has all the features included in Weebly, along with many advanced capabilities and extensions.
With WordPress, you will have more control over your blog. For instance, you can create and manage user roles and permissions on WordPress. Moreover, it lets you manage the blog category and set a password for posts and pages.
WordPress also lets you import content from other blogging platforms, such as Blogger, Drupal, and LiveJournal. On top of that, you can manage comments on your website using the Discussion Settings.
Depending on your blog theme, it usually includes pre-installed widgets and customization options to tweak the site design. There are many blog-related WordPress plugins that can optimize your website. For example, you can add a subscription plugin like MailOptin to help stay in touch with the audience.
Verdict
Both Weebly and WordPress are great platforms for blogging. However, the latter offers password protection, content importers, and more control over your site. Hence, WordPress wins this category.
Weebly vs WordPress: Support
A good website platform should include a support team to help customers with website issues and questions. Ideally, the support team should be available 24/7, speak multiple languages, and offer live chat or phone support.
In this section, we'll compare how Weebly and WordPress provide customer support.
Weebly
Weebly has a dedicated Support page containing tutorials and a knowledge base. Furthermore, it also provides Weebly Blog and Inspiration Center pages for tips and guides to help you grow your own website or online store.
On top of that, this site builder has an automated chat that will help you with various questions, from billing to eCommerce issues. However, you'll talk to a bot that can only answer inquiries listed on the pop-up window.
If that doesn't work, you'll have to contact their customer support through email, and they will reply during standard business hours.
Since 2022, Weebly Community has merged with the Square Seller Community page to improve the experience and create a bigger forum for user collaboration. With this change, every Weebly customer must create a Square account to post and engage with the Square Seller Community members.
WordPress
WordPress doesn't provide a customer support team for its users. However, you can contact the web host company's support team for assistance. Here at Hostinger, we offer 24/7 live chat and email support.
In addition, WordPress has many community support forums that users utilize to help each other. It also provides several localized forums if you're more comfortable asking questions in your native language. However, you may not get an immediate response as these posts are moderated by volunteers, not the WordPress staff.
Verdict
When it comes to support, WordPress wins. While Weebly comes with a dedicated support team that you can reach by email, it's only available during business hours. By purchasing a WordPress hosting service, you'll get a dedicated support team to assist you. Alternatively, you can also ask questions on numerous community forums.
Conclusion
Choosing the right website platform and knowing what to expect from it is essential for site owners. Even though both Weebly and WordPress are great options for beginners, they have their own strengths and weaknesses.
Compared to WordPress, Weebly is easier to use due to its drag-and-drop editor. On the other hand, WordPress offers more robust performance and customization options than Weebly.
To sum up, Weebly is a good choice for complete beginners who want to create simple websites. Meanwhile, if you want to scale your site while making it unique, WordPress is a better option.
We hope this article has helped you decide on the best website platform. If you have any more questions regarding Weebly or WordPress, feel free to leave a comment below.