How to Use Yoast SEO: Initial Setup, Configuration and Tips
Your website's appearance on the front page of search engine results makes growing brand awareness and raising conversion rates much easier. Thus, proper search engine optimization (SEO) is crucial to help your posts and pages get higher rankings.
Among many SEO tools, one of the most popular WordPress SEO plugins in the market is Yoast SEO. Used by 12 million websites, Yoast SEO offers various features essential to optimize WordPress for ranking on search engines.
This article will guide you through the complete process of utilizing Yoast SEO, from its installation to content optimization. We will also show you the steps of using advanced SEO features in Yoast.
Let's start by discussing why you need Yoast SEO for your website.

Yoast SEO Plugin Video Tutorial
Check our video tutorial to learn how to use Yoast SEO to optimize your WordPress site.
Why Use Yoast SEO?
Search engines examine the structure and quality of web pages before ranking them in the search engine results pages (SERPs). Well-structured and optimized websites are more likely to rank higher. Thus, it is important to refine your content for search engine optimization.
Although WordPress CMS has search engine-friendly functionality out-of-the-box, it doesn't come with features needed to rank higher on the search results. For this reason, a suite of SEO plugins is necessary to help your WordPress site perform better.
Yoast SEO is one of the most prominent SEO solutions for WordPress. This plugin specializes in optimizing on-page SEO by suggesting several modifications to help you write SEO-friendly content.
Thus, improving the chance of driving organic traffic to your website and, more importantly, generating revenue for your business.
Furthermore, it also takes care of technical SEO, including rel=canonical and schema.org, to ensure your website meets the highest search engine optimization standards.
For more details of what the Yoast SEO plugin can do, let's take a look at some of its best features:
SEO analysis – includes a set of parameters to ensure your content fulfills the best on-page SEO practices. The tool makes sure your focus keywords are placed appropriately throughout the content. It uses color code to indicate the optimization level, green for optimized and red for under-optimized.
Search engine snippet preview – for reviewing and customizing how your post will appear on the Google search results. This includes SEO title, slug, and meta description. Additionally, both desktop and mobile views are available for you to tweak.
Content readability – aims to help users create well-structured and coherent content by analyzing multiple factors, from paragraph length to subheading distribution. It uses a Flesch reading ease score to identify whether the content is digestible.
Webmaster tools integration – connects your WordPress website with various tools such as Google Search Console, Bing, and Yandex. This helps analyze how well your website is doing on search pages. Thus, you can make adjustments accordingly and improve your SEO.
Now that you know why Yoast SEO is an essential asset for your website, let's learn more about using this plugin.
How to Use Yoast SEO Plugin for Your WordPress Site
The first thing to do is install the WordPress plugin – start by finding Yoast SEO in the WordPress plugin directory. On your WordPress dashboard, go to Plugins -> Add New, and type Yoast SEO into the search bar.
Click Install Now and wait for the process to complete. Then, click Activate. The SEO section will appear on the left sidebar of your admin dashboard. This is where you will perform all configurations and use all of the features.
In the following sections, we will show you how to use Yoast SEO in WordPress, from configuring the settings to optimizing your website posts and pages.
Import Data From Other SEO Plugins
Those who have previously downloaded another SEO plugin need to import data, settings, and configurations beforehand. To do so, access your WordPress admin dashboard and go to SEO -> Tools.
From there, select the Import and Export option, and click Import from other SEO plugins.
Additionally, you can also import settings from another active Yoast SEO installation. Do so by choosing the Import settings option. Continue by opening your exported text file. Then, copy and paste it into the provided field.
Once you're done, click the Import settings button.
There you have it – all of your default settings are now applied to your new Yoast SEO plugin.
Run the Configuration Wizard
If this is your first time installing the Yoast SEO plugin and there aren't any settings to import, you will have to set it up.
Fortunately, Yoast SEO provides a configuration wizard to help set up the basic SEO foundation for your WordPress site.
Setting up the configuration wizard comes with several benefits, such as:
Managing what to show in the search results.
Showing accurate metadata for your website.
Boosting your brand exposure.
To get started, go to your admin dashboard and choose the SEO tab. You should see the First-time SEO Configuration section.
Go ahead and click the configuration wizard link. This will open a new page where you can configure the basic settings for your WordPress website.
Below, we will walk you through each section of the Yoast SEO configuration wizard:
Environment
This section determines whether your WordPress site needs to be indexed on the search results page. Unless you're working on a development site or a staging server, always choose Option A. This will allow Google and other search engines to discover your site.
Site Type
Determine what kind of site, from a personal blog and online store to a business and portfolio website, you are running.
Organization or Person
To ensure your metadata is correct, choose if your website represents a person or an organization. If your website represents an organization, you will need to input your brand logo and picture. As for personal websites, simply put your name in the provided field.
All of this information will be stored in your website's metadata. This helps with Google's Knowledge Graph to provide users with the correct information about your website.
Search Engine Visibility
This section helps decide whether to show or hide your web posts and pages. From here, specify which content types to display in the SERPs. Choose accordingly and move on to the next section.
Multiple Authors
Specify how many people can publish content on your WordPress site. Providing this information will help Yoast SEO prevent duplicate content. This can also help avoid Google's confusion when indexing your web pages.
Title Settings
Decide how you want to display your content headlines on the search results by including your website's name and the title separator. Choose the symbol that best fits your brand as it will appear between your post title and website name in the snippet preview.
By now, you have already configured all of the configurations.
The following sections will only ask for a subscription to the Yoast SEO newsletter, training course, and the Yoast SEO premium plan. If you want to elevate your SEO efforts, go ahead and select as you need. Otherwise, skip these and finish the process.
Configure the General Settings
The general settings tab is your go-to place to restore or modify your configuration wizard settings. Some of the settings provided are optional – users can either enable or disable them.
Below are the options in the General tab:
Dashboard. From here, you can double-check and reopen your configuration wizard to modify the settings. There is also a Problem section that shows whether your website is facing any issues. Additionally, recent updates and information are available in the Notifications section.
Features. This section lists all the Yoast SEO plugin's features, including a readability analysis, cornerstone content, and XML sitemaps. Feel free to disable or enable them based on your goals. For more information, click on the question mark icon next to each feature.
That said, some options are not available to tweak without a premium license. Hence, consider upgrading to the Yoast SEO premium version to unlock more features.
Integrations. The Yoast SEO plugin provides seamless integration with several third-party applications. The free version supports Semrush and Ryte, while the premium plan offers Zapier and Algolia integrations.
Webmaster Tools. Signing up for webmaster tool accounts helps monitor various aspects of your website, like traffic, performance, and memory. This information helps measure how well your site is performing in the SERPs.
This section can verify your site with various tools, such as Baidu, Bing, Yandex, and Google Search Console. If your site is already verified, simply ignore this section.
Proceed to the following step for more detailed information about setting up the webmaster tools verification.
Set Up Webmaster Tools Verification
The verifying process takes similar steps regardless of the webmaster tools you choose. For example, we will show how to verify Google Search Console through the Yoast SEO plugin.
First of all, make sure you have a Google Search Console account. Otherwise, sign up for an account. Once you're done, add your WordPress site to the account.
To do so, follow the steps below:
Go to your Google Search Console dashboard and navigate to the dropdown menu on the left sidebar. Then, click on the Add Property button.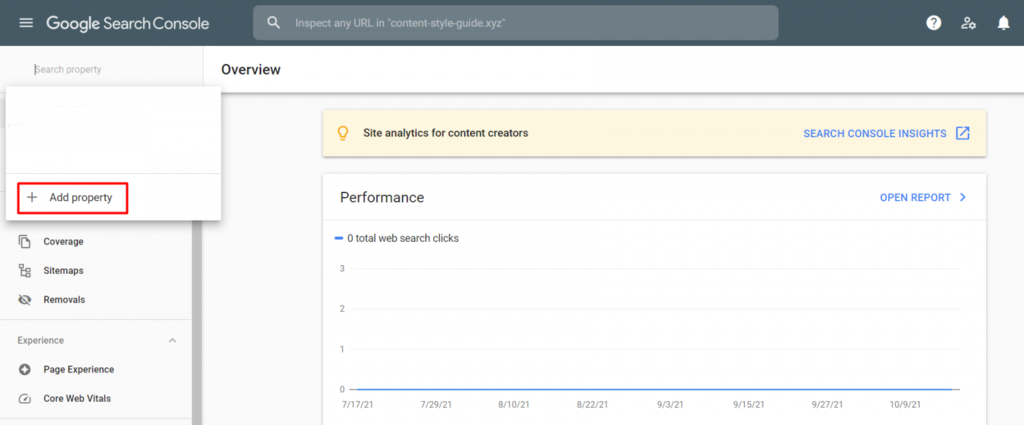 Select your property type. From the two options available, we recommend choosing the Domain option as it grants access to a complete overview of your site, from the protocols to subdomains. However, if you want to include only one specific URL, choose the URL prefix.
In this example, we are going to choose the Domain option. Clicking on the Continue button will open the verification page. Go ahead and click Verify.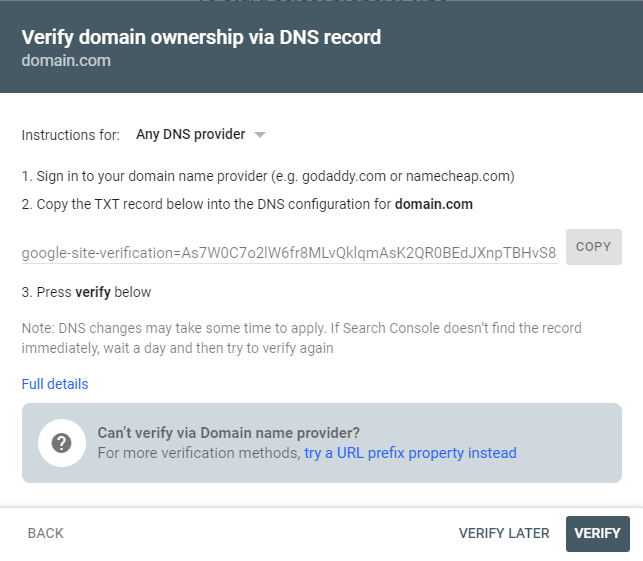 Copy the provided TXT record and add it into the DNS Zone Editor of your hosting provider. Then, go back to the verification page, and click Verify.
Once you have successfully added a new property to your account, verify it in the Yoast SEO settings.
Navigate to the WordPress dashboard and open SEO -> General -> Webmaster Tools. Proceed to click the link under the Google Search Console field.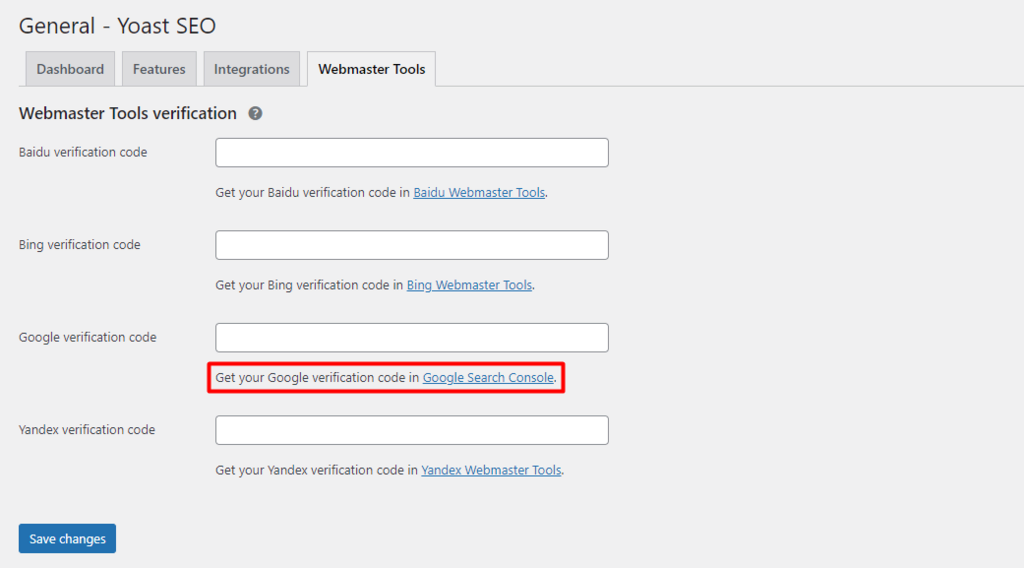 This should take you to the Webmaster Central page, where you can choose one of the ways to verify your domain.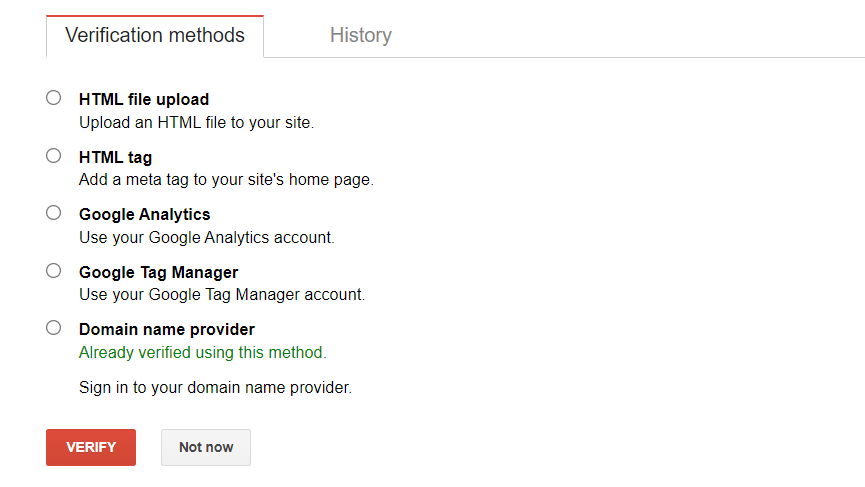 Click the HTML tag option to get the authorization code, and paste it into the Yoast SEO dashboard.
Copy the metadata and paste it in the Webmaster Tools tab.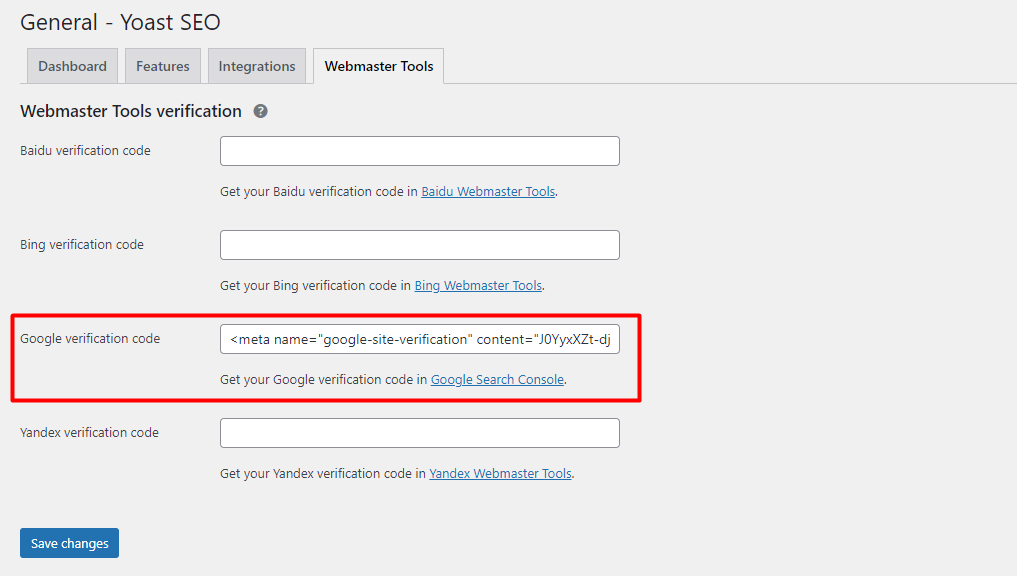 Finally, click the Save changes button to complete the verification process.

Modify Search Appearance Options
Search appearance refers to the way of displaying your website in the search results pages. Although this setting is included in the configuration wizard, there is also a dedicated tab to modify this setting.
Additionally, there are multiple tabs to customize. For example, one tab allows you to modify SEO titles and meta descriptions with various snippet variables.
For more details, we will walk you through different tabs available in the Search Appearance section:
General. This tab includes the basic settings at the configuration wizard, from the title separator to meta description. You can also add more information for Google's Knowledge Graph.
Content Types. The Yoast settings on this section help specify which content types to display in the search results along with their default descriptions. By default, Yoast SEO displays pages with the webpage schema and posts with the article schema. However, you can change these default settings as you need.
Media. We recommend keeping the default settings. Doing so will allow Google to redirect visitors to your website posts whenever they click on the media attachments.
WordPress Taxonomies. This section helps customize the title and meta description template for your post categories and tags. Thus, making it easier for Google to show your posts whenever users have a specific search intent.
Archives. Determine how different types of archives are managed. We advise turning off the author archives for a single-person website, as activating it might result in duplicate content. Conversely, feel free to activate and customize the settings if you have multiple authors.
Breadcrumbs. Enabling this setting makes it easier for your visitors to understand your site structure. Moreover, breadcrumbs also help search engines crawlers when indexing your website. To enable breadcrumbs through Yoast SEO settings, simply toggle the switch to Enabled.
RSS. These settings prevent your content from being republished without credits and permissions. The RSS feed will add a piece of content underneath that will link back to your site whenever your blog post is republished. There are multiple variables available to choose from.
Integrate an XML Sitemap
An XML sitemap plays a vital role in optimizing your website's SEO. This file lists all of your important pages and acts as a map to help search engines understand your site structure better.
XML sitemaps help search engines understand the information of your web pages and determine which ones are the most important. Therefore, helping web crawlers find relevant content on your website easily.
To create a WordPress sitemap with Yoast SEO, access your WordPress dashboard and go to SEO -> General. Navigate to the Features tab and scroll down to the XML Sitemaps section.
Toggle the switch to On – and just like that, Yoast SEO will automatically generate an XML sitemap of your WordPress site. Now, click on the question mark symbol next to the same section to view the sitemap. Then, click on the highlighted link.
With the Yoast plugin, not only can you generate an XML sitemap but also decide what to include or exclude within the file. For instance, to exclude certain content types from the sitemaps, simply toggle a button in the Yoast dashboard.
To do so, go back to the Search Appearance menu and choose Content Types. Specify which content to exclude from the sitemap, and switch the button to Off.
Once you have the sitemap file in hand, the next step is to validate it using a sitemap validator. Doing this will ensure that your sitemap is structured correctly. Start by inputting your domain name in the provided field and click Validate Sitemap.
If your sitemap is valid, the following screen will appear.
Now, the next step is to submit it to search engines. Follow the instructions below to do it on Google:
Log in to your Google Search Console dashboard.
In the sidebar, choose your website.

Scroll down to the Sitemaps menu.

Enter your sitemap URL in the provided field and click Submit.
To check the status, go to Sitemaps -> Submitted sitemaps. Google Search Console will display the status and give feedback on optimizing your site based on their documentation.
Optimize On-Page SEO
At this point, all of the primary and essential configurations of the Yoast plugin should be all set.
With that in mind, it's time to use Yoast SEO to optimize your website content.
Most of the optimization process will happen in the Meta Box for Yoast SEO. This is also known as the content optimization tab and is located under each of your blog posts.
From there, start optimizing various aspects of your on-page SEO, from title tags and meta descriptions to cornerstone content and readability analysis.
The following sections will show you how to perform the most important tasks in optimizing on-page SEO.
Optimize Focus Keyphrase
The focus keyphrase or keyword is the search term you want your blog posts or pages to rank for in search engines results. It can consist of one single word or a combination of several words. A rule of thumb is not to use more than five words.
When inserting a focus keyword into the Meta Box for Yoast SEO, the plugin will start analyzing the content and give suggestions on how to improve it for better page ranking.
You will find the results and feedback down in the SEO analysis section. Click on the dropdown button to get various suggestions you can apply to optimize your content.
Additionally, those with the Yoast SEO premium plan can enter keyphrase synonyms to increase the chance of ranking for relevant keywords.
One of the best WordPress SEO practices is to perform keyword research using tools like Ahrefs or SEMrush. These tools help perform tasks like finding organic keywords, analyzing search volume, and determining keyword difficulty.
Customize Snippet Preview
To drive visitors to your website, it is essential to make your post engaging and clickable. One way to do so is by optimizing your snippet preview.
People are more likely to click on a post that has an enticing snippet. When your page gets more clicks than your competitors, it signals search engines that you have better quality content. Hence, increasing your chance to get a higher ranking.
In Yoast SEO, you will find the Google preview under the focus keyphrase section of the Meta Box.
There is an illustration of how your post or page will look in the Google search results – click on the button accordingly to view either mobile or desktop results. Under the preview, you will see three elements:
SEO title – also known as a page title, refers to the large text usually highlighted in blue. There are multiple variables to incorporate into your SEO title based on your post settings. A good practice is to use your focus keyword and keep the title under 70 characters.
Slug – a part of your URL that describes the content of your page. It is crucial to make your slug user-friendly. Always use descriptive words and incorporate your focus keyphrase for search engines and visitors to understand your content easily.
Meta description – a short excerpt that appears under the page title and provides information about the content. If left unoptimized, Google will simply grab random chunks of your content. Conversely, Google will bold a part of your WordPress meta description that contains the focus keywords, allowing you to gain visitors' attention and get more clicks.
Yoast SEO will show a red, yellow, or green bar as an indicator of each element. The green color means that your snippet is good to go, while red and yellow suggest that further improvement is needed.
Mark Cornerstone Content
Cornerstone content is a post or a page that serves as the pillar of your website. Cornerstone articles are usually long, comprehensive, and accurately reflect your brand's mission.
The goal of having cornerstone content is to provide detailed information for your visitors and rank for high-volume keywords. Ideally, cornerstone content should make people engage with your website and purchase your products.
To give your cornerstone more prominence, you need to drive traffic towards it. Use internal linking to direct visitors from other relevant pages on your site. These internal links will help the web crawlers discover your cornerstone content.
The Yoast SEO plugin includes an option to mark a post or a page as cornerstone content. Remember that Yoast SEO will provide more in-depth and critical analysis when you mark content as a cornerstone.
For example, if a regular article consists of 500 words, a cornerstone article should contain at least 1000 words.
Moreover, Yoast SEO provides additional tools to optimize your cornerstone articles, such as text link counter and dedicated cornerstone analysis.
You will find a list of your cornerstone articles in Posts -> All Posts -> Cornerstone content. The text link counter provides information about how many internal links are present within one post. This way, you can determine whether your cornerstone articles have enough links.
For premium users, there will also be internal linking suggestions to help improve your website structure.
Optimize for Social Media
Promoting your website content via social media is a great way to boost traffic and attract more prospective customers. For this reason, tailoring the way your content looks on various social platforms is paramount to your success. Make sure your content looks appealing, incorporate intriguing images, and use concise post titles.
Fortunately, Yoast SEO includes a feature that helps you optimize and customize your social media snippet. On the Yoast SEO meta box, find the social media tab – this is where you can tweak multiple elements just like you did in the content optimization tab.
Usually, you won't have to modify your social media snippet as Yoast SEO will automatically generate it based on your titles and meta tags. However, fill out the provided fields accordingly if you want to tailor them based on your preferences.


More Best SEO Practices Using Yoast SEO
Aside from on-page optimization, there are other best SEO practices that you can do with Yoast SEO. This section will walk you through the more advanced settings in this SEO plugin, from using the redirects module to enabling a canonical URL.
Use Redirects Module to Avoid 404 Errors
Sometimes, website owners need to delete web pages, move them to new locations, or modify their URLs. However, these old pages don't automatically disappear from the search results.
With that in mind, visitors or web crawlers will see a 404 error if they stumble upon these dead links.
The 404 error prevents visitors from viewing your content – hence, driving traffic away from your site. One way to avoid this error is by redirecting your old URLs to the new ones. Fortunately, Yoast SEO includes a redirect manager functionality that will help you do just that.
Although redirects can be overwhelming, the Yoast redirect manager helps perform this technical task with only a few clicks. Moreover, it also automatically creates redirects every time you move or delete content.
Whenever you attempt to delete or move a single page or post, Yoast will pop a notification recommending to create a redirect.
Clicking on the Redirect it to another URL button will trigger a pop-up box where you can input the new URL.
You can add either the whole URL or just a slug. Once done, click OK. The post is now successfully redirected to the new location.
Avoid Accidental Duplicate Content
If you have multiple pages with identical content, Google will get confused in prioritizing their page rankings. Often, this situation leads to Google ranking neither pages or penalizing the website altogether.
You must avoid duplicate posts or pages for the sake of your SEO. However, consider adding a canonical URL if you really need to create identical content for marketing or branding purposes.
A canonical URL is the URL of a representative page from a pair of duplicate pages in your website. With canonicals, search engines will be able to identify the original version of the content. Hence, allowing them to index and pass the link juice on to the original version.
With Yoast SEO, adding a canonical link is quick and easy. Simply go to the Advanced tab in the Yoast SEO meta box. From there, you should see the Canonical URL section.
Continue by filling in the full canonical link with the original link of the article you want to index. Update the post or page, and you're all done.
Manage Archive Pages
As your website grows, you might start categorizing your content and tags to ensure a consistent structure. WordPress automatically generates archive pages when you add categories, tags, or other taxonomies to your website.
Generally, many blogs use date-based archives, resulting in a long list of articles sorted by month or year. Although this makes it easier for your visitors to navigate your site, it can hamper your SEO if left unmanaged.
When web crawlers index infinite spaces like the archive page, it can waste your crawl budget. Hence, preventing them from indexing your informational content.
With this in mind, it's best to disable date-based archives. To do so, navigate to SEO -> Search Appearance -> Archives. Scroll down to the Date archives section and toggle the switch to Off.
Conclusion
Yoast is a must-have plugin for every site owner to enhance their SEO. It comes with numerous functionality tailored to provide advanced optimization. Moreover, most of its SEO features are predefined and ready-to-go, making it beginner-friendly.
In this guide, we have gone through the steps of configuring Yoast SEO's basic settings. Once you have all settings configured, all that's left to do is optimize your post in the Meta Box for Yoast SEO.
To do so, you need to pay attention to the essential elements, such as:
Focus keyphrase – conduct keyword research and decide which keywords you want your page to rank for.
SEO title – use action words in your title and keep it between 50-60 characters, it is also beneficial to incorporate your focus keywords.
Meta description – write up to 150 characters to make sure it provides enough description about your content.
Although Yoast SEO can optimize your site content, further SEO efforts are also needed to ensure your website gets the best spot in the SERPs. All in all, we hope this article will help you kickstart your SEO journey and dominate the search results pages.
If you have any questions, don't hesitate to drop us a comment. Good luck!
How To Use Yoast SEO FAQ