How to Create a Virtual Job Board And Monetize It – Step-by-Step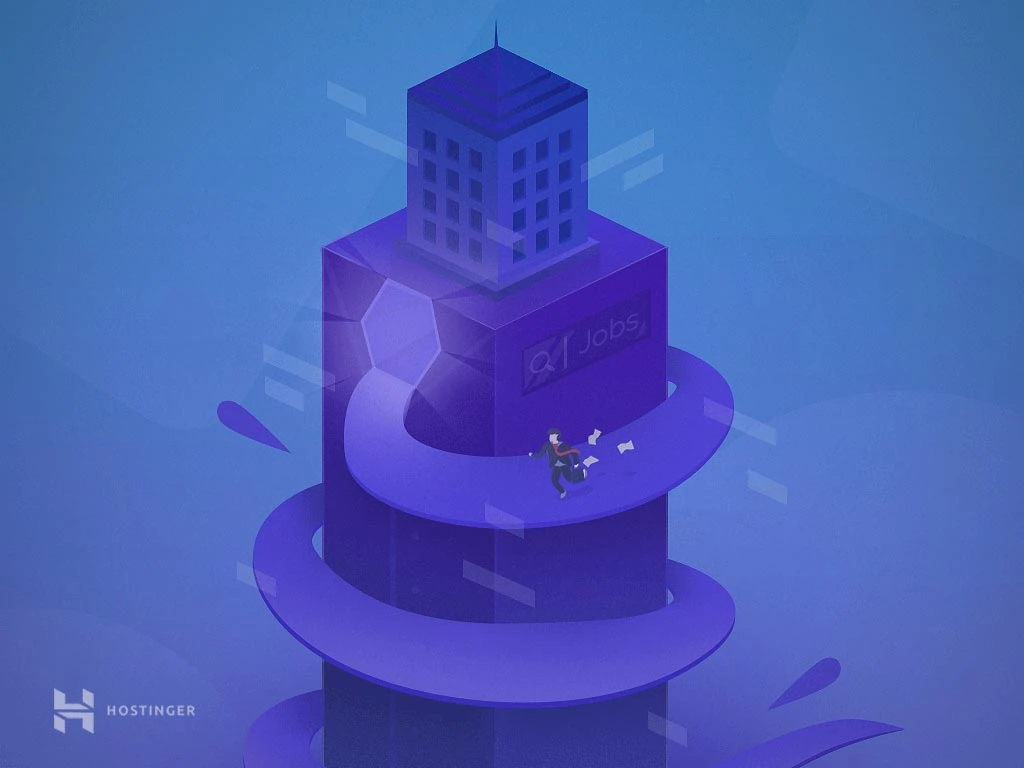 These days, most people look for their next job online instead of walking around knocking on doors blindly. This means there's plenty of potential for websites that help employers connect with potential hires. In other words, learning how to create an online job board (and monetize it) can be an excellent online business opportunity.
In this article, we'll walk you through the process of setting up a job board website in five steps. Once we're done, you'll be able to get right to work finding new job listings to publish on your site. Let's create an online job board!


Step #1: Register a Domain for Your Online Job Board
The first step when creating a website of any kind is to come up with a name for it and register a domain. Choosing a name for your site is a very subjective process. However, there are some tips you should keep in mind no matter what type of project you're working on:
Your goal at this point is to come up with multiple domain name ideas. For an online job board domain, you'll probably want to go with something that clearly states the site's purpose, such as findworkonline.com, youronlineclassifieds.com, remotetechjobs.com, and so on.
As you might imagine, all those names are already taken, which brings us to our next point. Don't get too attached a particular name for your website until you know if that domain is available. To find this out, you can use the Hostinger domain registration tool:

Once you settle on a domain name that you like and is available, you can go right ahead and register it. Just keep in mind that it's best to consider your options carefully before settling on a domain. It is possible to switch names later on, but it's a messy process that can impact your site's Search Engine Optimization (SEO), so you'll want to be very happy with your choice.
Step #2: Find Quality Hosting
Once you have a domain name picked out, it's time for the next phase in learning how to create an online job board. This step involves finding hosting for your site.
When it comes to hosting, there are a lot of options out there. However, here's what a quality web host should offer:
Excellent performance. Ideally, whichever hosting provider you choose will offer you top-notch performance even on its most basic plans.
A broad variety of plans at different price points. Since you're launching a new website, you'll probably want to start off with a modest hosting plan while you find your footing. Even so, having options you can upgrade to in the future (as your site grows) is a must.
Top-notch support. If you can't easily get in touch with your provider to get help solving issues with your website, then you should take your business elsewhere.
Usually, we recommend that new websites launch using basic web hosting packages. These plans tend to be relatively cheap. Plus, if you pick the right provider, they should provide more than enough resources to power your site while it starts to gain traction.
However, since we're talking about how to create an online job board, you might want to jump straight to a Virtual Private Server (VPS) instead. This type of plan offers you dedicated space and more resources for your website, and tends to be more scalable.
Those benefits are excellent for an online job board since this is a website with somewhat complex functionality and the potential for lots of traffic. Just to give you an idea, if you have a few dozen job listings up, you might be looking at hundreds of queries per day. So you'll need a hosting plan that can keep up with that level of activity.
The good news is that, depending on which provider you use, a starter VPS plan might not cost you much more than shared hosting would:

At this stage, you'll want to take some time to look around, and consider what your options are. Once you've found a reputable web host that offers the kind of plan you want, go ahead and sign up for it. Then, you're on to the next step in learning how to create an online job board.
Step #3: Choose a Platform to Build Your Job Board With
Now that you have a domain and hosting plan, you need a tool to build your website with. When it comes to complex sites such as job boards, we recommend using a full Content Management System (CMS). This type of software enables you to put together sites that involve large amounts of content, such as blog posts or job listings, without a lot of website setup costs.


There are a lot of options when it comes to CMS platforms. Some of them are even suitable if you don't have a background in web development. WordPress, for example, is well known for its ease of use and flexibility. Although it's sometimes mistakenly considered to be just a blogging platform, it can do much more than that: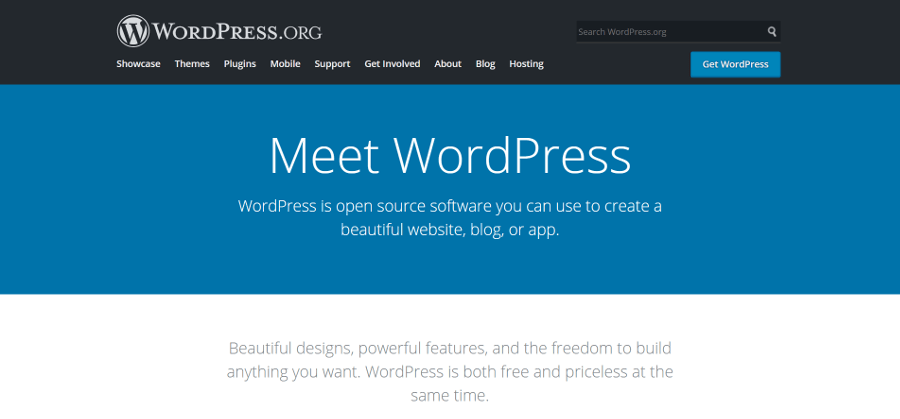 WordPress' primary selling point is its high degree of customization potential. With its plugin and theme systems, you can quickly put together an attractive website that includes almost any functionality you want, including job listings and applications. This can take a little time, but is nowhere near as difficult as it would be to create an online job board from scratch.
It's also important to note that WordPress isn't the only game in town when it comes to CMS platforms. Two other top options include Joomla and Drupal.
With Joomla, you get access to a broader set of website configuration options out of the box than with WordPress. For example, the platform includes built-in SEO features you can use to draw more traffic to your job listings:

Joomla is also an excellent pick when it comes to multilingual websites, since it provides you with tools to set them up out of the box. On the other hand, it can be a bit more challenging to get started with than WordPress.
Finally, Drupal is a great fit if you already have some experience in web development. It's highly scalable, packs a ton of features, and also manages to remain very lightweight:

The potential downside of using Drupal is that it relies on you having some technical experience. Plus, it can take a while to get the hang of using this CMS.
For this particular guide, we're going to focus on WordPress, since it's the most user-friendly platform of the three. However, Hostinger fully supports both Joomla and Drupal as well, so you're free to install whichever one you prefer.
Step #4: Set Up a WordPress Jobs Board Plugin and Publish Your First Listing
Once WordPress is installed on your host's server, it's time to get to work. WordPress doesn't include features to help you create an online job board out of the box since this is a pretty niche type of site.
The good news is that you can add the functionality you need easily, by using a job board plugin. Our favorite option is called Simple Job Board, and we like it because it lives up to its name:

Once you install and activate the plugin, a new Job Board tab will show up in your dashboard. If you click on it, you'll see a list of all your existing listings, which should be bare right now:

Go ahead and click on the Add New button, and you'll find yourself in front of the WordPress editor. Here you can set a title for your job listing and create a description for it:

If you keep scrolling down, you'll see a Job Features section. Any information you add here will show up in a list below the primary job description. In other words, this is an excellent place to summarize any job benefits you want to promote:

Below that, you'll find a section called Application Job Fields. By default, the plugin will set up a file upload section, so applicants can attach their resumes:

Finally, if you scroll down to the Job Data section, you'll see several options where you can fill out information about who the listing belongs to. This includes a company name, website, tagline, and logo. In most cases, however, all you really need to include is a company name and website:

Once you fill out all this information, publish your new listing. Afterward, you'll be able to find it by visiting yourwebsiteurl.com/jobs. On this page, you'll see all of your existing listings: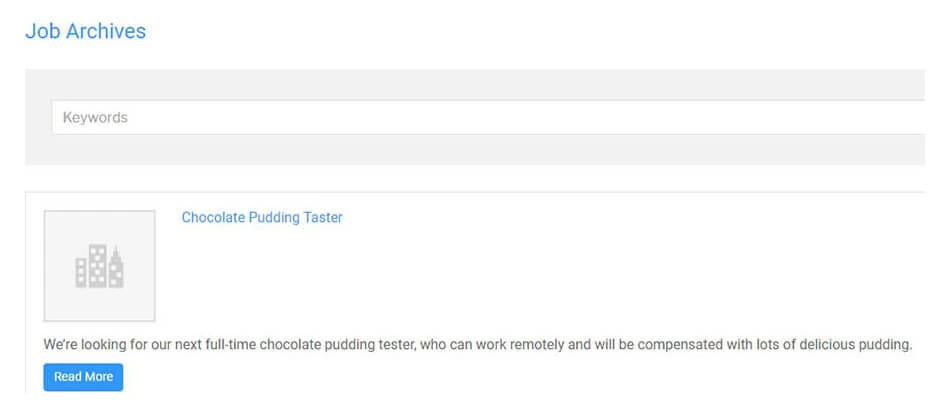 As you can see, the plugin even sets up a search bar where visitors can look through available job postings. Then, any time someone applies to one of the job listings, you'll be able to review that application by visiting the Job Board › Applicants tab. There, you (or whatever employers you grant access to) can review resumes at your leisure.
Step #5: Add a Paid Membership System to Your Job Board
Now that your website has basic job board functionality, it's time to find a way to monetize it. To do that, we're going to use the Membership & Content Restriction plugin:

With this plugin, you'll be able to charge users a subscription to register on your website. Then, you can configure the Simple Job Board plugin so that it only displays listings to logged-in users. That way, only paying members will be able to see and apply to job postings.
For the Membership & Content Restriction plugin to work, you're going to need three things:
Enabled user registration on your WordPress website
An SSL certificate, which you can set up through Hostinger
A PayPal account, to collect your subscription earnings
To take care of that first item, you can visit the Settings › General tab in your dashboard. There, you'll find an option to enable global user registration for your website:

Once you do that – and set up your SSL certificate and PayPal account – you can go ahead and install the membership plugin. Afterwards, you can create one or more subscription plans, which visitors will have to choose from when they sign up for your website: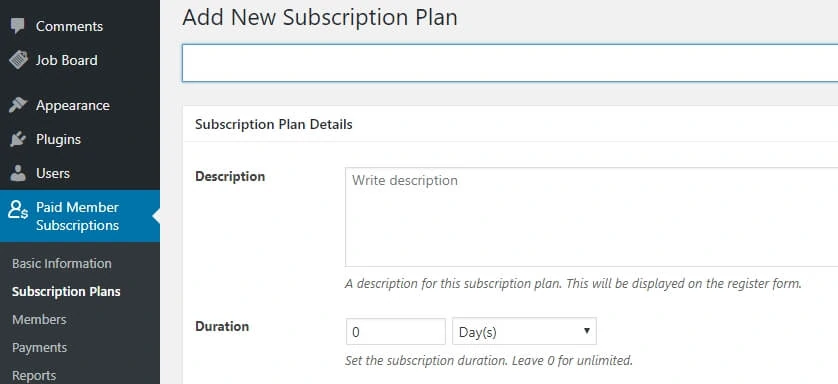 When your subscription plans are ready, go back to the Job Board tab and open any of the listings you set up earlier. If you scroll down to the bottom of the screen, you'll see a new Content Restriction section. Here, you can choose which users will get access to that particular listing:

At this stage, you already know how to create an online job board using WordPress, and how to restrict its contents. Now it's up to you to decide if you want to make some listings free or restrict them all to paid visitors only. Both business models are perfectly viable, so the decision is up to you!
Conclusion
Job boards are one of the best ways to find work online. If you set up a board and curate its listings to ensure that they're something visitors will be interested in, you shouldn't have a hard time attracting members. Better yet, you can charge a recurring subscription, so your job board keeps earning you money well into the future.
Do you have any questions about how to create an online job board? Let's talk about them in the comments section below!