Domain Privacy Protection: What It Is, Why You Need It, and How to Enable It
Every domain name on the internet must be attributed to someone. Once registered, the registrant's information goes public, and anyone can access it.
This is why domain privacy protection is essential, as making sensitive information public will render you vulnerable to spam messages, data breaches, or even hacking attempts.
In 2020 alone, more than 1,000 cases of data breaches exposed the personal information of more than 155.8 million people in the United States. Furthermore, 86% of data violations were financially motivated.
Domain privacy protection can hide your personal details, saving you from potential cyberattacks. In this article, we're going to explore what domain privacy is, why it's important for you, and lastly, how you can enable it.


What Is Domain Privacy Protection?
Domain privacy protection is a service that aims to protect your sensitive personal information. Personal information in the WHOIS database is concealed when website owners use such a service.
How Does Domain Privacy Protection Work
In order to own a domain name, you have to register it to the WHOIS directory. The Internet Corporation for Assigned Names and Numbers (ICANN) requires a mailing address, phone number, and email address of owners or administrators of domain names.
This information has to be made publicly available in the WHOIS directory, along with the registration and expiration dates, IP addresses, and domain registrar. You can only register a domain with authentic information, and there's no way around registering a domain with false data.
All the information you provide, including your email address, postal address, and phone number, is verified. Moreover, authenticity is key to winning respect and trust of your audience as a business owner.
This information can be used legitimately to look up a domain before registering yours or for other business purposes. However, making these details public also leaves room for malicious intent.
Domain privacy protection service allows website owners and administrators to conceal their sensitive information in the public directory. Instead of their email addresses and contact information, domain privacy protection services show a forwarding email address that changes regularly, making your identity consistently protected.
GDPR and Domain Privacy
For European Union citizens, the personal information connected to your domain name is automatically protected by the General Data Protection Regulation (GDPR) laws.
ICANN also implemented the Temporary Specification for gTLD Registration Data to adjust to the regulations of the GDPR. Therefore, even if your personal information is made private, some of the data will still be available to the public, such as:
Your Internet Protocol (IP) address
Sponsoring registrar
Domain registration and expiration dates
For non-European companies, you need to enable third-party domain privacy add-ons manually to have Temporary Specification enforced.
What Is WHOIS Lookup?
WHOIS Lookup is a tool provided by the WHOIS directory where you can type a website address, and it will show you information regarding who owns and manages the domain name. This information includes names, emails, and postal addresses, along with contact information that was added when registering the domain.
This feature helps find domain information on the public WHOIS database to search the details of any website. However, be aware that anybody can find your personal contact information and use it maliciously, which is why WHOIS protection is critical.
Hostinger provides a domain owner lookup tool right off the bat, showing WHOIS information on domain name registration.

As a user, you can check if the personal data connected to your domain is secured or not. If the privacy service is enabled, you will see REDACTED FOR PRIVACY as the registrant or admin information.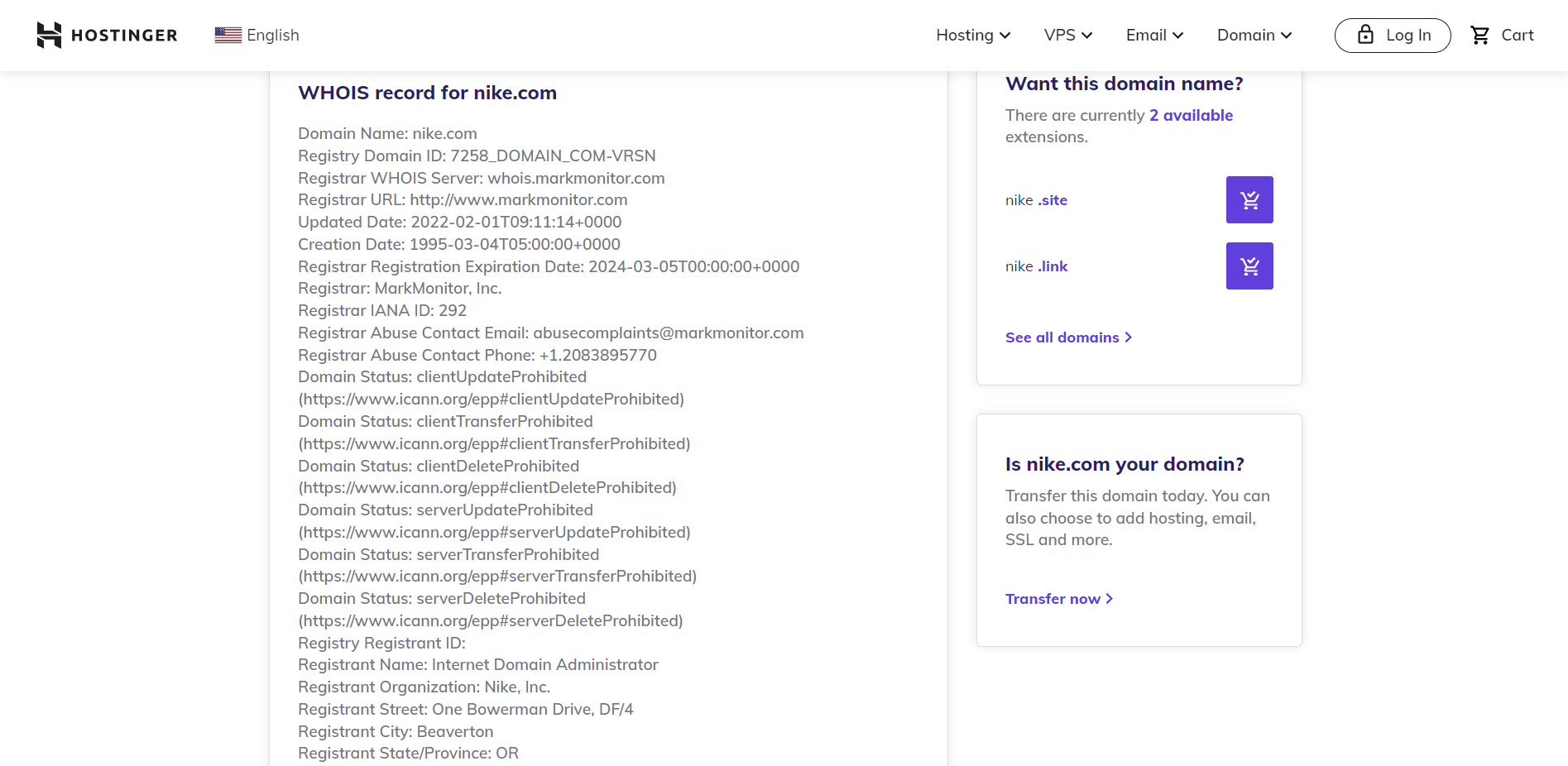 As you can see, the owner (nike.com) doesn't use private domain registration, which is why we can see the contact details, such as phone number, email address, and complete postal address.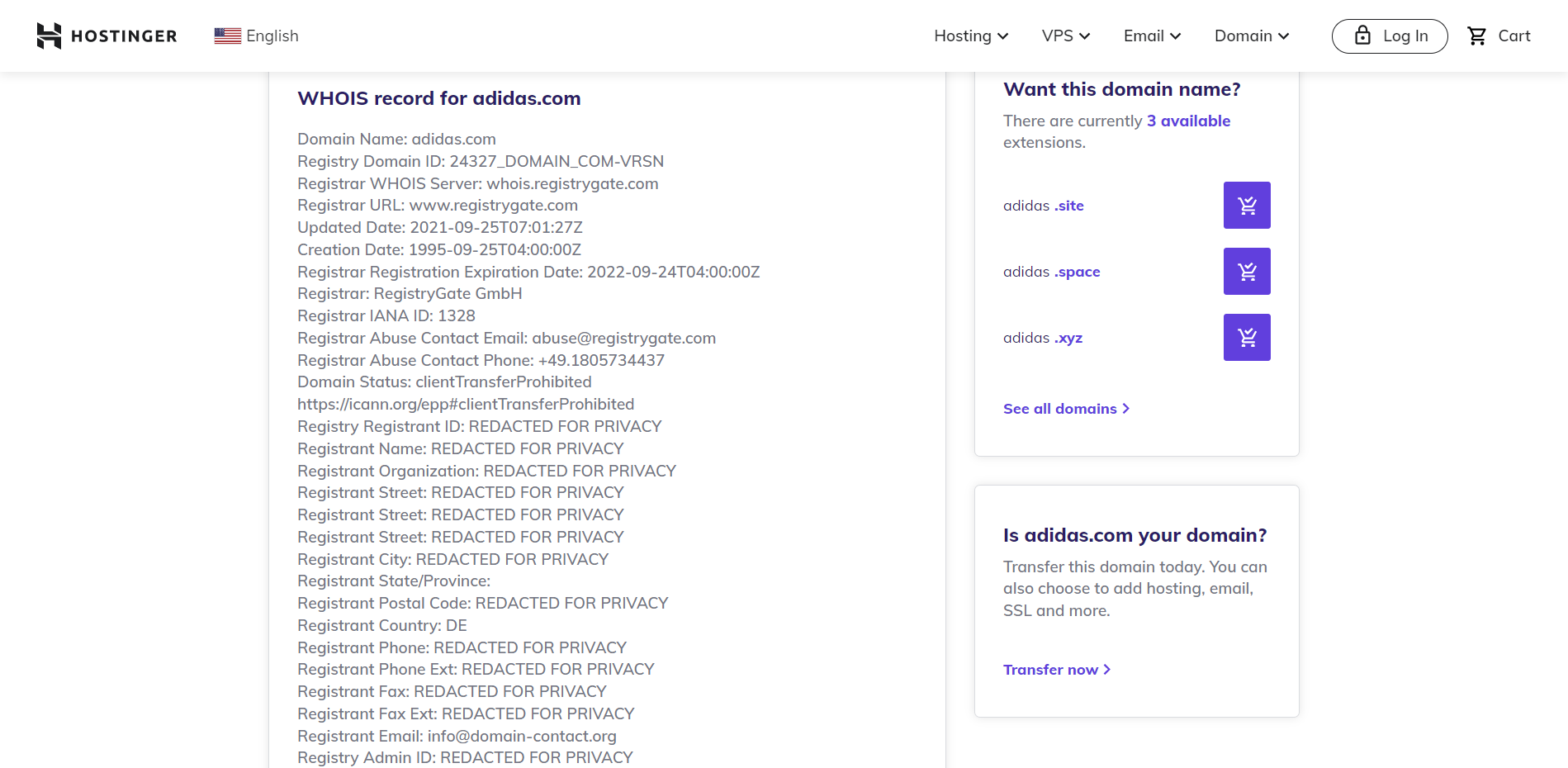 On the other hand, we can see that this site owner's (adidas.com) contact information is hidden. The email address is replaced with a dummy or forwarding address instead. This is how the WHOIS privacy service helps keep your information private.
6 Reasons Why You Need Domain Privacy Protection
Due to the ICANN regulation, you must publicize your personal data on the WHOIS record when registering a domain. This is the main reason why privacy protection is necessary. We'll explore the potential harms of not protecting your sensitive information properly.
1. Protect the Contact Details of the Domain Registrant
Anyone can easily see your contact details in the WHOIS database, including hackers, scammers, or competitors. If cybercriminals gain access to your website, your business will suffer.
Not only can your customers' data be stolen, but you will also lose the trust of your audience. Furthermore, it may take some time to recover from reputational damage.
Aside from that, as a business owner, any information leaked to your competitors is costly. This may also leave room for identity theft. Therefore, it's safer to keep your confidential information private.
2. Prevent Spam Emails
Domain with privacy protection is a way to prevent spammers from reaching you. People who use WHOIS data for their benefit primarily focus on contact information, commonly email addresses, for marketing purposes.
This will let people send you plenty of unwelcome emails. Not to mention spam emails may contain viruses or other malware, which can be a severe security breach for your business.
With domain privacy, spammers can only see a dummy email address regularly changing to mask your real one.
3. Prevent Scam Phone Calls
Phone numbers are what telemarketing companies tend to take from the WHOIS directory. When your phone number is publicly available, there's a good chance you'll be flooded with various marketing and sales calls.
A scammer might also contact you to market fake products and services. Even worse, they may pretend to offer domain registration renewal services when your domain is nearing expiration. Contact your registrar first before providing personal information on these types of calls.
If you enable privacy protection, your phone number won't be shown in the contact details section, protecting you from spam calls and scammers.
4. Prevent Domain Theft
Domain theft or hijacking occurs when someone changes your domain's registration information without permission. This is possible by accessing your email address and domain registrar account.
Hackers can use your website to aid other cyberattacks, such as malware installation. Moreover, there's a good chance they might use it for phishing attack techniques. In other words, they might create web pages identical to the ones on your website, especially pages that collect sensitive customer data.
Losing control of your domain can lead to financial loss, not to mention regulatory and reputational damages. The dummy email address will give hackers an extra obstacle by enabling domain privacy protection if they try to break into your account.
5. Prevent Unwanted Traffic
Unwanted traffic can take the form of bad traffic on your website or junk emails. This is way more likely to happen with your personal data accessible to everyone on the internet.
Receiving unwanted traffic may cause you to lose a significant amount of storage and resources, leading to your data being stolen and becoming a severe security issue.
This problem can be tackled by concealing your personal data so that cybercriminals would have a more challenging time sending you spam.
6. Increase Control Over Your Personal Information
When it comes to domain registration, you have to use your actual contact details for security purposes. The person or company listed as the named registrant will always be the legal owner from the standpoint of ICANN.
Using false contact information may lead to a legal dispute about who owns the domain name. Using legitimate contact information is essential, especially for businesses, as it can affect customer trust in your brand.
How to Activate Domain Privacy on Hostinger
Hostinger allows you to protect sensitive information with domain privacy. Luckily, it's free with your domain purchase at Hostinger for all supported top-level domains (TLDs).
For new domain orders, you can check that privacy protection is added for free in the cart before proceeding with checkout.

If you already have a domain, you can find that privacy protection is enabled by navigating to your Domains section on hPanel.

Scroll down until you find the WHOIS Privacy option and see that it's enabled.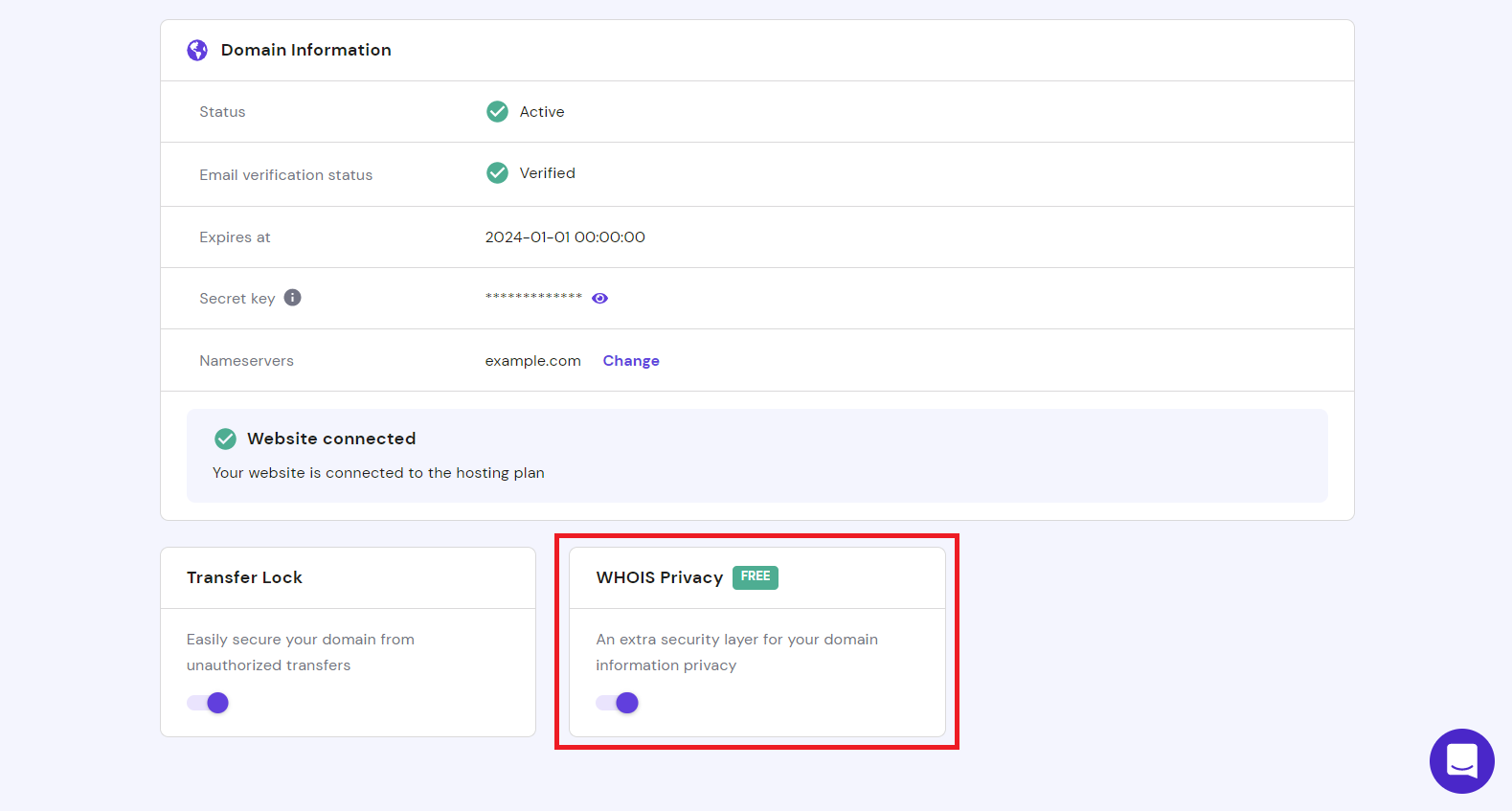 How to Check if Your Domain Privacy Is Enabled
You can use the WHOIS Lookup to check if the service is enabled. When you enter a domain name on a WHOIS database search bar, a request is sent to the domain's registrar, and it will show the information about the said domain.
Here's how to perform a WHOIS lookup:
Visit the WHOIS Domain Lookup page.
Type in a domain name on the search bar. Click Search.
Scroll down to see the Registrant, Administrative, and Technical Contact information.
If a site owner doesn't have domain privacy enabled, their WHOIS records will be visible to the public, including their email address, postal address, and phone number.
On the other hand, the personal information of domain owners who use privacy protection will be hidden. Meanwhile, their email address will be switched to a dummy or forwarding address instead of the actual one.
There are several ways WHOIS protection hides your sensitive information.
For example, when looking for ZARA's WHOIS information, it conceals the actual email address with zara.com-registrant@anonymised.email.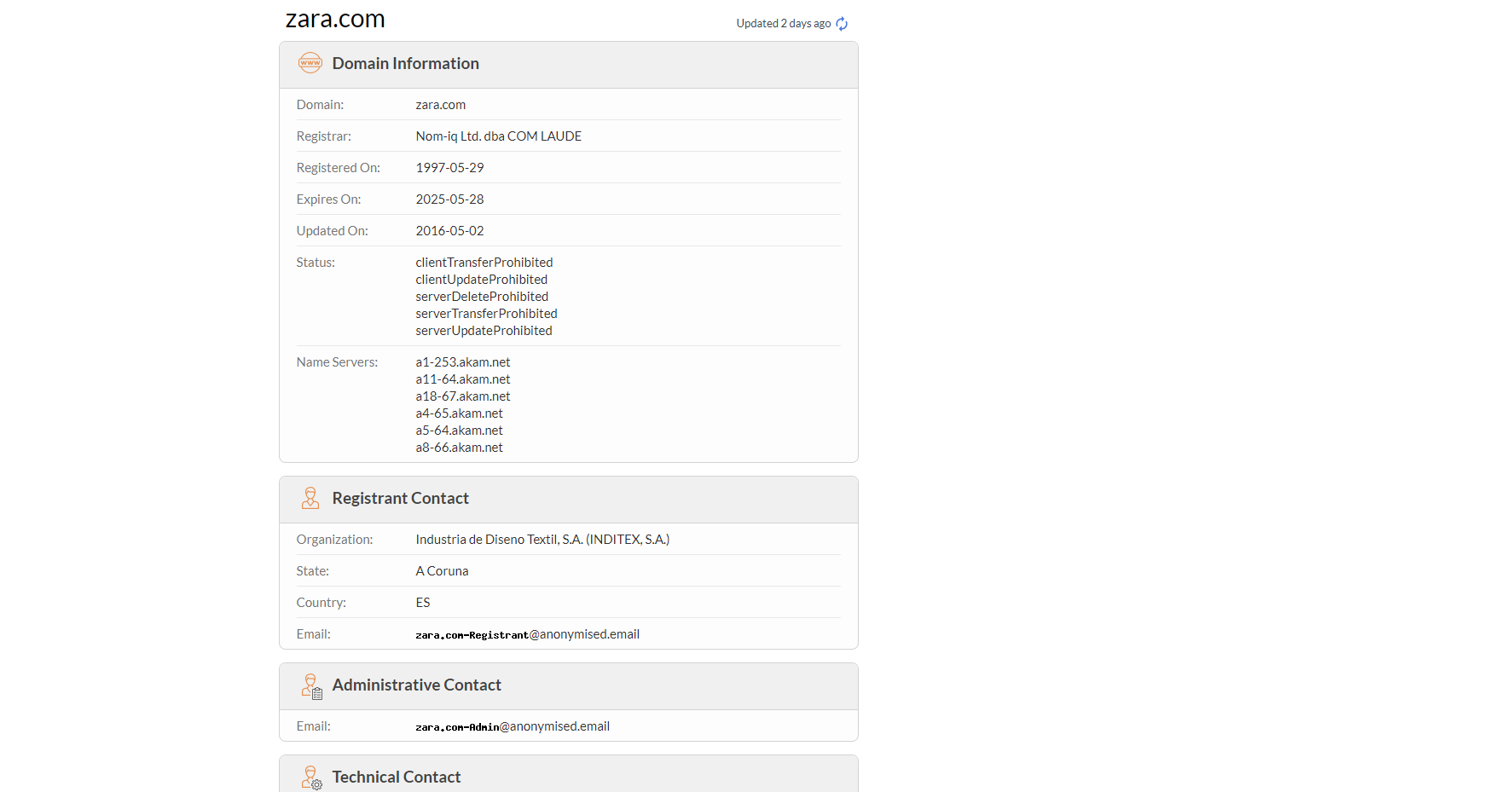 However, for ASUS, you can see that the email address is written as a dummy email wps921_19707@whoisprivacyservice.tw instead.

Conclusion
Protecting your personal data from being accessible by everyone on the internet is essential, especially for website owners. Cyberattacks such as hacking attempts, domain thefts, unsolicited emails or calls, and other unwanted traffic happen frequently.
Since WHOIS requires you to submit your details when registering a domain, you need domain privacy to protect it. Domain privacy protection allows you to conceal your private data in the WHOIS database, such as personal email, postal address, and phone number. Fortunately, you can enable domain privacy for free and easily from Hostinger's hPanel.
If you still have any questions about domain privacy or domain ownership protection, don't hesitate to leave a comment below.
Domain Privacy FAQ
How Much Does Domain Privacy Cost?
Some providers offer domain privacy protection for free, while others charge extra. Hostinger includes free domain privacy protection for every registered domain.
How Secure Is Domain Privacy?
Domain privacy completely conceals your sensitive information from everyone on the internet, lowering the chances of cyberattacks on your website. This is why domain privacy service is imperative.
Is Domain Privacy Protection Available for Every Domain?
Not every domain can get privacy protection. It depends on the top-level domain (TLD) you use. Domain name privacy is usually available for most common TLDs, such as .com, .net, .org, and .co.However, it's not available for domain extensions such as .mobi, .asia, and .space. Some registrars don't allow the service due to other countries rules and regulations, which is why these extensions cannot get domain privacy services.