15 Best WordPress Podcast Themes for Podcasters
As of 2020, more than 55% of the US population over 12 years old has already listened to a podcast. Podcasts help people acquire new knowledge, keep up with the latest news and trends, and join a community of like-minded people.
If you're thinking about ways to promote your podcast, investing in a site can be a great idea. WordPress is a comprehensive tool for creating a functional and professional website.
There are several WordPress themes designed specifically for podcast sites. Each one comes with its own unique features and style, so finding the most suitable podcast WordPress themes might seem challenging.
Here, we've listed the 15 best WordPress themes for podcasters, both free and paid. To help you make a well-informed decision, we included their prices and key features.

Best WordPress Themes [2023]
Discover the best WordPress themes to optimize your website design and branding with our updated video tutorial.
Why Does Your Podcast Need a Website
If you're a podcaster, having a website is essential. It helps you gain more visibility and listeners, appear more professional, and even make money.
Besides, a podcast website is a great way to share additional content with your audience. You can add blog posts along with each episode or even share support materials.
Some of the main benefits of having a website for your podcast are:
Better discoverability. People will be able to find your podcast on Google and other search engines.
Looking professional. Customize how your WordPress podcast website looks through various podcasting themes and create a strong brand identity. It will help build authority and credibility, especially if you're running an educational show, like an agency podcast.
Additional value. Offer more value to your listeners by adding free and useful content such as informative blog posts or downloadable files.
Community building. Add a contact form and additional information for visitors to get in touch with you. You can also collect listeners' email addresses to send them newsletters.
Monetization. There are plenty of ways to make money through a WordPress podcast website, such as offering online courses, selling merchandise, or adding a donate button.
Gaining insight about visitors. Integrate analytic tools such as Google Analytics to find information about where your visitors are from, what page they spend the most time on, and how they found you.
What Do You Need to Start a Podcast Website
Now that you know the advantages of having a website for your podcast, it's time to understand the essential elements to build one using WordPress:
Domain name. It is your website's address, so make sure the name is memorable and easy to spell. A good option is to use your podcast name, as done by both Office Ladies and This American Life. Once you choose, you can purchase a website domain through domain registrars or most web host providers.
Hosting service. Web hosting is a service that provides space in a server to store your site's data and files. Make sure to look for a reliable solution with enough capacity to handle your audio files and episode plays. We offer a 99.9% uptime guarantee, and several of our plans come with unlimited bandwidth.


WordPress podcast theme. Choose a WordPress theme with the style and features you need for a podcast website, such as an audio player and responsive design. Also, remember to check for integrations with eCommerce tools if you plan on selling merchandise.
The Best Free WordPress Podcast Themes in 2023
Let's start the list with the seven best free WordPress podcast themes.
Theme Stats
Downloads: 2,000+
Developer: Catch Themes
Notable features: responsive design, featured content, social menu in the footer
Pricing: freemium (premium version available from $59.99)
Euphony is a stunning WordPress podcast theme. It comes with a sticky playlist at the bottom of the homepage. This way, listeners have access to your podcast episodes as soon as they reach the website.
The theme provides ready-made custom pages. Users can easily replace the demo content and adjust layouts, change colors, add favicons and custom CSS to get their website ready in no time.
This podcast theme is also responsive, adapting to various screen sizes. This is an essential feature since many podcast listeners use mobile devices.
Euphony also offers a featured content selection tool to highlight the latest episodes. Webmasters can choose to showcase it on the homepage or the entire site.
Last but not least, the layout allows adding social media icons on the footer so that visitors can further explore the brand.
If you want more features such as color schemes or comment and footer editor options, consider upgrading to Euphony's pro version.
Theme Stats
Downloads: 3,000+
Developer: Catch Themes
Notable features: back-to-top button, parallax scrolling, breadcrumbs
Pricing: freemium (premium version available from $59.99)
Audioman is a theme with a focus on the audio industry. It is suitable for both podcasting and blogging, a great combination to help promote your project and enhance its SEO strategy.
Additionally, the theme comes with breadcrumbs to improve search engine optimization and website navigation even further.
As a bonus, this podcast theme includes a back-to-top button so visitors can easily return to the top of the page.
To make sure people find the most relevant content on the website, such as the most recent blog posts and show notes, Audioman offers a hero-content feature.
It can be added to the homepage exclusively or to all page templates. It is also possible to enable a testimonial section, so newcomers can see what makes your podcast special.
Audioman comes with a support forum and theme documentation to help with setup and advanced customization.
The theme's premium version includes additional color schemes, layout options, and integrations.
Theme Stats
Downloads: 800+
Developer: Theme Palace
Notable features: WooCommerce compatible, custom CSS, multiple layouts
Pricing: freemium (premium version available from $59)
Musicsong is an easy-to-use WordPress theme. It comes with multiple layouts – simply replace the demo content with your elements to set up a personalized podcast website.
This WordPress podcast theme comes with testimonial and blog sections. This enables you to include reviews from your listeners and publish blog posts with more information about the podcast episodes.
Adding an online store to the website is also available since Musicsong is compatible with WooCommerce, a popular eCommerce plugin for WordPress.
Additionally, Musicsong offers custom CSS to change the theme's appearance and override the default styling.
Overall, this WordPress theme is suitable for a simple podcast website. If you want more advanced features such as an audio playlist, event system, and gallery section, consider upgrading to MusicSong Pro.
Theme Stats
Downloads: 5,000+
Developer: Compete Themes
Notable features: RSS feed, social media icons, unlimited font selection
Pricing: free
Tracks is a free podcast WordPress theme with a clean, dark look. Its minimalistic layout, combined with clear typography, makes it a great fit for a content-focused website.
Additionally, Tracks is responsive and mobile-friendly, with an easy-to-locate search button.
This WordPress theme is also compatible with Gutenberg, the popular built-in WordPress block editor, and the drag-and-drop website builder Elementor.
Those integrations allow for easily creating a design that matches your podcast brand and niche.
Tracks also come with WooCommerce integration so that you can sell merchandise directly on the podcast site.
Moreover, it is constantly updated to ensure it runs smoothly at all times.
Theme Stats
Downloads: 1+ million
Developer: Brainstorm Force
Notable features: WooCommerce support, multiple template options, lightweight
Price: freemium
Astra is a multipurpose WordPress theme that offers plenty of templates. It's also one of the most lightweight themes, allowing you to speed up your WordPress site and improve its ranks on search engine result pages (SERPs).
Among its eight templates for music and podcast websites, we recommend checking out Creative Podcaster. It uses a clean design with nice white space utilization. Furthermore, it comes with a pre-designed subscription widget for platforms like Apple Podcasts, Google Podcasts, and Spotify.
The template also offers a dedicated Episodes page to display all your podcast episodes. It uses a tidy grid design with the latest episode highlighted at the top.
Astra comes with built-in WooCommerce support that enables you to use online store functionality to sell merchandise or offer paid membership.
Theme Stats
Downloads: 2,000+
Developer: ILoveWP
Notable features: latest-episode section, widgetized area, built-in color palettes
Pricing: free
This WordPress podcast theme was built specifically for podcast sites but is also suitable for radio hosts, YouTubers, and streamers.
Podcast comes with seven built-in color palettes that provide a consistent look throughout the website. If none of the schemes fit your brand, you can add custom CSS code to the theme to change it.
The homepage displays all the essential elements for a podcasting page – including a separate section for the latest episodes and a widgetized area to add a subscriber bar.
There is also the option to include thumbnails and titles of three featured pages at the bottom of the homepage. This way, visitors can immediately access content like the host bios and events.
That said, Podcast is an easy-to-use theme. Its built-in sections remove the need to add basic elements manually to help you quickly launch the website.
Developer:

Catch Themes

Notable features: prominent audio player, minimalistic design, back-to-top button
Pricing: freemium (premium version available from $59.99)
If you're looking for a minimalistic website template for your podcast, look no further. My Music Band is a clean and straightforward podcast WordPress theme with plenty of white space.
This WordPress theme comes with two homepage layouts: right-sidebar and no-sidebar. It gives you the option to include recent posts and categories or hide them from the design.
It also comes with a page slider to draw attention to specific pages. It is possible to control the slider's timing and effect and add images to it.
It features an audio player below the website's banner with a list of episodes. This is a great way to show new listeners what your podcast is about and turn them into loyal subscribers.
The theme is also mobile-friendly, providing listeners a great user experience from any device.
My Music Band offers a premium version if you want more features such as various colors. It also comes with other features such as a footer editor, font customization options, and WooCommerce integration.
Keep in mind that both free and premium versions offer a responsive design and easy setup. So, if you want a simple WordPress podcasting site, the free version will fit your requirements.
The Best Paid WordPress Podcast Themes in 2023
If you want advanced features and don't mind investing in a theme, here are the eight best premium WordPress themes for your podcast website.
Theme Stats
Developer: SecondLine Themes
Notable features: podcast-network support, audio player, compatible with Elementor
Pricing: $69
Tusant is specifically designed to fit a podcasting website. It allows users to publish unlimited episodes, vlogs, and podcasts.
You can support and manage multiple shows from a single website, making it an excellent theme choice for a podcast network.
It is also possible to customize fonts and the entire color scheme to fit your brand. Tusant includes integration with Elementor for those who prefer using a website-builder plugin to personalize their site.
Other compatible plugins include Seriously Simple Podcasting and PowerPress to manage the podcast directly from WordPress, WooCommerce, and WPML for website translation.
You can include an audio player on any page or post on the website, and listeners can access it from any browser or device.
To display the player, Tusant offers multiple layouts: masonry grid, one-column list, even-numbered grid display, and carousel.
This podcast WordPress theme also comes with a one-click installer and demo content ready to import.
Tusant's plan includes detailed documentation and one year of updates and support.
Theme Stats
Downloads: 3,300+
Developer: Themestation
Notable features: customizable audio players, modern typography, compatible with podcasting plugins
Pricing: from $39
If you're looking for a clean and minimalistic WordPress theme for podcasting, look no further. Podcaster by Themestation offers 24 demo website designs with light and dark templates.
There are podcast demos for technology, food, travel, and more. You can choose a list or grid layout to display episodes and group them into seasons or shows with the archive pages.
Podcaster comes with customizable audio and video players. Change colors or select a transparent mode so that they match the site's design.
This theme is also compatible with WordPress podcast plugins to make managing your podcast even easier.
Theme Stats
Downloads: 1,500+
Developer: Meks
Notable features: episode grouping, audio embedding, sticky audio player
Pricing: from $69
Megaphone is a powerful WordPress theme for podcasting. It allows uploading audio files straight to the website or embedding from popular platforms like SoundCloud, Spotify, and Stitcher.
The theme will automatically detect all audio content and show it on the player. Thanks to the always-visible audio player, listeners can continuously access your playlist while exploring the website.
Other notable features include automatic detection of episode numbers and multiple subscription spots across the website to help grow your audience.
It is also possible to group the podcast episodes into categories – a neat solution for podcast networks or shows with multiple seasons. To showcase co-hosts and guests in your episodes, Megaphone integrates with popular co-author plugins.
This WordPress theme also supports popular podcasting plugins such as Seriously Simple Podcasting, PowerPress, and Libsyn.
Theme Stats
Downloads: 900+
Developer: Quantum Themes
Notable features: support for podcasting plugins, series cards, top-authors section
Pricing: from $56
Wpcast features a non-stop audio player and integrations with podcasting platforms and plugins such as Seriously Simple Podcasting and Apple Podcasts.
This podcasting website theme also features a series manager to organize podcast content by categories and podcasters.
Additionally, the audio player offers a series card with playable episodes. It helps your listeners find different seasons and podcasts within your network.
Wpcast also has a top-authors section to display featured podcasters, so visitors can quickly locate their favorite speaker.
For easy customization, this WordPress theme works with WPBakery, a drag-and-drop page builder plugin.
Theme Stats
Downloads: 1,300+
Developer: Progression Studios
Notable features: premium slider, mega menu, eCommerce support
Pricing: from $59
This premium podcasting WordPress theme offers a ton of useful features – its page templates incorporate several podcasting elements, such as audio players and episode cards.
The theme includes a drag-and-drop page builder to make customizing the website even more comfortable, as you can edit it right on the front-end.
There are unlimited colors to choose from, and it is also possible to adjust the fonts, matching the theme and color scheme to that of your brand.
Soundbyte also comes with a premium slider to create slideshows on any page of the website. Other features include a sticky header so visitors can access the menu, drop-down, and mega menus at any time.
If you want to sell merchandise on the site, Soundbyte integrates with WooCommerce.
Theme Stats
Downloads: 1,600+
Developer: Quantum Themes
Notable features: several post types, social media integration, background effects
Pricing: from $59
SONIK is a flexible WordPress theme for the entertainment industry. It's suitable for musicians, event organizers, and podcasters.
The theme comes with various usable post types, such as videos, products, and music charts. This allows you to share some behind-the-scenes content with your audience.
To help your website's design stand out from the crowd, SONIK comes with plenty of background options, such as parallax, gradient, and video.
There's also social media integration to easily manage content from various platforms such as SoundCloud and YouTube.
Theme Stats
Developer: SecondLine Themes
Notable features: RSS feed, download button, podcasters' section
Pricing: starts from $69
Gumbo was designed by the same developer as Tusant, SecondLine Themes. They provide the same features but with a different feel and look.
This podcasting WordPress theme comes with multiple audio sources, layout options, video support, and a featured slider.
With Gumbo, it is possible to display audio files and video content anywhere on the page. You can add a download button and the option to open the podcast player in a new window.
The About Us and Show Hosts pages are a space to share the podcasters' pictures, biographies, and social networks. It is a great feature to help create a sense of community with the listeners and increase engagement.
Gumbo also comes with homepage layouts and an RSS feed to publish audio content on other podcasting platforms. Similar to Tusant, the integration with Elementor expands the theme's customization options.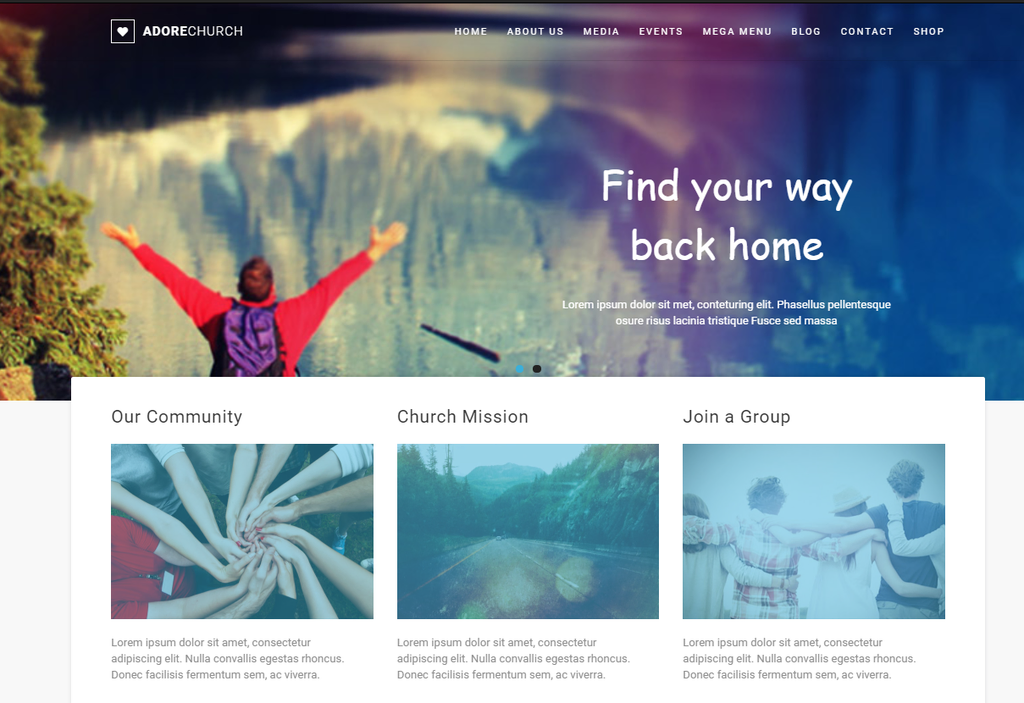 Theme Stats
Downloads: 1,800+
Developer: imithemes
Notable features: SoundCloud support, event manager, built-in mega menu
Price: from $69
Although marketed as a religious WordPress website theme, Adore Church is a flexible and adaptable theme.
Its many features include WooCommerce integration and a one-click demo installation. To help you organize the website's content, it offers a built-in mega menu to create multiple columns and menus.
Adding audio and video content is also simple. Adore Church comes with a sermon manager that lets you upload content from a URL or host your own files. The theme also offers support to SoundCloud, Youtube, and Vimeo support.
Adore Church offers a built-in event manager to help you schedule recordings, display events, and accept registrations. You can even include a countdown and sell tickets right from your website.
Conclusion
We've gone over some of the best WordPress themes for your podcast site. Whether you want to have eCommerce store or start a blog on the side, there are always several options available.
If you're on a tight budget, some of the best WordPress themes to consider are Euphony, Podcast, and Musicsong.
For adding an online store, opt for Musicsong, Rock Band, Tusant, or check more of the best WooCoomerce themes we recommend.
If you want to use Elementor to customize the WordPress theme, consider Tusant, Gumbo, or Tracks.
To create an efficient and functional podcasting website, make sure you choose a reliable web hosting provider and a WordPress theme that fits your brand.
Comment and let us know which podcasting theme you end up choosing.
WordPress Podcast Themes FAQ
After learning about the best WordPress podcast themes available, here are more information about the topic.