25 Best Podcast Hosting Services
A podcast is a digital product usually in the form of an audio file created to either entertain, educate, or inform its listeners. It has gained so much popularity in recent years that it is estimated to become a $94 billion industry by 2028.
This has raised people's interest not only in listening but also in beginning their own podcasting journey, either as a hobby or business.
However, you need a place to store your media files and, consequently, distribute them to your listeners. Even though you can use your website, podcast hosting platforms provide a more optimized and efficient service.
To help you select the best service for your project, we will further explain what podcast hosting platforms are and why you need them. Also, you'll learn what to look for in podcast hosting platforms and which are the 25 best podcast hosting platforms available.


Why Do You Need Podcast Hosting Services?
Podcast hosting is a service that offers you a place to store and manage all your podcast episodes. It is also responsible for distributing episodes, allowing people to listen, download, subscribe, and even donate money to support your project.
Like any good hosting services, the best podcast hosting companies usually offer many features that support your podcasts, such as a podcast analytics tool, audio transcription service, and even a table of contents for your podcast.
There are a few reasons why you need podcast hosting services to have a successful podcast.
It Provides Storage
Storage is one of the main reasons why you need a podcast hosting service. Similar to website hosting, podcast hosting will help you store and deliver podcast-related files.
While you definitely can store podcast audio files on your website, the average podcast episode length is around 20-40 minutes. As a rule of thumb, a 30-minute recording can go between 15 MB to 30 MB in size.
One episode might not seem like much. However, popular shows like agency podcasts release a lot of episodes.
Streaming will also require a lot of bandwidth and storage, especially as your audience grows and more people tune in to your episodes. This could cause your website to slow down significantly or even crash.
To ensure that your website and podcast will run smoothly at all times, we recommend using podcast hosting services.
It Helps Distribute Content
Podcast hosting services will usually distribute episodes using RSS feeds (Really Simple Syndication). It is a web feed sent to popular podcast directories such as Google Podcasts, Apple Podcasts, Spotify, and Deezer.
This makes your podcast easily accessible to people without having to upload content on different websites manually. Instead, the RSS feed will update automatically every time you publish a new episode.
It Improves Your Workflow
The best podcast hosting companies offer features that will give you a trouble-free experience in starting a podcast by doing most of the technical work.
They will take care of audio files' server maintenance and storage to ensure that it is accessible to listeners from different podcast directories, thanks to the RSS feeds.
Moreover, some platforms even allow you to upload media files in different formats, converting them to MP3 or other supported formats.
In addition, several providers let you create team member accounts and assign them roles, helping you manage different shows and tasks.


What to Look For in a Podcast Hosting Service
Take these factors into account when choosing the best podcast hosting platforms:
Storage. Every podcast hosting service has its own rules and limits when it comes to storage. Make sure you can upload episodes with the length and frequency you want.
Analytics. Listener data is essential for developing the podcast and increasing its engagement, helping you create valuable content that people will love. Additionally, it helps evaluate your ad campaigns and provide data to sponsors.
Monetization features. If you plan on earning money with podcasting, you need to check how your podcast hosting service handles monetization. Some podcast hosting companies take a percentage of your earnings, while others grant you your payments in their entirety. Also, some of the best podcasting hosting providers support premium memberships, dynamic ads, and even fan donations.
Accessibility. Transcripts help make podcast content more accessible to people with hearing loss. Having a website for the podcast also helps provide screen-reader-friendly content and improves SEO rankings so new listeners can easily find it.
Top 10 Free Podcast Hosting Services
Now that you know what to look for, let's take a look at the top 10 free podcast hosting services available. We'll go over each platform's main features and tools to help you decide which one best suits your needs.
Buzzsprout is a freemium podcast hosting service that offers several tools to help beginners create high-quality podcasts.
It provides automatic episode optimization, so podcasters can upload their files without worrying about file types, as Buzzsprout converts them automatically to MP3.
To help listeners navigate through the podcast, create episode chapter markers according to the topic, guest, or other preferences. It lets the audience skip spoilers or advance to their desired part.
For an additional fee, podcasters have access to Buzzsprout's Magic Mastering tool. It optimizes your audio files by removing background noise, leveling volume, and reducing file sizes.
It's an excellent tool for those not experienced with sound editing, helping to provide better quality audio for the audience.
Buzzsprout offers free podcast hosting for up to 2 hours/month of audio files, suitable for podcasting as a hobby.
The paid plans, available from $12/month to $24/month, provide higher upload limits and unlimited storage. Keep in mind that transcripts and the Magic Mastering tool are only available on paid plans.
Anchor, a podcast hosting platform powered by Spotify, is an excellent option for podcasters looking for a free podcast hosting service with unlimited storage.
Podcasters using Anchor can distribute their content to Spotify, Apple Podcasts, Google Podcasts, and other platforms with a built-in one-click option or use their RSS feed to share their projects with other apps.
Anchor's analytics dashboard provides accurate, reliable data such as total plays, plays per episode, and audience location. Use this data to decide on episode frequency and topics and, ultimately, grow your audience.
Additionally, Anchor offers the Anchor Sponsorships monetization platform to match podcasters with sponsors. Generate revenue every time an ad is played on the podcast. However, this feature is only available for podcasters who reside in the U.S.
Podbean is a podcast hosting service with an intuitive and user-friendly interface.
After uploading your media file, create a title and the episode description. The RSS link will then distribute your podcast to popular sites such as Google Podcasts, Apple Podcasts, Spotify, and other podcast apps.
Additionally, Podbean offers a podcast site with every account. Simply choose a template, and customize its colors and other settings to fit your brand.
Depending on the plan you choose, Podbean can integrate with your domain to help you stay on brand. You can also add a media player directly to your podcast website.
To help you monetize your project, Podbean Patron is available on Podbean's apps for iOS and Android, where listeners can donate funds to support you. Keep in mind that the platform charges 5% of your gains, plus 2.9% + $0.30 from each transaction to cover Stripe's credit card fees.
Podbean's free plan offers up to 5 hours of storage or 500 MB of podcast files. It also includes 100 GB of bandwidth monthly, suitable for podcasters who are beginning their journey.
Podbean's paid plans start at $9/month, offering unlimited storage space and unmetered bandwidth.
Spreaker is great for podcasters who want a wide distribution range. It lets you share your project on popular podcast apps such as Spotify, Google Podcasts, Apple Podcasts, iHeartRadio, and Deezer.
Additionally, Spreaker has its own free podcast recording software, the Spreaker Studio. It comes with editing tools and a live podcasting feature, which is an excellent way for podcasters to interact with their fans.
Spreaker Studio's Skype recording feature lets you easily collaborate with other people. Receive co-hosts and guests regardless of their location.
Depending on the plan, Spreaker's dynamic ad insertion helps you place ads in all or selected episodes, choosing exactly when they are played. Combined with the listener data provided by the platform, it helps keep the ads relevant to your audience.
Spreaker offers a free plan giving podcasters 5 hours of audio storage and up to 10 episodes.
The paid plans range from $20/month to $250/month, with unlimited episodes and audio storage for the most expensive one.
SoundCloud is a popular music streaming platform that has become a place to host podcast files in recent years.
Its interface is simple, letting you drag-and-drop podcast episodes for instant uploads. Distribute your episode by sharing your RSS feed to Stitcher, TuneIn, and other platforms.
Podcasters can also customize the SoundCloud media player for easy embedding in their podcast or WordPress websites.
In addition, SoundCloud lets users add a button to their profile to receive donations through PayPal, Patreon, and other services.
SoundCloud's free plan gives you up to 3 hours of upload time. Starting at $12/month, SoundCloud Pro Unlimited offers unlimited upload time.
The paid plan also lets you monetize podcasts based on the number of plays in eligible countries. This means only listeners from these countries will be counted, resulting in a payment difference compared to the number of total plays.
RedCircle is a free podcast hosting platform that provides unlimited storage space and unmetered bandwidth for its users.
Focusing on monetization, RedCircle is the best podcast hosting service for people who want to earn money with their podcasts. The platform comes with monetization options such as donations, subscriptions, programmatic advertising, and more.
The fees charged by RedCircle vary according to the revenue source. They start at 4.5% of the donations and go up to 50% of the payout received through programmatic ads. In addition to that, there are also fees for Stripe to process credit card payments.
To help grow your audience, RedCircle offers the Cross-Promotion Marketplace. Find other podcasters in your niche to establish partnerships and launch joint campaigns, letting you insert ads into your partner's episodes and vice versa.
In addition to data about your ads and earnings, RedCircle also tracks the number of downloads by device, podcast platform, and location. The information will help you create a more effective marketing campaign to promote your project.
Podcasts.com is a beginner-friendly podcast hosting platform.
It lets users upload audio files of all sizes and types and manage all episodes from one page. Podcasters also have the option to edit any episode after they've uploaded it into their account.
Add transcripts to make the episodes accessible, and share them with listeners by using the platform's RSS feed.
Fully responsive podcast websites are automatically available for every Podcasts.com member. Create a custom URL, set a background image, and give listeners the option to subscribe to your podcast by logging in to the platform.
Podcasts.com is completely free. However, if the podcast uses too many resources, the platform will charge you a monthly fee to cover bandwidth costs.
Pinecast is a freemium podcast hosting platform that will help you create an excellent podcast for an affordable price.
It offers IAB-compliant analytics with visual charts that are easy to understand. It reports subscriber and listener data such as listens by source, episode, and time of the day.
To help promote your project, Pinecast also provides an auto-updated podcast website that is fully customizable and SEO-friendly. Additionally, embed your podcast episodes anywhere with the media player that best suits your brand.
The tip jar feature allows listeners to contribute to your podcast's development by donating money. However, Pinecast has a $10/tip limit and a 30% fee on the free plan, in addition to processing fees.
Pinecast's free plan lets you upload up to 48 MB/episode, with unlimited uploads. However, only the 10 most recent episodes will be available.
The paid plan offers more flexibility. For $10/month, you get unlimited storage and unlimited podcast shows, with a dedicated podcast website for every show.
Acast is a freemium podcast hosting platform with versatile features geared towards increasing your listener base.
Share your podcast on social media channels with the audiograms, creating text videos to highlight the show's most significant moments.
Acast also transcripts the episodes for you. The feature is available in English, Spanish, French, German, and Brazilian Portuguese, allowing you to produce accessible content in your own language.
Additionally, Acast provides a website that is fully customizable and SEO-friendly to keep all information about your podcasts, such as social media links and host details, in one place.
The free plan comes with limited analytics and website customization.
Acast's paid plans range from $14.99/month to $29.99/month and include features such as Patreon integration and advanced analytics.
This freemium podcast hosting service is a great solution for podcasters who need mobility. It offers a mobile app to record and publish episodes from anywhere, with excellent audio quality.
Podomatic also integrates with platforms such as Patreon, Podcorn, and What For Apparel. This lets you easily make money from podcasts, either by crowdfunding, running ads, or even selling merchandise.
The free plan gives 500 MB storage and 15 GB/month of bandwidth, great for establishing the first few podcast episodes.
The paid plans range from $2.99/month to $24.99/month, offering more bandwidth and storage.
Top 15 Premium Podcast Hosting Services
While free providers are an excellent choice for beginners and people who are just testing out ideas, more experienced podcasters will require additional resources and tools to grow their projects.
To help you find the most suitable platform, we listed the top 15 premium podcast hosting services.
Libsyn is a podcast hosting service with flexible tools to help jump-start your podcast.
Supporting various media files such as audio, video, PDF, and text, Libsyn is excellent for podcasters who want to introduce content variety to their project.
Besides distributing content to podcast directories, Libsyn also supports integration with over 20 platforms such as Facebook, WordPress, YouTube, and LinkedIn.
Based on the plan you choose, Libsyn gives you a detailed report based on platform, location, and downloads every time you publish content. If you connect your account to Facebook and Twitter, Libsyn will also provide followers and like statistics directly on the platform.
To monetize your project, create subscription plans. Libsyn's fees vary according to the number of subscribers you get.
Libsyn has plans starting from $5/month to 150$/month, with the main difference being the monthly storage quota.
Additionally, Libsyn gives you the option of building a custom app to provide easier access to your podcast. However, this feature is only available for extra fees on the highest-tiered plans.
Blubrry is one of the best podcast hosting services for businesses.
Buying any Blubrry plan will get you a free WordPress website managed by Blubrry's team. The WordPress podcast site also includes Blubrry's PowerPress plugin, providing a way to publish your podcast without hassle.
You'll need to purchase a domain name separately. So, make sure to check our guide to know how to choose the right domain for your podcast.
Blubrry plans range from $10/month to over $100/month according to the monthly storage limit.
For users of its highest-tier plan, Blubrry Pro, it offers dynamic ad insertion, which lets you place advertisement campaigns anywhere in the episode and run multiple campaigns simultaneously.
In addition to that, it provides access to the Podcast Network plugin. It allows businesses to add any podcast shows from Blubrry or any other podcast hosting service, managing them all from one website.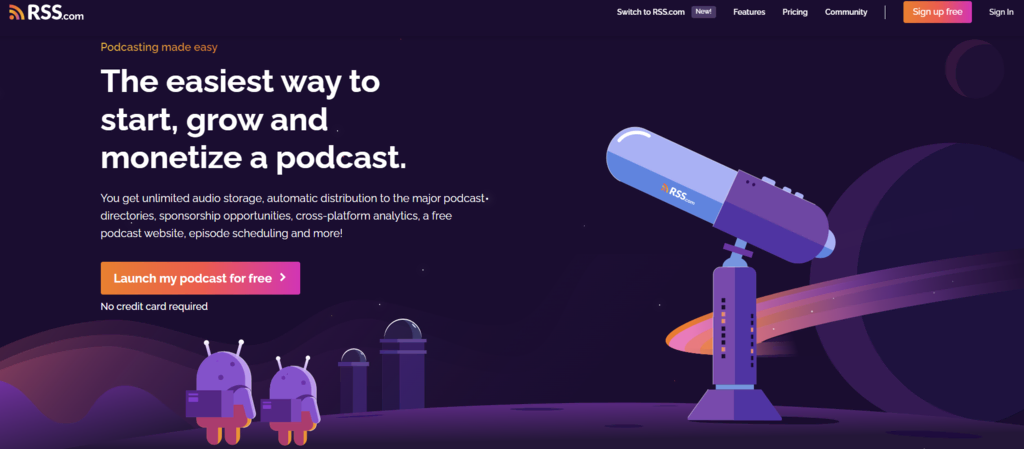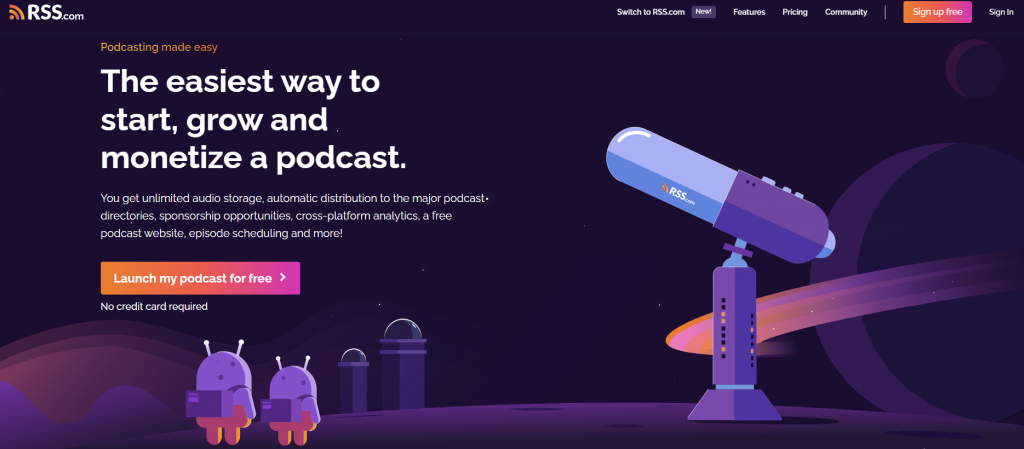 RSS.com is a popular podcast hosting platform suitable for both complete beginners to established podcasters.
This podcast hosting platform offers a user-friendly interface and an easy setup process for all users. It comes with a free website, automatic distribution, episode scheduling tool, and social media sharing feature.
RSS.com also has cross-platform analytics to understand your audience better. The analytics can give insights into download trends and peak hours. In addition, it also provides information on your audience's location, platform, and devices.
RSS.com helps distribute your podcasts to Apple Podcasts, Google Podcasts, Spotify, iHeartRadio, Pandora, Amazon Music, and Audible.
However, one of the downsides of RSS.com is that podcasters cannot record their episodes directly on the platform.
Podcasters can also manage their RSS.com dashboard from desktops, smartphones, and tablets. RSS.com offers the option to start your podcast for free to try out the platform.
The pricing plans for RSS.com start from $4.99/month for students and NGOs, which comes with unlimited episodes and duration. If paid annually, the All in One Podcasting plan costs $11.99/month, including 24/7 customer support and monetization options.
With Transistor, podcasters can manage multiple shows with just one account. This is great for creating podcast networks or exploring different topics while growing the listener base.
The podcast analytics feature lets you see the average downloads per episode, subscriber estimation based on the number of downloads, and statistics from other platforms such as Apple Podcasts and Spotify.
If you have used a different platform before, such as Anchor or Podbean, Transistor's system will import your podcast for you. Simply add your RSS feed to move your show to Transistor.
Prices range from $19/month to $99/month. Users of the Professional and Business plans also get to access the private podcasting feature.
It creates unique RSS feeds for each subscriber, restricting access to your content. This is a great way of producing exclusive content as a reward for patrons or supportive listeners.
A reliable podcast host, Simplecast has plans for both independent podcasters and enterprises.
It also provides responsive and SEO-friendly podcast hosting sites with all its plans, which automatically update every time a new episode is published.
Additionally, one Simplecast account can handle multiple podcast shows and team members. This helps you better organize and manage your team members, as they can be assigned to different administrative, analytics, and managerial roles.
Simplecast's plans range from $15/month to $85/month. Networks and businesses need to contact the Sales team to receive a price quote.
Captivate is the best podcast hosting service for independent podcasters.
To help develop your podcast, Captivate provides IAB-compliant analytics such as download overview, geographic data, and episode performance comparison.
Captivate lets you have an unlimited number of collaborators and members to build the ideal podcasting team, with customizable roles such as designer, editor, and publisher.
If you have a WordPress podcast website, manage the show right on your WordPress dashboard with the Captivate Sync plugin. Add episode transcripts, use snippet tools to include pre-written podcast host bios, and manage your team's permissions.
Additionally, Captivate provides a podcasting media player to embed in any website. It is built with a call-to-action feature, offering to link your merchandise website or email list for visitors to subscribe.
Captivate provides plans from $17/month to $90/month. All plans include unlimited storage, with the main difference being the number of downloads allowed.
Castos is a podcast hosting platform to store both audio and video podcast files.
All plans include a private podcasting feature, allowing podcasters to create exclusive content for their subscribers. Businesses can also use this feature to create an online course for their customers or internal team.
Integration with WordPress is easy with the Seriously Simple Podcasting plugin. It allows you to manage and create a podcast show right from your WordPress dashboard.
With the one-click migration feature, podcasters can move any existing podcast shows in WordPress to Castos and vice-versa.
Additionally, Castos provides automatic podcast transcription for $0.10/audio minute. With its text-to-speech technology, it will transcribe episodes word-for-word.
Plans start at $190/year with unlimited hosting. However, features such as video republishing to YouTube and advanced analytics are restricted to the more expensive plans.
Resonate is a podcast hosting service that allows unlimited episodes and downloads.
With its one-click publishing, schedule the episode publishing time and date before sending it to popular podcasting platforms such as Apple Podcasts, Google Podcasts, Spotify, Stitcher, and Pocket Casts.
Moreover, it also gives you data from different podcast platforms and your embeddable podcasting website player. It shows how listeners interact with the episode, recording every play, pause, scrub, and seek.
Resonate has plans that range from $25/month to $49/month. Features such as micro podcast websites and private hosting are only available in the more expensive plans. This podcast hosting platform also offers a professional plan for a custom price.
Zencast provides unlimited episodes, downloads, and uploads to support any kind of podcast.
The RSS Feed is also managed by Zencast, ensuring that the shows get delivered to platforms such as Google Podcasts, Apple Podcasts, Spotify, and even social media sites like Facebook.
Moreover, creating podcast hosting sites is easy with Zencast's free website hosting. The site will be in sync with your account, auto-updating every time you publish a new episode.
Additionally, Zencast provides a team feature for better organization. Add roles such as producer, editor, and website admin so that team members can help manage the podcast.
This podcast hosting platform provides plans from $12/month to $89/month. Private podcasts and custom analytics reports are only available in the highest-tiered plan.
Podigee is one of the best podcast hosting services for hobbyists and experts alike.
If you already have a podcast, Podigee migrates it from one platform to another while keeping your ratings. This starts your journey with Podigee from where you had left off.
Moreover, Podigee offers to optimize your audio quality with one click, ensuring that it is suitable for the different podcast platforms in their RSS feed, such as Google Podcasts, Apple Podcasts, Spotify, and Amazon.
Additionally, Podigee can create podcast snippets for promotional purposes. The snippets are shareable on social media platforms and even on WordPress websites.
Podigee has three plans, starting from $12/month to $65/month. A professional plan is also available for a custom price.
Both the Advanced and Professional podcast hosting plans include a feature to add accounts for your team members. This is great for businesses managing multiple shows as it lets teams directly handle them.
OmnyStudio is one of the best podcast hosting services when it comes to scalability, as it's perfect for growing the popularity of your podcast.
One of OmnyStudio's unique features is the drag-and-drop batch uploader. It provides a quick way to upload multiple episodes in one go. Alternatively, migrate all previous episodes through the platform's RSS-feed importer.
The platform supports various audio files, such as MP3, AAC, WAV, and uncompressed AIFF, with a maximum size of 1.2 GB/file. It also creates backups of your files to keep them safe.
Moreover, OmnyStudio allows you to upload custom designs for the episode cover arts. This helps you stand out from competitors and make a good impression on listeners.
Additionally, the Omny Campaign Manager (OCM) features lets you monetize your podcasts by inserting dynamic ads. The OCM lets you target listeners based on their geographical location and adjust in which episodes you want your ads to appear.
OmnyStudio provides customizable plans with prices tailored for each user.
PodServe is a podcast hosting platform that gives you unlimited storage and podcast shows to carry out all your podcast ideas.
Its user interface is straightforward and similar to the WordPress dashboard. It lets you write the title, description, and category after uploading an episode to give more context to listeners.
PodServe also comes with a custom podcast hosting site. It serves as a directory, keeping all podcast episodes in one place for listeners to stream and share on their social networks. Moreover, use the podcast website to update listeners on important information.
Additionally, PodServe provides in-depth analytics about listeners, such as the location, time, and device they used to listen to your podcast. Use this information to promote and create an effective podcast marketing campaign.
PodServe costs $19/month with a 14-day free trial. However, it has a limit of 2 GB of bandwidth/month. If your show requires more resources, you can purchase additional bandwidth for $20 per 3 GB.
Fireside is another platform in our list of the best podcast hosting services that focus on helping you grow and develop your podcast.
Its main feature is its analytical tools, providing accurate real-time data from every episode. Fireside data is shown in easy-to-understand charts, helping you formulate a digital marketing strategy that suits your podcast best.
In addition, Fireside provides a built-in website for each user. It is fully responsive and customizable, with the option to add custom pages, images, links, and even blog posts.
Fireside podcast hosting sites are also SSL secured, which means your content is delivered safely to visitors. Podcasters can also use a custom domain to ensure that their website stays on brand.
Additionally, the embeddable custom player makes it easy to share podcasts on WordPress, Squarespace, and other providers.
Fireside's plans range from $9/month to $49/month. Keep in mind that you can't use your own domain on the Starter plan.
Backtracks is the best podcast hosting service if you want in-depth analytics for your shows.
Advanced analytical tools provide detailed information for every episode. Besides knowing if people actually listened to their downloads, podcasters can track the number of unique listeners and total listening time. This makes it easier to know which episode is a hit among fans.
Also, even if you host your show somewhere else, it offers the Backtracks Switchboard podcast analytics service to provide in-depth insights about its performance.
Monetization is also easy with Backtracks Ads Storefront. It helps gain advertisers based on user interest, meaning that the ads will be suitable for your podcast audience.
Moreover, podcasters can use automated reports to send data to sponsors and advertisers about each ad, real-time or post-campaign.
Additionally, Backtracks provide customizable embeddable players to fit your brand. They can be added to any device and browser and also provide time-synchronized transcripts and speed controls.
Backtracks' plans range from $99/month to $299/month. Businesses that need a custom player theme and access to transcript services need to contact the platform's team to get a price quote for the Enterprise plan.


Megaphone by Spotify is a podcast hosting service that will help you create an accessible product.
One of its unique features is Facebook player, which allows your audience to listen to entire episodes directly on Facebook.
In addition to sharing your podcast on platforms like Spotify and Deezer, embed the entire show or a selected episode on your website. Megaphone also lets you customize the player to better fit the site's theme.
Moreover, easily create transcripts with the platform's artificial intelligence (AI) powered transcription feature. It helps you save time investing in other show aspects since you only need to edit and proofread the text generated.
Depending on the plan you choose, Megaphone also provides speaker identification to support the transcription of podcasts hosted by multiple people. All you have to do is identify how many people are in the episode, and the AI will do the rest.
Megaphone's premium plan costs $99/month. However, for large publishers with over 20,000 downloads per episode, you'll need to contact the platform to obtain a custom plan.
Which Podcast Hosting Service Is Best For You?
Podcast hosting services help store the bulk of audio files that could potentially slow down your website due to all the resources they demand.
Additionally, this service ensures that podcasts are distributed to different podcast directories and are always available to listeners.
Choosing the best podcast hosting services will depend on what you need – there's no one-size-fits-all provider.
However, to make your decision-making process more effective, we prepared a list of the main benefits of five of the best platforms:
Anchor – best free podcast hosting. It offers unlimited storage, analytics tools, and one-click distribution.
OmnyStudio – best value for money. For $29/month, get unlimited uploads, a campaign manager, and a drag-and-drop batch uploader.
BuzzSprout – best for podcasting as a hobby. It lets users upload files without having to worry about formats and can be easily upgraded once you require professional tools.
Blubrry – best podcast hosting for businesses. It provides plenty of networking options and easy ad insertion, as well as integration with WordPress podcast plugins.
Podbean – best podcast hosting for beginners. Beginners will be able to easily navigate through its interface and quickly begin to upload episodes.
We hope that this article helped you find the best podcast hosting service for your project. Don't be afraid to explore different ideas and finally start your podcasting journey.