7 Best WordPress Podcast Plugins in 2023
Podcasts are a great way to capture your audience by uploading audio and video episodes. However, producing quality content is as important as choosing the right podcasting tools to win your audience's attention.
A great tool should be compatible with your website and hosting service as well as support the video and audio files you need to import podcasts without any hassle.
Luckily, there are plenty of podcasting plugins for WordPress users. However, finding the best WordPress plugin that offers all the necessary features to manage podcast episodes might be time consuming.
In this WordPress guide, we'll introduce you to the seven best podcast plugins for various needs.

7 Top-Rated Podcast Plugins for WordPress
In this section, we will go over the seven best WordPress podcast plugins, discussing their unique features, pricing, and who should consider using them.
As the list doesn't have a particular order, feel free to install a WordPress plugin with the features you need for your podcasting site.
Need Some Inspiration to Kickstart Your Podcast Episodes?
Check out our tutorial on the best agency podcasts to get some ideas.


Podcast Player Stats:
Rating: 4.8/5
Best for: podcasters looking for a beginner-friendly WordPress plugin
Price: freemium (premium licenses start at $39.99/year)
Podcast Player stands out as one of the best WordPress podcasting solutions due to its user-friendliness.
All you have to do is paste a feed URL in the editor, and the plugin will automatically set up an audio player for that podcast episode. You can put it anywhere on your WordPress site, including the sidebar or footer.
What's more, the podcasting plugin comes with a responsive player, a live search feature, and social sharing buttons. These are great for engaging with podcast listeners and helping you drive more organic traffic.
If you pay for a premium license, you get access to different layouts and designs for the podcast player. You can also create playlists of your podcast episodes and filter them according to your needs.
Key Features
Add URLs to WordPress and embed a podcast player automatically
Live search enables users to find other podcast episodes without leaving the page
Add your podcast audio player anywhere on your WordPress site


Podlove Podcast Publisher Stats:
Rating: 4.4/5
Best for: publishing podcasts on WordPress
Price: free
When looking for a free WordPress podcasting plugin, consider using Podlove Podcast Publisher. It's designed with beginners in mind, helping you publish podcasts on your WordPress site without any hassle.
The plugin supports multiple audio types and podcast files that WordPress doesn't work with by default. You can also use it to set up various podcast feeds with different configuration options and templates.
As for promoting a podcast online, Podlove Podcast Publisher includes subscription tools to link to your show on other platforms. On top of that, you get access to detailed podcast analytics and statistics, including listens, downloads, and the operating systems your visitors use.
Key Features
Multiple podcast feeds with different configuration options and styles
Widgets to link to your podcast on other platforms
Detailed podcast statistics and analytics
[DOWNLOAD]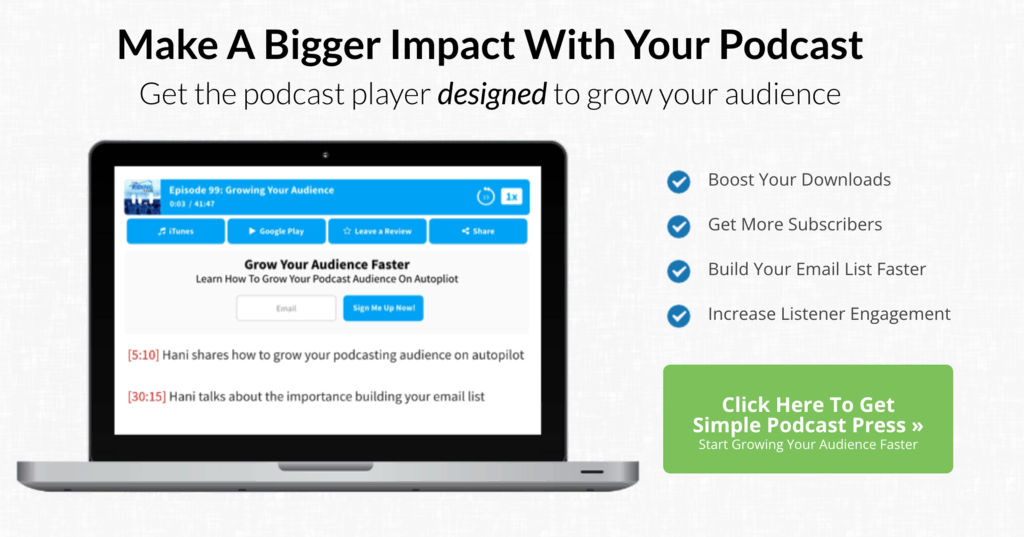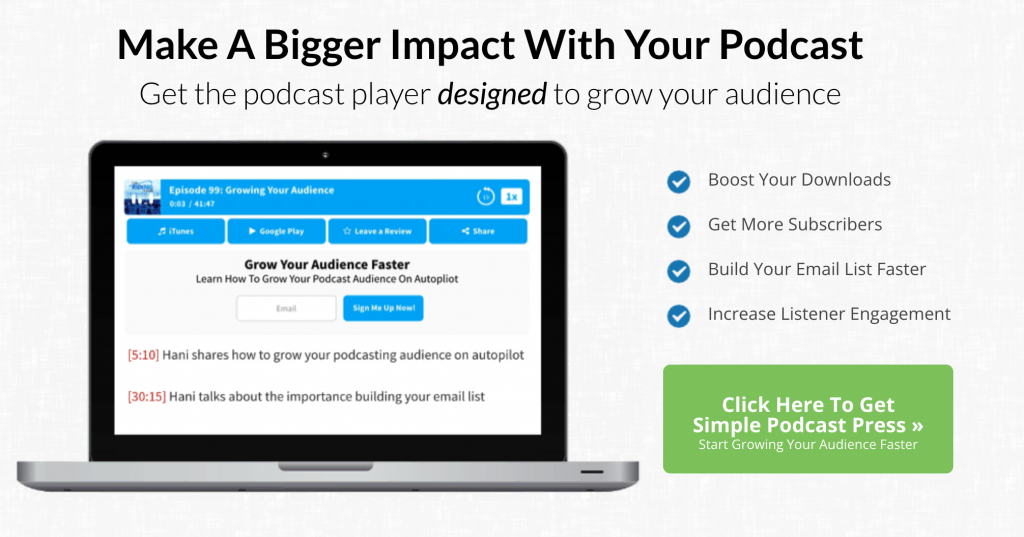 Simple Podcast Press Stats:
Rating: 4.3/5
Best for: building an email list of podcast listeners
Price: starts at $67/year
Simple Podcast Press is one of the best WordPress podcasting plugins in terms of simplicity. Just add a URL for your podcast from any major directory, and the podcasting plugin will automatically set up a page for each episode alongside an audio player.
Furthermore, Simple Podcast Press syncs with the podcast feeds you add. That means you don't need to manually upload new episodes to your WordPress site.
Finally, the plugin comes with a customizable podcast player that includes calls to action for leaving episode reviews and an email signup form. This helps you grow your subscriber list, increasing your podcasting success.
Key Features
Podcast directory integration – add your episode from anywhere
Set up post pages for each podcast episode, including an audio player
Podcast management tools for reviews and email list
[PREVIEW]


AudioIgniter Stats:
Rating: 4.6/5
Best for: mixing podcasts with other types of media
Price: freemium (premium licenses start at $34.30/year)
AudioIgniter is a powerful podcasting WordPress plugin tool that supports multiple directories and lets you publish playlists. These can include tracks from podcast directories and other sources, such as online radio stations and your media library.
This approach works best for websites that want to add playlists that don't just include podcast episodes.
Consider opting for the premium version of this WordPress podcasting plugin if you want support for batch uploads and additional playback settings.
Key Features
Create playlists that include other types of media
Play media files from other sources, including podcast directories


Liteweight Podcast Stats:
Rating: 4.3/5
Best for: podcast websites that want a simple audio player with multiple style options
Price: free
Liteweight Podcast is a beginner-friendly and simple podcasting plugin that adds both a new audio player and a new custom post format to WordPress. This free podcast plugin supports multiple audio files you can use it to play both standalone episodes or full playlists.
Place audio players anywhere you want on your WordPress website and switch between styles for each of them. The plugin also supports adding the podcast player in the sidebar.
Key Features
Add multiple podcast audio players anywhere on your website, including the sidebar
Let users share episodes using buttons
Switch between multiple podcast player styles
[PREVIEW]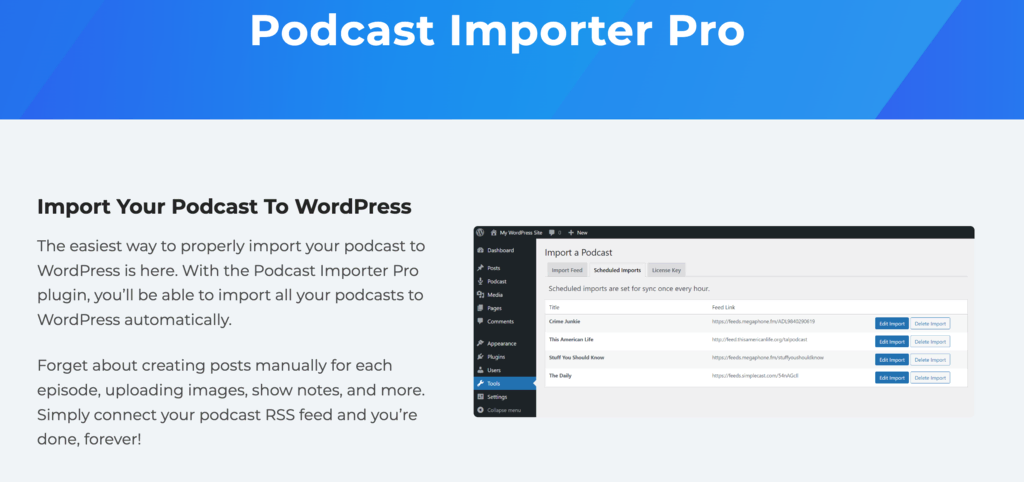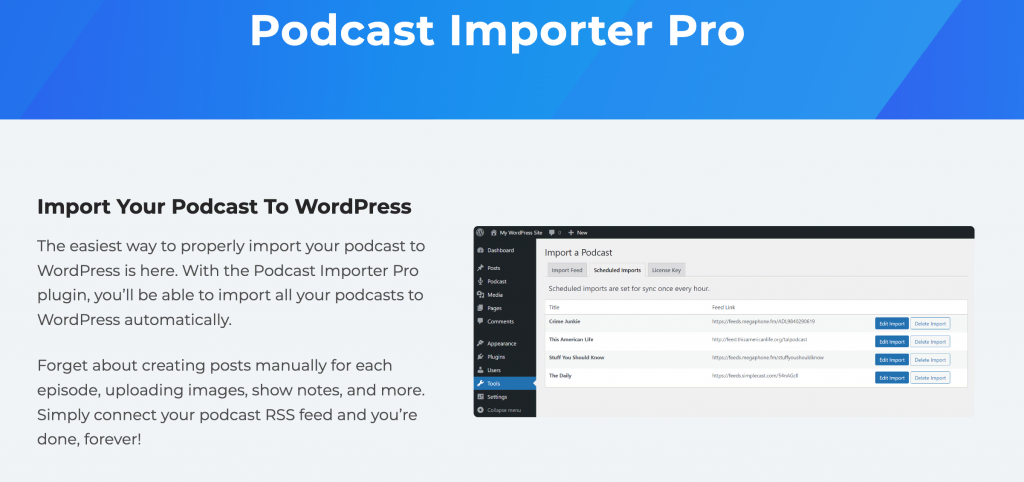 Podcast Importer Stats:
Rating: 4.8/5
Best for: importing a podcast feed into WordPress
Price: freemium (premium licenses start at $24/year)
Podcast Importer is one of the best WordPress podcasting plugins, thanks to its integration with other similar software. The goal of this tool is to make importing your episodes into WordPress easier and offer more options than other podcast plugins do.
You can use Podcast Importer to create posts or custom post types for each feed or episode. This plugin for WordPress enables you to add taxonomies to podcast posts and even import featured images. It can also sync with RSS feeds, meaning you don't need to import new episodes manually.
After you import a feed, you can use any of the other podcast plugins on this list to add a custom player and new features for listening to episodes.
Key Features:
Import podcast feeds into WordPress
Support for other podcast plugins, including Simple Podcast Press
Enables you to add taxonomies to podcast posts
[DOWNLOAD]
Podcast Subscribe Buttons Stats:
Rating: 5/5
Best for: users who want to get more subscribers across different podcast platforms
Price: free
Created by SecondLineThemes that offers plenty of WordPress podcast themes, Podcast Subscribe Buttons is a free plugin with simple functionality. The plugin enables you to add links with unique icons that lead to your podcast on different directories. It includes options for all the major podcast platforms, including Apple Podcasts, Google Podcasts, and Spotify, among others.
You can add links using blocks, shortcodes, or custom Elementor widgets. The links can be configured to open applications directly or to lead visitors to your podcast pages.
Key Features:
Subscribe buttons for major podcast platforms, including Apple Podcasts, Google Podcasts, Stitcher, Spotify, and SoundCloud
Factors to Consider When Choosing the Best Podcast Plugin for WordPress
When selecting the best WordPress podcast plugin for your needs, you should start by considering your budget and your podcast hosting provider. Additionally, think about your content type – whether you are publishing video podcasts or only audio ones.
However, as most WordPress plugins have a free version and are compatible with various platforms, here are some factors to consider when making a decision.
Audio Player Customization
Most podcast plugins focus on adding audio players to your website. These players typically integrate with podcasting platforms to publish new episodes on your site when you upload them elsewhere.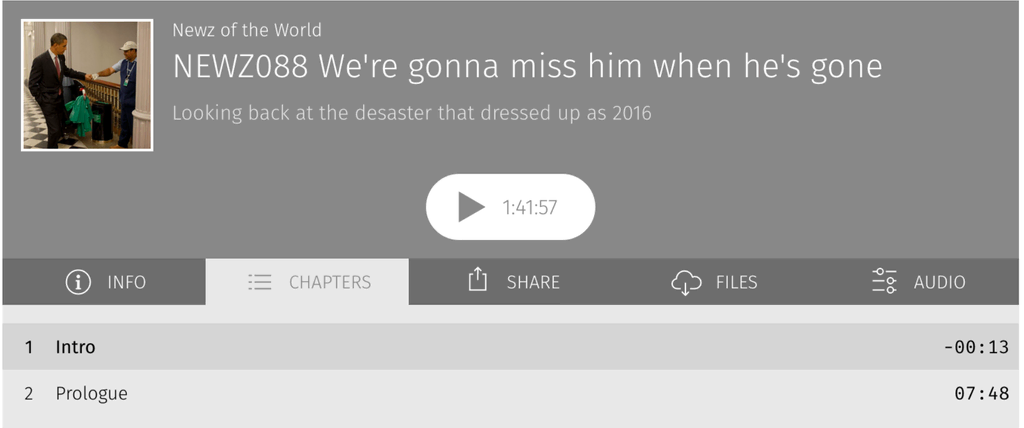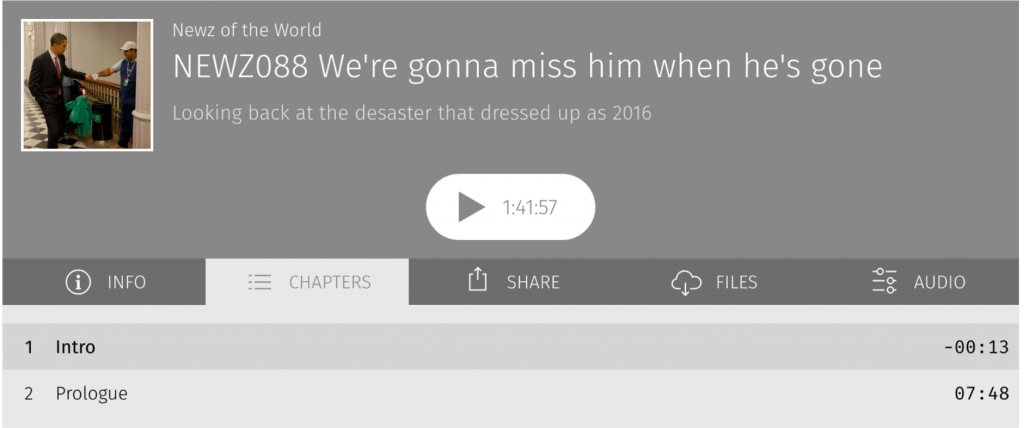 The best podcasting plugins offer some degree of control over how the player looks. This way, you can customize the style to fit well with the rest of your website and overall branding.
Look for additional customization options and features, such as jumping between episodes and generating transcripts.
Integration With Podcast Directories
Your chosen WordPress plugin for podcasting should be able to connect with the platforms where you upload and host your episodes. While you can do this directly on the WordPress dashboard, it requires many server resources and can slow your website down.
For this reason, we recommend using a third-party podcast hosting service, such as Spotify for Podcasters.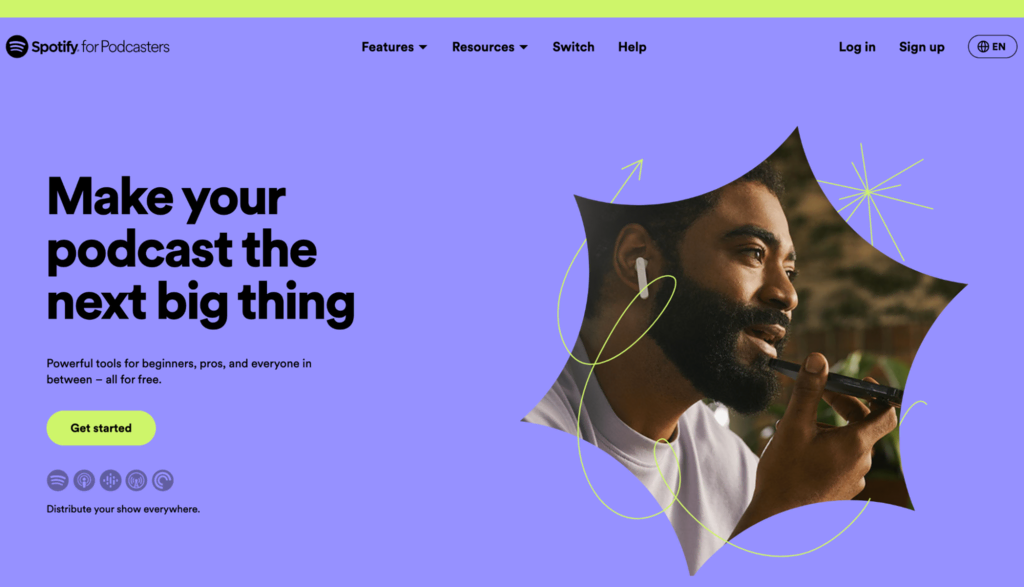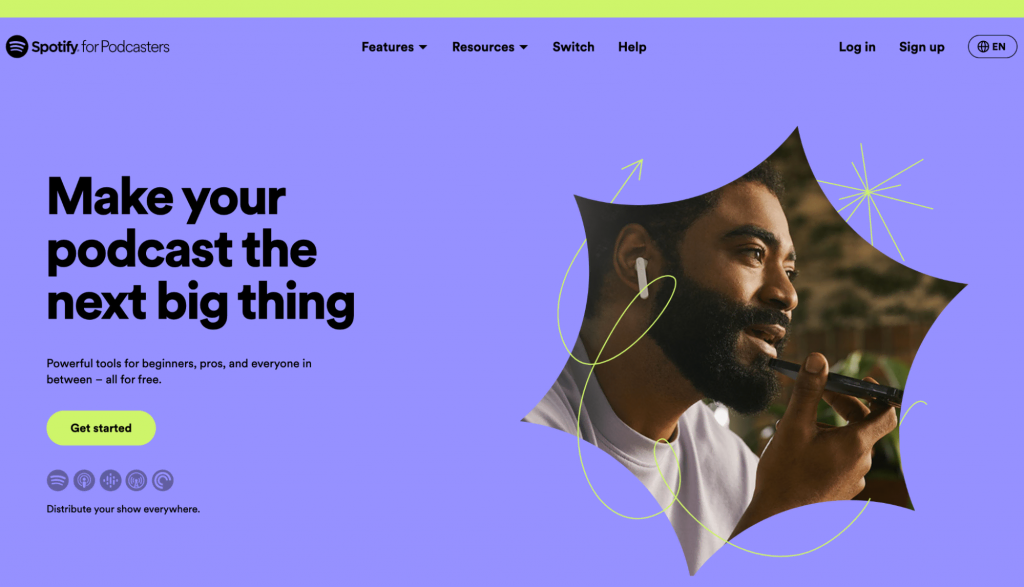 Many podcast plugins and services focus on synchronizing episodes across platforms. That means if you publish your show on one platform, it'll also automatically upload to others. This is critical for up-and-coming episodes as podcast subscribers tend to stick to their favorite platforms.
Analytics and Statistics
Most podcasting platforms provide you with analytics about your show. This can include how many people listen to each episode, new and returning fans, bounce rate, and other factors that can help you measure success.
Podcasting plugins can provide those same metrics but focus on your website listeners. If possible, consider using a plugin that integrates with other podcasting directories and provides you with analytics from all of them within WordPress.
Choosing Reliable WordPress Hosting for Your Podcast Website
If you want to create a successful podcast website on WordPress, you should focus on improving your user experience. Otherwise, visitors will either go back to their favorite podcast platform or look for another show.
The first step in doing so is selecting a reliable WordPress hosting service to maintain your website's performance and scale when necessary.
If your show is a success, consider monetizing it by selling merchandise and subscriptions, offering bonus episodes, and more. All of that will require a great deal of bandwidth and storage.
Hostinger offers managed WordPress hosting plans starting at ₹149/month. Every plan is optimized for performance and offers large amounts of storage, so you won't need to worry about uploading new episodes to your WordPress podcast website.

Conclusion
If you want to run a podcast on your WordPress website, you'll need a plugin to help you manage it. Fortunately, there are a lot of WordPress podcasting plugins to choose from.
If you still don't know which one to choose, here are our final recommendations for the best WordPress podcast plugins:
Podcast Player – an excellent choice if you're looking for a simple plugin with a powerful audio player.
Podcast Subscribe Buttons – the best free podcast plugin for those on a budget.
AudioIgniter – ideal for adding other media feeds.
Choosing the right WordPress podcast plugin can help your show reach its maximum potential. For this reason, consider trying a free version or a free trial before committing to one tool.
WordPress Podcast Plugins FAQ
In case you have any questions left about WordPress podcast plugins, here are some commonly asked questions on the topic.
What Is a WordPress Podcast Plugin?
A podcast plugin is a WordPress tool that offers features to help you publish and play new podcast episodes on your website. Typically, these WordPress plugins synchronize with other podcast directories, so you don't have to re-upload new episodes across all of them.
Can I Use Multiple Podcast Plugins on My WordPress Website?
While you can use multiple podcast plugins on your website, we don't recommend doing so. Using too many plugins can slow down your WordPress site, worsening your user experience. For this reason, you should look for one WordPress podcast plugin for your needs.
Can I Add Multiple Podcasts to WordPress Using a Plugin?
Most WordPress podcasting plugins offer support for multiple podcast feeds. That means you can import full feeds from different shows or even single episodes if needed. Note that if you plan on importing multiple podcasts, it's best to differentiate them so users don't get confused.
Can I Monetize My Podcast Using WordPress Podcast Plugins?
Yes, some plugins for a podcast website offer monetization options. They usually connect with third-party podcasting platforms to help you get ads or accept various payment methods, like PayPal or Google Pay, for quality content.
Do I Need to Use a Podcast Theme for My Website?
WordPress podcast themes typically include templates and features suitable for displaying your podcast feed. However, you can use any modern theme you want for your podcast site as long as you know how to customize it for your needs.